Award-Winning Blog Management
Excellence in blog management isn't just about crafting stellar content; it's about the comprehensive experience and results we deliver. As an award-winning team, we combine our expertise, innovation, and dedication to ensure your blog not only stands out but consistently outperforms. Our holistic approach to blogging is making waves in the digital landscape and is trusted by Fortune 500 companies.
Our Content Packs a Punch
The strategy we offer as our flagship service is the same one we confidently apply to our our blog. Our service includes:
Strong content with a minimum of 2,000 words per post

We only write engaging and long-form evergreen content with a 2,000-word minimum to rank highly (and stay there).

A dedicated US-based writer for a consistent voice

No outsourcing or multiple assigned writers. We stay organized and consistent, and your content evolves over time.

An editor and project manager to eliminate errors

We catch mistakes before they happen. Need something changed? We'll fix it and take note of what you didn't like.

Comprehensive topic research for smarter picks

We help you hunt for topics that have the potential to rank, with low competition, high traffic, and strong buyer intent.

5-20 unique and relevant images to improve engagement

All articles are packed with helpful images, including beautiful custom images created by our team in Photoshop.

Custom styling to make your content come to life

Plain articles are low-effort. We load our content with custom styling elements and user experience improvements.

Complete SEO optimization for peak performance

Interlinking where appropriate, proper formatting, meta title & description, plugin optimization, and much more.

CMS formatted and uploaded for convenience

Proper subheadings, list formatting, permalinks - we will properly optimize them all and can work with any CMS.

Google Core Web Vitals optimization for speed

We're PageSpeed optimization experts and developers. Take our site for a spin on PageSpeed Insights, for example.

Ongoing SEO guidance for a reliable strategy

Our SEO work doesn't stop at content; it revolves around it. We find room for improvement and then act on it.

Accessible on multiple channels for VIP support

We're online every day. Call us, text us, chat us, email us - we're here for you around the clock!

Constant performance monitoring for long-term success

Rank tracking, Google Analytics, and Search Console tracking, comment moderation, regular updates, and more.

We take care of everything for you

We make the integration of our team as seamless and worry-free as possible. Our service is fully-managed.
Starting at:
$3,000
/month
No minimum term. We work with select clients only. Please contact us to learn more.
Cost Breakdown
Our pricing model is built on three foundational principles: trust, ensuring our work pays for itself, and building lasting partnerships by growing together. Here's our costs breakdown to help you understand why we charge what we do:
Category
Item
Cost Per Month
Employee
World-class writer

(USA, college degree, 10+ years experience)

$1204/mo
Employee
Graphic designer

(Photoshop, illustration, photos, etc)

$68/mo
Employee
Content editor

(Edits, rewrites, links, grammar, call to action, etc)

$371/mo
Employee
SEO and research

(Topic selection, keywords, meta, schema, etc)

$510/mo
Employee
CMS team

(Article uploading, publishing, site updates, code, etc)

$310/mo
Employee
Project manager

(The glue that holds it all together)

$140/mo
Fees
Software and service costs

(Adjusted, split between our clients)

$42/mo
Tax
Federal income tax
$85.20/mo
Tax
State income tax
$21.30/mo
-
Total Monthly Costs
$2,751.50/mo
-
Corporate Profit Remaining
$248.50/mo
Our Clients Are Dominating
Our average client grows over 1200% in the first year after engaging with Content Powered: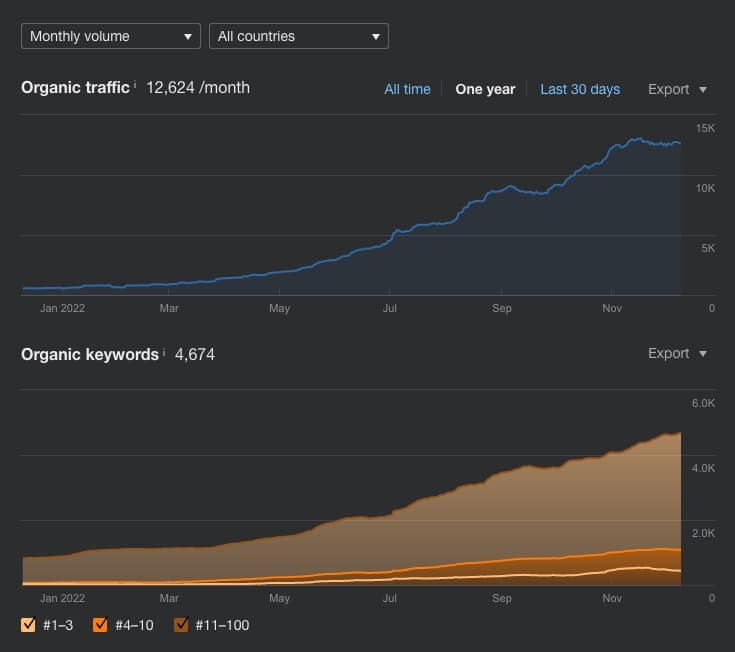 2203% increase in organic traffic and 475% increase in organic keywords
After 15 months of optimization and weekly content production, our client in the financial services industry is exploding in traffic, and is growing with every passing week. To date, they've seen a 2,203% increase in Google traffic and a massive increase in revenue!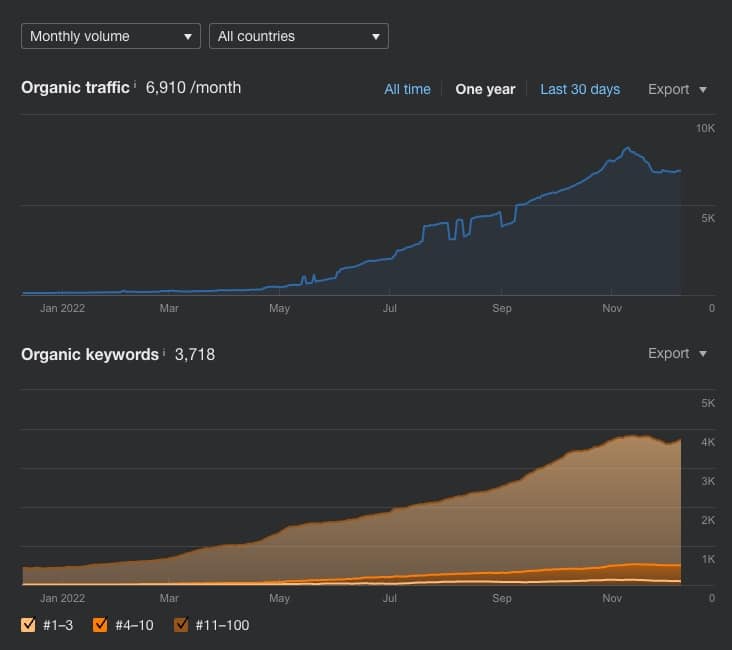 2466% increase in organic traffic and 745% increase in organic keywords
Following a complete overhaul of the content strategy for an established healthcare business with hundreds of existing articles, our posts were the top performing pages on the site, and we saw a 2500% increase in organic visitors over 12 months!
See More Case Studies
You're in Good Company
We work with companies of all sizes, from small mom-and-pop shops to Fortune 500 companies:
Brian Porter

February 7, 2023 via Clutch

With Content Powered's top-notch content, we're enjoying an increase in our domain rank. A hands-on partner, they provide valuable insights to help improve our marketing processes. Their straightforward approach, transparency, and ability to manage expectations well stands out.

Will Taylor

June 13, 2022 via TopSEOs

They took the time to research and understand our market, to develop original ideas, and to help us shape a clear SEO strategy for our business. I wouldn't change anything about the experience - they were extremely generous and thoughtful throughout. I couldn't have asked for a better partner. I'm very grateful for their time. Learnt a lot working with them so far and I would definitely recommend to anyone particularly in the 1m - 10m revenue range.

Juliana Trichilo Cina

June 8, 2022 via Clutch

Thanks to Content Powered's work, our website saw an 800%+ traffic increase and an improved bounce rate. They provide easy-to-read analytics and always deliver on time. Their deep expertise yields consistently high-quality content that provides value for both our company and our new readers.

Aaron Winston

May 18, 2022 via Clutch

Content Powered raised awareness about our company, and their team has demonstrated their expertise in the field of content marketing. Not only is their workflow effective; they're also proactive, professional, and smart, and their outputs are well-thought-out and perfect.

Paul Samuel

July 23, 2021 via Clutch

In comparison to some of their competitors that we've tried, our partnership with Content Powered has been nothing but impressive. All communication is held by emails, which has been sufficient for all of our work communication process. We're excited to see Content Powered's long-term results.

Matt Earle

May 18, 2021 via Clutch

The blog posts Content Powered created have raised awareness about my company, and their team has demonstrated their expertise in the field of content marketing. Not only is their workflow effective; they're also proactive, professional, and smart, and their outputs are well-thought-out and perfect.

William Smith III

September 9, 2020 via Clutch

Content Powered ceaselessly create blogs for our company. In a short amount of time, they already managed to produce blogs that trend high in Google and LinkedIn. The whole team is a master of writing topics with substance. Most of all, we like that they always have new ideas to present.

Cara A Friedman

August 7, 2020 via Goodfirms

James is super knowledgeable and very helpful! He helped me get rid of my nasty website virus in ONE day and he kept me updated as he was doing everything!!! I am so happy I connected with James he is a lifesaver and knows his stuff! I definitely recommend him and look forward to working with him for all of my blogging needs!

Elizabeth Scarbrough

January 25, 2020 via TopSEOs

Wish all of our vendors were this good! Professional, communicative, responsive, and effective. I wouldn't change a thing - I'd have them work full time for us if they could. This has been such a refreshing experience. We've dealt with several content & web management firms, and this is hopefully the last! We're really pleased with the results, the quality of work, the ease of communicating, and the professionalism. (And they're really likeable.)

Andrea Russell

February 15, 2020 via GoodFirms

Content Powered is our best kept secret. James is a true professional and certainly knows his stuff with WordPress, SEO, content marketing, and coding. He's helped us take our struggling site and audit our content, create higher quality content that is actually ranking and getting traffic, and improve our business. I couldn't be happier.

Andrew Greenberg

February 21, 2020 via TopSEOs

The quality of their content is phenomenal, as is their knowledge how it should be organized, displayed, etc. I wouldn't change a thing. There are very few vendors that would describe as perfect, but they are definitely one of them. I have used various content writers of the years, but none are even half as skilled as Content Powered. I am shocked at how well they are able to write about my industry. I am thrilled with everything that they touch. I wish I found them sooner, I could have saved myself a lot of headaches and sleepless nights.
READ MORE
Service Comparison
Want to see how our service stacks up against our competitors? We've taken our top 5 closest competitors and compared every feature of their service offerings with ours.
Comparisons Page
Client Case Studies
Read detailed reports on our client's performance and see charts of their staggering organic visitor growth over time, from brand new sites to established eCommerce businesses.
Client Case Studies
Let's Grow Your Business
Want some free consulting? Let's hop on a call and talk about what we can do to help.