It's a good question. I wrote this 6-part answer about why a blog content strategy is one of the best investments you can make, and why nearly every top site in the world is regularly publishing fresh new content. With a decade of experience and having managed hundreds of high traffic business blogs, I hope to share my honest personal opinion about why I think you should blog.
Part 1/6: Why Blogging Works
I like comparing writing blog posts to fishing, as it works quite well.
Your website as it currently stands ranks for a number of different products, keywords, and things people are searching for. You can consider each of your website's pages hooks in the sea.
They catch sales (or fish) somewhat predictably, and you have a spot on the internet (or a section of the lake) that you are successful with.
Blogging works by exploring brand new areas. Instead of blogging directly about your business and products, which likely already rank well for their respective terms, we blog about tangential topics that are searched more frequently by your customer base.
Through careful topic ideation and competitive research, we find topics that are high traffic and low to moderate competition so that we can write a stellar piece of content that is more useful and relevant than the other results, ensuring it's a success. Each of these new blog posts are new hooks in the sea that you didn't have before, and the more hooks you have out there, the more fish you'll catch over time.
An elementary example: you are a company that sells beach balls. Instead of directly tackling the search phrase "buy beach balls", we start writing posts like "15 of The Best Toys to Bring to The Beach", or "How to Throw The Perfect Beach Party". If you consider user intent, the user most likely intends on visiting the beach soon, and if they land on a site that sells hilarious or clever beach balls, they are very likely to engage and buy. Not only that, but you're also providing extra value to your existing visitors, who are almost certainly beachgoers.
Take a massive website like Expedia for example, a client I worked with. Their most recent post at the time of writing is called "10 Best Places to See Fall Foliage in the United States". This seems somewhat arbitrary at first, but let's think about the user's intent. Why are they curious about seeing fall foliage? There is a high probability that most of the people searching for that are considering a trip soon and want to find somewhere they can see some beautiful red, orange, and yellow trees on hillsides. After looking at some gorgeous photos, they realize they're on Expedia, and they can book a plane ticket and hotel in minutes. Not only that, but this specific search query is very specific and low competition, making it an easy win. Now it starts to make sense.
Things get even more fun when you start optimizing your blog post design for conversions (CRO). If your user sees a scrolling sidebar or an interstitial product mention while reading, they are even more likely to click and purchase your product or services.
Hooks in the sea catching fish. Extra traffic and exploring new topics to acquire new paying customers. This is why blogging works.
Part 2/6: Facts and Stats
Bear with me a minute here. Facts and visitor data can be boring to read. However, data across millions of websites (with and without blogs) reveals some undeniable patterns. I've written my in-depth insights on all three so you can see the data on why blogging works.
Fact #1 of 3:
Websites that publish regularly on their blog, from 1-3 times per week, see between a 150% and 350% increase in indexed traffic compared to sites that don't blog.
Source: HubSpot Study https://blog.hubspot.com/marketing/blogging-frequency-benchmarks

My Insights On This:
The keyword here is "indexed traffic". Websites that publish to their blog between 1-3 times per week are proven to have significantly more traffic than sites that don't blog. Indexed traffic is traffic that can be measured with enterprise data tools like Amazon's Alexa suite or Quantcast, which is the industry standard for collecting traffic statistics from people's browsers. While it's not exact, measured across millions of different websites, certain patterns are undeniable; namely, that blogging almost always equals significantly more traffic.
Fact #2 of 3:
B2C companies that blogged 5-15 times per month see between 2-3 times as many inbound leads per month.
Source: HubSpot Study https://blog.hubspot.com/marketing/blogging-frequency-benchmarks

My Insights On This:
This raises a question one might ask themselves: "I'm getting more traffic, but are those blog visitors doing anything for me?" This data shows that not only does blogging result in significantly higher traffic, but the amount of new leads those businesses are receiving are actually proportionate to their new traffic increase. To put it simply, blog posts visitors tend to correlate with an increase in visitors intending to buy.
Fact #3 of 3:
Blogging frequency has been on the decline in the last few years. In 2014, bloggers published content several times per week but today "several times per month" is more common.
Source: OrbitMedia Study https://www.orbitmedia.com/blog/blogging-statistics/

My Insights On This:
This data could suggest two things: that bloggers are slowly fizzling out, or that they are simply focusing more on quality over quantity. Data has suggested it's the latter of the two. If you look at data on indexed blog posts (or even your average article from 2009 versus 2019), you'll see that content has evolved from short 500-word blog posts to massive ultimate guide style articles that are far more useful, longer, backed with sources, filled with images and videos, comments, updates, and more. Wikipedia and their ever-growing site is a prime example. Putting that extra time and effort in pays off in the long run, and your results for a single long-form piece of content will overshadow the results of 50 short-and-sweet articles. One would think declining blogging frequency would be a negative thing, right? In this case, it's actually a huge benefit; happier users, better content, better search experience, more linkable, and a much better use of your hard-earned dollars. I conducted a research study on the steady increase in the average blog post word count on our blog, here.
Part 3/6: Strategy and Vision
Remember how I just said I liked comparing blogging to fishing? I also like comparing it to working out at the gym.
Building a blog presence takes time, and many businesses don't have the time, patience, or budget for it. It's very much a long-term strategy, unlike the instant-gratification results many new marketers are getting from pay per click ads on Facebook or Google.
Similar to blogging, working out is tough. People look at the end results of fitness and desire them, but the road to get there can be intimidating and difficult. However, your effort compounds. The result of you being in shape is the result of going to the gym 3 times per week for a year. Similar to fitness, a blog will see results by blogging 3 times per week for a year, and it will continue to benefit from those results long-term. Long-lasting results don't happen overnight.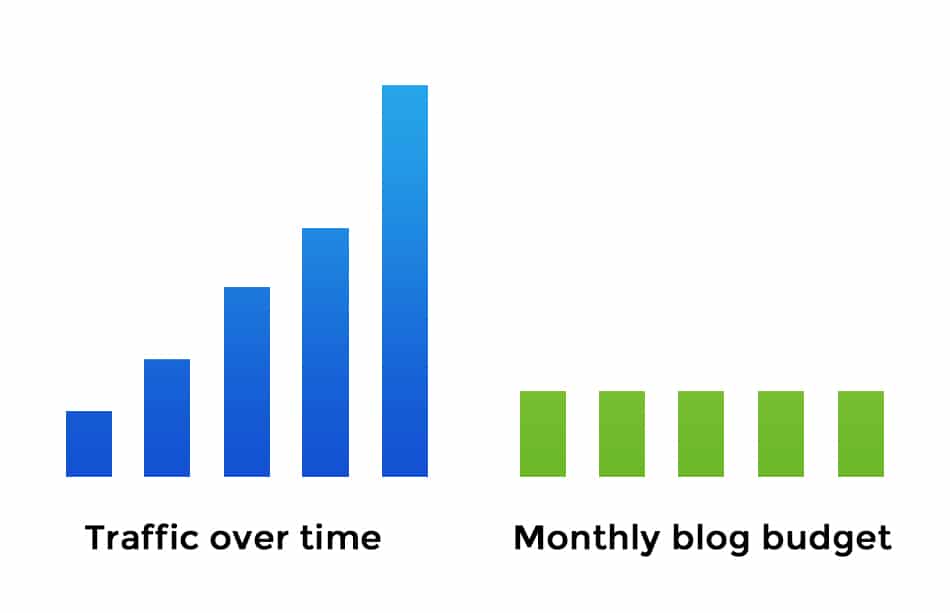 Receiving a steady handful of extra visitors each day may not seem like much, but when those visitor streams are combined over months or years of consistent effort, they multiply in size, all while blogging at a steady pace and without increasing budget. Let me emphasize that: your blog traffic continues to increase each month without increasing your budget.
What would you rather buy, $2.50 for a single visitor via ads, or 300 new visitors per week for years to come via a blog post? With ads, you're renting visitors. With content, you're owning a lifetime flow of visitors.
So, stick with it! Don't expect immediate linear results after a few months. That's like going to the gym for three months and evaluating the efficacy of working out based on only three months of effort. Impressive blog (and fitness) growth is the result of hard work, persistence, and time.
Part 4/6: Link & SEO Strategy
There's a saying in internet marketing circles; if content is king, links are queen. Great content is essential to a powerful internet presence, and if your blog posts have powerful links from top sites, it gives search engines an extra bit of encouragement that your content is a helpful and shareable resource.
The best part about writing quality content is you don't really have to focus on building links artificially; great posts will almost always generate organic and high-quality links from other bloggers and large websites.
All of our clients to date have received organic links from high authority sites, including massive sites like Forbes, Entrepreneur, USA Today, BuzzFeed, Yahoo, Business Insider, and more.
While receiving top tier links like this organically isn't a daily occurrence, it sure does feel great when it happens. Many of these large sites charge $20,000 or more for a featured mention, and agencies will charge $5,000 - $10,000 for guest posts on these sites. When a great piece of content acquires links like these organically, it's extra sweet.
Organic links to your blog posts are some of the most powerful links you can get, even from the smaller bloggers. Not only will the blog posts that are linked rank higher, but your site as a whole will grow, and you'll start to see your homepage, product pages, and service pages increase in rankings and performance as that extra link authority trickles down.
It doesn't stop there. It's proven that Google tends to favor sites that publish fresh new content frequently. This means sites that blog have a natural advantage in search. If that wasn't enough, many marketers have published studies that when they stopped blogging, their rankings on the rest of their site dropped.
There are many other SEO benefits, like improved indexing, stronger internal link structure, free user-generated content with blog comments, and more.
Part 5/6: Thought Leadership & Branding
Aside from the huge marketing advantages listed above, creating great useful content simply makes you look good, for a few different reasons:
It establishes you as an expert or "thought leader" in your industry. When you have hundreds or thousands of useful articles about every conceivable subject in your industry, you'll start to see the effects of that sort of extra exposure. Media sites may reach out asking if it's okay to quote you in an article and link to your site. Users will comment thanking you for your helpful articles. Bloggers may reach out asking for advice or a quote and may include you in "roundup" posts of experts in certain fields.
Putting care into your blog shows you put care into your business. Some eCommerce sites are relatively simple from the outside looking in, and potential customers can't see how many employees that work for you, your ad budget, your sales, or any other internal information. Blogging regularly and having a very well-updated site shows that you are still in business (since you recently posted a blog article) and that you have the resources to contribute to your blog. Those things can be reassuring to potential customers.
There are many different ways to repurpose your content. Things like audio transcriptions, multi-lingual translations, video content, and slideshows can not only amplify the visibility of your content but can be branded with your logo and a link to your website.
Part 6/6: Keyword and Sales Diversification
We can't tell you how many businesses we've worked with that are primarily earning sales from a single keyword or a single sales source. For example, a site that sells scuba gear might rank highly for "buy scuba gear". When the next Google update happens and the results get shaken up, if they lose position and are pushed to page 2, they lose a sizable chunk of business. Similarly, if a business is solely promoting on social media and they suddenly lose reach due to an algorithm change, they can see their business drop by 50% overnight.
Blogging can help you establish a brand new stream of sales and revenue. Not only that, but it is proven to be a very stable source of traffic, as search engines have been moving strongly towards quality content over the past decade.
We've seen plenty of businesses that were hit by a penalty or lost their rankings for their main keyword, and the traffic from their blog posts saved their business while they worked to audit and recover from their penalty. When your traffic is spread over hundreds or thousands of quality pages, instead of focusing on a handful of "money" keywords to your homepage, your traffic is significantly more diversified and stable.
If you value long-term stability and consistent organic traffic, blogging is one of the best ways to go.
Final Thoughts
Not convinced yet? Schedule a call with me! I speak with dozens of webmasters and CEOs every month and I don't charge for consultations or advice. I'd love to hear from you and hear about what stage your businesses is at and your goals moving forward.
When you call us, you're speaking directly with me, not a pushy sales team. I'd be happy to answer any questions you may have, and if we're a good fit for your business, we'd love to work with you.
Let's Grow Your Business
Want some free consulting? Let's hop on a call and talk about what we can do to help.