15 of The Best Alternatives to HARO for Link Building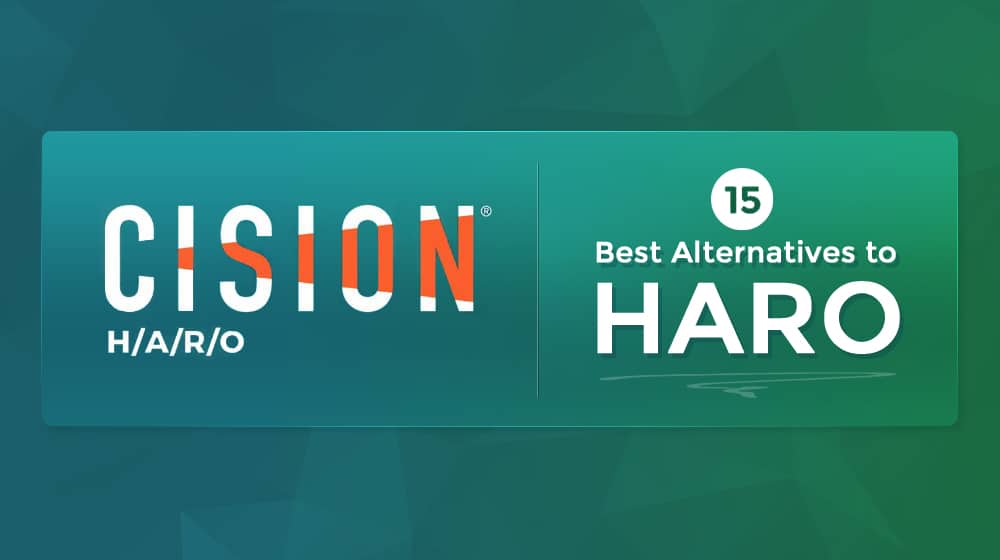 HARO, also known as Help A Reporter Out, is a site dedicated to connecting subject matter experts with journalists looking to write about that subject. It's a powerful way to build thought leadership and generate high-quality backlinks if you can swing it. The trouble is that it's a lengthy process with many blind pitches that rarely get accepted.
Now, you can do plenty to optimize pitches and make them more likely to be accepted, but that's just one aspect of a link building strategy. Webmasters know there's always more than one option, so are there good alternatives to HARO link building?
The answer is yes, and here's my top list of fifteen good HARO alternatives you can use for your link-building and PR campaigns.
1: Featured (Formerly called Terkel)
Featured.com calls itself "decentralized Q&A," which sounds a lot like something like Quora, and it kind of is. They have a list of publishing partners, and those publishing partners ask questions. You then write a piece about that topic and add it to their database. When the publishing partner closes out their question, they search the Featured database for the content that best answers it and then publish that content.
Note: In July 2023, they rebranded from Terkel to Featured.com - the platform has largely remained the same, but with a new name.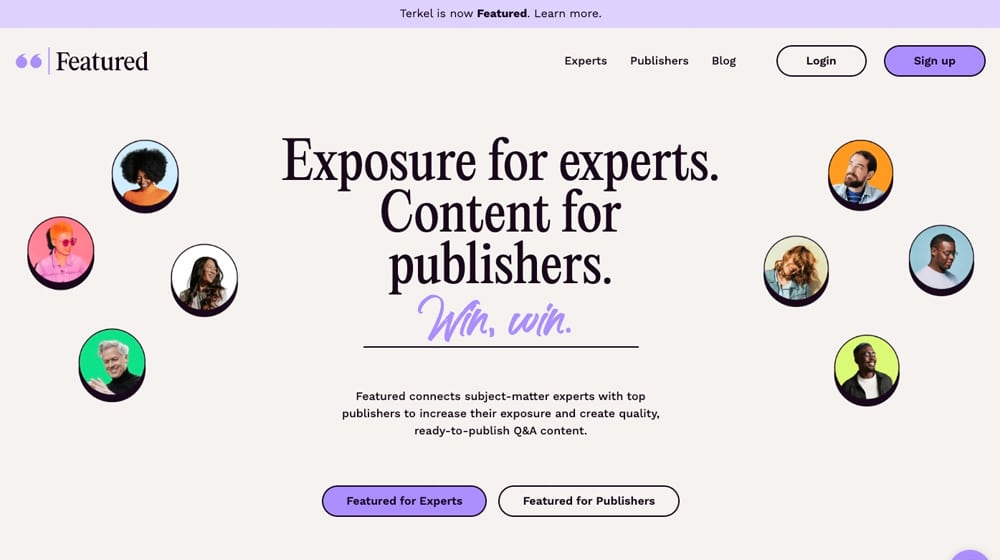 Usually, it's not an entire blog post but rather more like a shorter or mid-length pull quote. Featured.com generally gives attribution, though a link isn't guaranteed. It's sort of like a combination of HARO and spec writing, which I usually don't like or recommend, but it can work out pretty well sometimes. It's also free to get started, so there's no significant barrier to entry other than your time. The Premium and Teams plans are $99/mo and $199/mo, respectively, and accommodate early access to pitches, filtering by domain rating, and other valuable features.
Overall, it yields fewer links than HARO but with a higher success rate.
Note: The only thing I don't like about Featured is that they add a "Brought to you by Featured.com" link at the bottom of every published post. These links are an easy pattern for search engines to track, and I think it devalues their platform a bit. For those of you that are extra cautious about your link building and SEO efforts (which you should be!), you should understand this before trying it out.
Topping the list is SourceBottle, an online service dedicated to connecting subject matter experts with journalists looking to write about that subject. Sound familiar? Yeah, it's HARO with the serial numbers filed off. At least, at first glance.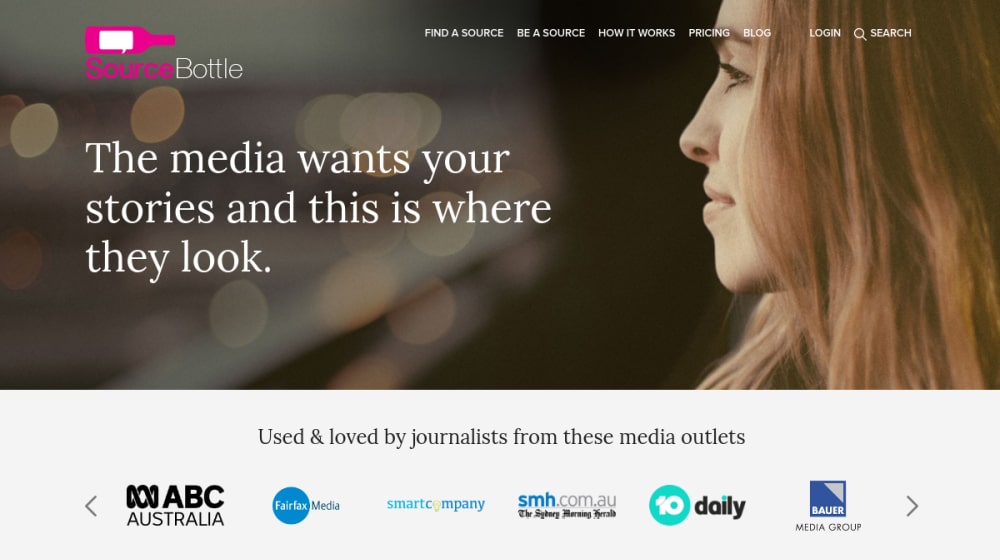 They differentiate themselves from HARO in a few key ways.
Small business owners and entrepreneurs can get publicity by registering to give away case studies and goodie backs for review.
Small-scale bloggers and journalists are welcome (HARO only works with journos over a specific size).
SourceBottle is generally more customizable regarding your emails with pitches and topics.
Overall, SourceBottle is an excellent alternative to HARO, and it's quick and easy to sign up. Pricing starts at free and works its way up from there, similar to HARO.
PitchBox is a link-building and influencer marketing outreach platform. It's mighty and highly recommended by many top-tier marketers and has been promoted in many major publications. Quite a few big brands also use it, so you're not necessarily just struggling to find journalists with more than 100 pageviews a month here.
If you hire any link builder worth their salt, the chances are that they're using PitchBox to help them send their email pitches.
PitchBox isn't a HARO alternative as it is a massive, powerful tool that does what HARO does, along with a hundred other features, all of which can help make your link prospecting extremely effective. It works by utilizing email templates to email publishers, automatically sending follow-up emails if they don't respond after a certain period, and taking much work out of the prospecting process.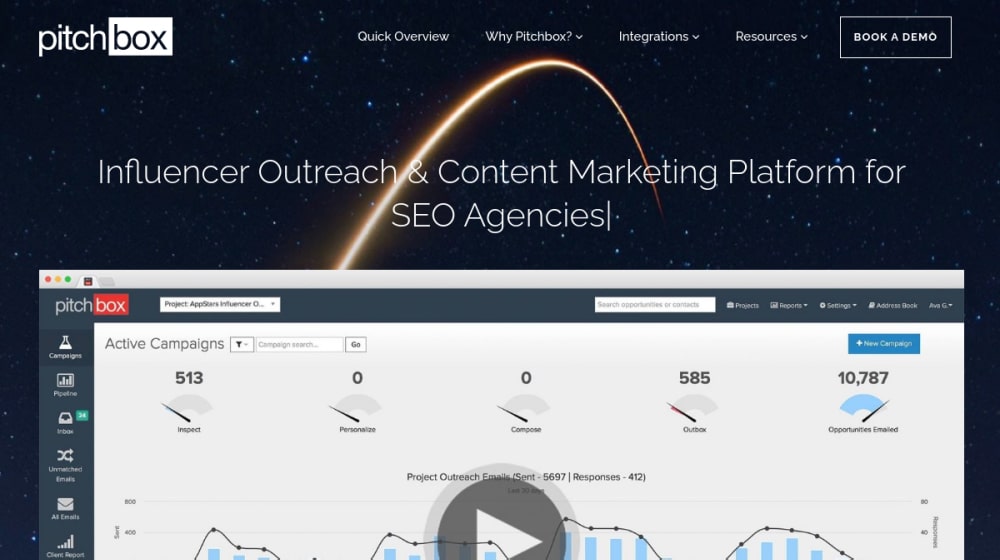 Of course, that power may be more than you need as a small blog, and the pricing is substantial. PitchBox pricing ranges from $200 to $1,500, depending on the size of your needs. You have to book a demo to get access to pricing before you can sign up.
PitchRate is much more like HARO, with the traditional platform connecting content experts with journalists. As of this writing, they have over 2,600 journalists and 2,400 publicists, along with 6,700 experts vying for attention. Of course, they only have ~44 active pitches, which may or may not mean many of their members are inactive.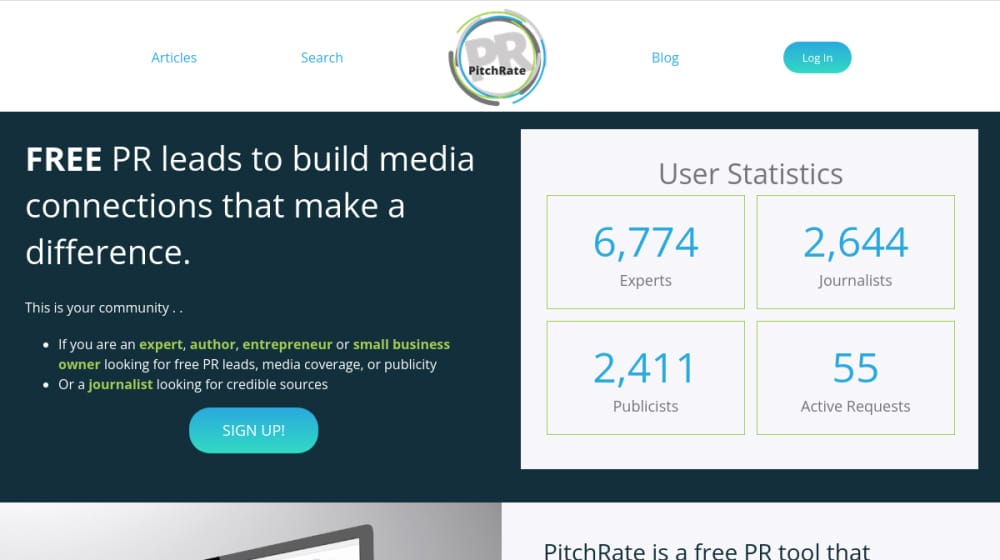 PitchRate also has a rating system for experts, which allows journalists to report and penalize people who spam boilerplate pitches to everything, which helps improve the quality of the interactions on the site. Unfortunately, ratings are invisible to experts, so if you get a few bad ratings, you could toil with no idea you're being ignored. It's odd; ratings are per-journalist, but there's also a tag-based star system for rating pitches, and it takes a bit of getting used to.
On the plus side, it's a completely free tool to use. PitchRate makes its money in other ways.
Qwoted is another HARO-like site with a three-pronged approach. They have three account types; one for media entities to find experts, guest posters, and pitch ideas, one for PR and marketing agencies to promote coverage for their clients, and one for SMBs and bloggers looking to get media coverage and build quality backlinks as an expert source.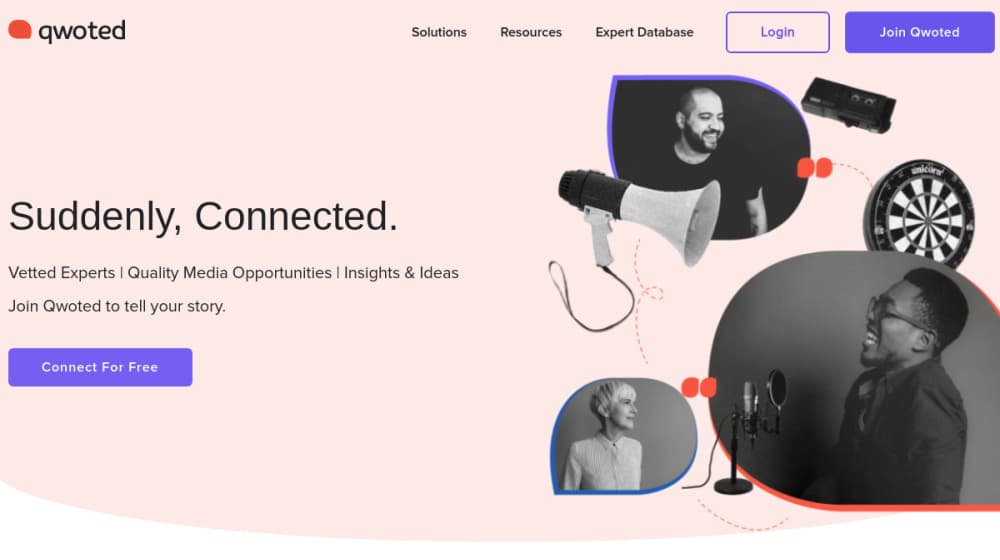 In general, Qwoted is pretty user-friendly and easy to get started. It's free to start, at least from the link-building side of the coin, and they offer a paid plan for $149/mo that gives you more ability to send pitches to journalists. You can only send out three pitches per month by default with the free plan. That's not a lot, but plenty of they have a reasonable hit rate. It makes you think carefully about what you want to say and who you want to say it to and can result in some pretty good links and brand awareness.
OnePitch is a relatively new platform using "AI" to connect you with media outlets that may be willing to cover your topic based on your pitch. It's pretty simple: you sign up and fill out a pitch template. Based on keywords in the template and data the site harvests from the media, they build a curated media list you can use to pitch your topic to them.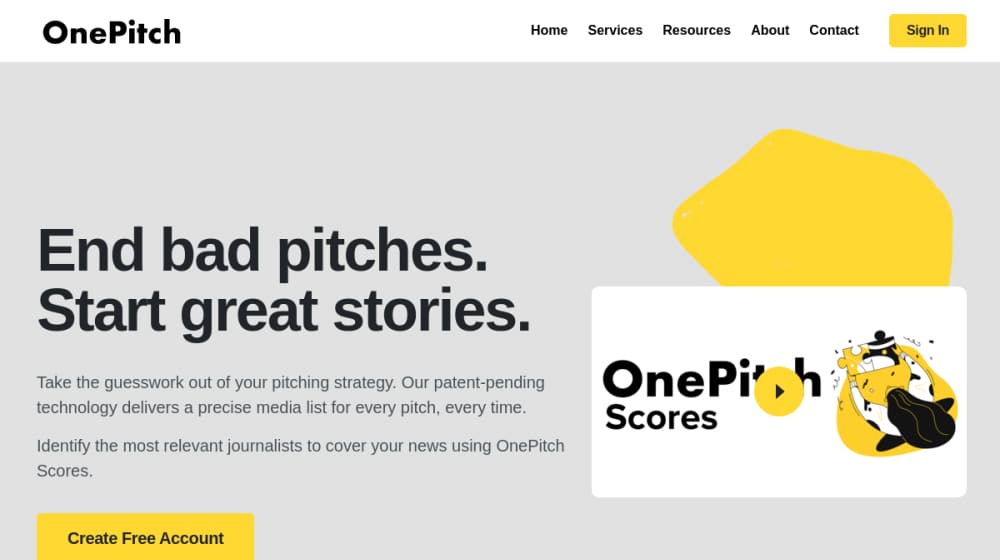 Now, can you pitch those journalists directly without using OnePitch? Sure. The trick is that you might not find most of them or know that they publish content relevant to you, so it's a tool to help you uncover hidden gems for coverage. It does work best with the tech industry, however.
Sourcery is a journalist outreach platform. They mean an analytics and automation platform full of alerts and other tools to help you perform your outreach. They try to give you data to make it easier, help you write better pitches, and track your results. Plans range from $30 per month to $200 per month, though most of the advanced analysis and automation stuff is only available in the most expensive plan.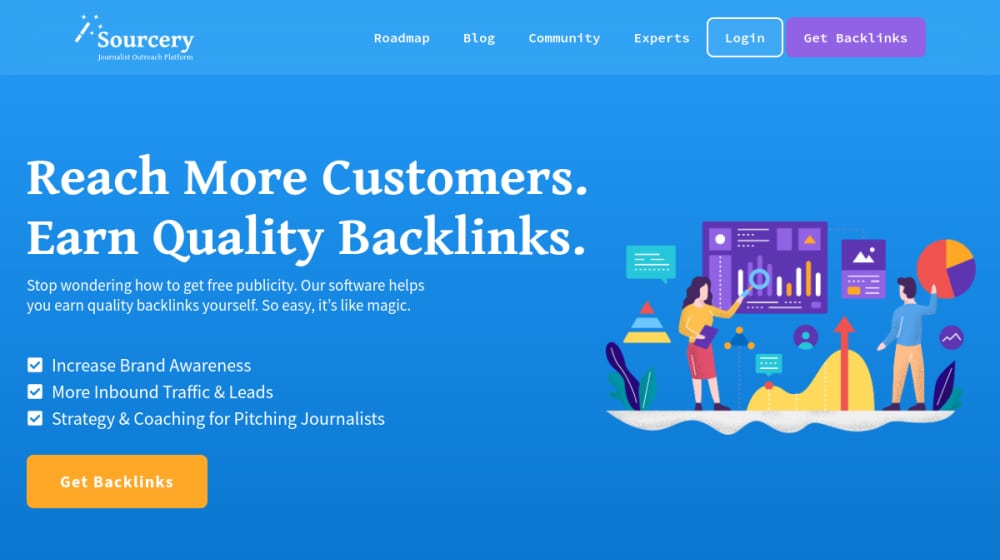 Overall, Sourcery isn't necessarily a HARO replacement, but it can be a powerful tool nevertheless. It may be worth looking into, especially if you have a budget to put into it.
Is your blog earning you business? If not,
let's fix that.
We create blog content that converts - not just for ourselves, but for our clients, too.
We pick blog topics like hedge funds pick stocks. Then, we create articles that are 10x better to earn the top spot.
Content marketing has two ingredients - content and marketing. We've earned our black belts in both.
If you run an internet-based business and are looking to scale, schedule a call to speak with our founder:
Muck Rack is a powerful platform with one major drawback. What does it provide? Three core features: journalist searching, news monitoring, and coverage reporting. It's handy for keeping warm media lists and even notifying you if a journalist adds you to a potential contact list so that you can reach out to them. You're notified whenever you're covered or when your industry is mentioned in a way that you can contribute - this also helps show you the knock-on effects of a single piece of coverage as it's quoted, syndicated, and republished.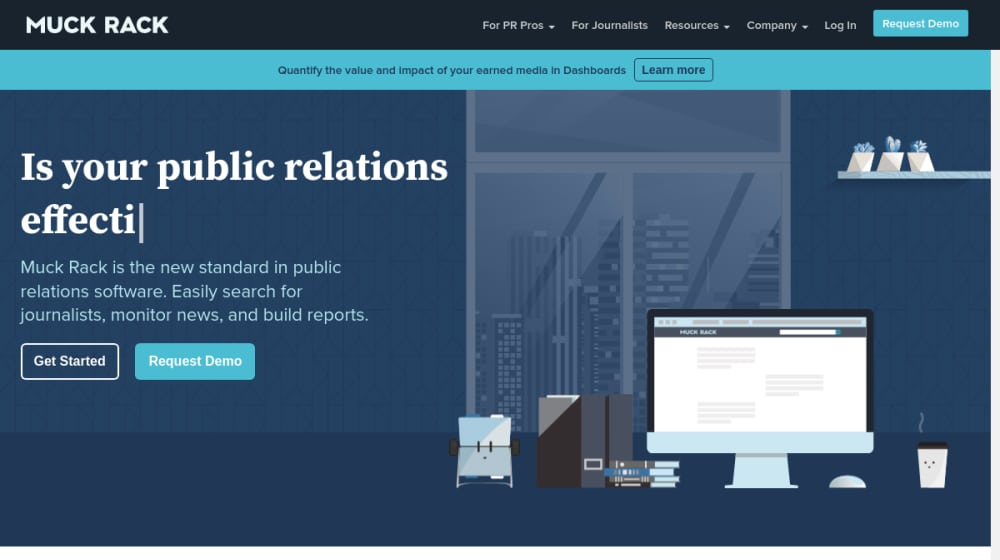 The major drawback is that it costs a lot. You have to request pricing, but I've seen people quote it as around $5,000 per year. That's no small fee, so you need to get your money's worth. It's primarily intended for large agencies, corporations, and PR professionals.
Just Reach Out is similar to HARO in that the core service connects you with people who publish content on your subject and industry. You present yourself as a thought leader and get your expert insights published. However, they expanded to cover not just reporters but other forms of content creation as well.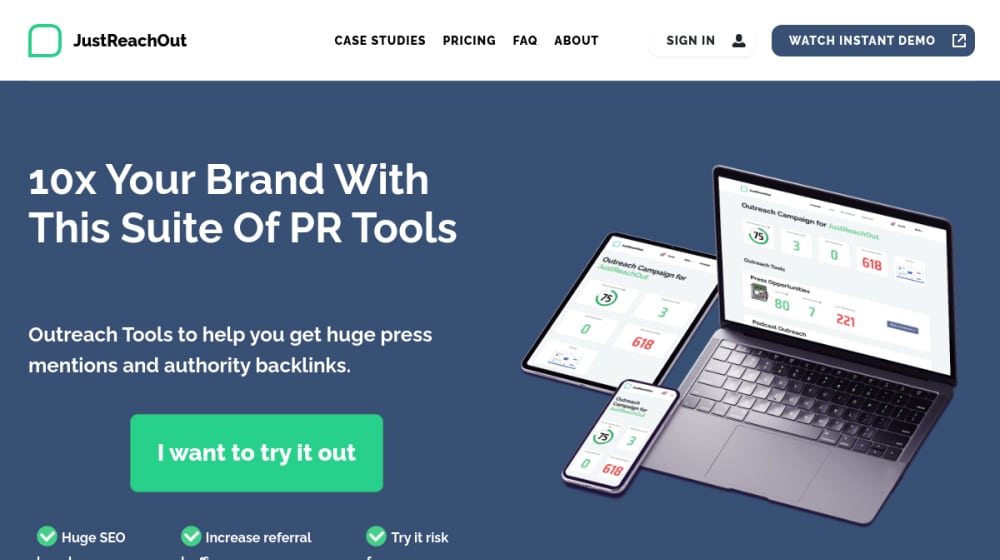 In particular, there are quite a few podcast hosts who use "just reach out" as a way to find guests who are experts on a relevant subject. They also have a roster of bloggers willing to publish guest posts. The caveat, at least in my eyes, is you need to do a little legwork to vet the podcasts and blogs to ensure they aren't valueless or low-quality links.
Pricing ranges from $50 to $200 per month, depending on the services and features you want to access.
Kiti is basically like HARO, except with two significant caveats. First, you can't just sign up; you have to apply for access, and there's no guarantee that they'll let you in. The reason is primarily due to the second caveat: Kiti is focused mainly on lifestyle, culture, travel publications, and journalism.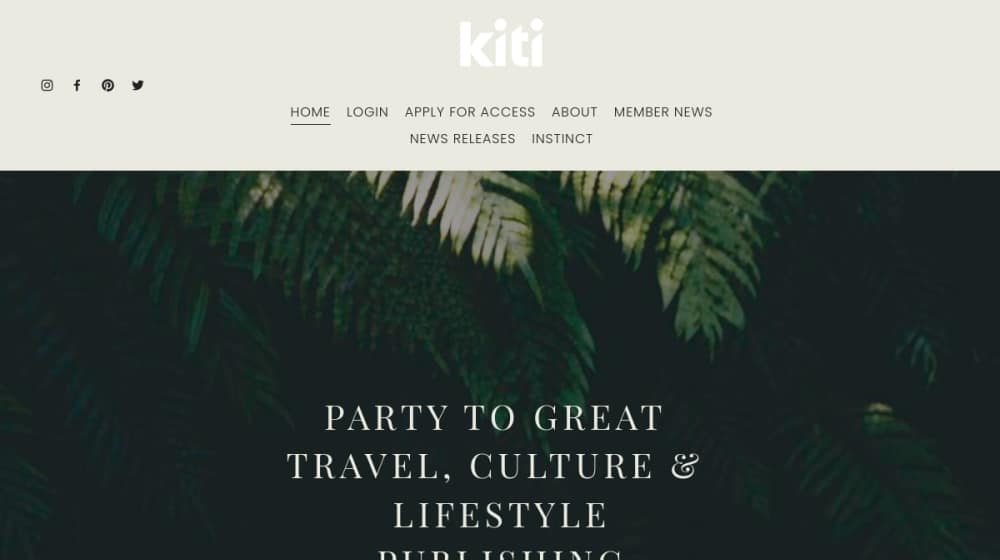 Since their industry relies on authority, narrative, and experience, they can't accept just anyone. Moreover, since this kind of platform is often swiftly taken over by casual marketers, they want to limit it to people who are likely to fit in. Still, it can be a potent option for those few in suitable industries reading this.
Meltwater is a robust outreach and brand management platform. It's more comparable to Muck Rack on the scale of services offered, which lets you know that they're very good at what they do. In addition to outreach and PR, one of their primary services is social listening. Rather than preemptively reaching out to journalists, they look for times when you're already being mentioned and help you respond to those mentions in appropriate ways.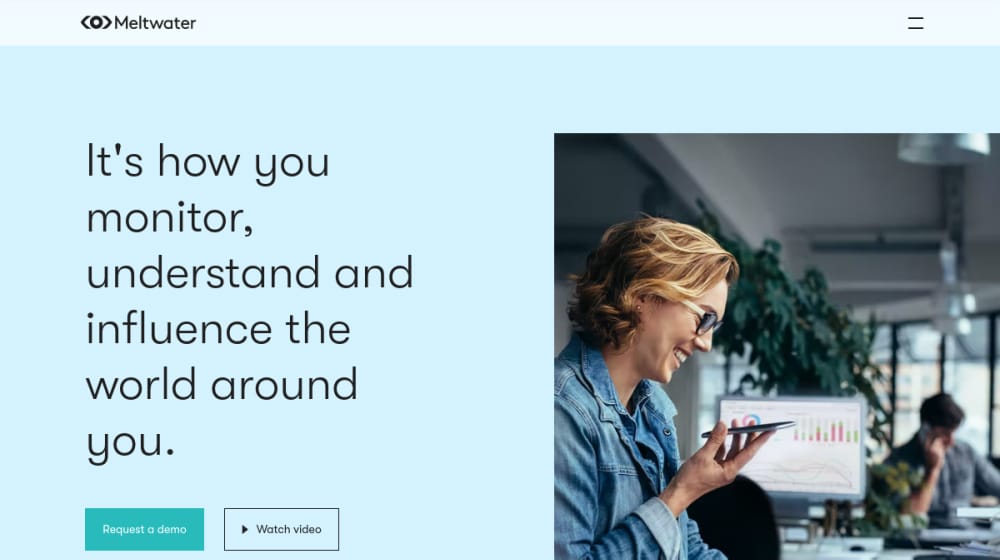 Much like Muck Rack, their pricing is pretty high, with some reporting costs of around $4,000 per year. I imagine it varies based on services; I don't use it myself.
If you've spent time looking into PR sites and press release marketing, you're undoubtedly familiar with Cision.
Cision is a company that bought up many public relations and press release firms out there, and while they've kept the sites largely under their exact names, they all are Cision services now - Cision owns HARO, too.
ProfNet is no different. They're a HARO-like service connecting experts with journalists, just as you would expect.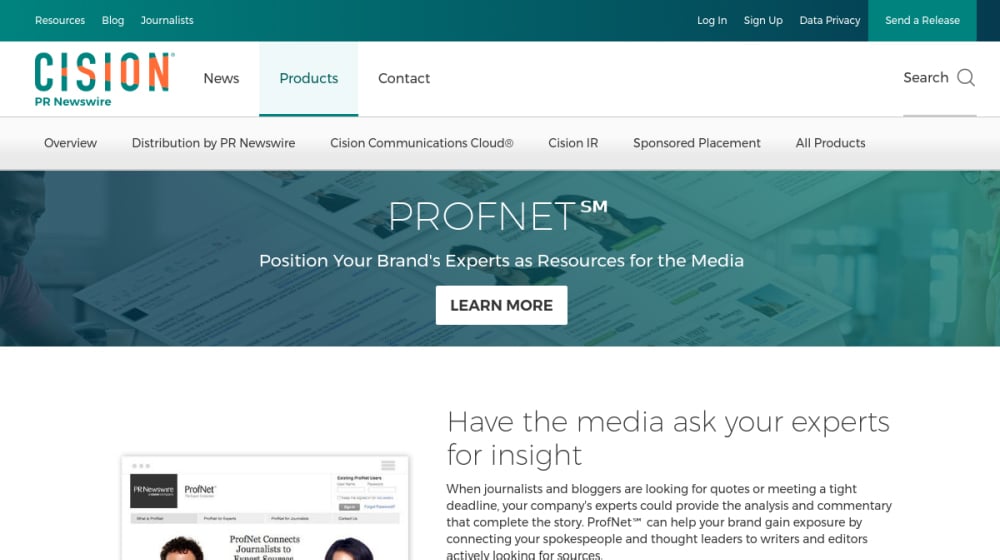 You have to sign up through their PRNewswire portal and gain access to their library of journalists. Simple and easy, right?
Where Cision purchased ProfNet, Prowly is powered by Semrush these days. In addition to identifying media outlets and journalists to pitch, Prowly also allows you to set up your own "media newsroom" as what is effectively a microsite with all of your essential PR information available.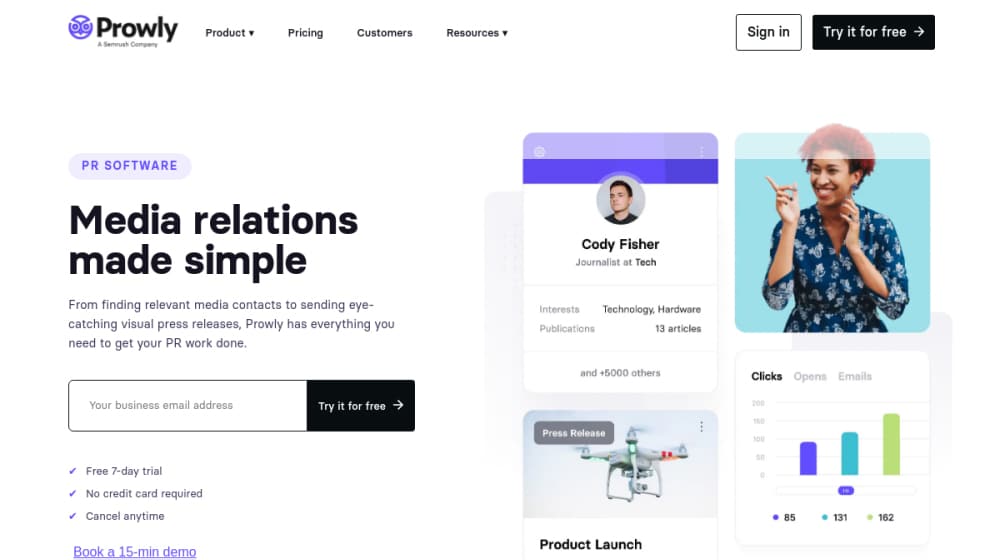 It's relatively expensive, around $200 per month, but they offer a 7-day trial, so you can see how it feels with your existing efforts.
14: Twitter
We all know what Twitter is, but did you know you can use it to connect with journalists? You have to go about it the right way; what you can't do is find journalists and drop them DMs, hoping that they'll cover you. Instead, look for journalists who are actively seeking experts. Usually, you can look for specific hashtags, like #JournoRequests, #PRRequests, #RadioGuestList, and simple ones like #PR to find people willing to receive requests.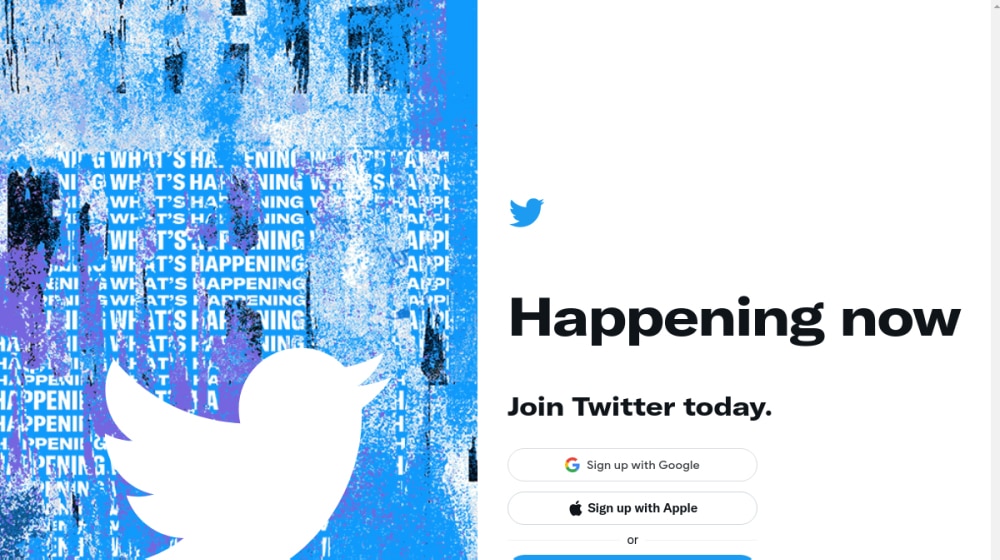 Of course, it helps if you already have an active Twitter presence, so they can check through your timeline and see what you've been writing about recently and how it fits with their coverage.
Hunter is not a HARO-like site, but it serves an essential role as part of an outreach campaign, and that's connections. For many people, especially editors, private journalists, and bloggers, it can be complicated to find contact information that works. Sure, they may have a tips email address or a contact form, but 99% of the time, those end up in a black hole.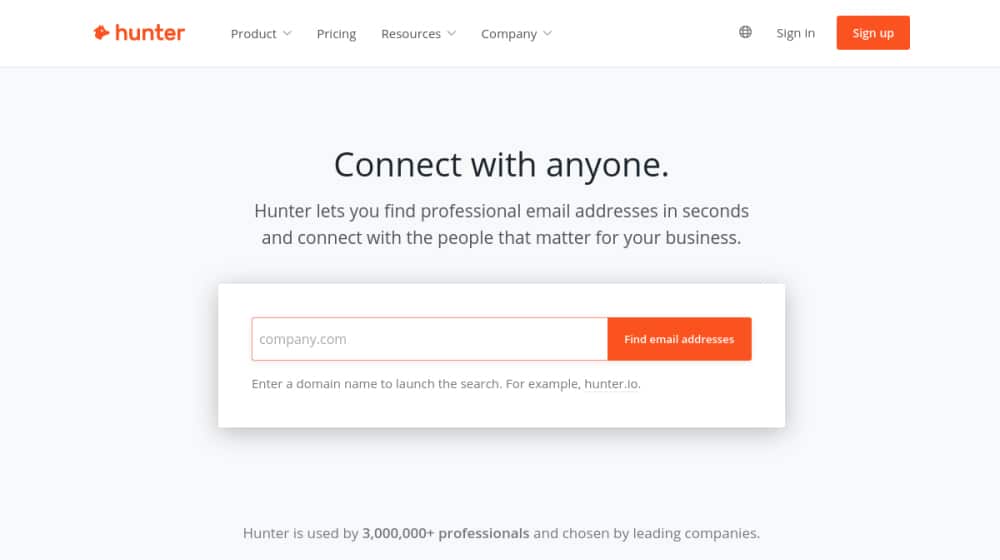 With Hunter, you can find contact information that is, shall we say, less publicly available. Then you can use it to pitch your topic tastefully.
So, what do you think? How many of these HARO alternatives did you know about? Do you know of any others I should have on the list instead? Let me know in the comments!