How to Grow a Clickbank Website with SEO (The Right Way)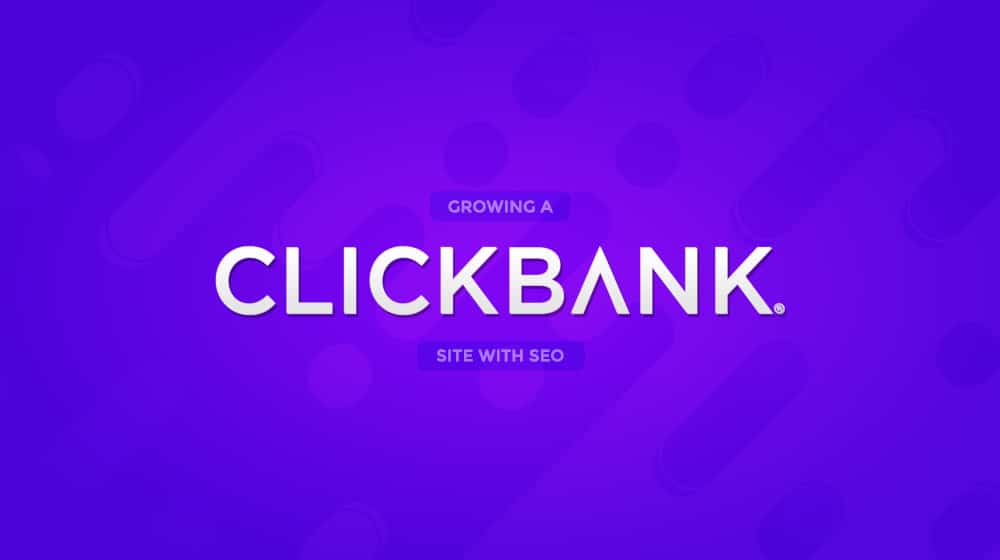 There are many ways to make money on the internet.
You can establish yourself as a thought leader and sell your time as a consultant.
You can produce products and sell them from a marketplace or store on your site.
You can develop software and sell access to it as a service.
Or, you can skip doing the hard work yourself and sell something made by someone else.
Affiliate marketing is the core income for millions of people around the world. These people establish websites and blogs, promote content, and link to the people who sell that content. When someone makes a purchase, the affiliate earns a commission.
There are a bunch of different platforms you can use to set up affiliate connections. You can promote products on Amazon, you can get offers from ShareASale, or you can register with Clickbank and make bank.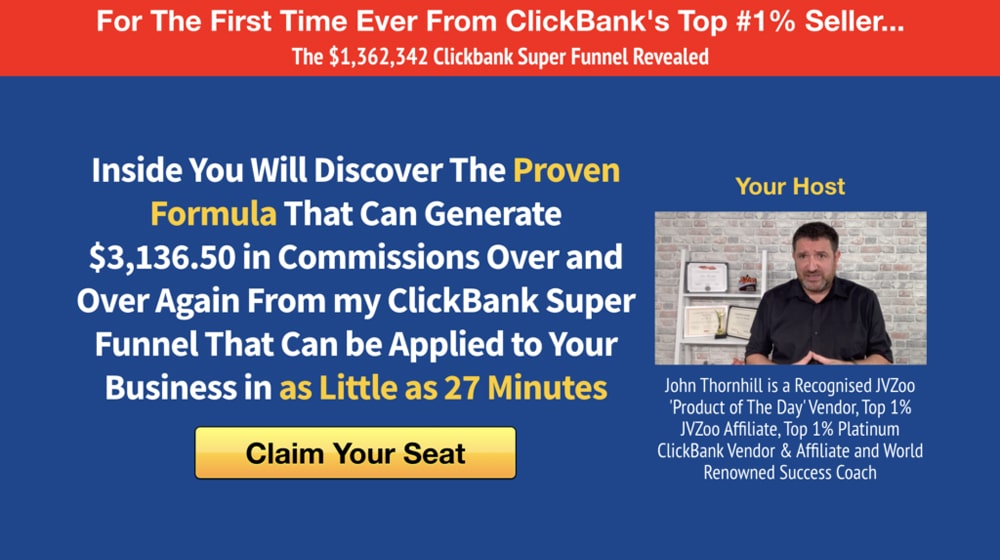 Clickbank is one of many affiliate networks, but they're trendy for two reasons. One, they're free to join. There are no traffic minimums to meet and nothing getting in the way of you signing up. Anyone, whether you've been running a blog for a decade or you're setting up WordPress for the first time today, can register.
Second, they pay surprisingly good commissions. Some offers can have as high as 75% going to you rather than the original vendor, and a few rare offers give you 100%! It's a lot of potential earnings, though this does mean that there's a lot of competition as well.
A few of my clients are Clickbank affiliate sites. I've been experiencing the unique challenges of running a Clickbank affiliate site firsthand, navigating those waters, and I've distilled my experiences into specific tips you can use to succeed with your venture. Of course, if you don't want to do it all yourself, you can always contact me.
Before We Begin
Before I start my marketing tips, I want to mention a few things that won't come up throughout this post.
First of all, this isn't a guide about how to use Clickbank. All that stuff about offer gravity, maximizing profits, and picking reasonable offers? You can find that elsewhere. 
SmartBlogger
 has an excellent guide, for example.
My tips are for SEO and content marketing. I'm assuming that you've already chosen your offer, registered for the site, and generally decided what you want to be doing. I'm also assuming that you have at least some basic idea of SEO and how a website is run.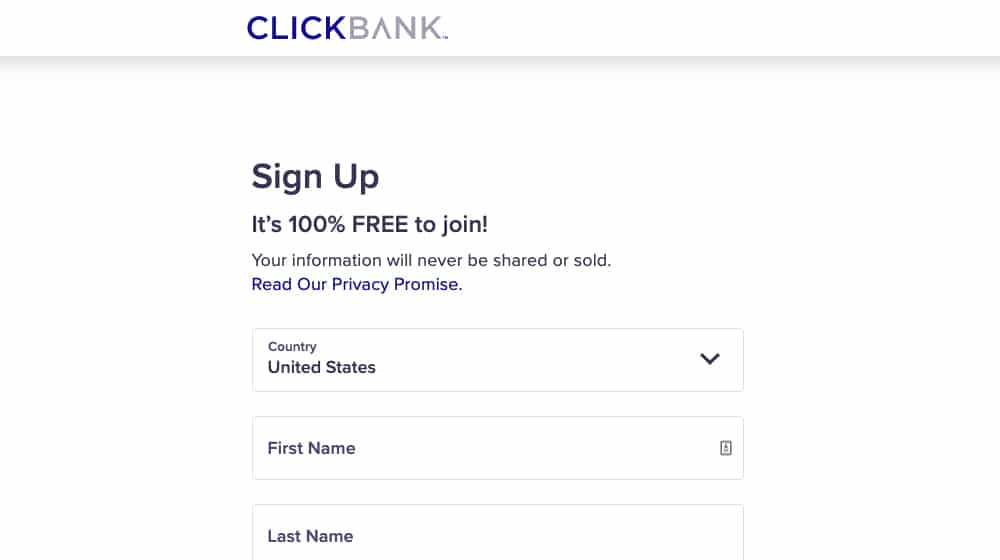 This article is not a guide for setting up a blog or getting content marketing up and running. Instead, it's a guide for people who have been running a site for a while and are struggling. It will also help those who want to see what sort of issues they're in for and how to avoid them before they happen.
Now, let's get on with the show, shall we? Here are my tips for succeeding with a Clickbank site.
Use a Subdomain for Your Offer
There are two reasons why you might want to segregate your affiliate offer into a subdomain. Let's make up a hypothetical offer; let's say I'm a fitness guru selling a weight lifting program called Bench-Press The Moon.
You might have a website named benchpressthemoon.com, or you might not because the vendor who created it uses that domain. You might have to make something like, say, HeavenlyBodyLifting.com.
Your primary domain should focus on your content and send interested traffic to your Clickbank offer. However, I highly recommend making this page a landing page and using a subdomain for it. As I said, there are two reasons for this.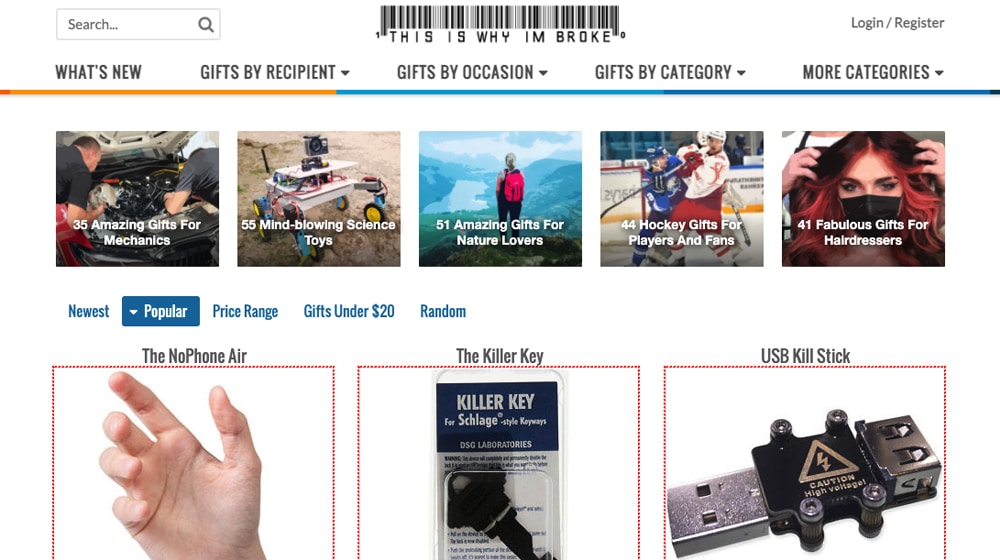 1. The first is search engines, which generally aren't a fan of affiliate sites. Google believes that a vendor should market for themselves. The affiliate promoters are just middlemen who are, at best, taking advertising money away from systems like Google Ads, and at worst, are spammers muddying the waters with misinformation and scams.
You can't hide your relationship with your affiliate offer. If you segment off your affiliate offer, it can let you focus your primary site on more legitimate content. Google still knows, of course. Heck, if you tried, Google would probably penalize you for the attempt.
2. The second reason is that affiliate marketing is insanely competitive. Not only are the best offers incredibly competitive, but there are also legions of spammers out there. There are people whose sole job all day long is to set up new websites, where they scrape content from existing sites to use to promote their links.
They often do this by domain, and they do this by finding the affiliate offer page and then copying content from that domain. If your affiliate offer is restricted to just moonbench.heavenlybodylifting.com, those scrapers will only scrape content from that subdomain.
3. There are also scammers out there who will try to drag you down. They'll try "negative SEO" tactics and try to spam your domain with links. By using a subdomain, you can trick some of them into directing their links just to the offer page and make them a lot easier to deal with.
None of this works against the more personalized or careful scammers, but a lot of the bot scrapers and spammers will be limited when you do this.
Audit Your Links
Links are the backbone of SEO. However, affiliate links fall into a gray area. They're paid links, right? You get paid for putting them in your content. Thus, they aren't organic links, so they shouldn't count towards SEO.
The number one mistake affiliate marketers make is leaving their affiliate links as "followed" links. While you might think this isn't a big deal, Google believes it is. From Affilimate:
"In short, Google considers affiliate links to be "paid links."
If you don't nofollow those links, it may warrant a manual penalty.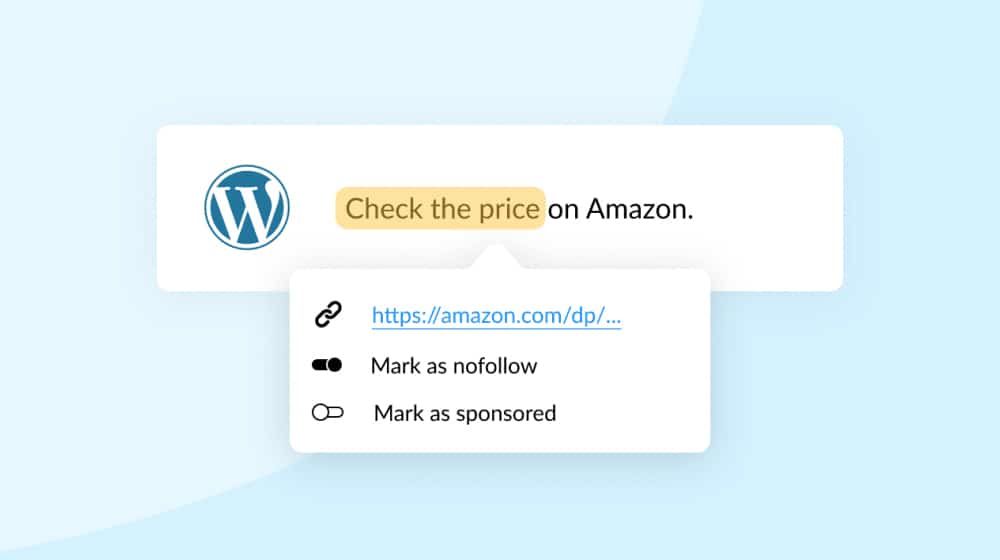 If you're not familiar with how manual penalties work in Google, in essence, your website can be flagged for having unnatural outbound links. There is a Manual Actions report in Google Search Console where you can see these penalties, fix the issue detected, and submit your site to be reviewed. A person then checks your website to see if the problem has been resolved.
The big deal is that having a penalty against your site can cause your rankings to drop dramatically or remove part of all of your website from being discoverable in Google."
In other words, if you leave out that critical little rel="nofollow" in your affiliate links, your site can get hammered or deindexed until you fix it.
Is your blog earning you business? If not,
let's fix that.
We create blog content that converts - not just for ourselves, but for our clients, too.
We pick blog topics like hedge funds pick stocks. Then, we create articles that are 10x better to earn the top spot.
Content marketing has two ingredients - content and marketing. We've earned our black belts in both.
If you run an internet-based business and are looking to scale, schedule a call to speak with our founder:
There are other things you can audit your links and look for. Many affiliate sites, particularly older affiliate sites, may have participated in link rings with other affiliate sites in the past. You might have linked to other affiliate pages that are now much worse, or no longer up to modern SEO standards, or have just died and been replaced. Nuke those links too.
Generally, watch out for unnatural outbound links, broken links, or point at spam sites now, or links that just aren't serving a purpose.
NOTE: Google has recently (as in, 2019) introduced rel="sponsored" as another link attribute. This tag was explicitly designed for links that are incentivized, which includes affiliate links. Google's official statement is that rel="sponsored" should be your go-to flag for affiliate links, but (at least now) they will not penalize you for using nofollow instead.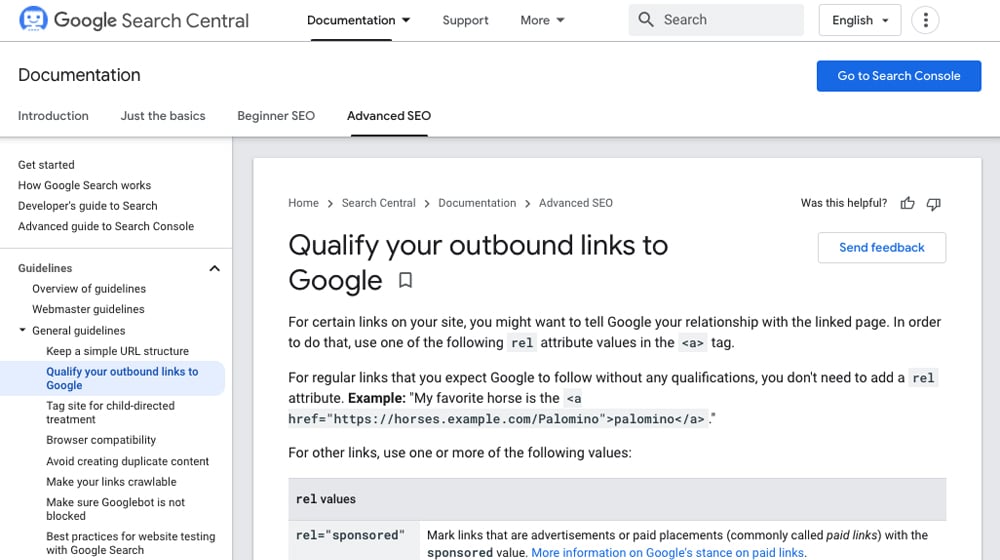 Essentially, Google is trying to add context and nuance to why a link might be "nofollowed." They also added rel="ugc" for user-generated content – that is, blog comments, forum post links, and the like – to serve a similar purpose.
If your site is old enough, a link audit and an update in link relation flags can go a long way. You might also want to check your Google search console, look for manual actions, and address them once you fix their problems.
Audit Your Content
There are a lot of things you can look for when you audit your content. Two of them are more important than the rest, but I'll list several.
Look for duplicate content.
If your affiliate site is old (pre-2011 primarily) or if you've never paid much attention to SEO, it can pay to check for duplicate content on your site. There were many cases where an affiliate site might write one piece of content, swap out the keywords a dozen times, add in "relevant" affiliate links, and call it good. These days that earns you a demotion for duplicate content.
I recommend removing all but one instance of duplicated content. If multiple pages have traffic or links pointing to them, redirect them to your main content. If none of them do, you might be safe just nuking the whole thing. Content old enough to be subject to that kind of duplication is also not likely to be up to snuff for modern SEO anyway.
Look for content you stole.
You won't get any judgment from me here. Affiliate marketing is a lot of work for relatively low gains, and many people got their start just stealing content. If you're trying to "go straight" and fix old mistakes, make sure to audit your site and identify any content you copied from other sources.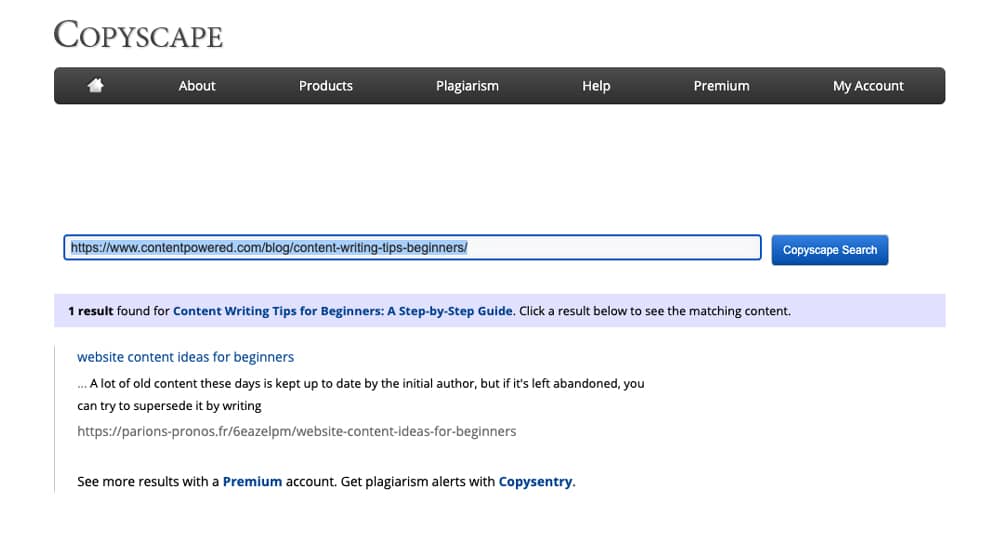 If you don't recall doing that, do the audit anyway. Maybe you did and didn't remember, or you bought content from a content mill, and the writer stole it. Perhaps you used an article spinner (spun content is still detectable and penalizable), or you paid a marketing company a few bucks, and they did it. Or, maybe you bought the site as-is and whoever owned it before you did it. There are plenty of reasons why you might have stolen content you don't want.
Just identify and remove this kind of stolen content. It's 100% guaranteed to hold you back, and removing it will boost you.
Look for your content that has been stolen.
The flip side of the coin is that sometimes your content was stolen and posted on other sites. Like I said, affiliate marketing is cutthroat. There are many ways to find people who stole your content and posted it on their website. Luckily, I've written about this a few times and have guides for you. Check these out:
Since a large part of your success with Clickbank affiliate marketing will be content marketing, you need to protect your content.
Look for thin, short, or low-value content.
Any content audit should also look for thin content. Thin content is anything too short, too fluffed, or too lacking in substance to have value. The determination is somewhat subjective, but I draw the line at anything under 1,000 words, generally. It's just not enough space to write something worthwhile and unique.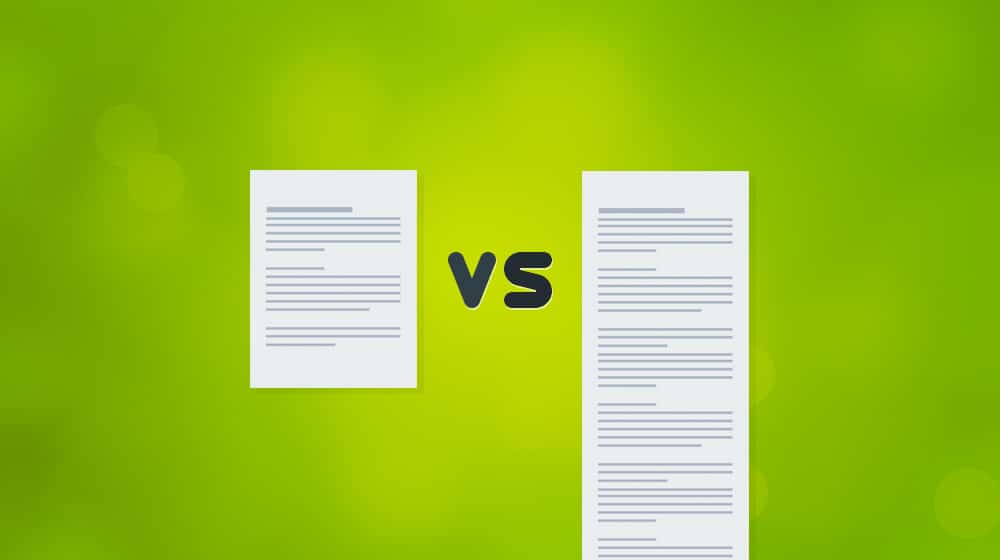 Scan through your content and read it. Put yourself in the shoes of a visitor and what they might want to get out of it. What value do they find in it? If you can't think of anything, it's probably not worth keeping.
If you want an automatic scan to help you, Ahrefs has a site audit. It's a paid tool, but it's instrumental. Try to get your site over 90% on the auditor, and you should be in a good place.
Bolster Your Non-Blog Site
Affiliate sites tend to be small and thin because all of the assorted fringe pages take time and effort to create but have no tangible returns. After all, who will click on your privacy policy and then click through to your affiliate offer?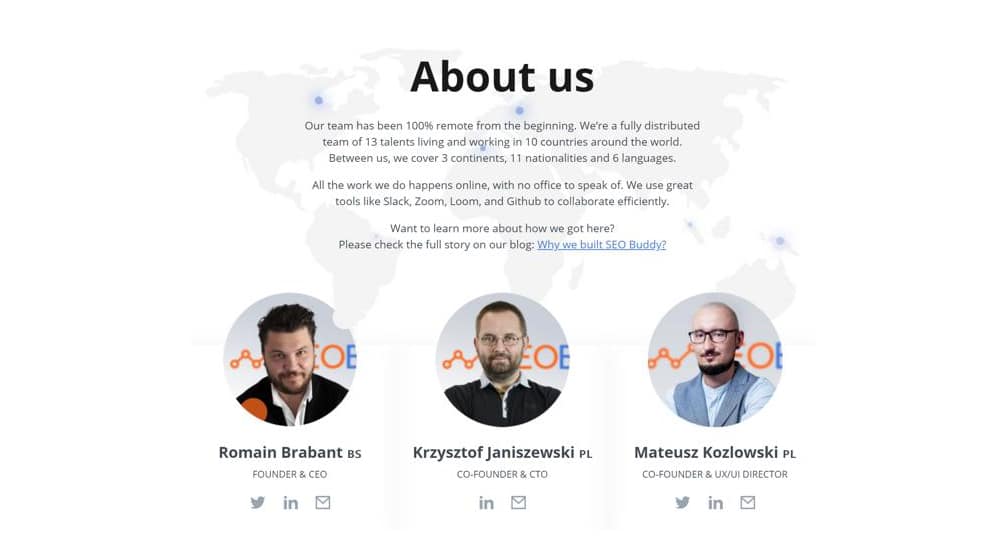 However, pages like:
About
Contact
Benefits
Privacy Policy
Terms of Use
Features
Pricing
Having each of these pages will give you two significant benefits. One is trust. Users expect that a real business has those pages, and a scam does not. So, by having them, you have implicit trust from skeptical users. The other benefit is SEO-related; all of those trust factors are also ranking factors. They aren't huge since it's a have-or-not binary flag, but it's better to have them.
Blog Regularly
Yes, I know. You probably got into affiliate marketing because you don't want to put in the work to make money. That's fine; we all dream of passive income. Unfortunately, the internet is beyond the point where you can throw a five-page affiliate site into the world and make money from it.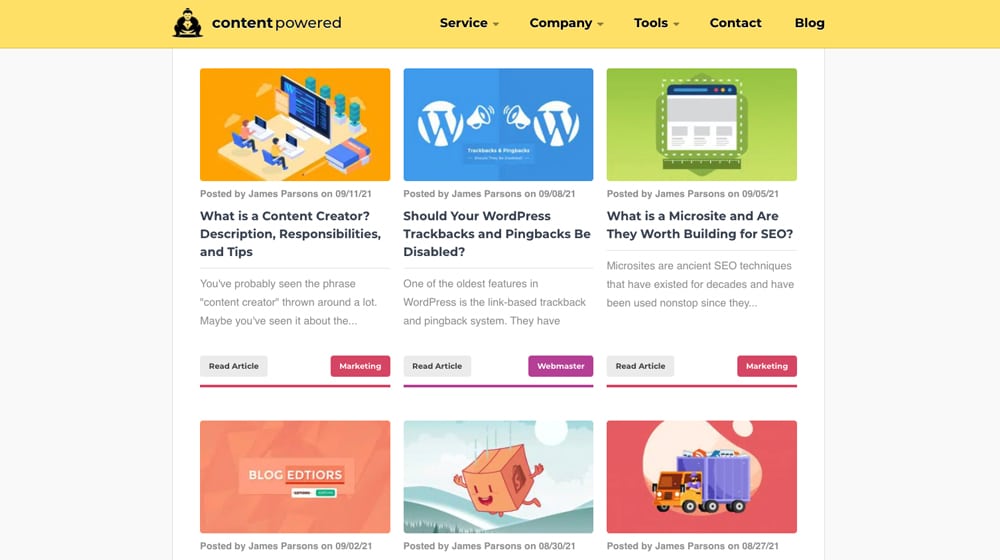 The key to good content marketing and SEO is content, of course, and more than that, it's regular content. It doesn't have to be skyscraper content, it doesn't have to be daily, but it should be routine to keep you on track for your goals. Publish at least one blog post every two weeks, though I recommend once a week as a minimum. After 6-12 months of keeping that up, you'll see very definite returns.
Make Your Affiliate Site More Site Than Affiliate
The truth is, no matter how you're making money online today, the key is with sustained blogging efforts. Everything else is a way to promote your content, which is a way to convince people they need the product you're selling.
Far too many affiliate sites are much more "affiliate" than they are "site." Websites that primarily exist to make money and not provide value generally won't perform well in organic search. I told you that search engines dislike affiliate marketing in the section above, but that's not strictly true. Using affiliate marketing to make an income from a good site full of information is fine. Using a site to push an affiliate offer with very little else to offer is not.
So, prioritize your content, and the rest will fall into place.