33 of The Best Free and Paid Press Release Submission Sites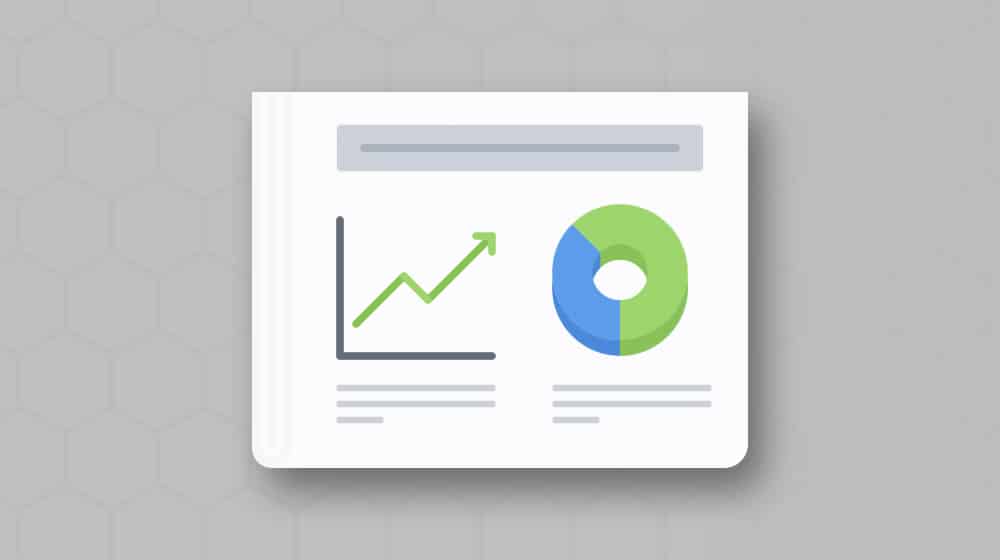 Press release submission is one of those digital marketing techniques that marketers may not discuss very frequently because it hasn't changed much in years. Press releases are a specific kind of document, with formatting and conventions that haven't changed in a decade. Press release submission is the same as it has been for the past 20 years: you can send it to journalists, news agencies, and press release aggregators. However, press releases didn't go the way of social media bookmarking sites, and many are still around to this day.
It's that last category I'm covering today. Press release aggregators are sites that exist solely to allow you to post press releases. That's all they do; publish press releases from a wide variety of companies, large and small.
Some of these free press release websites are potent resources, with large audiences full of news, media, journalists, influencers, and other content marketing experts looking to keep on top of the next big trend. Others are glorified trash cans that charge you for the opportunity to throw your press release in the garbage. Unfortunately, it can sometimes be difficult to tell which is which, primarily if you've never used them before.
What I've attempted to do with this list of press release sites is create a resource for press release directories that is both relevant and useful. I've divided it into two sections – paid and free – depending on whether or not they charge for submission. And, of course, I've tried to limit my selection to only sites that are worth using. Any website that gives you near-zero returns shouldn't be on this list.
Incidentally, this list is a living document. If you know of a new press release site worth using, let me know about it. And, if one of the sites on this list drops off the face of the earth (or, more likely, is purchased and rolled together with another one), let me know that as well, so I can remove it accordingly. An updated list is a great list, after all.
A note about definitions: sites listed in "paid press release sites" only allow paid submissions. Many, if not most, free press release sites offer paid options, which I'll be mentioning there as relevant. If there's a free option, it's under free; if there's no free option, it's under the "paid" section.
Paid Press Release Sites
These sites tend to be higher-quality than the free PR sites. Their networks are larger, and they have a large syndication network made of household names and news sites. After reviewing these options, make sure to review the free options to compare their offerings and their websites for yourself.
The difference should be immediately apparent.
1. Newswire: Newswire is one of the top paid press release distribution networks globally. Their pricing starts at $300 for a single press release in their most limited category. However, this category still includes potential access to the Associated Press and Google News. Yahoo News, plus geographic targeting and global distribution, costs more. Their top tier of international distribution is $2,000. A steep price to pay, to be sure, but it gets you global distribution.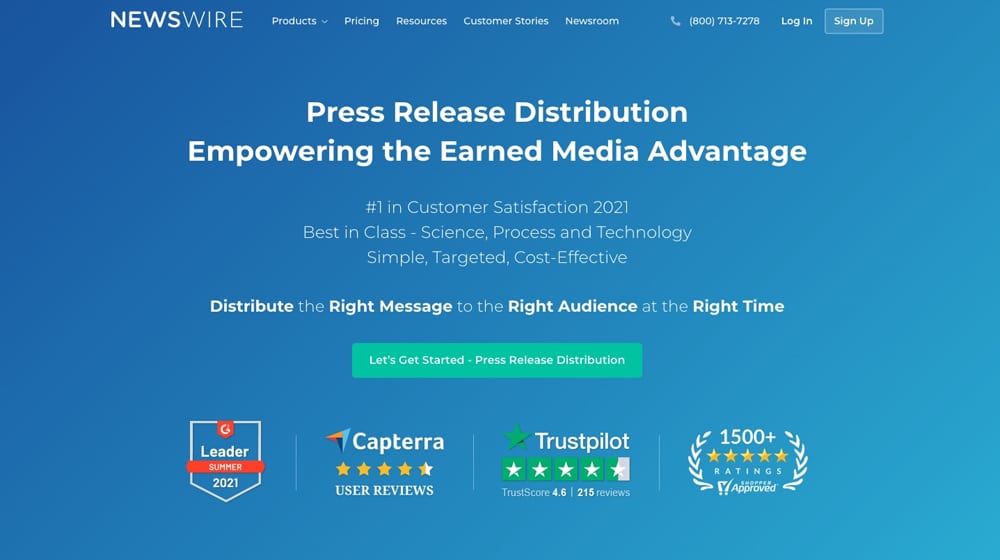 2. Cision PR Newswire: Formerly just PR Newswire until Cision bought a few years ago. They do a little bit of everything, up to and including radio media tours, earnings reports, international releases, media monitoring, microsite development, public service announcements, and far more. They have thousands of websites, news agencies, and media outlets in their network. Pricing depends heavily on what you need, but you can expect to spend $1,000 at the bare minimum.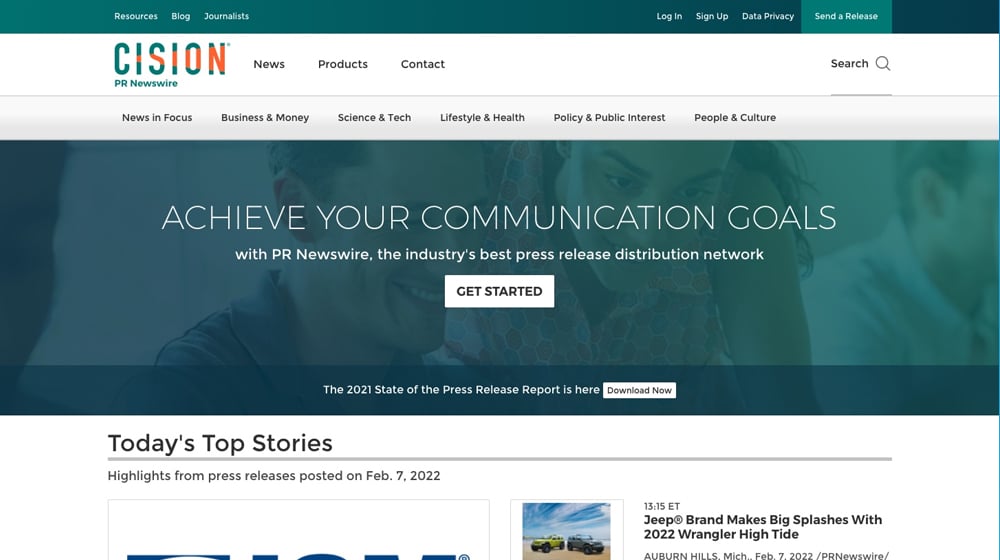 3. Business Wire: This is the press wing of Berkshire Hathaway, and as such, has connections to some of the top media outlets in the world. They claim to have access to over 100,000 media outlets in their high-end global PR distribution. They may or may not have international distribution; you'd have to talk to them about it. Local targeting for a state or city region is $475, while U.S. national exposure is $940.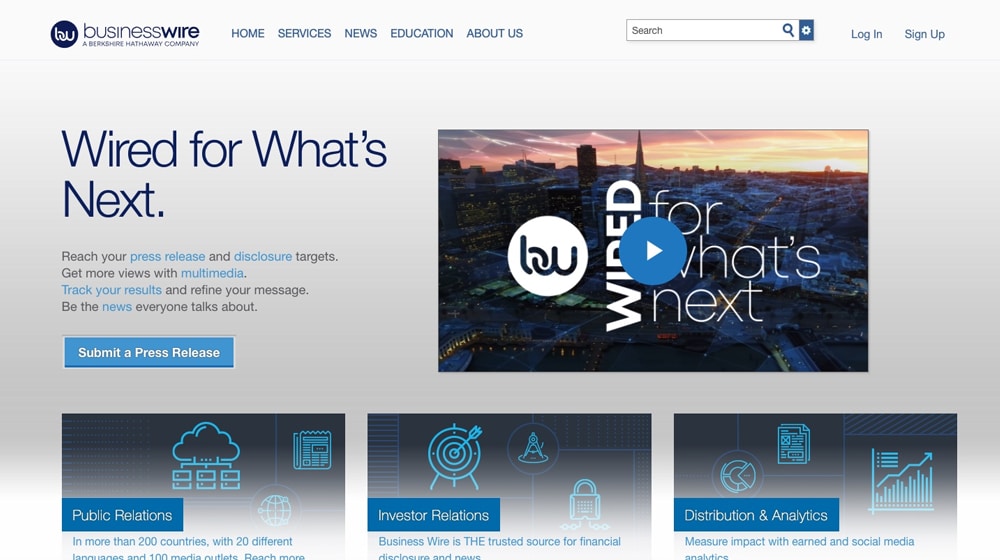 4. 24-7 Press Release: This is a smaller yet international press release distribution network. It's "smaller" in that it's not a high-profile site aimed at national corporations. Their pricing is more reasonable, and since they're based in Canada, they have at minimum distribution throughout North America. $49 gets you visibility on their site. $89 adds in the Associated Press, and their top plan, for $389, hits PR Newswire as well.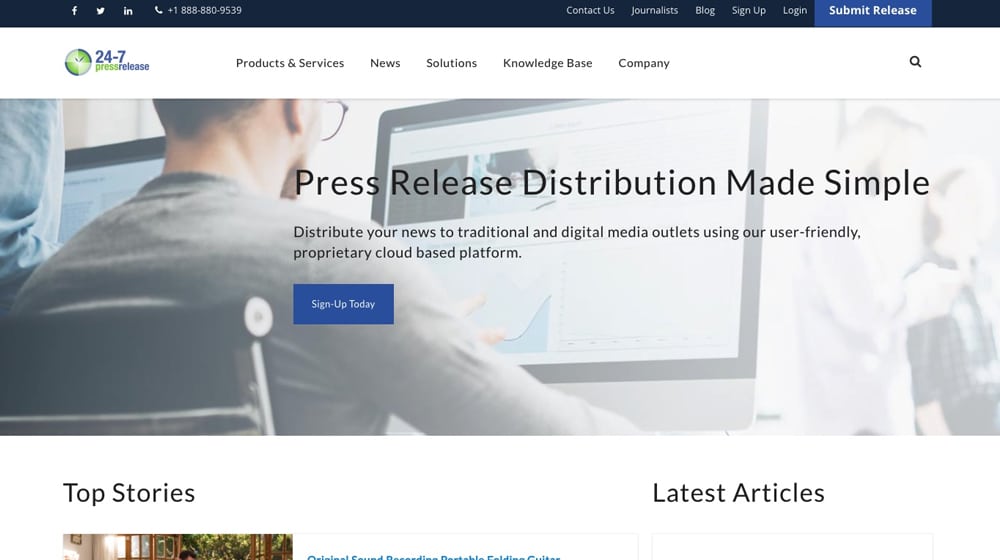 5. Globe Newswire by Notified: Notified is a media distribution company using Globe Newswire as their press release distribution arm. They boast global reach, the ability to use multimedia in your releases, and even full-service translation rather than simple machine translations or the requirement of submitting your own translated versions. Pricing used to start at $150 for DIY management and $560 for managed services, but that was before Notified acquired them, so it's hard to say what it is now.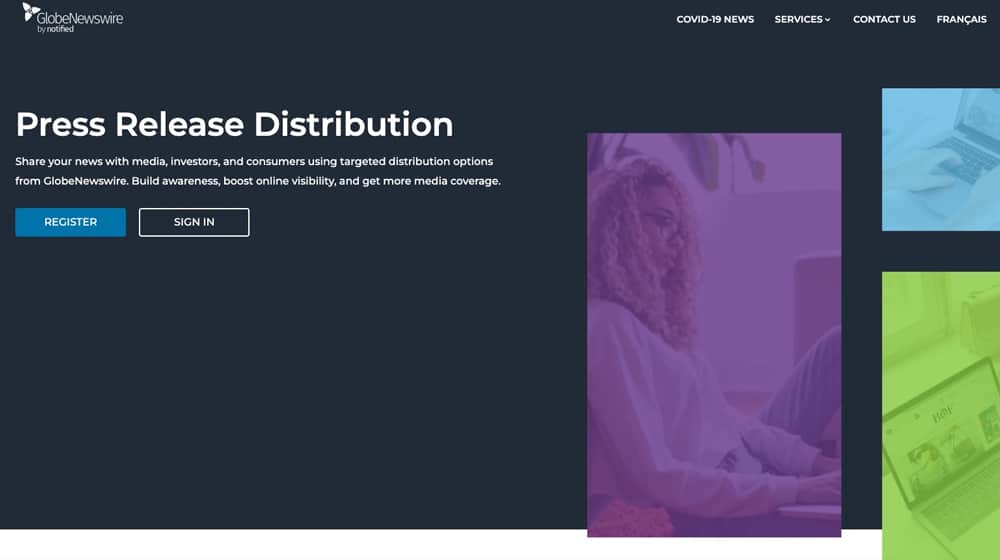 6. Pressat: A UK-based press release distribution site with a global reach. Pressat is simple compared to others; their plans all contain roughly the same offerings; it's just a matter of buying a single release, monthly releases, or annual ongoing subscriptions. A single release is 110 pounds, and the yearly plan (which gives you 18 press releases throughout the year) is 1,499.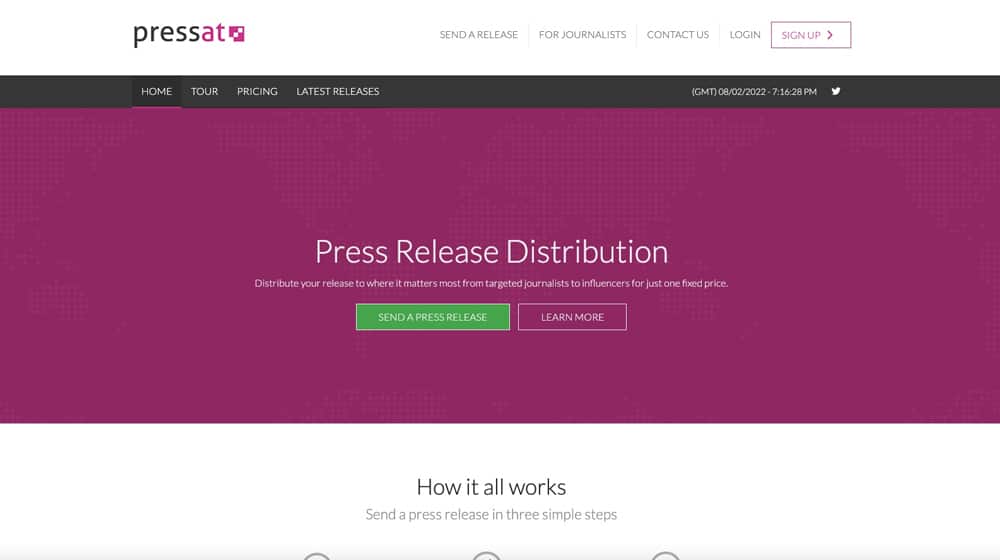 7. PR Underground: This is another U.S. domestic press release distribution network, this time using many of the generic local affiliate news agencies present in every county and city across the country. Think of it as distribution via saturation. Fox, NBC, CBS, Google News, Twitter; their service does a little bit of everything. They're also relatively cheap, probably because they don't do international or intense hand-held service. They start at $50 and go up to $310 for a single release or $99/$149 for recurring single or six-pack monthly releases.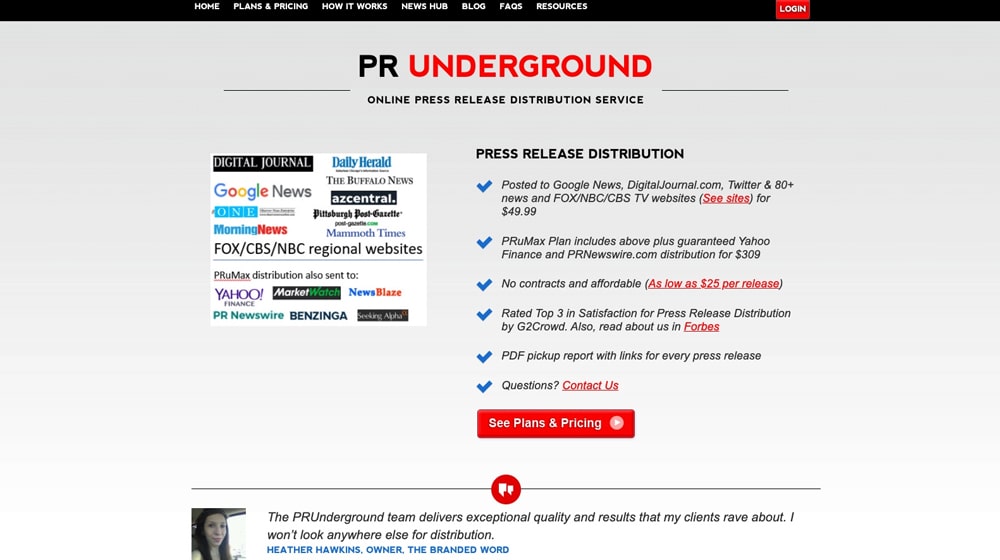 8. eReleases: A combination of a press release network and a syndicated content distribution network, this site looks straight out of the late 90s but has a functional back-end that can make it worth trying out. Like 24-7 above, their mid-tier plan offers distribution through PR Newswire as well. Plans start at $300 for a single release with "custom national distribution," Their top package is $600 and includes direct-to-journalist distribution.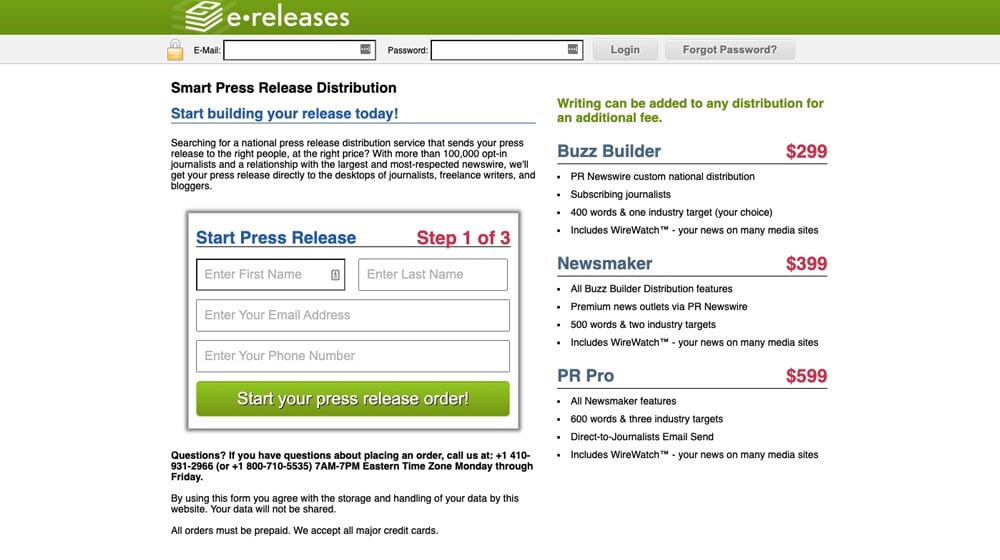 9. EIN Presswire: This relatively cheap national and international press release distribution through this network. This cheaper-than-usual pricing is because, while they claim they have thousands of channels for submission, most of those channels are subdomain sites of their creation. It's unclear how much traffic they get, but hey, for $100 for each press release, that's not bad. If you buy in bulk, you can get even cheaper press releases, too. For example, it's $400 to get 12 press releases to be used within two years of the date of purchase.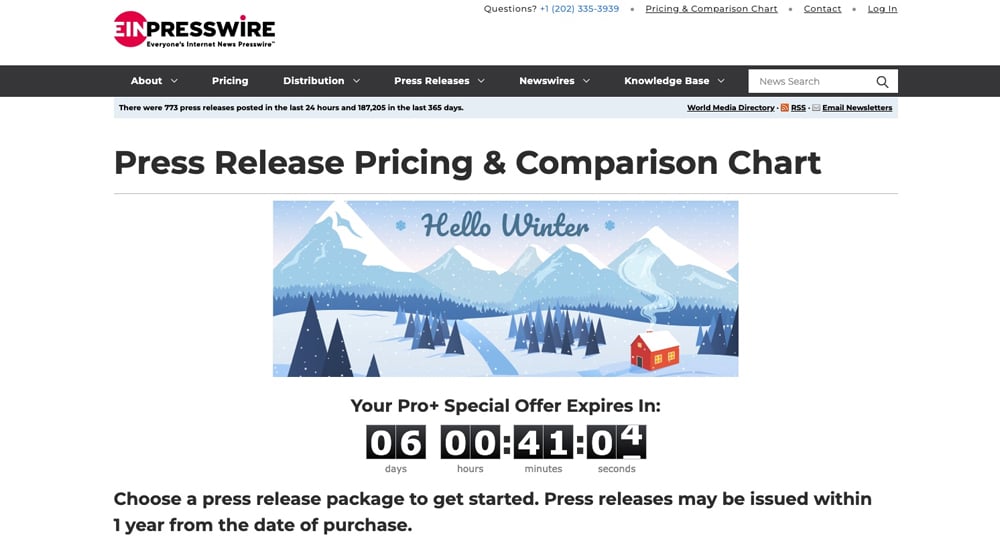 10. Send2Press Newswire: One of the older press release distribution websites, this company has operated for 35 years, or so they claim. They hit big news aggregators like Google News and news wires like AP, Reuters, and UPI. They have national, industry-focused, and state-level plans available. The national-level online-only basic package is $90 and seems their cheapest offering. Their top package, surprise surprise, adds on PR Newswire distribution and costs $600 for a release.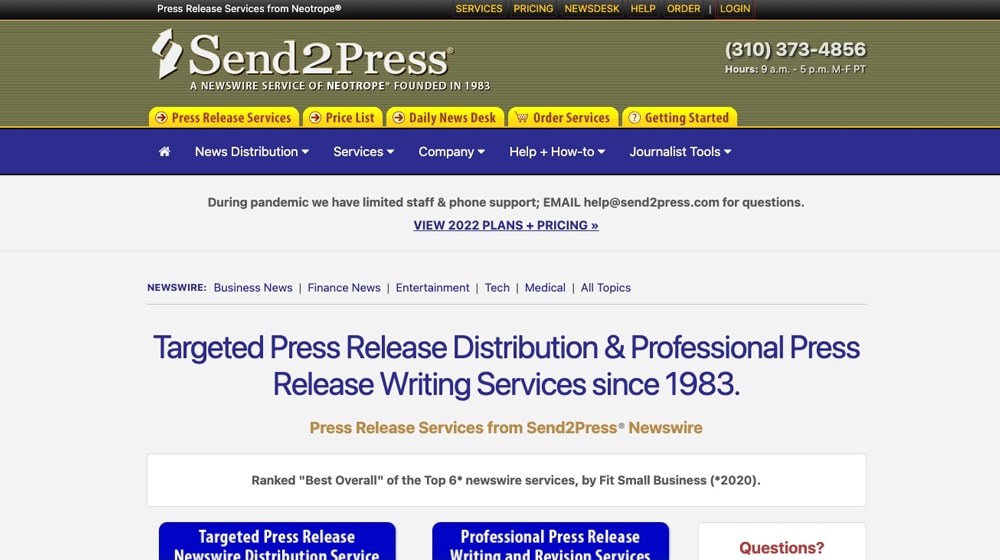 11. PR Web: PR Web is another Cision company. Cision bought up both PR Web and PR Newswire a few years back. PR Web is their cheaper offering, starting at $99 for their essential press release distribution. Their premium "go viral" release tier does more direct email distribution to industry publications and will run you $390.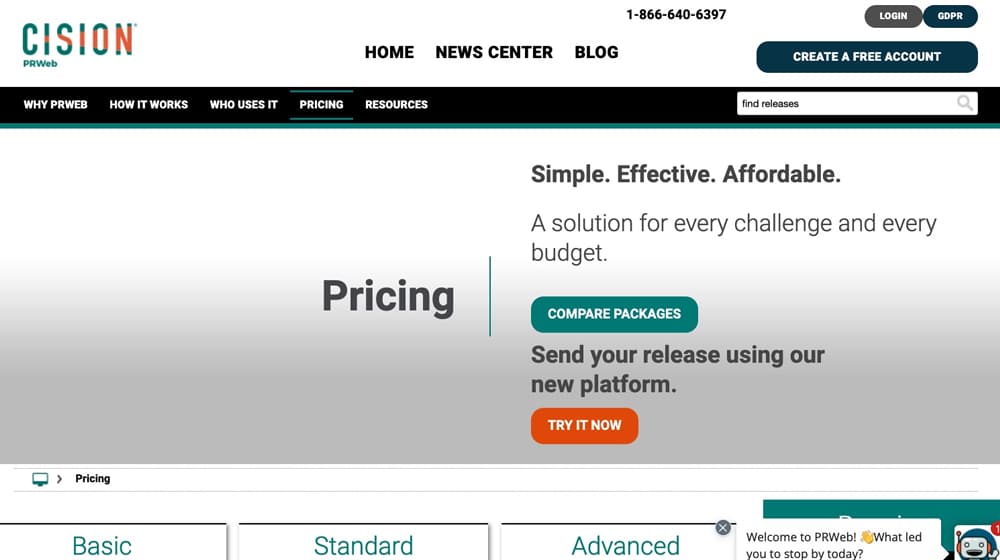 12. SiteTrail: This is an exciting press release service in that rather than a handful of packages, they have dozens, if not hundreds. They're all divided by industry and target area and have an extensive range of prices. Some smaller or single-site distribution options run around $120, while some high-end, multi-site, national, industry-wide plans cost $10,000. There's something here for pretty much anyone if you can find it.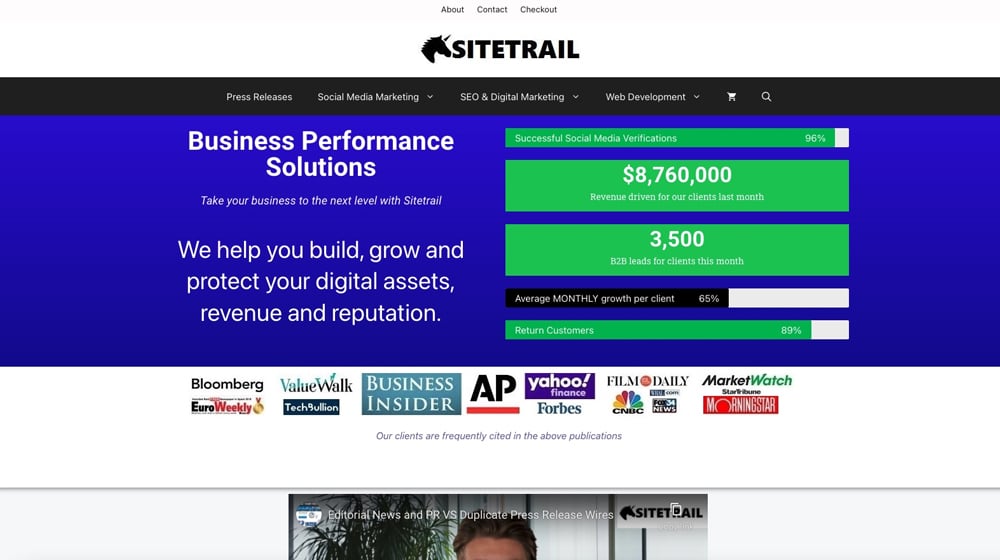 13. PRFire. PRfire has both a .com and a .co.uk website, depending on where you're looking for press release coverage. We've worked with Sam, the owner, and he runs a tight ship. He has impressive connections with top publishers all across the industry, a growing team, and competitive prices. Give them a look!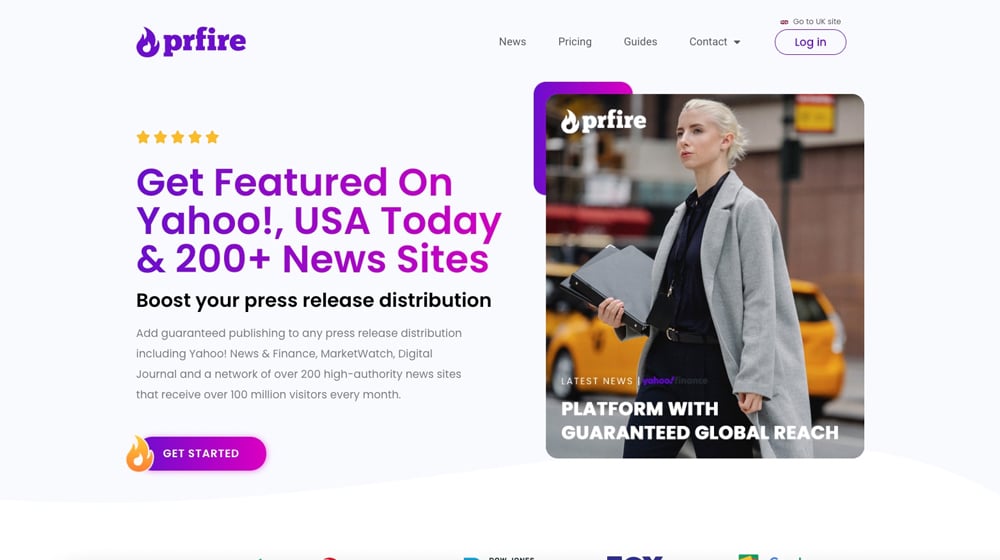 14. 24-7 Press Release. This company has been around since 2004 and has distributed over 500,000 press releases. They're one of the early competitors to some of the noteworthy sites like Cision and PRWeb. Their pricing starts at $89 for primary press release distribution and $139 for extended distribution. They also have a $419 "mass visibility" package where they distribute your release to over 2,500 media networks.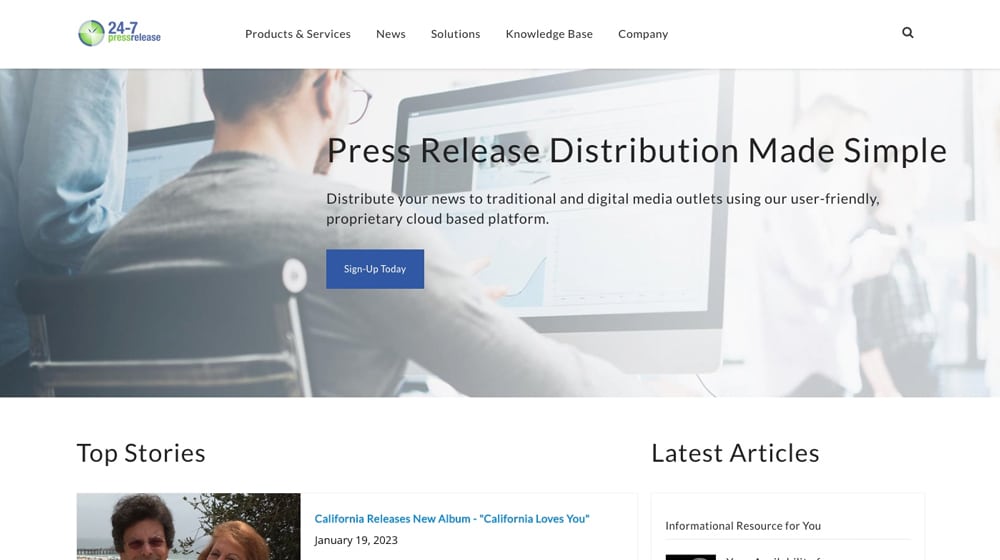 Is your blog earning you business? If not,
let's fix that.
We create blog content that converts - not just for ourselves, but for our clients, too.
We pick blog topics like hedge funds pick stocks. Then, we create articles that are 10x better to earn the top spot.
Content marketing has two ingredients - content and marketing. We've earned our black belts in both.
If you run an internet-based business and are looking to scale, schedule a call to speak with our founder:
Other Options
The rest of the paid-only press release networks are newer or otherwise not as noteworthy as the ones I've listed above but may still be worth looking into.
15. Newswire Jet: Newswire Jet charges $59 for simple distribution $99 for submission to news networks like Fox, CBS, and NPC.
16. SBWire: A subscription-based service, starts at $60 per month for three press releases.
17. Linking News: $159 for a basic plan that includes ABC/CBS/NBC/Fox distribution. Higher-tier plans add AP, Yahoo, Bloomberg, and many Chinese news networks, if that's your thin.
18. Accesswire: Accesswire claims to be one of the most accessible distribution networks, with plans starting at $159.
As mentioned above, if you have more to add to this list, let me know. Be sure to check the free list first, though; no duplicates!
Free Press Release Sites
Of note: free press release submission sites are free for a reason; they aren't likely to get you much more than some link saturation and maybe a bit of awareness. Often, they have restrictions on the content they publish, as well. For example, they might strip links, or they might not allow images, or they might have very strict word counts. Pick and choose as you see fit.
Bloggers should always exercise caution when using free sites like these. Some of them essentially function as giant "user-generated links" pages, which Google doesn't like. Links published on some of these sites could be considered valueless or, potentially, even detrimental to your site.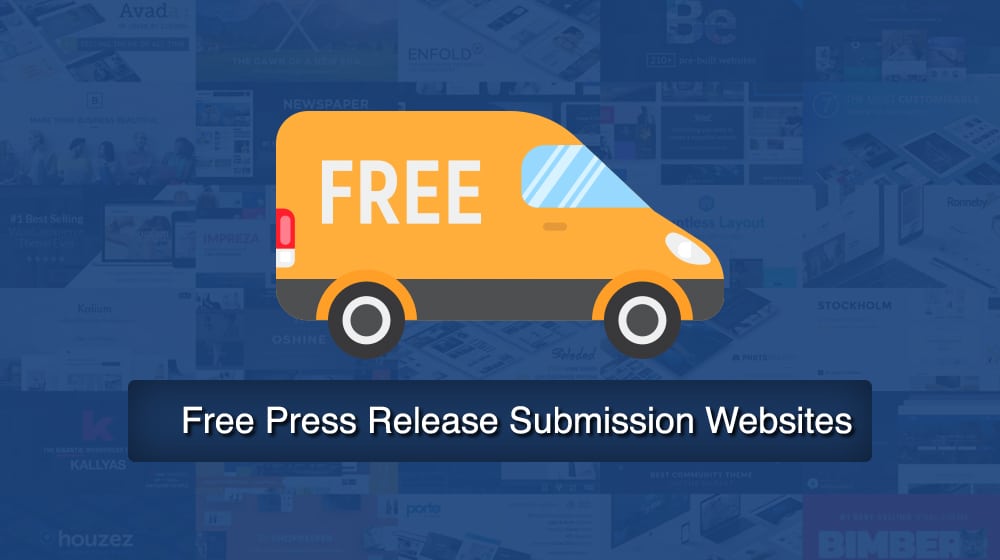 19. Online PR News: Online PR News offers free and very cheap plans; their free press releases are taken down after 90 days.
20. PR Log: Free submission-only posts the press release on their site, and while they allow links and media, they don't do anything to help distribution beyond "have an RSS feed."
21. PR.com: Offers both free and paid press releases; however, paid press releases are given preference in their feed, so if you use the free service, you're likely not getting much exposure from it.
22. PR Zoom: PR Zoom is another one of those free press release sites that also offers premium releases, which get preferential treatment on their site, pushing down the free posts.
23. The Open Press: This website looks like it was built in the '90s, but it has a decent amount of authority. It's free for anybody to post a press release. The site is pretty quiet, with only a few new press releases being published each week, which may be a good or a bad thing, depending on how you look at it.
24. ClickPress: ClickPress is a "free" press release site, but only for charitable organizations and "corporate social responsibility news." Advertising-focused press releases have to pay for distribution instead.
25. 1888PressRelease: A limited free plan and many options you get if you pay for a plan. Free plans are essentially just advertisements for the other services they offer.
26. Market Press Release: A simple, free press release site that offers paid plans if you want more than one release per month on their site. Paid plans are $240 per year.
27. OpenPR: A mostly-open press release site with limitations on content, repeated submissions, and specific industries. No adult, supplement, or online pharmacy releases.
28. PressReleasePoint: This is a larger site with some surprisingly large businesses that have an active presence. At the time of posting this, IBM, ICANN, UNESCO, and the USPS have all posted press releases on this site. Best of all, it's completely free to submit a release.
29. Express-Press-Release: This is a DA 44 press release submission service. It's free to submit individual releases, but if you have a large number of press releases you'd like to submit, they have a $99 per month "Unlimited" posting plan for resellers and agencies.
30. PRFree: Like many of the sites under this "Free" list, this site isn't very active, as there is only one press release published per week on average. Still, the site has a decent amount of authority, and it's still being updated.
31. MarketPressRelease.com: This site is still very active, publishing several new press releases each day. It's a DA 44 site, though all links are nofollowed, as with most of these press release websites.
32. NewsWireToday: Not to be confused with PRNewswire, NewsWireToday has premium press release pricing and charges between $199 and $399, and while it isn't instant approval, they claim it's "same day" and guarantees your listing. They also have a "free basic submission" service, though there may be a long wait queue.
33. PRSync. PRSync is an entirely free press release site. To submit a press release on their site, you have to register to a free account, but the process is fairly straight forward. Their website isn't as large as some of the others on this list, but they still have a decent amount of traffic and authority. 
Dead Sites
I'll be updating this list over time as these press releases go out of business or their website dies. Many of these sites are mentioned in other lists but haven't been updated yet and are still mentioning them.
1. Free-press-release.com: This was a large DA 61 press release directory registered since 2002. Interestingly, this domain is for sale.
2. Betanews.com. While this site is still active, they haven't published any new press releases in a long time. You can still try contacting them by email, as they're accepting tips for newsworthy content. It's unlikely that most press releases will qualify, though.
3. PR9.net: This was a very low-volume site. I have no idea if their online press releases are worth anything, but given how few people seem to use it, my guess is "probably not." It went offline sometime in October of 2022.
How to Tell if a Press Release is Working
It's one thing to shotgun out press releases across a ton of different sites, but how can you tell if they're doing anything for you? Well, two ways.
1. First, many paid press release platforms (though not all) have built-in analytics. They'll show you where they've published your release and what kind of traffic, clicks, and other metrics are coming from it. You have to decide for yourself whether or not you trust their numbers, but they will undoubtedly give you numbers to analyze.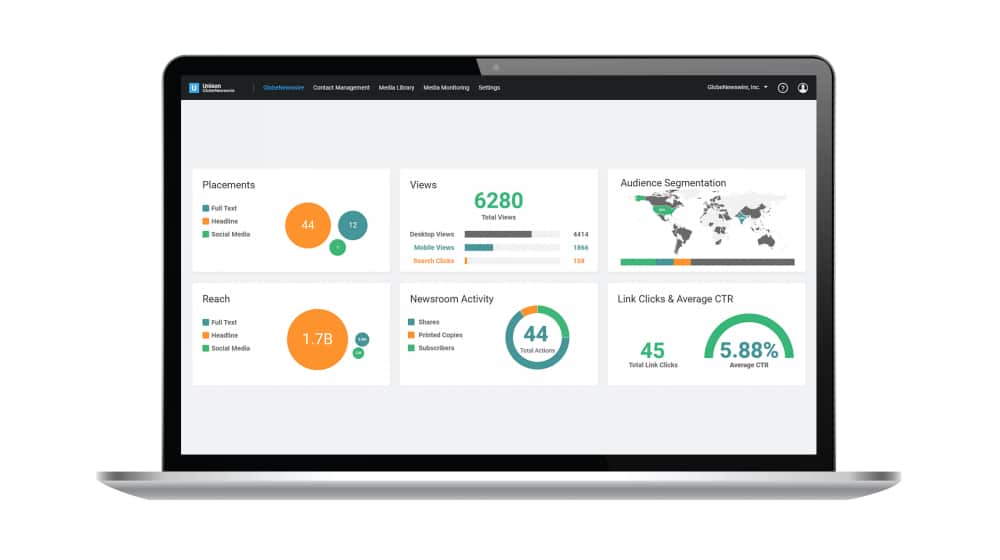 2. The other option is to analyze it all yourself. Take a snapshot of your analytics before publishing and another one a few days or weeks after posting - if your traffic/links/metrics go up, great! If not, well, you're probably not getting much out of that site. Unfortunately, that will be the case with a lot of free press release sites. Many don't have an audience outside of other people looking to submit press releases. There's a reason why so many free sites look like they were set up in 1992 and haven't received an update since, after all.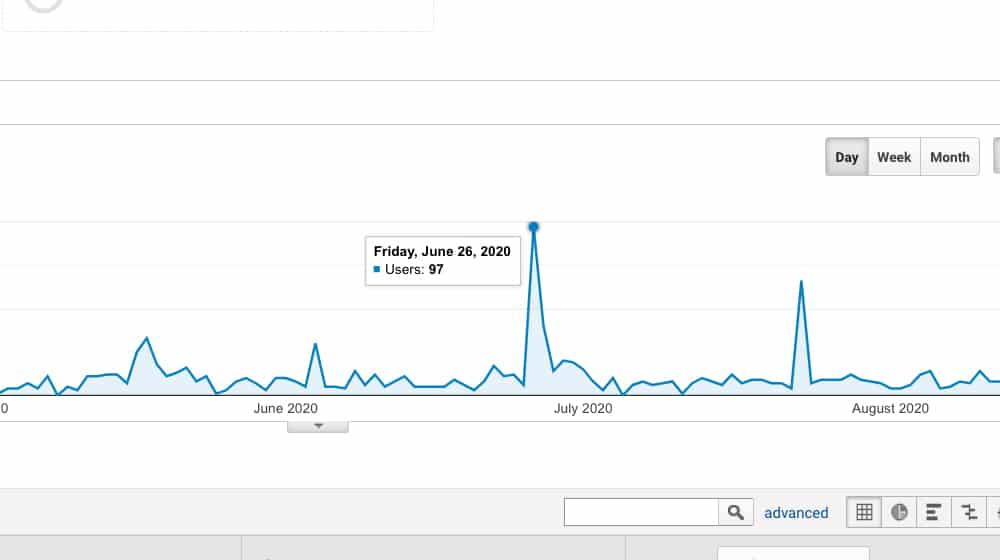 It's worth mentioning that press releases aren't likely to help your search engine optimization. Search engines like Google tend to ignore press release backlinks, as confirmed by John Mueller of Google. Even if you do receive some high DA (domain authority) dofollow links, the off-page SEO value from those links will likely either be discounted or ignored altogether. There may be a slight possibility that they help your page SEO indirectly, but even that is wishful thinking. There are many better alternatives for your website growth than press releases.
I'm interested in your story. Have you ever used a free press release submission website and had relevant returns from it? If so, let me know about it. I'm sure if you write a press release and submit it to these free sites, it isn't going to do much for most small businesses, but maybe there's one that I haven't mentioned that is a hidden gem.