PRWeb vs PR Newswire vs GlobeNewswire: Which is Best?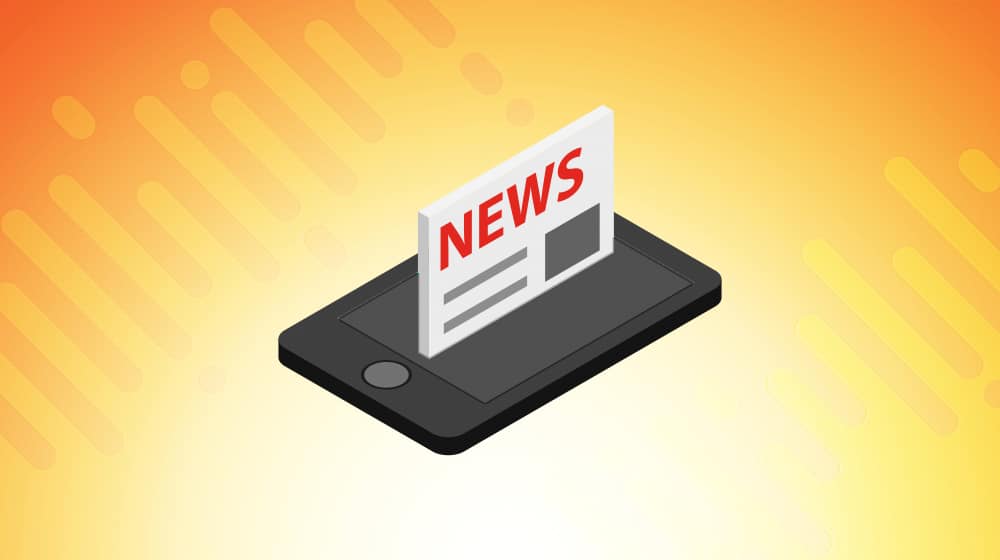 In the world of marketing, you can divide everything up into increasingly smaller chunks until you get down to something bite-sized. Marketing as a whole can be divided by category, into online marketing and offline marketing. Online marketing can be further divided into chunks like content marketing, outreach, and so on. Outreach, among other things, can be split up into different kinds of outreach, including press releases.
Marketing with press releases means crafting a compelling release and sending it out to various news agencies and blogs. Those agencies can then choose what to do with it. Some publish the press release whole. Some use it as a jumping off point to write their own coverage. Some use it as an opportunity to reach out to you and write an interview or some other more detailed coverage.
The problem is, press release outreach requires building up a list of destinations to send your press release, and that can take a long, long time. There are thousands upon thousands of blogs and organizations that might like your press release. How do you know where to send it?
It's no wonder, then, that many businesses turn to PR distribution companies to handle their press releases for them. There are a bunch of these companies, of course, but I'm going to be talking about three of them specifically today. What are they? Well, if you read the title, I'm sure you can guess. Let's take a look.
PRWeb Basics
Website: http://www.prweb.com/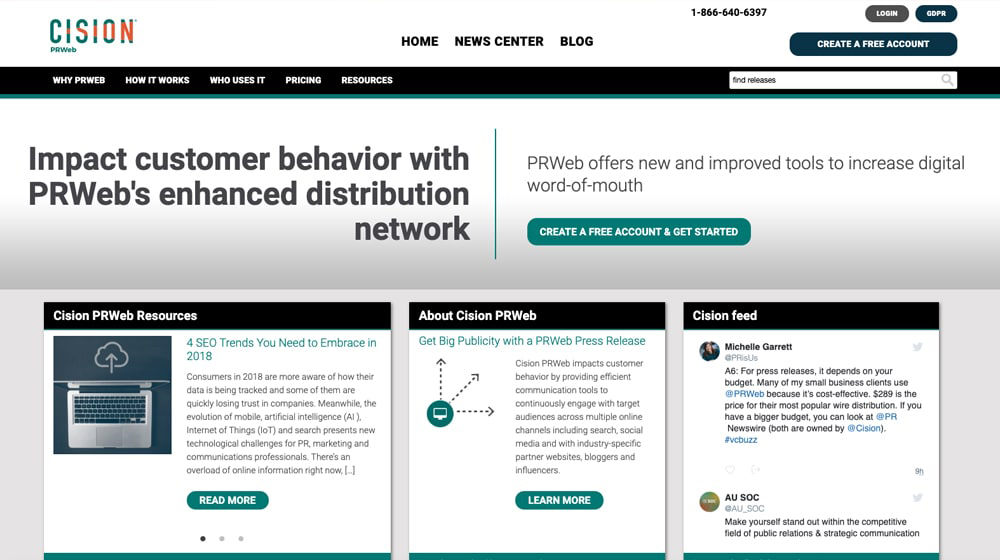 PRWeb is a press release marketing agency owned by Cision. Cision is a public relations firm and software company that produces a cloud platform for outreach and marketing. Among the other services they own are iContact, Eureka, and Help A Reporter Out, all of which can be quite effective in their areas.
The core PRWeb service is press release distribution. You create an account and can use their platform to create a press release, based on templates or from scratch. These press releases can be basic text, but they can also include photos and video, and has a range of formatting options to include quotes and other types of content.
Once you have produced your press release, you can then distribute it. PRWeb maintains a database of publishers, news organizations, blogs, social network accounts, and other distribution channels. All of the channels in their database are tagged and indexed, so you can search through them to find distributors in your niche and with interests that match your expectations.
Picking (and paying for) distribution moves you onto the final phase of their system, which is monitoring. PRWeb includes analytics and tracks the publishers in their database. When your press release is accepted and covered, it is reported in your dashboard. You can use this to fine-tune your efforts, optimize your press coverage, and ensure the highest rate of return for your coverage.
PR Newswire Basics
Website: https://www.prnewswire.com/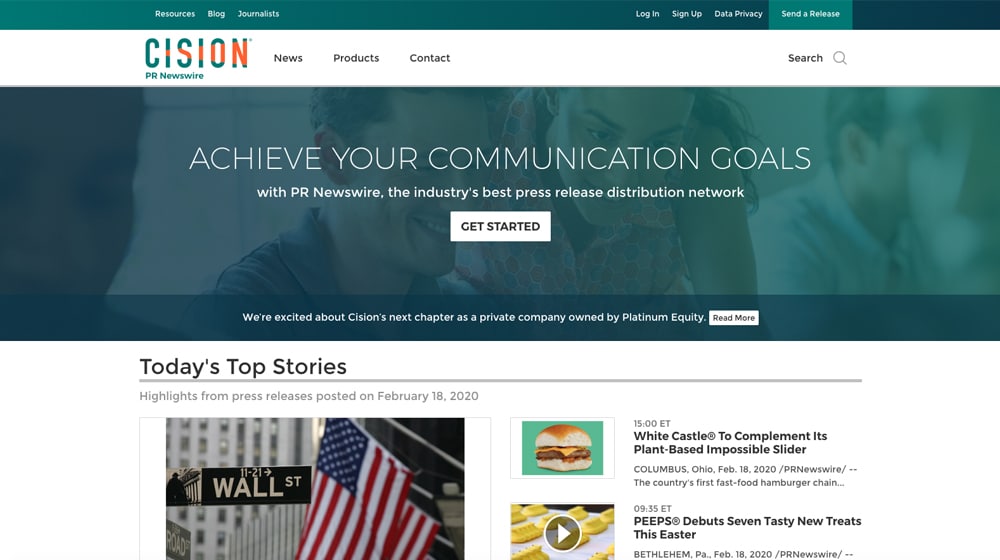 PRNewswire is a press release marketing agency owned by Cision. Cision is… alright, so you probably read the intro paragraph in the first section up above. That's right; Cision owns both PRWeb and PRNewswire. PRWeb was acquired by Vocus in 2006 (Vocus merged with Cision), and PRNewswire is a company that they acquired back in 2016.
PRNewswire is a much more robust platform, however, with a wide range of different services and products they offer. All of those products and services are related to marketing in some way, but they run the gamut from basic press release marketing to regulatory compliance to more general marketing.
You can probably assume that PRWeb's services are part of the overall banner of PRNewswire's offerings, but managed separately for branding reasons. Pricing and products are certainly very different. Thus, while they're both owned by the same company, I'm going to treat them as different companies.
GlobeNewswire Basics
Website: https://www.globenewswire.com/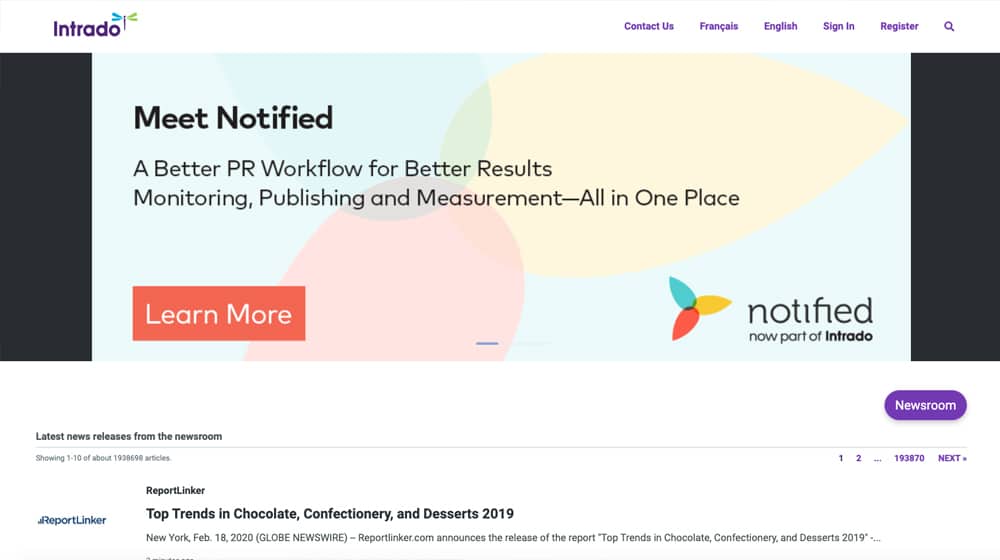 GlobeNewswire is not related to Cision, at least as far as I know. They're a stand-alone company distributing press releases, largely on their own site, and their parent company is Intrado. In fact, if you scroll to the bottom, their front page has ten press releases out of a total of, as of this writing, 1,936,050 published press releases since they started. That number is growing all the time, as that entire first ten was published within the last 45 minutes while writing this.
While it's easy to assume that the company only posts content to their own site, they have ties with many other news agencies around the world. In particular, you can see a feed of press releases submitted by GlobeNewswire on the Associated Press website.
Each of these three operations has its own set of services and price rates for each. Let's take a look at them and see how they stack up.
PRWeb Services and Pricing
PRWeb has four standard service packages, two upgraded service packages, and a series of add-on products.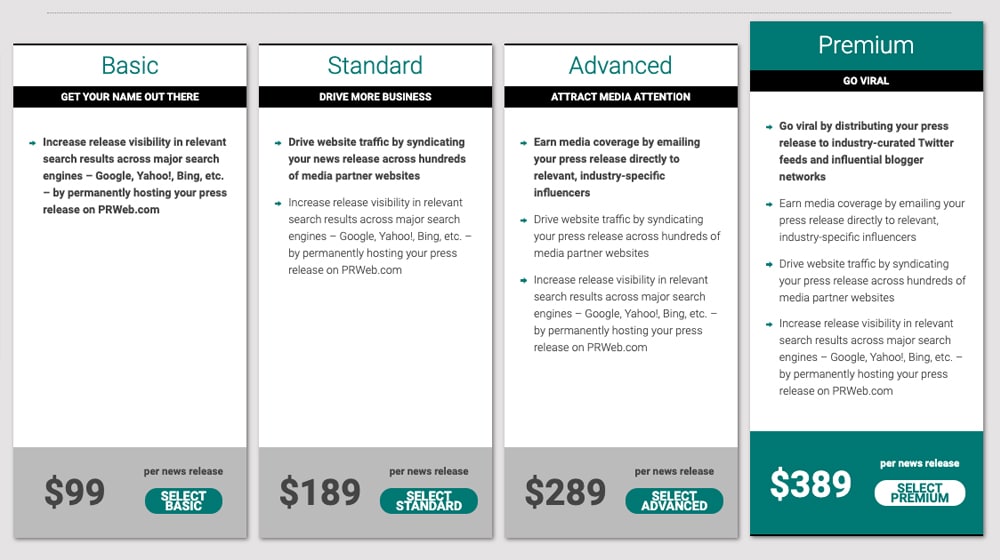 Basic: The cheapest and most basic of the offerings from PRWeb. This only does one thing: hosts your press release publicly on PRWeb.com. PRWeb's website is a fairly visible website, but because of the volume of unrelated press releases, it's rarely considered an authority. I would not at all be surprised if their links are given relatively little link juice, because Google doesn't like pay to play link building very much. They aren't entirely blocked, but they aren't too effective. This service is $99 for a press release.
Is your blog earning you business? If not,
let's fix that.
We create blog content that converts - not just for ourselves, but for our clients, too.
We pick blog topics like hedge funds pick stocks. Then, we create articles that are 10x better to earn the top spot.
Content marketing has two ingredients - content and marketing. We've earned our black belts in both.
If you run an internet-based business and are looking to scale, schedule a call to speak with our founder:
Standard: This includes the services of Basic, but with one additional bonus. They syndicate your press release across a wide variety of partner websites in their database. This content syndication means they submit press releases for publication on a wide array of sites across various niches. For most broad niches, they have hundreds of sites available to submit, though I don't know offhand if there's a cap or a charge for exceeding a certain number of submissions. This package costs $189.
Advanced: This includes everything in Standard, but includes some targeted submissions as well. Rather than submitting to general contact feeds on large sites, this option also gets your press release delivered to, and I quote, "relevant, industry-specific influencers." They don't give examples of these influencers, but coverage is likely at least moderately likely. This service costs you $289.
Premium: This top-level package includes everything from Advanced, but also assists you with going viral by:
"Distributing your press release to industry-curated Twitter feeds and influential blogger networks."
Again, they don't give examples of their targeted influencers or networks here.

Upgraded packages: PRWeb offers an upgraded Web Influence and Web Power set of packages, which are subscription services. These include bulk pricing instead of per-release pricing like the above options, and they include extra features such as editorial proofing and priority distribution. Pricing is not public for these offerings, but they're likely aimed at agency-level companies.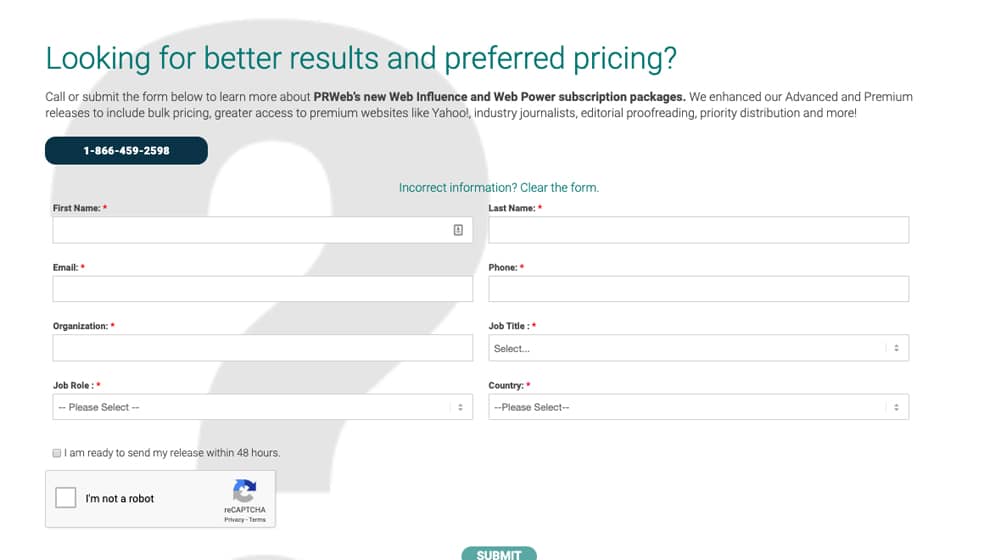 Additional Services: PRWeb has add-ons you can add to certain packages you buy. These add-ons enhance the services you're already paying for.
Priority Distribution. This is only available to the subscription packages and guarantees distribution within four hours of submission, for an additional $99.
Enhanced Placement. This applies to press releases hosted on PRWeb. You can buy "stars" to prime your content in their feed. Content with 1 star is displayed above normal content, content with 2 stars is displayed above content with only 1, and content with 3 stars is displayed at the very top. You can only buy up to 3 stars per press release, and it costs $40 per star.
Influencer Visibility. This is only available to the subscription packages as well. It's $200 per list to be added to influencer curation lists for industry-specific journalists. Basically, it's paying to be added to influencer mailing lists.
Social Media Visibility. This is available to any package. Similar to the mailing lists above, it submits your content to specific industry-relevant lists of Twitter influencers. It costs $99, and you must work with a PRWeb editor to choose relevant Twitter feeds.
All in all, PRWeb offers a variety of similar services for increasing prices that are largely per-release.
PRNewswire Services and Pricing
PRNewswire has a handful of different services publicly listed though their pricing is hidden from public view. So, we've included a screenshot from their distribution pricing from their PDF rate card: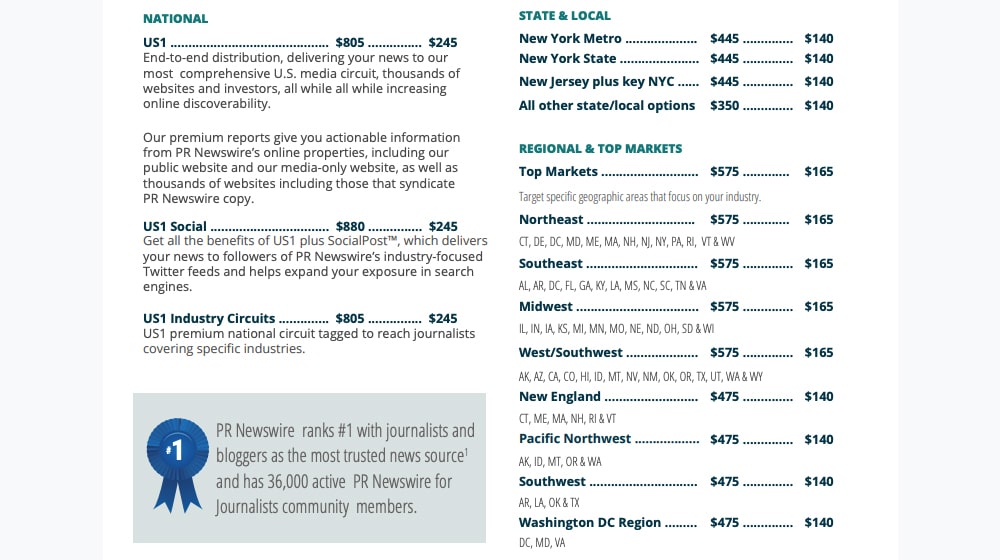 Their services include:
International Distribution. You submit a press release and they deliver it to targeted audiences globally. Obviously much more useful for companies with a global presence.
Radio Tours. This is a product that gets you on specific targeted radio interviews, largely using another Cision product, the MultiVu network. This includes satellite radio.
Earnings Releases. If you're in a regulated industry or otherwise need to disclose quarterly earnings to be in compliance, this service allows you to distribute them regularly.
Microsites. This is essentially a landing page creator and host, with PRNewswire branding and promotion to help it gain traction.
Media Monitoring. This is essentially a social listening tool with trend monitoring and keyword alerts.
Virtual Press Office. This is a tool that helps you develop a press kit.
IR Room. This is an investor relations tool with analysis and development features.
Multimedia Content Distribution. This is a more general press release distribution service. Think "everything PRWeb does" rolled into one product.
Creative Services. Again using MultiVu, this helps storyboard, animate, and create multimedia content.
SEC Regulatory Compliance. Does what it says on the tin.
Press Release Distribution. Essentially a list of media outlets and newsletter subscribers they submit your press release to.
Strategic Placement. Delivering your content to specific, targeted websites as curated or syndicated content.
Media Measurement. Their version of analytics.
Earnings Webcasts and Calls. Another way to distribute earnings reports to those who have an interest in hearing them.
Cision's Communications Cloud. A Cision product that combines social listening, influencer marketing, content creation, monitoring, and analytics.
Public Service Announcements. A specialized version of content creation and distribution centered around PSAs.
MediaRoom. A platform for engaging with customers and leads.
Multicultrual Distribution. The same as their normal distribution channels, but with global networks and multilingual support.
ProfNet.  Similar to HARO, links up your brand with journalists for quotes.
Media Targeting. A variety of blog-based and influencer-based content distribution channels.
All of this is explained in greater detail on their site. Pricing is, as I mentioned, hidden, though I did locate this PDF, which has some pricing information for some of their services. They're in general more expensive than PRWeb by two or three times for comparable services.
GlobeNewswire Services and Pricing
By comparison, GlobeNewswire is exceedingly simple. They have one account type. You register and you are able to design and submit press releases, regulatory filings, and other content to traditional news media channels including both their own site and the Associated Press. You can then monitor and analyze their performance. They also offer the services of an editorial team as necessary. Pricing is not public.
Effectiveness
So how effective are these services?
In general, a lot of it depends on three things. First is the amount of money you're investing in distribution. Second is the amount of time you're investing in creating a quality press release. Third is the industry you're trying to target.
The more you're willing to spend, the better results you'll have. Both GlobeNewswire and PRWeb are good services that work better the more you spend. PRNewswire has a range of paid services that can help you make a solid press release prior to submitting it, and premium offerings to submit it to targeted distribution channels.
One thing you might notice from the PRNewswire PDF up above is that their service costs more money the longer your press release is. The base level is 400 or fewer words, which is enough for a quite short announcement, something like a cover letter. This is fine for most press releases, but in some instances, a longer piece of content may be beneficial.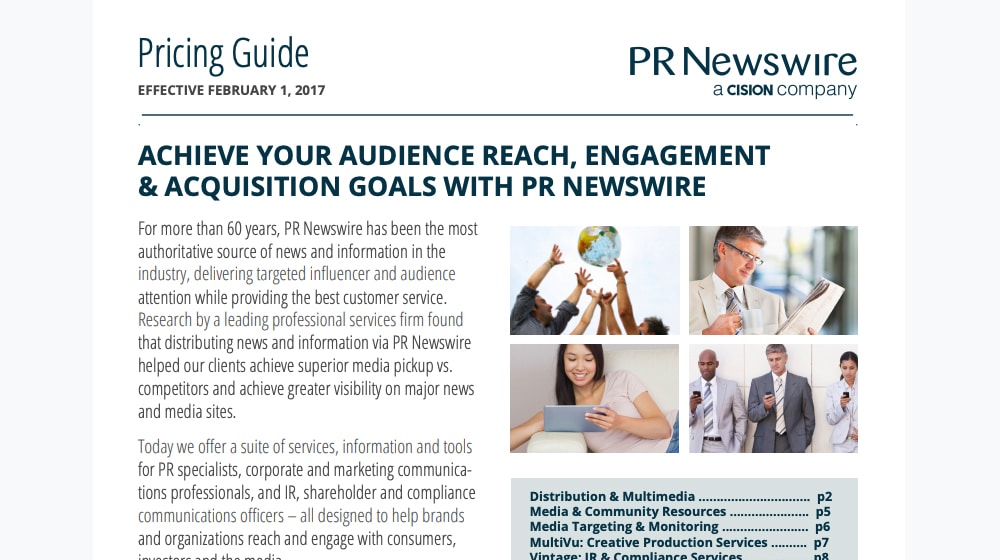 Regardless, your biggest determining factor for the quality of returns from your press releases is the quality of your press release. If it's not interesting or compelling, people aren't going to read it in the first place, and if they read it, they aren't going to research more.
Writing a great press release is a matter of experience, of knowledge, and of targeting. You want to know the kinds of information the press is looking for, and how to write a release that gives them that information, or links to where they can find it.
The third factor, the ability to target specific industries, means that some industries are more active than others. If you're in fashion, tech, entertainment, or business, chances are you're going to find a large and receptive audience through any of these services. If you're in a small, niche industry, a foreign industry, or a "boring" B2B niche, you might have a harder time.
International businesses and foreign businesses are going to find PRNewswire to be the best of the three services, specifically because they have a service dedicated to international distribution. The other companies are English-focused and distribute primarily to interests in the USA, so they aren't as likely to be valuable.
Beyond that, there's no way to tell which one is going to get you the most bang for your buck until you use them all. They all have different-yet-overlapping distribution channels, so you're bound to get a lot of exposure, but there's never any guarantee that that exposure amounts to anything.