20 of The Best Shopify Product Review Apps to Try (2022)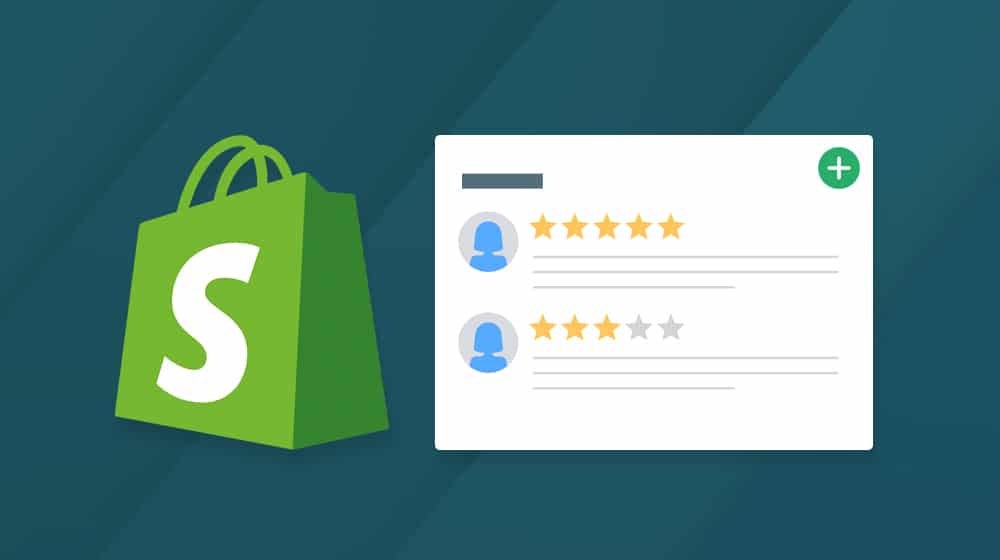 Social proof is a huge part of online commerce, and one of the most visible and valuable forms of it is product reviews. eCommerce reviews from other users can either drive users away or increase sales  - when you can trust them to be genuine.
I've written before about how to get more reviews, but that's just about the marketing side of things. Once you have people willing to leave you reviews, how can you publish those reviews on your site? Shopify doesn't yet support reviews out of the box; even though they have a Product Reviews app, you still have to install an app to display reviews.
So, which is the best app?
There is rarely a "winner" for every category, so I've listed 20 of the best Shopify product review apps to look into, along with features, pricing plans, pros, cons, and other helpful information.
Let's get started!
I'm putting this one here at number one because it's the "default" reviews app. It's the one Shopify produces, the one they recommend in their help center, and the one most people are likely to encounter first. It's also thoroughly "good enough."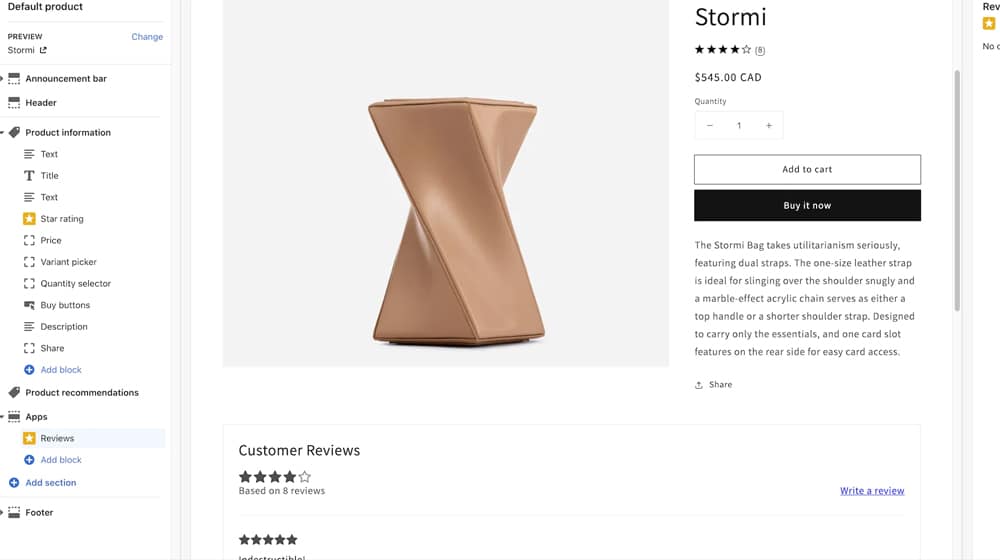 It's not great, it doesn't do anything exceptionally well, but at least it's not broken. It's free and easy to use, and that's just about it.
One of the "gold standard" review apps for Shopify, Ali Reviews is a great review widget that lets you harvest reviews from various channels, display them in multiple ways, and insert them on different pages across your site. It also has a built-in review importer, so you can pull reviews from other locations, including databases from other review plugins, if you're switching from one to another. If you have a spreadsheet of your product reviews, you can even manually import with a CSV file.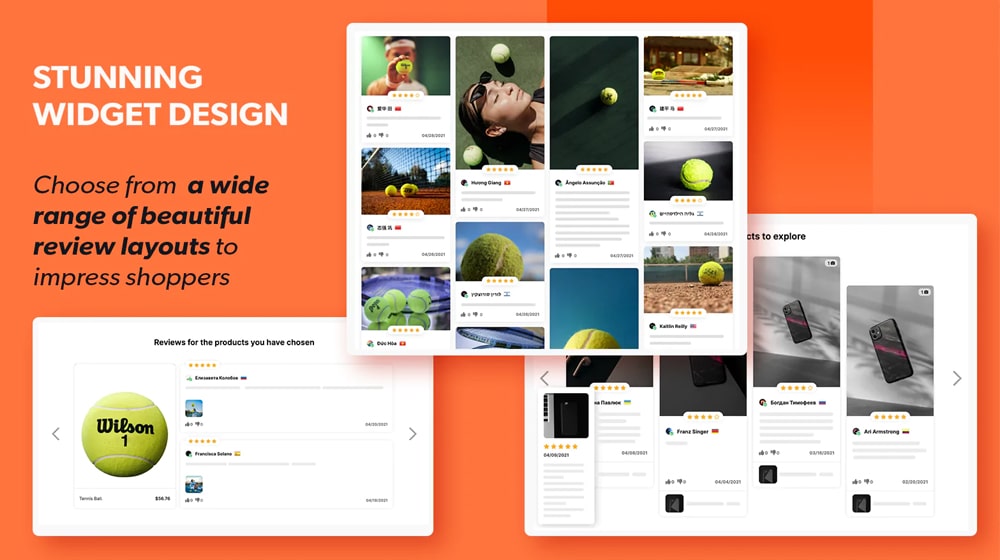 The biggest downside is that the pricing scales by the number of orders processed per month, not anything to do with reviews, so it can end up more expensive than you might think it should be given what you get out of it.
Loox is a product review, testimonials, and user engagement app. It's one of the more robust apps I've seen for managing reviews because it digs into more than just plain product reviews. It focuses on "lifestyle" reviews, a kind of review or testimonial that encourages more than just reviewing a product, but rather telling a story about the product.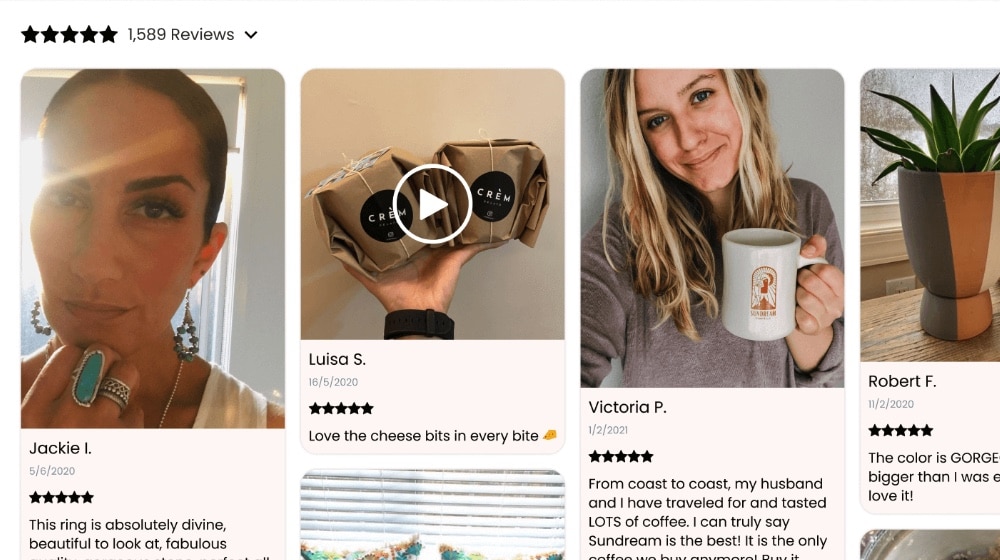 Besides that, it works throughout your site, with reviews in places other than just Shopify (they're Google Reviews partners, too), and helps facilitate referrals from happy customers. Pricing is also pretty reasonable unless you want the unlimited plan, which is a whopping $300 per month (on sale!).
Target Bay produces a handful of useful Shopify plugins, and BayReviews is one of the more popular offerings. It shows average ratings from customers and helps you collect reviews, but also a Q&A function so curious users can ask questions and other users (or you) can answer them.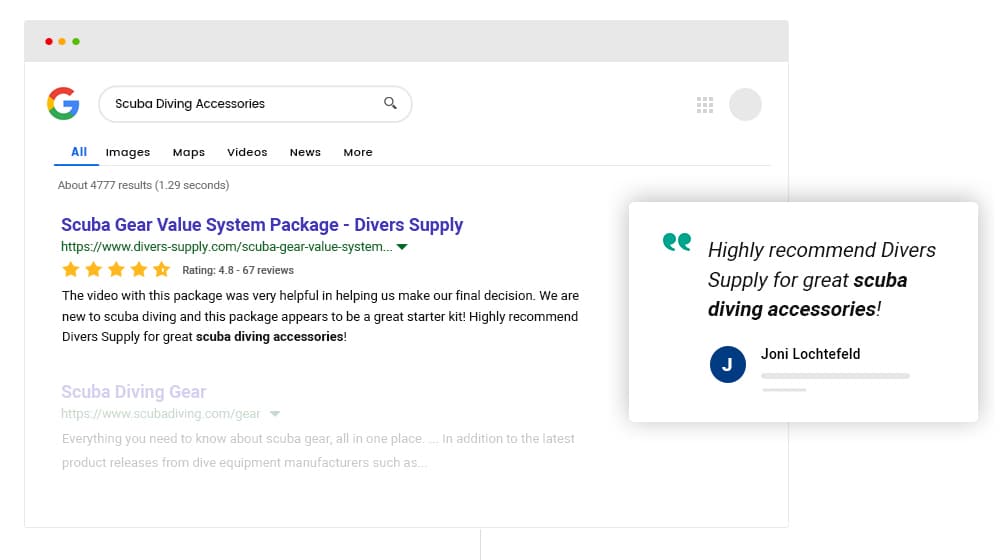 This functionality is similar to Amazon's Q&A features. It can help you identify gaps in your conversion process and your knowledge that you might find worth filling through marketing or changes in your copy. BayReviews also works on several different platforms, including Magento, Volusion, and WooCommerce, in case you decide to switch away from Shopify. Lastly, it also supports "Review" schema and will help you display your reviews on search engines.
This option is a popular review app for Shopify with a solid 5-star rating. They offer photo reviews, they can solicit reviews automatically from your customers, and they can even import your reviews from other platforms, like Amazon or AliExpress. If you sell your products through several different platforms, it can be good to aggregate your reviews in one place, so that's a great option.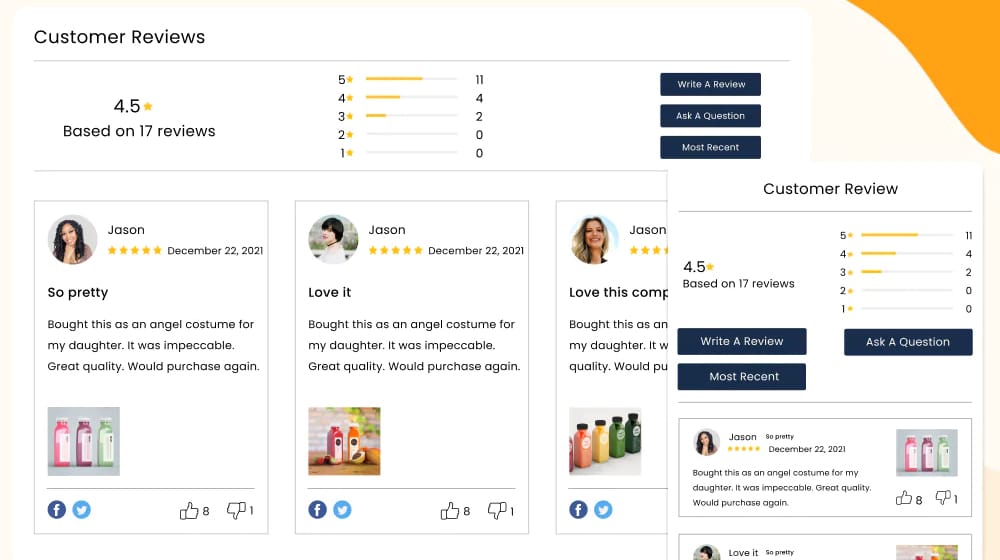 One unique feature you don't see in these review apps too often is that they focus on SEO and enable review schema for smart snippets. Pricing is also quite reasonable.
This option is a smaller review app for Shopify and doesn't do anything unique. They do product reviews with photos, they do review solicitation, and they allow you to manage your reviews, but that's all stuff other apps do.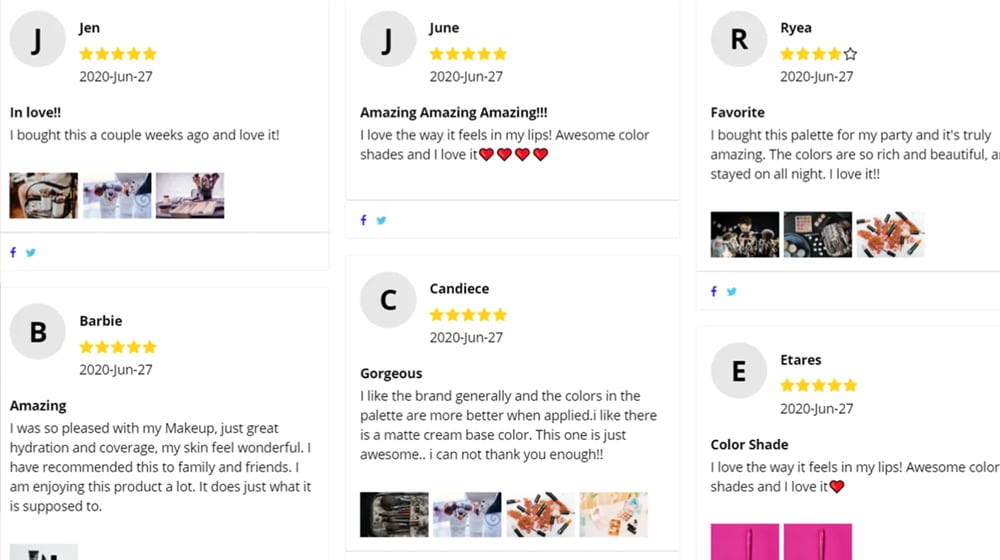 Why would you choose this one over other offerings? Two possible reasons.
1. The first is that the free plan is pretty robust and doesn't cap the number of reviews you can publish and manage.
2. The other is that EnormApps makes quite a few different feature apps, and some people might want to stick within one developer's ecosystem so they can have as few different fingers in their store code as possible.
This option is another reviews app that does both reviews and user-submitted questions and answers. Other than that, they differentiate themselves by using hearts instead of stars for product ratings, but that's about it.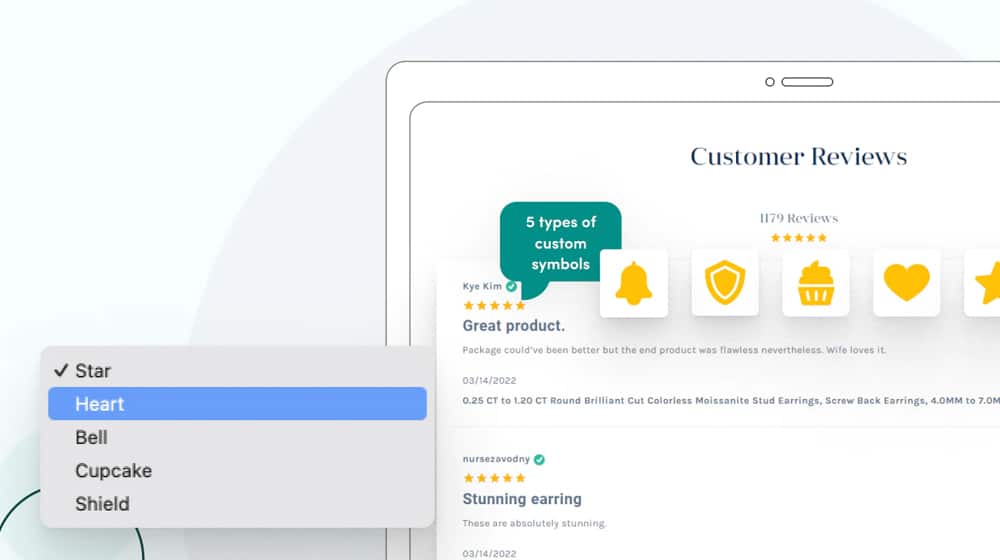 Pricing is on par with other review apps, and their review management is pretty standard. You'll see that a lot with these review apps; there are only so many different ways to manage them, after all.
Fera is another reviews app with over 4,000 positive reviews and an overall five-star rating on the Shopify app directory. It must be pretty good, right? Well, what does it offer? Mostly, the same as everyone else.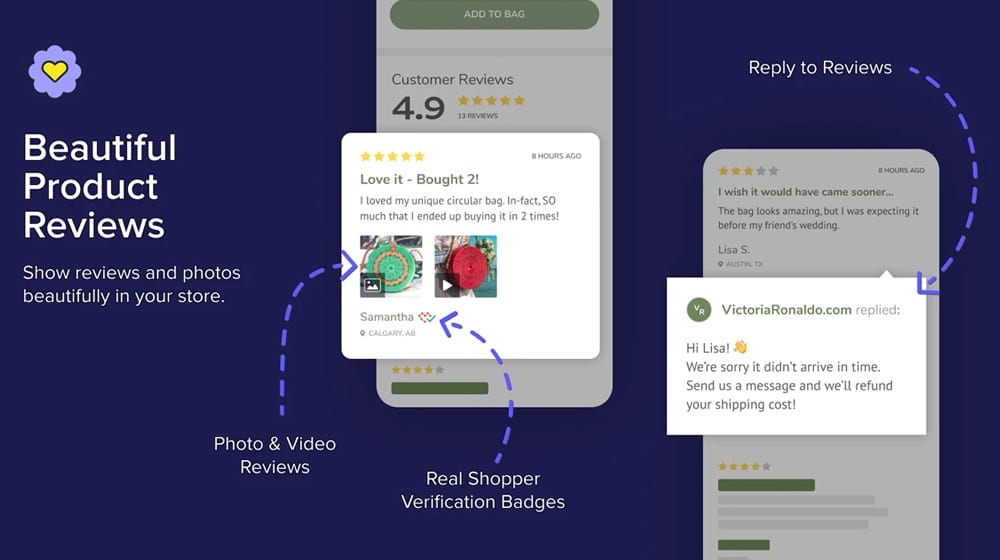 Two things that make it worth looking at are:
1. It supports video reviews; not just photo reviews like so many others.
2. They make sure to use Schema markup so your review information can be visible on your Google search results (and on other search engines). Not every app on this list supports this feature, but if you already have a dedicated Schema app to display rich snippets on your site, this feature may be less enticing to you.
Beyond that, it's pretty standard, pricing and all.
One of the most popular product review apps on Shopify, this app has over ten thousand positive reviews and a five-star rating. Not bad! What sets them apart? Every plan, including their free package, has an unlimited review solicitation cap. That makes it easy to get more site reviews, though you always risk bugging users if you don't handle it gracefully.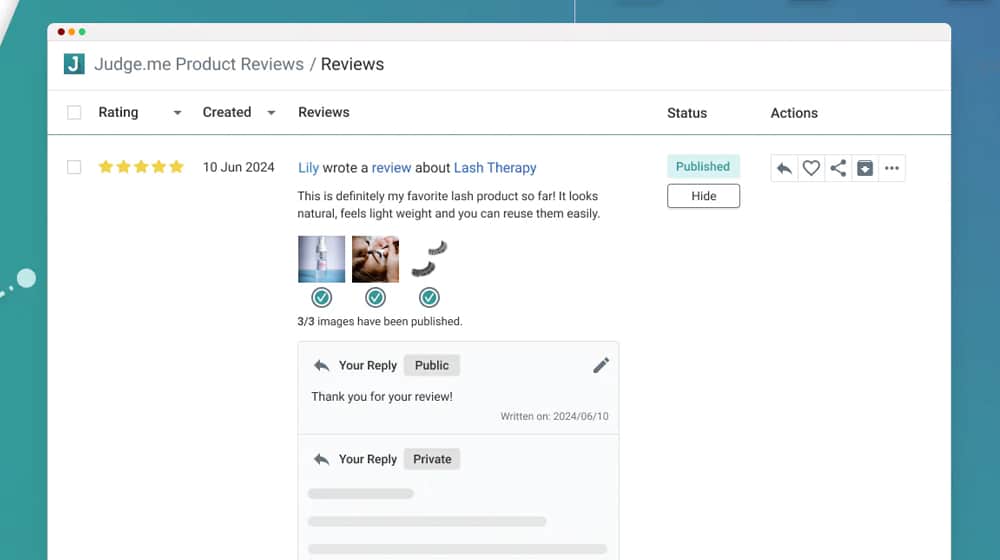 The paid plan is also pretty cheap, which is good because the free program keeps their branding on your store, which many people don't like.
Stamped is another product reviews app designed to work equally well whether your store is small or you're a massive national retailer with thousands of products. They can send out SMS-based review requests (if you have that information for your customers), and they have a dozen different widgets to display your reviews differently. SMS messages have a much higher open rate than emails, so this is a unique and effective task that you can automate.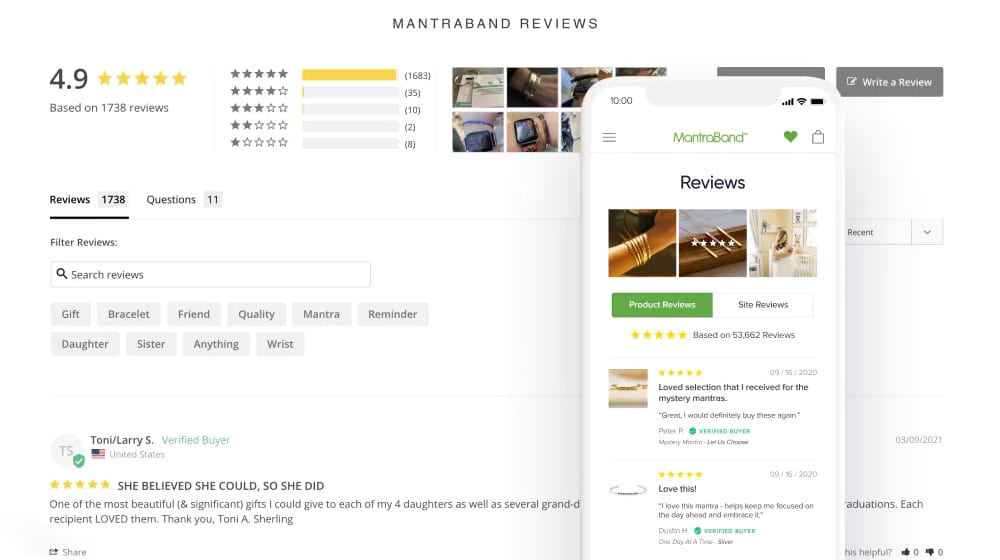 Overall, it's a pretty robust option. Unfortunately, their free trial is very short - only three days - and their free plan is limited. Still, it's enough to try to know if you like how they work.
Growave is one of the larger apps on this list, hence the +3 in their title. They do reviews, manage a loyalty points program, allow user wishlists, link with your Instagram feed, facilitate UGC, and more. Overall, it's a very robust app that includes reviews as one of many different features. This app can be a great option if you're looking for an all-in-one user management and engagement app.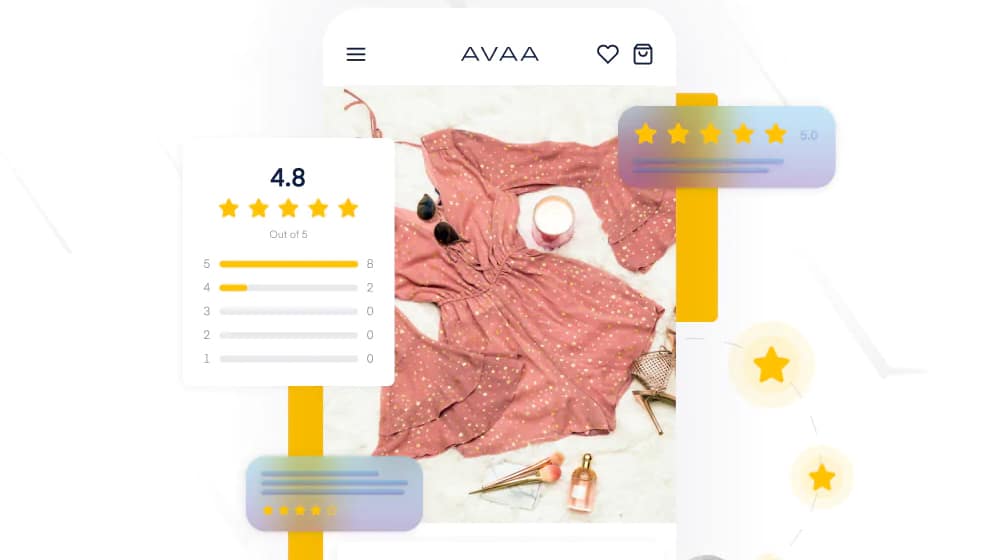 If all you want is reviews, this is packed with additional features you won't need. It's also fairly complex (reasonably so) and a bit expensive compared to other pure review apps.
Reputon is a customer feedback app that is designed to solicit feedback. If a user responds positively, it asks them to leave a review. If they respond negatively or neutrally, it pushes them towards your customer service and satisfaction team.
Here's the thing, though: it doesn't manage reviews on Shopify itself. Instead, it asks users to leave reviews on Google, Facebook, and TrustPilot. That's great if you use those platforms for your reviews, but it's more about business reviews than product reviews. That said, it can work with other review apps for product reviews if you want to use more than one app.
This app used to be known as Reviify, in case you're used to that name. It's primarily meant for dropshippers who use AliExpress for their products. It allows you to import reviews from AliExpress, as well as from Amazon, eBay, and Etsy. After pulling in those reviews, you can display similar reviews on your product pages (if you're not worried about duplicate content).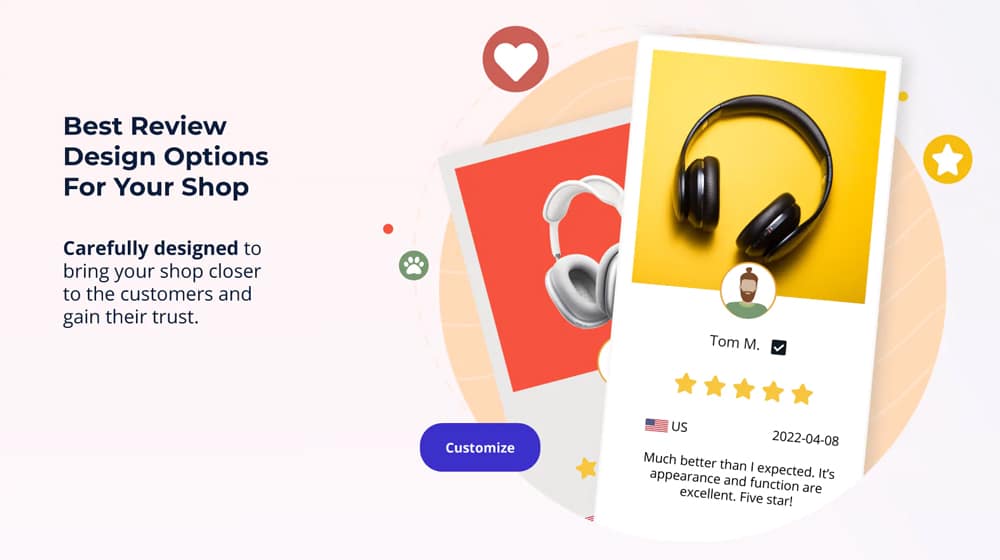 It also has many more features under the hood, including a rewards platform, referral platform, and even review translations for multilingual shops. It's surprisingly robust for the low price point.
Editorify is another reviews app primarily aimed at dropshippers. They import reviews from dropshipping platforms like Oberlo and the usual suspects like AliExpress. They boast of importing reviews from hundreds of outlets.
They also do video reviews and can showcase reviews in different formats and designs. You can also link it to a YouTube channel and import explainer videos for users who might have questions.
No list of review apps would be complete without at least mentioning Yotpo, which has long been one of the most recommended Shopify review apps. They do review imports, allow you to approve or deny reviews (so you can sculpt your review database), and have a bunch of helpful review analytics.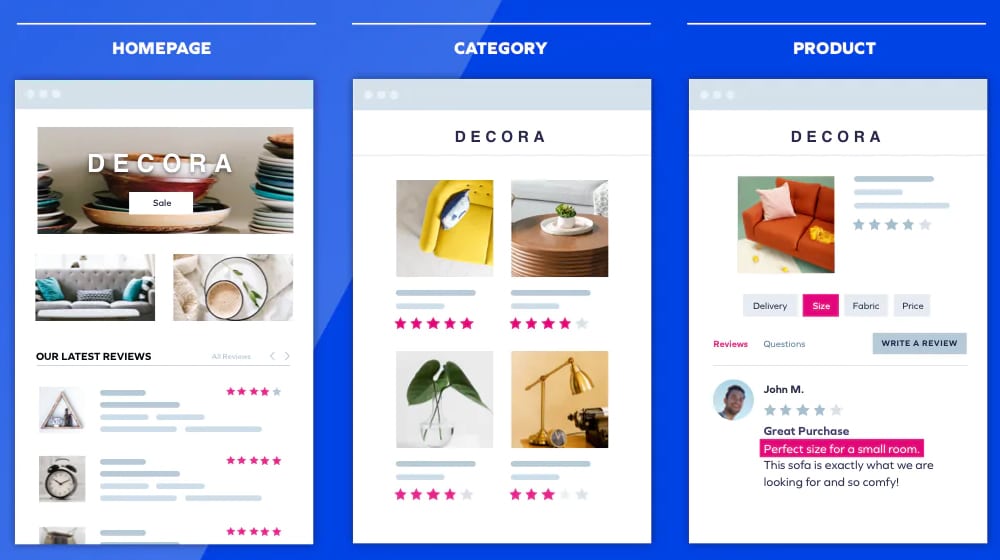 he downside is that they limit you based on the number of orders you process, and the pricing can be relatively high for high-volume online stores. It's also easy to set up and use but tricky to troubleshoot if something goes wrong.
Another reviews app with many imports, Opinew handles everything from AliExpress and Oberlo to Dsers and eBay. They have review solicitations through email and SMS, and they display reviews and other UGC in various well-designed widgets.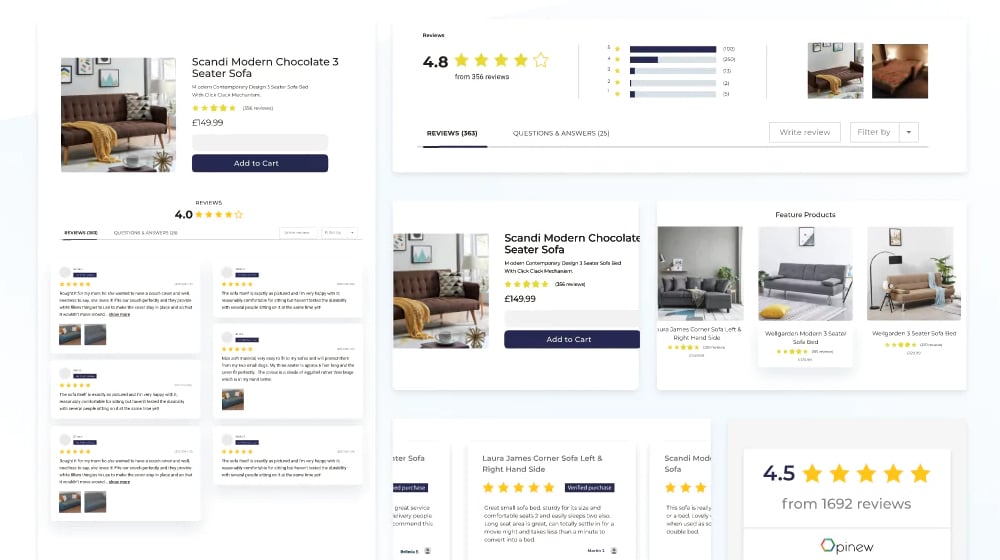 The downside is they make it pretty hard to move away from them and keep your reviews if you change your mind later.
Reviews.io is another Google Reviews and Google Shopping partner, which is interesting because they also claim to use an AI for review solicitation. I'm skeptical that there's any actual "AI" going on – probably just some simple flowchart algorithms – but I don't know what goes on under their hood.
It's a good widget for structured data, but it's slow to load, so it may be terrible for your user experience, depending on how it works on your site.
Okendo is a nicely-designed reviews app, and they claim to be able to solicit reviews from every purchase, though you won't get anywhere near a 100% conversion rate on that.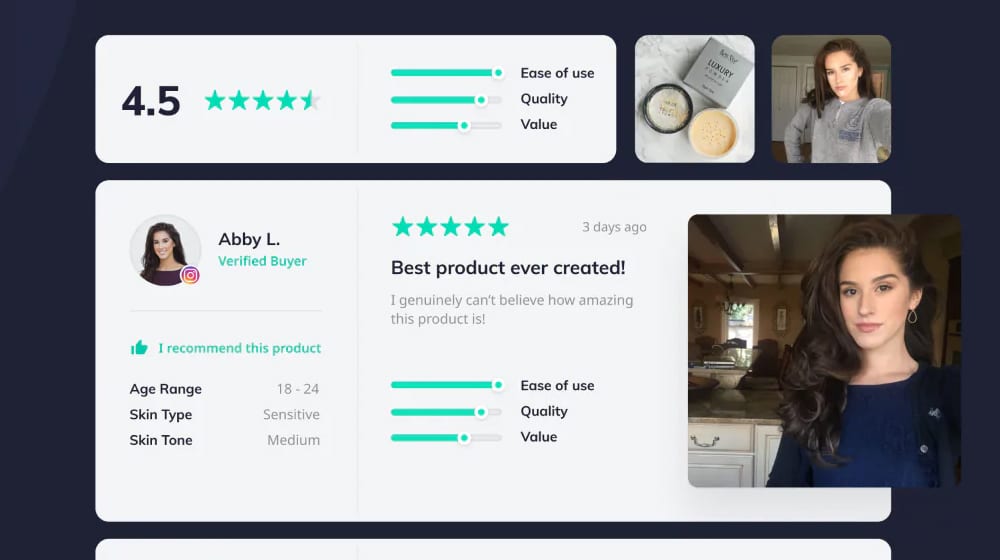 As pretty as it is, though, they don't have a free plan, and their pricing is somewhat steep compared to many of the other review apps on this list. Still, it's one of the top 25 options, so I'm putting it here.
A pretty basic review aggregator. They import reviews from many different places, but they also limit a lot of their functionality to the paid plans and don't have a free trial of those premium features to see how useful they are.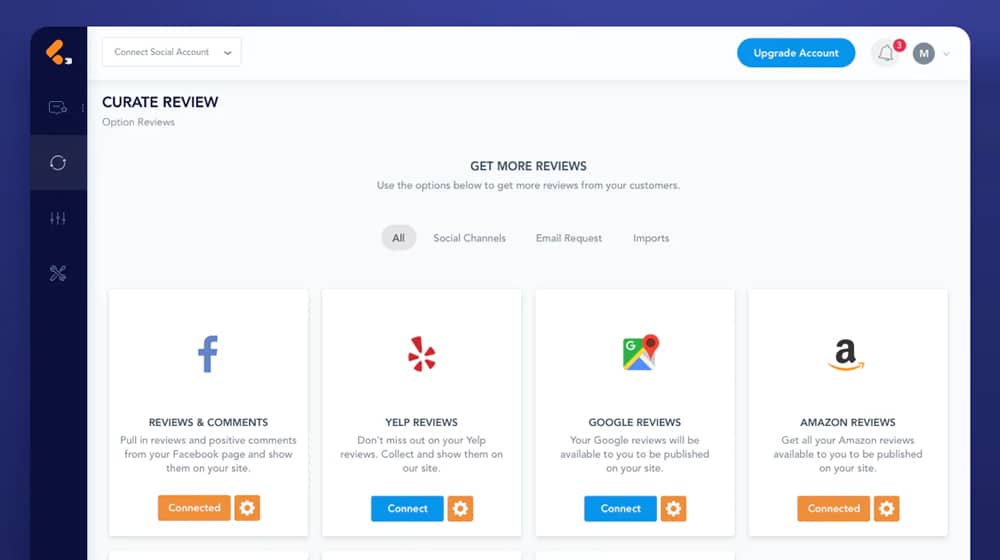 Lai is another dropshipper-focused reviews app. As you might expect, they import reviews from the usual suspects. They do photo and video reviews, allow you to manage reviews from a central dashboard, and can help solicit more reviews.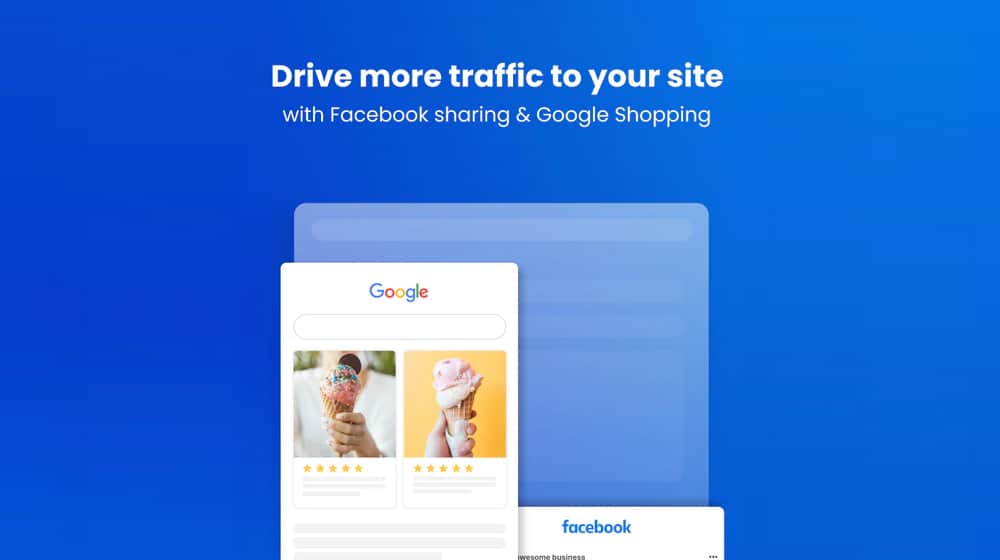 Overall, it's pretty standard, though they let you cross-post reviews to social media, which is a bit unusual.
Your Thoughts
So, there you have it; 20 different review apps you can check out for your Shopify store. On my Shopify store, I ended up using Okendo, but I've tried dozens of review apps (both on my site and my client's websites). I don't have a particular favorite, but I'm more than willing to hear about yours.
What do you think? Do you use a review app that I didn't mention? Feel free to comment below; I'll add it to this list!