8 of The Best SERP Tracking Tools to Track Your Rankings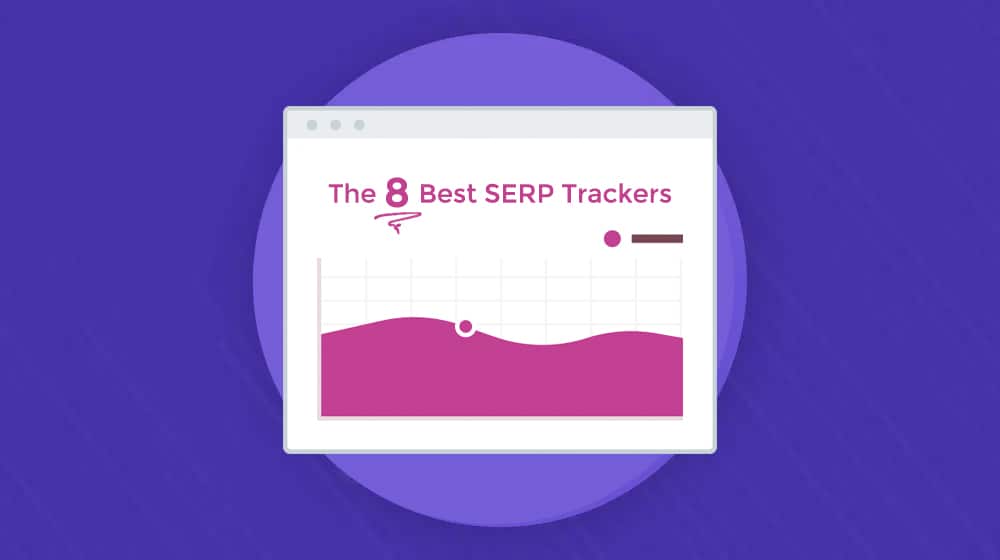 Rank tracking is one of those little pieces of data you can do without for a long time, and the moment you use it, you can never go back. Many marketers get by with a bunch of bookmarked searches and manual checks, especially when they're small (with "only" a few dozen or a hundred or so keywords to follow), so it's relatively easy to check the important ones from time to time.
Once you set up a rank tracker, you'll be amazed at how much the search rankings wobble and how valuable the data is. It's a good source of feedback, enabling you to see how quickly and well your content can rank for its target. It's great for driving better, more directed content. And, of course, it's excellent for double-checking whether or not you're in the clear every time Google pushes some algorithm update that changes everything.
When considering a rank tracker, you'll notice that most rank trackers are part of some more extensive analytics and marketing tools dashboard. Of course, all these ranking tools exist because they serve different purposes; what you might find to be an imposing wall of contextless data, an agency might find highly relevant. Sometimes you can ignore it all and track keyword rankings; sometimes, it's nearly impossible.
Knowing what you want from your rank tracking service (and what you might need in the future) is the key to picking the best SERP tracker.
We'll get to that in a bit, but first, here are my eight picks for the best options to consider:
AgencyAnalytics is my favorite rank tracker. It offers everything I listed as a consideration above and then some. It's designed for marketing agencies, focusing on white label reporting and dashboards you can use to showcase rank tracking and marketing progress for your clients. In particular, their dashboards are super easy to customize with drag-and-drop modules of specific, auto-generated reports. It also hooks up to other marketing systems, like ad networks, analytics dashboards, and CRMs.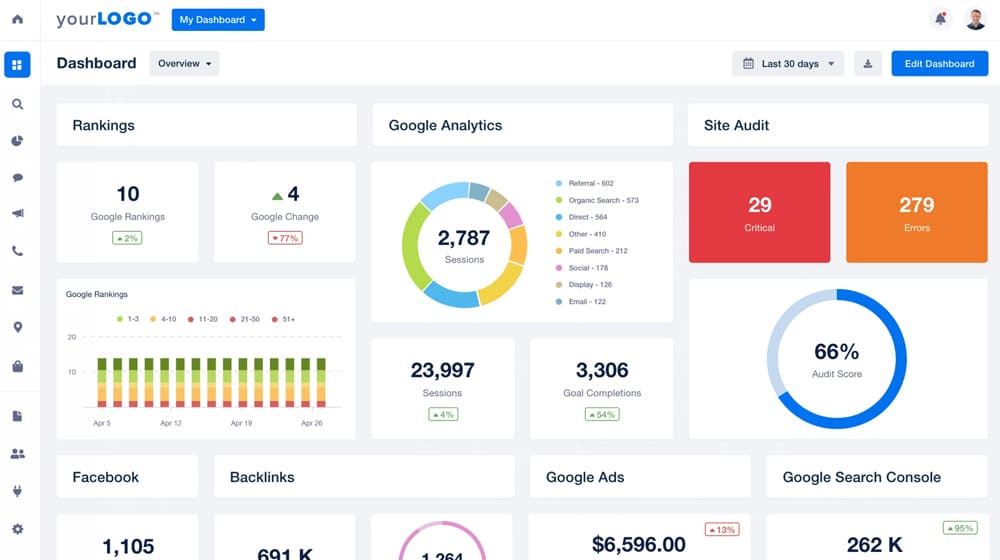 The biggest downside is simply the price. The cheapest option available to you is their freelancer plan with the rank tracker add-on, which is $12 per campaign per month and per website with a minimum of five and $50 per month for the rank tracker, so $110 per month at the barest minimum. Still, this is the go-to option for most good agencies for industry-standard tracking and reporting tools.
Freelancer

Agency

Enterprise

AccuRanker is another powerful tool, and I place it as somewhat comparable to AgencyAnalytics, with a slightly different focus. Where AgencyAnalytics is meant for agencies and multi-client users, AccuRanker is intended for larger single businesses and enterprises. They're best for mid-sized and larger businesses and enterprises, where you only track one or two domains, but you may have hundreds or thousands of keywords you want to monitor.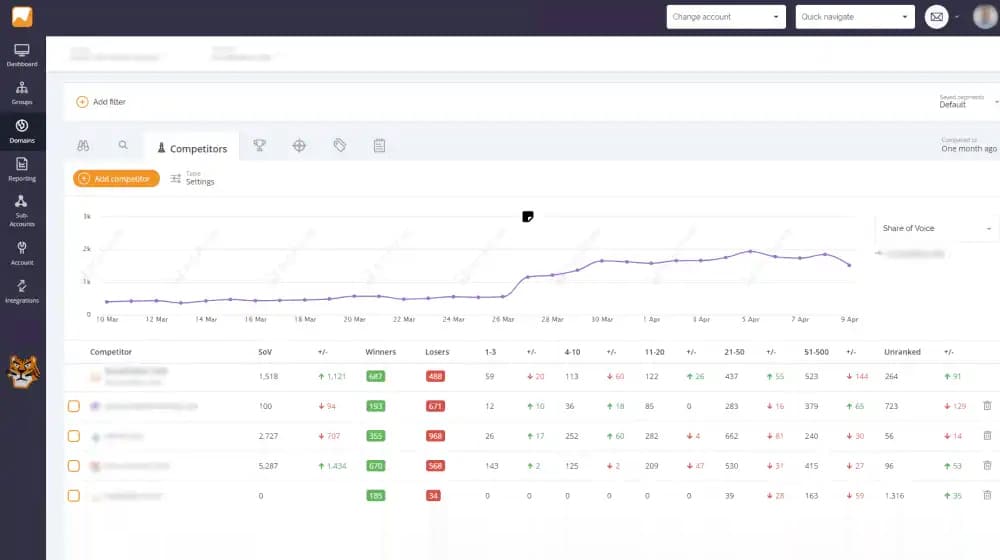 The cheapest plan starts you at $116 per month but gets you a thousand keywords to track, across a wide range of search engines, with all kinds of segmenting and regional tracking included. They offer unlimited domains and unlimited users, which is nice too.
Their pricing is completely customized to the number of keywords you need to track, so unlike some of the items on this list, we can't list a pricing table of their available plans.
Fans of mine know I'm a pretty big proponent of Ahrefs. Their keyword research tools and link analysis tools are, in my opinion, among the best in the business. I also like their rank tracking software quite a bit, though I don't know that I would put them at the top of the industry like I do some of the other tools they offer. It's still quite robust and full of valuable features and tracking.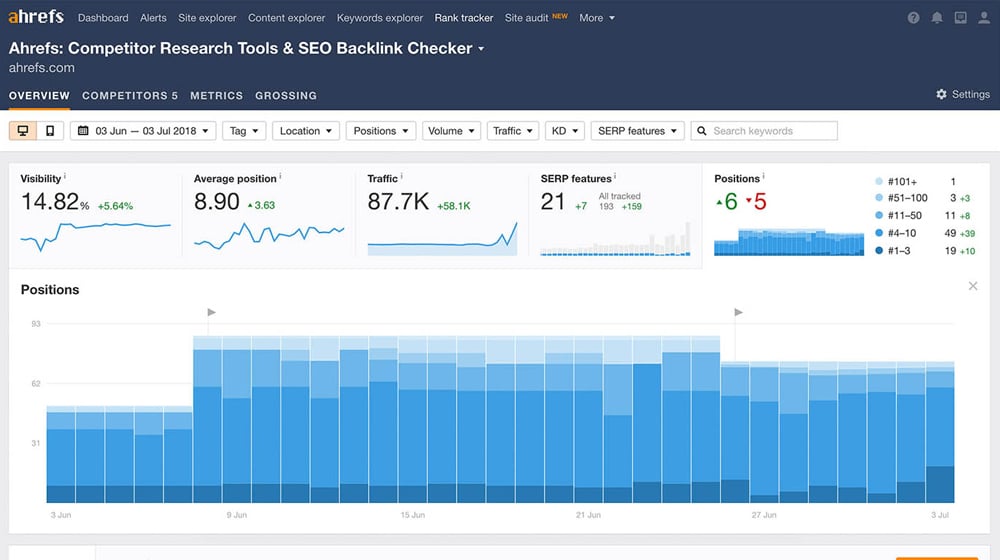 Of course, Ahrefs doesn't sell its tools a la carte. Luckily, the rank tracker is part of their cheapest plan, which is $99 per month.
That plan gets you 750 keywords tracked weekly, or you can pay extra for daily updates. I'd say Ahrefs is a near-indispensable tool for marketers. You can use it to get a sense of your competitor's organic traffic, their best pages, and their PPC ads, run a website audit to find opportunities, and improve your SEO strategy. It's not exactly for beginners, but you'll learn quickly.
Sign up and thank me later!
Lite

Standard

Advanced

Semrush has a whole bunch of different helpful search engine optimization tools available to marketers.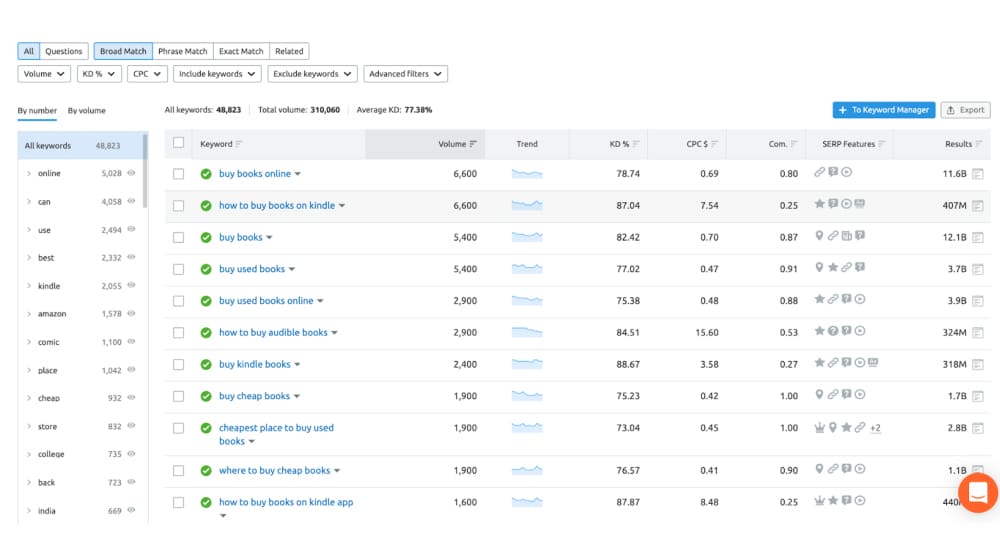 Under Rank Tracking, they have three specific features, which are helpful.
Position Tracking, which can track keywords and domains in Google SERPs.
Sensor, which tracks volatility and shifts in ranking to warn you of impending changes.
Ranks, which is sort of like a replacement for the Alexa top lists (RIP).
Semrush also offers a new product called Surround Sound, which digs into not just your brand and keywords, but the information surrounding you, so you can build a contextual picture of where you sit in your niche and for your keywords.
Their pricing is all over the place, starting at $120 per month and changing depending on what add-ons and additional features or limits you need.
Semrush is good, but I like Ahrefs a bit better.
Pro

Guru

Business

SERPWatcher is a tool from Mangools which make a bunch of handy little on-page SEO tools like a keyword finder and a backlink metric analyzer. Unlike the other options on this list (so far), SERPWatcher is narrow and focused. You put in keywords, it tracks those keywords for you, and that's it. It's lightweight, comparatively bare-bones, and a lot simpler.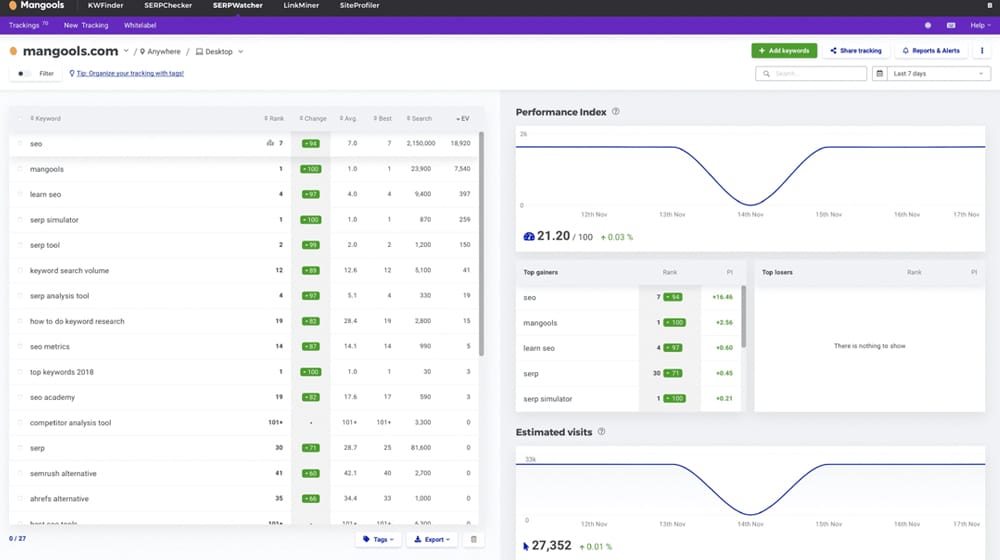 One of the most significant benefits is that it's pretty cheap compared to other tools; $30 per month gets you 200 tracked daily keywords, which is pretty substantial for small and mid-sized businesses. Even bumping that up to 1,500 keywords only costs you $80 per month. Only the largest enterprises and agencies will need more.
Basic

Premium

Agency

PowerSuite is a much-loved set of SEO tools that, unlike practically everything else on the net, is not a SaaS tool. Instead, you download it and run it from your machine. Rank Tracking with PowerSuite is robust and gives you unlimited keyword tracking data once it is set up.
Plus, it's free. Of course, the free version is limited in a few ways.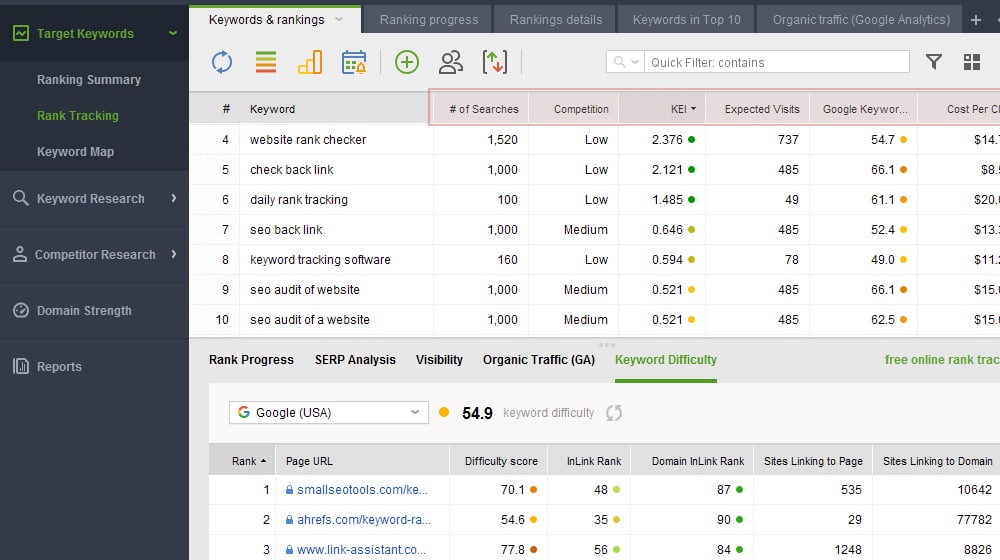 Is your blog earning you business? If not,
let's fix that.
We create blog content that converts - not just for ourselves, but for our clients, too.
We pick blog topics like hedge funds pick stocks. Then, we create articles that are 10x better to earn the top spot.
Content marketing has two ingredients - content and marketing. We've earned our black belts in both.
If you run an internet-based business and are looking to scale, schedule a call to speak with our founder:
You can't save historical data, you can't schedule tasks, and you can only compare to a single competitor, but really?
That's small potatoes for a free tool.
Paid versions will give you more features and higher limits for competitor analysis tracking and cost you either $150 or $350 per year, depending on the edition you order.
Free

Professional

Enterprise

Nozzle is an exciting twist on the rank tracking idea. Nozzle tracks rank, of course, but they also offer you some unusual data, like how many pixels from the top of the SERPs page you are. They also allow you to get some data tracked as frequently as every five minutes, which is a little overboard, in my opinion.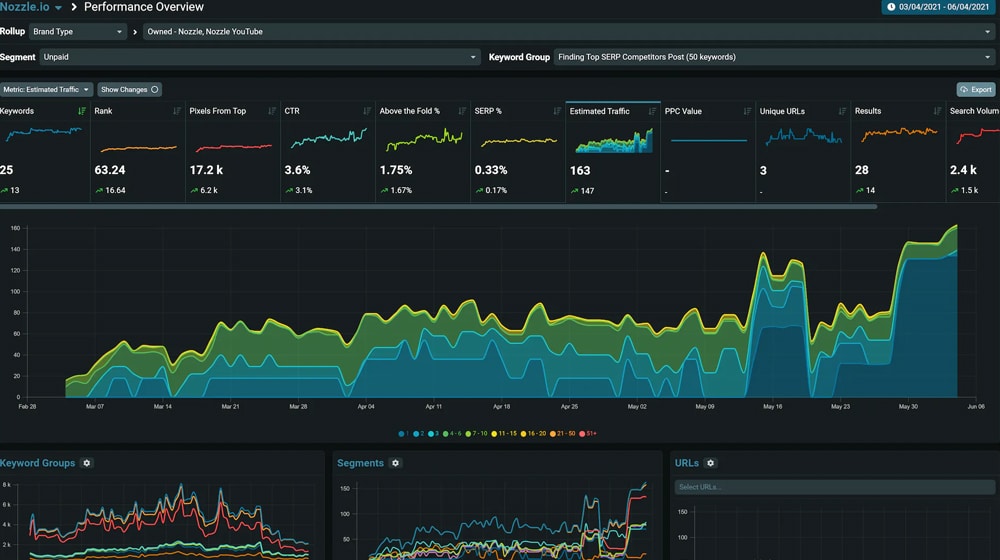 That can matter! You can be #1 and still be below the fold with all the #0, knowledge graphs, ads, and other stuff Google has been adding over time. The basic plan also starts at $50 per month, which is pretty good for what you get.
Basic

Advanced

Pro

SerpAPI is interesting because it's just that: an API. They scrape data from Google and provide it to you in raw data form. As a keyword rank tracker, it's not ready to go out of the box. So why is it on the list? Well, it's an on-demand API. You can build any tool you want to use the data they provide. They even have a free plan.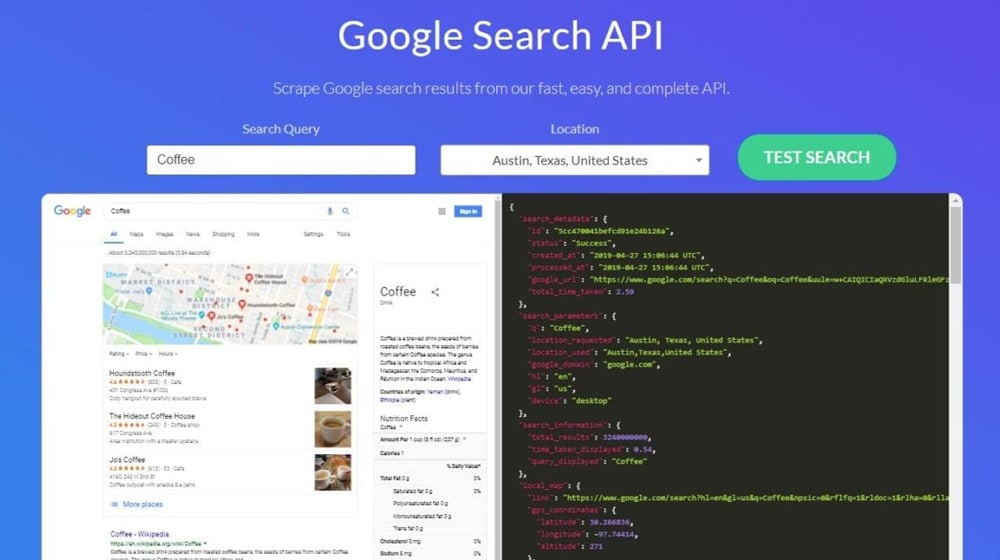 You can give them the URL, keyword, and location to check, and their API will respond with a ranking. You can check as often as you'd like for as many keywords as you'd like. If you're a developer (or have one on your staff), storing this information in a database and displaying them in a table with some fancy graphs doesn't take very long.
If you're interested in developing your custom tool, this can be an excellent API to power your software. Otherwise, pass it over and use one of the other options. I've used their API in the past, as well as other rank tracking APIs available on sites like RapidAPI.
Developer

Production

Big Data

Bonus: Honorable Mentions
If you're not happy with these choices, there are a few honorable mentions that are worth mentioning.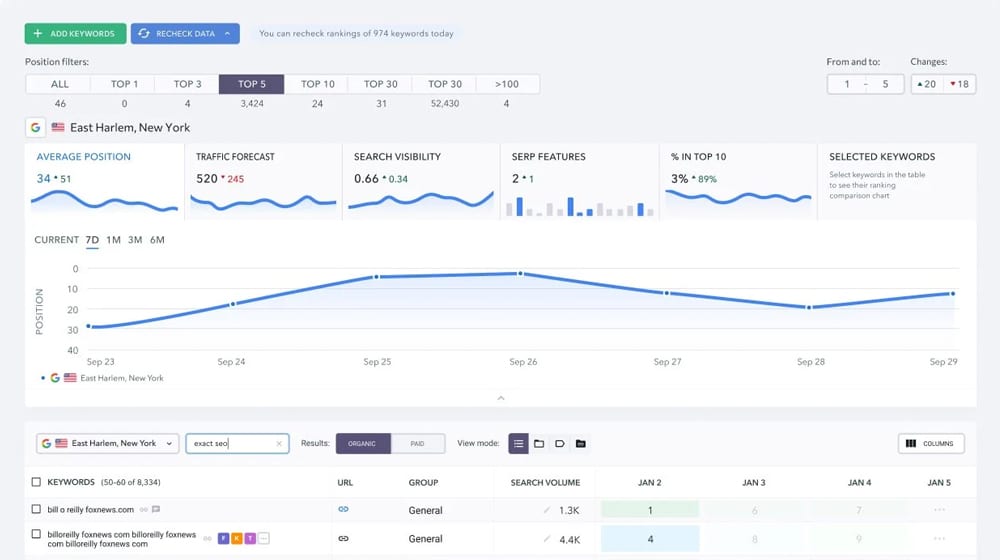 They are:
SE Ranking. I think of SE Ranking as a more affordable Ahrefs or SEMRush. They have many of the same features, but their pricing is 200-300% more affordable. They also have a robust SERP tracking tool. It's one of those complete SEO suites I talked about. Still, suppose you're not already using something like Ahrefs or SEMRush as a site audit tool to connect to Google Search Console or Google Analytics, perform backlink analysis, and track organic search traffic (which you should be!). In that case, it may be an excellent option for you.
SERPStat. It's a little dated, and they set their pricing by the number of times they check your rankings (which is a bit unusual). Still, if you only want to track your rankings once per week, you may be able to save a lot of money with an option like this. Most other options on this list have daily rank tracking by default and charge you for that.
ProRankTracker. This option is a pure SERP tracker, which I love to see. They have mobile and local tracking, don't charge by the number of URLs you're tracking, and track rankings daily. They're a bit expensive, though (750 tracked keywords is about $70 per month, which isn't cheap!), but it's still cheaper than Agency Analytics.
I'm a customer of SE Ranking and several others on this list; I don't use it for rank tracking, but I think it's a very underrated piece of software.
10 Features You Might Need in a Rank Tracking Tool
Rank tracking tools have many different SERP tracking features, and knowing whether or not you need them is a critical determining factor in picking the right tool.
1.

Do you need local tracking?
Search results can vary by many factors, but the location of the searcher is one of the most important. It's a poorly-kept secret that these days, Google customizes its search results for its users. So, do you want a SERP checker that samples and averages your keyword position globally or one that can search while mimicking a local user? Small, local small businesses will enjoy the latter; global companies, SaaS services, and other location-agnostic companies don't need it.
2.

Do you need country-level tracking?
Similar to local tracking, do you need rank tracking at the country level? If you're an international or global company, you can benefit from seeing how you rank in the top few countries where you get the most customers. If you're more geographically restricted, you can settle for just one country or global results, depending on how they're configured. If you're an agency with clients worldwide, you'll want to choose a rank tracker with support for all of those countries and enough additional countries so you're covered when you take on new clients in the future.
3.

Do you want mobile or desktop tracking (or both)?
Slightly over 50% of all search volume on the internet today is mobile, and Google has been pushing mobile-first indexing for a few years now. It should not be a surprise that the best rank trackers offer different mobile and desktop tracking reports. You probably want this out of your rank tracking tool, but if you're a business that only really functions on desktop (or is mobile-restricted), you might only care about one or the other. The SERP positions for mobile and desktop are often different, and having that additional data point can be valuable.
4.

Do you need screenshot proof of your rankings?
This feature is one of those quirks you might never think of until you encounter a situation where you need it and don't have it. Rank trackers search for you and record your position; the reports they generate have that data. How do you know it's an accurate rank check? Some rank trackers – especially those designed for agency use – may offer the ability for the tracker to take screenshots of the results, so you can see where you sit, who else is ranking around you, and share those screenshots with clients. It's a bit of extra data and verification for those skeptical of a tool presenting data without proof. My rank tracker has this feature (and I'll tell you which one in a bit), and while it's a nifty feature, thankfully, I've never needed it to show proof to a skeptical client.
5.

Do you want to track search engines other than Google?
The vast majority of the time, all you're going to care about is Google. However, that remaining 1% of the time can be a real sticking point.
Some marketers are fond of pushing Bing or Yahoo strategies that can capture an otherwise-ignored audience segment. Others like to represent DuckDuckGo for privacy reasons and because it's another data source, or they want to track Amazon product rankings.
There are other search engines that you might want ranks tracked on. Can your rank tracking tool track them, or is it restricted to Google? Also, do you want your rank tracker to check Google Local, Images, Shopping, Featured Snippets, and other sections on Google?
6.

How many target keywords do you want to track?
How many keywords do you want to track? This question is one of the biggest concerns. Most rank tracking tools will limit the number of keywords you can monitor or will charge you per keyword, which can get very expensive very quickly. Even a rough estimate of how many keywords you want to track can be vital information when exploring your options.
7.

How many domains do you want to track?
Like keywords, the number of domains you want to track is relevant. Unlike keywords, it's not necessarily appropriate for all of you.
Agencies, businesses with more than one domain, or entrepreneurs with a small handful of companies might all want to use rank trackers that support multiple or unlimited domains. Businesses focused on one website won't have to worry about this, but agencies with dozens or hundreds of clients may be required to sign up for a more extensive campaign that charges by the number of websites you have.
8.

Do you need a white-label dashboard for your clients?
If you're an agency handling analytics, rank tracking, marketing, or other client services, you'll need to be able to provide reports to those clients. Most agencies don't like their clients knowing that they use freely-available tools (even if those tools would be untenably expensive for the clients to use directly or require expertise to use appropriately) despite this being an open secret. So, if you want white-label or branded reports, you need a rank tracking tool to provide them.
9.

Do you need sub-user accounts for your team?
If you're a large business, enterprise, or agency, chances are good that you have more than one person doing digital marketing work for you. That means you may need numerous people with access to the rank tracking information. For example, an agency might have account reps for each client. If you need to pull reports for your designated client, you don't want to wait for Dave in Reporting to pull the report for you.
10.

What is your budget for a rank tracking tool?
It's pretty apparent, but budget is always a concern when considering a tool you'll need to use, whether for yourself or an entire house of clients. Rank trackers often charge per domain, keyword, or a monthly fee with caps; knowing your needs and budget helps you pick an appropriate tool.
So, what do you think? Which rank checker is your favorite? Do you have a favorite I didn't list? Let's talk; drop a comment with your thoughts, and I'll be sure to read it.