Alexa.com Is Dead - Here Are 20 of the Best Alternatives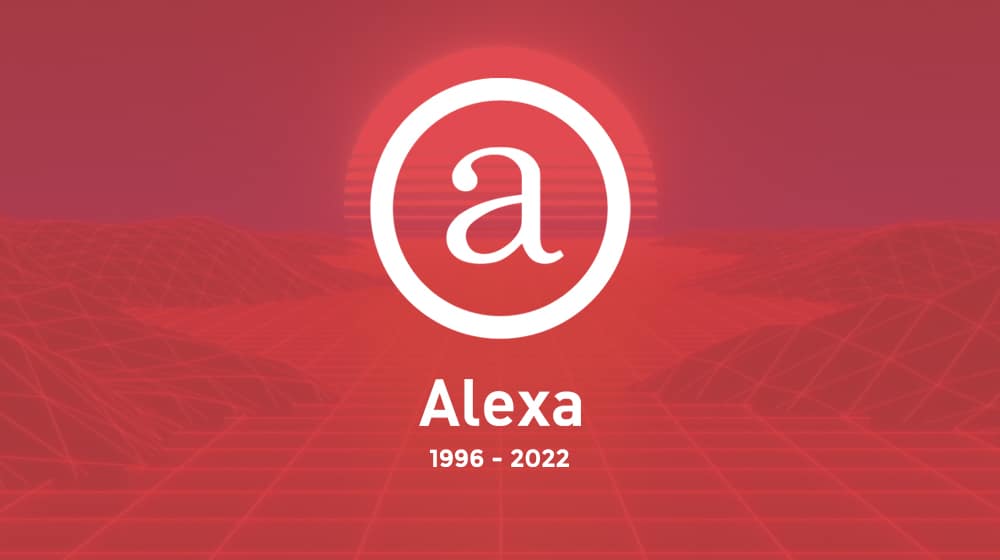 Decades ago, a company was founded, named after the library of Alexandria. This company, Alexa Internet, started life as a content recommendation engine. They watched user browsing habits and, through a toolbar, offered suggestions and recommendations for users where they should check out next. Back in 1996, in the internet Wild West days, this sort of thing was exciting and charming.
While offering these suggestions, Alexa also harvested information about them to provide to the user to keep you informed. This information included who had registered the site, how many pages it had, how many backlinks it had, and how often the owner kept it up to date.
Throughout the following years, Alexa scraped an archive of content across the web. This archive was donated to the Library of Congress and started the Internet Archive Wayback Machine.
In 1999, Amazon bought Alexa.com and built it into an analytics powerhouse. They worked directly with Google, DMOZ, the Internet Archive, and a variety of other analytics providers. They also offered a global ranking of websites based on website traffic numbers. The "Alexa Rank" wasn't that useful, but it was interesting to monitor.
As with any large service owned by one of today's modern megacorps, Alexa has changed a lot over the years. Eventually, their search engine closed down, and they reduced their archive. In 2009 or thereabouts, Amazon announced that Alexa would be focused entirely on analytics moving forward.
And what an analytics platform it was! Alexa provided some excellent data, and their API powers many different tools and apps throughout the internet. It's all the more devastating, then, that in December of 2021, Amazon announced that Alexa would be shuttering operations.
Alexa Shutdown Details
The shutdown of Alexa was announced on December 8, 2021. You can find their full release and FAQ here.
Update 2023:
The support subdomain on Alexa.com was also shut down in early 2023, so
the original FAQ
is no longer available. You can read a copy of their original release and FAQ below:
"Twenty-five years ago, we founded Alexa Internet. After two decades of helping you find, reach, and convert your digital audience, we've made the difficult decision to retire Alexa.com on May 1, 2022. Thank you for making us your go-to resource for content research, competitive analysis, keyword research, and so much more.

We have been proud to serve you as customers.

Thank you sincerely,

The Alexa.com Team

--

How do I export data from Alexa.com?
We offer several data exports.  Please see this FAQ for more information: How can I export Alexa's data?

Can I buy a new subscription?
No, Alexa.com stopped offering new subscriptions on December 8, 2021 UTC.  Customers with existing subscriptions will continue to have access to their subscriptions until May 1, 2022 UTC.

What will happen to my existing subscription?
Existing subscriptions will remain active until May 1, 2022 UTC.  After that, customers will no longer have access to Alexa.com.

Will I be charged for my existing subscription?
Yes, the last subscription billing date will be prior to April 1, 2022 UTC.  Customers will continue to have access to Alexa.com until May 1, 2022 UTC.

I use the Alexa.com Top Sites and/or the Alexa.com Web Information Service APIs. What will happen to the APIs?
The APIs will be retired on December 15, 2022. You can find more information here: We will be retiring the Alexa.com APIs on December 15, 2022.

Can I delete my Alexa.com account?
Yes, please refer to How do I delete my Alexa.com account?"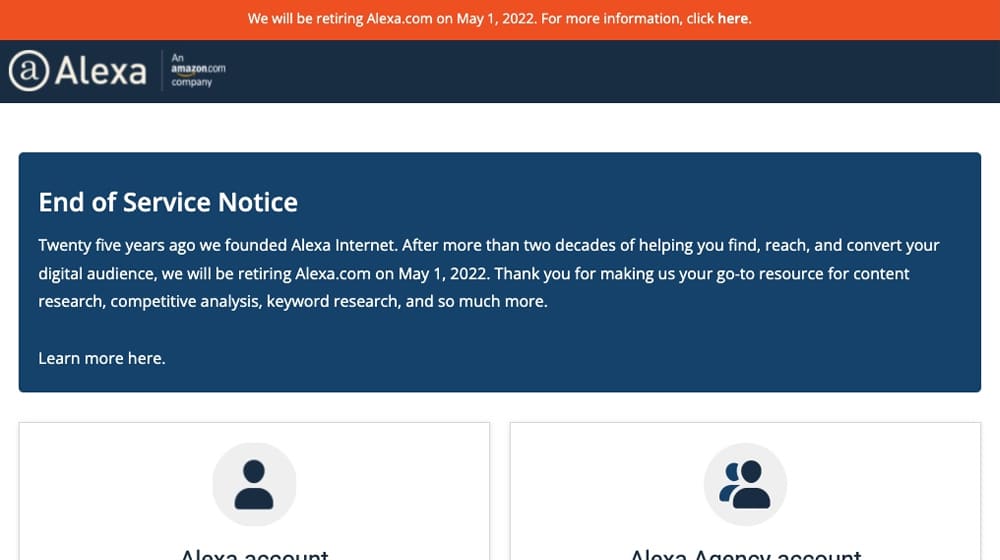 The Alexa APIs – which power many other analytics apps and tools online – will continue to operate until December 15, 2022. Existing Alexa subscribers can continue to use the platform until May 1, 2022. New user registration has already been halted, and users can't create new accounts. You can export Alexa data, should you desire to do so, though that data will only do so much good as it grows staler and staler.
Alexa.com Alternatives
With the imminent shutdown of Alexa's analytics, you're likely stuck in a tricky position.
If you're a business owner and used Alexa to track your site ranking, metrics, and SERPs positions, you have to find an alternative that provides everything you need. This process isn't all that difficult – there are dozens of analytics platforms out there of varying quality – but it's a shift you need to navigate.
On the other hand, if you're an agency or tool provider who used Alexa data on the back end for your white label product, well. With that data being cut off, you need to find an alternative API to use or shutter your tool. Unfortunately, relatively few of the analytics platforms I'll list below have APIs you can use, so this will be a taller order. At least Amazon has given you nearly a full year to make this shift instead of the five months of notice normal business users get.
I've identified 20 of the best alternatives you can use for Alexa in web analytics. Many of these provide API access for an extra charge, so if you're looking for that specifically, be sure to do some hunting for their API page. Some of these services make it very easy to use their API, and others hide it behind a contact form. If you have a suggestion, feel free to leave it in the comments for me to check out.
So, what are the best Alexa alternatives I've found?
Ahrefs is one of the biggest and best analytics and SEO tools on the market. They have hundreds of petabytes of information stored and analyzed, and they're constantly crawling the web to make use of that data, keep it up to date, and provide top-notch analytics.
Their site audit gives you optimization recommendations. You can see your competitors' and then snoop on their top pages on search engines. It's one of my favorite traffic analysis tools, and it's well worth the price of admission for content marketers. The only downside is the steep initial price tag of $99 per month for entry-level service. Ahrefs is similar to Semrush and Moz, both of which I'll be talking about in a few moments.
Semrush is another one of my favorites in terms of analytics platforms. It doesn't do as much in the way of comparative ranking the way Alexa did, but it's still a potent tool, especially if you want analytics.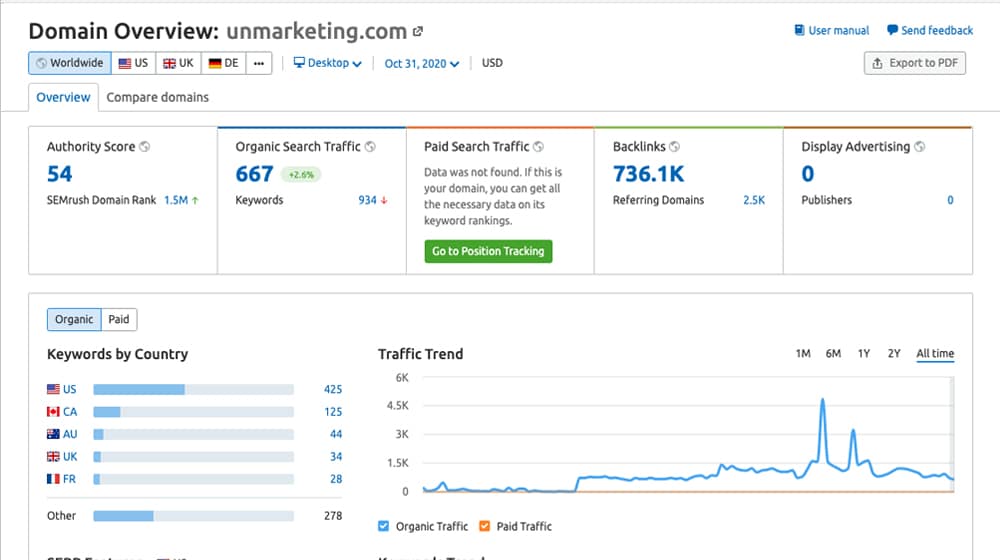 In particular, backlink monitoring and rank tracking are pretty nice to have. Unfortunately, similar to Ahrefs, the starting price is quite steep at $120 per month.
In virtually every discussion of Alexa, Similarweb is likely to come up. The two companies are so similar that the announcement of Alexa's closure prompted them to release a blog post dedicated to discussing how, while their competitor closes, they're investing more than ever in their data scraping, analytics, and ranking tools.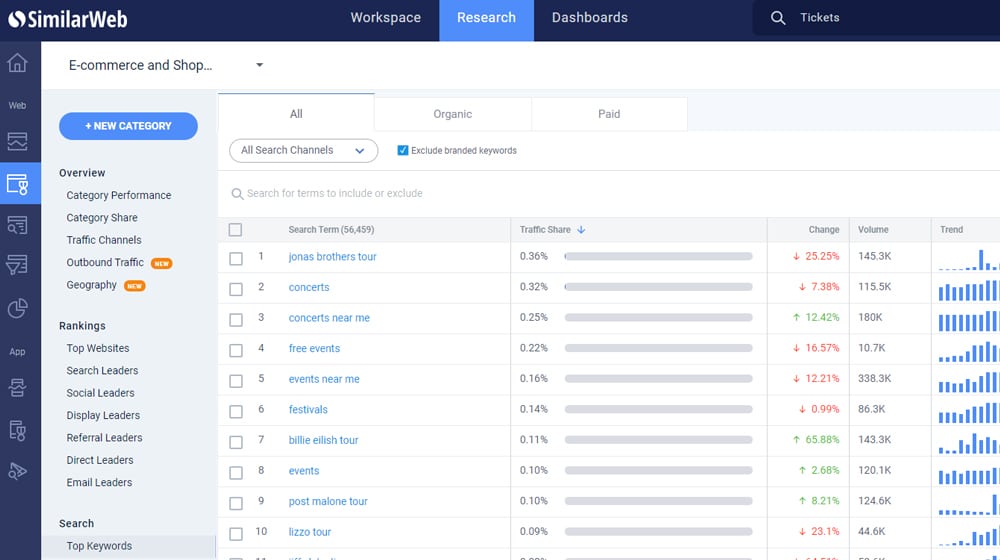 More importantly, they're launching an API to try to capture the people who, having lost the Alexa API, need something to replace it. Lastly, they have some cool features that Alexa didn't have, such as their audience analysis tool. This tool lets you better understand the demographics of your pageviews (or your competitors). It's pretty neat, but I wonder how they can verify the accuracy of that data.
Moz Pro is another of the frequently-mentioned analytics platforms for web admins, though it's not entirely comparable to Alexa. The scope and scale of its focus are different. It's meant to enable you to make more localized SEO decisions rather than look at data about the "big picture" internet as a whole.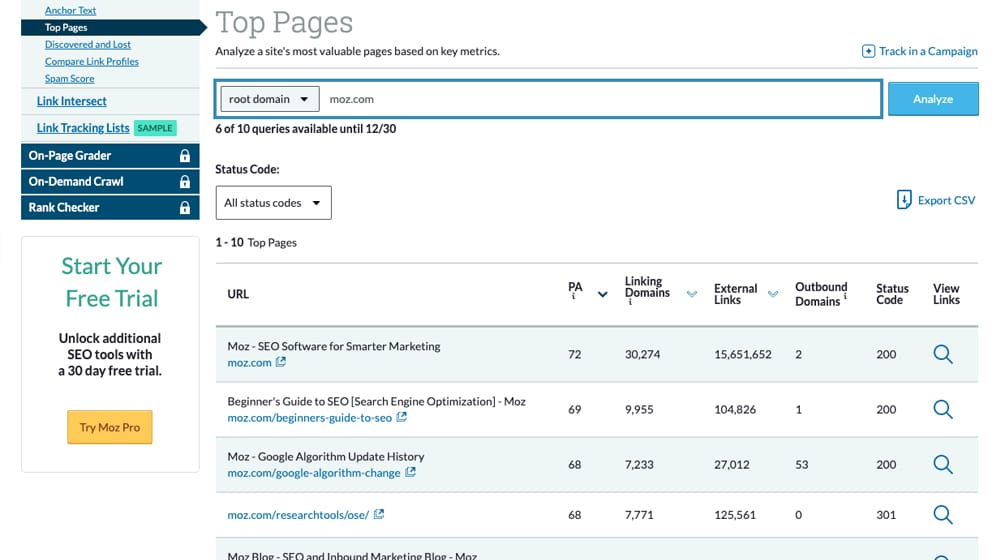 It's also on par with Ahrefs cost-wise, with the cheapest plan starting at $100 per month. I think the Moz backlink database and speed could use quite a bit of improvement, especially compared to Ahrefs and Semrush. Still, it's good, just not top of the line.
Serpstat bills itself as an "all in one SEO platform" with more than 30 connected tools to help webmasters analyze their situations and make decisions. They're great for search ranking, keyword research and tracking, keyword analysis, and more.
They also have a free tool that you can try before buying, though you need to register an account to do so. Pricing starts cheaper than many others on this list, at $55 per month, but API access is only $120+ per month tiers.
Neil Patel's keyword recommendation tool is straightforward and very powerful. Ubersuggest offers many features, including rank tracking, which you can try out in limited scope for free. My biggest gripe is that the data is on a bit of a delay and might not show you information about recent popular content.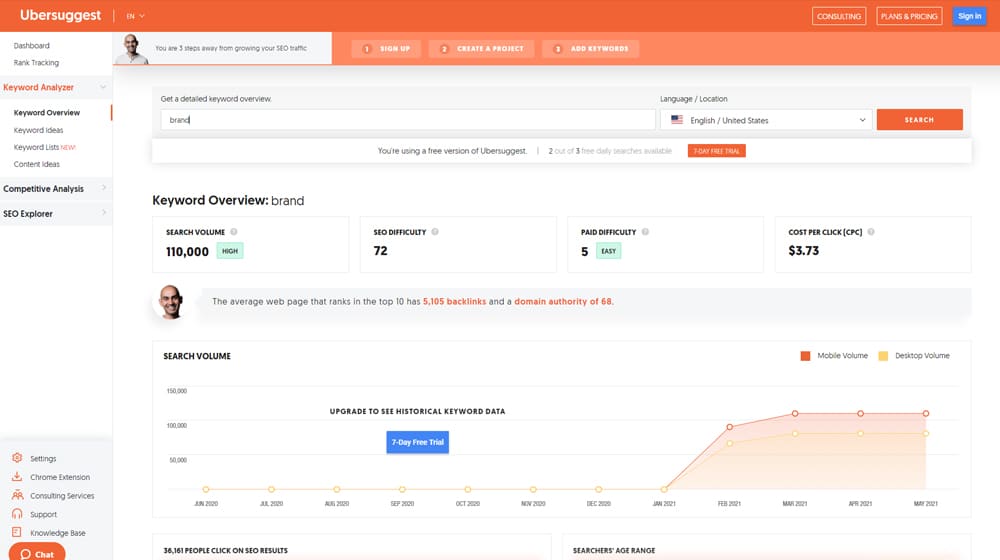 At least it's cheaper, at $30 per month to start, though Neil is also offering a one-time "lifetime purchase" for the tool, which starts at $300.
Is your blog earning you business? If not,
let's fix that.
We create blog content that converts - not just for ourselves, but for our clients, too.
We pick blog topics like hedge funds pick stocks. Then, we create articles that are 10x better to earn the top spot.
Content marketing has two ingredients - content and marketing. We've earned our black belts in both.
If you run an internet-based business and are looking to scale, schedule a call to speak with our founder:
Spyfu is a powerful tool used for competitor analysis, which is one of the core services from Alexa that I found most helpful. It's not the most comprehensive or most robust tool on the market, but it's a compelling option.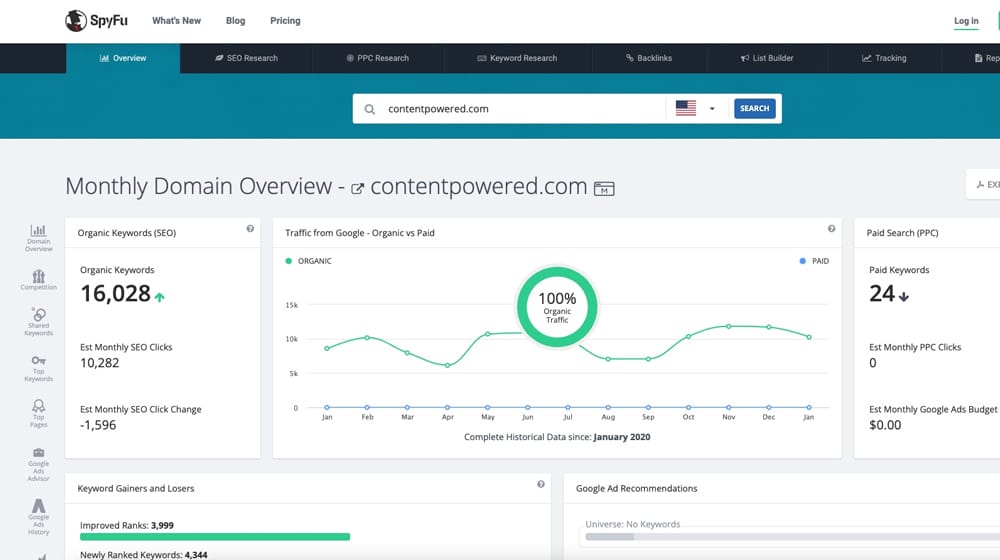 They track more than just organic data; they have Google PPC data and keyword information that can be very useful. Pricing also starts at $40 per month, which is pretty reasonable for what they offer. They also provide an API at the $60 per month tier, which might help replace Alexa's data.
Kissmetrics is one of those analytics platforms that has been around for ages. It's on everyone's list, but it's never in the top few. You know the type; good, solid, valuable, but not stand-out excellent in a way to make it noteworthy.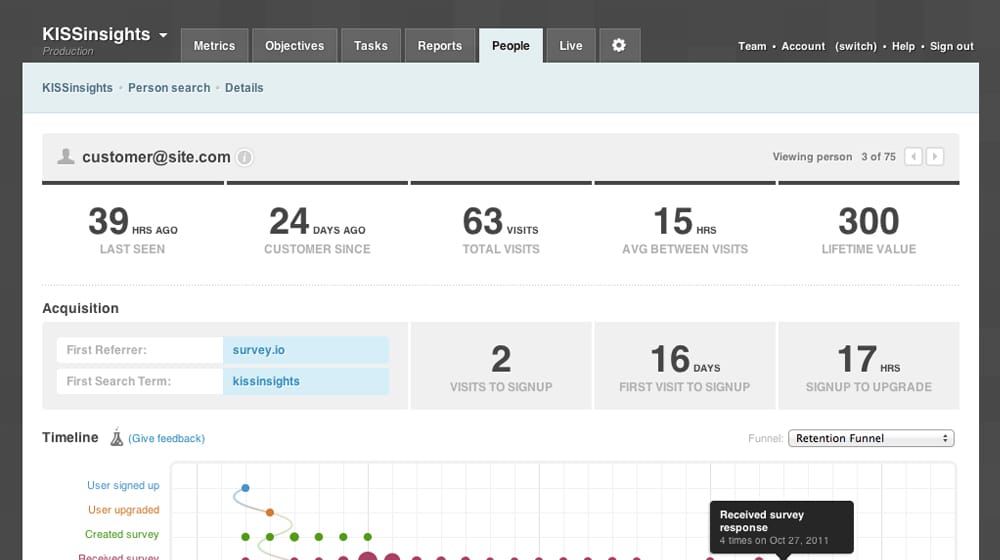 They work well as website analytics and comparative analytics, from small business to enterprise level. They have a ton of data, though, and their pricing is quite reasonable for what they offer (though you need to pay annually, not monthly.)
Authoritas is a reasonably robust analytics and data monitoring company based in the U.K., which has been around since 2009. I hadn't heard of it before, but that's more because it's been a mainstay of European folks, not my crowd here in the U.S.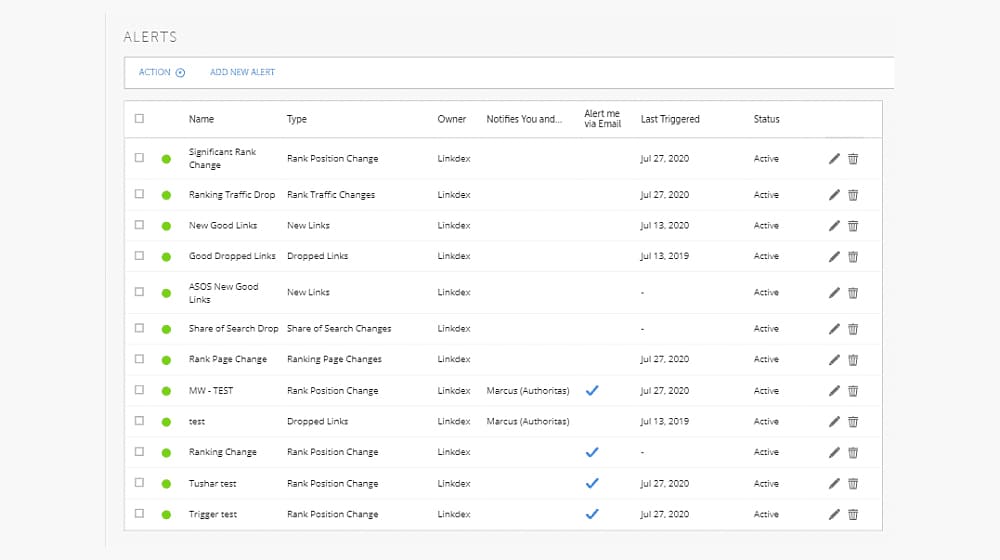 Their service is pretty robust, and they offer an API, but the pricing is relatively steep. They also don't adjust for currency value; the cheapest plan is either $99 or £99, which is $134 (as of this writing). It might be worth checking them out, especially if you want API access.
One of the most potent tools Alexa offered was their website ranking list, which purported to rank websites based on web traffic across the board and provide a list of the sites most frequented online. It was kind of gimmicky and not all that useful, but many people liked it.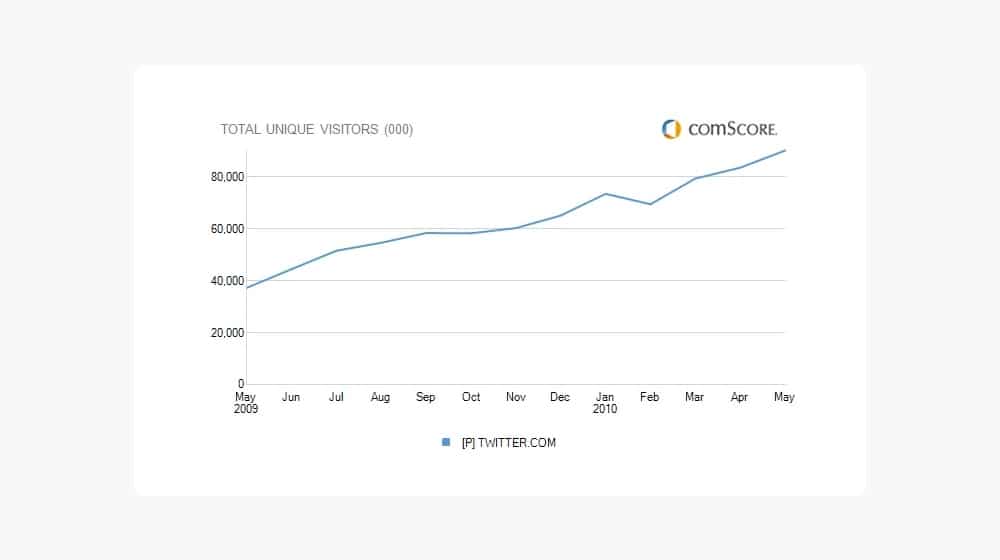 Comscore does the same thing, with all manner of different rankings. They're also focused on privacy, which is nice to see from a data company. Unfortunately, they focus primarily on movies and TV analytics, which isn't usually within our realm of discussion as search marketers and bloggers.
Alexa's website ranking list was, unfortunately, effortless to manipulate. They didn't have much in the way of protection against that manipulation, either, so it wasn't very useful other than broad-scale estimates. The actual value of Alexa was from their other data tools. If you want a website ranking list that is much more difficult to manipulate, try out Tranco List.
The founders built it specifically to counteract Alexa's list and wrote a detailed white paper on the flaws in Alexa's methodology and how they solved them. The graphs look very similar to Alexa's. They did an excellent job building this out. The best part is that you can compare multiple websites simultaneously to see how their rankings compare.
Quantcast is an analytics platform primarily focused on giving you data about your audience. They offer live data, use machine learning, and strive to keep user information private.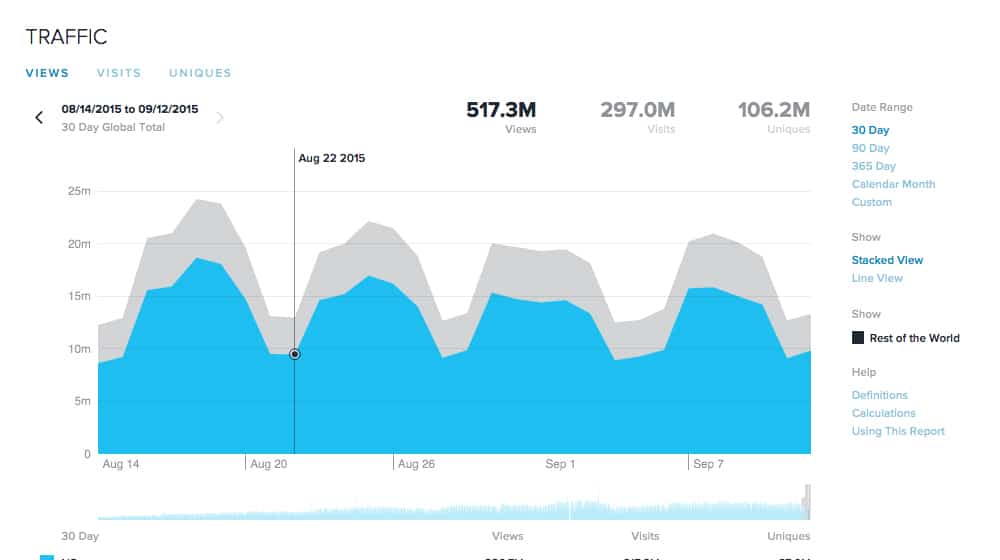 In addition, they're at the forefront of pushing for an internet paradigm that eschews the use of cookies in favor of more robust, resilient, and less intrusive tracking methods. It's a bit of a tall order to get used to the way they do things, but once you do, you might be surprised at how you could function without it.
Website Informer is a much smaller website than many of the others on this list, but that's not necessarily a disadvantage. Sometimes, having a smaller, cheap or free alternative isn't always bad. Unfortunately, the site probably isn't long for this world in this case.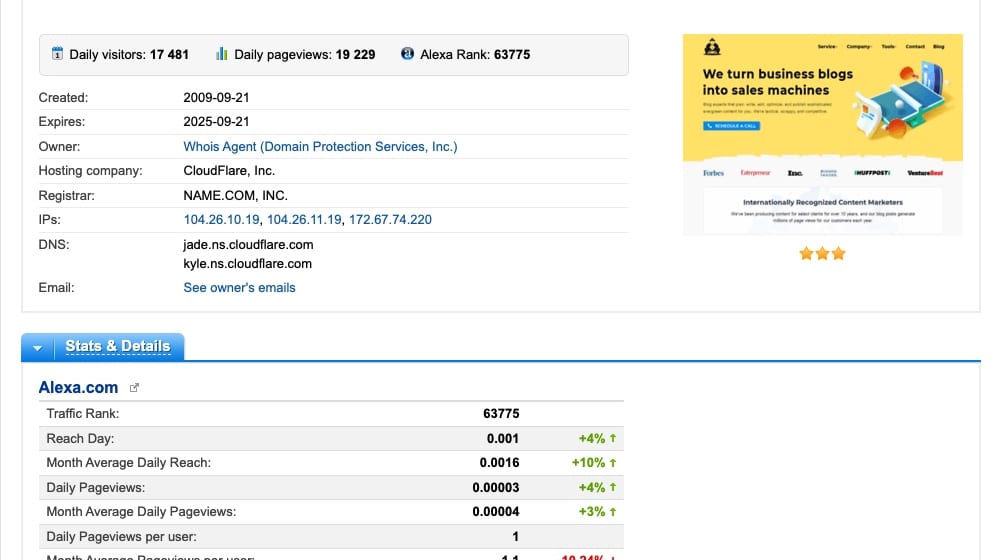 I include it for the sake of completion, but their data primarily comes from a WHOIS lookup and from (wait for it...) Alexa. When Alexa retires their API, I imagine this site will fold. If not, it will be interesting to see where they turn for their data.
WatchThemLive is an analytics app for your website, which essentially records and shows you user behavior as it happens. They do session recording and replay, heatmap tracking, goal tracking, general analytics, and more.
It's all quite interesting, but it's not perfectly comparable to Alexa's data, and they don't have an API to use to harvest data for your use elsewhere. It's not so much a competitive analysis tool, but it can still be helpful for some of your digital marketing purposes.
Majestic was, for a while, the primary contender to replace PageRank when Google retired, showing that metric to marketers. Their trust and citation metrics are robust, and their comparative analytics are handy.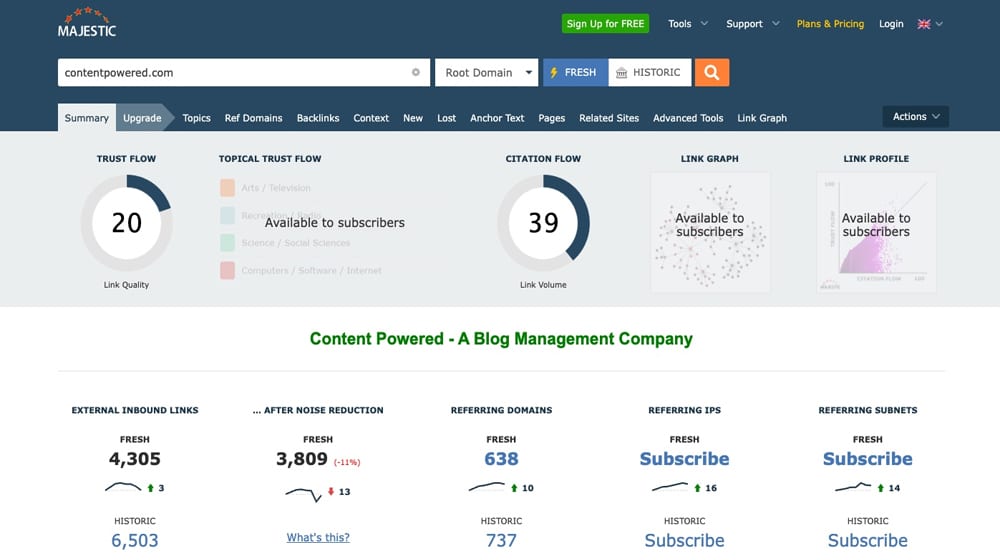 They're still trucking along, and their analytics are pretty good, but they didn't capitalize on their last opportunity the way they could have. Maybe they will with Alexa folding; who knows.
Cisco Umbrella used to be OpenDNS, which many consumers might recognize. As part of many different services they've offered, Cisco has empowered a website ranking list of the top million sites online.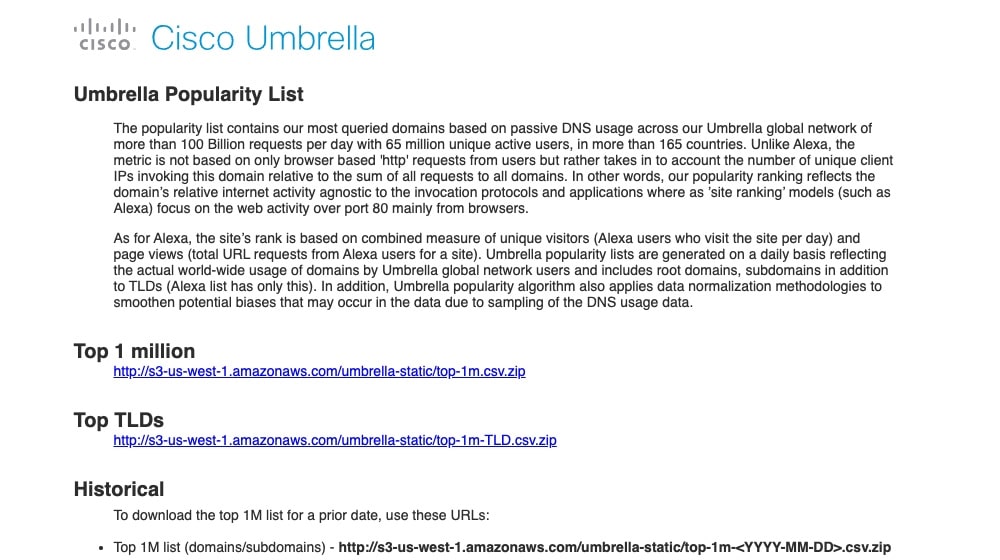 It's a little more refined than Alexa's top list was – for example, it filters repeat traffic from one IP, so you can't hammer F5 on a page to raise its rank – but it's still just a topsites list. It's helpful if the list was something you cared about, but it doesn't do much other than that.
Cloudflare powers a lot of the internet with DDoS protection, DNS services, WHOIS protection, and CDN services. I use it, as do many of my clients. It's powerful, giving users access to a ton of user behavior and traffic data.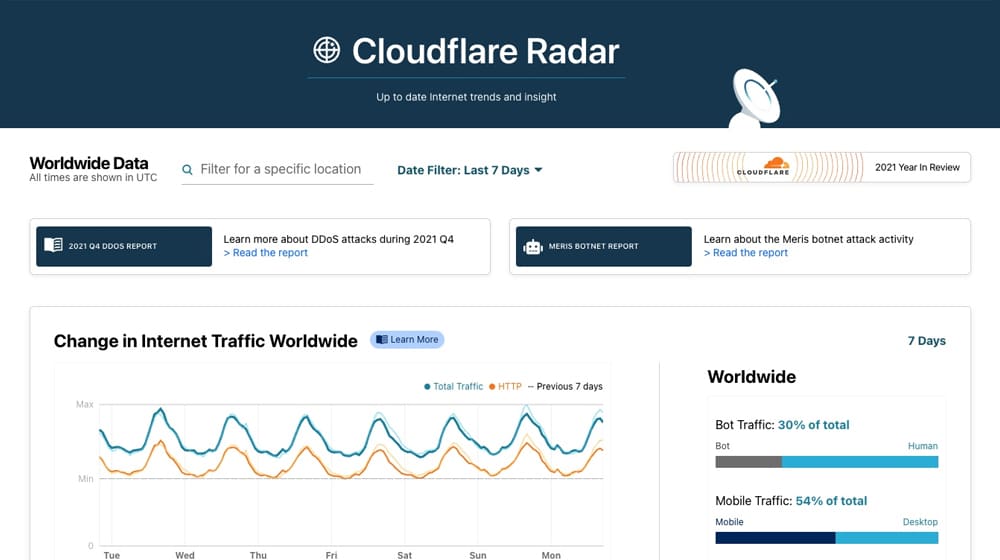 Radar presents a good portion of that data to you to peruse, including a topsites list, traffic numbers as a whole, and even a real-time map of cyberattacks happening worldwide.
I found SERanking shortly after Alexa announced that it was closing its doors. The data looks pretty comparable to Alexa, and their top keywords estimates were some of the most accurate I've seen.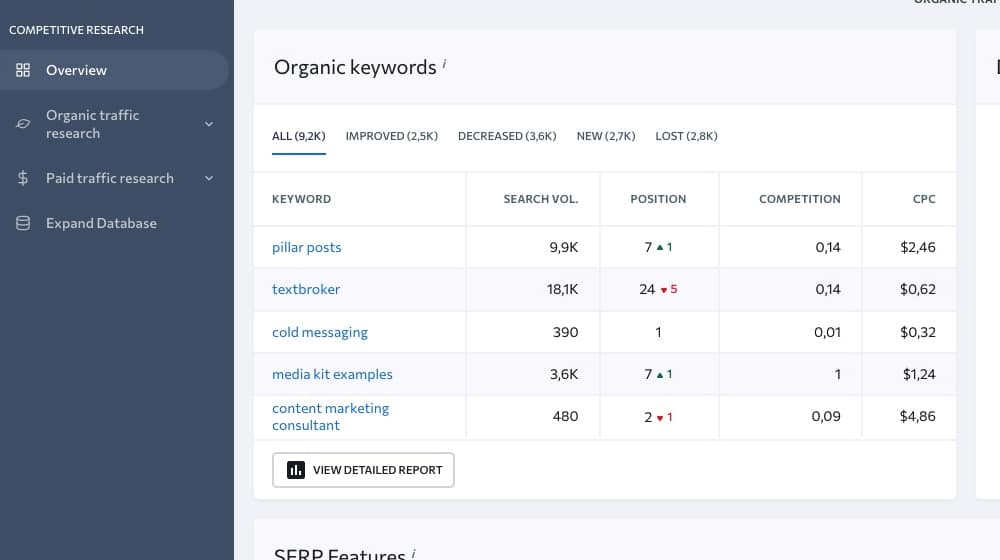 I've found that section to be pretty precise on Alexa, so for those of you looking to replace that functionality, SERanking is pretty close. Best of all, it's free for up to 10 searches per day. They have an API as well.
This site is analytics of a different stripe. The Internet Traffic Report's business goal is to show an overall view of how well the internet is functioning across various countries and continents.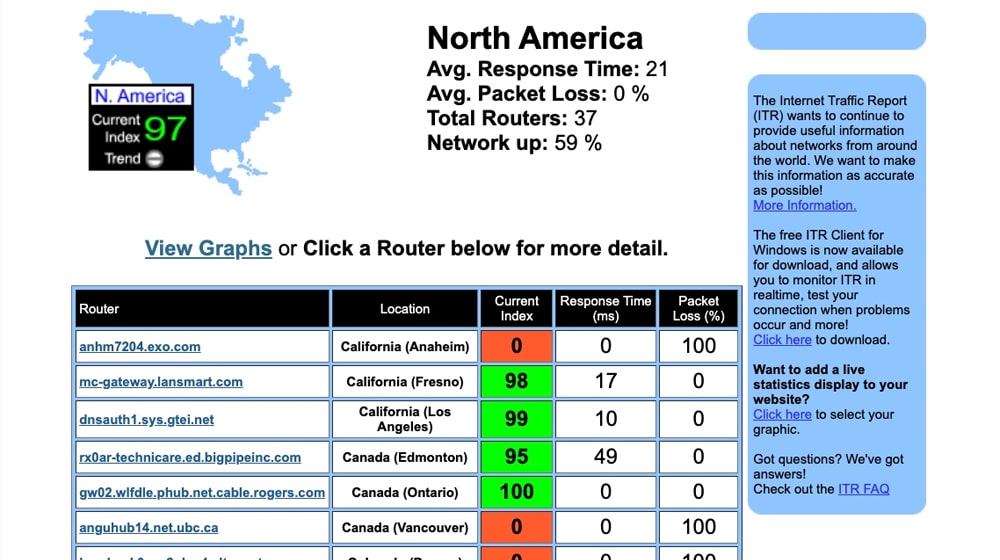 It's comparable to Alexa's top list of being an interesting curiosity, and not much more. I bring it up solely because it has been mentioned as an Alexa alternative on a few sites I've found, but frankly, I wouldn't use it.
"Amazon owns one of the most popular comparative analytics platforms in the world; why would they shutter it?" If you've asked this question, well, you're in luck. Amazon likely wanted the Alexa name to stop being split across the devices and the analytics. It was easier for them to rebrand the analytics than it would be for them to re-engineer the Alexa smart home system.
That doesn't mean Amazon has wholly abandoned the analytics game. Quicksight is part of their business analytics suite and is likely where a lot of the information and power from Alexa will end up.
Do you have another Alexa alternative I didn't mention? If so, please let me know below in the comments section!