[Guide] Comparing the Most Popular Content Analytics Tools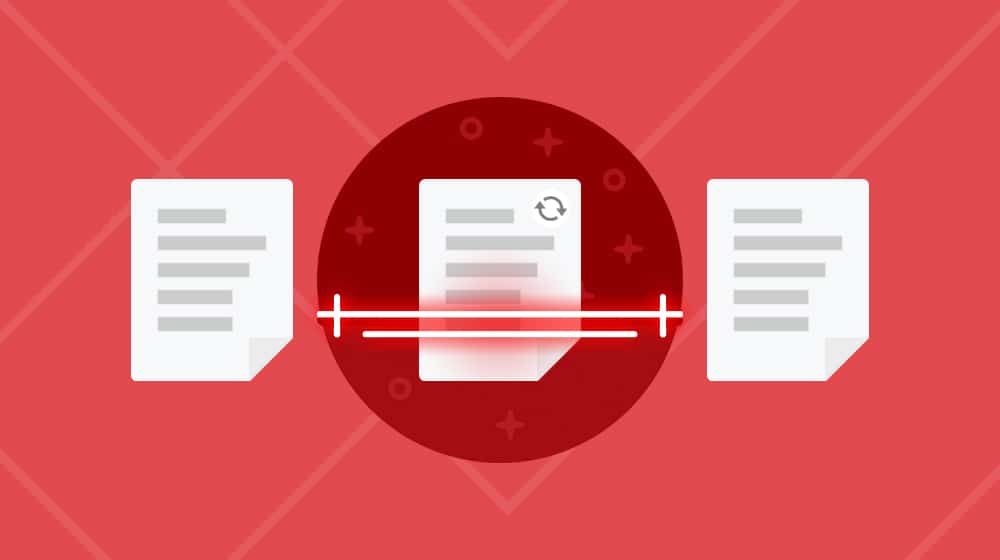 To be successful with marketing, you need to make decisions, and those decisions need to capitalize on trends, news, techniques, and information. You can only inform your decisions with data you harvest and analyze. You can only gather that data if you have software in place to do so.
Thus, the question becomes: "how do I harvest relevant, useful data to fuel my marketing efforts?" There are dozens of different KPI metrics, many of which I've covered recently in my KPI glossary post, and some tools only focus on one corner of your content marketing campaigns.
Whether you need long-term data to fuel your overall content strategy or short-term data to make day-to-day tactical changes, you need to get that data from somewhere. There are 12 different types of content for blogs - how else are you supposed to know which is working for you?
There are, of course, dozens of different programs, platforms, and apps with analytics built into them or offered as a stand-alone product.
The question is, which of these content analytics tools should you use?
Let's dig in!
Why Only One?
Well, you aren't limited to just one single analytics tool. I wouldn't recommend using more than two or three, though, for a few reasons.
Here's why:
1. First of all, analytics tools can conflict. When you get right down to it, analytics tools are just scripts that run to track data, ranging from clicks to mouse movement to scrolling and more. If multiple scripts are trying to follow the same events, there can be a conflict and not accurately report data, double-report data, or who knows what else. With the proper configurations and careful monitoring of what the scripts are doing, you can avoid this issue, but at that point, you're putting a lot more work into it than it's worth.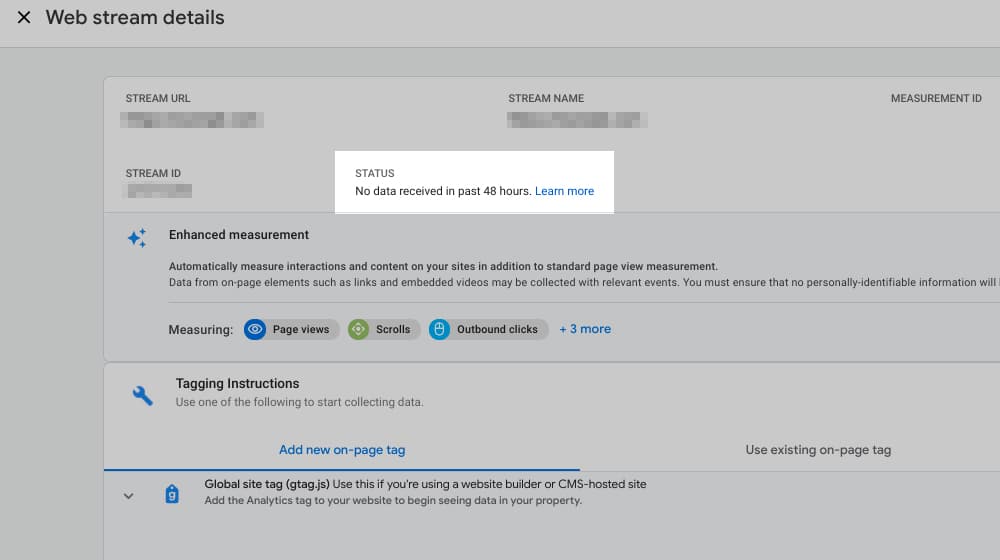 2. Secondly, analytics tools are scripts, and scripts slow down your website. How much is that data worth to you? Google Analytics is designed to be relatively fast and unobtrusive, but other analytics tools might not put that much work into engineering. They can have a tangible, detrimental impact on your PageSpeed scores, so the SEO detriment might be more than enough to outweigh the benefit of having those additional scripts installed.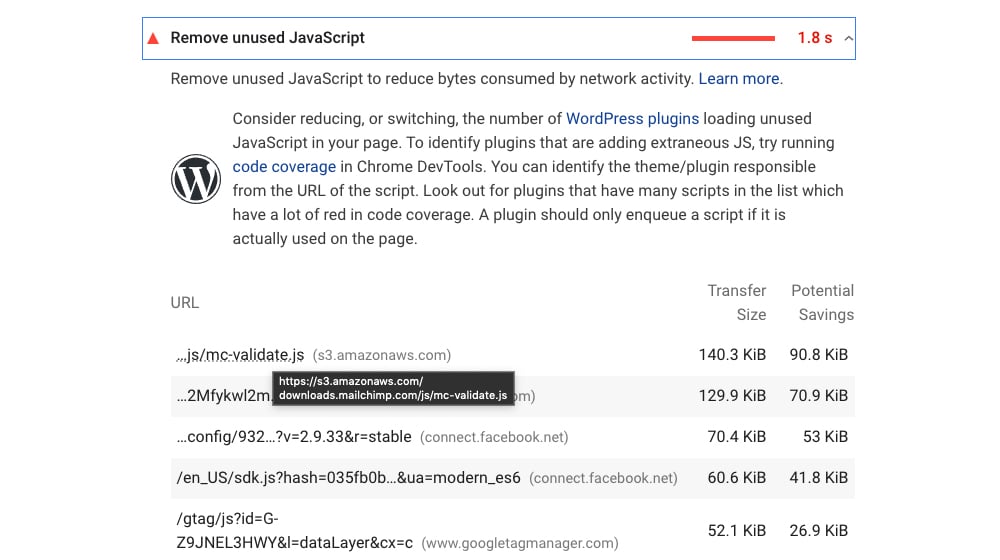 3. Third, the data might be inaccurate or not presented equally across different tools. Different tools record data differently. Some might do sampling, some might do real-time analysis, and some might round numbers. Different scripts also have different ways to get around do-not-track orders and other anti-analytics codes and report additional data. Worse, you have no way of knowing which one is most accurate without long samples and dedicated testing, which isn't often worthwhile.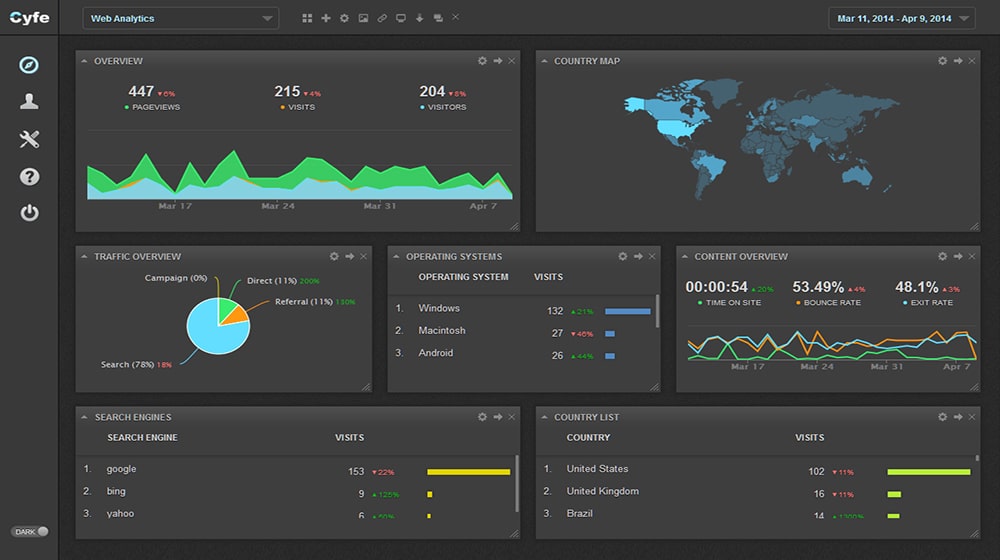 4. And finally, if you have too many analytics tools, you're going to be spending all day generating and reading reports and not dedicating time and thought to what those reports tell you to do. Indeed, using analytics properly generally means understanding and thinking about the data you get. If you spend your time reading dozens of different reports every day, you're not giving them the individual introspection they deserve.
Generally, my advice is to run one tool of a given type - one general analytics, one heatmap, etc. Running more than one given king of analytics script will significantly diminish your returns.
Alternatively, if you're savvy with code and you need more than a few different analytics scripts running simultaneously, you can delay the execution of your code. Some users do this by waiting until visitors move their mouse, and others count down on a timer before loading. Either method will prevent these heavy scripts from impacting your site speed.
Comparing Analytics Tools
I'm looking at these analytics tools from a content marketer's perspective. I want to know things like "how well do different pieces of content attract users from search" and "how well does this content keep people around." I'm less concerned about the immediate impact of, say, paid advertising. That means I may leave out a few qualities that would make a given tool better than others on the list for specific situations that don't specifically apply to me.
As always, my judgment is my opinion; your situation might be different enough to warrant a separate order of tools.
That said, let's get started looking at the tools with the all-time gold standard.
It should be no surprise that Google Analytics is first on the list. If you already have this installed, you can zip right on past this to item #2 on this list.
Google Analytics is the go-to content marketing analytics tool for most websites out there (and with good reason). It's reasonably accurate (though it does have sampling issues in some cases.) It's trivially easy to set up and install. Google makes it, so it gets its data first-hand, without the need to scrape or gather it from a third-party API. And, of course, it's 100% free to use for everyone.
One of the best features of Google Analytics is the ability to configure custom reports using and comparing virtually any data you feel like tracking. You can set up custom goals to track visitors, bounce rate, time on site, demographics, real-time data, referral data, set up custom reports for those goals, and have a completely customized analytics dashboard. This tool is potent for a person deep in data science and wants to know what's happening with their site. It's also beneficial for those who have a niche or narrow dataset they wish to track that other platforms might not natively track for them.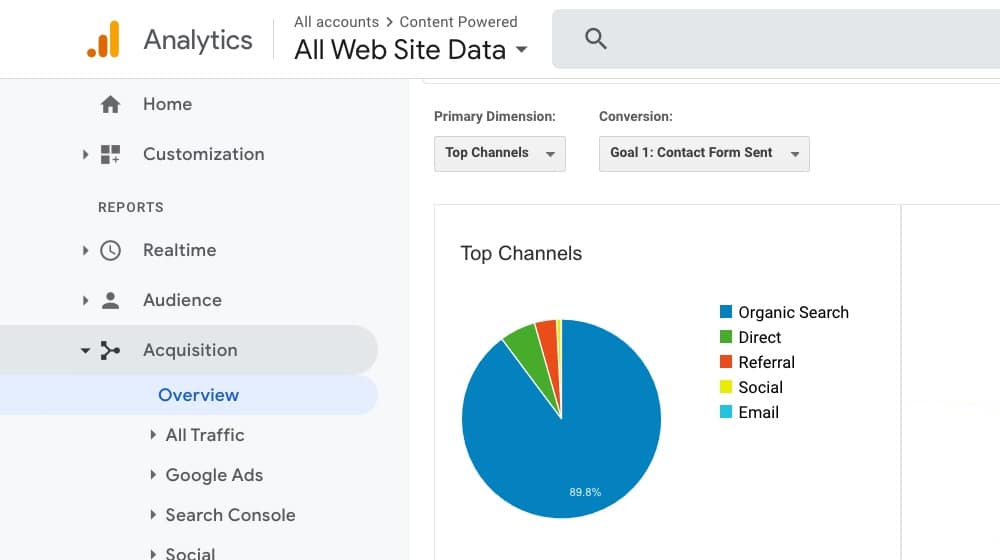 Additionally, since Google Analytics is so widespread, they allow users to generate and export reports. Not just specific data reports, but entire dashboard formats stripped of data. That means that you can download and import dashboards that populate your data. Not a data scientist? You can get reports from those who are and use them for your site.
I would venture to say that 90% of websites can use Google Analytics as their only analytics tool and be perfectly fine. It's the standard to which all other analytics tools are compared, and other tools need to have some unique selling point to stand out. They even have a mobile app to check your performance remotely (which I'm embarrassed to say that I look at way too often).
On that note, if you don't have Google Search Console set up yet for your website, you should set it up immediately. It only shows your Google Search visitors and even has a content performance section that shows how your best content is trending. It also highlights site, usability, and speed issues. It's mandatory for every marketer.
I'm still amazed how many massive websites haven't set up Google Search Console yet, so these two are worth repeating.
Clearscope is one of our favorite TF*IDF tools out there. If you're not familiar with TF*IDF, you're in luck because I just wrote a blog post on that here:
Term frequency * inverse document frequency is a calculation of keywords in your content, compared to similar articles on the internet. The idea here is that if you're writing a blog post on a subject intelligently, you'll probably have similar talking points to authoritative websites ranking well for those topics.
For example, if you write an article on the topic "what are stocks," try to find an article listed that isn't mentioning other words such as "dividend," "security," "ownership," "equity," "voting," and so on. You probably won't be able to since articles that don't mention those things aren't doing a good job explaining what stocks are.
That's the idea behind Clearscope. It analyzes your digital content for keywords and suggests specific keywords you might work into your pages.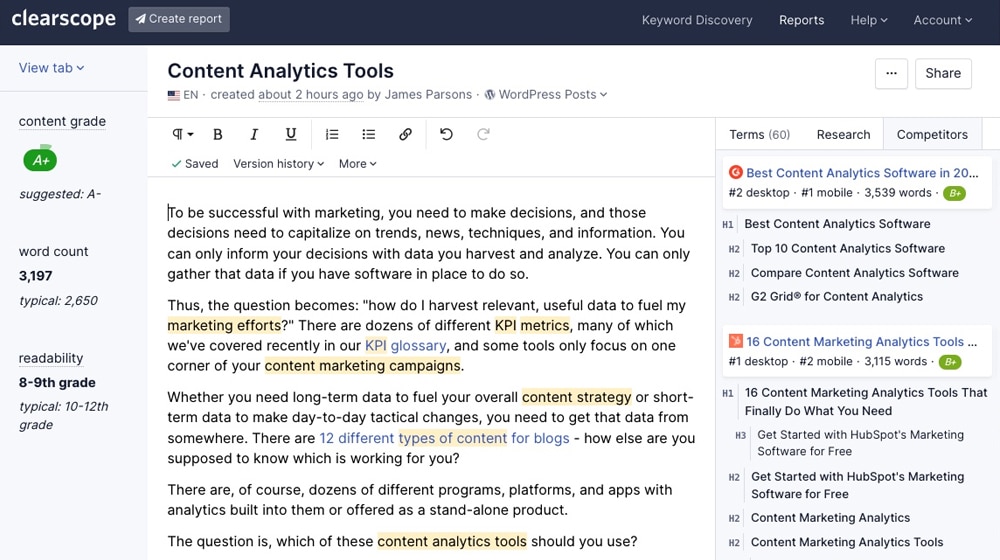 Clearscope is often referred to as a TF*IDF tool (as I just did), and it works similarly, just on a smaller scale. Instead of collecting a massive database of all of the content on the web (like Google does), they scrape Google for top-ranking results and then compare content that's already performing well. Does anyone want keyword suggestions from pages on the 20th page of Google anyway?
Frankly, I like Clearscope because it usually inspires me to write a few hundred extra words of content here and there. I'm not sure if an "A" or higher rating is doing much for me, but from my preliminary tests, it looks very promising.
Clearscope is a little more expensive and starts at $170/mo for small businesses and scales as your content demand increases. If you're looking for alternatives, MarketMuse is also a great solution. I've compared them both in detail here.
I know I already cited Google Analytics as the "gold standard," but I'd say Ahrefs deserves that spot, too. Seriously, I'm on Aherfs every day.
Google is the biggest scraper, harvesting and reading billions of web pages per day. Guess who's number two? Bing? Yahoo? It may surprise you, but Ahrefs sits just under Google. Their scraping stats are impressive and highlight the sheer volume of data they have, and you'll have a hard time finding more up-to-date information on your website performance.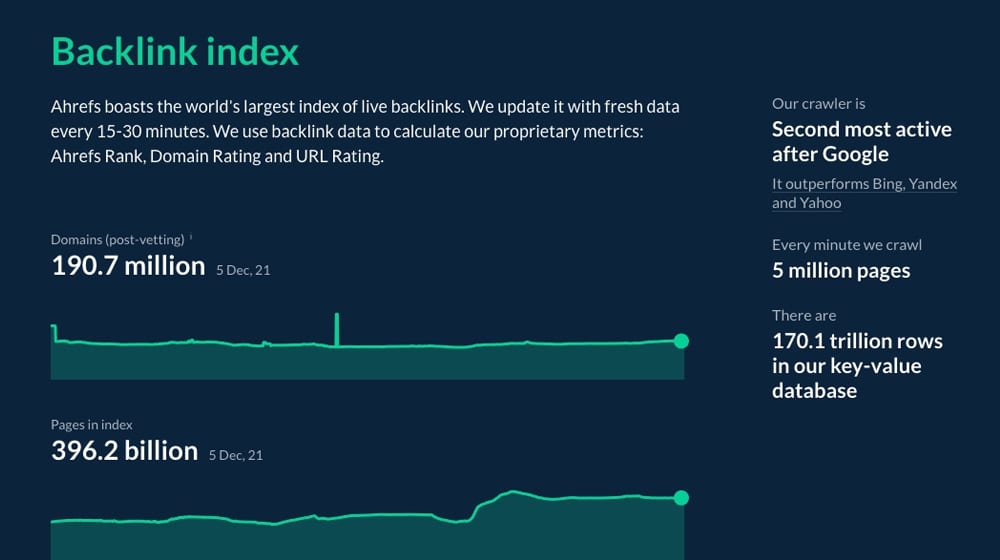 Ahrefs analytics tells you quite a few things about your website content performance:
Estimated organic search volume and traffic percentage relative to your total website traffic.
Backlinks, both new and lost backlinks, and their authority.
Rankings on search engines and SERP movement across thousands of different keywords simultaneously.
Benchmarks for site speed, crawl issues, missing tags, orphan pages, broken redirects, and other in-depth audit reports.
Keyword research explores specific keywords or looks at a competitor's keywords.
It's essential for any content marketer who is serious about evaluating the analytics of domains and particular topics. SEMRush is very similar, which I think comes in a close 2nd place, but I'll be covering that in more detail in a couple of weeks with an upcoming post.
Is your blog earning you business? If not,
let's fix that.
We create blog content that converts - not just for ourselves, but for our clients, too.
We pick blog topics like hedge funds pick stocks. Then, we create articles that are 10x better to earn the top spot.
Content marketing has two ingredients - content and marketing. We've earned our black belts in both.
If you run an internet-based business and are looking to scale, schedule a call to speak with our founder:
Ahrefs has a "$7 for 7-day" trial, and their "Lite" plan is only $99 per month, which is plenty for most users and is capped at 5 "non-verified" websites. Still, as long as you have partial control of a website and can verify it through an HTML upload, meta tag, or Google Search Console ownership, you can add an unlimited number of verified websites.
Screaming Frog has been around for ages. Heck, I've been using it for over a decade, if not longer.
Screaming Frog is an application that runs on your computer, unlike the other solutions on this list. It's capable of crawling a website with tens of thousands of pages or more (though it will take a long time) and giving you detailed insights into each of those pages.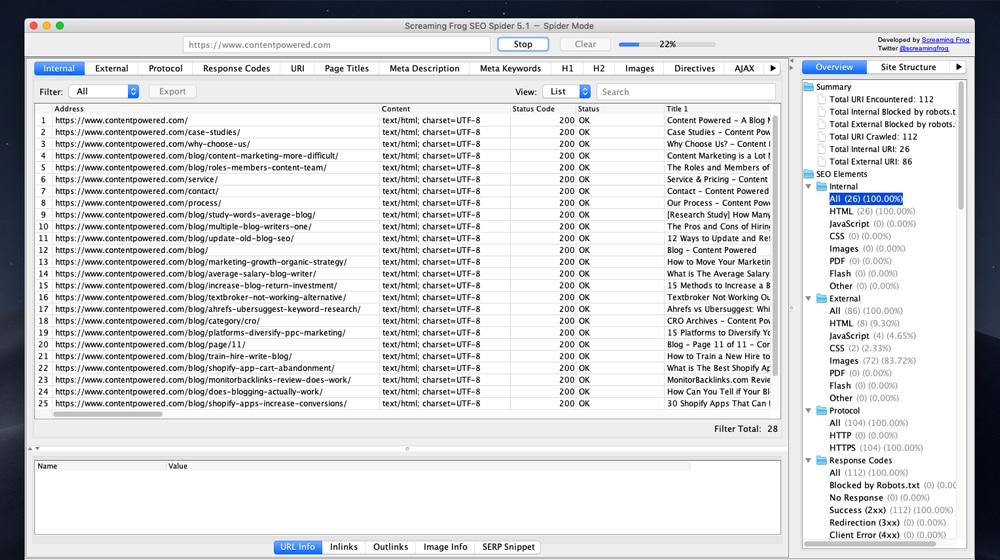 It will give you the word count, the headings, how many internal and external links it has, what those links are, the images, and just about anything else you throw at it.
This software is handy for content audits, especially when auditing old stale content. It can find broken links, thin content pages that need to be evaluated, pages missing certain information, and more. Sometimes you want a full download of your entire website so that you can parse yourself, and Screaming Frog lets you do just that.
Screaming Frog is free for up to 500 URLs, but you'll hit that limit almost immediately with any website, so it's more of a 5-minute demo than a "Freemium" version. You'll want to pay for the "Unlimited" version, which is £149.00 per year.
Formerly known as Piwik, Matomo is an open-source alternative to Google Analytics. Their primary selling point is ethical, transparent data reporting. Many people worry about Google harvesting and using your or your users' data for their purposes; Matomo doesn't look at the data; they give it to you.
One of the most significant benefits of Matomo is that it's entirely accurate, as much as it can track. People using script blockers will, of course, avoid it. That said, it doesn't use sampling the way Google Analytics does. Your data is 100% accurate as far as Matomo can track it.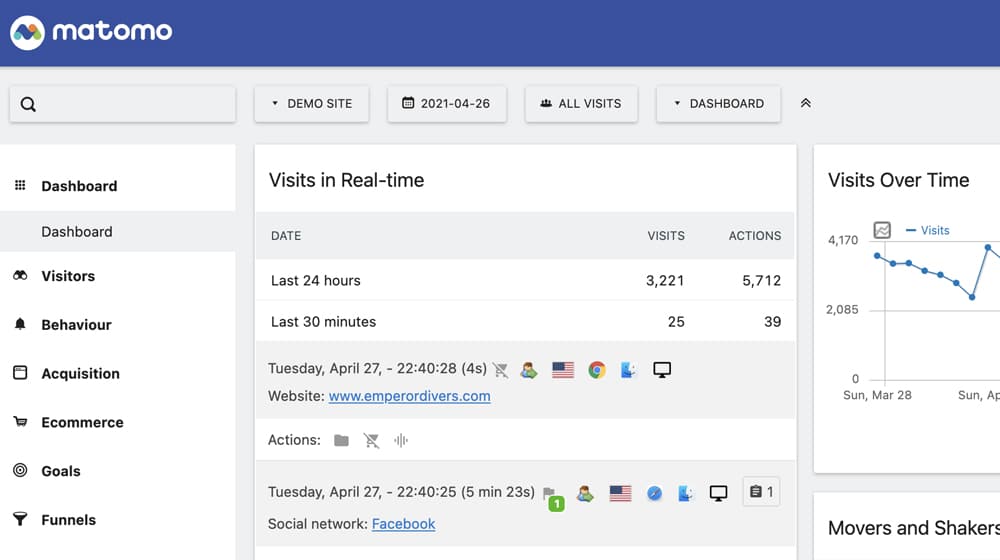 The biggest downside of Matomo is the access. If you want it hosted on Matomo's servers the way something like Google Analytics, you need to pay a fee that scales for every hit your website receives. Not per user, session, or pageview, but per hit, where a hit can be anything from a pageview to a tracked event, a link click, a site search, or more. One user in one session can generate quite a few hits depending on what they're doing, so the hit budget they give you can be used up a lot faster than you might think.
Matomo is free if you're willing and able to host it on your servers. Usually, this isn't too bad, and it's the go-to option, but some people can't use it or don't want to mess with it themselves.
If you decide to use their hosted platform, their pricing ranges from $23 per month and up.
Google Analytics and Matomo are general data analytics platforms, but HotJar is slightly different. It's a user behavior tracker. It lets you track specific kinds of data, such as which users scroll down on your page and how far they scroll, where their cursor moves, and what it clicks on, and it can even solicit user feedback.
One of the most significant gaps in platforms like Google Analytics is the lack of ability to see what isn't working. For example, if you have an image that looks somewhat like a button on your page, and a group of users decides to click it, but those clicks don't do anything, that's all lost data. Google will never tell you about it. An app like HotJar will show you the entire customer journey and where they're getting stuck, and you can then change that image into a functional button to take advantage of that behavior.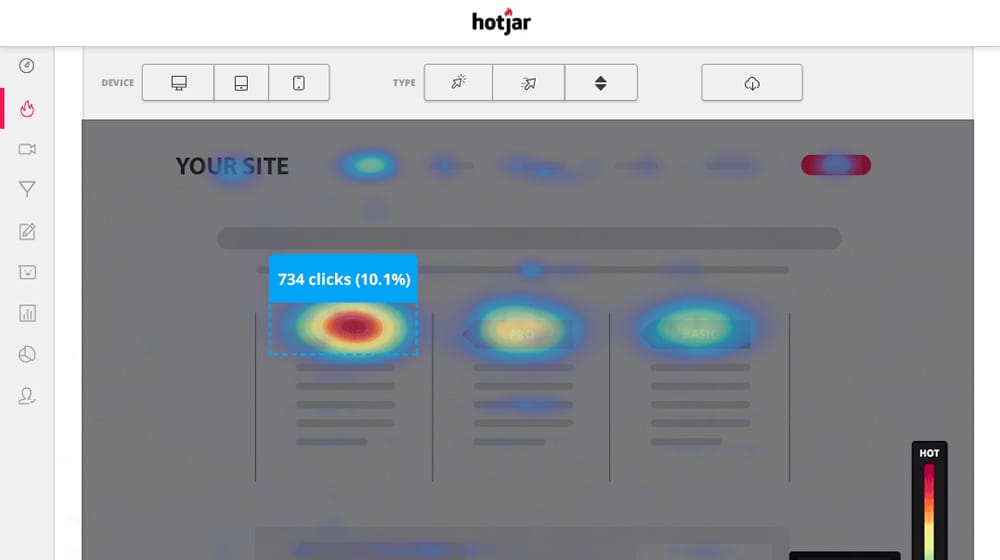 HotJar is free for up to 35 sessions per day, but paid versions have many additional features you might find helpful. I generally find that apps like HotJar are best for mid-sized and large-sized sites, where minor optimizations can have an enormous impact, but anyone can give it a try and see if the data is valuable.
They also have a free WordPress plugin for easy integration if you use WordPress.
Crazy Egg is like HotJar on steroids. It starts as a heatmap app, similar to HotJar, but adds more valuable features. The biggest among them is a built-in engine for split testing. Using their A/B testing system, you can make edits to your site and serve them to segments of your users without having to do other forms of coding in the background. It's very convenient, though it sometimes does some weird stuff to your site code and can be tricky to extricate later.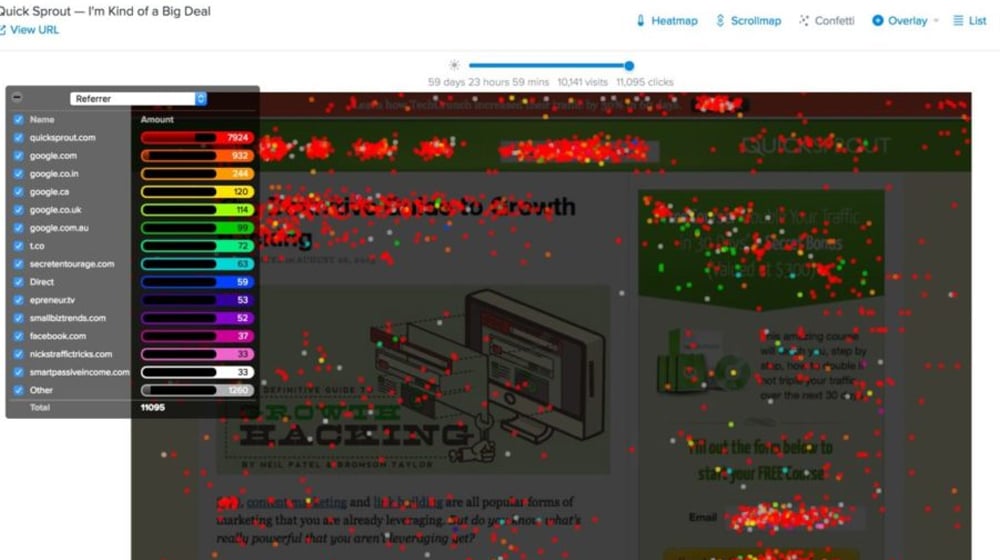 Crazy Egg is another paid analytics tool. It has a free trial, but it's just that; a trial, so it expires after 30 days. The cheapest plan – which is admittedly decent, capping you at 30k views per month – is $25/month.
I would call Crazy Egg a potent tool if, and only if, you make full use of the split testing features. If your site isn't robust enough to warrant it, put it on the back burner for a while until you grow to that point.
Like HotJar, Crazy Egg also has a free plugin for WordPress users to make things a little easier.
Clicky is a top-rated web analytics platform, and it's easy to see why. It has a full suite of analytics the same way Google Analytics does, but they're tracked and updated in real-time with no sampling. It's pretty effective at filtering out referrer spam and bot views, too, which Google has a difficult time doing. On top of that, they also have a heatmap function, though it's not quite as robust as HotJar and doesn't contain the split testing that Crazy Egg does.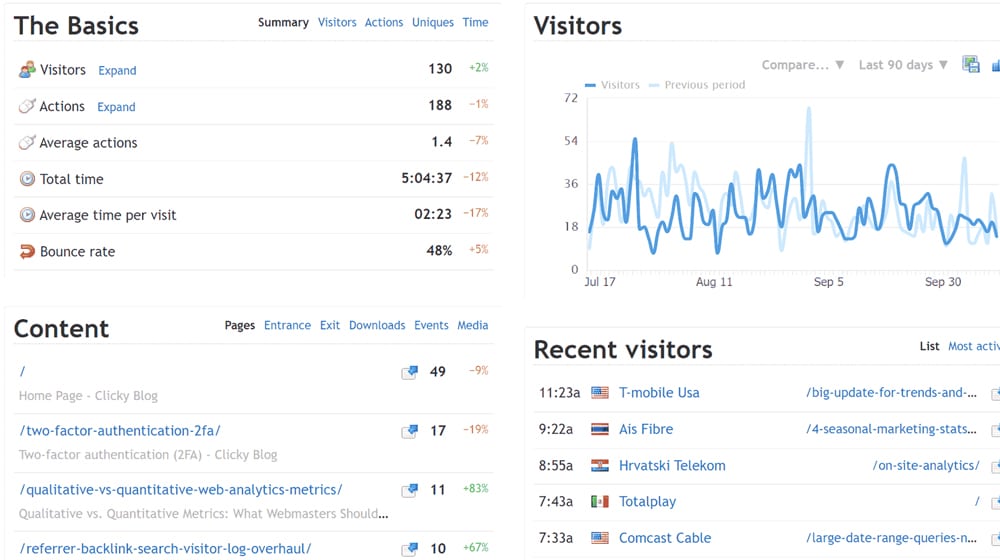 There are two downsides.
1. The first is that the heatmap and many advanced features are locked behind paid accounts. Free accounts are pretty limited to basic analytics and a capped number of daily views.
2. The second is that Clicky isn't as slick as the other tools on this list. It's a little messy, not very customizable, and a bit clunky to use. Still, it's prevalent in digital marketing circles, so I've listed it for you to test for yourself.
I think Clicky is best used for landing pages and high-friction pages and not as a long-term content marketing tool. Still, it's very effective at identifying and removing friction in your funnel. I happen to like Crazy Egg and HotJar a bit better for their split testing functionality and robust heatmap, respectively.
Cyfe is one of the most valuable tools that I don't use.
It's not an analytics tool in and of itself, which is why I almost hesitated to put it on this list. However, it's compelling for certain specific use cases. What does it do?
Cyfe is an all-in-one dashboard. You link it up with other services you use, and it pulls in data and presents it to you in the Cyfe dashboard.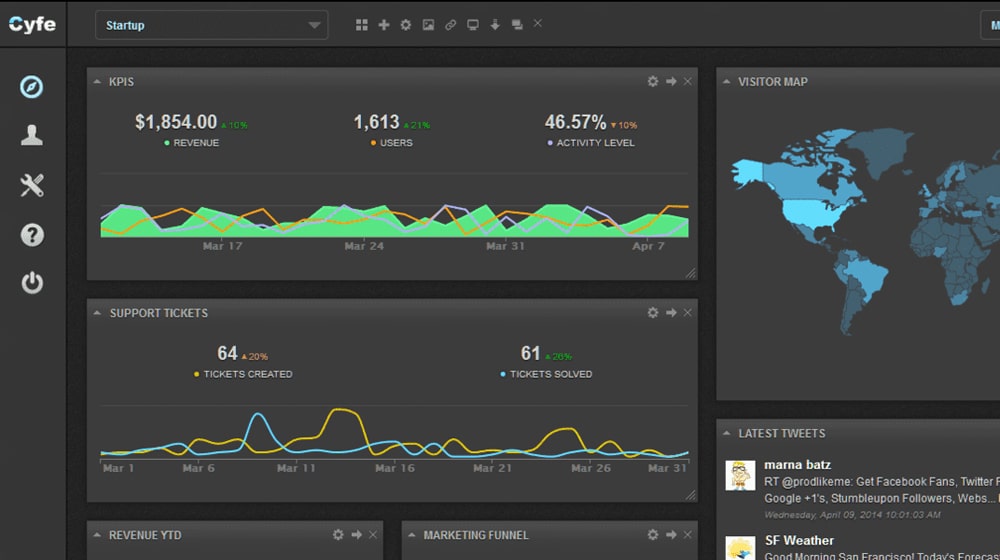 The kicker is, it can link up to multiple sources at once and display them all at the same time, side by side. Have you ever had to page between Google Analytics, social media analytics such as Facebook Insights, Twitter Analytics, LinkedIn Insights, HubSpot reporting, email analytics, and more? You know how tedious it can be looking at all of that information and putting it into perspective. Cyfe lets you put it all in one place, to see side by side.
Cyfe is also relatively inexpensive for what it does. The only reason I'm not using it is that I don't have that many other data sources I use frequently enough to make it worthwhile. I may someday, but Google Analytics and Search Console are my home for now.
Your Favorite
I know I've only scratched the surface of analytics platforms and tools here today. That's why I'm turning to you. I'm sure you have a set of analytics tools you use, so I want to hear about them. Just consider these criteria:
It should be something that tracks data on your website. That's why I didn't include things like Facebook Insights on this list; it's primarily for Facebook data, not website data.
It should be analytics. There are a lot of helpful content marketing tools out there that don't fall into this category.
I also like to limit myself to functional and "for-everyone" tools. There are some excellent enterprise-grade tools out there, but I don't have the budget to test them out, so I can't easily recommend them.
So, do you have a tool you love that can fit on this list? If so, drop me a line in the comments and tell me about it.