The Complete List of All Blogging Facts and Statistics (Updated)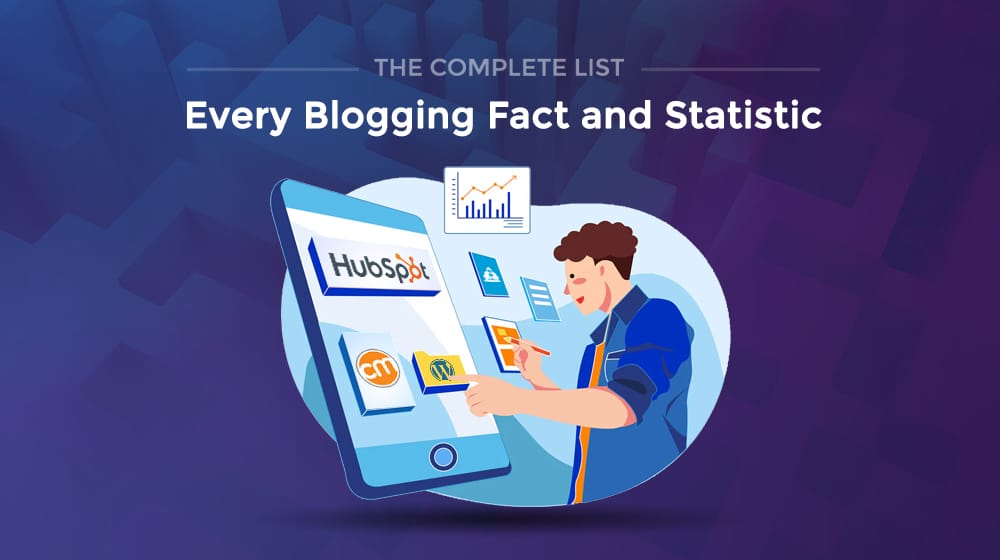 Hello everyone, and welcome to the world's largest list of facts and statistics about all things blogging!
I've spent months now working on compiling, verifying, sourcing, and categorizing just about every fact you can think of about blogging in general. With that said:
This is a very large article. We encourage you to use the table of contents below to jump to one of the nine individual categories that interest you.
Curious about how many bloggers hire editors versus editing their content themselves? Wonder how much traffic from your blog posts is coming from new articles versus older articles? I'll enlighten you.
The purpose of this post is two-fold.
First of all, it's a gigantic accumulation of facts you can read through to give you a sense of the blogging industry. I've divided it into nine categories for you to browse, from facts about branding to facts about ROI to facts about using video in blog posts. Reading or browsing through the list should give you a great general idea of how things work, and may give you some insights or context into things you knew, things you thought you knew, or things you didn't know.
The second purpose is for verification. In addition to compiling all of these facts, I've done my best to verify them with a reputable industry source. You can cite these in your work, use them to contextualize other facts, use them to prove or disprove industry myths; you know the drill. I plan to keep this post as up to date as possible with new resources, changing trends, and new context as the industry evolves.
That's enough preamble; let's get onto the facts and stats!
Branding Facts
Anyone who works in content marketing knows that a blog is already one of the best possible resources you can have on your website for building a brand. The biggest question has always been: just how important is it? Is your blog accounting for only 60% of your marketing efforts or is it closer to 90%?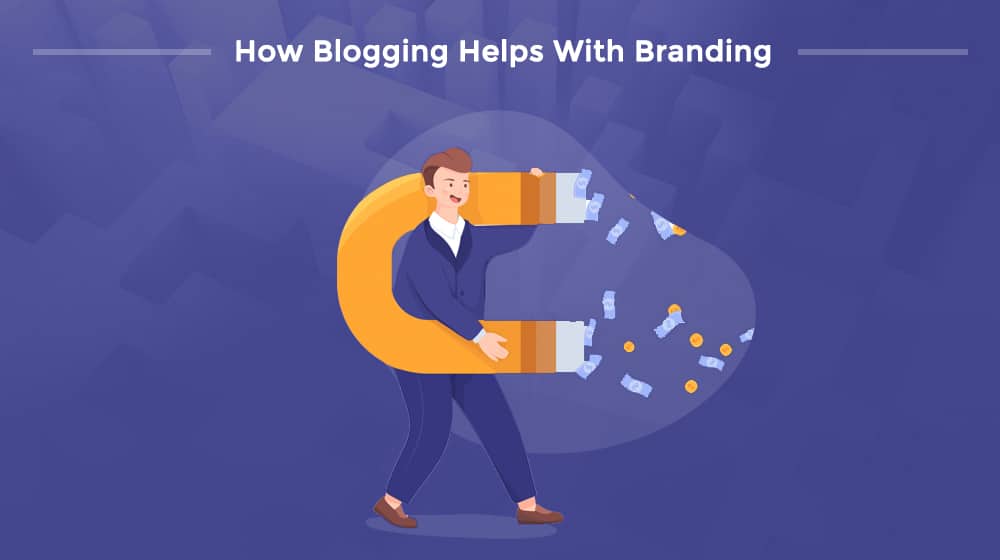 I've seen a lot despair building among industries over the last few years. More people blogging means more competition. Higher standards from Google means that content is more difficult to create, and it's getting more expensive to hire talent. The rumors of AI-powered blogs drowning us all out linger in the background. For now, though, read through these statistics. They should assure you that blogging is far from a dying industry and that even if today's youth is spending more time on TikTok than Forbes, blogs still serve a valuable purpose. There's plenty of room to compete.
1. Blogs are one of the best ways to build credibility and authority for your company. [1]
2. Around 7 out of 10 people reported that they frequently enjoy reading content from brands they're interested in. [2]
3. In a survey, blog posts were reported as one of the top 5 sources that users find trustworthy information. [3]
4. A blog that is regularly updated shows visitors that you care about your business and your community. [1]
5. Around 70% of readers that were surveyed said that they trust blogs more that have more than one author, compared to sites with only one author. [4]
6. Case studies, "How to" posts, and similar high-value articles are considered to be the types of content that lend business blogs the most credibility. [5]
7. In a survey, more than 2/3rd of the respondents said that they prefer learning about a company from its articles rather than from paid ads. [6]
8. When visitors are exposed to professionally-created content and product videos, brand engagement can rise by as much as 28%. [7]
9. When key decision-makers were surveyed, nearly 90% of them said that effective leadership helped enhance their customer's perceptions of their organization. [8]
Branding is a huge part of successful blogging, whether you're selling products, services, or yourself as a consultant. It's good to know just how impactful it is, and where you should place it in your priorities list. I've always figured a solid brand presence is one of the most important things you can build for a company, and it's good to know I wasn't wrong all along.
Email Facts
I've always said that building an email list is one of the best things you can do if you want a resilient source of traffic. Email lists decay, sure, but they're also the only channel you have available to you that's not reliant on another company's good graces. Social media platforms can ban you, aggregators can shutter, even Google can decide that you violate one of their thousands of policies you didn't know existed and put you in the doghouse. The only thing that can take an email list away from you is being listed as a spam company, and as long as you're playing by the rules, that's very unlikely to happen.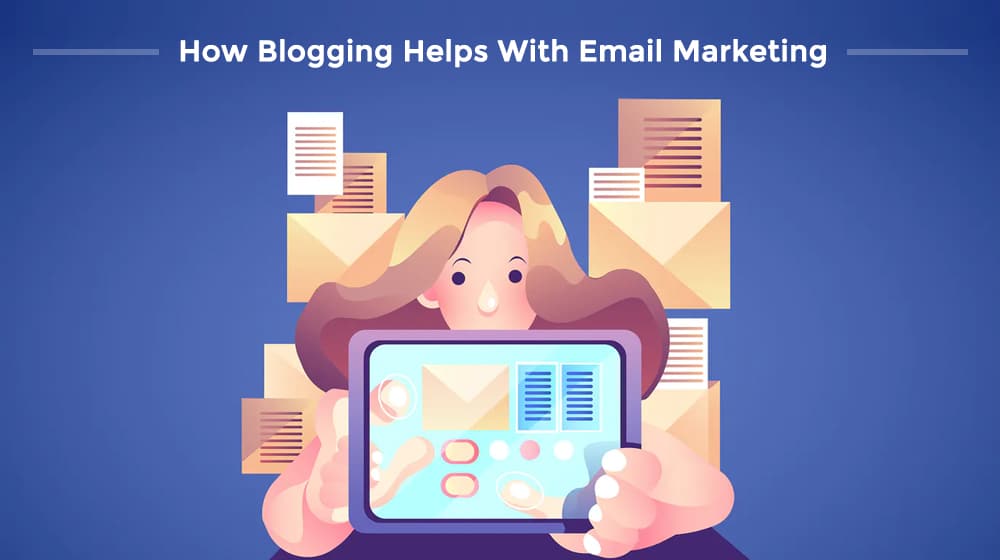 1. About 1 out of 5 businesses with blogs email their blog posts through their company newsletter every week, and about 2 out of 5 do this every single week. [9]
2. Businesses that regularly publish content to their blog generate 200% more traffic from their email marketing than businesses that don't blog. [3]
3. Around 87% of business marketers utilize email in their content marketing, and it was surveyed as the #1 method used among marketers to nurture their audience. [10]
4. Around 86% of business marketers and bloggers are carefully tracking their email open rates and click rates. [10]
5. Around 8 in 10 content marketers reported that they utilize email newsletters alongside their blogging and content marketing campaigns. [11]
6. Bloggers who earn over 50k per year from their content are twice as likely to use email marketing as part of their content strategy. [12]
7. Businesses that publish content regularly on their blog receive on average 200% more email inquiries than businesses that don't blog. [4]
8. Around 1/5th of all buyers would gladly supply their email and phone information in exchange for media like video and podcasts and around 1/4 of all buyers would do so for infographics. [13]
So there you have it; proof that email is one of the best and most resilient sources of blog traffic you can build. There's a reason the typical sales funnel starts by converting visitors into subscribers, after all. If you've been on the fence about building an email list or dedicating time and effort to maintaining a newsletter, hopefully now you've decided it's worth the effort.
Engagement Facts
Building a blog is about more than just putting content out there into the world. It's about using that content to build a community. After all, no company has value without its customers, and those customers aren't going to give the company the time of day if that company doesn't provide some level of engagement.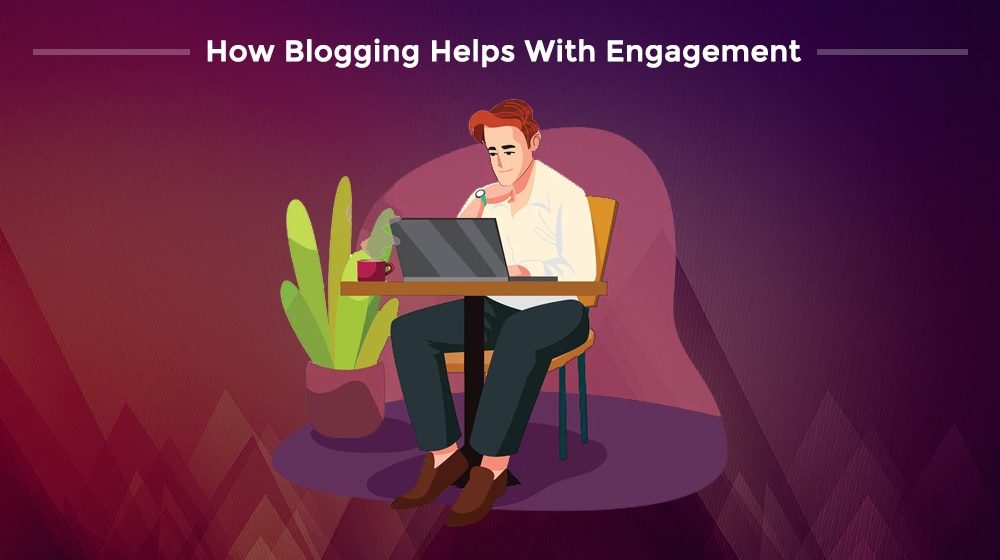 Whether you're measuring engagement in terms of blog comments, social media interactions, dwell time, or a combination of metrics, there's one universal constant. You want more engagement. Good quality engagement from interested visitors is the lifeblood of any blog and business combination.
Engagement facts are some of the most interesting, in my opinion. The idea that the placement of a hyphen in your blog post title has an impact on engagement is fascinating. Picking the right time of day to post, optimizing every element of your headlines, and leveraging emotional resonance to build interest is the realm of advanced attention that I love.
1. Including a hyphen/colon in the middle of your blog post title can increase your search engine click-through rate by as much as 9%. [4]
2. In one study, it was found that 54% of blog posts that are ranking well include at least an image, a video, or audio. [4]
3. The best time of the week to publish a blog post is between 9:30 AM and 10:00 AM EST, and the best days of the week to publish are Tuesdays and Wednesdays. [14]
5. Around half of all bloggers who wrote long-form content with a high word count reported that they're seeing better results than regular blog posts. [16]
6. People who read blog posts only spend 37 seconds reading articles on average. [17]
7. List articles that start with an odd number outperformed lists with an even number by 20%, making it a better choice for blog engagement. [18]
8. Marketers found that their headlines that have only 8 words had a 21% better CTR than posts that had headlines with a different word count. [18]
9. Nearly half of all marketers that monitor and rate their content reported that interactive content like contests, polls, quizzes, and calculators are very effective. [19]
10. Over a third of all internet users prefer list-based headlines compared to other headlines. [20]
11. Negative headlines that use words such as "Worst", "Bad", or "Never" perform 30% better than the average blog post, and headlines with positive words like "Best", "Great", and "Always" perform up to 60% better than average. [12]
12. In a Hubspot survey, the peak traffic hour for blog post reading is around 10 a.m. [21]
13. Blog topics that used "photo" or "photos" in the title performed 37% better than other topics that didn't use these words. [22]
14. Around 3 out of 4 visitors that were surveyed prefer to skim a blog post, rather than read it from start to finish. [23]
I think that optimizing the engagement levels of your blog, social media accounts, and networking interactions is some of the most interesting and most useful actions you can take. Plus, it makes you human. A brand that can leverage humanity to engage with its audience is a brand that has the potential to succeed long-term.
Investing and ROI Facts
Blogs can be expensive to run. The cost of hosting and a domain is minimal, but you have to factor in the costs of the tools you use for topic ideation and research, the tools you use for promotion, content creation, and all the rest. You have to consider the cost of paid promotion, networking, security, paying freelancers or hiring employees to handle content production and management, and more.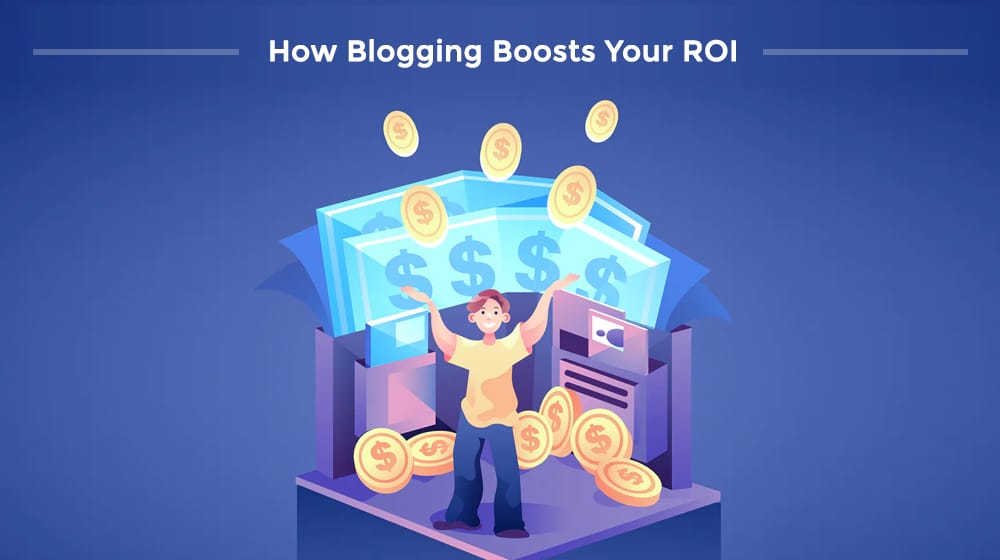 On top of all of that, you have the value of your own time. Every hour you spend working on your blog is an hour you could be spending improving another aspect of your business if you chose to outsource the blog instead.
As such, blogs are an intensely financial endeavor. You want to make sure your blog has a tangible return on investment. Thus, it can be very worthwhile to see what the industry has to say about it. What is the average ROI for a blog? What is the target demographic for the best financial returns with blogging? Is blogging even worthwhile, financially? Everyone does it, but is it just a cargo cult ideology, not a true benefit? Well, maybe this can convince you.
1. Businesses who are using content marketing to sell subscription products are seeing a 5-10% better retention rate than subscription businesses who aren't blogging at all. [24]
2. Content marketing is one of the most popular choices for businesses, with 89% of B2B marketers investing in content marketing and 86% of B2C marketers. [17]
3. Detailed long-form blog articles generate 900% more leads than shorter and less complete articles. [17]
4. Around 60% of online shoppers in the United States reported that they purchased a product directly after reading a blogger's recommendation in an article. [1]
5. Avoiding stock photos and taking photos of real people can improve your conversion rates by as much as 35%. [25]
6. Over 50% of marketers who were surveyed considered blogging to be the most valuable content strategy. [4]
7. Businesses that have published more than 400 blog posts in total have reported that they've acquired 300% more leads than companies with 100 or fewer articles. [4]
8. Over half of all marketers surveyed reported that their blog is their number one inbound marketing strategy. [4]
9. Running a content marketing campaign for your business costs around 62% less than running a traditional marketing strategy. [26]
10. Over the lifespan of a compounding blog post, it will generate 600% more traffic than a regular "decaying" post. [15]
11. The most common age range for bloggers is between the ages of 21 and 35, which accounts for more than half of all bloggers. [27]
12. Nearly half of all buyers online read 3-5 pieces of content on the internet, usually blog articles, before they make a final purchasing decision. [28]
13. When chief marketing officers were surveyed, 78% of them said that custom content will be the best marketing tactic in the future. [29]
14. Nearly half of all buyers online read 3-5 pieces of content on the internet, usually blog articles, before they make a final purchasing decision. [15]
15. Around 10% of blog articles are considered to be "compounding", which means that their organic search traffic continues to increase over time. [15]
16. Compounding articles account for around 10% of all blog posts that are published online, and they generate a staggering 38% of overall blog traffic. [15]
17. When compared to dollars spent on leads generated, content marketing generates three times as many leads as traditional marketing for the same cost. [30]
18. Around 60% of all marketers reported that content marketing is a critical component of their inbound marketing strategy. [31]
19. Among marketers who are automating their strategies, nearly a quarter of them stated that they're automating their content delivery strategy. [31]
20. Businesses who have 10 or fewer members in their company reported that they dedicated 42% of their total marketing budget to their content marketing efforts on average. [32]
21. Businesses who are using content marketing as their marketing strategy receive 300% more leads than businesses who are only relying on paid search ads. [30]
22. A staggering 75% of all traffic to blog posts is still being generated by older blog content. [4]
23. Businesses who market to consumers and who blog 11 times per month or more saw 400% more inbound leads than similar businesses who only published 4-5 blog posts per month. [33]
24. Marketing experts to make blogging a primary focus are 13 times as likely to see a positive return on investment in their marketing strategy. [3]
25. In a HubSpot study, businesses who market to other businesses (B2B) that use blogging in their marketing strategy enjoy 67% more leads than other businesses that are not blogging. [3]
26. Out of a group of marketers surveyed, 57% of them said they have received at least one customer that found them through their company blog. [3]
27. Businesses who are blogging regularly saw a 126% higher growth in their inbound leads compared to other businesses who do not manage a blog. [3]
28. In a large survey, around 1/4 of all marketers said that they planned on increasing their content marketing investment this year. [31]
29. When marketers were asked what their top key performance indicator is for their blogging strategy, they reported their most common measurement is "Total Sales". [31]
30. The two most popular content marketing measurements for tracking success are social media engagement and total website traffic. [31]
31. In a survey, at least 70% of the participants reported that they're regularly investing in their content marketing strategy. [31]
32. Approximately 23% of the time that users spend on the internet is spent on blogs and social networks. [34]
33. When surveyed, more than a third of all marketers responded that blogs are the number one most valuable type of content for marketing. [35]
34. When businesses and marketers were surveyed, 89% of the respondents said that they plan to either increase or maintain their inbound marketing budget. [21]
35. In a survey of bloggers, 65% of them reported that they had either product or service for sale and attribute their sales to their blog posts. [36]
37. Organic leads that were attributed to content were 850% more successful than outbound leads from direct marketing. [37]
Now, I've been a blogger and content marketer for years, so I can't say that I doubted the efficacy of blogging. I do know that a lot of people I've talked to, particularly businesses looking to start a blog, have doubted it. Hopefully, this accumulation of facts will help you convince yourself or others, just like they've helped me convince my clients.
Blog Popularity and Usage Facts
We all know that blogging is a flooded market. There are tens or hundreds of millions of blogs out there in every conceivable industry, publishing content at a rate of millions of new blog posts per day. Blogs are, arguably, the single most widely-consumed media format in the history of humanity. It would be exceedingly difficult to find a human who has access to the internet and who hasn't read a blog post this week.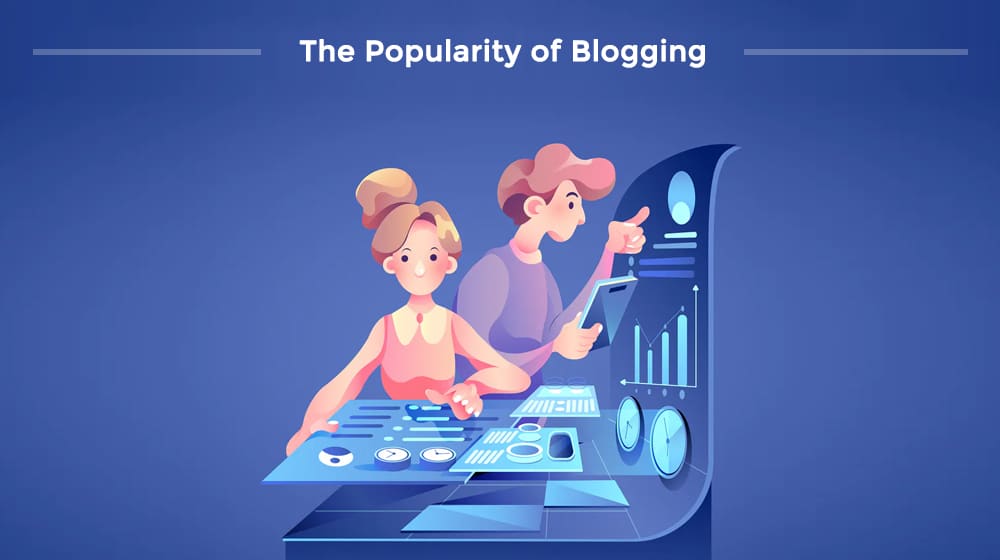 This daunting crush of content can be demoralizing when you realize how much of a demand on user attention there is. How can anyone hope to compete when there's so much going on out there? It even makes you appreciate Google all the more, for the job they do in indexing all of this content and serving the best, most relevant answers to any question you could want to ask.
Of course, not all of that content is in any way competing with you. How much of it is a foreign language, aimed at an audience you would never reach? How many of them are low-level personal blogs meant solely for the friends and family of the author? How much of it is community-focused, highly relevant to a small geographic area and nowhere else? It's all out there, but the numbers reveal the truth. Read them and be astounded, but don't be disheartened.
1. In a survey of internet users who are between the age of 19 and 29, 47% of them reported that they read blog articles regularly. [38]
2. Out of hundreds of millions of blog posts that were studied, there are more than 80 known languages that are utilized. [1]
3. The business of content marketing and blogging is projected to grow at a rate of 16% each year. [4]
4. Around 10% of individuals in the United States, or 31 million people, consider themselves a blogger in the year 2020. [4]
5. Every month, WordPress, the world's most popular blogging platform, has more than 20,000,000,000 blog post views. [39]
6. Marketers have been publishing fewer blog posts in the past several years. In 2014, bloggers reported that they published several articles per week, but today, several articles per month are more common. [16]
7. In a SEMRush survey, marketers reported that their favorite type of content marketing was blogging. [40]
8. In the United States, internet users reported that they spend 300% more time reading blog posts than they do checking their email. [41]
9. In a survey of regular internet users, 65% of them reported that they read blog posts every day. [42]
10. The world's first blog came to life back in 1994, and the owner still publishes content on it to this day. [43]
11. As of 2021, over 409 million WordPress users view over 20,000,000,000 blog posts and pages on WordPress sites every month. [39]
12. At least 3 out of every 4 internet users read blog articles regularly. [44]
13. More than 7 million blog posts are written and published each day - about 85 posts per second. [45]
14. The content marketing industry will surpass a total worth of 400 billion dollars in 2021. [46]
15. Tumblr alone has over 441 million accounts registered of users with unique blogs. [47]
16. In 2014, it took only two and a half hours to write a blog post, but in 2021, the amount of time spent per article increased to over four hours [16]
The planet is closing in on eight billion human beings alive at the same time, with plenty of open space still left to expand. It's incredible to see the amount of creativity, the amount of time and energy, and effort, all spent on the digital sphere. Blogging is perhaps the single most popular and most consumed media format in human history, and it's hard to picture anything edging it out without massive shifts in culture, language, and technology. Maybe VR content, one day, but even that I doubt. What can surpass blogging in simplicity, ease of access, low barrier of entry, and easy consumption?
SEO and Marketing Facts
Google does a phenomenal job at indexing, processing, and serving up content from billions of websites, for every conceivable query in nearly every language. It's astonishing to think about the technological feat they've accomplished, and it's hard to begrudge them their domination; who else could even muster the resources to compete?  That's not to say their monopoly is good, or that it should go unchallenged – Bing, DuckDuckGo, and others are certainly trying, and good for them.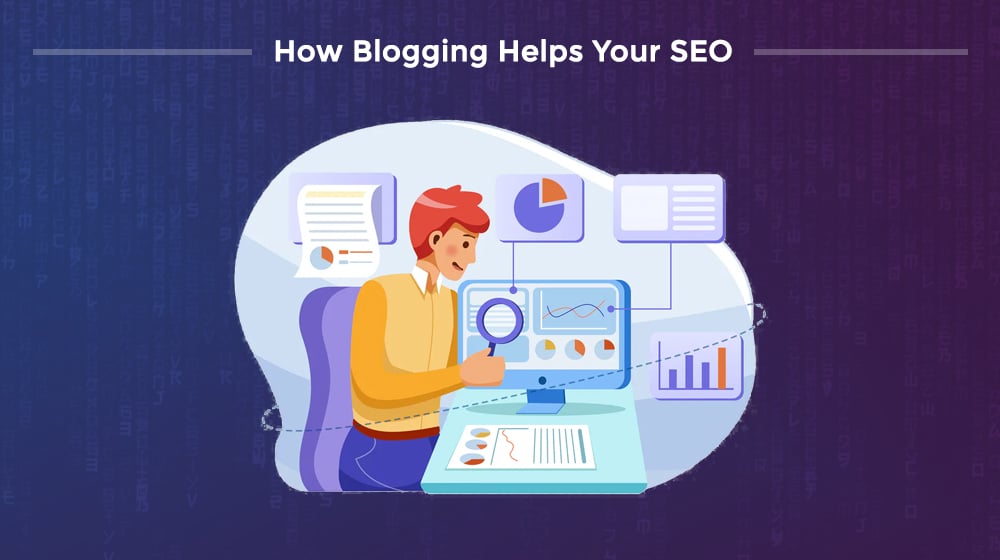 Until another search engine achieves a significant market share to challenge Google, SEO relies on Google's policies. Regardless of how you feel about their use of technology in other products and services or their stranglehold over many different technologies, one thing they have more or less done right is their search engine. The vast majority of their decisions are based around serving the best, most accurate, and most truthful results to people for any question they might ask.
Sure, some tricky issues are coming up. Political truth, factual reality, health honesty; some lines need to be drawn. I can tell you that when they're drawn, I'll be here to add those stats to the list to help keep us all up to date on what we need to do to succeed as bloggers.
1. The top three things that make content effective are audience relevance (58%), engaging and compelling storytelling (57%), and triggers a response/action (54%). [9]
Is your blog earning you business? If not,
let's fix that.
We create blog content that converts - not just for ourselves, but for our clients, too.
We pick blog topics like hedge funds pick stocks. Then, we create articles that are 10x better to earn the top spot.
Content marketing has two ingredients - content and marketing. We've earned our black belts in both.
If you run an internet-based business and are looking to scale, schedule a call to speak with our founder:
2. 63% of marketers create blog content by buyer persona; 38 percent by vertical; 30 percent by geography; and 30 percent by account or customer. [9]
3. More than half of B2B bloggers who outsourced their articles reported that their content came from non-paid guest post contributions. [9]
4. In a study by Backlinko, the average word count of a highly-ranked blog post on Google is around 1,890 words. [48]
5. Companies that blog regularly receive 55% more website visitors and have 434% more indexed pages on Google, on average. [49]
6. B2B businesses that published at least 11 blog posts per month received 300% more traffic than similar businesses that publish one article or less per month. [33]
7. Businesses that published at least 16 blog articles each month received around 350% more traffic than articles that publish 4 articles or less. [33]
8. Businesses who publish blog articles regularly receive nearly twice the amount of backlinks to their website. [3]
9. Content marketers who were surveyed reported that page speed optimization is their number one strategy that they use to improve their organic results on Google. [31]
10. Out of all bloggers surveyed, more than 66% of them said that they haven't touched their blogs in over a year. [1]
11. Nearly two-thirds of all bloggers report that they submit guest posts on other websites occasionally. [12]
12. 72% of marketers reported that content creation is their top search engine optimization strategy for their business website. [50]
13. More than 55% of all searches on Google are not in the top 10 million keyword searches, which makes long-tail keywords incredibly valuable in a content marketing strategy. [50]
14. Less than a third of all marketers surveyed have a properly-outlined and well-documented content marketing strategy. [4]
15. Over half of all marketers surveyed said that they are having issues understanding and measuring the performance of their blog post articles. [4]
16. Around 20% of all bloggers surveyed were upset about the great effort that is required to receive organic traffic to their articles on Google. [4]
17. Statistically, it's more likely that a publication will accept you as a guest post author between June and September. [4]
18. Once businesses write between 21 and 54 blog posts, you're statistically more likely to increase your traffic by around 30%. [51]
19. At least 80% of all daily traffic to a blog consists of brand new visitors who have not seen your business before. [52]
20. In a study by HubSpot, marketers reported that blog post topics that had between 6 and 13 words yielded the largest amount of organic search traffic. [15]
21. When bloggers were asked if they plan on utilizing Medium.com in their content marketing strategy, only 9% of them said that they use it already or plan on using it in the future. [15]
22. In a HubSpot survey, 42% of the companies who responded said that they hired a dedicated content marketing strategist as an executive. [15]
23. Blog content that has photos or images will receive 94% more visitors than articles that do not have any images. [53]
24. Improving your content quality and length can increase your blog post traffic by as much as 2,000%. [54]
25. Bloggers who spend at least 6 hours on producing each of their blog posts are 56% more likely to have strong results than those who aren't spending less than 6 hours. [16]
26. The average length of blog posts on the internet increased by around 42% between the years 2014 and 2018. [16]
27. Content marketers who regularly update their old blog content are 100% more likely to report strong results on their blog. [16]
28. In an increase from previous years, more than a third of all bloggers reported that they always check their visitor analytics. [16]
29. Only 5% of webmasters with a blog reported that they don't use any analytics tools at all. [16]
30. Bloggers who reported that they always track the results and performance of their blog articles are 100% more likely to have positive results with their content marketing strategy. [16]
31. Among internet users who were surveyed, between 70 and 80% of them reported that they ignore paid ads completely and only focus on organic search results. [37]
32. More than two-thirds of content marketers in B2B industries reported that they use paid methods to promote their content. [55]
33. When marketers were asked what their top goals were when using paid methods for marketing, 80% of them said "Attract a New Audience", 65% of them said to supplement their organic traffic, and 52% of them said to "Reach a Niche Audience". [55]
34. Blogs that publish at least one article every day receive 400% as much traffic compared to blogs that don't publish content as frequently. [56]
35. Most marketers create content for more than one audience segment, with "three" being the most common number of categories. [31]
36. In a survey of bloggers, the most common routine is to publish one new blog post every week. [36]
37. Over 85% of internet users prefer to click on organic results like blog posts over ads or other results. [57]
38. In the past year, the amount of blogs using paid marketing and promotion methods to drive traffic to their business has nearly doubled. [58]
39. In a survey, only 15% of all marketers are producing new content for their site every day. [4]
40. In a survey, 7 out of 10 marketers reported that they don't have a regular blogging strategy, or that they don't have a strategy at all. [4]
41. Around 70% of bloggers and content marketers reported that they soon plan to increase the frequency of their content production. [4]
42. In a survey, more than a quarter of all marketers admitted to allocating more money than planned to their content marketing strategy. [4]
43. Doubling your total output of blog posts while maintaining a high level of quality can increase your traffic by 300%. [4]
44. About 7% of small businesses with less than 100 employees spent over $500,000 per year on content marketing. [59]
45. Nearly a third of all small businesses don't have a budget set aside yet for content marketing. [59]
46. The average post length in 2019 increased from around 1,100 words to 1,230 - 1,350 words. [60]
47. Content that is around 200 words or less is, according to Matt Cutts at Google, considered thin content and could be harmful to your site. [61]
Modern online marketing might be about paid ads, videos, and advanced forms of content when you look at it from the outside, but sooner or later, all of that marketing leads back to one place: the humble blog. Virtually every company participating in digital marketing does it to funnel traffic to their blog and uses that blog to further engage, convert, and serve their customers.
The whims of the market change. The technologies we use are constantly changing and evolving. Even the standards of the written word will vary. As they do, we'll adapt, as we always have.
Ah, social media. The bugbear of millions. Home of minion memes, newspaper comics, cutting-edge reporting, the fastest notifications, news, and customer service in the west. Some platforms have lived and died, like MySpace, Google+, and Vine. Others have barely lived, like Ello. Some have grown and thrived, like Facebook and Twitter. Some are contentious and arguably shady, like Pinterest. Social media is a land of contrasts.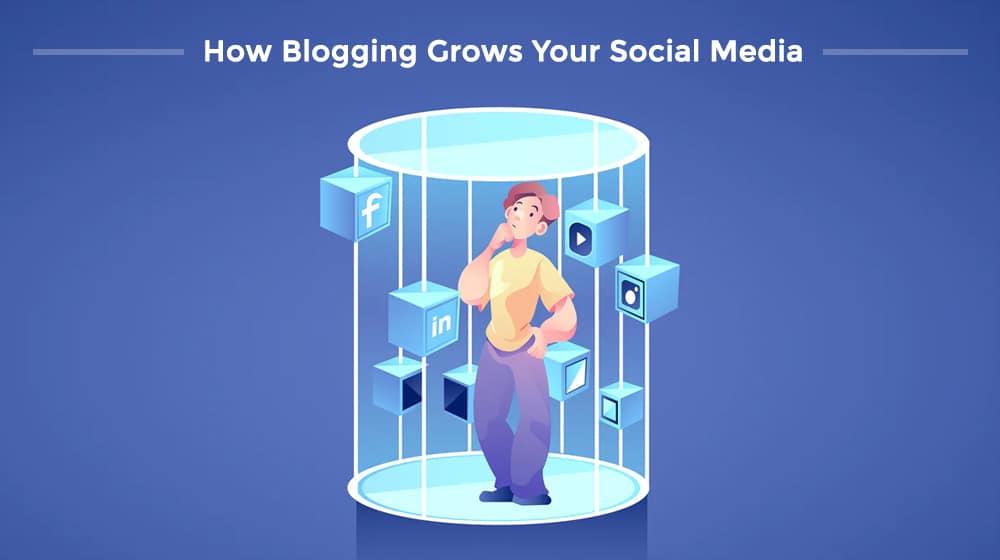 Some social media statistics are obvious. Facebook is the biggest, most popular social network in the world, and especially in the western world. Other facts may be less obvious. What kinds of content are shared at the highest rates? What techniques should you use to engage users the most? Which platforms are the best for what purpose?  These facts should help enlighten you.
1. Among marketers who were surveyed, Facebook was the most popular distribution method for content, whether organic or paid. [31]
2. Around 70% of B2B marketing companies report that they use Facebook to distribute their content on social media. [62]
3. Nearly two-thirds of B2B content marketers have put more effort into their social media promotion compared to the previous year. [63]
4. In a study by Impact, 94% of the respondents said that they share blog posts because they felt that they might be useful to others. [64]
6. Nearly all bloggers who were surveyed, a staggering 96%, said that social media is a top driver of traffic to their blog posts, with the remaining 68% being from SEO and 61% from email marketing efforts. [16]
7. Bloggers and content marketers who utilize both paid ads and influencer marketing are statistically more likely to have "strong results". [16]
8. Blog articles that are more than 1,500 words in length receive 68% more engagement on Twitter and 22% more engagement on Facebook, on average. [66]
9. Over 81% of marketers surveyed reported that their website traffic increased with 6 hours or less invested into their social media marketing each week. [67]
10. Among marketers who were surveyed, 87% of them said that social media has greatly helped them improve their online exposure. say that social media helps them boost their exposure. [68]
11. Marketers who shared their blog post articles on social media, specifically on Facebook and Twitter, attracted 149% more backlinks to their articles than companies who did not share their articles on social media at all. [42]
12. Nearly 60% of marketers reported in a survey that they repurpose their content at least 2-5 times after publishing it. [69]
13. Headlines that invoke emotion, whether positive or negative, are statistically shared at a higher rate. [70]
14. Nearly 7 out of 10 bloggers surveyed said they regularly make use of social sharing buttons on web content. [58]
15. Blog content is considered to be one of the most frequently shared types of web pages. [71]
16. In a large study, the blog posts that managed to gather the most shares on social media were over 3,000 words in length. [71]
17. Nearly a quarter of all social media posts include a link back to the user's blog post. [4]
18. Women tend to share blog posts with others more frequently than men. [4]
19. About 6 out of 10 people who share your blog content will do so without ever reading your article. [72]
We all love and hate social media in equal parts. It's one of the fastest-evolving forms of media in our lifetimes, and it will be extremely interesting to see how it evolves. Facebook sheds users and gains them in equal measure, and most of their competitors fail before they can thrive. What will the world of social media look like in five years? What about in ten years? Do you think we'll still have Facebook, or will it be replaced by a newer and more popular social network? I'll be right there to navigate those waters along with the rest of you.
Video Facts
Video isn't a very old technology compared to others that we use each day. It used to be the realm of dedicated specialists with million-dollar tools, tools that the passage of time has compressed into microchips embedded in our phones. If you've ever watched old science fiction, you know how incredible a simple smartphone is in comparison to visions of the future from 50 years ago.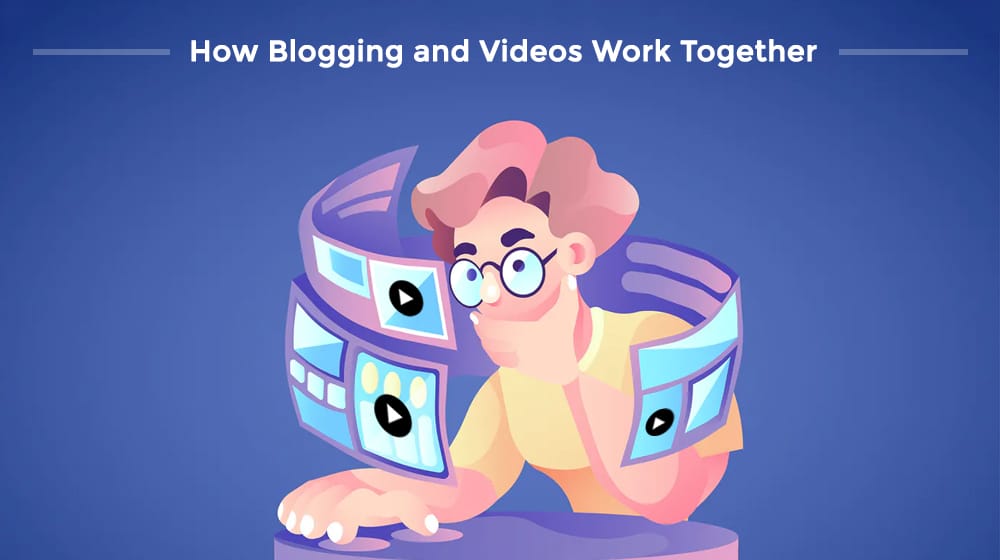 Even when videos themselves became commonplace, with VCRs in every home and handheld video cameras available for a few hundred bucks, editing video was a specialist's duty. Making movies, making advertising, all of that was still difficult and required special tools and training.
Today, video can be recorded by anyone with a smartphone, edited on the same device, or manipulated using tools that only cost $100 or less. Free video editors today would rival studio-quality software from decades past.
I say all of this to lead up to one thing: video is becoming increasingly commonplace. It's no longer enough to create a blog with static text and single pictures. Even the old entry-level videos of screen sharing with a webcam mic are too little, too late. Video is easier than ever to capitalize on, as a media and marketing tool and more and more businesses are doing it. Should you? Well, let's look at the statistics.
1. Nearly half of all consumers who were surveyed said that they expect video content from marketers, making it a valuable addition to blog posts. [73]
2. Video is the most popular form of content marketing media, overtaking infographics and even blog articles. [31]
3. The two most popular types of videos utilized by marketers are promotional videos and brand storytelling videos. [31]
4. Nearly half of all marketers surveyed said that they plan to add YouTube videos as part of their content distribution strategy in 2019, with 41% saying they plan on using Facebook videos. [12]
5. Videos are 4900% more likely to generate visitors from organic search results on YouTube and Google than plain text articles are. [15]
6. Nearly one in five bloggers include videos when they create and publish a new blog post. [12]
7. In a 2020 survey, 87% of the respondents said that videos helped increase the total amount of time that their visitors spent reading their content. [73]
Video still has its issues. The technological buy-in is less than it has ever been in human history, but it's still a buy-in compared to being able to write a blog post and publish it on the web. Creating a good video still takes knowledge and experience, if not advanced training. Still, it's a growing industry, and it's one we should all be looking to take advantage of soon (if we aren't doing so already).
Webmaster and Writer Facts
Who writes your content? It might surprise you to learn that many of the biggest names you'd recognize in your industry – regardless of what industry that is – are not writing their own content.  The words they put their name on are rarely produced by their own hands. Many top-level bloggers don't even review them individually. They hire writers they trust, and those writers produce that content.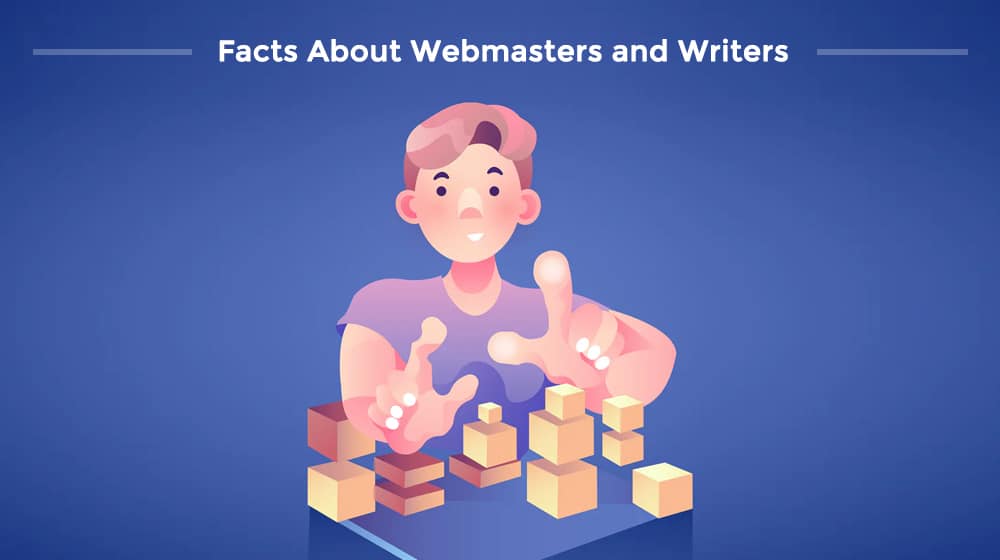 The industry of writing is a large and fascinating one. You can hire writers, and you can hire ghostwriters. You can outsource your entire blog (I should know, I'm the person you hire to do it) or you can manage it in-house. Employees, freelancers, contractors, individual projects from content mills; there's an incredibly broad and varied industry behind the written word.
Learning more about the webmasters and the writers behind a blog can give you an idea of how we all do it. If you've ever wondered how a high-profile blogger has time to publish a new blog post every day, while still attending trade shows, delivering speaking engagements, creating videos, and all the rest? Well, these facts might help you clear it up.
1. In a survey, 97% of the businesses that responded said they're using prescriptive content. This means they have a strict outline and foundation for their content creation strategy. [9]
2. Writing and design are the top two outsourced jobs for content marketing, at 44% and 41%, respectively. [9]
3. In a HubSpot survey, 18% of respondents said that they preferred WordPress for their website CMS. [31]
4. In a Content Marketing Institute survey, around 41% of the business marketers that were surveyed said they have content marketing meetings at least once a week or daily. [11]
5. Nearly half of all bloggers who decided to add audio or podcasts to their blog posts are reporting a positive increase in their performance. [12]
6. Nearly half of all bloggers spend less than 5 hours per week writing for (and working on) their blogs. [75]
7. The average blog post takes 28% longer to write since 2014, with the average post increasing from 2.5 hours to 3.5 hours to write on average. This shows that webmasters and marketers are spending much more time writing content, as well as increasing their overall word count. [16]
8. Around 55% of all bloggers are still writing less than 1,000 words in their articles, and around 20% are writing more than 1,500 words in their articles. By writing more than the average, you have a better chance at competing. [16]
9. In a survey, 69% of the bloggers that responded said they prefer to create content between 9 am and 5 pm, and 76% said they prefer working from their home office. [16]
10. Over half of all bloggers include more than one photo or image in their blog content, nearly half of them are incorporating "lists" in their content, and only 19% of bloggers use videos and images when writing blog posts. You can take advantage of this, as bloggers who use these are statistically more likely to perform. [16]
11. Nearly 50% of all bloggers work with one or more content editor, which is up 200% since 2014. [16]
12. Nearly half of all bloggers edit their work, rather than source it out to somebody else. [41]
13. In a survey, around 64% of business marketers outsource their blog content to a freelancer or a content creation company. [76]
14. Nearly a third of marketers surveyed reported that images were their most important form of content for their business. [77]
15. Roughly 60% of all bloggers are men. [78]
16. Nearly a third of all small businesses have a full-time person in charge of their content marketing directives. [79]
18. About 80% of your visitors will read the title of your content in search engines and social media before clicking it. [80]
19. Over half of all blog posts on the internet are published in the English language. [4]
20. Only 1 in 4 blogs aren't outsourcing their content and reported that they are creating content in-house. [4]
21. According to a survey, about 80% of blog editors reported that they were annoyed with the amount of guest post spam that they receive. [4]
22. In a blogger survey, around half of the respondents reported that it paid off to invest more time into their blog posts to make them great and that more than 6 hours per blog post yields the best results. [16]
23. Mobile searches asking about how things work, such as "How does a microwave work", increased by 60% over the past 2 years. [81]
24. Mobile searches of users asking "which is best", such as "which streaming service is best", increased by 65% over the past 2 years. [81]
Of course, how much does it matter at the end of the day if the thought leader and the writer are different people? As long as they can produce quality content with truth, accuracy, and a compelling narrative, what more could you want?
Wrapping Up
There are over 180 facts in this list, and this, my friends, is just the beginning. The beauty of a post like this is that it's an evolving document. These facts won't be facts forever. Some of them change with time. Some of them may be refuted by new studies or new evidence. Some of them may have new developments that change the context and conclusions that you can draw from them. More importantly, new facts can join the list, as people like you submit them to me or I find them myself.
Did you learn something here today? Do you have a favorite fact about blogging that you don't see listed here? I highly encourage you to tell me about it in the comments, preferably with a link to a study or research to back it up. I want this post to be comprehensive, but I'm just one man. I need your help to do it!
References
[1] https://convertwithcontent.com/blogging-killing-stats-facts-blogging/
[2] https://www.isitwp.com/amazing-blogging-stats-facts/
[3] https://blog.hubspot.com/marketing/business-blogging-in-2015
[4] https://quoracreative.com/article/blogging-statistics-and-trends
[5] https://socialmarketingwriting.com/how-to-build-a-credible-blog/
[6] https://teamworkscom.com/2013/01/24/what-data-tells-you-about-the-need-for-content-marketing/
[7] https://www.comscore.com/Insights/Press-Releases/2012/3/comScore-Study-Finds-Professionally-Produced-Video-Content-And-User-Generated-Product-Videos-Exhibit-Strong-Synergy-in-Driving-Sales-Effectiveness?cs_edgescape_cc=CA
[8] https://www.edelman.com/research/2020-b2b-thought-leadership-impact-study
[9] http://www.curata.com/blog/content-marketing-statistics-the-ultimate-list/
[10] https://contentmarketinginstitute.com/2018/10/research-b2b-audience/
[11] https://contentmarketinginstitute.com/wp-content/uploads/2015/09/2016_B2B_Report_Final.pdf
[12] https://growthbadger.com/blog-statistics/
[13] https://www.demandgenreport.com/
[14] https://www.blogtyrant.com/best-time-to-publish-blog-articles/
[15] https://www.hubspot.com/marketing-statistics
[16] https://www.orbitmedia.com/blog/blogging-statistics/
[17] https://www.socialmediatoday.com/marketing/content-marketing-statistics-trends-2017-edition-infographic
[18] https://contentmarketinginstitute.com/2015/08/headlines-tips-tools/
[19] https://contentmarketinginstitute.com/wp-content/uploads/2016/06/Ion_CMI_InteractiveContent_Report_Final.pdf
[20] https://cxl.com/blog/5-characteristics-high-converting-headlines/
[21] https://blog.hubspot.com/blog/tabid/6307/bid/32985/20-Revealing-Stats-Charts-and-Graphs-Every-Marketer-Should-Know.aspx
[22] https://blog.hubspot.com/marketing/a-simple-formula-for-writing-kick-ass-titles-ht
[23] https://blog.hubspot.com/news-trends/content-trends-preferences
[24] https://www.profitwell.com/recur/all/does-content-marketing-pay-off
[25] https://marketingexperiments.com/digital-advertising/stock-images-tested
[26] https://www.demandmetric.com/content/content-marketing-infographic
[27] https://www.sysomos.com/reports/bloggers/
[28] https://www.zazzlemedia.co.uk/resources/content-marketing-survey-2019/
[29] https://www.hanleywood.com/
[30] https://contentmarketinginstitute.com/2017/10/stats-invest-content-marketing/
[31] https://cdn2.hubspot.net/hubfs/53/tools/state-of-marketing/PDFs/Not%20Another%20State%20of%20Marketing%20Report%20-%20Web%20Version.pdf
[32] https://contentmarketinginstitute.com/2012/10/2013-b2b-content-marketing-research/
[33] https://blog.hubspot.com/marketing/blogging-frequency-benchmarks
[34] http://barnraisersllc.com/2013/08/38-facts-blogs-business-needs-know-grow/
[35] http://www.contentplus.co.uk/marketing-resources/infographics/anatomy-of-content-marketing/
[36] https://convertkit.com/reports/blogging/money
[37] https://www.searchenginejournal.com/seo-101/seo-statistics/
[38] https://www.statista.com/statistics/479180/internet-users-who-engaged-with-blogs-on-computer-within-the-last-month-usa/
[39] https://wordpress.com/activity/traffic/
[40] https://www.semrush.com/ebooks/state-of-content-marketing/
[41] https://www.socialmediatoday.com/news/the-benefits-of-blogging-20-stats-business-owners-need-to-know-infograph/511816/
[42] http://u.addresstwo.com/2013/01/12-interesting-business-blog-facts.html
[43] http://www.links.net/
[44] https://www.impactbnd.com/blogging-statistics-55-reasons-blogging-creates-55-more-traffic
[45] https://www.internetlivestats.com/
[46] https://www.martechadvisor.com/articles/content-marketing/why-content-marketing-is-set-to-be-an-industry-worth-41288-billion-by-2021/
[47] https://www.statista.com/statistics/256235/total-cumulative-number-of-tumblr-blogs/
[48] https://backlinko.com/search-engine-ranking
[49] https://blog.hubspot.com/blog/tabid/6307/bid/5014/study-shows-business-blogging-leads-to-55-more-website-visitors.aspx
[50] https://junto.digital/blog/seo-stats/
[51] https://trafficgenerationcafe.com/how-blogging-increases-lead-generation/
[52] https://www.convinceandconvert.com/wp-content/uploads/2010/03/Corporate-Blogging-and-Social-Media-Trends-Survey-2010.pdf
[53] https://www.jeffbullas.com/6-powerful-reasons-why-you-should-include-images-in-your-marketing-infographic/
[54] https://www.omnicoreagency.com/digital-marketing-statistics-2018/
[55] https://www.searchenginewatch.com/2018/11/21/7-content-marketing-stats-2019/
[56] https://www.socialmediaexaminer.com/how-to-grow-social-media-leads-new-research/
[57] https://ignitevisibility.com/google-ctr-by-ranking-position/
[58] https://optinmonster.com/blogging-statistics/
[59] https://smallbiztrends.com/2020/11/content-marketing-statistics.html
[60] https://www.contentpowered.com/blog/study-words-average-blog/
[61] https://www.youtube.com/watch?v=w3-obcXkyA4
[62] https://contentmarketinginstitute.com/2011/12/2012-b2b-content-marketing-research/
[63] https://searchenginewatch.com/2018/11/21/7-content-marketing-stats-2019/
[64] https://www.impactbnd.com/
[65] https://www.insideview.com/sales-acceleration/
[66] https://www.quicksprout.com/the-science-behind-long-copy-how-more-content-increases-rankings-and-conversions/
[67] https://www.socialmediaexaminer.com/social-media-marketing-industry-report-2015/
[68] https://www.socialmediaexaminer.com/wp-content/uploads/2018/05/Industry-Report-2018.pdf
[69] https://contently.com/2014/11/24/35-content-marketing-stats-you-need-to-know/
[70] https://okdork.com/we-analyzed-nearly-1-million-headlines-heres-what-we-learned/
[71] https://optinmonster.com/content-marketing-statistics/
[72] https://www.independent.co.uk/life-style/gadgets-and-tech/59-percent-links-shared-social-media-have-never-actually-been-clicked-study-finds-a7086291.htm
[73] https://blog.hubspot.com/news-trends/the-future-of-content-marketing
[74] https://www.wyzowl.com/video-marketing-statistics-2020/
[75] https://www.blogtyrant.com/new-blogging-statistics/
[76] https://www.toprankblog.com/2014/05/b2b-content-marketing-statistics-2014/
[77] https://blog.hubspot.com/marketing/visual-content-marketing-strategy
[78] https://blog.thesocialms.com/state-of-blogging-facts-numbers-trends/
[79] https://contentmarketinginstitute.com/wp-content/uploads/2020/09/b2b-2021-research-final.pdf
[80] https://copyblogger.com/writing-headlines-that-get-results/
[81] https://www.thinkwithgoogle.com/data/mobile-search-data-for-how-does-it-work/