The Complete List of 25 Free and Paid Ahrefs Alternatives
When you think about great marketing tools, what comes to mind? You have your Google Analytics. You have your Moz Open Site Explorer. You have your Majestic. You have all manner of different tools, but one that probably comes to mind when you think about SEO and link building is Ahrefs.
What Ahrefs Does
Ahrefs is a company providing a handful of different, powerful SEO tools. They're all very, very good at what they do.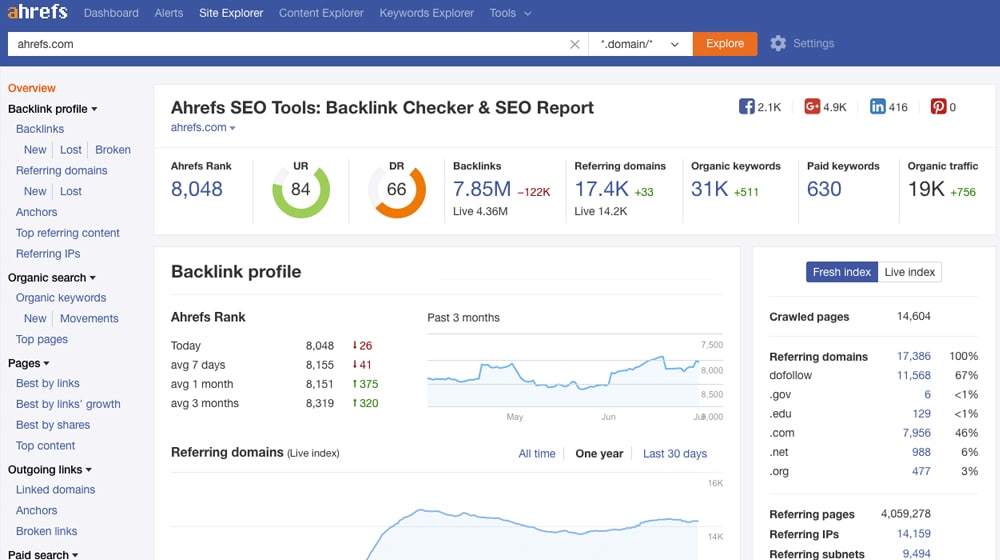 So what do they do?
Site Explorer: An in-depth analytics tool for any website or domain, showing backlinks, organic traffic, estimated value, top pages, and a whole lot more.
Keyword Explorer: A detailed keyword analysis and research tool, including features for multiple search engines. Search keywords to find estimated difficulty for ranking, search volume, click and CPC metrics, volume by country, and more.
Site Audit: A robust and deep dive look at your own website. This tool crawls your site and analyzes every page it finds for SEO metrics, from page speed to tag usage to links to meta data and much more.
Rank Tracker: An active monitor for domains and pages showing ranking for various keywords, visibility, traffic metrics, and average position across different search engines, including competitor monitoring.
Content Explorer: A deep look at content in your industry, based on keywords. See what content is new and trending, what ranking the publisher has, what statistics the content brings to the table, and where you might be able to butt in.
SEO Toolbar: A free browser plugin that gives you an at-a-glance look at SEO metrics for any site you visit, including domain-level and page-level metrics.
Pricing for Ahrefs starts at $100 per month and scales up based on how much you need to use it, how much you want to track, how many team members you need on boards, and so on. It's the usual kind of scaling, with additional features and bulk options as you look at higher plans, up to $1,000 per month.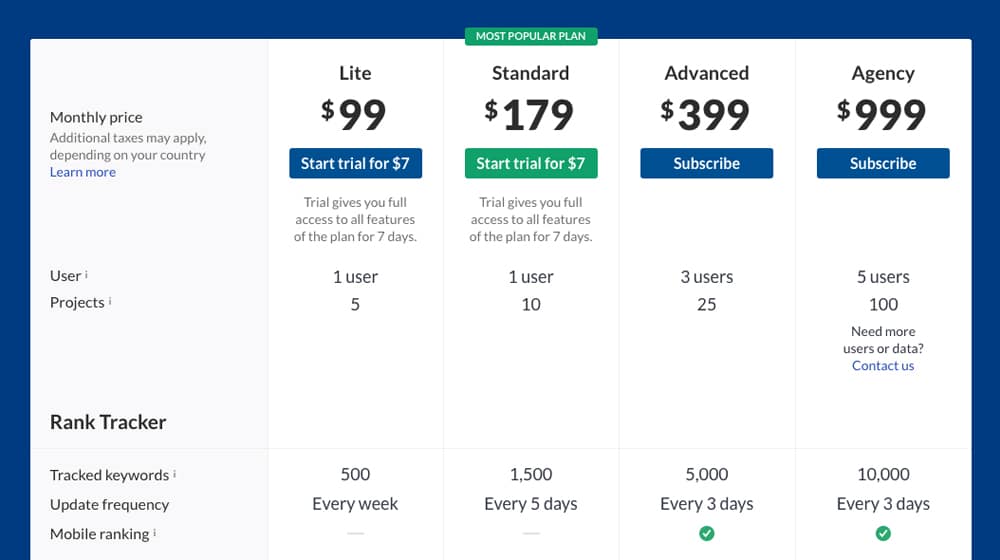 Ahrefs brings a ton of value to the table, but at that kind of price point, it's not the most ideal option for everyone. Some businesses are looking for something with more features and are willing to pay more for it, while many are looking for something a little more affordable.
That's why I put together this list. Ahrefs is great, but there have to be alternatives out there by now, right? And, indeed, there sure are! So take a look through and find one that fits your needs and your budget.
You see this tool topping pretty much every list of Ahrefs alternatives out there, and with good reason: it's one of the closest services you can get. They have Analytics that comes with organic, paid, advertising, keyword, and traffic reports. They have tools with keyword difficulty, domain comparisons, and keyword research features. They have rank tracking, site auditing, brand monitoring, backlink auditing, and a whole lot more.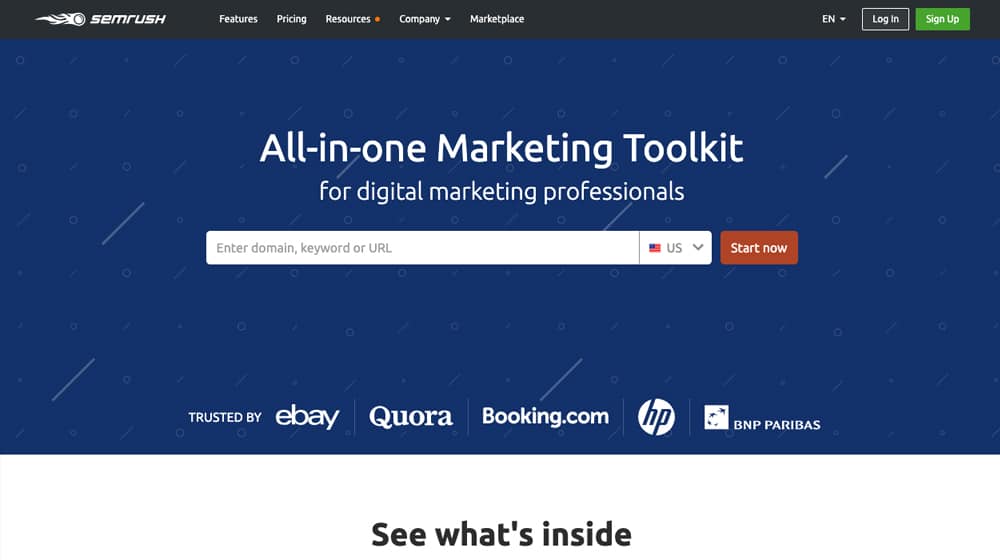 SEMRush is a great alternative to Ahrefs in terms of features, but it depends largely on the reason why you're moving away from Ahrefs and looking for alternatives. Unfortunately, if price is your concern, SEMRush isn't better; they too start at $100 per month and scale up from there.
Monitor Backlinks is a six year old SEO platform that works primarily for monitoring, you guessed it, backlinks. Ahrefs started out as a backlink monitoring tool as well, so I have some high hopes for where Monitor Backlinks will go in the future. For now, they primarily focus on backlink auditing and monitoring, but they also have tools to help with link building, outreach, rank tracking, and other concerns. Pretty much anything that has anything to do with backlinks and SEO, this tool can do.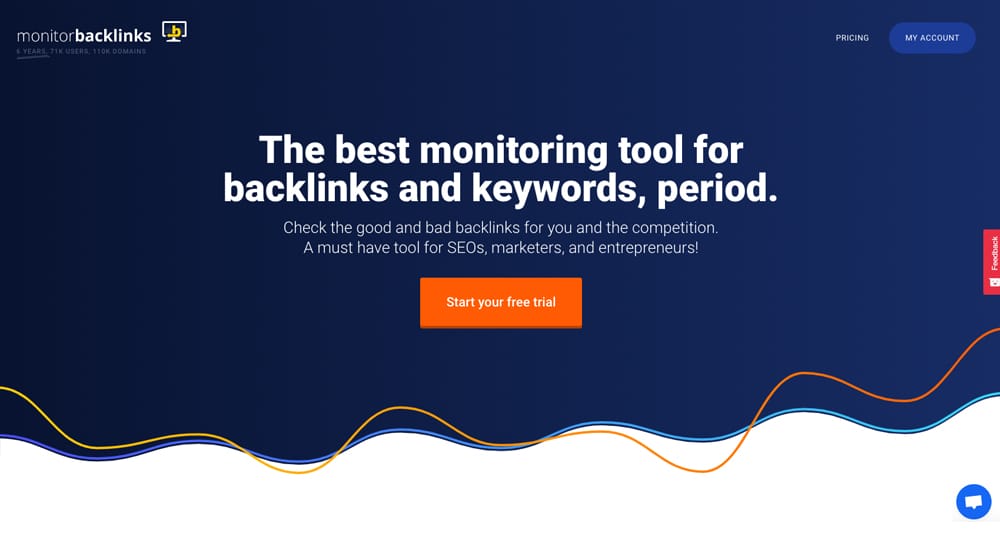 Pricing is relatively low; $25 per month to track a single domain, two competitors, 2,500 links, and 50 keywords. If you want to track more than one domain, it's $25 per domain, with some additional discounts the more domains you want to track, and higher limits on the links and keywords tracking.
SEO PowerSuite is a set of four different tools, all useful for different aspects of SEO, and all designed to work well together. They have a Rank Tracker tool that includes keyword research, competitor monitoring, and reporting. They have SEO Spyglass, a common recommendation as a stand-alone tool with link data, site quality metrics, and link strategy reporting. They have a Website Auditor, with all the on-site SEO metrics you could dream of wanting to see. Finally, they have Link Assistant, a link management, verification, outreach, and link building tool.
The nice thing is, SEO PowerSuite has a free edition as well as two paid editions. The free edition lacks a lot of automation and monitoring features, but it can do plenty of basic work. The two paid editions are $300 per year and $700 per year as well, putting them on the cheaper end of tools on this list.
Serpstat is a growth hacking tool that bills itself as an all-in-one platform for all of your SEO needs. They do keyword research, they do search analytics, they do advertising analysis, they do content marketing ideation, they do competitive research, and they do rank tracking. They don't have a ton of really deep link analysis, but a lot of their reports are solid and accurate, and their topic ideation is great. I also like the little space ships on their pricing page, though that's not really a reason to buy a product.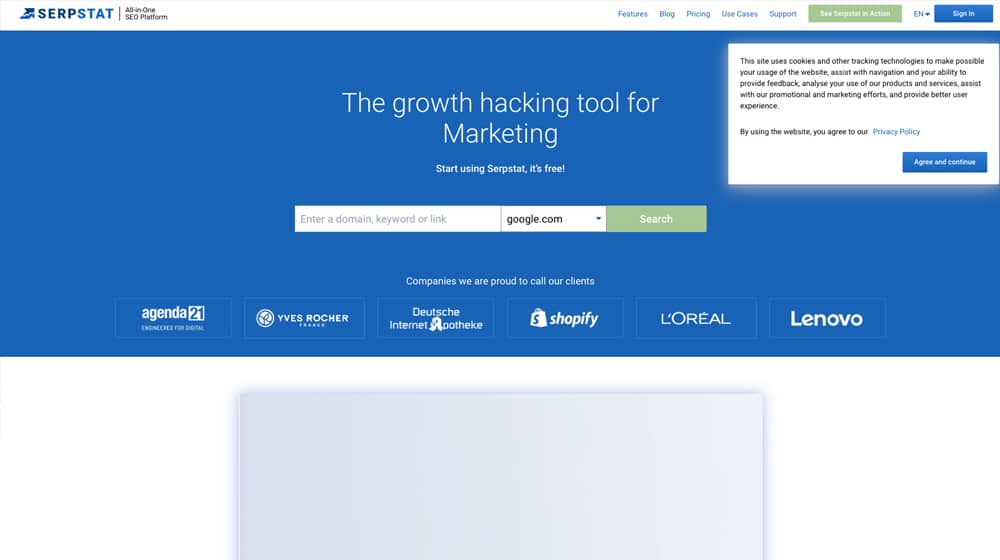 Speaking of buying, Serpstat comes in four editions, starting at $70 per month and working up to $500 per month.
Moz has a free link explorer tool available on their website. All you need to do is plug in a URL and they'll give you analysis of that domain and its backlinks. There's a lot of cool data there, though unfortunately they've started to gate it off behind registering an account, even though it's still free.
Moz also has a pro package you can purchase that includes an unlimited version of the link explorer, a similar tool called the keyword explorer for analyzing keywords, and the MozBar toolbar for Chrome and Firefox that gives site insights directly on your browser. Moz's pro subscription is pretty expensive, though, starting at $100 per month.
Majestic is another of those extremely popular and well-known link tools. They were great years ago, and they hit the big time by providing link metrics with a huge index and deep analysis behind them just in time for Google to kill off public PageRank, when marketers turned to other sources like Moz and Majestic to replace it. They have a site explorer, link analysis, bulk link checks, and a whole lot more.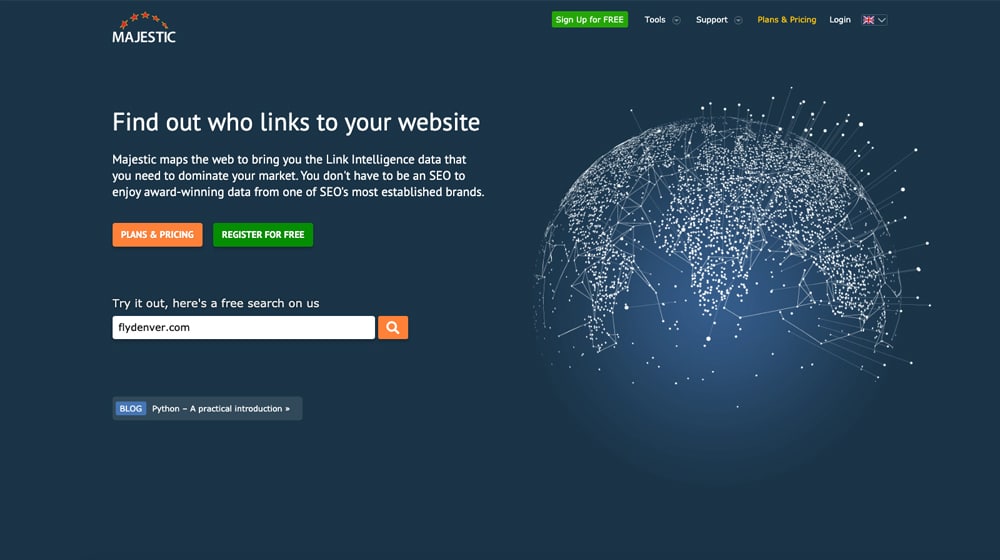 Majestic's plans start at $50 per month, making it slightly more affordable than some of the other tools on this list, though still up there as far as many tools are concerned.
Screaming Frog is one of my go-to recommended pieces of software (rather than a SaaS offering) for a lot of web scraping, indexing, and analysis. It's a SEO spider. It crawls a website according to rules you put down, using your computer's resources. It can then pull and analyze a ton of data points, including everything from duplicate content to broken links to redirects to sitemaps and more. It's a great tool for link audits, for content analysis, and for on-site SEO factor analysis.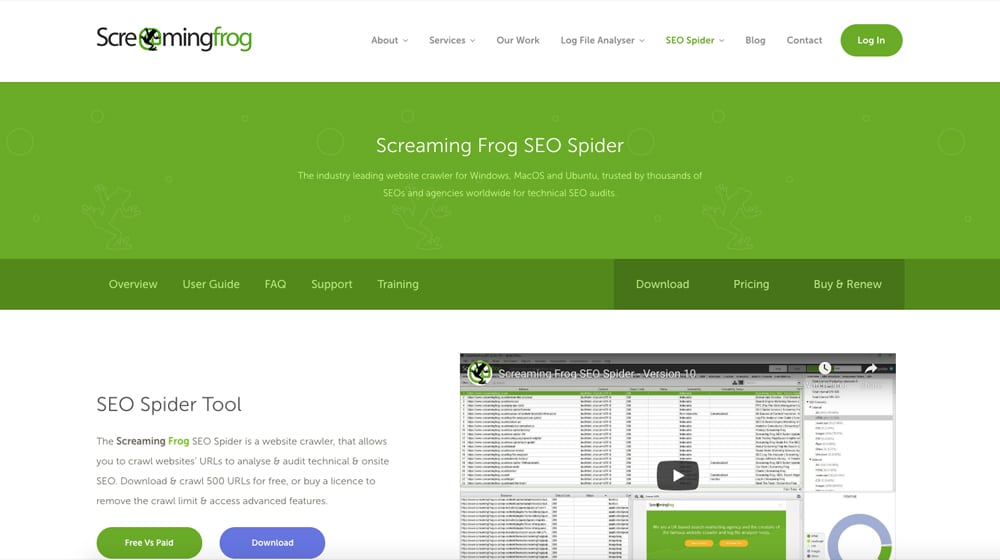 More importantly, Screaming Frog has a free version of their software that is not overly hampered by being free. A lot of similar software puts huge limits on what they can do on a free plan. Sure, Screaming Frog does have more features limited to the paid plan, which is £150 per year, but that should be expected.
Jaaxy is a keyword analysis and monitoring program. They have a ton of deep keyword research and analysis features, including new keyword discovery, search monitoring, rank monitoring, and notifications. They can help you discover new niches, help you optimize against your competition, and they maintain their own "siterank" monitoring. It's a really good platform I don't see as many people talking about as a lot of the other tools on this list.
Jaaxy has a free trial version so you can check it out before you buy in, though it's limited to 30 keyword searches with 30 results each. Once you decide to buy, you get more features, and plans start at $50 per month.
Soovle is an interesting little tool designed for keyword and topic ideation. Basically, it's just a little search engine box that you type a keyword or phrase into. As you type, it goes to a variety of different search engines, from Google and Bing to Buy.com and Amazon, and checks for the auto-complete and auto suggestions that come up on those sites. It delivers them to you dynamically and immediately.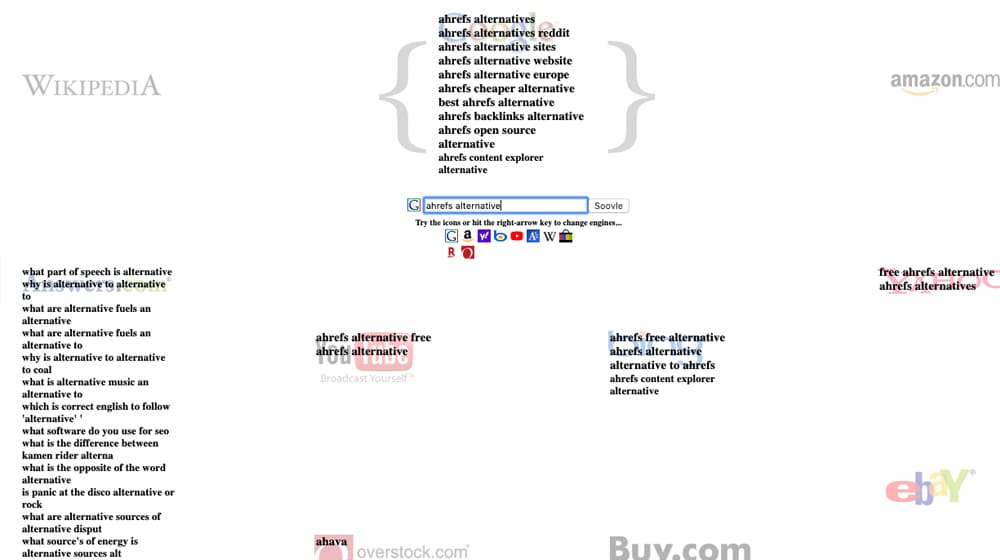 Sure, it's not a very deep or insightful tool, but it does streamline a lot of similar processes, and it can be good to type keywords in and see what comes up when you're trying to generate topic ideas for a blog or something. It's completely free too.
Is your blog earning you business? If not,
let's fix that.
We create blog content that converts - not just for ourselves, but for our clients, too.
We pick blog topics like hedge funds pick stocks. Then, we create articles that are 10x better to earn the top spot.
Content marketing has two ingredients - content and marketing. We've earned our black belts in both.
If you run an internet-based business and are looking to scale, schedule a call to speak with our founder:
One thing I've noticed is that a lot of people, when looking for alternatives to Ahrefs, look for individual features from different apps. This one, for example, is a great platform for keyword research, but doesn't have much of anything in the way of backlink checks or site auditing. That's fine, and it's more than feasible to use multiple great tools to give you, in aggregate, more functionality than you would get from one broader tool.
SECockpit does a lot of cool keyword research for you, and it's very fast. It also has a rank tracker available. Pricing starts at $15 per month for a relatively limited plan, but pricing doesn't scale up too quickly, so it's not terrible.
Just reading the name, you might think SEOBook is a book vendor, but that's not really true. They do have a ton of training, knowledge, and community access for anyone looking for the written word, but we're not here for that today. No, we're here to look at the tools. They have several free tools, including a keyword tool, some analytics, competitor research, and link analysis. They also have members-only tools including a duplicate content check, local ranking searches, keyword list comparison, and more.
Unfortunately, as of this writing, they are closed to new members. Existing members are still able to use what they have access to, but newcomers can't join. That said, you can sign up for a basic account and they'll notify you when premium features return.
BuzzStream is an interesting take on link building, focusing more on the outreach than on the technical aspects of the links and keywords involved.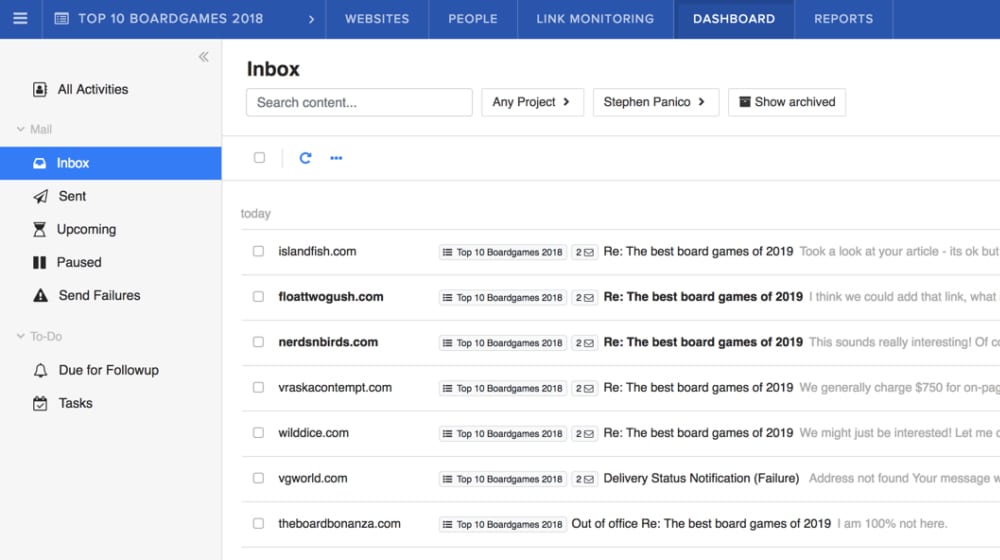 You can combine their service with some of the other tools on this list to get you an overall reading of the varying kinds of influencers available in a niche, along with tracking for your outreach efforts. Pricing starts at $25 per month for most basic features, and scales up with a few more features and a higher number of contacts available.
Another of the more recognized keyword tools online, Long Tail Pro is a keyword generator and topic ideation tool. You can enter a single seed keyword, and you will be given hundreds of suggestions. You can analyze those suggestions based on keyword analysis, competitor usage, and keyword profitability. They also have a rank tracker, as you might expect. It's also on the cheaper end, at $50 per month, though you can often find discounts around the web.
Authority Labs is primarily a rank tracking tool that monitors keywords to give you data about them.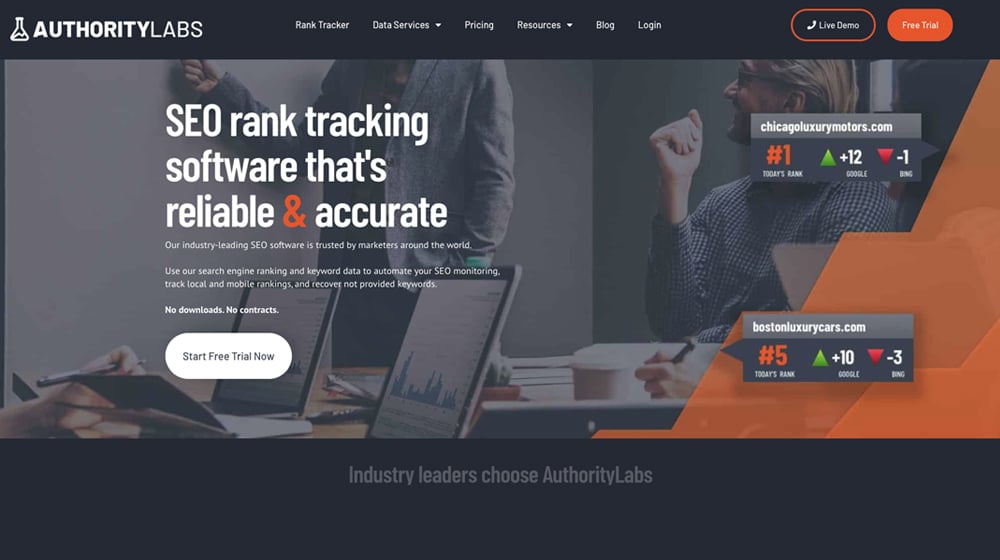 They track your ranking for any keyword you like, and they can use external data sources to identify the "not provided" keywords Google Analytics doesn't want to give you. Their plans start at $50 per month for up to 250 keywords across 50 domains.
Another rank tracker, this one is pro! Alright, so there's not much to say about a rank tracker in general. They give you rank data, analysis of your positions, and reports you can generate to give to the people who make the decisions. At least it's not too expensive, with the basic plan starting at $25 per month.
Mangools is a developer of several tools that would be good entries on this list themselves.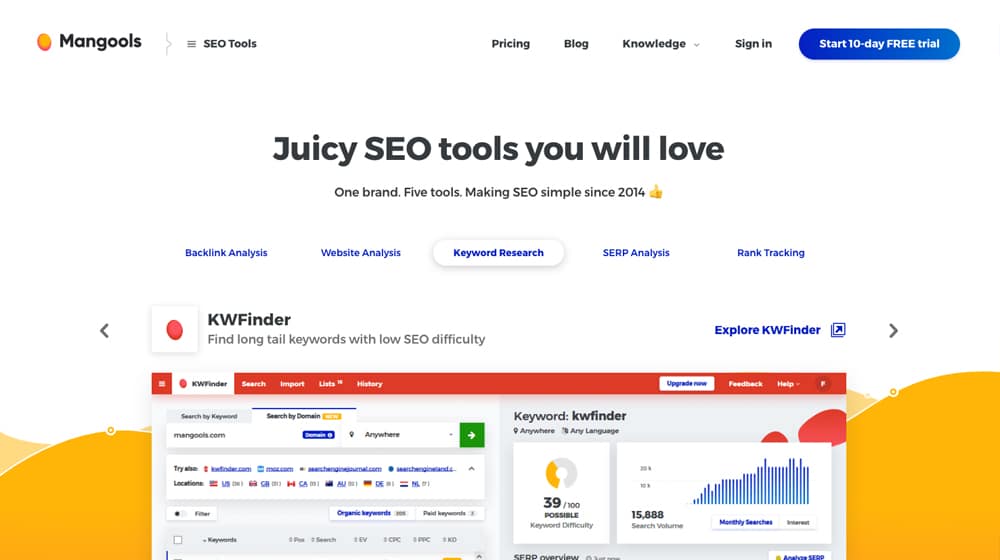 They have a keyword finder, a SERP checker with analysis, a SERP Tracker rank tracking tool, a backlink analysis tool, and an on-site SEO metric tool. Basically everything you'd want out of Ahrefs, here in a handful of tools. Pricing is $30 per month for access to most of their tools.
ATP is an interesting platform for topic ideation and keyword generation. You plug in a keyword and they use questions, prepositions, and other words to autofill options, giving you a bunch of possible topic ideas in a cool display. You can then take that data and use it in other keyword analysis tools to decide which topics to pursue. The limited version is free, but you can pay $99 a month for unlimited searches and a bunch of additional features, like regional searching.
No, this tool doesn't have anything to do with Wario. It's basically a social listening and monitoring tool. They give you information about when and where your brand or keywords are mentioned across social media profiles, blogs, websites, communities, and other sources. Pricing starts at $30 per month to monitor three topics at a time.
SkyFu is a keyword and analytics research tool, with a twist. Rather than performing the research on your own site, with a few competitive analysis bits thrown in as an afterthought, this tool is designed from the ground up as competitor intelligence.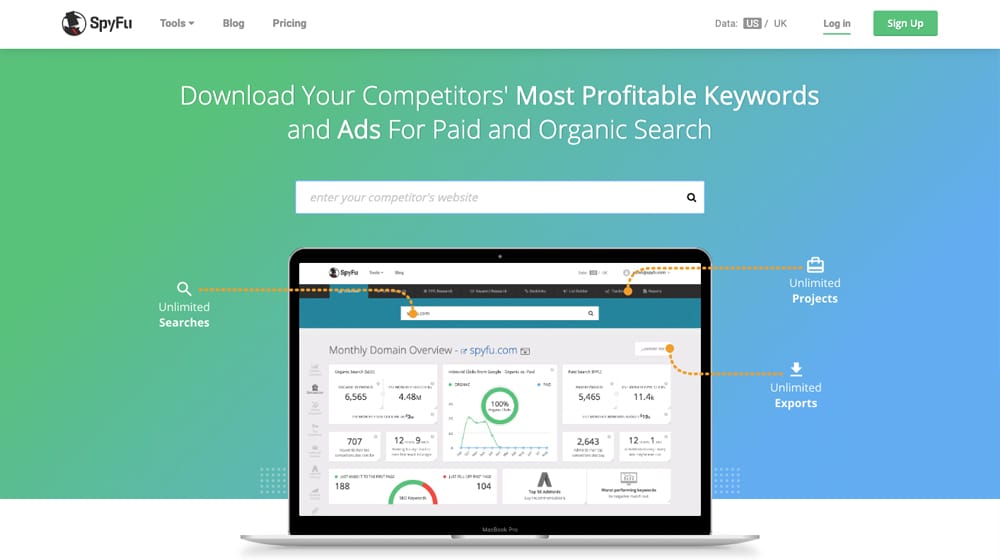 Look up competition and poach their keywords out from under them, for the relatively low price of $33 per month.
BuzzSumo is interesting, because it's a platform that has changed a lot over the last four or five years. They're still excellent, but they've shifted focus a little. You can plug in a domain or keyword and get a ton of interesting reports, and you can try it out for free, even to the extent that you can see some of most of the reports, just enough to tease you into wanting more. "More", in this case, means the $100+ per month premium plans.
Raven Tools is an SEO and website monitoring tool with data ranging from website audits to backlink monitoring to competitor research to link building. There's a lot in there, but they have a free version available to try out and see if you like it. Plans for the paid version start at $80 per month.
Not affiliated with Open Site Explorer, Open Link Profiler is a free website link analysis tool.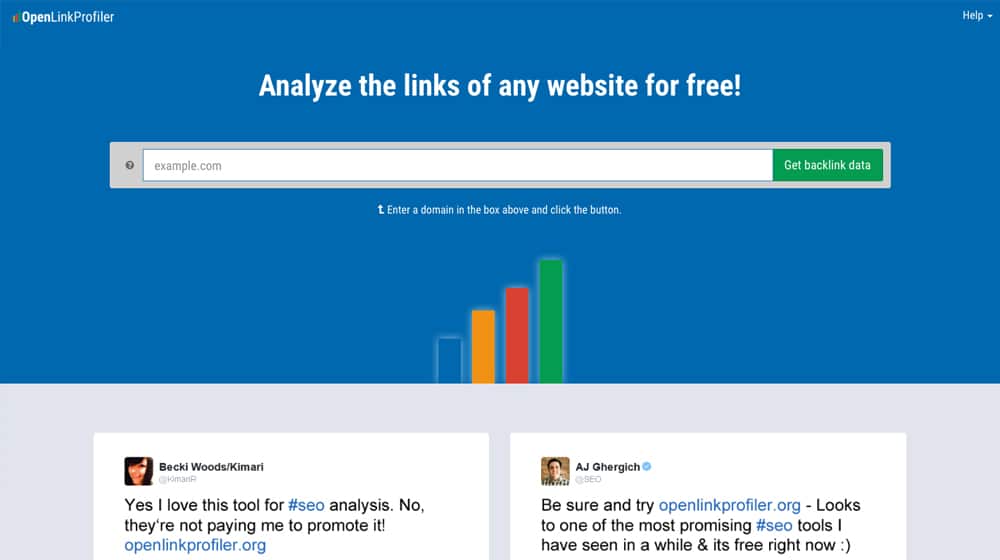 You plug in a domain and it generates a link report for you, with backlinks, link analysis and auditing, link context, domains, link age, and a whole ton of different filters to analyze them yourself. Did I mention it's free?
If rank tracking is the main feature you want out of a tool like Ahrefs, look no further than Advanced Web Ranking. They have rank tracking, rank tracking with localization, SEO reporting, and a bunch of advanced features to modify and feed that ranking data into other tools or reports. It's great at what it does, for $50 per month. They also have a few free tools available, though they aren't too terribly useful outside of some niche cases.
This company provides a lot of interesting tools, but they're quite a bit different from most other tools on this list. Primarily, they do social and content monitoring to see when people ask questions about your brand or your niche, and allow you to deliver answers. This can, of course, help build links. They also have landing page creation, listing optimization, and other directory-based tools, if you want them.
You might be relatively new to marketing if you haven't heard of Neil Patel or Ubersuggest. We've compared the two in a dedicated post; you can check it out here if you're looking for a deep-dive comparison.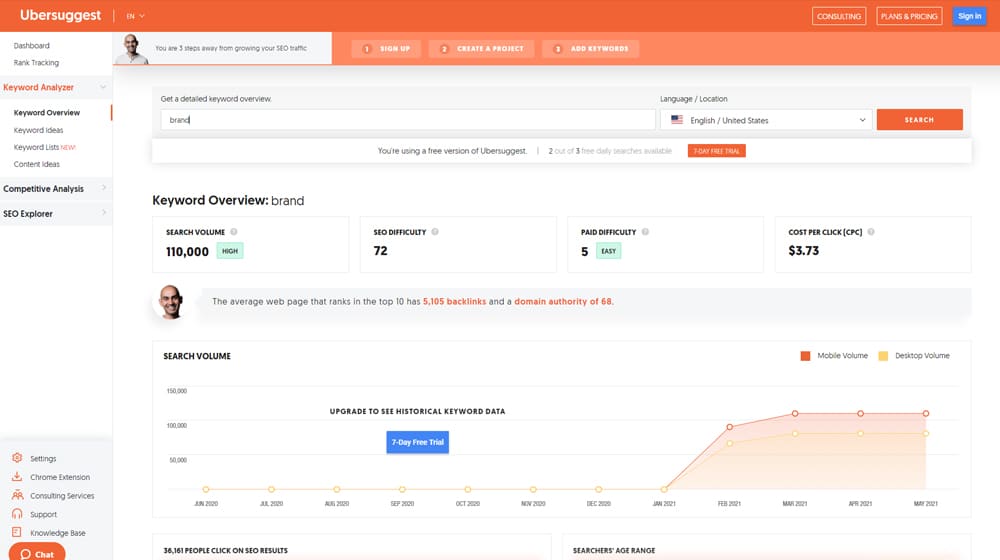 Neil Patel purchased Ubersuggest in 2017, and at the time, it was already a top-rated topic research tool. Over the past few years, he's spent millions of dollars upgrading and improving it. These upgrades made it a much larger contender to some of these other SEO tools.
Wrapping Up
It will be pretty hard to beat Ahrefs, but if you're set on finding an alternative, I hope one of these scratches that itch. The closest, in my opinion, is probably Semrush. The others are too new or too small to have the data you'll need for competitive keyword research.
What is your favorite Ahrefs alternative? Did I leave any off of this list? Please share in the comments below!