Rank Math Review: Is It Worth Switching From Yoast?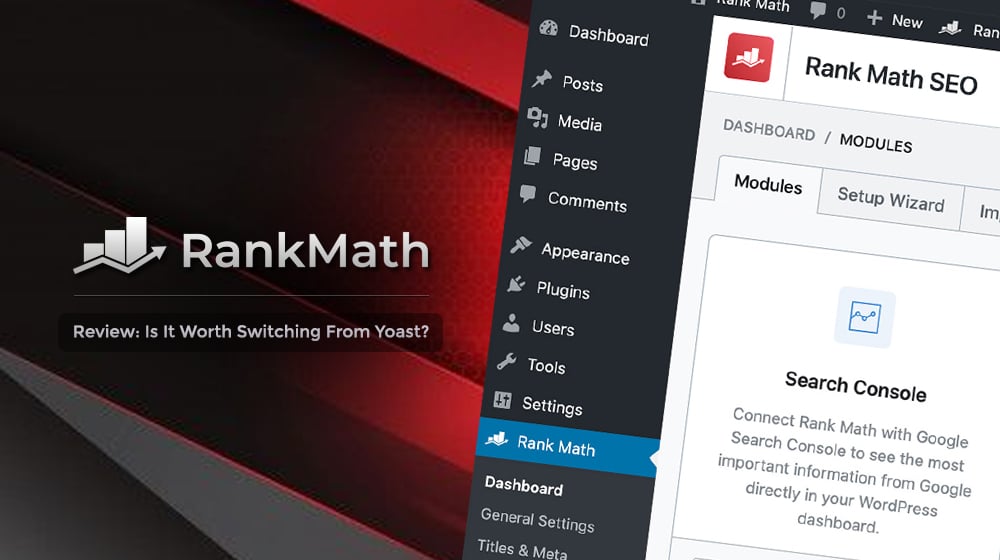 For almost a decade now, you had three options to manage your SEO in detail on a WordPress site.
You could run Yoast SEO, the gold standard of SEO plugins.
You could run AllInOne SEO (now known as AIOSEO). They have been Yoast's primary competitor for a long time, and it's a suitable plugin in its own right.
You could run an assortment of plugins controlling individual aspects of SEO.
Each of these has had its pros and cons. Yoast has been a high-quality and relatively faithful plugin for years, but it's had its ups and downs, including the occasional potentially devastating error. AIOSEO has been a solid standby but never entirely pushed itself to the point where it was worth switching. Running a mix of individual plugins worked but was a pain to keep updated and made it impossible to control all of your SEO from one dashboard or interface.
Why do I bring all of this up?
There's a new player in town, and they're swiftly putting the pressure on Yoast for number one. You may have heard of them by now, or maybe not. It's Rank Math.
All About Rank Math
First, let's dig into what Rank Math has to say for itself, what features it lists, and its pricing.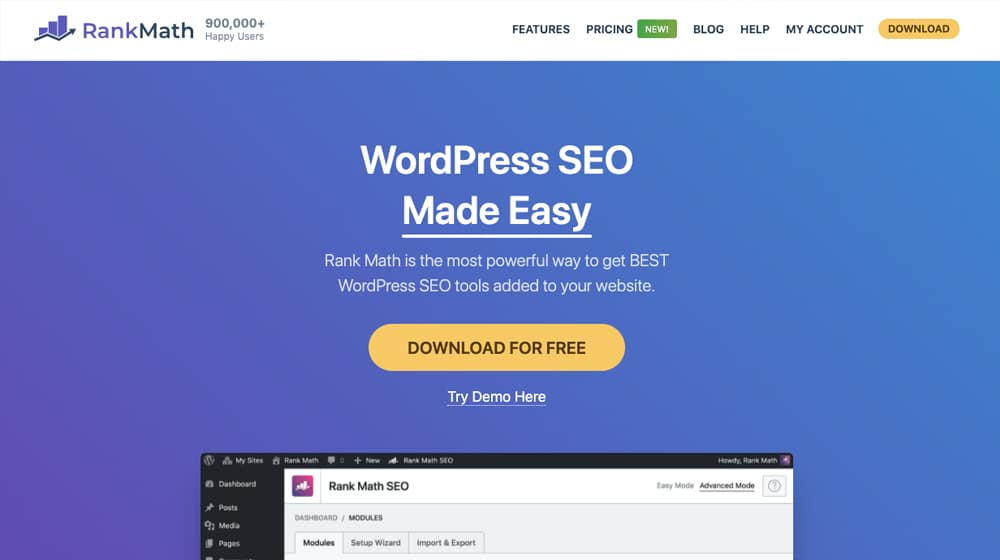 Let's start with the brags. Rank Math boasts:
900,000+ happy users.
Recommendations from Ahrefs, SEMRush, Moz, Backlinko, Product Hunt, and HubSpot.
A focus on performance, efficiency, and user-friendliness.
I can verify some of this. I've been able to find mentions of the plugin on the listed sites, and I can tell you that their plugin indeed has a smaller file size and is more efficient than Yoast and the other comparable SEO megapacks. Nearly a million users, though - that one I have no way of knowing.
So what about the features list?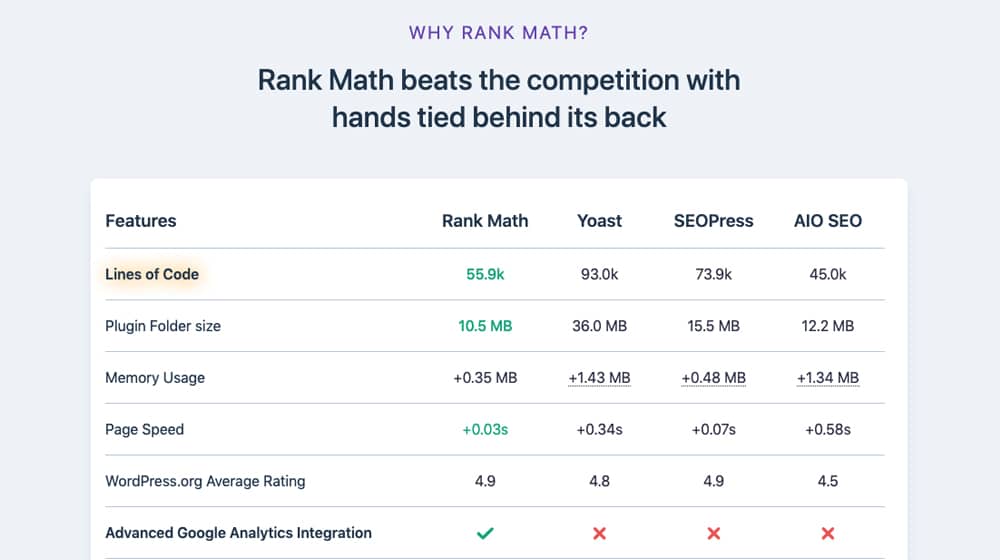 Rank Math does just about everything that Yoast does, as well as some additional features that I've had to use third-party plugins to handle, such as:
Breadcrumb management, similar to the Breadcrumb NavXT plugin.
Redirection management, comparable to the Redirection plugin.
404 monitoring and control, again close to Redirection.
Automatic image alt/title text. Numerous plugins do this, though it varies in quality.
Automatic "open links in new tab/window" is a minor feature but nice to have.
Schema support. Yoast supports Schema, but not well; I've been using Schema Pro.
Google Search Console integration. Usually, you need to use an analytics plugin to show you reports in your dashboard.
SERPs Rank Tracker. Tracking your search ranking for critical keywords usually requires a third-party tool.
These features are the ones that I've identified that Yoast either doesn't or doesn't do very well, in my experience, poking around at the plugin. They also boast a quick and easy setup wizard, which, sure. I've never really had trouble installing and configuring a WordPress plugin, but I'm a power user; someone new to WordPress might appreciate it.
Rank Math also has a smaller, cleaner, and more efficient SEO panel. Yoast likes to show you a ton of SEO information, including many ⬤ icons when you don't follow their exactingly specific directives, which is kind of annoying, especially when those directives aren't relevant to the post you're writing.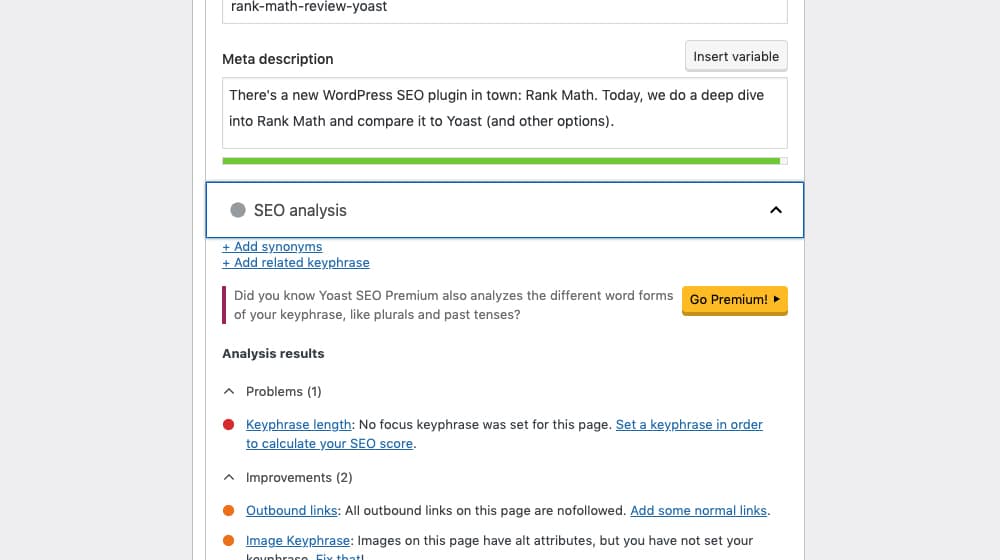 Rank Math seems cleaner and friendlier to use to me, though that's probably in large part just personal inclination.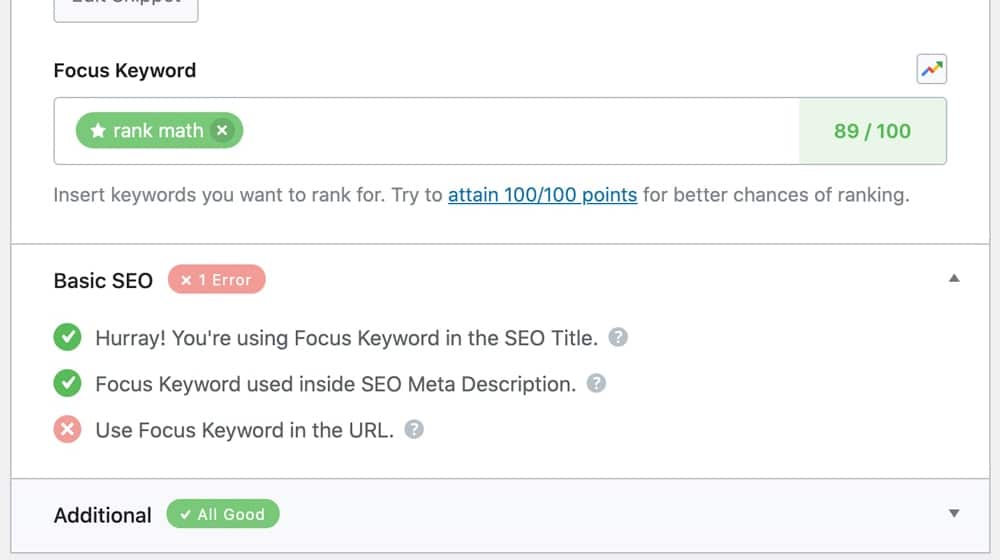 If you look at the Rank Math features page, one thing might stand out to you. They put a HUGE emphasis on schema markup. Honestly, I'm not surprised. I fully expect Google to go wild pushing Schema more heavily in the next 5-10 years, at least until they have a tried-and-tested semantic indexing algorithm, which is much further off. Schema is very helpful for telling the search engines exactly what each piece of content on your site means, which is more important than ever.
Rank Math Pricing
Now let's talk about the pricing. Rank Math has three pricing tiers. I will give you a simplified rundown of what they include, but if you want to see the complete features list comparison, you can find it here.
Free
The free plugin is pretty powerful, at least in terms of the features they promote. It's very functional and is probably perfectly fine for small blogs and new businesses.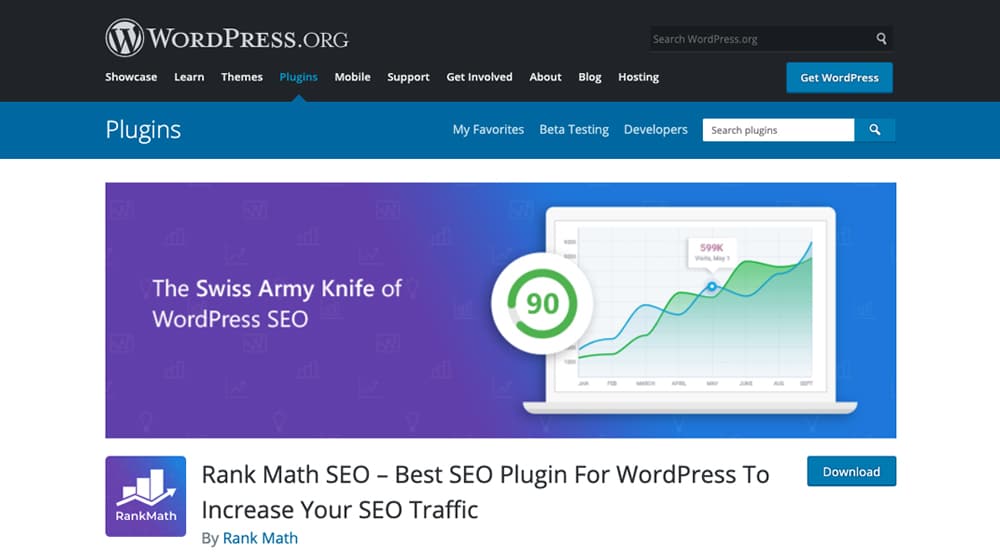 It offers 18 schema setups, limited Google Analytics reports and SEO reports, most of the primary and intermediate SEO settings, data imports from other SEO plugins, and some of the advanced features like automatic image SEO, content analysis, Robots.txt control, redirection management, 404 monitoring, and so on.
Many marketers think that the free version of Rank Math is better than the paid version of Yoast. They might be right.
Pro
Pro is the cheaper of two paid plans. What does it give you that isn't included in the free plan?
Advanced Google Analytics integration.
Rank tracking for up to 500 keywords.
The schema generator and validator (as opposed to just preconfigured schema setups).
Schema imports.
Advanced sitemap support.
More frequent analytics checks and extended historical data tracking.
Integration with other popular plugins, like WooCommerce.
That's a pretty solid features list, and I'm only cherry-picking the most important (in my opinion) features they list.
How much does Pro cost? $59 per year, or $5 per month. Not bad!
Is your blog earning you business? If not,
let's fix that.
We create blog content that converts - not just for ourselves, but for our clients, too.
We pick blog topics like hedge funds pick stocks. Then, we create articles that are 10x better to earn the top spot.
Content marketing has two ingredients - content and marketing. We've earned our black belts in both.
If you run an internet-based business and are looking to scale, schedule a call to speak with our founder:
Business
The top-tier plan for Rank Math is the Business plan. The name is a bit of a misnomer, though; it's meant for agencies. Small businesses can use Pro with no issues. The licensing issue only comes up if the sites you're using Rank Math on are not owned by you.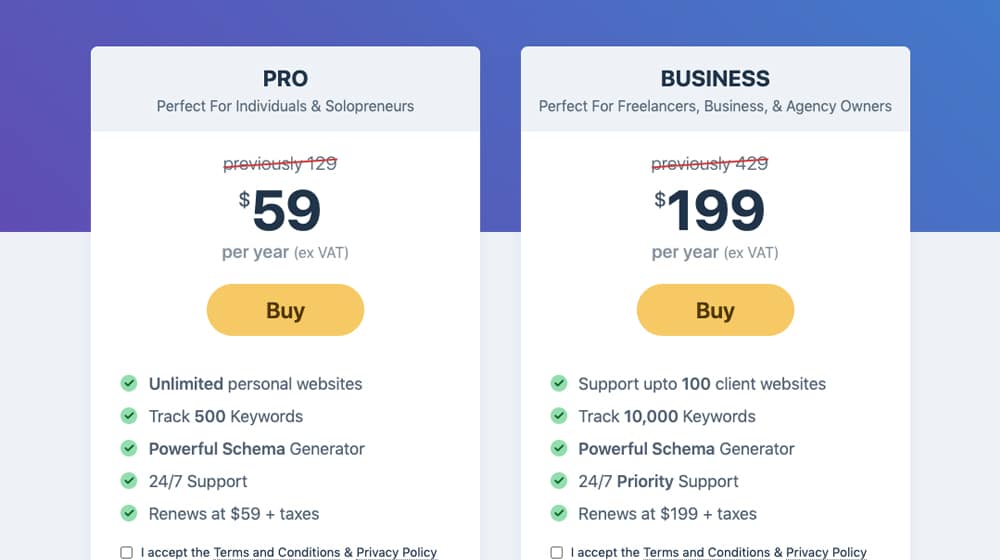 While Pro gives you unlimited personal website licenses, you can't use it on multiple client websites, and they do a scan and check these things. The Business plan lets you put it on up to 100 client websites. If you're a large agency with more than 100 clients, you can reach out to their support and discuss higher volume plans.
What else does it offer over the Pro plan?
Tracking up to 10,000 keywords instead of just 500.
Client management features, including white-label-friendly SEO reports.
That's about it! Business is 100% meant for agencies. Price-wise, you'd be forgiven for thinking otherwise since it's relatively low for an agency/enterprise plan: only $199 per year, or $16.50 per month.
I do need to make one note about the pricing. Rank Math has a small banner on its pricing page saying that these are "launch prices" and that the introductory deal is ending soon and the new price will take effect. How soon? No idea. Is this real, or just a sales technique to make you think you're getting a deal? No idea. What are the "full" prices?
Pro: $129 per year ($10.75 per month)
Business: $429 per year ($35.75 per month)
Still not too bad, but reasonably high if you're running a small business and don't have a lot of income or much budget to spend.
My Opinions on Rank Math
You didn't come here just to read a rundown of what they publish on their site, right? You want to know what I think. Well, here are my opinions. Keep in mind that some of my clients use Rank Math, but I haven't switched over to it yet. I use a combination of many of the plugins used above, some of which have more extensive options and features.
First of all, I want to mention their talk about their plugin having fewer files, fewer lines of code, and smaller file sizes, especially compared to Yoast. As far as I can tell, all of that is true, but it doesn't matter much. The speed increases you get are minor at best for something like this (since it's not a user-facing script in large part). More importantly, though, you should be using a caching plugin like WP Rocket, which makes all of it a moot point. I've never paid much attention to the file size of my plugins.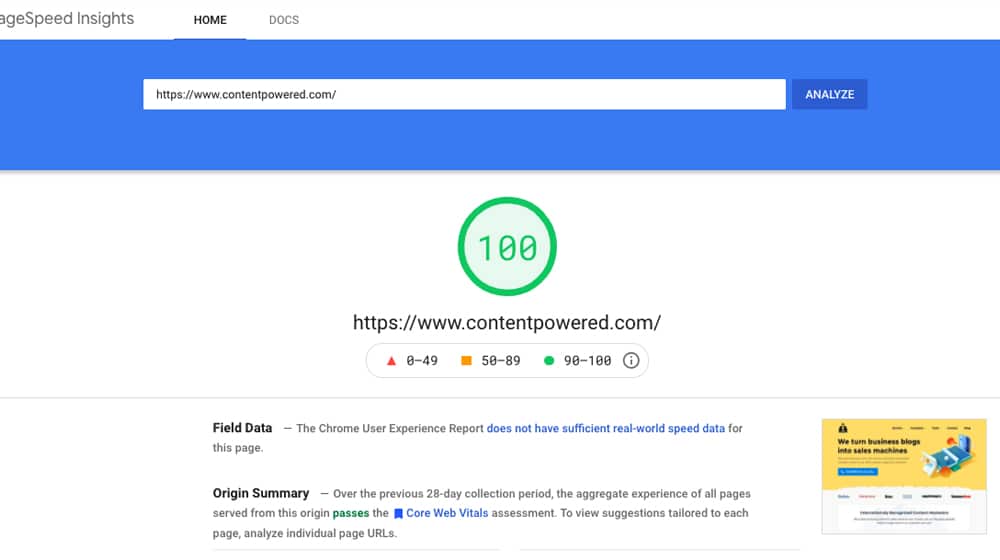 A lot of the features Rank Math offers are, well, standard. No plugin would be viable for SEO without them, so they're included. Things like metadata handling, sitemap generation, keyword analysis, and content reports - that's all expected. Rank Math might display the information more pleasantly than Yoast, but it's still basically the same features.
As I mentioned above, Rank Math does offer several built-in features that I use other plugins to handle. Things like breadcrumb management, 404 trackings and redirection management, and even that "open links in new window/tab" feature are all things I have other plugins for. If I switched, I could remove a couple of those plugins. Not all of them, though; in particular, the redirections/404 tracking are better handled by the Redirection plugin, at least as far as I've seen.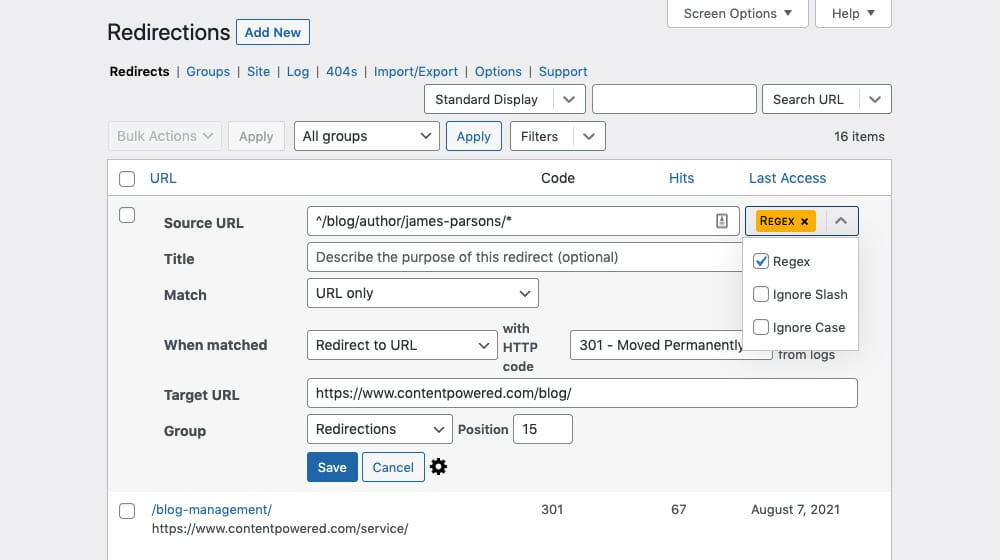 My pick for the coolest feature of Rank Math is the automatic "add alt tags to images that don't have them." It's easy to fall out of the habit of adding alt text, no matter how important you know it is, since it's invisible to most users and doesn't have a direct, tangible impact on search rankings. You have to monitor and care about Google image search to get the most out of alt text. Well, that, and care about accessibility, which you all should! Accessibility is good!
Being able to click a button and have alt text filled out for your images is pretty handy. It's also pretty clever how this feature works. It's a script, so it executes when an image loads for display, and there's no supplied alt text. It doesn't change the stored alt text in your WordPress dashboard, so you can always go in and add alt text without having to identify and replace bulk-added text.
Perhaps, unfortunately, it's pretty limited in what alt text it adds. For the most part, it just adds the filename for the image file as alt text. That's great if you use descriptive file names, but if you're used to uploading files like DSCN1024.jpg or Post245Image3FINAL(2)(2).jpg, it's not going to help. It's slightly better than nothing, but not by a lot. You can read more about how it works here.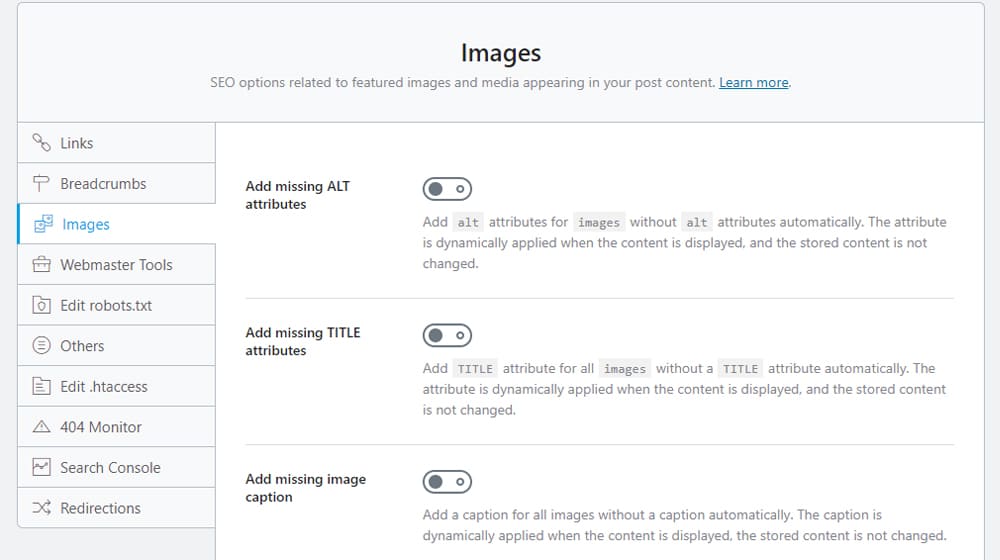 Now, if Rank Math integrated image recognition and could generate a descriptive alt text, that'd be awesome, but I doubt that's on their agenda. It's a ton of processing power, with many inaccuracies even at Google's level of technology. I wouldn't expect a smaller company to try it.
Rank Math (Free) is roughly comparable to Yoast (Paid) while being significantly cheaper (at least until the introductory pricing wears off if it ever does.) That said, I don't think Yoast is necessarily worth paying for, especially with how they segment-specific features like local SEO off in separate paid plugins, and Rank Math's Free plan is better than Yoast's free plan.
 If you want one plugin to handle 99% of your SEO, Rank Math is a great option. It has a ton of SEO details all in one place, with a reasonably intuitive and responsive interface for managing it all. It might be overkill for a small blogger just starting, but then, so are many SEO plugins, to be honest.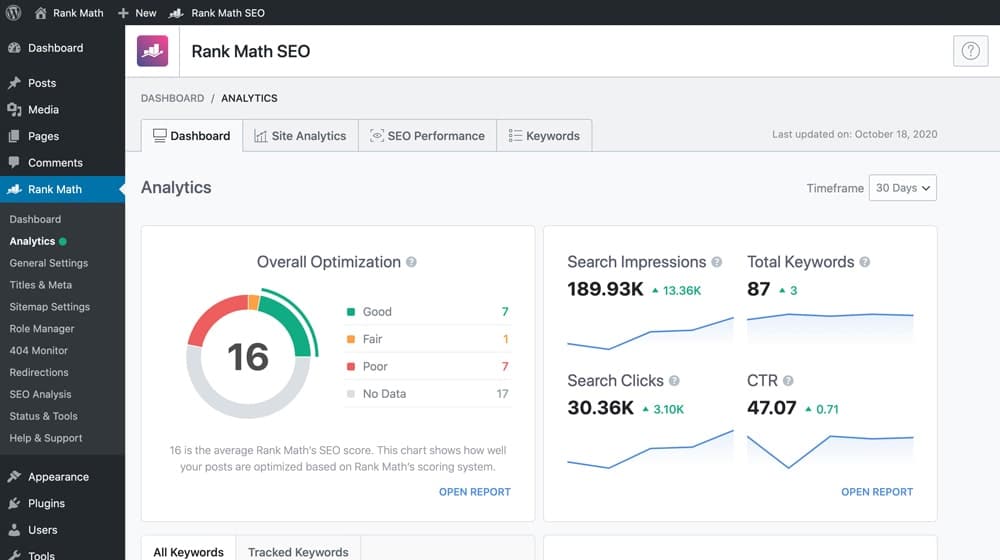 If you want precise control of specialized features, you may be better off with the free version of Yoast, along with a handful of specialized plugins for the features you want advanced control over. That's what I'm doing now; Yoast Free, alongside plugins like Breadcrumb NavXT, Redirection, Schema Pro, Open External Links in a New Tab, WP Rocket, and so on. This combination is the power user option. It's not recommended for newbies because you can end up with plugin conflicts that can be annoying to resolve. You have to know what you're doing to get it all to work correctly, but you may be rewarded with better functionality on those features.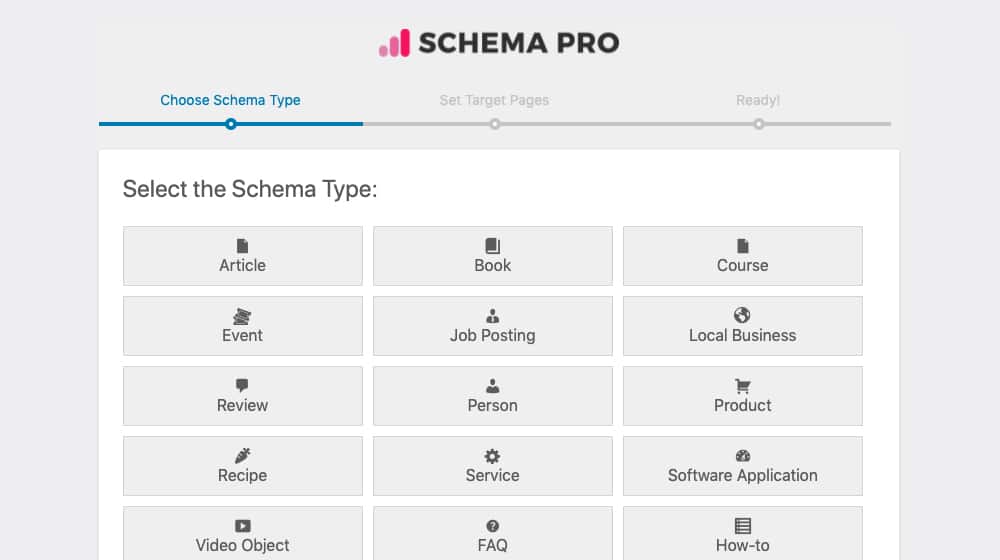 Finally, if you decide to switch from Yoast to Rank Math, make sure to monitor your site performance. Run some SEO reports using third-party tools to check for any gaps in coverage. Check the Google Search Console directly (not through Rank Math) to ensure no new errors or manual actions crop up. Monitor your site with rank trackers and other tools for site health, site speed, and other scans to ensure nothing has broken.
I give Rank Math a 4.5 out of 5 overall. It's an excellent plugin, and it's going to eat a good portion of Yoast's lunch.
Yoast has been coasting on their name and on thousands of "best SEO plugins" articles that list it as the #1 option for a long time. They've had a few too many significant errors and user-unfriendly decisions over the years, and now they're going to have to shape up or lose a part of their market share. I think that competition is a good thing here.