[Guide] How to Check and See How Much Traffic a Website Gets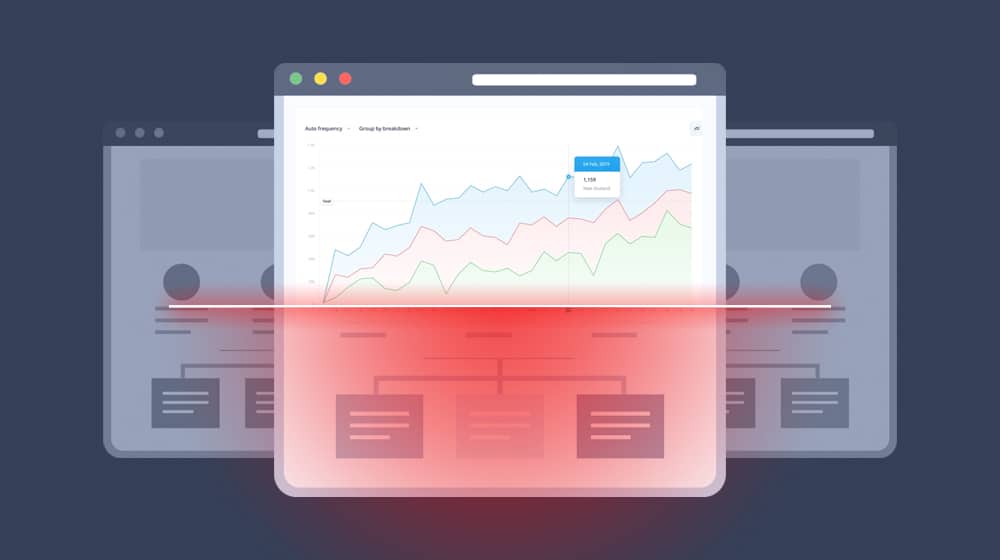 One of the most prominent metrics you see in your dashboard for Google Analytics is the traffic overview. They put a big chart of your sessions and pageviews per month right front and center.
It's an important metric. Knowing how much traffic you're getting is foundational to calculating other things, like click-through rates, bounce rates, and conversion rates. Even if Google's data harvesting isn't perfect and uses sampling, it's still more accurate than many other options.
Alright, great, so you know how much traffic your site gets. There's just one question.
Are these web traffic estimates accurate, and should you rely on them?
Your site gets X amount of traffic, but how does that compare to your competitor's websites? How much web traffic do the other sites in your niche get? What should you aim for if you want to be one of the big dogs? Is some website you've been thinking of as competition much more significant (or minor) than you thought?
Google Analytics is great for your traffic, but you can't see that private data on other sites. Your competitors usually use Google Analytics, but it's not public data. You can't log into Google and identify traffic data for any website you like. You can't roll up to the contact form for the site and ask, either. Technically you can try this method, but very few websites will share that data with you.
Luckily for web marketers, quite a few tools offer ways to estimate the traffic of a website you don't own. Here's how to do it properly.
A Word of Caution
Before we begin, I have to make a disclaimer here.
Using a third-party tool to estimate a website's traffic is, by definition, somewhat inaccurate.
There are a lot of different reasons for this.
They likely don't have direct access to the site and thus can't harvest their accurate metrics. Instead, these tools rely on secondary signals, machine learning, predictive sampling, and 12-month averages.
There are many laws and regulations about privacy around the world. Many analytics platforms can only make guesses at traffic and have to obfuscate or even ignore certain users because those users have the right not to be tracked.
Many people use ad blockers that block scripts or use script blockers or disable JavaScript on websites, preventing various analytics platforms from activating and tracking the number of visitors to their websites. For example, uBlock Origin blocks Google Analytics by default, and over 10,000,000 internet users use it.
These tools generally track organic (search engine) traffic, and there's no good way for them to estimate direct, referral, or alternative traffic sources like email.
Traffic estimations are precisely that: estimates.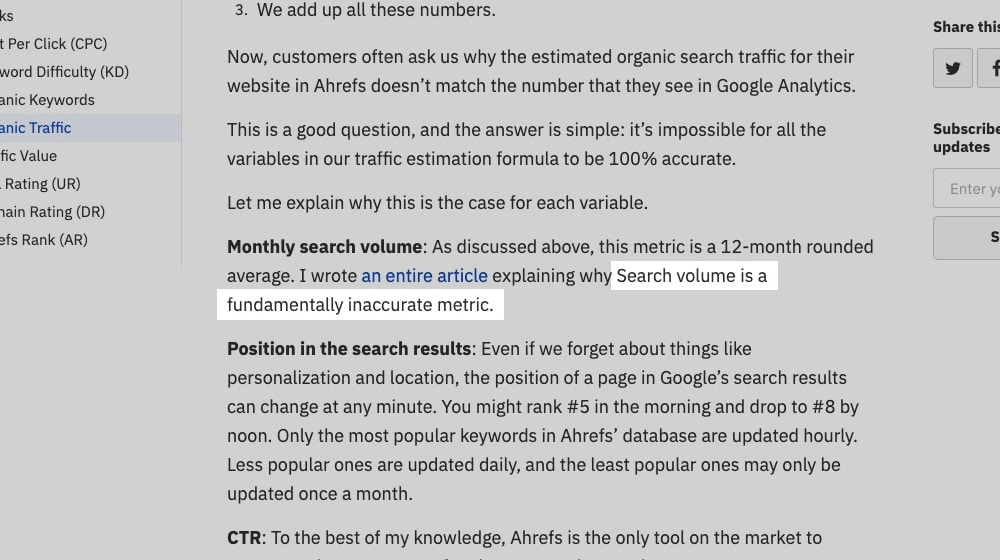 There's a lot of variation in data, a lot of edge cases, and many different reasons why the data you get from a third-party source may be inaccurate, even by orders of magnitude.
In this post written by Tim Soulo, founder of Ahrefs (which arguably has some of the best web traffic estimates), he calls search volume metrics in SEO tools a "fundamentally inaccurate metric."
In another post, he explains how search volume reports are annual averages that can only estimate click-through rates. Traffic estimates on these keyword research tools are typically many keyword variations jumbled into one estimation.
I go into this problem more deeply in this post, where I analyze how accurate various traffic estimation platforms are by comparing their data to my actual data. Feel free to check it out.
If you're interested in harvesting data, it's essential to know that it's not necessarily reflective of reality. The important part is that it's consistent between sites and that you're comparing "apples to apples"; that is, you use the same tool on your site and compare that data, rather than comparing competitor data on Ahrefs with your data from Google Analytics.
Step 1: Build a Site List
The first thing you want to do is build a list of the sites you want to check. This list should, generally, be a list of competitors. As near-direct as you can get in terms of competition, so you're comparing your site to the sites most similar to you. You can also include a couple of higher-tier competitors to know how much larger you need to grow to rival them - if that's something you're interested in. Either one works.
I like to build this list in a simple spreadsheet. Since you're not worrying about landing page specifics or top-performing posts, making a column with each site you want to test (including your own at the top as a benchmark) is pretty straightforward.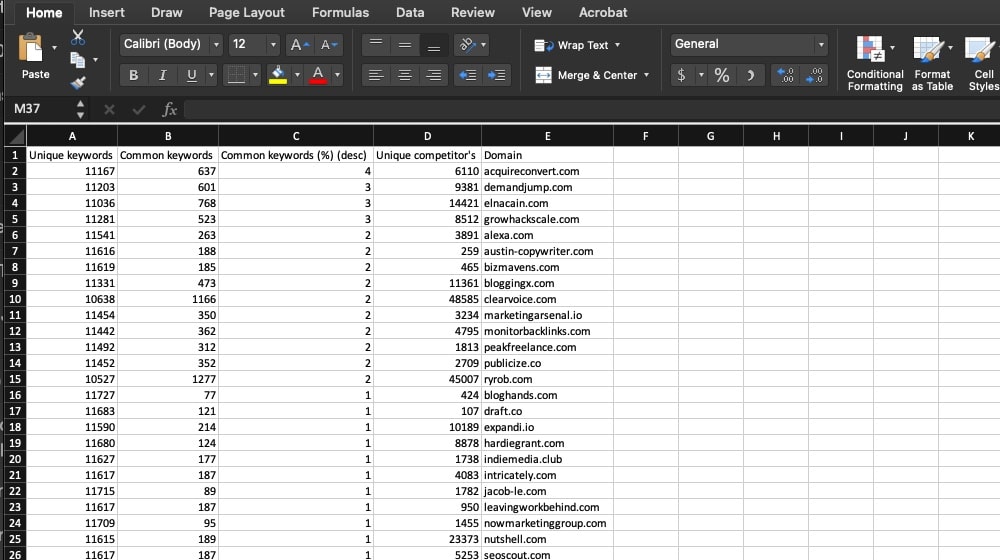 If you're unsure which sites you want to add, consider your top keywords. Do a few Google searches for your most important keywords, and look at the other sites that show up. Pay special attention to promoted results, featured snippets, and different stand-out results. Ensure you're using a signed-out or incognito/private window to do this, so you aren't getting skewed results.
Next, categorize your competitors. I tend to build a relatively small list with mostly nearest-neighbor competitors rather than the industry. If your list is more extensive, you can create categories like "direct competition" and "industry leaders" to differentiate the distant giants from their close peers.
Step 2: Harvest Public Metrics
I'll get to the web traffic estimations in a bit. First, you might consider looking up and harvesting publicly available information. For example:
Do they have a Facebook page? If so, how many followers does it have?
Do they have a Facebook Community Group? If so, how many members does it have?
Do they have a Twitter account? How many followers does it have?
Do they have a LinkedIn page? How many followers and employees do they list?
Social media is excellent for this. Pick any social media profiles that are relevant to your comparisons. Follower counts are public, so you can quickly harvest that data.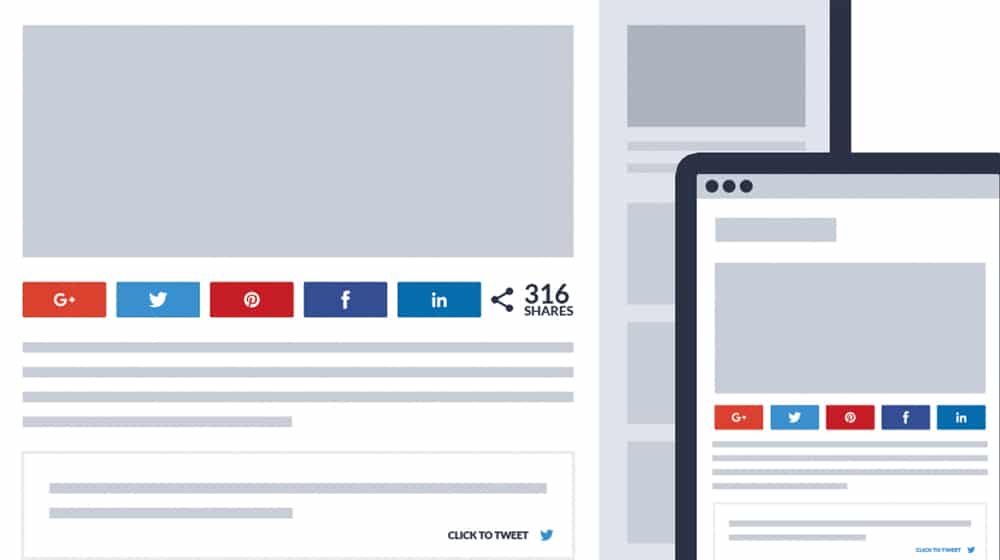 You can also consider looking up how many email subscribers they have, but this isn't public info. The best you'll get is a call to action on their site like "Join 150,000 satisfied subscribers!" for their email opt-in. This technique is also tricky because it may or may not be accurate or relevant as a self-reported digital marketing number. The same goes for traffic estimates the sites give on "advertise with us" pages.
I could tell you that I have a newsletter with 50,000 subscribers. Would you believe me? That's up to you. Tell me in the comments if you do or don't, and why!
Step 3: Harvest Traffic Metrics
Next, you'll want to use some tools to harvest traffic information. I'm going to list a handful of different tools here. That's because no software will be perfect, and it's helpful to have multiple data points to see how they compare.
Remember, some tools will limit you if you're using a free plan, either in terms of the amount of data they share, the number of sites they let you search, or both. If a tool has a free trial, it can be worth signing up and running as many searches as possible before canceling, but that's your call.
What website traffic checkers can you use?
1.

Semrush
Semrush is one of the most commonly-recommended website data harvesting tools out there. They do a little bit of everything and tend to top many lists of tools to use for analytics, competitive research, and so on.
Since we're primarily focused on comparing traffic analytics software, Semrush offers organic web traffic metrics, keyword ranking and number of organic keywords, the geographic distribution of traffic, an estimation of how often the site appears in featured snippets SERPs, and other result value-adds.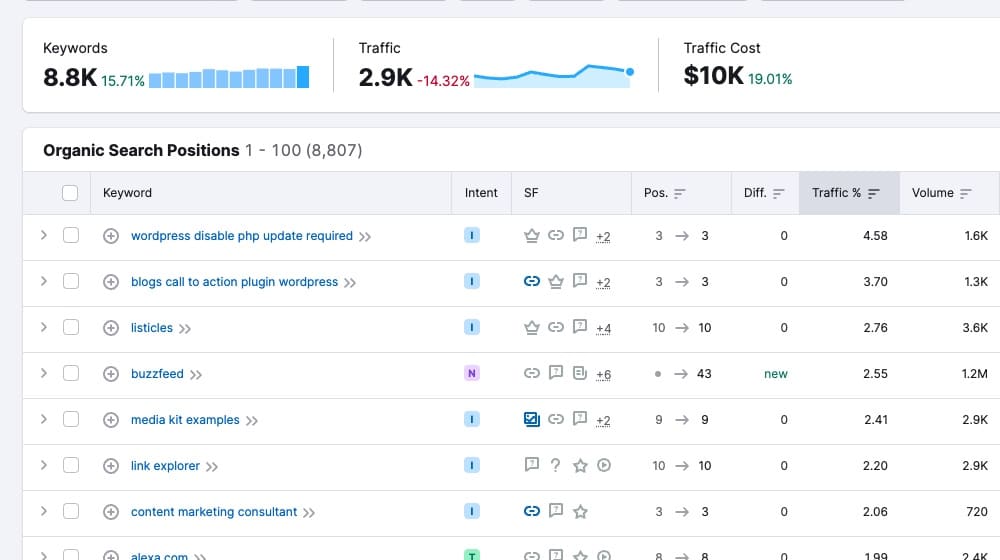 Semrush also has one nice feature, which is their bulk analyzer. Depending on your chosen plan, you can build up a list of up to 200 domains to compare all at once. Now, that's a lot of data to comb through (and you're probably better off just looking at your 10 or 20 closest competitors rather than 200), but it's still helpful to do it all at once from one platform.
Is your blog earning you business? If not,
let's fix that.
We create blog content that converts - not just for ourselves, but for our clients, too.
We pick blog topics like hedge funds pick stocks. Then, we create articles that are 10x better to earn the top spot.
Content marketing has two ingredients - content and marketing. We've earned our black belts in both.
If you run an internet-based business and are looking to scale, schedule a call to speak with our founder:
I will say one thing: Semrush isn't always accurate to reality. A while back, I ran a comparison. At the time, Google Analytics and the Search Console reported that my site's traffic was up by 23%. Semrush said it was down by 14%. That's a huge difference.
Once again, the goal is to compare apples to apples. Don't compare Semrush data for competitors to your Google data or your results from other search engines; compare your Semrush data to their Semrush data. Most SEO numbers are comparative metrics, so they are most helpful when comparing your website to another.
Pro

Guru

Business

2.

SimilarWeb
SimilarWeb is one of the more commonly-recommended tools for most traffic estimations. They're great for estimating total traffic numbers and finding your nearest competitors - if you don't already know who should be on the list. Of course, they have much more than just traffic stats; how deep you dig into the data depends on your purpose. Since we're just talking about traffic estimates today, that's all I'm focusing on.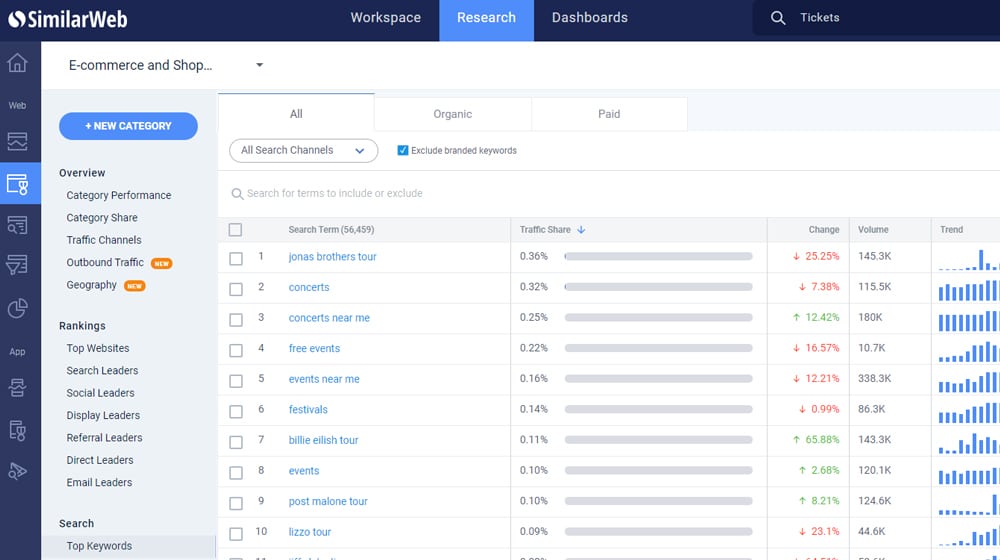 How accurate is SimilarWeb? Well, Ahrefs (one of my favorite tools) says they were the most accurate they tested. But there's a caveat to that. According to Ahrefs, SimilarWeb:
Overestimated unique visitor numbers 90% of the time.
Overestimated the number itself by as much as 300%.
Only about a 20% success rate at having data for a site.
That third one is critical; they might not even have any data for many of your competitors. Now, that's a lot more likely to be the case for small sites than large sites and new websites rather than established sites, but it can still be a problem.
Free

Search Marketing

Ultimate

3.

Ahrefs
Ahrefs is my favorite analytics tool for harvesting web traffic information. I've used every one of these tools over the past decade; in my experience, they've been the most reliable and accurate. I use their tool for many different purposes. They didn't want to toot their own horn as the "best" tool in their traffic report I linked above, but I think they take the victory over SimilarWeb.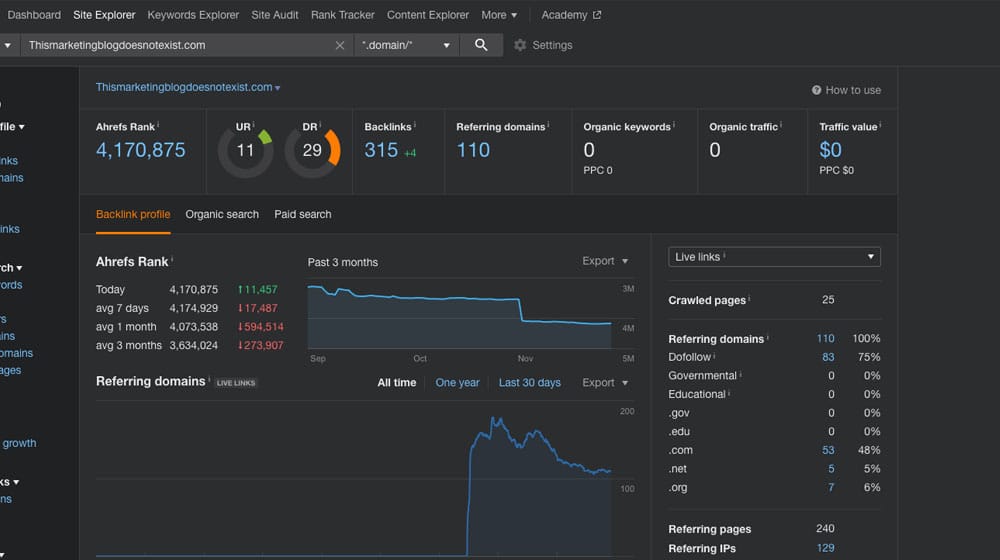 Ahrefs harvests their data by taking keyword research data, search volume, top pages, and information like position and ranking, click-through rate, and geographic variation to estimate (to the best of their ability) an accurate traffic number. They also tend to underestimate rather than overestimate numbers, which isn't very different when comparing apples to apples. However, they can psychologically feel more likable when you liken your traffic analysis to competitor sites.
Lite

Standard

Advanced

4.

Other Tools
Many other tools estimate web traffic to a greater or lesser degree of accuracy. I wouldn't necessarily recommend any of them in place of the three listed above, but they're tools you can consider if you like.
Alternative tools can include Serpstat, UberSuggest, Buzzsumo, Moz, and some of the other alternatives to software lke Alexa and Ahrefs.
I haven't written individual blog posts on some of these yet, but I'm working hard to cover each one in depth. For now, if you're interested in trying some of these third-party tools, nearly all of them have a free tool or a trial that you can take for a spin to see how the data compares to your other software.
Step 4: Use Your Data
Now that you've harvested all of this data, it's time to put it to use in your marketing strategy.
Once again, I implore you to make sure you're constantly comparing apples to apples, which means keeping your datasets isolated to a single tool. Otherwise, variations in methodologies and technologies can account for many differences or lack thereof.
What can you use this traffic data to learn?
What sites are similar, more prominent, or smaller than yours?
Where does your competitor's traffic tend to come from geographically?
Do the websites rely more (or less) on paid traffic?
This data can all be good information to help you learn key facts about your own website traffic and your competitors. For example, you might have a primary competitor with slightly more traffic than you but then find that 30% of their monthly traffic comes from paid ads.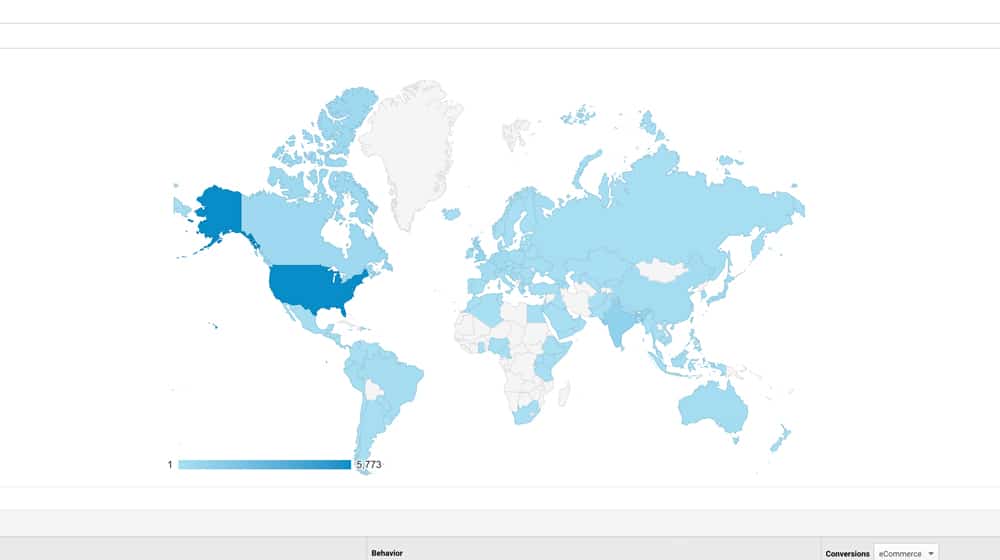 A lot of their organic traffic comes from India, and you might recognize that you're out-performing them in your target audience (if, for example, you don't sell in India and you don't run PPC ads.)
The insights will vary depending on the data you harvest and the comparisons you want to make, but they are a performance benchmark you can monitor. This data can help you make more informed decisions, inspire your
content creation
efforts, and help you discover ways to improve your website's user experience.
The other thing to do is keep a record of all the harvested data, then return in six months or a year and rerun the searches. How do they compare? Which sites have grown and shrunk, and how do your backlinks and traffic estimates compare? You can learn all this and more through traffic estimation benchmarking.
Now I turn to you. What is your favorite way to see how much traffic a website gets? Have you found one tool or software more accurate than the others? Please share with us in the comments section below this post so we can get a constructive conversation started on this subject! I will reply to all comments in 24-48 hours and would love to hear from you on this topic.