30 Shopify Apps That Can Help You Increase Conversions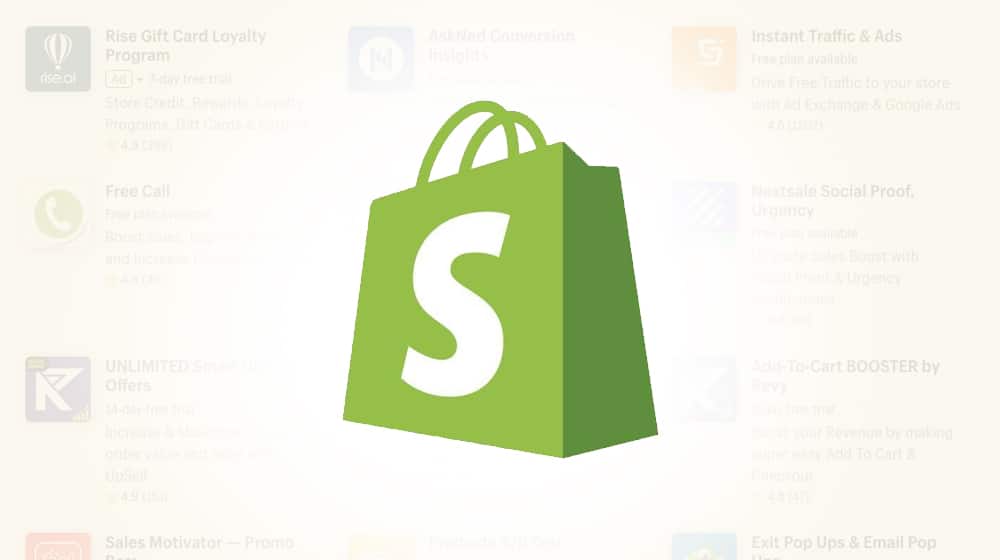 Shopify is up there with WordPress in terms of website frameworks with an immense array of options. If there's a feature you want, you can probably get it with a plugin, from their directory or from a third-party source.
Many of those plugins are useful for the conversion process. If you want to boost conversions, either in average value or in volume, you have a lot of options.
What I've done here today is compiled a list of ways you can boost conversions, and then a few plugin options for each. I know that this is not a comprehensive list by any means, which is why I'm looking to you as well. If you know of an addition you think should go on this list, leave a note in the comments below and I'll take a look.
For now, though, on with the purposes and plugins.
Plugins to Optimize Store SEO
SEO is a foundational element of web marketing success. You want your website, your product pages, and every page with content on it to have the greatest possible ranking in the search results for a given targeted query. SEO is easy for blog posts, but it can be harder for product pages, especially if a lot of your on-page content is images or manufacturer-provided information. This was a huge problem back in 2011 or so, when Panda hit and everyone scrambled to produce unique content. These three plugins are good SEO options.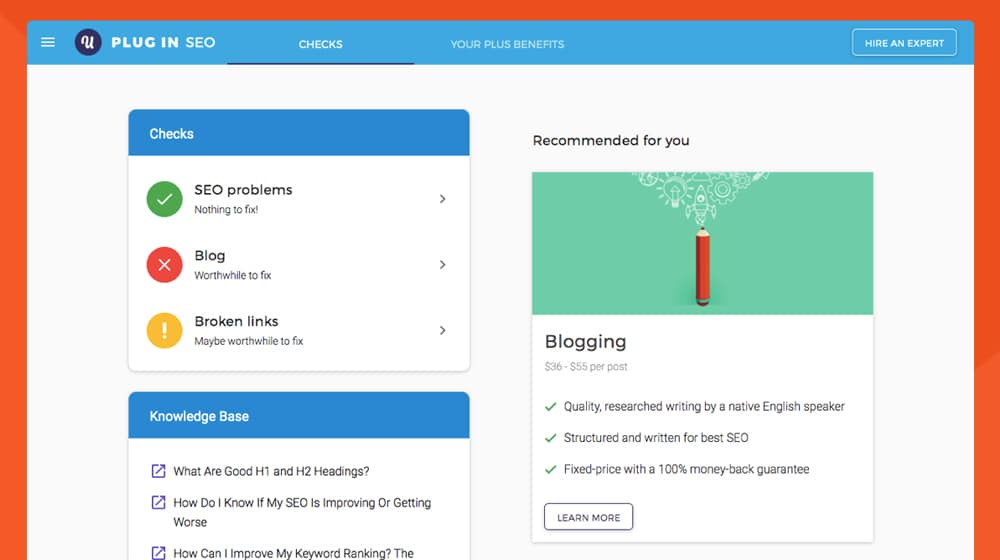 Plug In SEO – This is a great Shopify app with a range of useful SEO features for both new stores and established stores. Bulk SEO editing, meta templating, rich snippets, broken link and missing page checks, and other tools can help you make sure you're getting the most out of your storefront.
This version of the app is a free trial, but they have a free version on their website, along with a paid edition with more features for $20 per month. The same company also offers related plugins for speed optimization, data backups, and GitHub integration.
SEO Manager – Most SEO plugins are going to be basically the same as one another, since SEO features are not proprietary. This one has basic meta editing, index and crawler controls, keyword suggestions, templates, and a bunch of scans for SEO errors and missing pages to help you fix errors. It also has direct integration with Google tools, including the mobile friendliness tester, the page speed tester, and the search console.
This plugin is also not free, but has a seven-day free trial via the app. After that, it's $20 per month for all of the features they offer. They don't have other plugins or different pricing plans with limitations; it's a one-size-fits-all plugin for all your Shopify SEO needs.
Smart SEO – This is a more limited plugin than the above. It basically just allows you to edit meta tags, image alt tags, JSON-LD structured data, and a sitemap. So why is it on the list compared to the other more robust plugins? Two reasons.
The first reason is that, perhaps, you have other plugins to handle many of the main features of SEO, and just want something to edit your meta data. The second is that this is the only plugin to offer algorithmic meta data generation. It can create, in bulk, unique and relevant meta data based on the information already on the page. For old, large stores with hundreds of products, this saves a huge amount of time.
This plugin will run you $5 per month with a 7-day free trial.
Plugins to Target Abandoned Shopping Carts
Every store in the world deals with abandoned carts sooner or later. In physical spaces, people might run into issues with declined payment methods or changing needs. In online spaces, there are any number of reasons a user might add a product to their cart and then leave before making the purchase. You can boost your conversions dramatically simply by reaching out to those people and reminding them of the products they were interested in.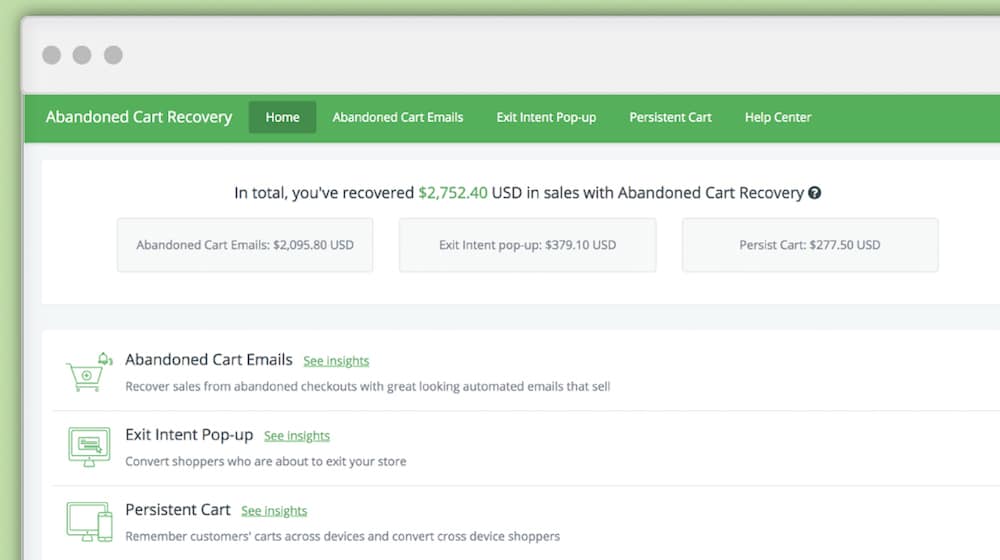 Recapture Abandoned Carts – This app is essentially an email creation platform with a specific focus, that being to reach out to people who abandoned carts and get them to come back. It has a drag-and-drop email editor, analytics, campaign tracking, and a cart monitoring system. You can segment your audience based on factors like the cart total, the product count, and whether or not the user has opened an email from you in the past. It also tracks the amount of revenue that it's possible to recapture, and the amount you've successfully recovered. All of this for free up until you've recovered $500 in lost revenue, after which pricing scales based on the amount you're recovering, starting at $30 per month.
Abandoned Cart Recovery – This app has a similar email system to the above, but it also has other options for attempting to recover carts. In addition to the emails, you can configure an exit intent pop-up with a special offer or discount code to encourage that last-second conversion, and you can set up a persistent cart so a user can start the purchase process on one device and continue it on another. It's free for two weeks, after which it's only $9 per month. 
Abandoned Cart Recovery Email – This app by Care Cart is not to be confused with the previous one; the two are not affiliated, they just have similar names. This one has the same core email system, but it also allows you to communicate with customers via Facebook Messenger and using push notifications as an additional shopping tool. They also have a sales notification plugin, but I'll talk more about those later. Just keep it in mind. Pricing for this app starts at $8 per month.
Plugins to Implement Calls to Action
Every successful storefront needs a variety of different calls to action. Rather than three similar apps, this time I've provided three different options, which can be used individually or in tandem with each other. Try out different calls to action and figure out which ones work best for your audience, your products, and your storefront.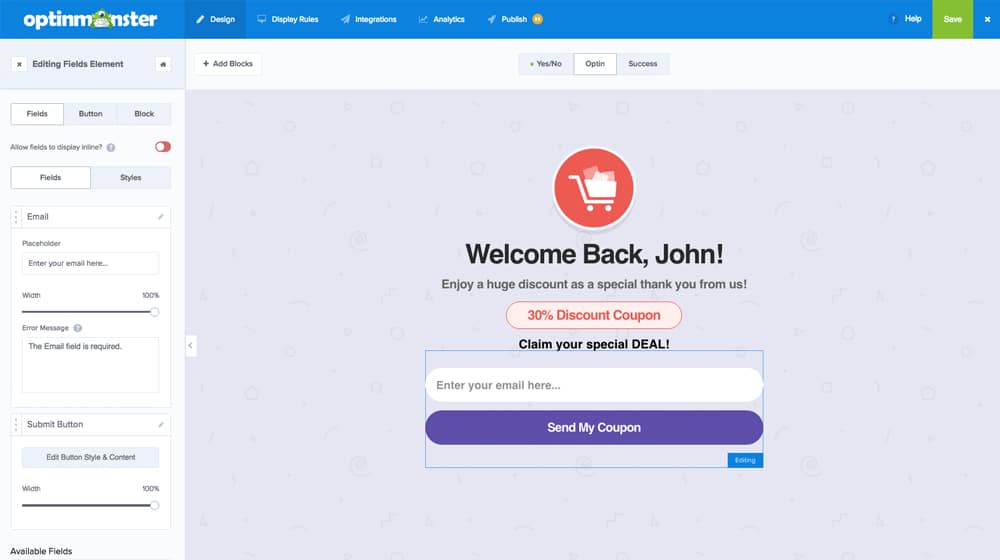 OptIn Monster – OptIn Monster is one of the most recognized names in opt-in optimization tools, and their platform works with Shopify, Magento, SquareSpace, and a dozen other website architectures, and links with just as many different email systems. This particular Shopify app is aimed at creating exit intent pop-ups with customized calls to action, as well as email pops for other forms of opt-in. It has built-in split testing and a ton of other features as well, depending on the plan you buy. Plans start at $10 per month and can be as much as $100 per month depending on what you need. Check their website for more details.
Shop The Look – Have you seen Instagram Shopping? Many Instagram fashion stores post photos of models wearing specific outfits and use custom tags to link each product the model is wearing so the user can buy it directly through Instagram. Still, the user has to individually purchase each product. What if you could do the same thing; showcase a model wearing an outfit, but instead allow your users to buy everything she's wearing with a single click? That's what this plugin does. It's a very powerful tool for those storefronts that can use it. The free version (for dev stores) supports up to 10 "looks", while the unlimited version is just under $13 per month.
CTA Buttons – This Shopify app is a simple call to action button suite. You can customize which buttons show from a choice of 14, and customize their size, color, placement, shape, icons, and other design elements. Button types include contact options like WhatsApp, Messenger, SMS, and Phone, as well as a custom link button, a back to top button, and a few social media buttons.  As a bonus, this app is completely free.
Plugins to Feature Product Reviews
Anyone buying anything today is looking at reviews. The question is, are they looking at reviews on your site, or are they going somewhere else? If you can allow users to post reviews and feature them on your product pages, you can leverage them for more conversions. Here are three apps you can use for exactly that purpose.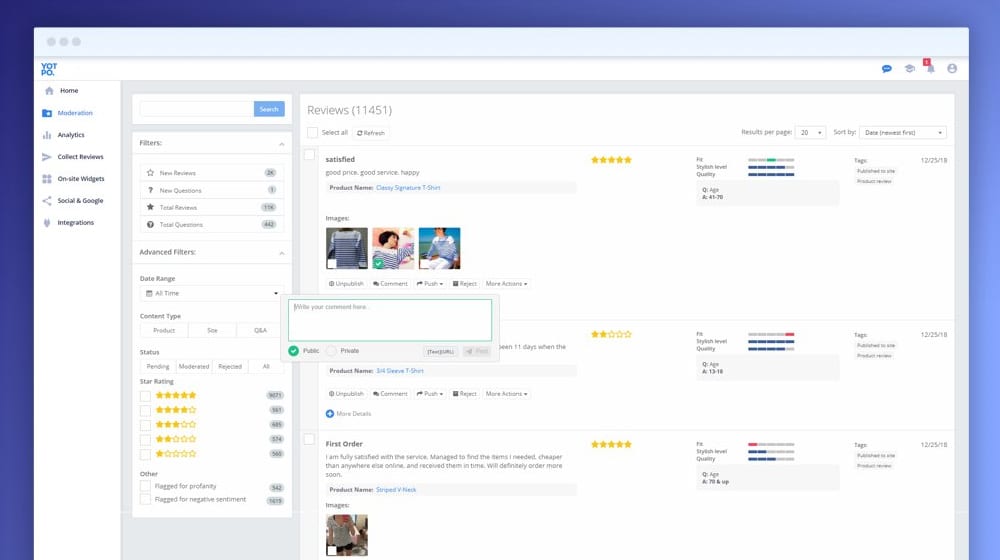 Yotpo – One of the most popular and best reviewed product reviews apps on the Shopify app directory, this is a slick review aggregator that allows you to collect reviews for your site, for products, and for content. They also have a visual marketing engine and a loyalty system, but I'll cover those kinds of plugins later. Yotpo has a limited free version, and a paid version with hidden pricing that includes a lot more features, including on-site widgets, social media integration, and support for multiple domains.
Rivyo – This plugin is a little more limited than Yotpo, but it has a couple of unique features that might make it more attractive for your particular needs. For one thing, it's a smaller and less expensive platform. They have a free plan and a $6 per month plan with a few bonus features, like some basic SEO and email feedback. One of the more interesting features is if you're a user of Aliexpress, it can import reviews from that site into yours. It can also set up a Q&A feed similar to Amazon's questions system, if users frequently need to ask for more information before buying but for some reason you can't add that information to your product descriptions directly.
Official Product Reviews – This is the most basic of the three review apps. Also, I'm not using "official" as a brand name here; it's the official app created and maintained by Shopify directly. Why they don't just integrate it with the core platform, I don't know, but there you go. They have some nice features, like bulk publishing/hiding/filtering of reviews, and exporting reviews as a spreadsheet, but for the most part it's just a simple review display plugin.
Plugins to Trigger User FOMO
One great way to get more sales is to trigger the user's latent and inherent fear of missing out, or FOMO. By showing that other people are buying products – and by including subtle hints like a time-limited coupon or a limited quantity – you can urge users to convert now rather than later because if they wait, they might lose their chance. Of course, whether or not they actually lose their chance is up to you. These apps are mostly social proof, showing sales activity to encourage more sales.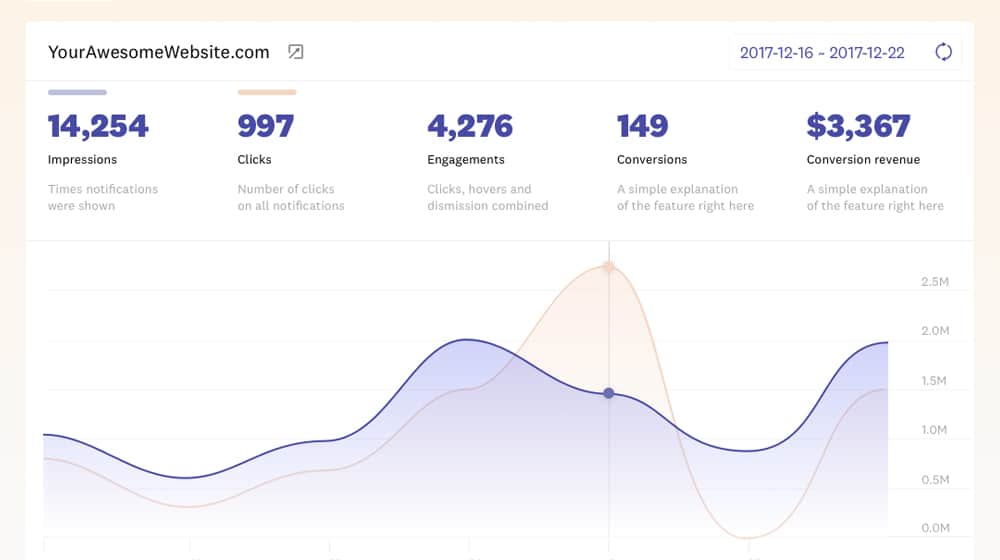 Is your blog earning you business? If not,
let's fix that.
We create blog content that converts - not just for ourselves, but for our clients, too.
We pick blog topics like hedge funds pick stocks. Then, we create articles that are 10x better to earn the top spot.
Content marketing has two ingredients - content and marketing. We've earned our black belts in both.
If you run an internet-based business and are looking to scale, schedule a call to speak with our founder:
Bizzy Social Proof – This app is aimed at providing a retail-like experience of a web store with other people browsing and shopping. It shows a small pop-up feed of what other users are doing, primarily purchasing, with timestamps and everything. You can choose how long activity lingers, to customize how active you want your store to feel. And, of course, it has tracking to show you just how effective it has been. The app starts at $7 per month.
Hopify – This app is pretty much identical to the one above, but with a different layer of branding on top. They call their social proof notifications "hops" and have several custom animations for displaying them rather than just a fade-in, but it doesn't really add anything that Bizzy does not. Still, it's a good alternative if Bizzy doesn't work for you for one reason or another. The pricing is even the same $7 per month.
FOMO Social Proof – You know it's good when it uses the name of the fear it's triggering as a brand, right? Well, no, but you know it's good because it has vastly positive reviews, a lot of powerful integrations, great analytics, and a ton of customization options. It can show off life traffic stats, location detection, and custom webhooks for your own additional options. The only downside is the pricing, which starts at $20 per month for up to 30,000 notifications per month, and scales up to $200+.
Plugins to Showcase Featured Products
We've all had a time where we want to feature a product to get more sales, either to one that's underperforming or to one that's new and needs the exposure. These plugins allow you to feature products in different ways, to get those additional sales.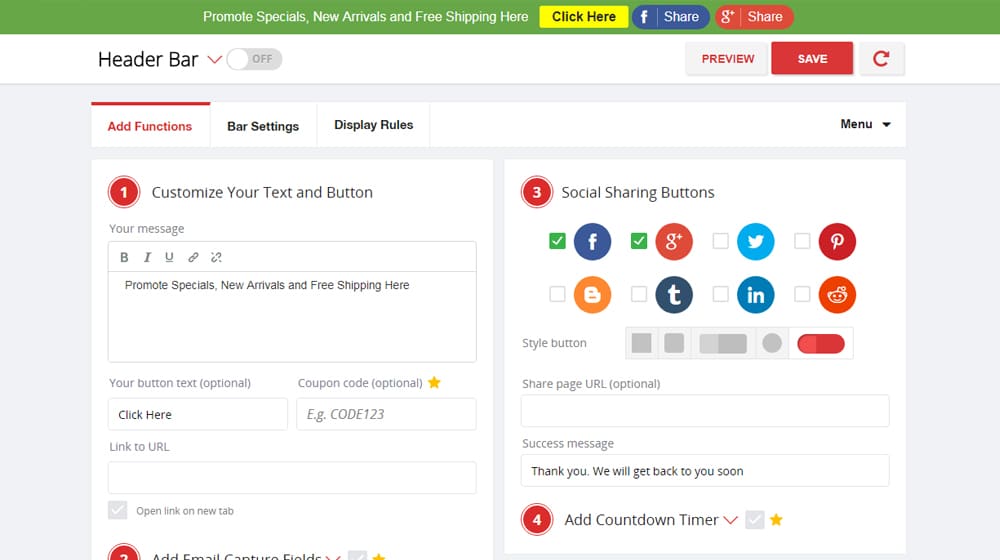 Welcome Header Bar – If you've seen Hello Bar, this is the same sort of header banner, but for storefronts instead of blogs. You can choose what you want to display, from featured products to email opt-ins to free shipping and coupons. Pricing starts at $10 per month.
Product Labels – This is a plugin that allows you to add special labels to products in your store, to feature them at the top of a product feed or search results page, or to simply draw attention to them. Labels include options like "new", "low stock", "on sale", and others. A free version is available to small stores, otherwise pricing begins at $15 per month.
Limited Edition – One great way to draw attention to a product is to make a limited edition version of it. This app allows you to highlight a specific product as a limited edition, complete with a showcase of what makes it unique and limited. It's a simple app that costs about $7 per month.
Similar to featured products, upsells and related products are a great way to get customers to add just one more thing to their cart. If you've bought anything on Amazon, you've seen this before, with the "customers who bought this also bought" box and the "related items" boxes during checkout. Here are three apps you can use to do the same thing on your site.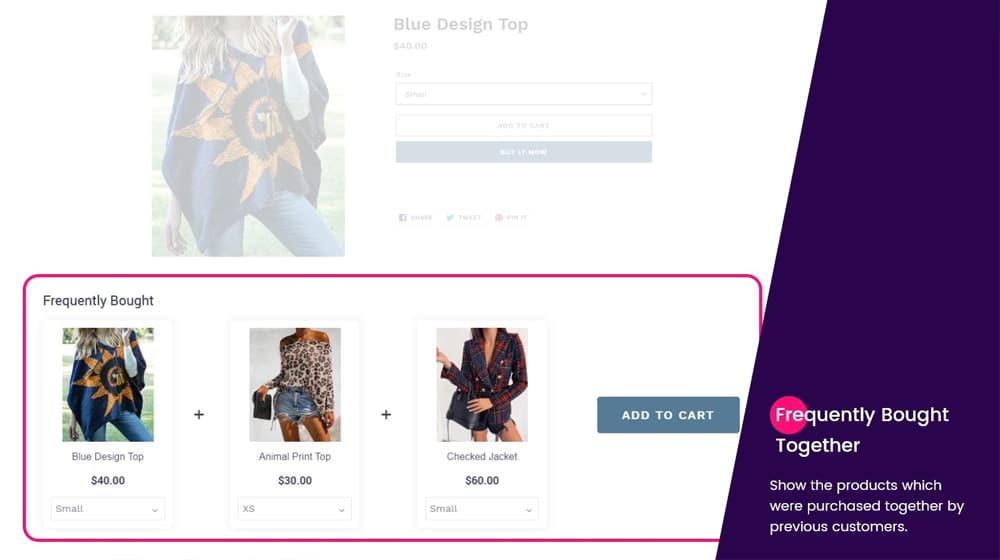 Recommendations and Upsell – This is a very Amazon-like product recommendation engine. I call it an engine because it monitors user behavior and product purchase history to recommend specific items tailored to the individual, as well as upsells when a user is looking to buy a specific product. Plans start at $10 per month and scale based on sales.
In Cart Upsell – This plugin is a hyper-targeted upsell engine that generates a recommended items box to appear as the user is checking out. This is very much like Amazon's system; when a user adds an item to their cart, this automatically suggests other items that work well with it. It has a free, branded package, but it's limited enough that you're better off going with the $14 per month plan.
Recomify Upsell and Cross-Sell – This is another recommendation and upsell engine. It does pretty much the same things as the other options I've listed, but has a different sort of rules system for dynamic suggestions. It's quite powerful, and you can run it for free up until the app generates sales above a certain threshold, which depends on the plan you chose.
Plugins to Create a Rewards System
Rewards and referral programs are great for getting more conversions, because they encourage one of the strongest forms of product recommendation: word of mouth. Incentivize your customers to spread the word, and reap benefits while doing so.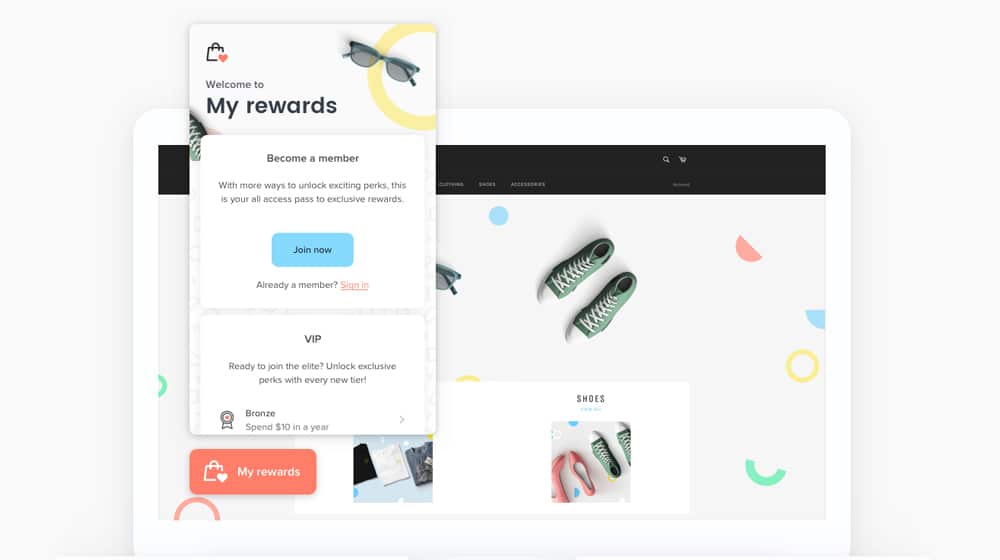 LoyaltyLion – This loyalty system lets you incentivize actions like purchases, sign-ups, referrals, reviews, social follows, and even tracks customer birthdays to give them rewards on their special day. It has a generous free package, which is good, because the cheapest paid plan is a whopping $160 per month.
Smile.io – This loyalty program manager allows you to set up a points system that awards points for purchases, referrals, social shares, and other actions. It also lets you create a VIP system for your best customers. They have a branded free plan, and pricing starts at $50 per month after that.
Referral Candy – This one is primarily a referral incentive platform with customized payouts and automation to go along with it. It's pretty powerful and well-reviewed, so it's worth checking out. Pricing starts at $50 per month.
Creating a newsletter allows you to keep customers in the fold and purchasing time after time. While plugins like the call to action options above can likely do email opt-ins just as well as these, these are focused specifically on newsletter promotion.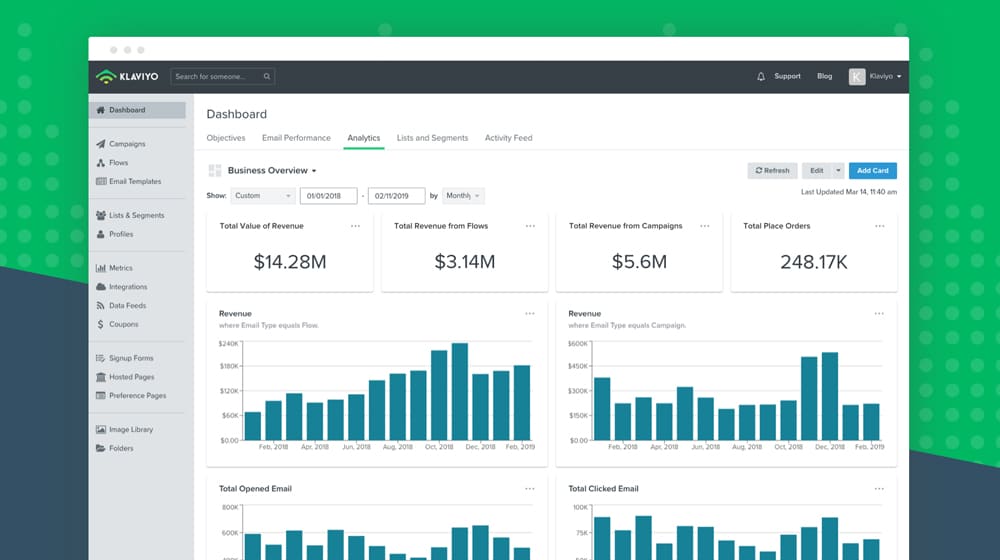 Klaviyo – This is a basic newsletter integration for Shopify, with features to recapture lost sales, personalize emails, and analyze campaign performance. It's free to use for under 250 subscribers, but pricing scales up from there, starting at $20 per month.
MailChimp – Everyone who has ever looked into email marketing knows MailChimp. This is a Shopify plugin for MailChimp-integrated forms, including pop-ups, banners, coupons, and some email management.
Omnisend – This is one of many email management plugins that includes other communications channels, including push notifications, SMS, and online messengers. It you want multi-channel communication with one app, this is a great choice. It's free to install, but plans start at $16 per month based on subscriber numbers.
Plugins to Translate Website Content
One way you can get more sales depends on reaching new markets. Translating your content into other languages is a great way to reach a market your competitors might not have even thought of. Machine translations can be iffy sometimes, so make sure to double-check what these apps produce before you rely too heavily on them.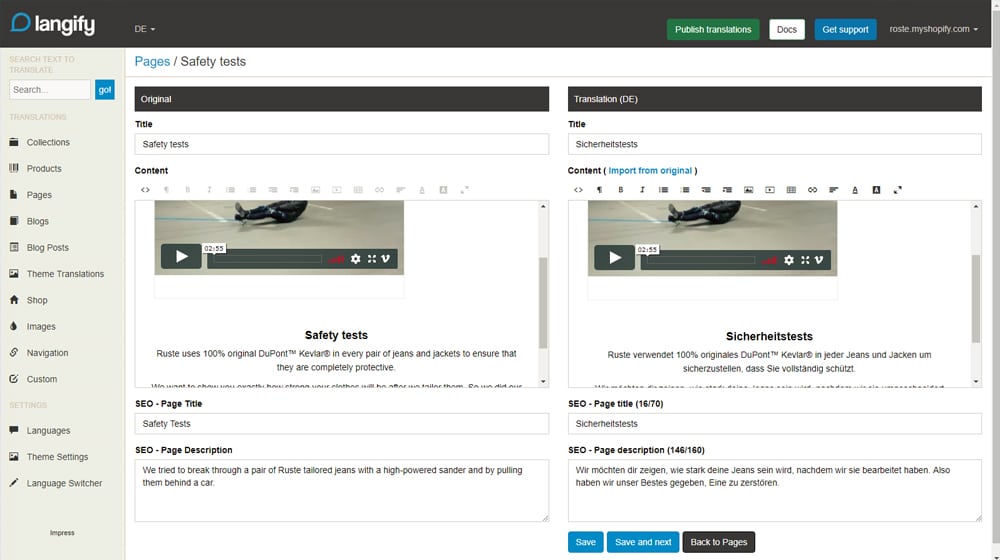 Weglot – This is a translator that combines automatic machine translation and human checks. Pricing is by the thousand words and by language, with over 100 languages supported.
GTranslate – This app is powered by Google Translate and supports 103 different languages. Google is one of the better machine translators out there, but you still want human spot-checks. Pricing is free for limited use, and plans start at $6 per month.
Langify – This plugin has a few advantages, including automatic redirects to appropriate language content, translation exports, and broad language support. Pricing starts at $18 per month.
And there you have it! 30 different Shopify apps to enhance your storefront and boost your conversions. As I mentioned above, this list is far from comprehensive, so please, leave any additional recommendations in the comments below. I appreciate it!