10 Alternatives to FOMO Social Proof For Shopify Websites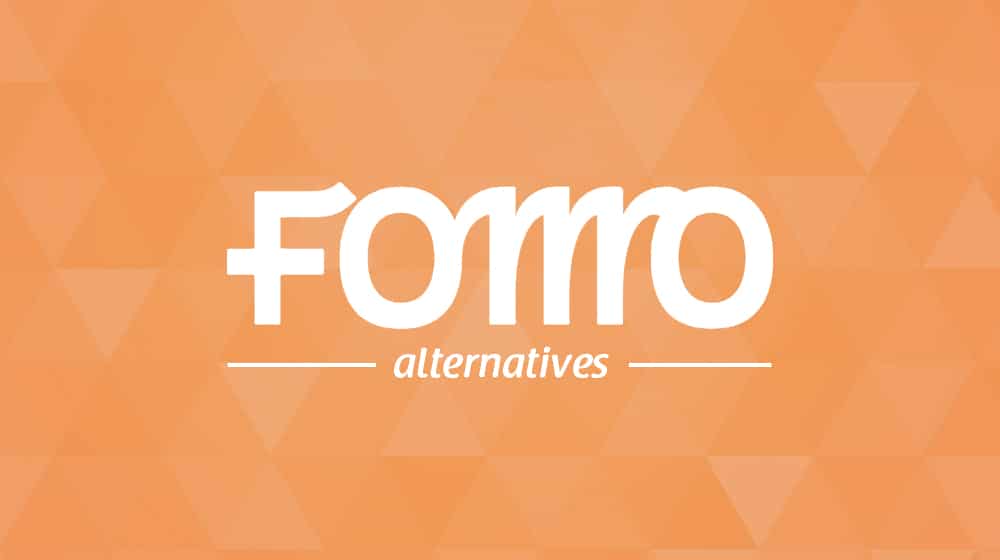 In the world of marketing techniques, some are new, taking advantage of new technologies, new methods of communication, and new platforms to reach people. Others are as old as society itself. FOMO is one such ancient technique.
What is FOMO?
"FOMO" is the Fear Of Missing Out. You've experienced it.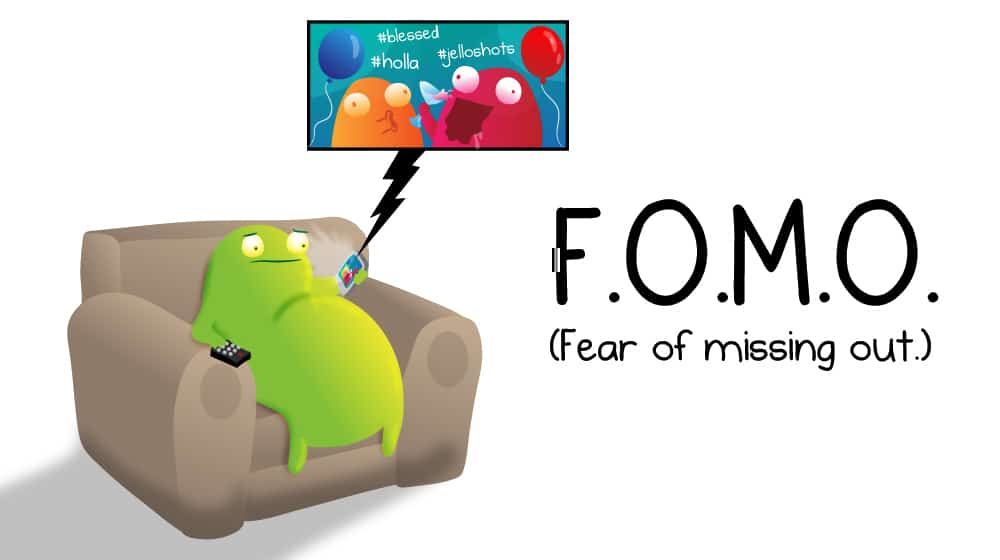 We've all experienced it:
The concert tickets you bought because you didn't want to miss a show from your favorite band? FOMO.
The product you purchased because there were only three left, and you didn't know when they would restock, if ever? FOMO.
The product you bought because a coupon showed up in your email, expiring a week later? FOMO.
You're afraid of missing out on a good deal, on seeing someone you enjoy, or on missing your chance. Our entire society is built around providing gratification to people on a time limit. Heck, even the very narrative of "shoot your shot" that you see in movies, everything from success stories to romances, is a variation of FOMO.
FOMO is part of human nature. It has been used by people for ages to get other people to do things; scarcity and crowd mentality are two very powerful marketing forces. Maybe even before; ancient hunter-gatherers needed to take their chance to hunt or miss out, and were no doubt inspired by hunger and the fear of missing out on a meal.
Modern marketing takes advantage of FOMO pressure. FOMO Social Proof is a plugin for Shopify and other platforms, available both on Shopify in their app store and on the FOMO website.
What does FOMO Social Proof do? It provides a variety of different useful features for taking advantage of FOMO in your marketing.
The core feature of FOMO Social Proof is a little pop-in box in the bottom corner of your screen. You've probably seen it on a bunch of different websites before. It's just a little box that slides in with a message, then disappears after a few seconds.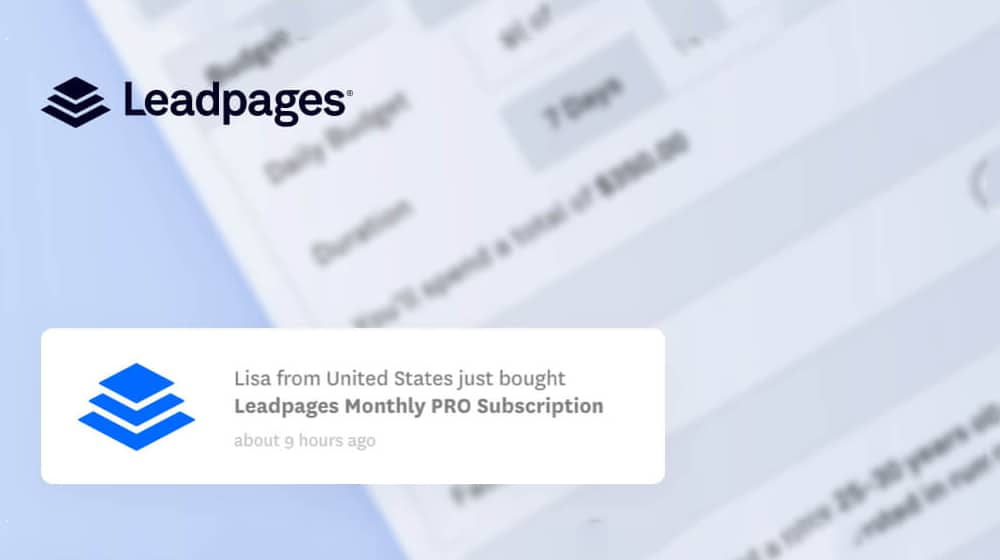 The message can have a wide range of different text in it. Usually, it's something like "John Doe just purchased Product Name (2 minutes ago)". It can have added information, like an image icon for the person or the item, but it's largely just that; a notification.
This kind of notification works by showing other users that yes, indeed, people ARE making purchases on this site. It's a form of social proof; the crowd gets two things out of it. First, they get the social verification that you're trustworthy enough for other people to buy from you. Second, this can be combined with other messaging like coupons or timers to encourage purchases before a limited stock runs out.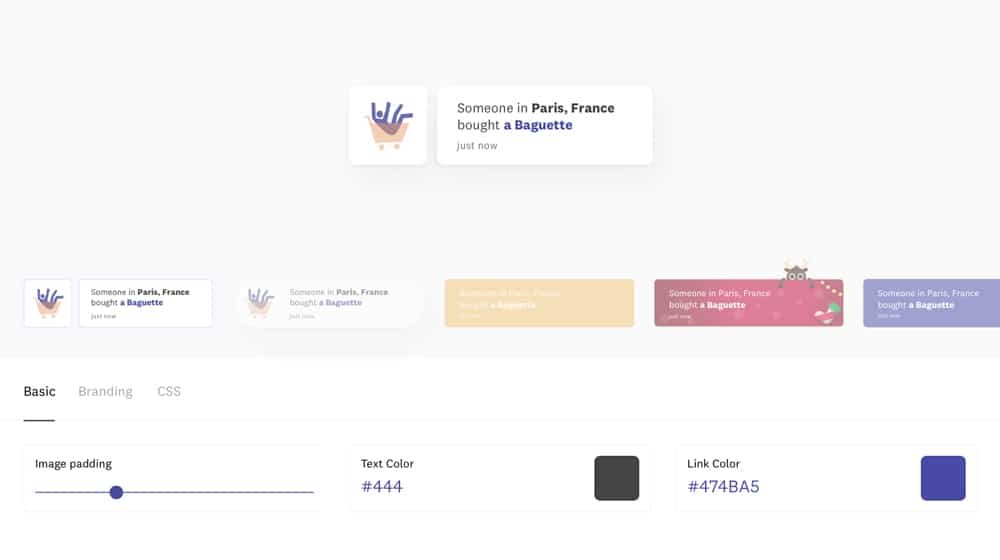 FOMO Social Proof has a lot of nice features that tie into this one little box. For example:
It's completely customizable. You can change the text, image, colors, templates, looping, timing, and even what pages it displays on.
It's self-redundant. If something glitches out, it has backups and fallbacks ready to make sure it keeps working.
It's easy to tailor. You can have it work differently for different devices, give it different delays, and even make it stop when the user loses focus of the screen.
It has translations in 26 different languages, making it useful for numerous sites around the web.
It's powered by machine learning. If you let it, it will optimize its own settings to best match customer behavior, not just on your site, but across all sites using it.
It can harvest simple data from the user, like geolocation, to use that for advanced targeting and local social proof.
It integrates with over 89 different apps and platforms, including Zapier, Instagram, MailChimp, Stripe, Unbounce, and many more.
It can be tied to a call to action. A user can click it and be redirected to any page, such as form submissions, product pages, blog posts, and more.
It can dynamically generate round-up data to create messages such as "25 people did X in the last 24 hours" for even more social pressure.
It has the ability to automatically link and broadcast purchase information on Facebook pages and other social network accounts.
Of course, this doesn't come cheap. FOMO Social Proof has four different plans you can purchase, though they all come with a two-week free trial.
The cheapest plan is $19 per month. It works on unlimited websites and includes the active visitors counter, all the customization settings, roundups, integrations, custom page rules, access to the API, white-label branding, and machine learning optimization. The limit on the package is based on-site notifications displayed per month. This starter plan limits you to 25,000 notification per month. Given that notifications can be displaying several times per minute while a user browses your site, this goes faster than you might think.
The next plan up is $39 per month. It bumps the usage cap up to 50,000 notifications per month and adds in live chat support.
A step up from that plan is $79 per monthy and gives you a whopping 250,000 notifications per month, plus phone support.
The top-tier "Advanced" plan is $199 per month and gives you 3,000,000 notifications per month, plus they will handle split testing for you, give you free optimizations, and support with their API.
I imagine that if you have an even larger site and would need more notifications, you can contact them directly for a higher plan. I doubt any business is going to turn down an offer of more money for scaled service.
You might have noticed from the title of this post that I'm not here to tell you about all of the virtues of FOMO Social Proof. It's a good app, don't get me wrong, but the point of this post is for alternatives to it. I gave you the rundown of features and pricing for FOMO Social Proof because it's a good baseline to use to compare other apps.
So why might you want a different app? Three real reasons.
FOMO Social Proof can get expensive. Depending on the number of notifications you want to be displayed each month, the cost can add up quickly.
FOMO Social Proof is limited to the little notification boxes that pop up. It doesn't utilize any other forms of social proof or FOMO, like subscriber counters, hello bar timers, or coupon management.
FOMO Social Proof is, unfortunately, rather complex. While they do offer automatic optimization, you still have a ton of settings you have to dig through, and it can be a bit overwhelming.
So with that all in mind, here are ten alternatives I've found for the FOMO Social Proof Shopify App.
First on the list is HoverSignal. This is not just one app; it's a whole series of apps that have different forms of social proof and FOMO elements to them. They all integrate with one another, and they all work with Shopify.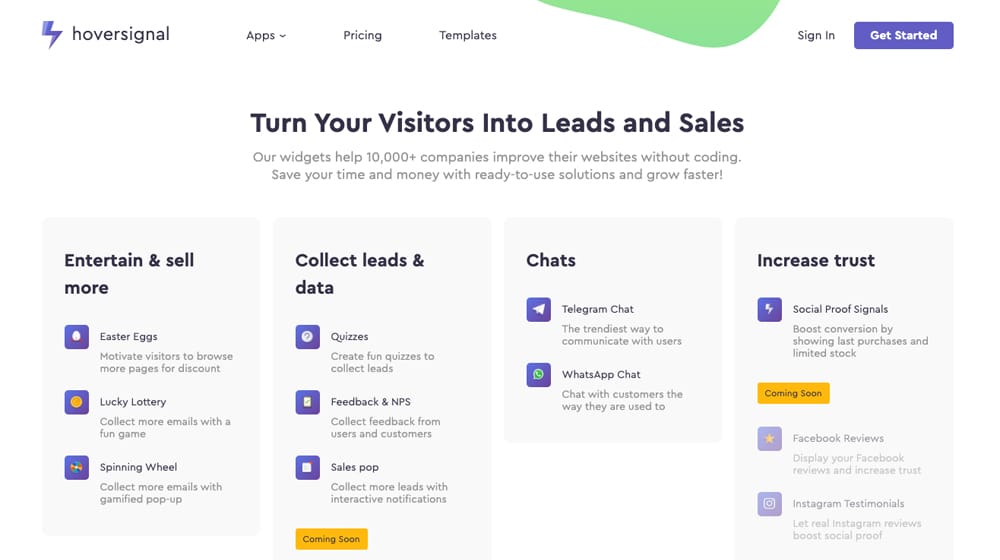 What do you get from this set of apps? In addition to the FOMO Social Proof-style pop-in box, you get dynamic page easter eggs, a lottery game, a spinning wheel for coupons and benefits, a quiz lead collection form, feedback forms, chat support for Telegram and WhatsApp, and social proof signals like limited stock notifications.
They also have 200+ templates for their apps, as well as the ability to customize your own.
Despite getting a ton of stuff, pricing is pretty reasonable. You can pay for individual apps you want to use, with pricing at $19 per month per app. Alternatively, you can get access to all of their apps for $34 per month with a cap of 60,000 monthly impressions and 200 form fills. Other plans increase both of those caps and can be had at $69 and $209 per month for one with unlimited impressions but 2,000 form fills, and one with unlimited for both, respectively.
2. Cue
Where HoverSignal is a more robust and complex alternative to FOMO Social Proof, Cue is the opposite. It pares down all of the functionality and gives you a much simpler and more streamlined version of the same thing. It's still a notification box, but the customization and programmatic options are much simpler, and they only have a few advanced features.
Is your blog earning you business? If not,
let's fix that.
We create blog content that converts - not just for ourselves, but for our clients, too.
We pick blog topics like hedge funds pick stocks. Then, we create articles that are 10x better to earn the top spot.
Content marketing has two ingredients - content and marketing. We've earned our black belts in both.
If you run an internet-based business and are looking to scale, schedule a call to speak with our founder: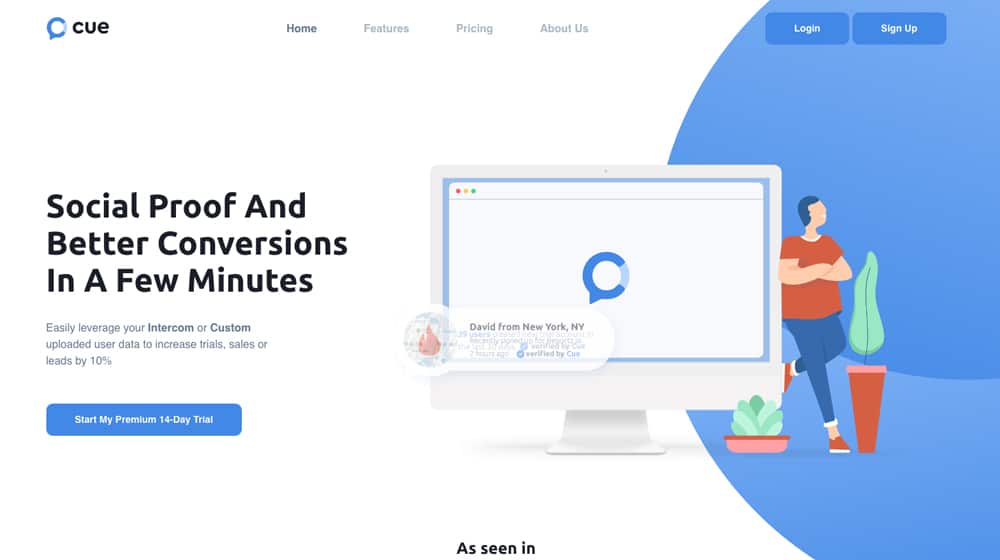 The benefit here is twofold. First is simplicity. If you want something up and running quickly, this works perfectly. Second is in price - they have a free version that is even more pared down, and their premium price is only $15 per month $30 per month (price increase in March 2021) for everything they offer, with no cap on impressions.
Billing itself as the #1 social proof and FOMO app, let's see how this app stacks up. Focused, again, on the slide-in boxes, Nudgify gives you options to display recent activity, stock data, pre-configured notifications, and custom notifications. You can style it and use it to capture forms, with automatic display data. You can also set display rules to limit when and where it shows up. The notification builder is also very simple and easy to use.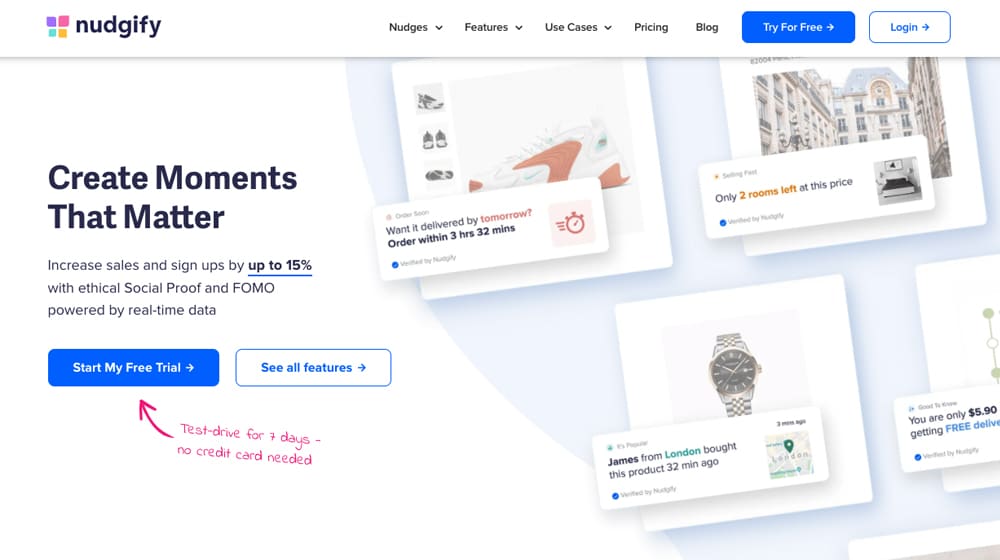 Overall, Nudgify is less complex than HoverSignal or FOMO Social Proof, but it's more robust than Cue. This is reflected in the pricing. A free version exists for up to 10,000 visitors per month. The standard plan is $29 per month and gives most features, as well as removing the Nudgify branding. And, of course, they have a scaled enterprise plan for large sites with custom needs.
Fera is one of the most robust options on this list, with even more going for it than the full-app package of HoverSignal. They have pop-in notifications, top banner bars, pop-up boxes, timers, testimonials, purchase counters, and more. Customization options allow you to display different notifications to different people, split test your notifications, and optimize your design iteratively. Data it harvests allows you to view shopper journeys, track sales, and manage everything from one place.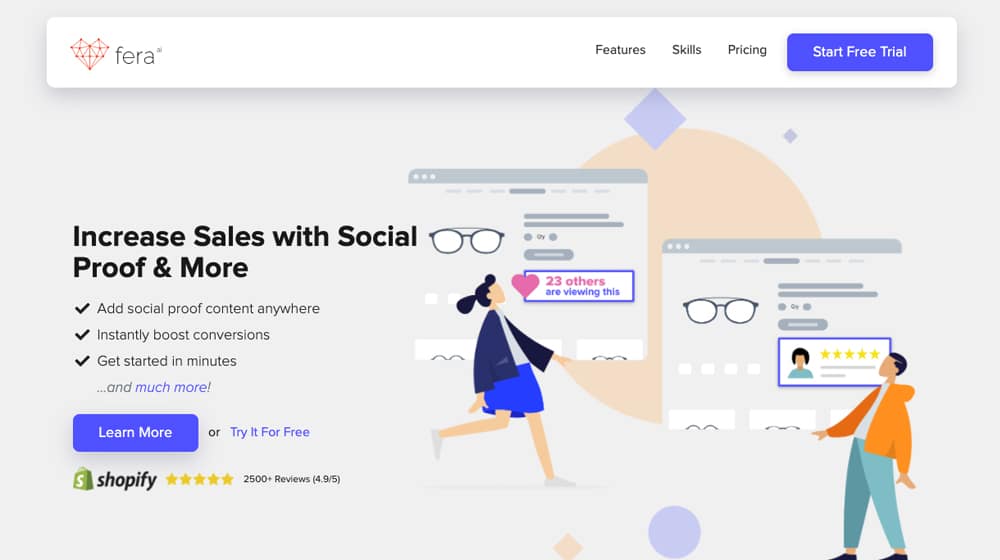 Pricing starts at $9 per month, with a month-long free trial. This package gets you real-time personalization, several forms of FOMO notifications, and up to three active "skills" (their name for the different sub-apps and features) at once. $29 per month gives you up to 10 skills and a few additional features. $99 gets you 20 skills and split testing. Custom plans above that give you a dedicated consultant. Oh, and they all have limits based on your income, so you'll want to double-check that on their pricing page.
This is a very simple app for social proof, and it doesn't have pop-up notifications at all. It does one thing and one thing only: adds a line on your product page showing how many other people are looking at the product. You can see something similar on eBay and other commerce sites with limited-quantity products.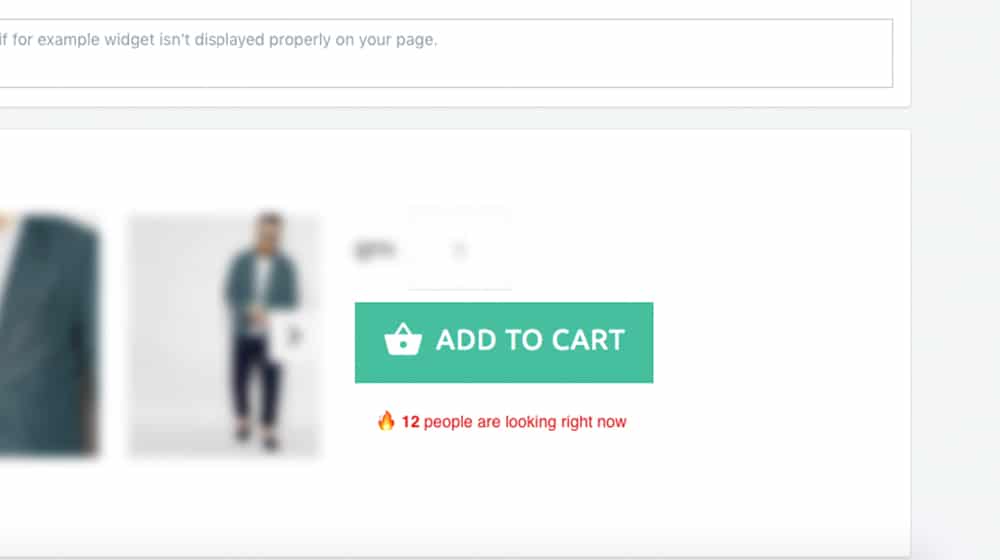 You can customize the display text, the minimum number it needs to display, a number to use to inflate the number and increase FOMO, and the time period before a visitor no longer counts as active. The whole thing costs you a flat $7 per month, easy peasy.
This platform has four different apps you can use.
Lead Generation, which is basically an exit ntent pop-over.
Social Proof, which is the FOMO-style notification boxes we've talked so much about.
Urgency, which adds other forms of social proof. This is focused on countdown timers in headers and pop-ups.
SMS Marketing, which allows you to manage an entirely new channel of text message marketing.
Pricing starts out free for up to 1,000 monthly impressions and gives you a dozen of their basic features.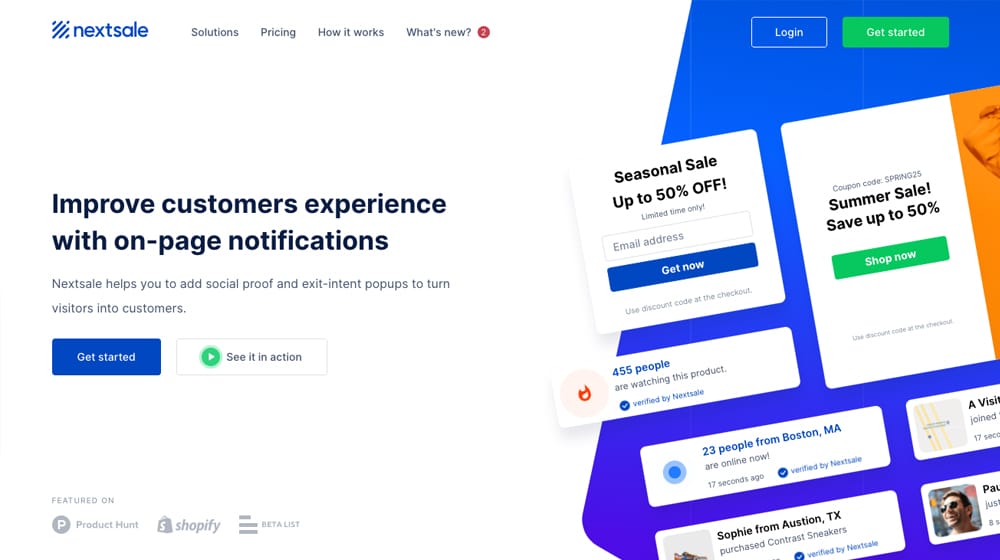 For more impressions, you'll need to scale up to a package at $29, $99, or $249 per month depending on how much you need.
This is another company that offers several related FOMO-based and commerce apps.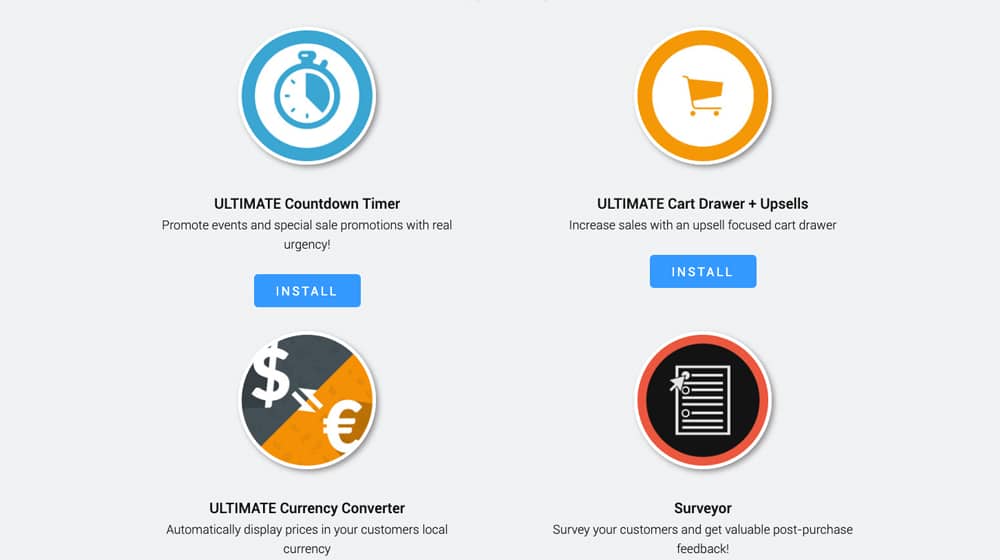 These are:
Ultimate Countdown Timer. This adds various forms of countdown timers to encourage FOMO and promote purchasing.
Ultimate Cart Drawer and Upsells. This app focuses on providing additional upsells to users who might be ready to purchase.
Ultimate Currency Converter. This app automatically adjusts the display prices for products in your store to match the currency of your visitor's geographic region.
Surveyor. This app delivers surveys to your customers to solicit feedback.
Ultimate Profit Master. When a user completes a purchase, this pops up with a box with a discounted, time-limited offer they can take advantage of to make another purchase.
Pricing for these varies, and you can use as many or as few of them as you want at once. Take a look at their site for more information.
This is another social proof app that adds the little notification box.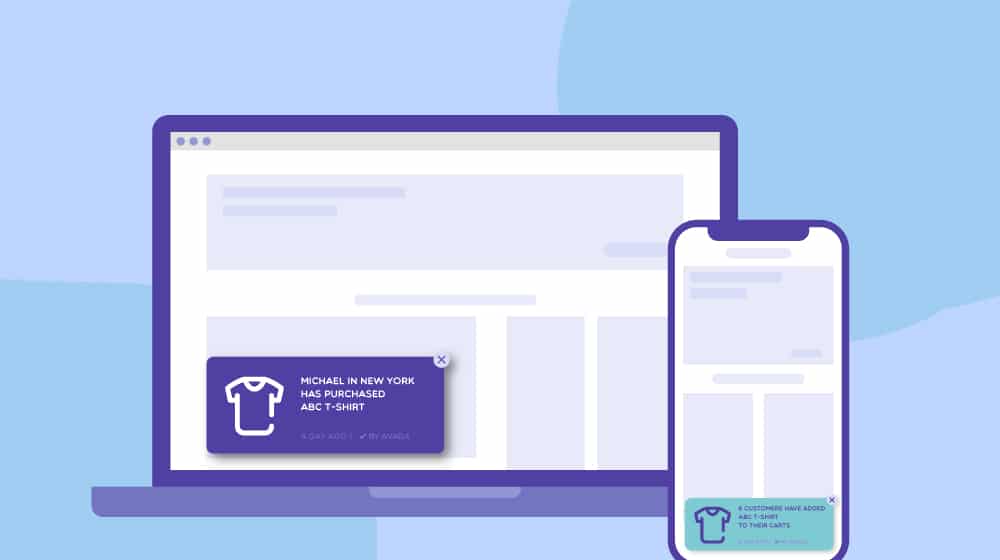 They have a middle of the road set of customization options, so it's not quite as simple as Cue, nor as complex as FOMO Social Proof. You can customize with sounds and animations as well, though you want to be careful not to annoy your users too much with unexpected audio. The best benefit of all, though, is that it's free to use.
This app from Hulk Apps is very simple. It's pretty much the same sort of app as FOMO Social Proof.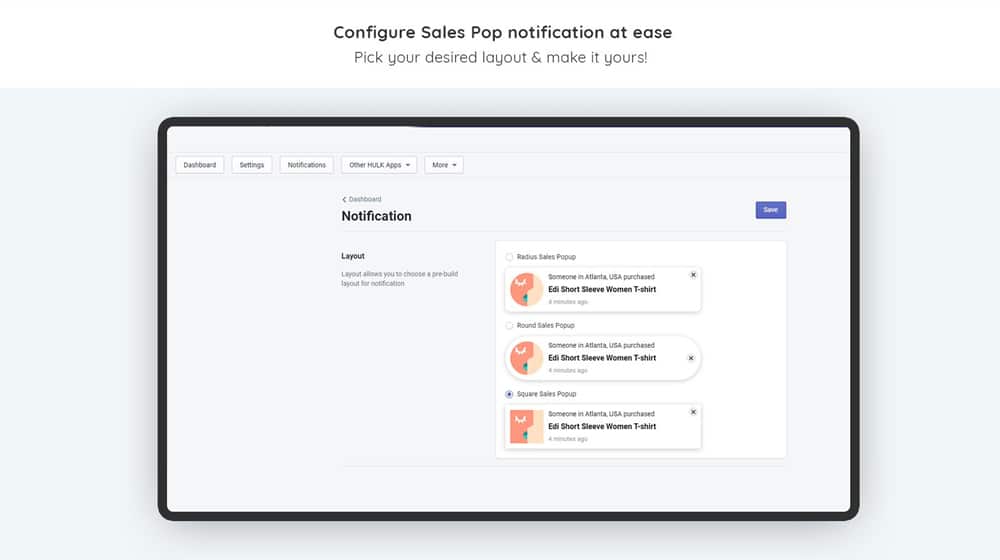 It has a similar range of options, a similar ability to customize it, and so on. The only thing it really lacks is all of the machine learning optimization features. That's fine, though, because the price reflects that reality; it's only $5 per month.
Last but not least on the list, this app is more or less the same as many of the above. It focuses on the notifications, but it focuses on recent sales more than other forms of notification. It does, however, have added features to promote upsells and cross-sells.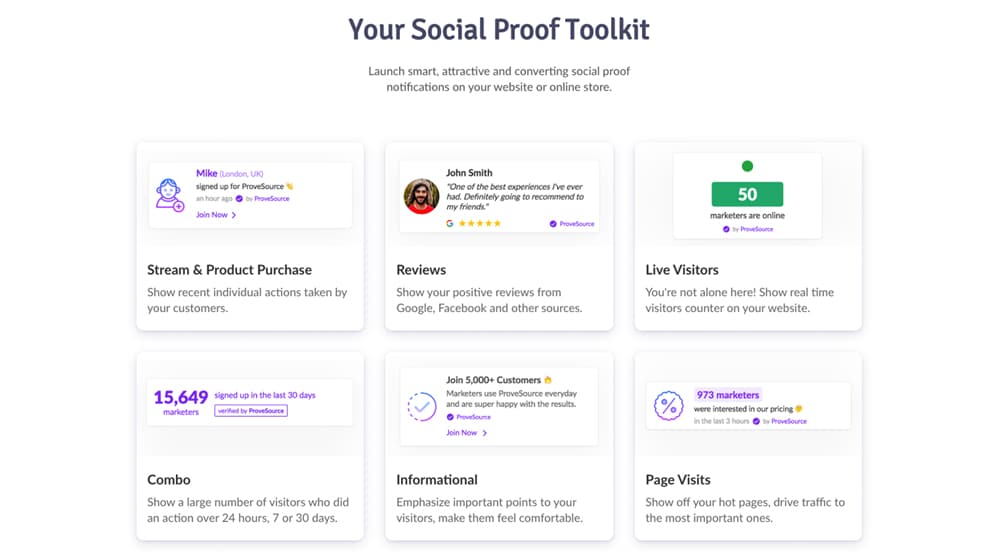 There are four plans here, based on monthly visitors. The free version works up to 1,000 monthly visitors, after which the cheapest plan is $21 per month, with an additional $9 per month fee if you want it white-labeled.
Which is your favorite FOMO app for Shopify? Is it one of these? Let me know in the comments.