Guide: How to Easily Add a Wishlist to Your Shopify Website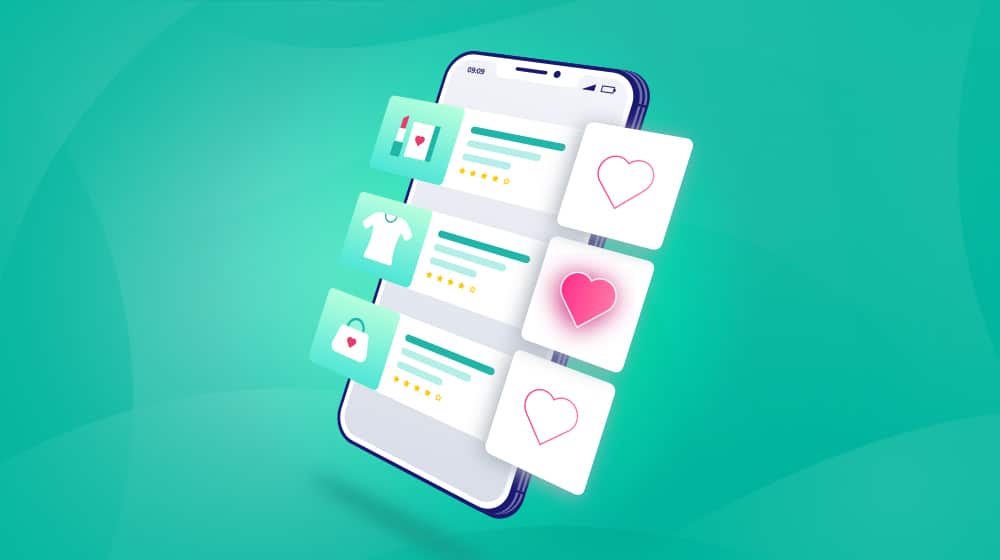 Wishlist functionality is a powerful tool for user engagement. It allows for several different use cases, all of which are very important.
When a user wants a product but that product is out of stock, they can add it to their wishlist. They can check back and be reminded of the product, to check when it's in stock. You might also be able to use a wishlist to notify them via email when the product is back in stock, so they can buy it when you have more available.
When a user is shopping for something, they can add an item to a wishlist that they don't currently intend to buy. They could do this for any number of reasons.
They want to make sure they get a product with the right specifications (and not a similar product) when they don't remember the specs later.
They want a product that is currently outside of their budget, but it may be within their budget in the future.
They want to build a list of products they will buy when they are on sale, but they don't want to buy at full price.
You might also have the ability to make wishlists public. When they're public, they can be shared with friends and family. Users might use this as a gift list for a birthday or Christmas, or they might use it as a wedding registry, so friends and family can shop for their special occasion.
All of these are ways that you can encourage engagement and returning visitors and customers. Users who are not customers can add items to their wishlist and return later to become customers. Customers can add items to their wishlists to become repeat customers. There are a lot of options for engaging users with wishlists as well, such as sending out messages to those with items coming back in stock or going on sale. They are powerful and effective.
You can also use wishlists for data harvesting. You can monitor what items are added to wishlists, and when those items are purchased. It helps you identify trends in product interest (and which products you should stock in greater quantities). You can also use it to monitor the effectiveness of wishlist-based email campaigns.
Just one question remains: how do you implement a wishlist? Luckily, you have options for Shopify stores.
Adding a Wishlist to Shopify
Unfortunately, Shopify does not have built-in wishlist functionality. To add it, you have two options.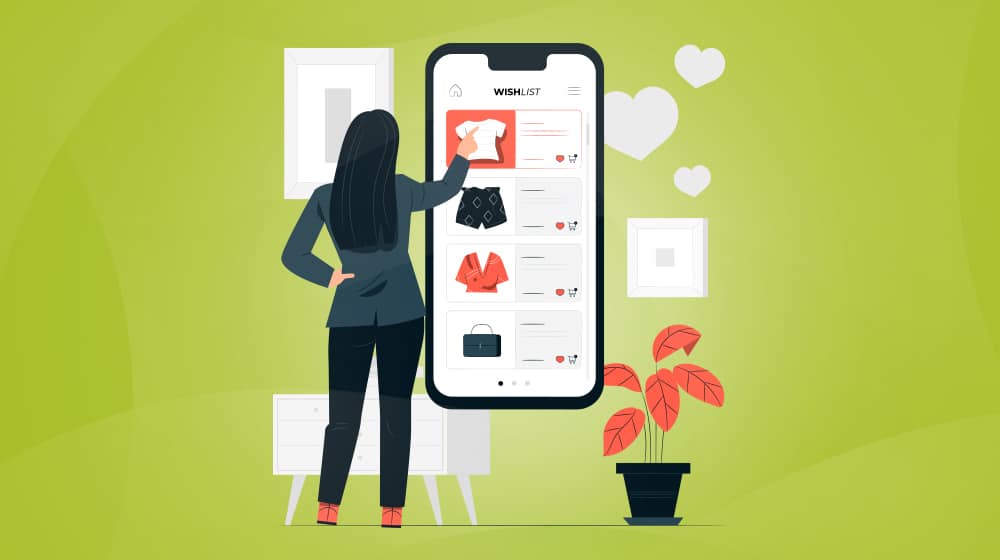 The first option is to implement custom code on your Shopify storefront. You can develop a wishlist functionality and implement it using Shopify's theme editor, or wrap it as an app and install it. Frankly, I feel that this is unnecessary because anything you could want to implement as a wishlist function is already available in some app somewhere. Because, yes, that's option two: adding a wishlist app.
There are dozens of Shopify apps with wishlist functionality, so that's what I'm going to list. Here are the apps you can use, as well as their pros and cons.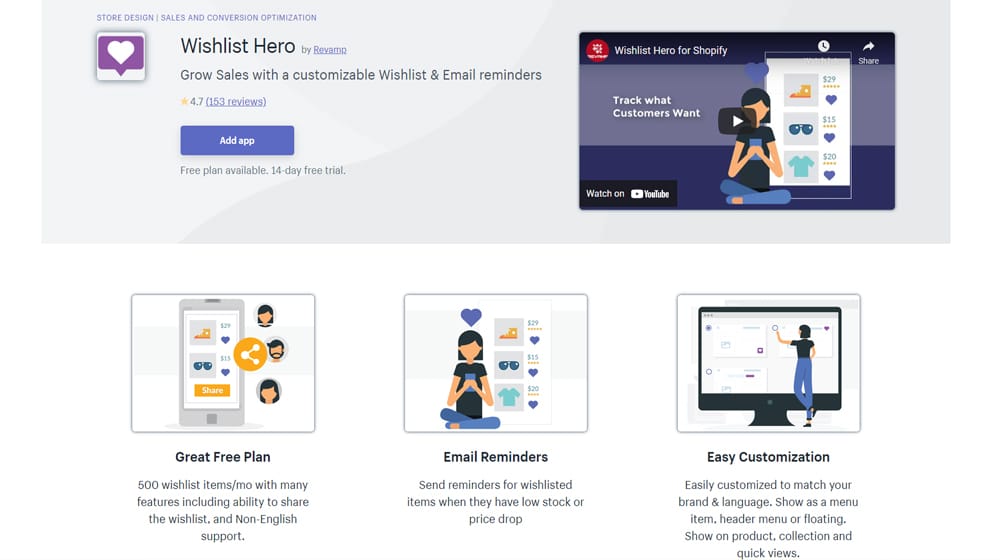 Developer: Revamp
Rating: 4.7 with 153 Reviews
Pricing: Paid
This is a fast and easy wishlist app with some slick animations and a nice graphical design. It's fast and responsive, it's integrated with your shopping cart system, and it allows guests to make wishlists. It also allows for email reminders for restocks. Unfortunately, the free version is limited in functionality, so you're encouraged to use a paid plan.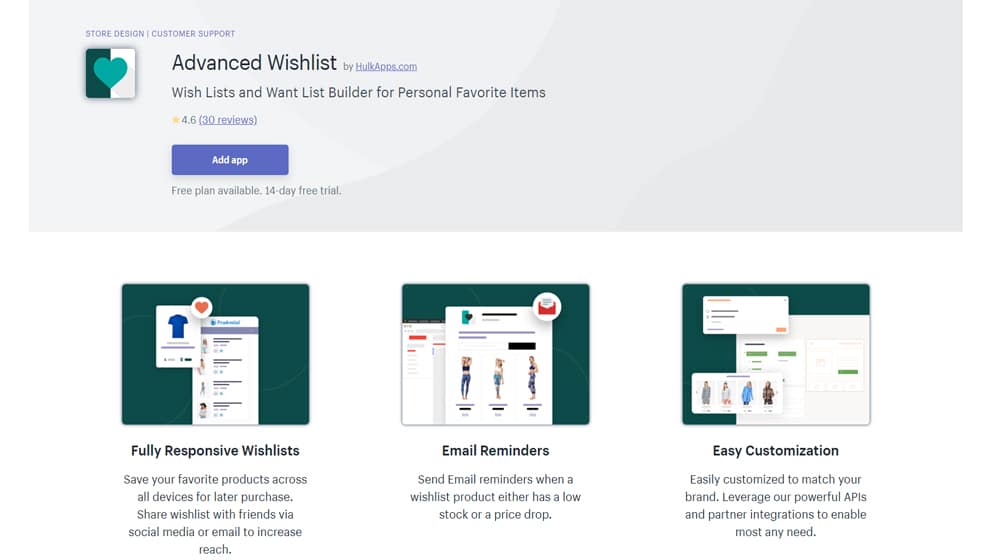 Developer: HulkApps.com
Rating: 4.6 with 30 Reviews
Pricing: Paid
This is a fairly basic wishlist app. It has the features you'd want from a wishlist, but it doesn't have more advanced features like customized emails. It works with any Shopify theme and it does allow public sharing of wishlists, which is nice. They're missing Google Analytics integration, unfortunately, and their free plan is extremely limited.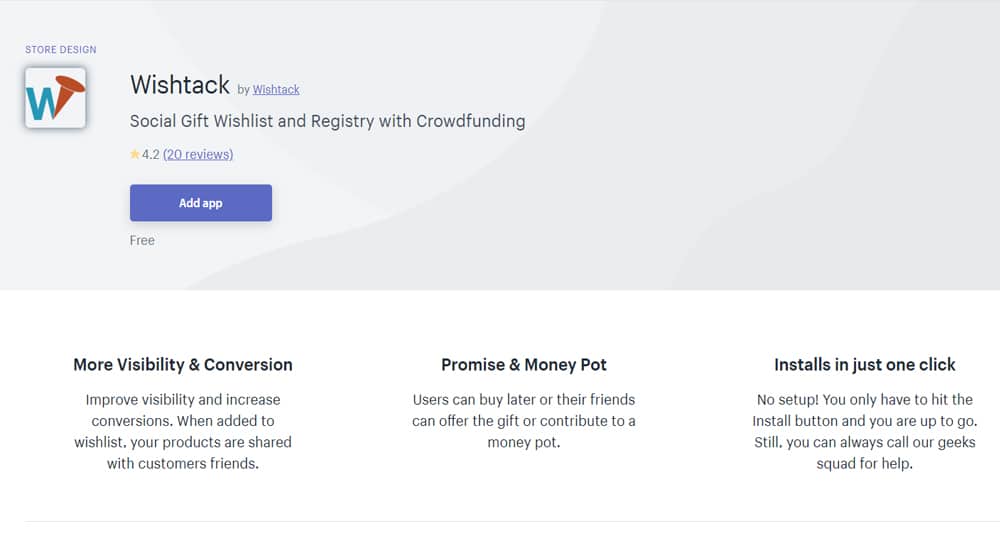 Developer: Wishtack
Rating:4.2 with 20 Reviews
Pricing: Free*
This is another fairly basic wishlist app with a few features you may or may not like. When a user adds an item to their wishlist, it can send notifications to their friends. They also have a "money pot" feature that allows users to crowdfund purchasing from your store. Unfortunately, that's about it; they don't have email integration or Google Analytics conversion tracking.
The asterisk by the price comes from a couple of reviews, which claim this app offers users the option to buy an item on Amazon instead of your store. If true, this app is terrible for your business, and they may add affiliate links to monetize those purchases as well. I haven't tested it myself, so if you have, please let me know.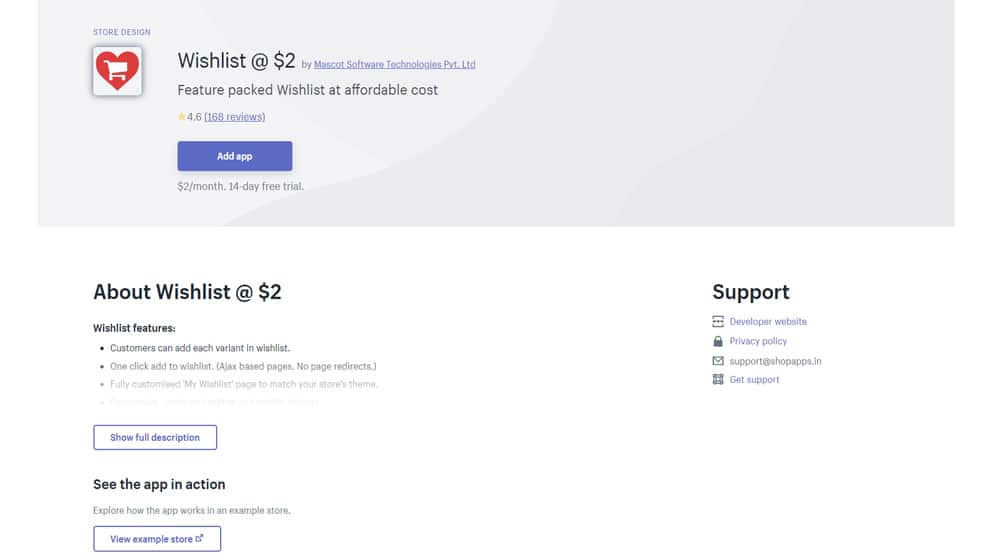 Developer: Mascot Software Technologies Pvt. Ltd
Rating: 4.6 with 168 Reviews
Pricing: Paid
Another basic wishlist app. They have guest wishlists, the option to show how many of a product has been added to wishlists as a kind of FOMO, product variant displays, and public wishlist sharing. They have decent analytics reports, daily report emails, and more. Email integration is not in yet, but they claim to be working on it. Pricing is $2 per month as a flat fee regardless of usage, making it one of the more reasonable paid options.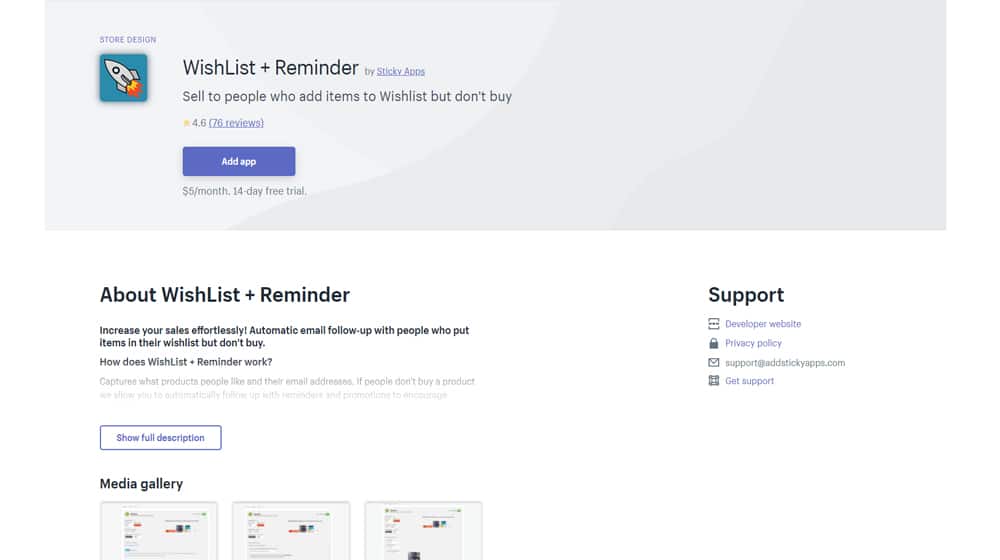 Developer: Sticky Apps
Rating:4.6 with 76 Reviews
Pricing: Paid
This is a wishlist app focused on the remarketing and notification side of things. As such, it does not do guest wishlists, and there's no mention of being able to share wishlists on social media or via email. They do integrate email notifications for restocks and sales, and you can customize their email system. Pricing is a flat fee of $5 per month for all of their features. Unfortunately, some reviews claim that the app does not work on mobile versions of sites, which may be a deal-breaker.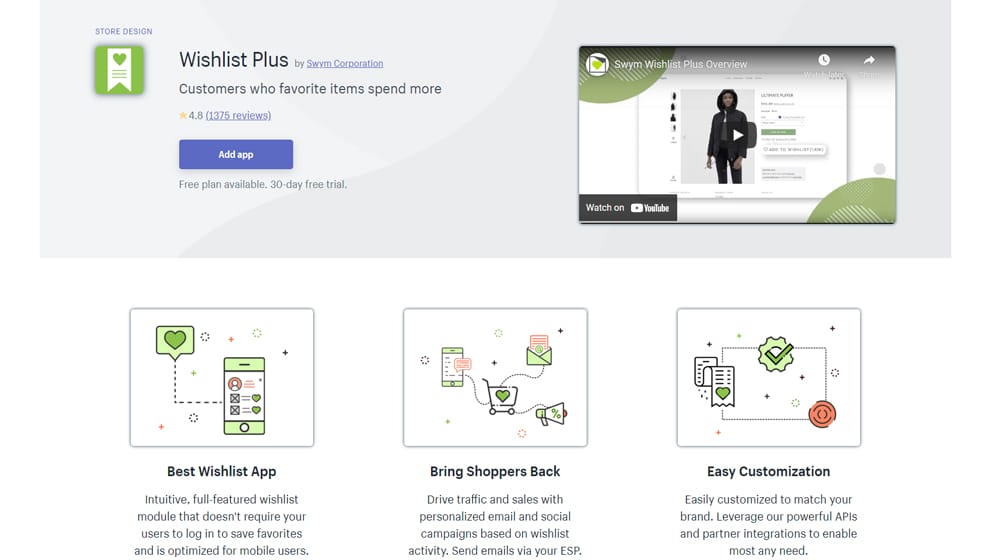 Developer: Swym Corporation
Rating: 4.8 with 1,374 Reviews
Pricing: Paid
This is by far one of the most popular wishlist apps on Shopify, with orders of magnitude more installs and reviews than most others. Only a couple of others come close. It has public wishlist sharing. It has guest wishlists. It has social proof and FOMO. It sends contextual emails, both with the sale and restock notifications and with "low stock" emails to get people to order before your inventory is gone. Email campaigns can be customized, and they integrate with many of the more popular email management Shopify apps as well. Unfortunately, pricing is fairly steep, starting at a limited plan for $15 per month, and scaling up from there.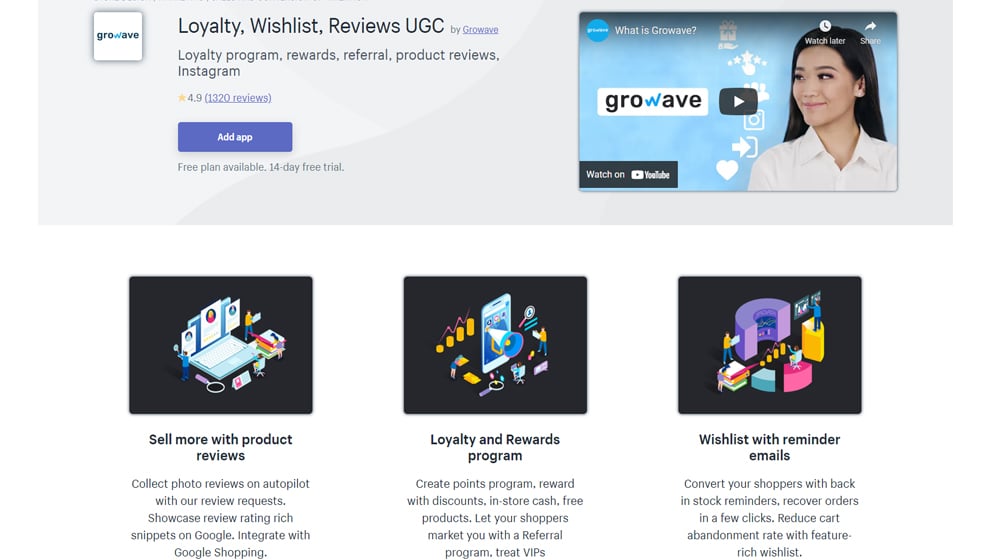 Is your blog earning you business? If not,
let's fix that.
We create blog content that converts - not just for ourselves, but for our clients, too.
We pick blog topics like hedge funds pick stocks. Then, we create articles that are 10x better to earn the top spot.
Content marketing has two ingredients - content and marketing. We've earned our black belts in both.
If you run an internet-based business and are looking to scale, schedule a call to speak with our founder:
Developer: Growave
Rating: 4.9 with 1,318 Reviews
Pricing: Paid
One of the most popular Shopify wishlist apps on the app store, this one has a lot of additional features and is not just a wishlist app. Wishlist functionality is core, but it also handles a loyalty program with gift card options, a referral program, review solicitation, user-generated content, and more. It's all integrated into the app and you can incentivize wishlist adds and purchases through additional loyalty points and other tricks. Pricing starts at $19 per month for their lowest plan, and they now have a 14 day free trial that you take advantage of to try before you buy.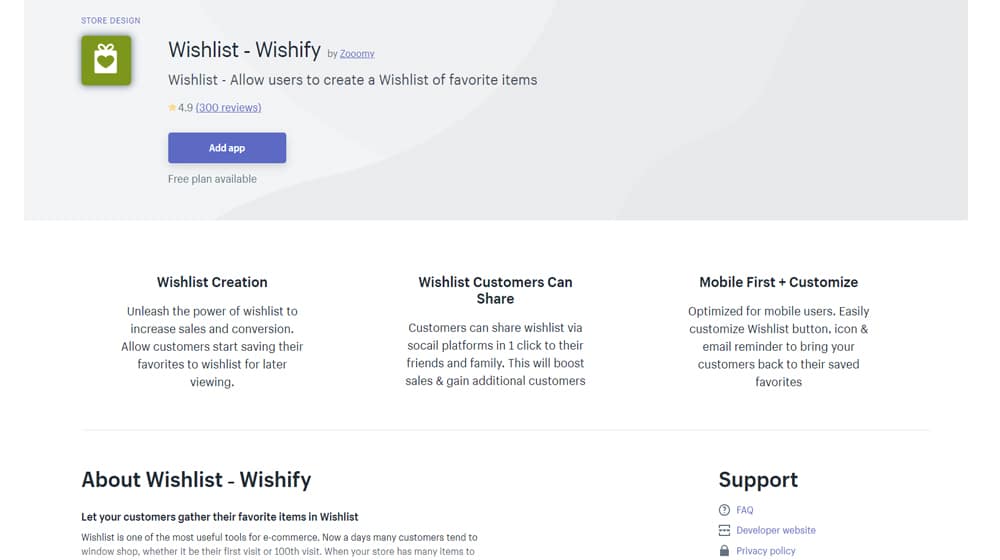 Developer: Zooomy
Rating: 4.9 with 299 Reviews
Pricing: Paid
You know the drill by now. This wishlist app offers guest wishlists, public wishlist sharing, integrated cart checkouts, and customization. However, it does not have email integration, and it doesn't seem to work with websites that have an infinite scroll or lazy loading for their product collection pages. Depending on your site design, this might be a deal-breaker. Pricing starts at $6 per month.
Wishlist Pro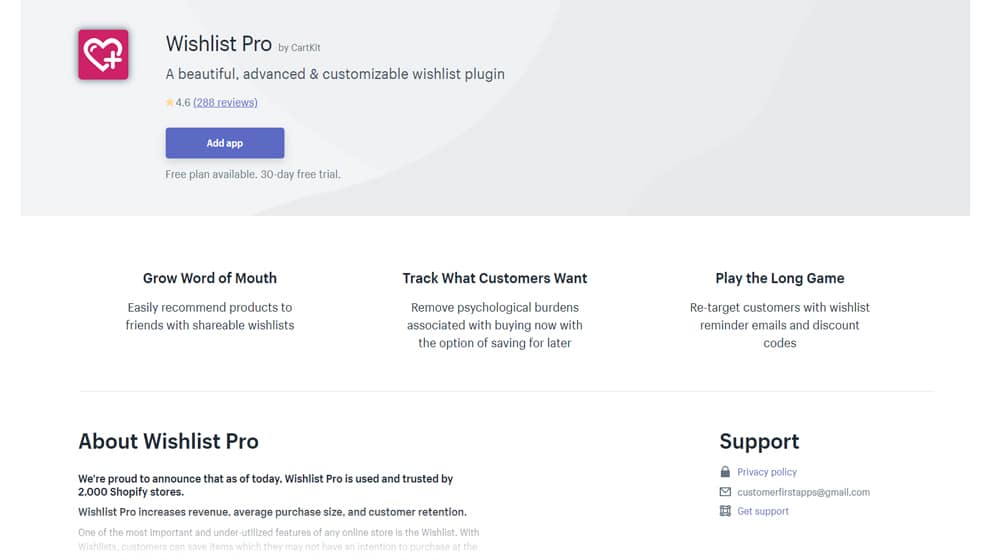 Developer: CartKit
Rating: 4.6 with 288 Reviews
Pricing: Paid
This app is used by thousands of stores on Shopify and has most of the basic features you want out of a wishlist app. Public wishlist sharing, internal analytics, guest wishlists, and custom styling are all included. Email notifications are not. Pricing is $24 per month, with a free trial that has a steep limitation of only 100 wishlist items per month.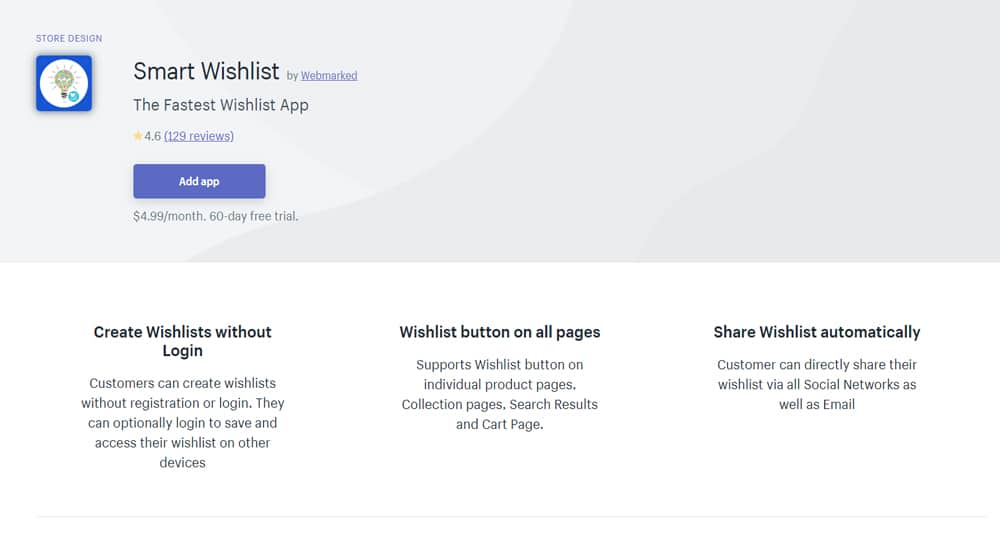 Developer: Webmarked
Rating: 4.6 with 128 Reviews
Pricing: Paid
Simple features included, such as guest wishlists, unlimited wishlists, wishlists on collections, products, and even search results pages. They even offer an API for accessing wishlist data if you want to do anything with it. They do not appear to handle email notifications, however. Pricing is $5 per month, and they have a 60-day free trial, which is among the longest in the business. It also claims to be the "fastest wishlist app" - I wasn't able to verify that, as running speed tests on shopping carts wasn't on my mind, but it's something to consider when testing.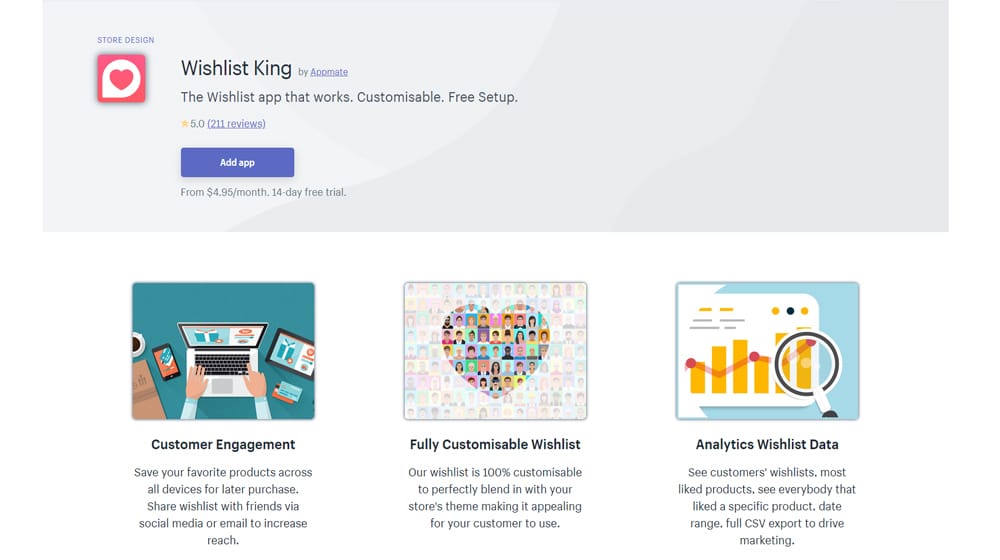 Developer: Appmate
Rating: 5.0 with 211 Reviews
Pricing: Paid
Customizable wishlists, public wishlist sharing, and integration with Google Analytics for conversion tracking are all included. Guest wishlists are allowed, but accounts can be made mandatory. They have several good integrations, and pricing starts at $5 per month but scales depending on the package of Shopify you use; Shopify Plus stores require the $50 per month plan, for example.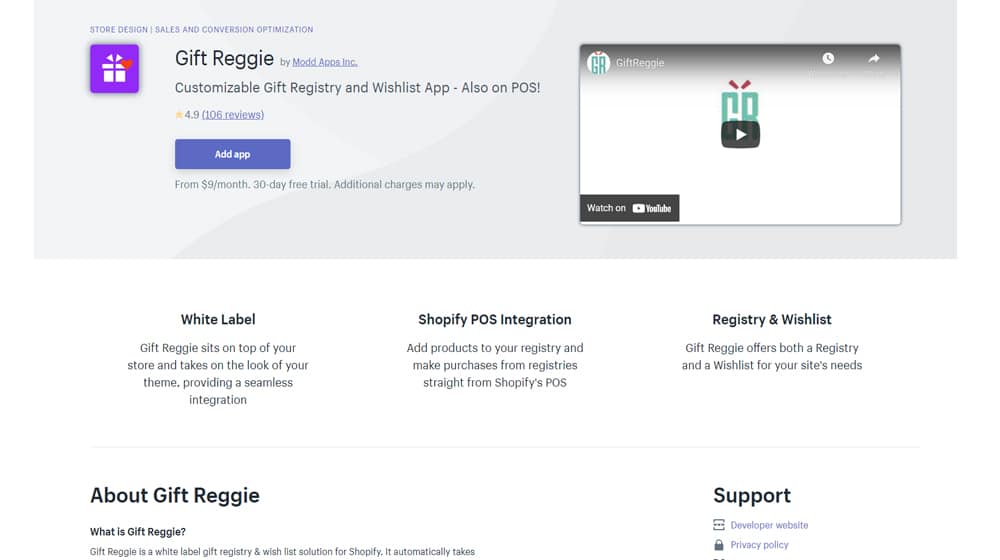 Developer: Modd Apps Inc.
Rating: 4.9 with 106 Reviews
Pricing: Paid
A fairly basic wishlist app. They have registry support, importing and exporting, and social sharing, but no email integration, notifications, or personalization. Overall, it's an okay app, but there are many better apps on the list. Pricing starts at $9 per month with additional charges per number of active wishlists.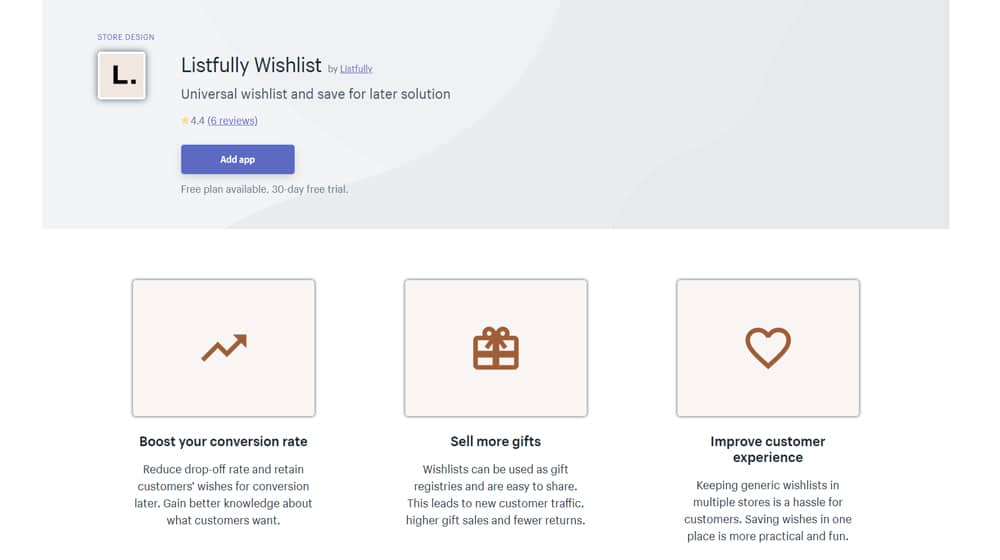 Developer: Listfully
Rating: 4.4 with 6 Reviews
Pricing: Paid
This is a very basic wishlist app with public wishlist functionality and gift registry functions, to avoid duplicate purchases. Otherwise, it doesn't offer much; no emails, no guest lists, not much customization. Pricing is $13 per month with a very limited free plan available.
Lower-Tier Apps
This last section is for a few apps that came up in my research, but which I don't think I would recommend. Generally, to fit in the first section, an app needs to have over a 4.0 rating and over 20 reviews. Anything less, and the app is probably too small to have an accurate impression. The apps listed below are either low-rated or don't have enough reviews for me to consider their rating accurate. You can feel free to investigate them on your own, though!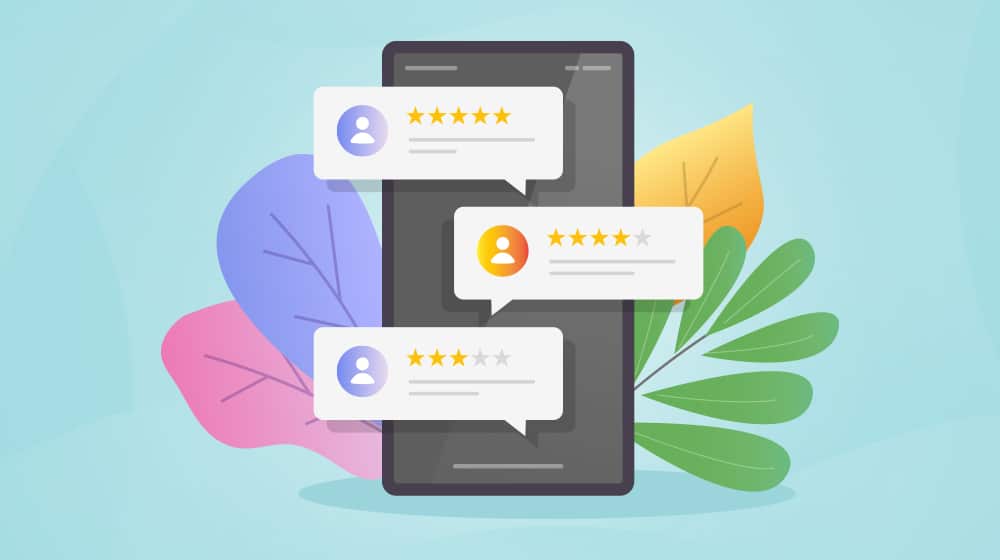 These apps are on the lower list because they have very few reviews, though they may be perfectly good apps for your purposes:
I highly encourage you to check them out and see if they're good, or if they're just another wishlist app with nothing unique to set them apart. You can feel free to leave a review in my comments, but you might also wish to leave a review on Shopify to help out the apps as well.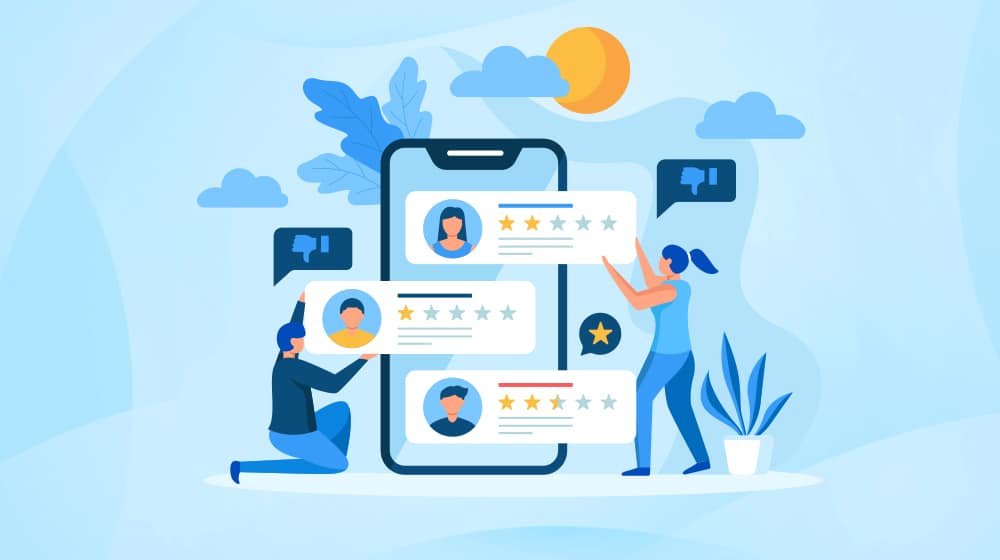 The second list here is a collection of wishlist apps that I've seen mentioned in various places, but which have either poor reviews or concerning issues. I've skimmed the reviews and summarized my experiences here to give you a brief reason why each one made this list:
If you decide to test these, make sure to start with a free trial and carefully debug it before buying. Read the reviews to see what breaks (if anything) and check your website to see if it messes with your Shopify store.
Updated: Removed From The Shopify Store
Over time, some apps get removed from the Shopify store for some reason or another. We've seen with these specific apps that they are frequently removed and renamed to something else on the Shopify store to get rid of their negative reviews and start fresh.
This behavior is alarming. In the case of Wishlist Pro, this is the 4th time they've removed the app and re-added it to the store at the time of writing. For Ultimate Wishlist, this is the third time that they've deleted their app and re-added it. You can look at the URL of each app to verify this. It appears that this is done solely to scrub their negative reviews and start with a clean slate.
Here are those apps - proceed with caution:
Wishlist PRO: This app has numerous problems. This app seems to add self-promotion to your site and doesn't entirely remove itself when you uninstall it. In my opinion, this is practically malware. It doesn't help that it has the same name as a better app on the list up above.

Wishl Favorites: The developer was Golden Rule Ventures, and the app had a 5.0 rating on the Shopify store with 59 Reviews. This plugin was a rather well-rated wishlist app in the field of well-rated wishlist apps. This app used cookies to store wishlists for up to 90 days for guests and accounts for long-term Wishlisting. It let users share wishlists, had a responsive design, and allowed users to add notes to wishlist items. It also handled email reminders with customized templates. Pricing started at $10 per month.
I'm essentially just listing these apps in case someone tells me I forgot one on the list. So, here they are! They're not on the main list for a reason.
Incidentally, if you have another wishlist app that I haven't covered, feel free to let me know. If it's well-reviewed and widespread enough, I'll add it to the list! Let me know in the comments below.