What Are The Best Shopify Affiliate, Referral, and Loyalty Apps?
There are a lot of different ways you can encourage customers to engage with your site. You have social media, contests, and all manner of engagement tricks. With Shopify, you also have a range of apps to set your site up with customer referral, affiliate, and loyalty programs.
What's the Difference Between Affiliate, Referral, and Loyalty Apps?
The first thing you should be asking is, "what's the difference?" While all three categories of apps give you similar programs, they all serve slightly different purposes.
An affiliate program encourages people – not necessarily customers – to advertise your site for you to bring in customers. The people who sign up for your affiliate program might not have ever purchased from your store. Their focus is on recommending your product or service and getting their audience to click through and shop at your store. You reward the affiliate with a commission on successful purchases they refer to you, but the referred customer may or may not have any benefit from the transaction. You might offer the affiliate a coupon they can give to their customers, but that's usually about it.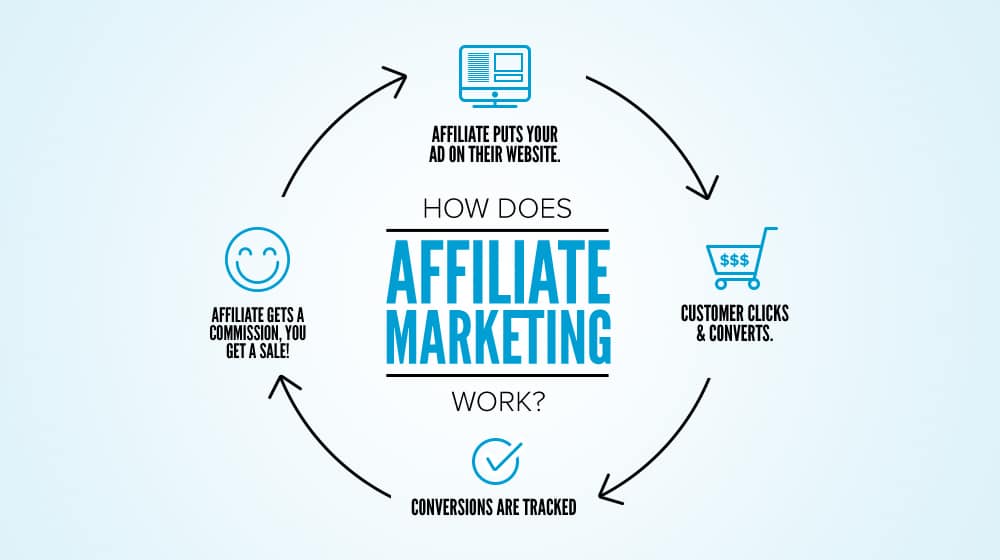 The downside of an affiliate program is that it's less organic. Moreover, since you have little control over who is marketing for you via your affiliate links, you don't get to review their credibility or the quality of their marketing. The best you can do is either set up a high barrier to entry or revoke affiliate status for low-quality marketing, both of which require quite a bit of work.
A referral program encourages existing customers to refer other people to your store. Typically, you reward the referrer with something, whether it's a discount, free products, or even just gamified points and ranking in your program. You may also reward the referred new customers with new customer discounts, free small products, free months of service, or other value.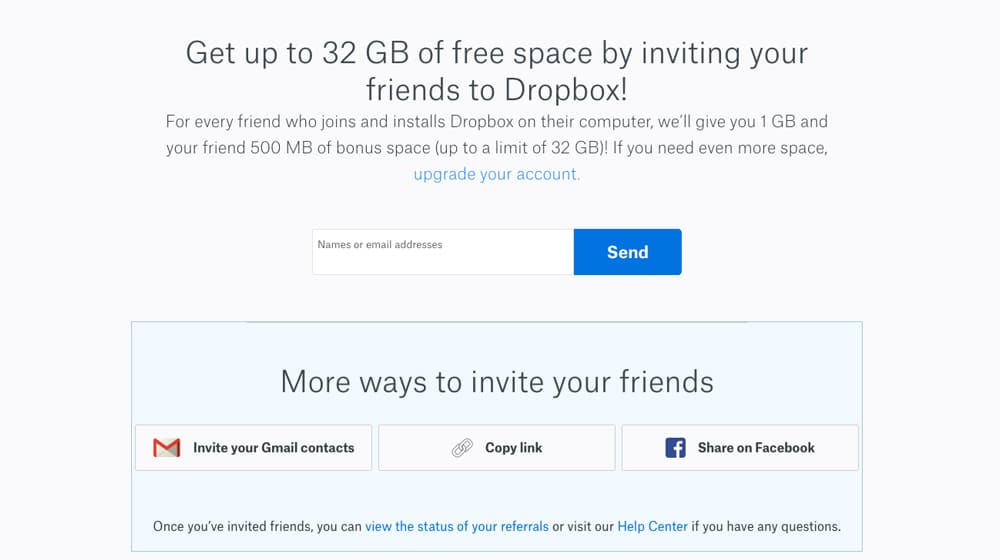 Referral programs have the benefit of being primarily social and natural, as customers recommend you to their friends and family more than to strangers via a blog. Unfortunately, the conversion rate on these kinds of referrals tends to be low, depending on the user's social circles.
A loyalty program rewards existing users but does not necessarily have anything to do with referrals. It rewards existing customers for engaging more with your brand, making more purchases, spending more money, and otherwise remaining loyal to your brand. This system could involve discounts, coupons, free products, branded swag, or even something as relatively meaningless as achievements and points.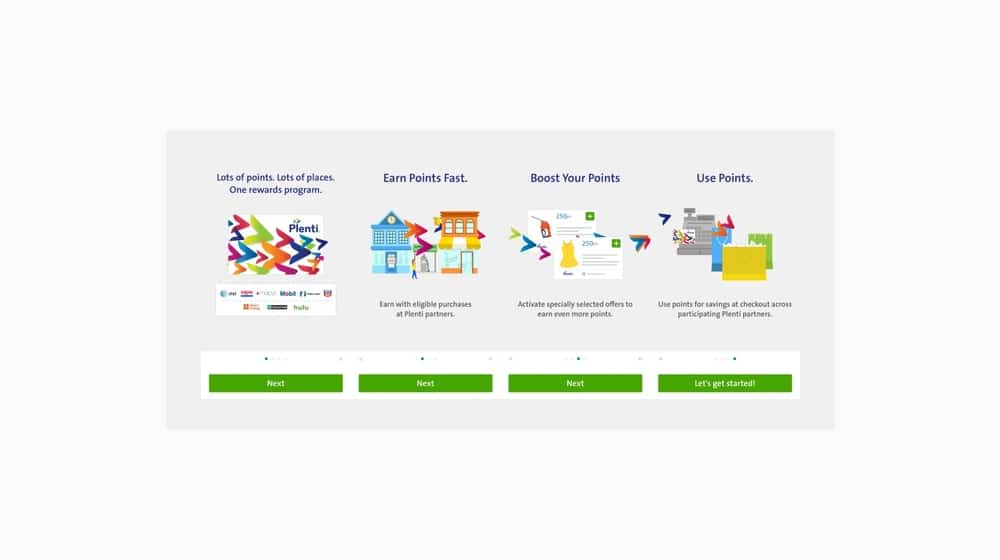 Loyalty programs can be effective at getting existing customers to spend more money or engage more with your brand, but they don't do much to incentivize new customers to convert. They also have to be suitably compelling, or else they won't be very effective.
All three types of programs are available as Shopify apps. They all serve similar purposes: to get more users more engaged with your brand and your store. Overall, this can increase every metric that matters: number of customers, average cart size, overall sales, profits, and so on.
Why Should You Use These Apps?
Simple: they make your store more profitable. An affiliate program can create brand advocates and even encourage popular bloggers to recommend your product. A referral program can reward existing customers for their work in getting friends and family to sign up or make purchases of their own. A loyalty program can help deepen your connection – and your profits – with your existing customers.
Can you use two or all three of them at once? Certainly! They fill slightly different roles, operate through different channels, and target different people within your audience. The only risk with using two or all three at once is giving specific power users enough value that you lose money on the deal. If it incentivizes enough other sales, however, there's nothing too wrong with that. Every brand has its loss leaders, after all.
The Best Affiliate Program Apps for Shopify
There are dozens of different affiliate program apps you can use for Shopify. I'm not going to try to cover them all. Instead, here are four I can recommend based on their popularity, reviews, and my impressions of them.
One of the most robust affiliate apps out there, Secomapp is extremely customizable. It allows you to build affiliate teams and communicate with them directly, as well as offering different affiliate programs and tiers of commissions simultaneously. You can set individual commission rates for specific products to incentivize them during sales or marketing drives. On top of that, you can advertise your affiliate program through their marketplace and allow affiliates to refer other affiliates via a multi-level marketing strategy. I'm not one to endorse MLMs, but they can be useful on a small scale.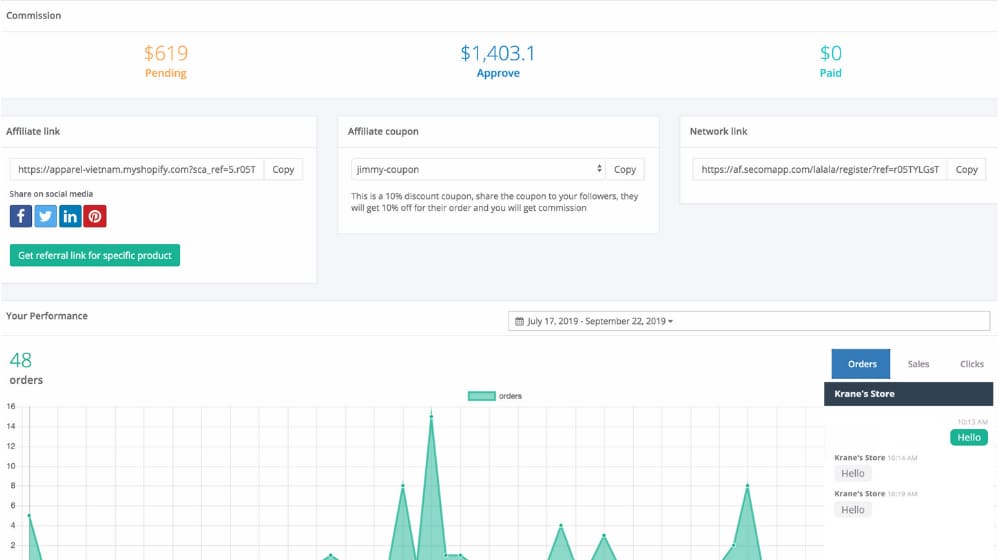 Secomapp has a free plan with a cap on the number of affiliate orders it will process per month. Paid plans start at $20 per month and increase this cap, up to the $100 per month plan with unlimited orders.
GoAffPro
GoAffPro is another program with extreme customization options. You can customize affiliate commissions by the tier, by the product, and even by the affiliate. You can also use this app to create coupons and other incentives for affiliates to use. It has PayPal integration to allow you to pay out to your affiliates via that processor, for ease of use.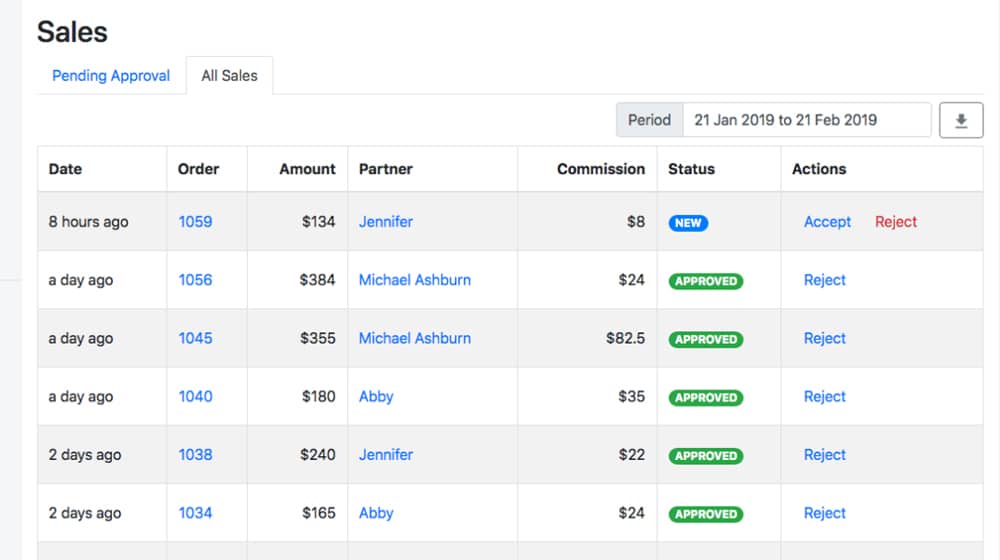 Their free plan allows unlimited affiliates and unlimited orders, along with a branded affiliate portal. The paid plan, at $24 per month, offers bulk email functionality and multi-level marketing referrals similar to Secomapp's.
Refersion calls itself the #1 affiliate marketing app on Shopify. Is that true? That's up to you. In addition to affiliate marketing features, Refersion offers influencer marketing with a built-in membership of affiliate marketers who can sign up and use your program immediately.
Other than their existing membership, Refersion doesn't have many features other affiliate apps don't have too. They're also quite costly: two paid plans run either $89 or $249 per month, and the cheaper plan has a limit of only 130 conversions per month. Frankly, the expense is only worthwhile if you can take advantage of their influencer marketing for fast, guaranteed returns.
This is one of the less complex affiliate marketing apps you can use for Shopify. It has less customization and less flexibility in affiliate commissions. Altogether, this means it tends to be best for companies that sell a small catalog of products or single services. On the plus side, it does not cap you based on sales per month. Instead, it has a cap on the number of affiliates you can have in your system.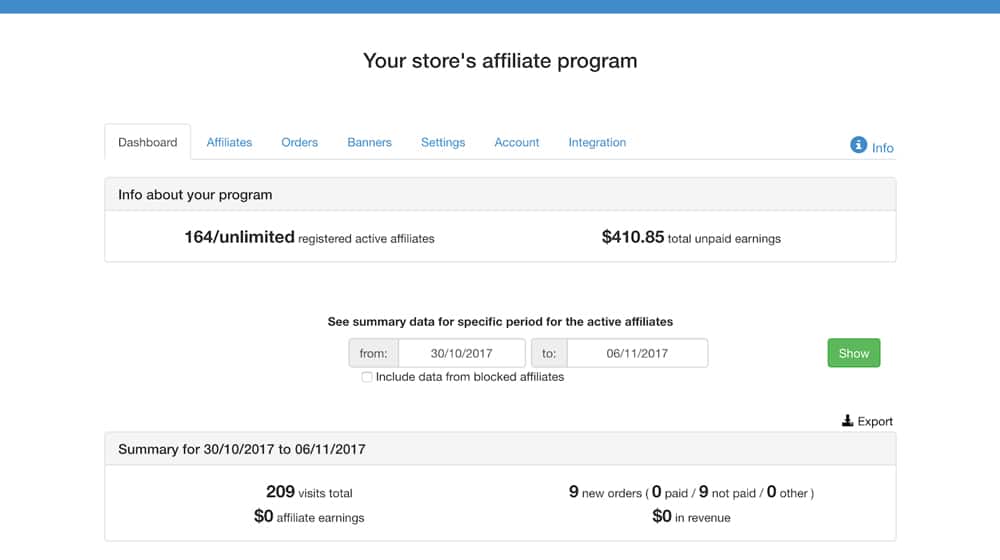 The starter plan, at $16 per month, has a cap of 50 affiliates. For $24 per month, that number increases to 200. $59 per month gets you up to 1,000, and the uncapped, unlimited plan is $129 per month. Otherwise, there are no changes between tiers; all features are enabled, and there are no other restrictions.
The Best Referral Program Apps for Shopify
While affiliate programs are great if you want to work with individual marketers who run affiliate blogs, sometimes the best source of new customers is your existing customers. A referral program allows you to incentivize existing customers to refer their friends and family. It can also work as a blog-based marketing strategy, but this tends to be less effective than affiliate programs. That said, here are several options for referral programs you can use on a Shopify store.
With an average rating of 4.9 out of 5 and over 1,000 reviews, Referral Candy is among the best-reviewed apps for Shopify. It tops almost every list of referral apps, and with good reason. You can completely customize the look and feel of your referral pages, track referrals and sales with built-in analytics, and reward your referrers with a wide range of different incentives.
Is your blog earning you business? If not,
let's fix that.
We create blog content that converts - not just for ourselves, but for our clients, too.
We pick blog topics like hedge funds pick stocks. Then, we create articles that are 10x better to earn the top spot.
Content marketing has two ingredients - content and marketing. We've earned our black belts in both.
If you run an internet-based business and are looking to scale, schedule a call to speak with our founder: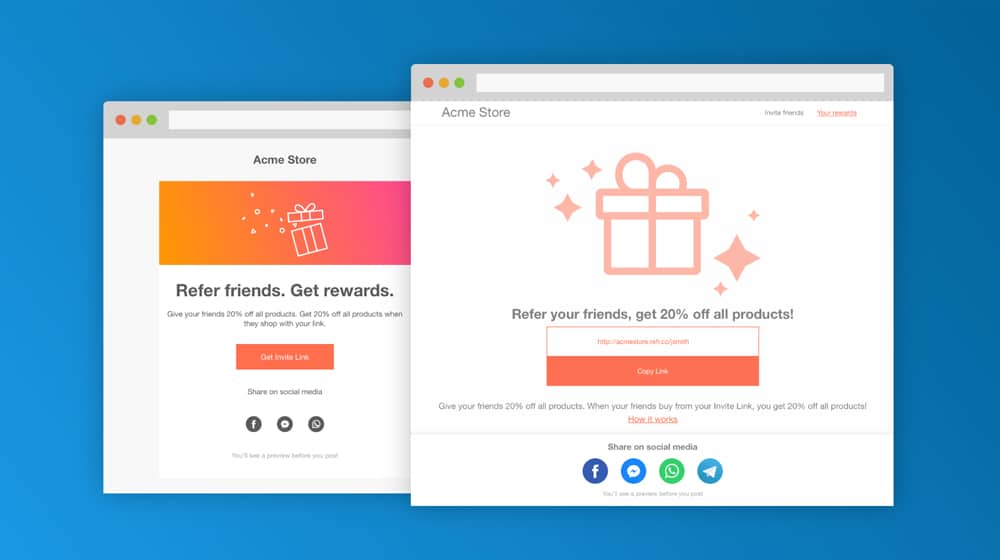 Unfortunately, Referral Candy does not have a free plan. You can use their paid plan for free for 30 days, after which you will have to pay the regular monthly fee. The basic paid plan is $49 per month, plus a commission fee based on the revenue you earn. This commission fee varies depending on the level of earnings, and they provide a calculator here. If you don't like the commission structure, you can pay for the enterprise version, but it's unlikely to be worthwhile for most of you since it costs $4,000 per month. At least it gets you priority support?
Smile has slightly lower average reviews than Referral Candy, at 4.7 out of 5, but they have nearly four times as many reviews, so that's not a surprise. Smile, powered by Smile.io, is a retention and referral program app. It allows you to use pop-ups, a points system, time-limited incentives, and other tricks to encourage people to refer their friends and family.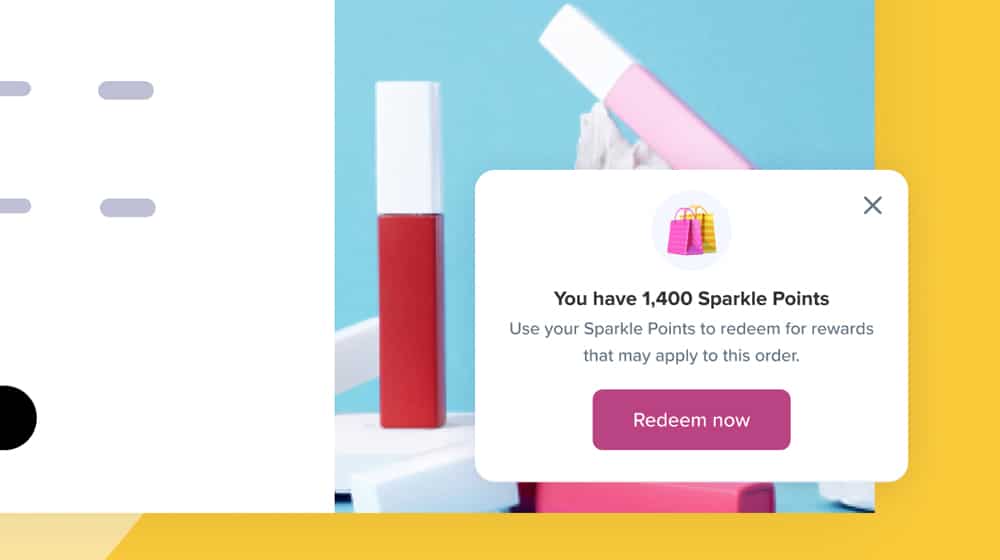 As such, Smile is sort of a hybrid between a referral program and a loyalty program. The points system works like a loyalty program, encouraging more in-depth engagement with your store.
Smile offers a free program with limited customization options and Smile.io branding. For white-label service, you have to choose a paid plan. The cheapest plan starts at $50 per month and gives you additional customization options. $200 per month gets you on-site pop-ups and expiring points, while $600 per month gets you a VIP program and access to advanced success tips from Smile themselves.
Conjured is a referral program built for quick setup and a set-and-forget administration style. You choose what you want your incentive to be, and the system handles distribution entirely in the background.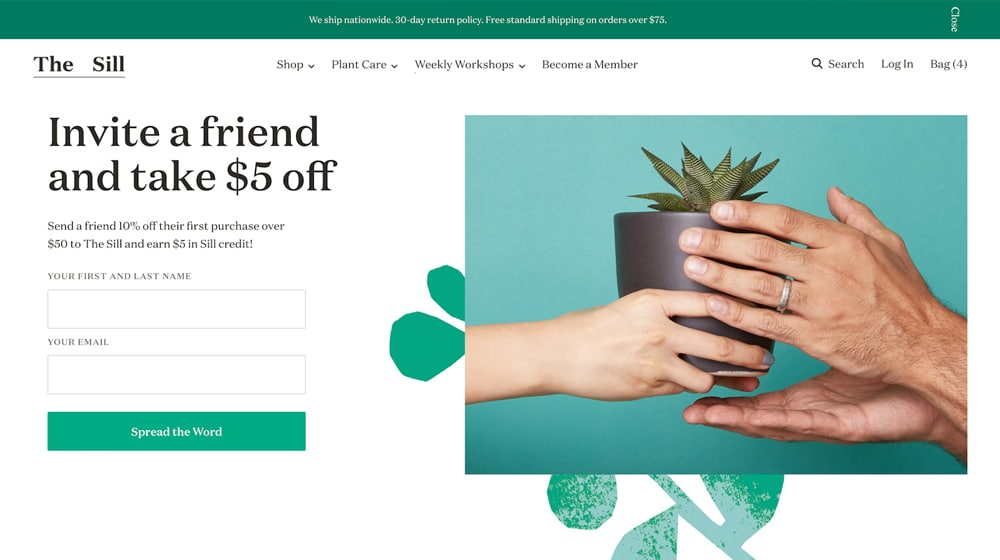 Advanced features for the app allow you to run an almost affiliate-like program, the ability to block referrals sent to existing customers, and the ability to display the number of successful referrals a referrer has made.
Pricing comes in four plans: $30, $100, $300, and $1,000 per month. They all offer unlimited referrals but have caps on the referred revenue they process. The top two plans are unlimited revenue, and the enterprise plan also offers custom features upon request.
Gratisfaction is a referral app with a bunch of additional features meant to attract referrers and customers. For example, it also has a loyalty program, birthday incentives, giveaways, instant win wheels, and an Etsy rewards program.
They offer a free version of the app, which allows access to all of their features, but caps you at 100 referrers. Their paid plans start at $20 per month, which bumps the cap to 500 users and gives you their instant win app as well. Additional payment options increase that number until you reach an unlimited plan, which costs $400 per month.
The Best Loyalty Program Apps for Shopify
Loyalty programs can be incredibly valuable in the modern world, where there are millions of online shops selling pretty much everything. Ensuring that your customers have added incentives to shop with you and keep them coming back time and time again can be invaluable.
Growave is another excellent app for loyalty and rewards for your Shopify store. It has many great features such as customer reviews, wishlists, social login, and Instagram in a single app. It's convenient to have these advanced features under a single dashboard.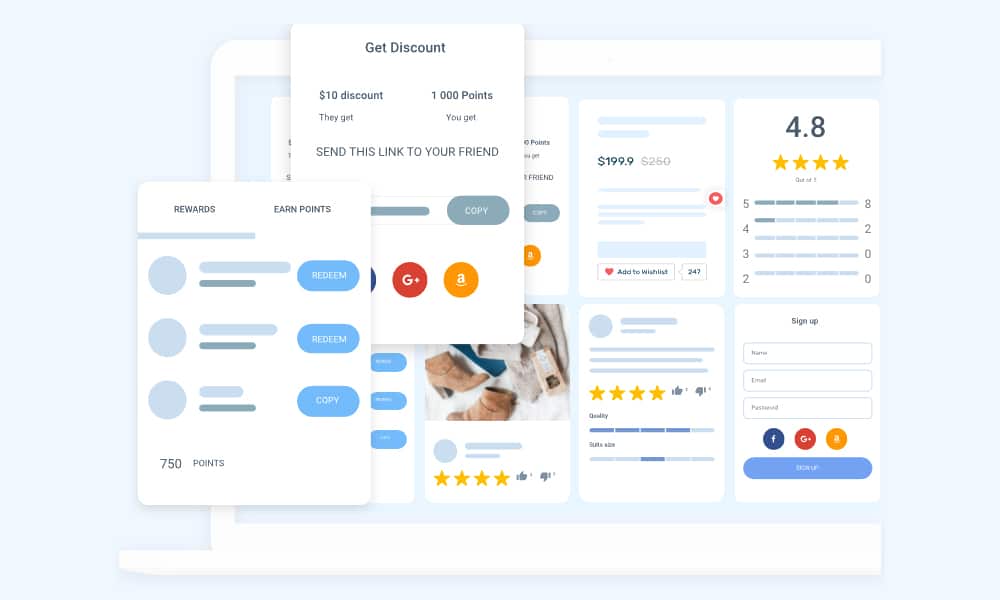 Their loyalty and rewards program is points-based. However, it also includes VIP tiers, referral programs, free products, boosted campaigns, and gift cards. It also drives re-engagement by encouraging users to join the loyalty program, redeem points, and use available rewards via emails.
Pricing again depends on the number of monthly store orders. Growave offers a 14-day free trial for regular plans and a 30-day trial for Enterprise plans. The lowest Starter plan is $19/month for stores under 100 monthly customer purchases. Their large Enterprise plan costs $299/month for up to 3,500 orders. If your store has a higher volume of orders per month, you can get a quote from the Growave team to find a suitable pricing plan.
Swell is a Yotpo company, meaning if you use any other Yotpo app – like their reviews app or their SMS marketing tool – you can integrate them seamlessly. Swell allows you to pick from among 15 different actions a user can take to reward them with loyalty points. These actions include referrals, spending more money, writing reviews, creating an account, and more.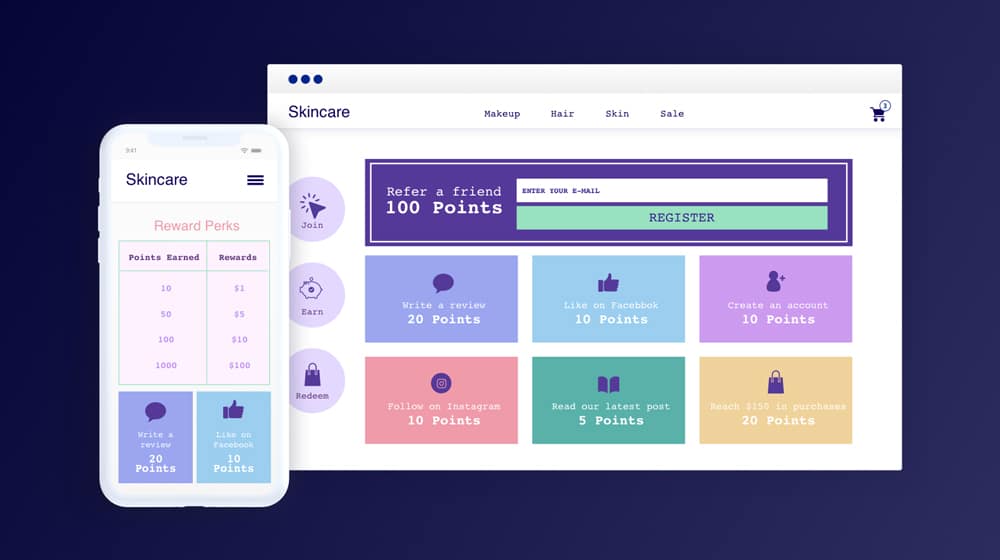 Swell is free to install, and pricing depends on the number of orders your store processes. Once you exceed 100 orders per month, they ask you to upgrade to a plan that costs $30 per month, plus 35 cents per order after 200 orders. The top-tier plan costs $250 per month, but only charges you 20 cents per order, after 800 orders per month.
S Loyalty is a combination of loyalty and referral apps, with a focus on loyalty rewards. Loyalty rewards include the ability to pay for orders with points, redeem points for free shipping, and for fixed or percentile discounts. You can also run double or triple points campaigns. Additionally, S Loyalty integrates with Referral Candy to run referral loyalty programs.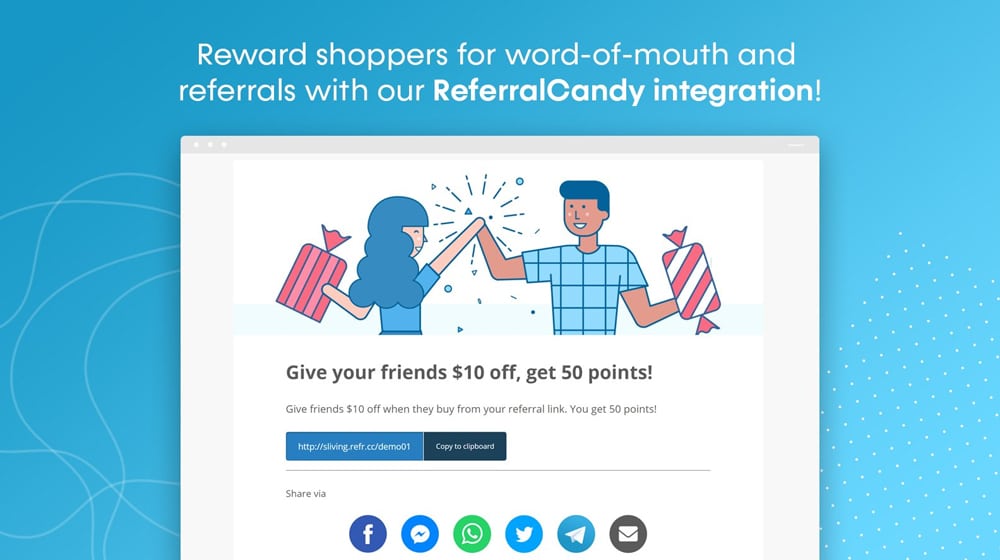 As with Swell, S Loyalty is limited based on the number of monthly orders you process. Their free program works for up to 100 orders and gives you three fixed rewards. From there, plans begin at $20 per month and scale all the way up to $200 per month.
Last on the list, but not least, is Loyalty Lion. Like the others, it allows you to reward users for actions such as referrals, purchases, registrations, reviews, and birthdays. It also lets you reward them for site visits, social follows, likes, and tags. For rewards, you can offer free or discounted shipping, percentage off vouchers, free products, and access to VIP-only sales.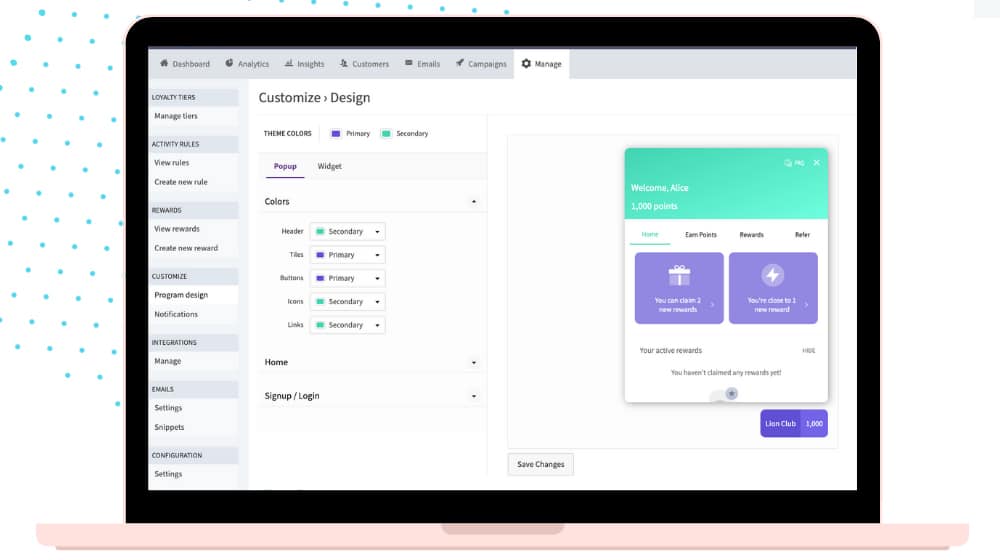 Pricing is generous for small businesses but ramps up quickly for larger sites. The free plan works for up to 800 monthly orders, with access to basic features and the option to pay for specific advanced features for $5 per month per feature. The cheapest paid plan that isn't ala carte costs $159 per month, and simply grants access to all of their core features for up to 800 monthly orders. Advanced plans give you more advanced features, but cost up to $700 per month.
Your Turn
Do you use an affiliate app, a referral program, or a loyalty system on your Shopify site? If so, what's the best app or combination of apps you've found? Let me know in the comments area down below!