What is The Best Shopify App for Shopping Cart Abandonment?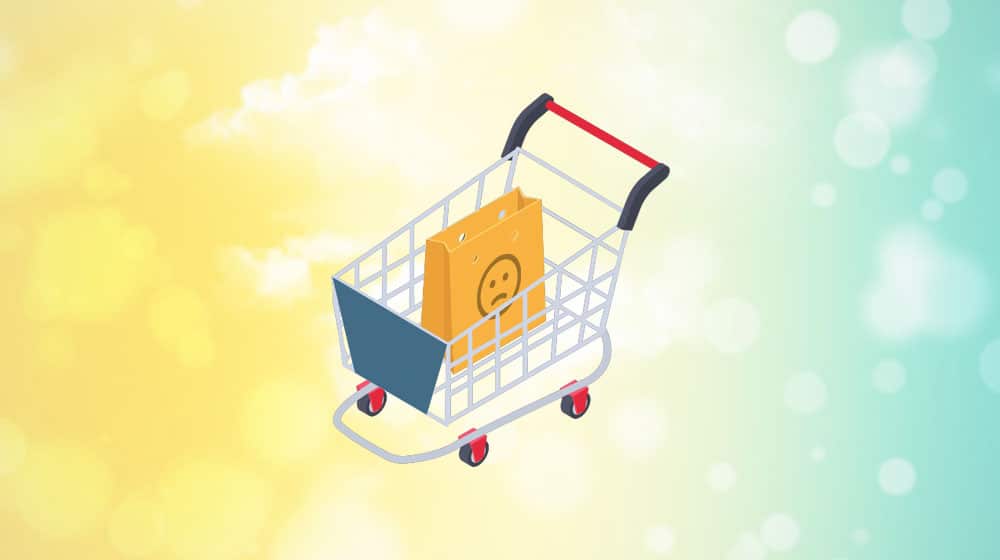 When you're running an online store, one of the most frustrating things is to see people show up, look around, and add items to their cart, only to disappear. You can see this through most storefront analytics as "abandoned cart" metrics. It happens a lot; in fact, if you're not an experienced store owner, you might not realize just how often it happens. According to Barilliance, over 75% of all online shoppers abandoned carts at some point or another in their shopping experience.
g
Oh, the reasons might change. Some people add what they want to their cart as a sort of wishlist. Some people add items to their cart to see how much their purchase will cost, then leave your site if it's higher than they expected. Some people add items to their carts, then go elsewhere to cross-check prices and don't come back. Some people use the cart to save items for later. Some people are simply called away in the middle of the purchase process and never return.
Shopping cart abandonment is one of the largest problems an online business faces. It's no wonder, then, that shopping platforms like Shopify have ways to help mitigate the problem. Shopify has a ton of plugins – or apps, in their terminology – aimed specifically at fighting shopping cart abandonment.
Now, rather than write a full article about one single app, I've compiled a list of as many as I can find, with reviews and recommendations. Everyone runs their store differently, so pick the app or apps that work best with your typical customer profile and workflow.
Average Rating

: 4.8/5 with 787 reviews

Price:

From $15 per month base, with a free plan available
Firepush offers a bunch of remarketing and retargeting flows, including abandoned cart recovery. What makes it distinct from other similar tools on the market is the fact that it offers this extended functionality for three channels – SMS, Email and Web Push Notifications.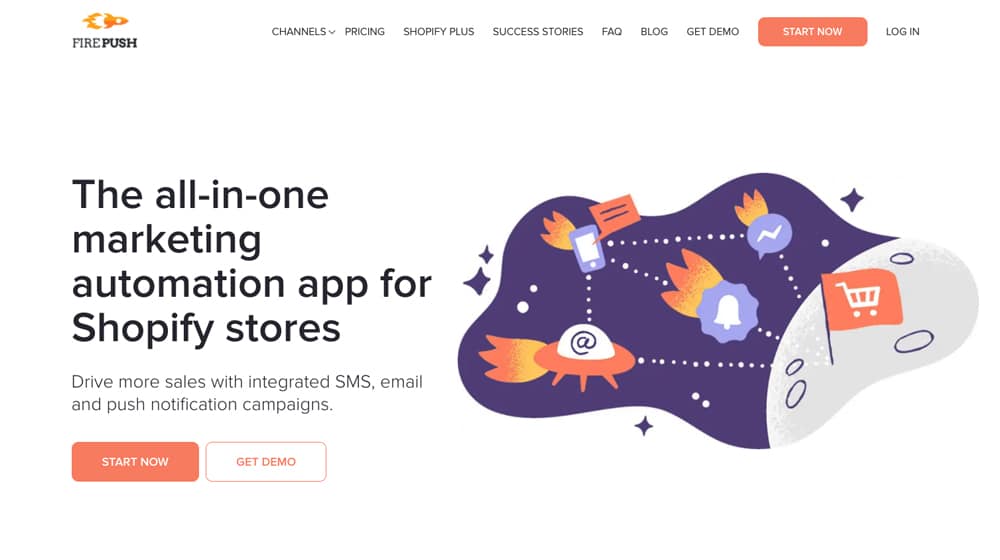 With this app, you can set-up complex automated cart recovery flows - firing a push notification first and an SMS in two hours, for example. This will relieve you from having to coordinate actions between several apps (which can get quite messy). Another thing to have in mind is the fact that Firepush is not a small startup, and they have you covered with 24/7 customer support.

Average Rating: 4.5/5 with 434 reviews.
Price: $19 per month for basic, $29 per month for pro.
This is one of the more popular abandoned cart plugins. It works in several ways, which is always good because it allows you to capture abandoned carts from a variety of different angles. The more ways you can approach a user, the more likely you are to recover their sale. So how does this one work?
With the basic plan, you have three channels for recovering a cart. The first and most standard is email. When a user abandons a cart, assuming they were logged in or you have some way to associate them with an email in your system, the plugin will send a follow-up email later reminding them that they have items in their cart. This is one of the most common ways a cart recovery system works, so you'll see this in most of the apps I'm recommending today.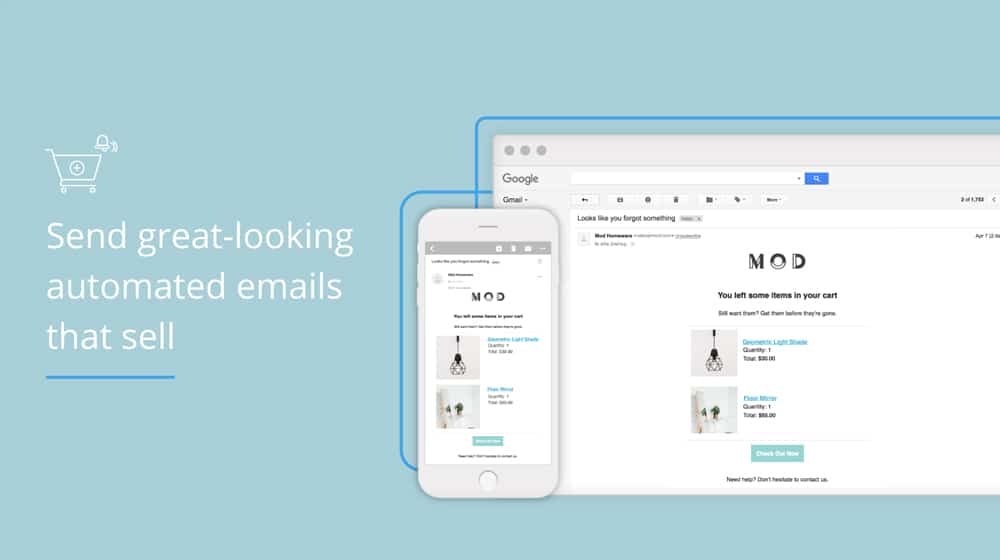 The second way it works is with exit intent pop-ups. I've written about these before – and I use them – so you know they're at least somewhat effective. Basically what happens is that whenever a user adds items to their cart and goes to leave your site (or whenever their cursor leaves the browser window, most typically) a pop-over appears on the screen. This disrupts their action for a moment and reminds them that they have items in their cart.
The third way this app works is with cross-device memory. If a user browses your site on mobile and adds items to their cart, then they leave, if they come back later on a desktop browser, their cart will still be there. Frankly, this is basic features for most stores that have registered accounts for users, so it's not all that impressive.
The Pro version, if you choose to use that, has a couple of extra features. First and foremost, it allows you to reach out to customers who abandoned their carts via Facebook Messenger, to reach them where they're hanging out.
The other major feature is essentially white-labeling. Emails sent from this plugin on the basic plan come from the Marsello domain, but with a Pro subscription, you can send them from your own domain. Additionally, the pro version comes with priority support.
Average Rating: 4.8/5 with 988 reviews.
Price: Free to install and try. $9 per month for basic, and pricing is tiered depending on your number of subscribers.
Formerly known as Conversio, this app has since been purchased and rolled into Campaign Monitor. It's overall a very robust email marketing system, with a ton of features that I'm not going to be able to do justice just skimming through. I highly recommend checking out their website to see all of the cool things this platform can do for you.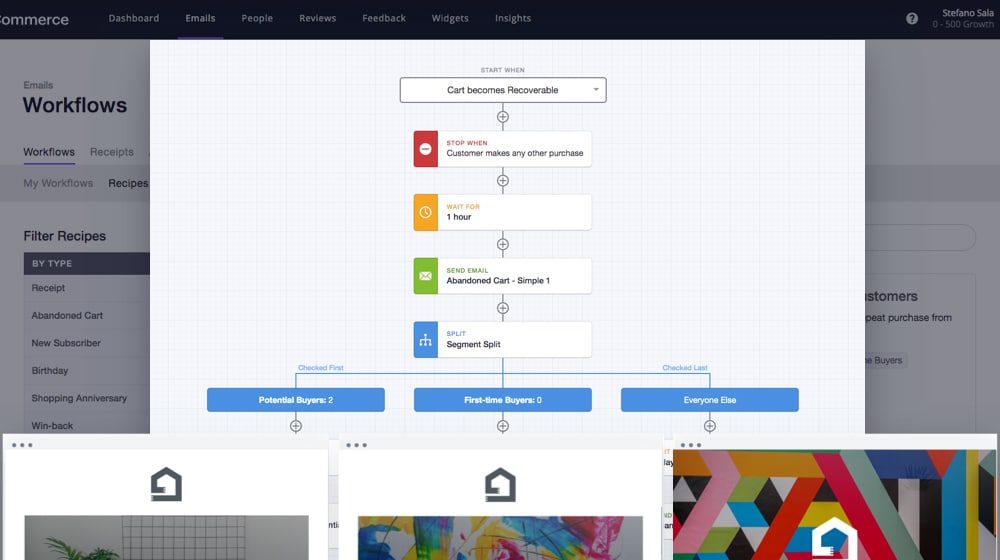 As you might expect from an email-based system, the primary way in which this system recovers abandoned carts is through emails. You can set up single emails on delay for abandoned carts, or you can set up entire drip campaigns.
The app also includes a bunch of other useful features, like the ability to accumulate reviews for your products or your business to use on product pages and as testimonials. It's not really focused on recovering lost carts, though, so I'm going to leave it to you to really explore the app.
Average Rating: 4.0/5 with 2 reviews.
Price: Free
This is a pretty basic shopping cart reminder email system. You can customize and store up to five email templates for your recovery emails, and configure those emails to send automatically based on triggers like time since the cart was abandoned.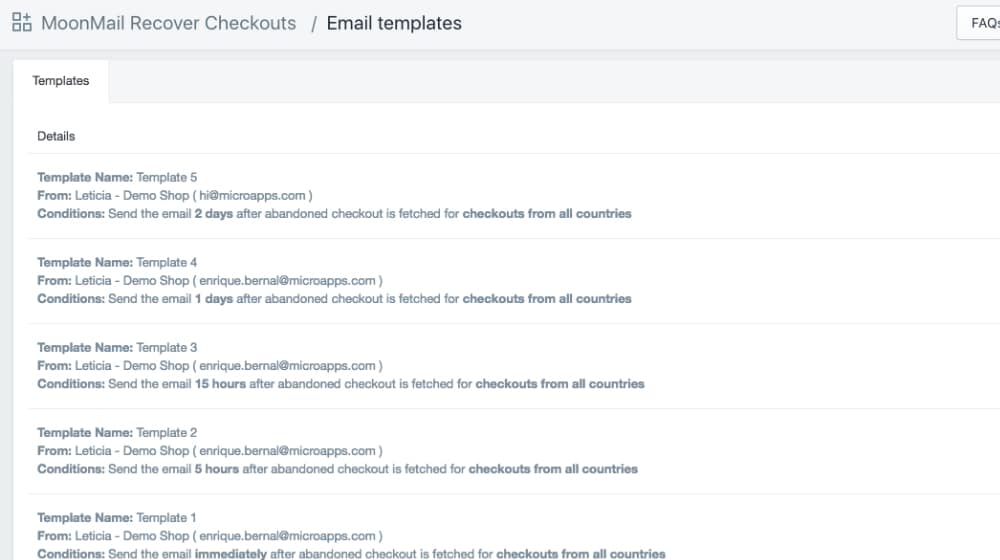 If you're paying enough to meet a minimum threshold, they also give you manual control over your email send and a couple of other features. This app is good at what it does, but if you want more than just email, you'll need to look elsewhere.
Average Rating: 5/5 with 4 reviews.
Price: Free for 5 emails per month, $9 per month for 20 emails, and $24 per month for 75 emails.
Parachute is a pretty basic email cart recovery plugin, with a twist. When a cart is abandoned, they add it as a draft order to your Shopify system. This allows you to edit the order, to add incentives such as additional free products or a discount to the overall order before you then send your reminder email to the customer.
Essentially, it allows you to remind users with a "hey if you buy now, we'll throw in X for no additional charge!" reminder. Additionally, it has integration with the Cleverific system, if you use that.
Average Rating: 4.2/5 with 494 reviews.
Price: Completely free.
Another app by Marsello on this list, so you know they're engaged with the community. So what does this app do?
Do you remember how in the other Marsello app up above I mentioned that it has the feature of cross-device cart consistency? When a user adds items to a cart on one device, then they log into your site on another device, their cart is still there. This app does that.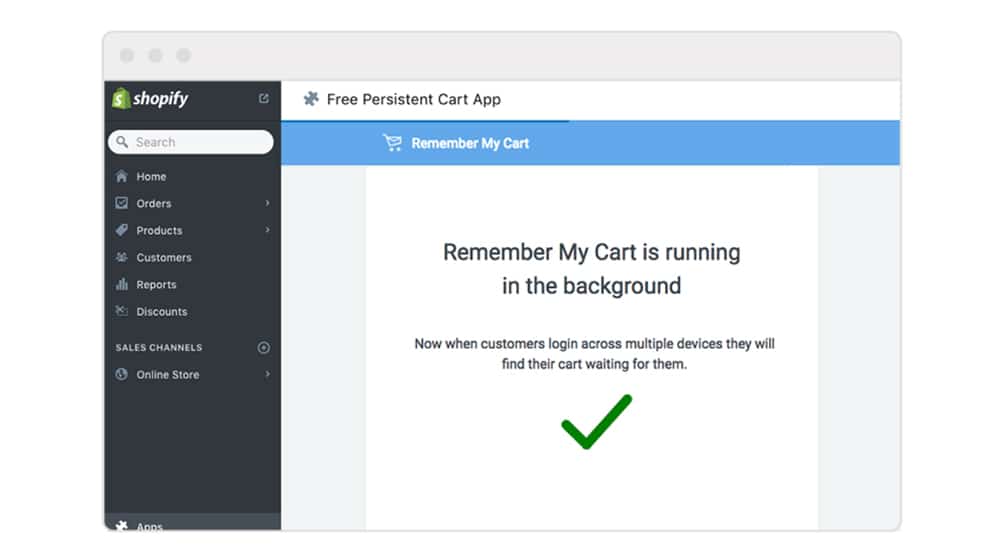 Unfortunately, that's it. That's all this app does. Personally, I feel like this is an essential feature for any storefront, particularly with how much of modern internet traffic is centered around mobile devices. It doesn't matter what app you choose to use to accomplish this feature, though, so you might as well use one like this one. It's free, after all.
Average Rating: 4.8/5 with 45 reviews.
Price: 0.035$ to 0.075$ per message, or $39 for unlimited messages.
This is a narrow but pretty interesting kind of cart recovery app. It adds a WhatsApp chat button to your site, similar to a Facebook Messenger button. When a user adds an item to their cart, it asks them for their WhatsApp number, or pulls it from their profile if it's available. You can then use that contact information to reach out to them with anything from order confirmation to a reminder that they have items in their cart.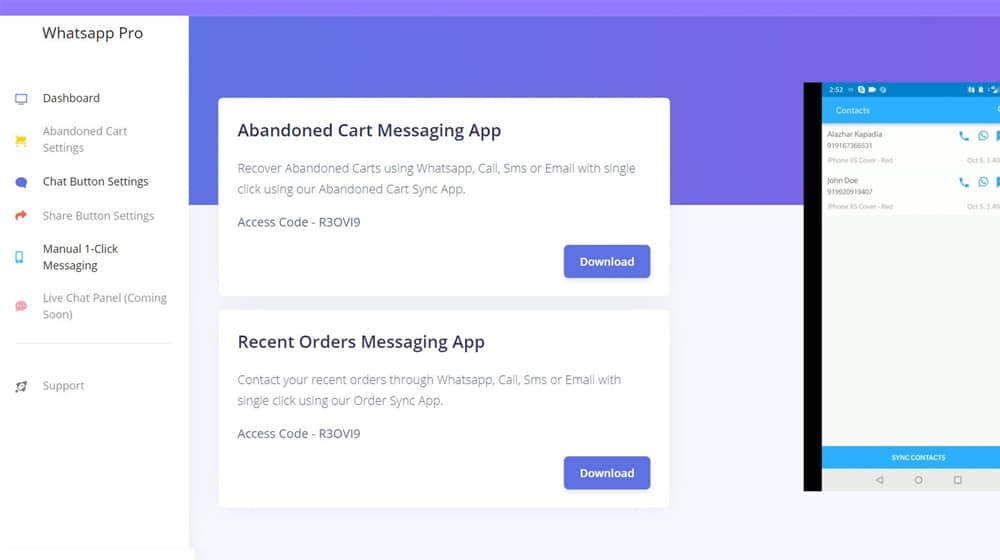 It's a very good little app that works well if and only if you're using WhatsApp for marketing already. If your audience isn't the kind of audience likely to be using WhatsApp – that is, isn't Gen Z – you're not likely to get much use out of this app for your store.
Average Rating: 4.8/5 with 306 reviews.
Price: $8 per month for 3,000 emails, and an additional $1.50 per thousand emails after.
Abandonment Protector is a robust little app with a few lead generation tools and marketing tools that work as cart abandonment tools as well. They have exit intent pop-ups, which work the same way as the ones mentioned up at the top.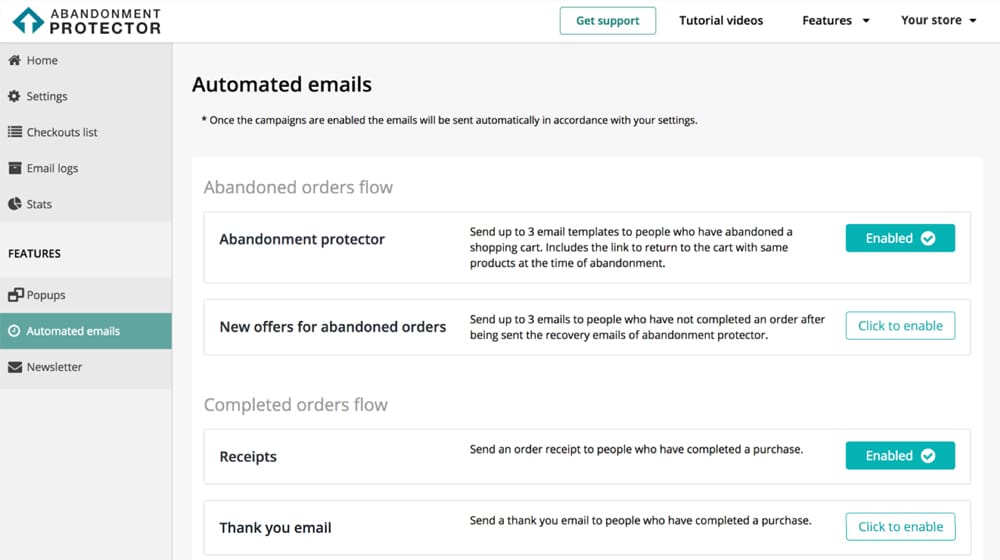 Is your blog earning you business? If not,
let's fix that.
We create blog content that converts - not just for ourselves, but for our clients, too.
We pick blog topics like hedge funds pick stocks. Then, we create articles that are 10x better to earn the top spot.
Content marketing has two ingredients - content and marketing. We've earned our black belts in both.
If you run an internet-based business and are looking to scale, schedule a call to speak with our founder:
They also have support for email campaigns, including drip campaigns and cart reminder email campaigns. Finally, they handle newsletter management as well. Overall, it's more of an email marketing platform for Shopify than anything, but the cart recovery features exist, so I've added it to the list.
Tone Messaging (Previously Superhuman Checkout Recovery)
Average Rating: 4.9/5 with 217 reviews.
Price: Free to install, with $29/mo and $99/mo paid plans. Pricing per SMS and MMS is tiered.
There's one channel for cart recovery that I haven't mentioned yet with any of these apps, and that's SMS marketing. SMS, or text messaging, is a viable channel for a lot of people, considering how often everyone is on their phones these days.
Pretty much anything you can do with email marketing, you can do with this app's SMS marketing. They add a couple of different locations for opt-in forms, they let you set up SMS drip campaigns, they let you LiveText with customers when they have questions and more. If you think SMS is a good channel to engage with your customers and remind them of items in their carts, then this is a great app to use to capture them.
Warning: This app was once listed on the Shopify store but was removed. We're not sure if it violates their guidelines or the reason for the removal, but you should proceed with caution.
Conversion Plus by Varinode
Average Rating: 4.6/5 with 1,857 reviews.
Price: $6.99 per month, with a free plan available.
One of the marketing tips you've probably heard before is taking advantage of "FOMO", or the Fear Of Missing Out. FOMO means putting something in place that makes users think that if they don't buy now, they're going to miss out on something, be it a product with limited quantity, a limited time offer, or something else.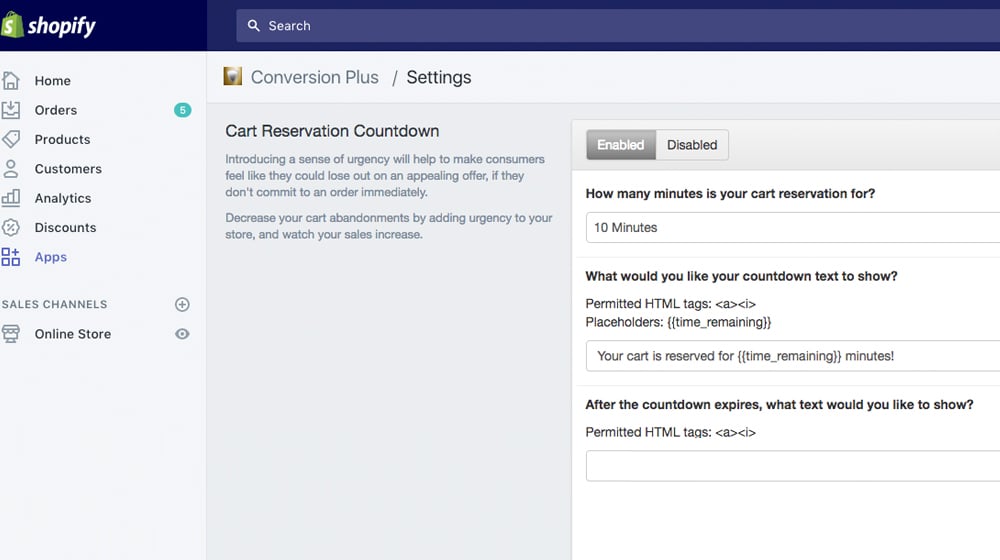 This app helps you take advantage of FOMO by adding a reservation timer to shopping carts. Basically, when a user adds an item to their cart, a timer pops up telling them they have X minutes to make the purchase, or else the product will be released for someone else.
This can be a great app for some stores, particularly those with unique items. If you're selling a lot of the same items, though, and the idea of having limited quantity doesn't work, this app might not work for you. Still, it's worth mentioning.
Average Rating: Third-party app not published on the Shopify store.
Price: Free trial with $8 per month starter plan.
This is a pretty basic email campaign app, but sometimes that's all you need, right? It monitors users who add items to their carts and don't purchase and allows you to send emails based on templates to those users to try to get them back. You can deliver special offers or simply send reminder emails.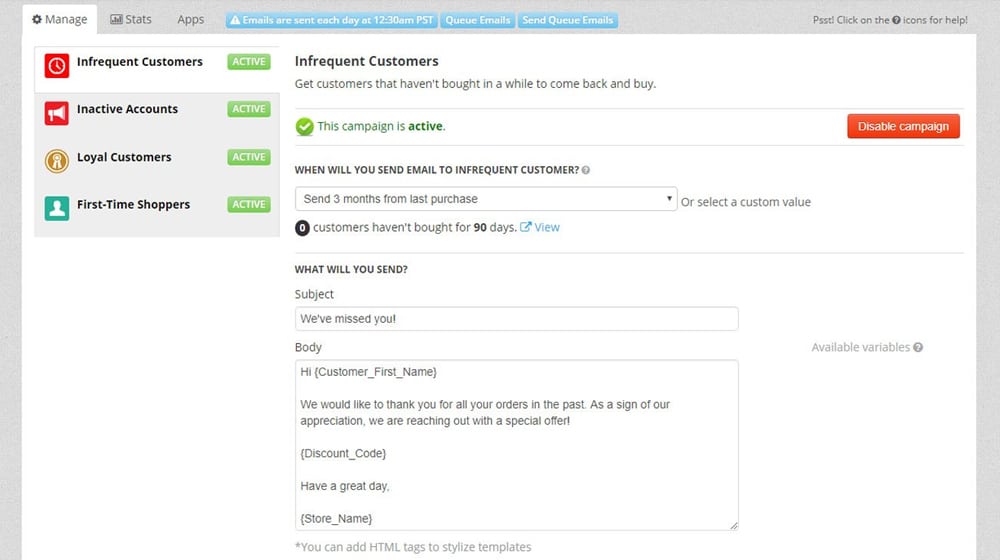 Unlike many other email-based cart recovery systems, that's all this one does. It's not bothering with managing your newsletter or handling opt-ins or anything else, it's just a simple abandonment reminder. I don't know about you, but sometimes I just want something simple, and this works well enough for that.
Warning: This app was once listed on the Shopify store but was removed. We're not sure if it violates their guidelines or the reason for the removal, but you should proceed with caution.
Average Rating: 4.8/5 with 48 reviews.
Price: $8 per month for email, $14 per month for email and Facebook Messenger.
This is a pretty standard cart recovery plugin, much like many of the other items on this list. It does email recovery, and it allows you to message customers via Facebook, neither of which is a unique or particularly compelling offering.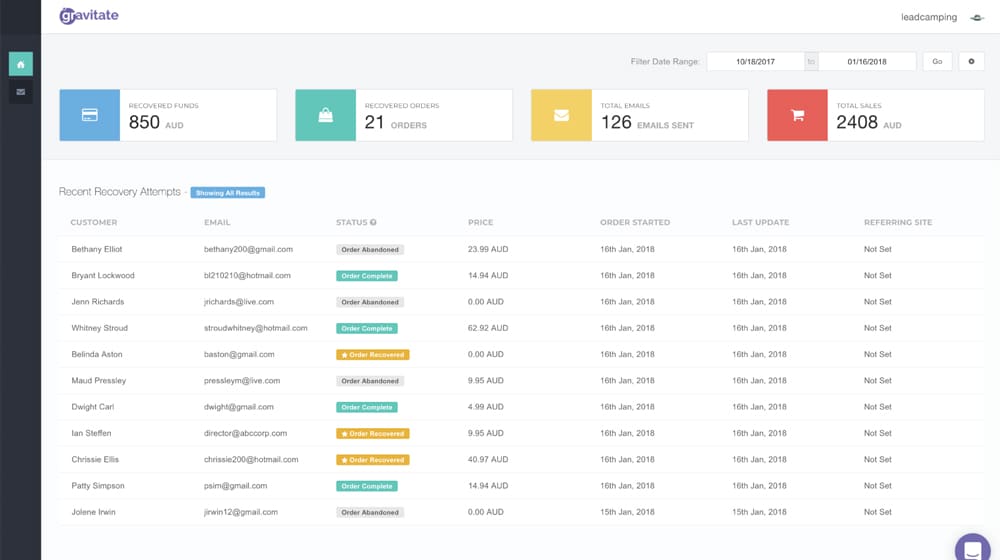 I put this app on the list for two reasons. First, it's simple. You don't need a huge, complex app to do cart recovery, and sometimes all you want is something that uses the channels you use most often. If email and Facebook are those channels, this is ideal. Secondly, it allows you to use both channels together. You can send an email and, if that doesn't work, follow up with Messenger, and back and forth as much as you want throughout your campaign.
Average Rating: 4.8/5 with 5496 reviews.
Price: Free plan, with a $29 per month base. Higher fees based on higher recovered sales.
Recart is one of the most popular recovery apps in the Shopify store. It's a full-scale Facebook Messenger marketing platform. So in addition to cart recovery messages, you can use FB Messenger to send order receipts, shipping notices, welcome messages, and more. Since a lot of people are using Messenger every day, this tends to have very high open and engagement rates.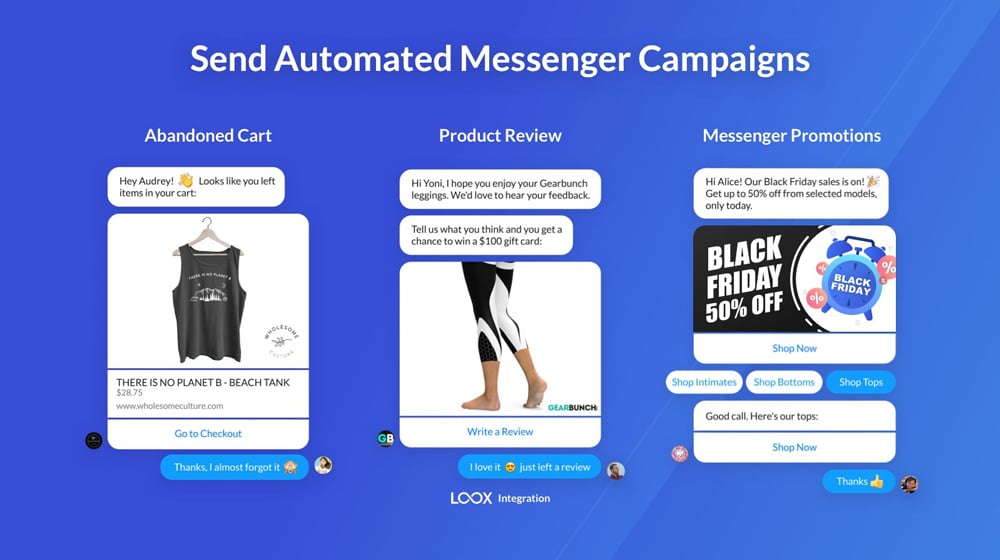 The only downside to this is, in my mind, the expense. They're skimming a percentage of the sales you get through using their app, which can rack up quickly. Sure, it means you're getting a lot of extra sales, and you'll never break negative, but there are other ways to integrate Messenger without the fees.
Average Rating: 4.1/5 with 37 reviews.
Price:

$5 per month

Free.
This is a pretty simple email-based cart recovery app. It limits you on the number of emails you can send to any given recipient per cart, but it otherwise allows you to send unlimited emails.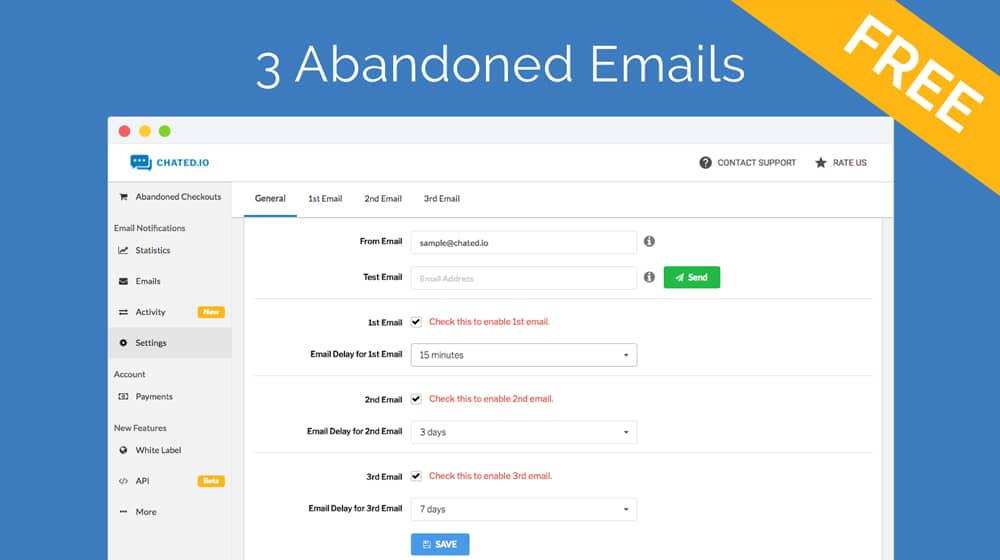 You can choose your settings for things like email delay, customizing the email templates, and so on. Plus it has delivery and open rate logs, so you can see how you're doing. It's quick, it's simple, and it handles cart recovery smoothly. What more could you ask for?
It used to be $5 per month, but the publisher recently made it free (most likely to drum up some positive reviews and coverage).
Average Rating: Third party app not listed on the Shopify store.
Price: Free.
This app has two features. The first is that it adds an instant buy button, which can replace or supplement your existing add to cart button. After all, if people are interested enough to add an item to their cart, maybe they'll be interested enough to buy instead? This works for some kinds of stores, but not all of them.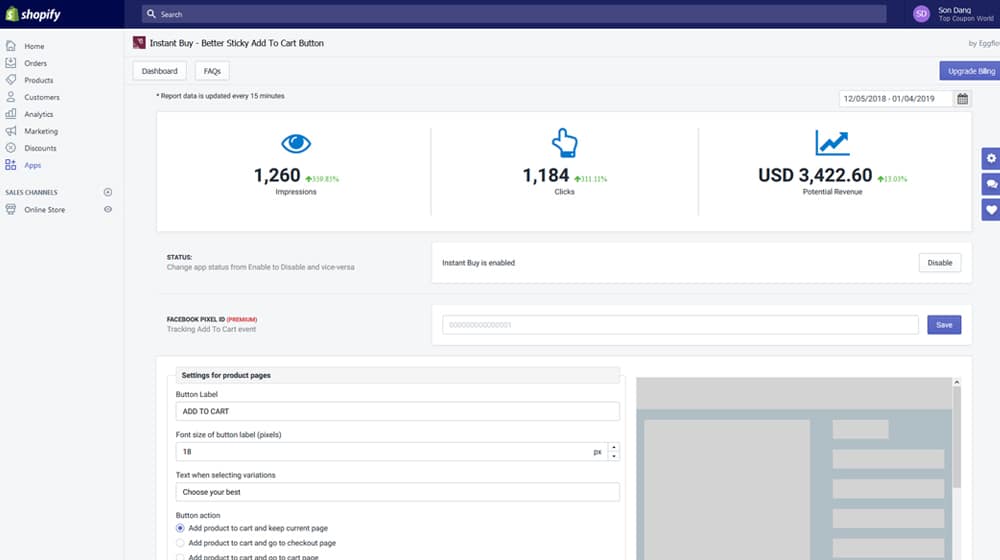 The other feature is Facebook pixel integration. When a user adds an item to a cart, and they don't go on to buy that cart, they're added to a Facebook tracking list for you. You can then use this as a specific kind of remarketing list with Facebook ads.
Warning: This app was once listed on the Shopify store but was removed. We're not sure if it violates their guidelines or the reason for the removal, but you should proceed with caution.
Average Rating: 5/5 with 1,822 reviews.
Price:

$19 per month, scaling based on impressions.

Free.
The last means I've seen to help recapture lost carts is with push notifications. We're all familiar with push notifications for mobile devices, but this app does it for both mobile and desktop platforms.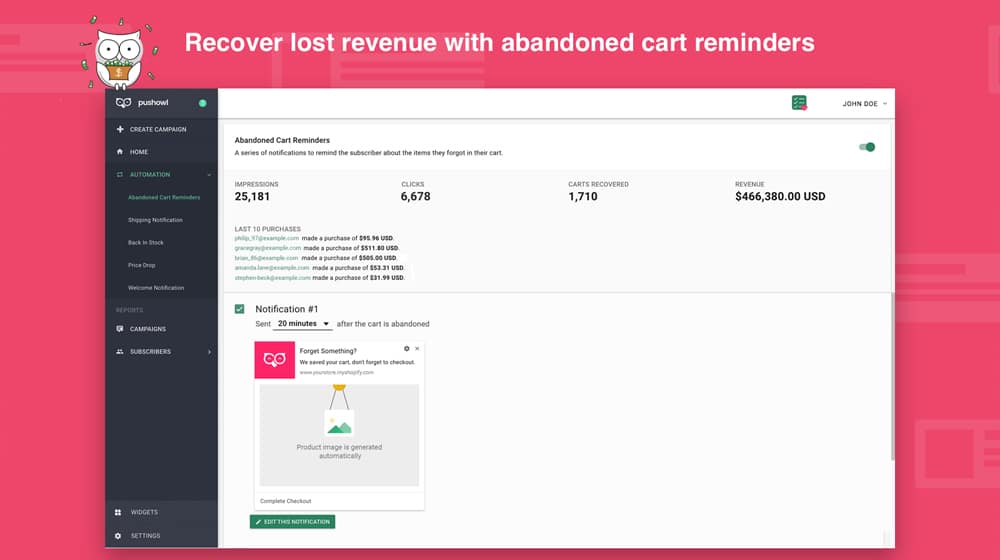 Browser-based push notifications are a tall ask for most people, but if you can get them, capturing return users is a cinch. This app is great, and the perfect rating with over two thousand reviews tells you so.
This app recently updated and lowered their price from $19/mo to free, which is great.
Your Favorite App
I listed a lot of different apps here on this platform, but it's far from all of them, so now I turn to you.
Do you have a favorite cart abandonment app you use on your own Shopify store? If so, and it's not on this list, let me know what it is and why you like it so much in the comments below!