15 Shopify Apps to Set Up Automated Email Marketing Campaigns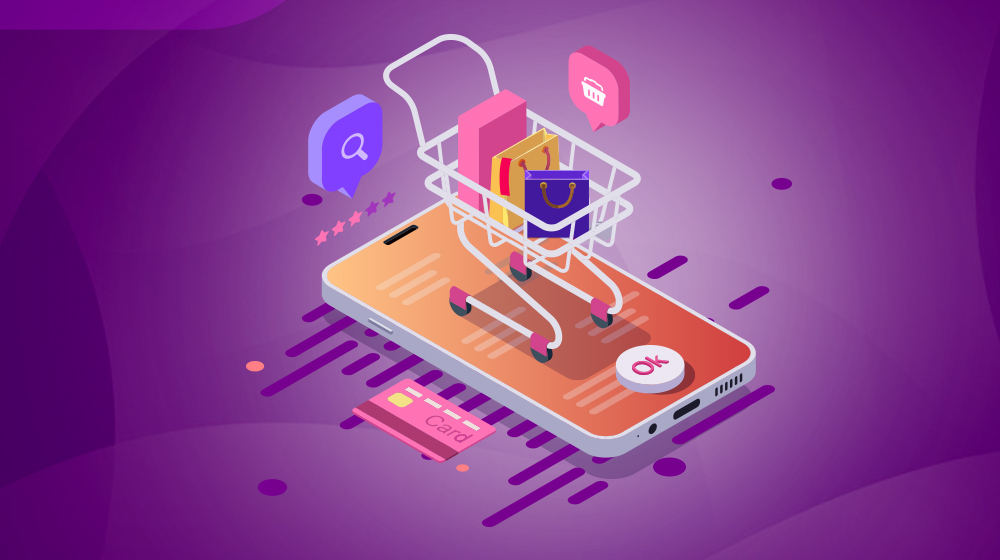 As one of the largest eCommerce platforms online, Shopify has a ton of tools for helping your store succeed. Unfortunately, many of those tools don't come out of the box; you need to find an app or plugin to add the relevant functionality to your store.
Email marketing is one such function. There are a lot of different ways to get email up and running, and which option you use depends a lot on why you want to send your emails in the first place.
There are quite a few reasons you'd want to send an email campaign. For example:
You want to announce the release of new products to your customer list.
You want to announce a sale or price decrease on a product or service.
You want to promote a sale event or holiday campaign.
You want to send wishlist reminders to people who added items to their wishlist when those items are on sale or return to availability.
You want to implement shopping cart recovery, to remind users they added items to their cart but didn't buy.
You want to send out monthly curated lists of the top, hot, and rising products for the month.
You can do all of this, but to do it, you need an email campaign manager. Shopify has one option, and there are a lot of third-party apps that allow you to add this functionality, so the trick is picking the right one.
I've compiled a list of the top 15 apps for email marketing, with a rundown of what they do and why you'd want to use them.
Let's dig in!
First on the list is Shopify Email. This is the offering created by Shopify to add the functionality to their platform, without needing to rely on a third-party service to handle it. This is relatively new, introduced in November of 2019, and it solves one major gripe a lot of people had with the platform.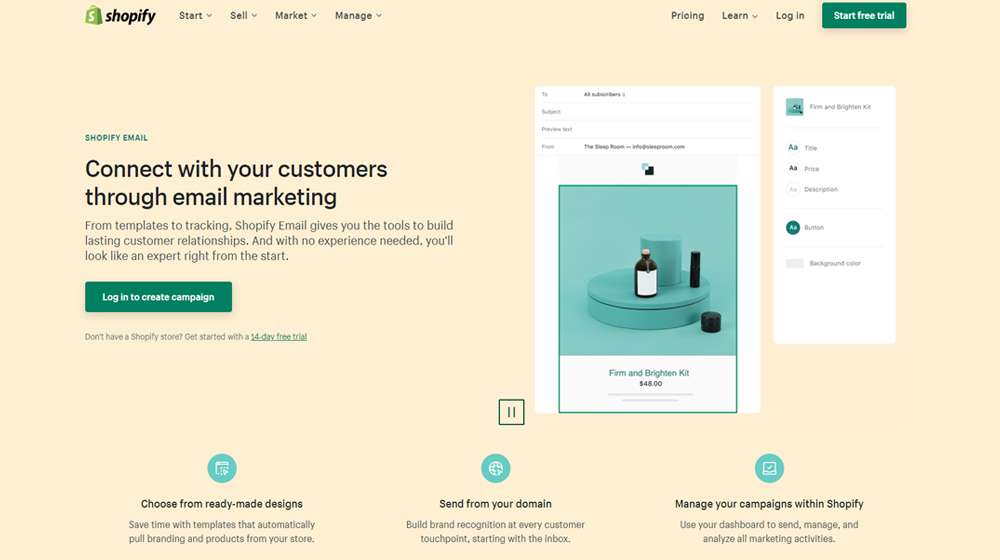 Shopify Email is a simple email system with a lot of customization under the hood. It's generally quite free-form, allowing you to create and use templates or pick from their template library to design emails quickly and easily. It allows campaigns, and it tracks information including ROI natively.
Pricing is fairly good as well. You're able to send up to 2,500 emails per month for free, and it only costs $1 per thousand emails afterward. Overall, this is a good option if you know what you're doing with email and are also comfortable with using Shopify's editor system to design email campaigns. Otherwise, it might fall a little flat with a lack of advanced features or guidance for newcomers.
This is an app that is at once basic and robust. It's all about automated triggers sending emails when something happens. Triggers include abandoned cart recovery, re-engaging lapsed customers, soliciting reviews, welcome drip campaigns, related product upsells and accessory recommendations, and even a new workflow they added specifically for recent events - notifications on shipping delays.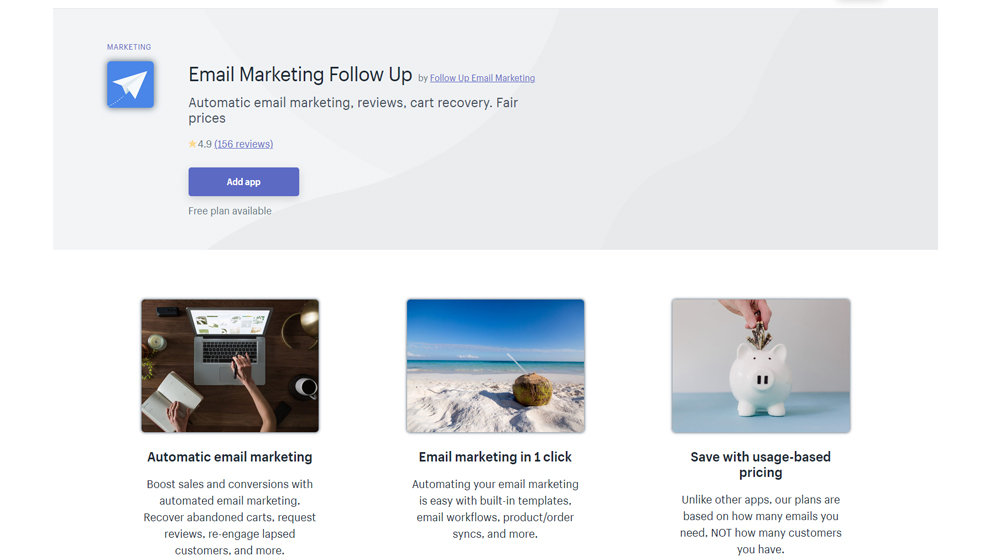 Their pricing is also pretty reasonable and is based on the number of emails that you send, not the size of your contacts list. A few too many email programs judge you based on the size of your contact list, not based on your actual usage, which can lead to some tricky situations. This pricing makes a lot more sense.
This is very similar to the Sendmation app above; it focuses on cart recovery and doesn't have a lot of other features. However, rather than just email and SMS, they also can reach out to customers through push notifications on mobile and the web, and they're working on messaging through Telegram, WeChat, and WhatsApp.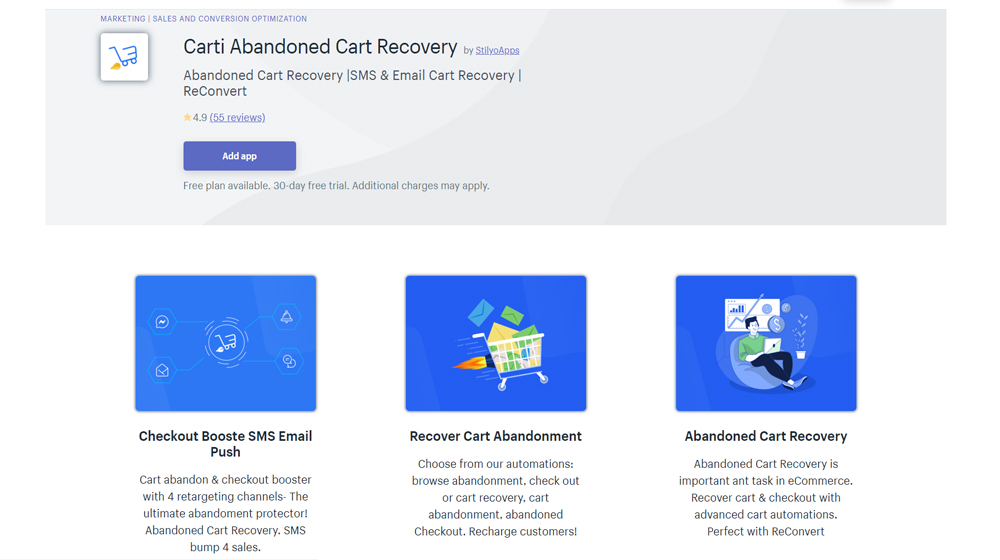 I think that this is an app to keep an eye on. They have a lot of features they plan to add, like birthday messages, transactional messages, back in stock notifications, and holiday campaigns, but none of them are implemented quite yet. Once they add them, this will be a solidly powerful app. Until then, it's a unitasker.
As you might expect, this is also a cart recovery app, but they have a handful of additional features to help reduce abandonment in the first place, accumulate more sign-ups, and increase engagement. Pop-ups allow you to display welcome messages and exit intent offers.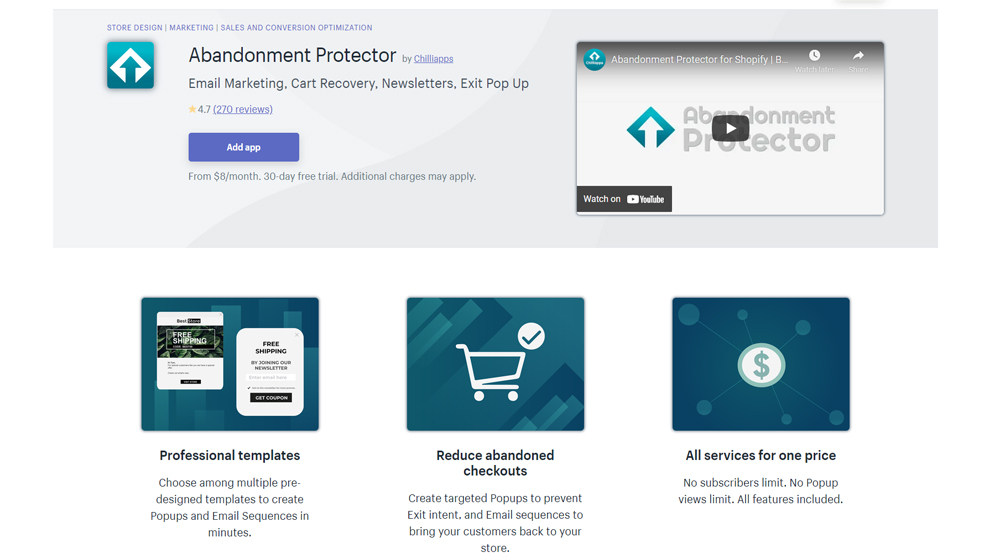 Automated sequences let you capture and engage with users who haven't made a purchase, or keep customers engaged. Plus, they allow you to manage a full newsletter through their platform. The only downside is pricing; they have a per-month cost as well as usage costs, but that's not very uncommon and it's not as steep as some of the other options.
This is one of the more robust email marketing platforms that still qualifies as a "small" or "lite" app in my mind. It's not weighed down with a bunch of extraneous marketing tools and is very focused on powerful email management.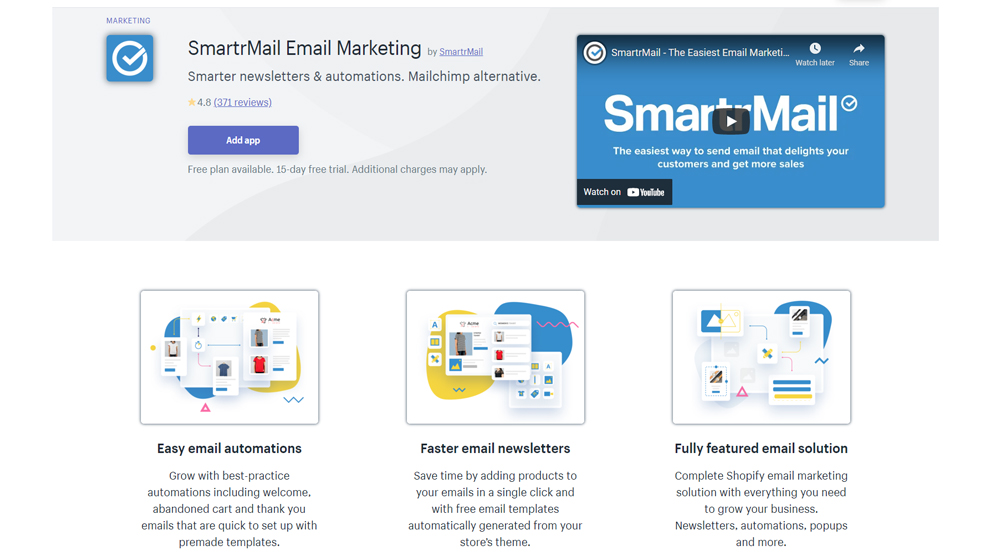 You can send welcome emails, cart recovery, win-back campaigns, cross-sells, up-sells, and review solicitations, among others. They also have a simple "use best practices" option you can toggle on, that guides you through filling out templates for what you should be using, even if you're not sure yourself. Very newbie-friendly.
Back in Stock is a pretty simple app with a very valuable function. Some storefronts always have a stock of products, but others – particularly bespoke products – need time to order, manufacture, or customize items.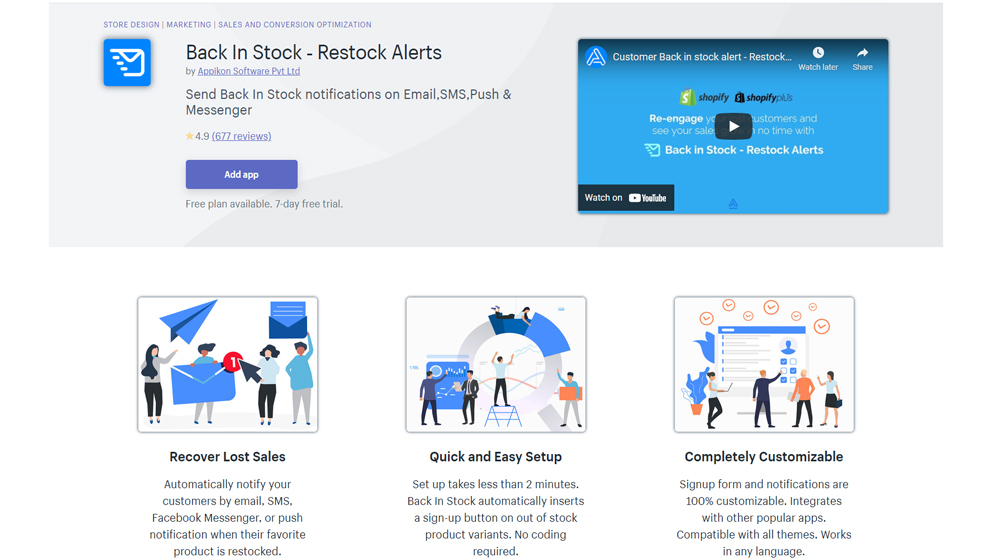 In these cases, items are often out of stock and in demand. This app allows users to register for a waitlist or wishlist and will send an email to all customers on that list when the item they're watching is back in stock. This helps guarantee that your restocks don't go unnoticed. Additionally, they can send those notices through email, but also through SMS, push notifications, and Messenger.
Privy is probably the single biggest and most popular email marketing app on Shopify. It has a whopping 25,000 reviews, and a 4.6 average across them, which is pretty darn good.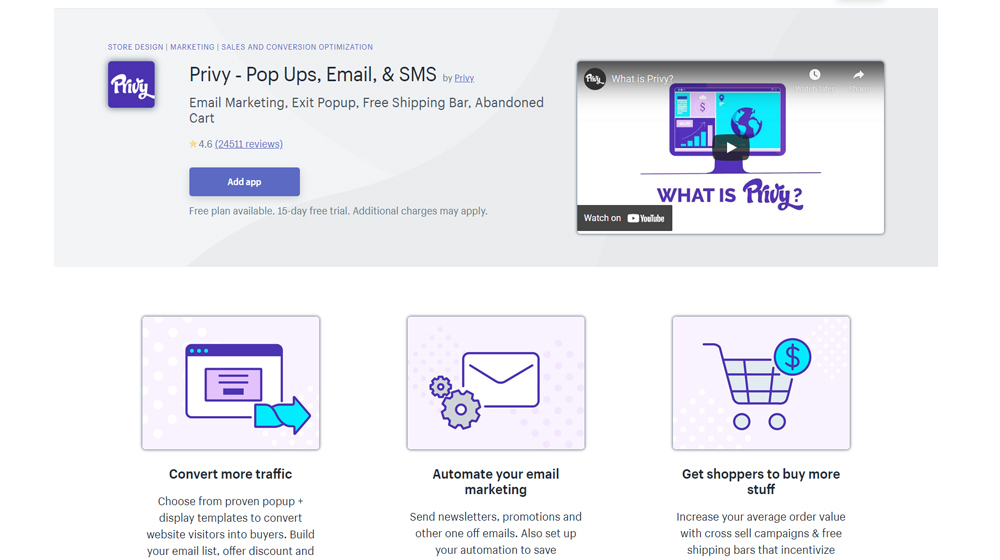 The app is a total email marketing solution, covering both the front end and the back end. What do I mean? On the front end, it lets you make landing pages, create spinners, use pop-ups, and a host of other techniques for calls to action and getting new email opt-ins. On the back end, it has a whole host of options for sending emails, from newsletters to stock notifications to cart recovery. It does a bit of everything, and it does it all quite well.
Automizely comes at the problem of email marketing from the other side. Rather than starting with email and looking to automate it, they're an automation platform that handles email, among other things.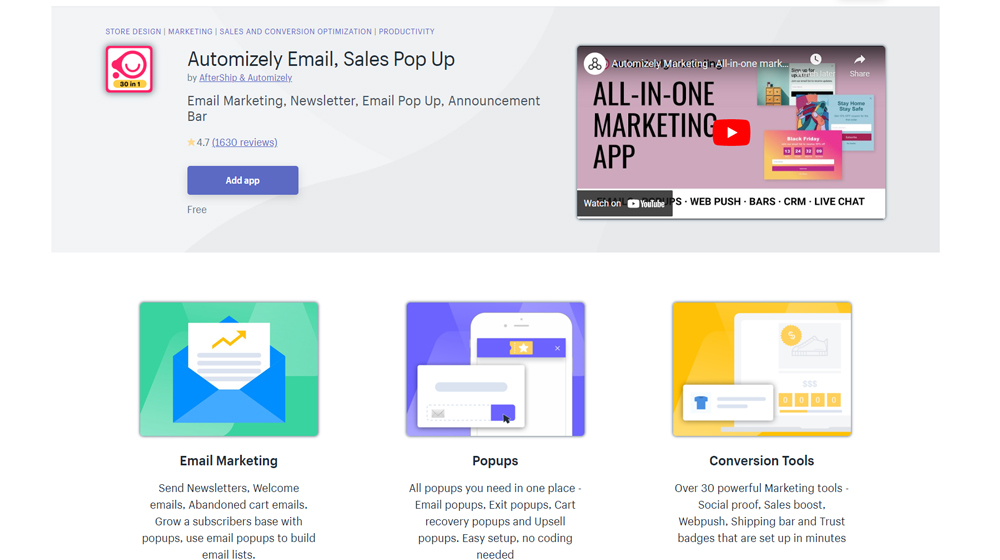 Is your blog earning you business? If not,
let's fix that.
We create blog content that converts - not just for ourselves, but for our clients, too.
We pick blog topics like hedge funds pick stocks. Then, we create articles that are 10x better to earn the top spot.
Content marketing has two ingredients - content and marketing. We've earned our black belts in both.
If you run an internet-based business and are looking to scale, schedule a call to speak with our founder:
They also do conversion rate optimization, social proof, trust badges, and a ton of other things. While it's more focused on growth and engagement than email marketing, it's still very powerful.
This is a relatively lightweight option. It's also a unitasker, and focuses solely on upsells and cross-sells.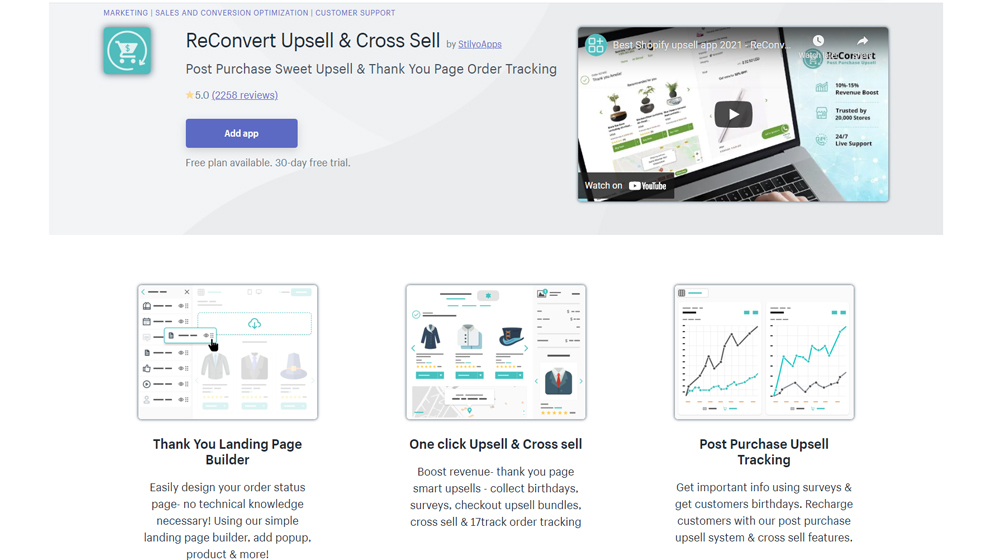 Don't get me wrong, they have a ton of little scripts and methods for hooking people with those cross-sells, but they don't have a lot outside of that arena.
This is, as the name implies, one of the lighter-weight email managers that still covers all of the bases. They don't come bloated with a ton of templates and automation but they do have an automation engine that you can use to set up triggers to send emails without needing to review them yourself.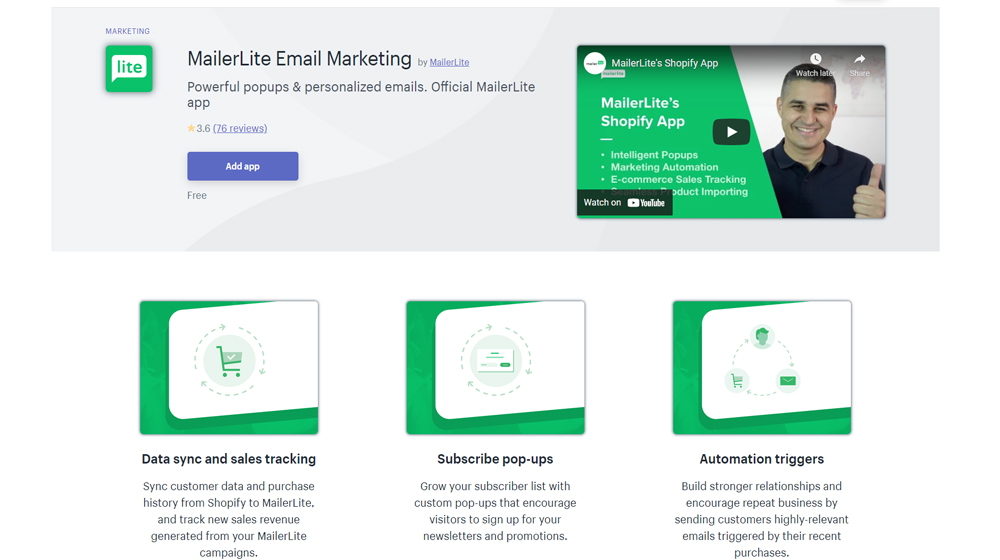 They have some pretty good audience segmentation tools, good data imports, and some additional tools to help you build your mailing list as well, such as landing page and pop-up builders. They do, however, require you to go through an approval process while they look into your email collection policies to make sure you're not violating spam laws.
Now that the smaller task-focused or small third-party apps are out of the way, let's talk about some of the big boys. There are a few industry giants in email marketing who have created Shopify apps with official support. Omnisend is the first of four I'm going to mention.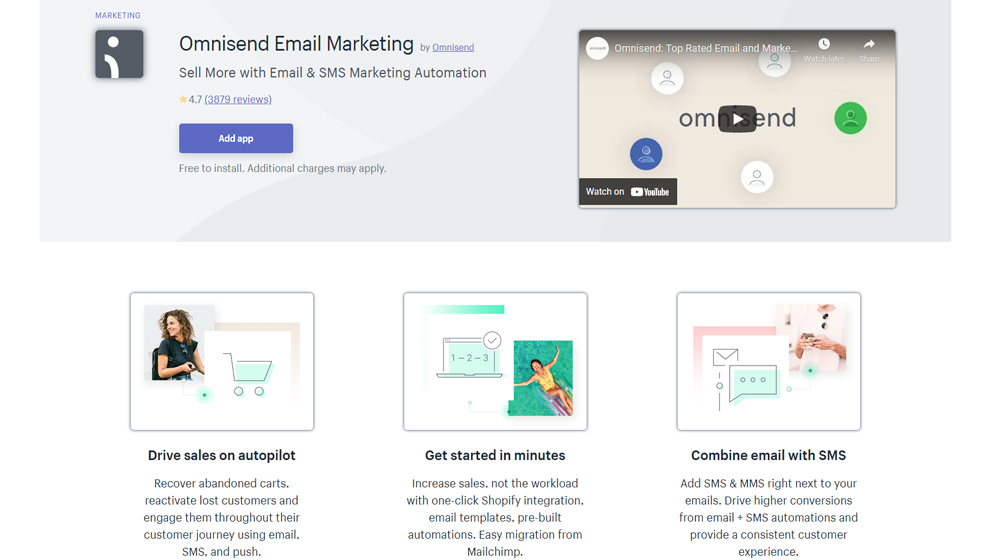 One of the strongest perks of Omnisend is its automation engine. They have a variety of pre-built workflows for sending campaigns based on specific triggers in user behavior. Welcome emails, drip campaigns, newsletters, cart recovery; they have it all, already configured, ready for you to fill out some templates and let it rip.
A lot is going on with this app, including the ability to link up with other apps (including Privy, mentioned above) and the ability to use SMS marketing channels in conjunction with email, seamlessly. Overall, it's a great option for email power users.
Klaviyo is another big name in email marketing with its own custom-developed Shopify app. Their app makes it extremely easy to set up their system on your store. You can click one single button and have the system automatically import your Shopify data, including products and customer lists.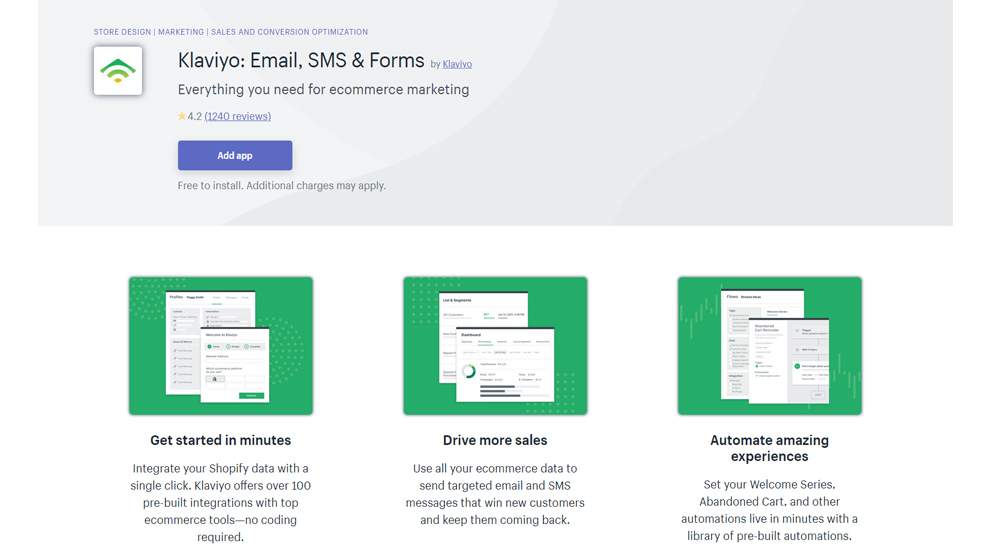 One of the most powerful elements of Klaviyo is its integrations library. Where other apps list a handful of integrations, Klaviyo's API works with hundreds of systems out there.
They have a similar set of workflows for various automated email campaigns, the same as Omnisend. Welcome series, product reminders, cart recovery, and other major purposes are all covered with their templates out of the box. And, of course, you can make up a customized workflow of your own.
I've put Seguno relatively low on the list, which does it a bit of a disservice. Up until 2019, they were the go-to fully integrated email management system for Shopify users. They're a big name, but Shopify ate a big slice of their pie by releasing Shopify Email when they did. Don't get me wrong, I appreciate that Shopify added the functionality natively, but it's not great for companies that relied on them not having that functionality.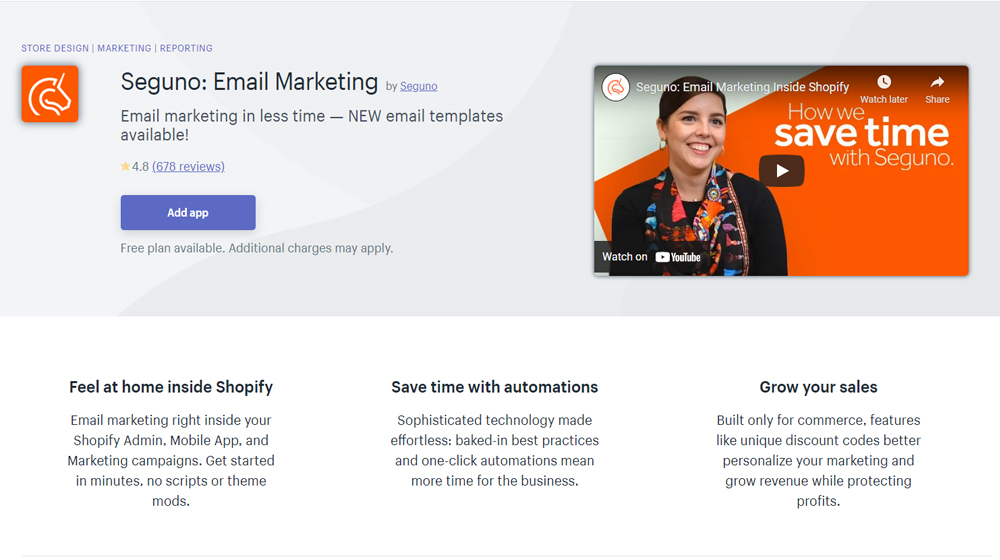 That said, the most powerful function of Seguno is that you can manage your entire email presence, from individual emails to overarching campaigns, from within your Shopify dashboard. There's no need to use external tools, go to another dashboard, or mess around with integrations. They're built to be the Next Best Thing compared to Shopify Email, at this point. I'd say they're still a pretty good option.
This one is a little odd to me. Sendinblue is one of the largest, oldest, and most well-respected email marketing platforms available on the web. It's a common sight on all the lists of the best email marketing platforms, and it's usable for pretty much anyone. And yet, the Shopify version of the app only has 44 reviews and a relatively low user base. So what's the deal?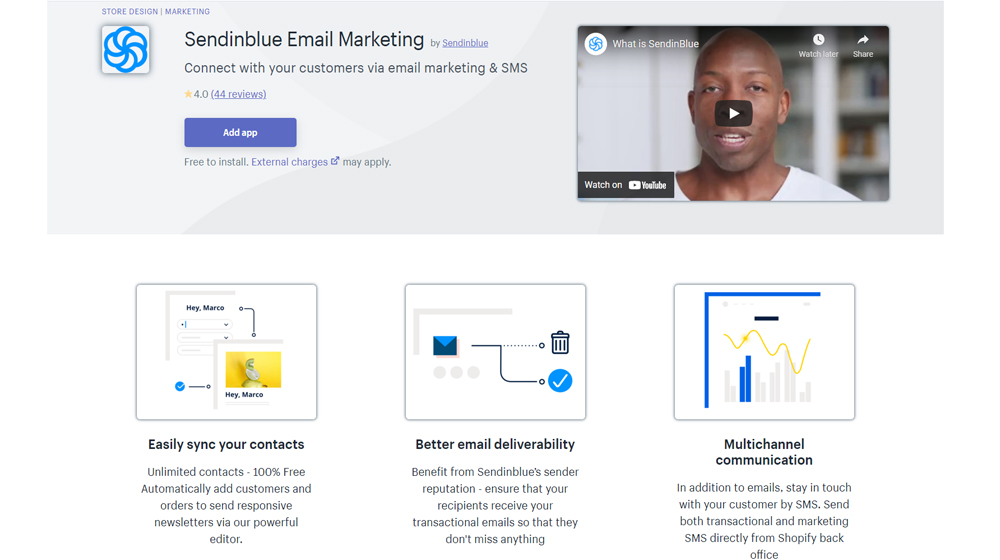 As far as I can tell, it's because most people who use Sendinblue do so directly through their own platform, and don't bother with using the Shopify integration. It also might be a relatively recent addition to the app store, I'm not sure on that one. Still, it exists, and it's there if you want to use it. By now, you probably have plenty of ideas what they offer, and whether or not you need it.
Abandoned Cart Recovery email by Care Cart is a straightforward and reliable tool. It spots when customers abandon their cart and sends them an email to remind them after a specific amount of time. It also has some advanced features like web push, where it asks your users to opt-in to push notifications, and if they abandon their cart, it will remind them later in their browser to complete their purchase.
The free option isn't much of a free plan; it won't send emails to your customers until you pay them. It's enough to poke around in the settings and see the backend, but you can't do much until you subscribe to their $12/mo subscription.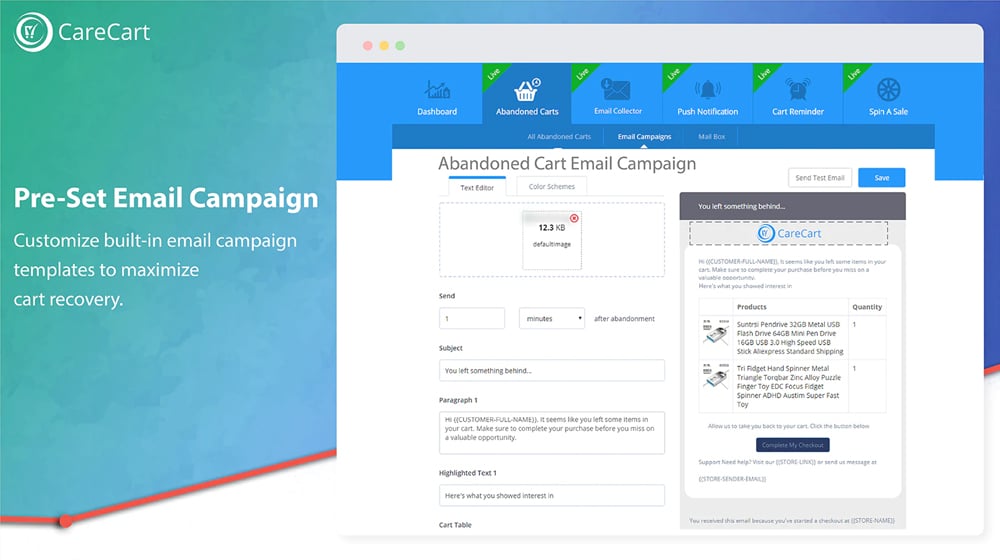 Still, their $12/mo plan is generous and unlimited, and it's cheaper than many items on this list. If abandoned cart recovery is all you're interested in, this app will do just that without all of the other upsell, automation, and SMS features that you might not need in the first place.
Old Services
These abandoned cart services are either dead, abandoned, or were recently removed from the Shopify app store. We've listed them here for now because they were previously great or might spring back to life under a new name.
1. Sendmation
The official name of this app by Sendmation was Multi Abandoned Cart Recovery. As you might expect, it was an email marketing app that focused on recovering customers who had added products to their carts and then left without purchasing.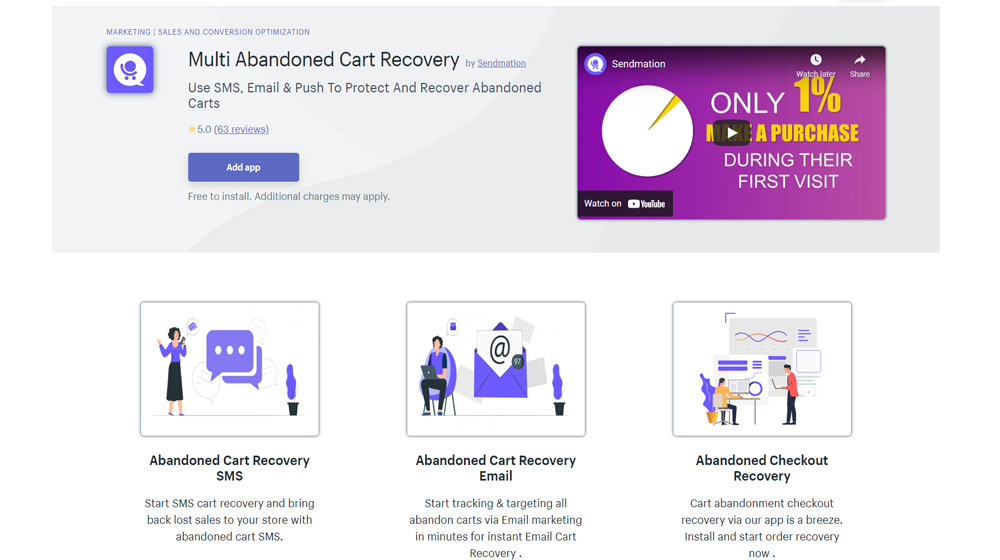 They sent full campaigns about abandoned carts rather than just a single email, which was good. They also sent SMS campaigns if you had precise information about your customers. Other than that, though, the app didn't do a lot. It was simple and effective in its narrow focus.
Wrapping Up
This isn't the only list of email campaign managers for Shopify, but it's my list. If you have one you think I should have added, feel free to pitch it to me in the comments. I know I missed some that are pretty popular. What do you think?