[Guide] How to Auto Generate and Print Shopify Shipping Labels
Handling shipping and fulfillment is an annoying part of business, so it stands to reason that automating it is a massive part of scaling up a company. Not everyone can be Amazon with their warehouses powered by cheap labor and robots, though; most of us have to shift our shipping processes to automatic label generation and printing.
Typically, with Shopify, you need to print shipping labels manually. You have to monitor your online store for new order notifications, find unfulfilled orders, confirm what items will be in the order, generate a package, choose a shipping service, buy a shipping label, and print it off.
That's a lot of work. It might be acceptable to run a small store and sell 2-3 items a day, but it quickly takes up hours if you're selling dozens or hundreds. Maybe that's fine if your store is a hobby, but if you're serious about scaling your eCommerce business, you want an automated way to do it all.
Luckily, you can do precisely that with your Shopify store .
Here's how.
Use an App
That's it.
Alright, I'm not going to end the post there, and you know it!
While Shopify is great for generating shipping labels via clicking buttons in their dashboard, it's still a manual process. They don't allow you to automate every step of the process in the Shopify admin dashboard.
It comes down to how easy it might be to run away with fees, primarily if bots or fraudulent users target your order pages. Just imagine the "how could you let this happen?" messages from people who get hit by such an attack! Since it costs money to buy shipping labels and shipping rates can vary, they don't want it to be fully automated to avoid risks to small businesses. You might end up losing thousands on inventory and purchasing shipping labels to fraudulent customers.
Unfortunately, most apps also don't allow complete automation of Shopify shipping labels. They can auto-generate the shipping information, automatically create the postage stickers, and even automate return labels, but you'll still need to be there to press a button and get them to print.
That's fine, though. Complete automation is risky if you don't have some system in place to do accurate, mistake-free fulfillment. Pulling inventory and packing it is already tricky enough without having to sync up a pre-printed shipping sticker to your label printer to a package that needs to have what it should inside it.
What shipping label apps should you look into? Here are your options.
In general, I'm a big fan of Zapier. I started with a few zaps, and now that I'm comfortable with them, I have hundreds of them to automate workflows.
If you don't know, Zapier is an automation middleman. They take APIs from thousands of apps and give you the option to link them together into more-or-less entirely free-form automation rules. You pick one app and a trigger, and then an action to happen in another app. Whenever the trigger occurs, the action happens.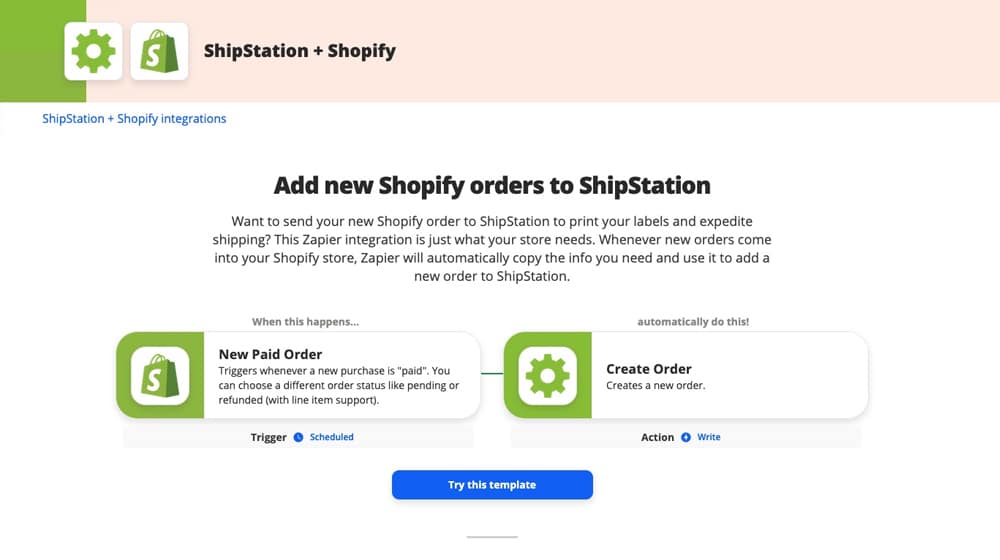 You can see where this is going. Shopify is one app you can use, and one of the triggers is when a customer completes their checkout, and a new order is created. You can even specify a new paid order if you want to wait to generate a shipping label until the order payment clears.
As for the action, Zapier has dozens (if not hundreds) of printing services and fulfillment services in their roster. Pick one you like, sign up, and link it to Zapier. Set up the trigger-action set, and boom: any time a new order is detected, Zapier will generate a label in your fulfillment service. Here's an example with ShipStation.
If you're creative enough and have a little bit of patience, Zapier has the functionality required to automate just about anything.
PluginHive is a company with over a dozen different plugins and apps for various platforms, including Magento, WooCommerce, and Shopify. One such Shopify app is Multi Carrier Shipping Labels.
This app streamlines the entire shipping process with a single button click. When a user checks out, they plug in their address info. They can then see shipping estimates with many different shipping carriers, like UPS, USPS, FedEx, DHL, and even shipping in other nations like Canada Post and Australia Post.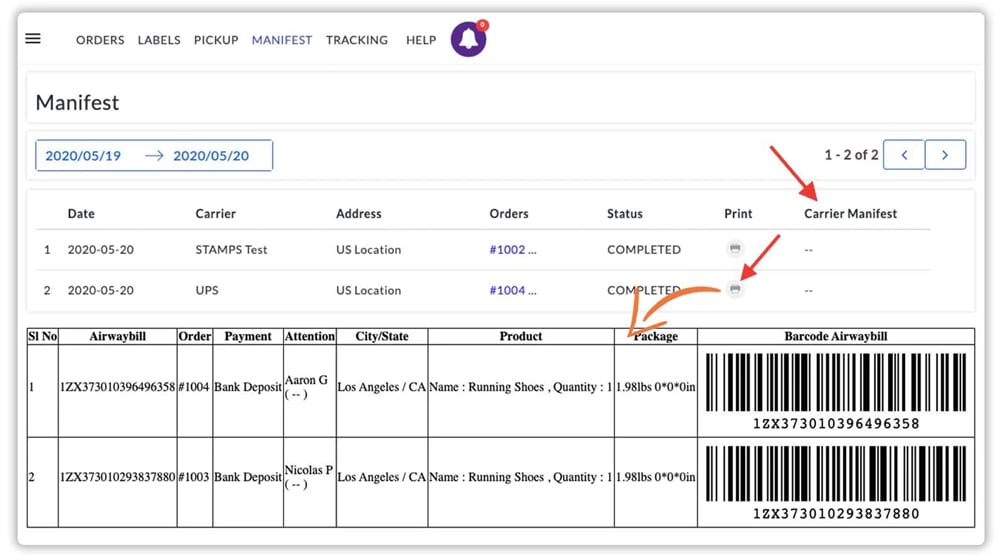 The user chooses their shipping option, and all of the relevant information is automatically filled out in your dashboard. You still need to log in and click the "generate label" button, but that's fine. It turns a lengthy process into two button clicks, one to generate the label and the other to print it.
The app costs $9 per month, which is a small price to pay considering the amount of time you're saving.
Address Labels is just about the simplest possible version of an app to automate shipping for you.
When a user fills out their information and places an order, you usually have to do something with that information. You might need to do some data entry or even hand-writing on a shipping label to set it all up. You can also set up a semi-automated process with mail merges and other nonsense, but it's pretty tedious.
This app collates all of the data and gives you a single nice button to click to create shipping labels. You will have to choose which shipping label template you use (or make your own), but that's part of the initial configuration; it doesn't have to be done every time.
One thing to note is that the reviews for this app are pretty bad, but most of them are old. It used to run on the developer's servers, which they didn't set up to handle the kind of volume they were getting. They fixed that issue, so now it should run smoothly. The most prominent modern gripe people have is configuring a label template, which can be pretty complex. Luckily, most common label formats are included as templates already.
ShipRobot is an exciting app in that rather than utilizing some of the Shopify dashboards, they pull information from it and let you manage everything from their app. They do this so they can support orders from different channels. Say, for example, you run your own Shopify store and sell through both Amazon and Etsy; you would have to manage orders from all three channels separately.
Is your blog earning you business? If not,
let's fix that.
We create blog content that converts - not just for ourselves, but for our clients, too.
We pick blog topics like hedge funds pick stocks. Then, we create articles that are 10x better to earn the top spot.
Content marketing has two ingredients - content and marketing. We've earned our black belts in both.
If you run an internet-based business and are looking to scale, schedule a call to speak with our founder: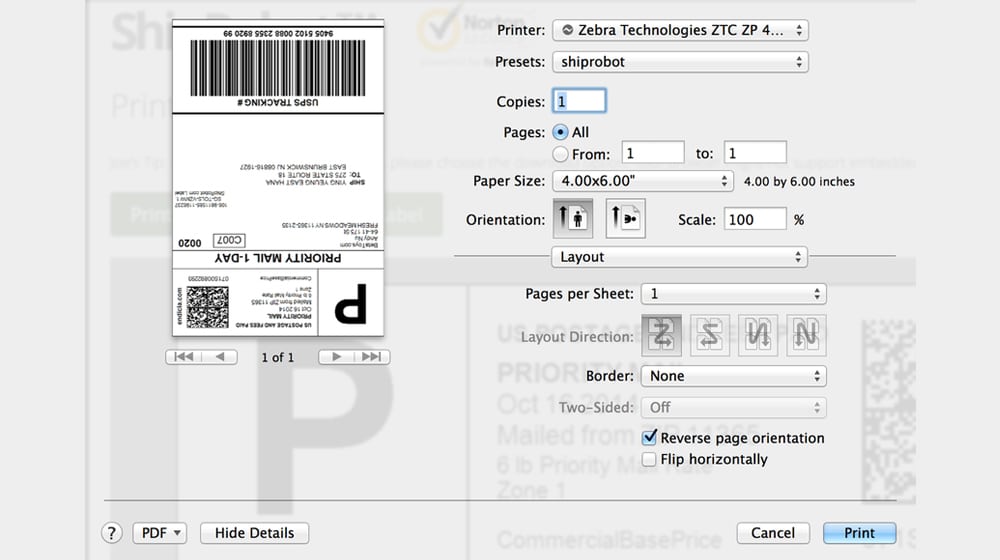 With ShipRobot, information from those channels is pulled into their dashboard and managed in one central place. You can use it to generate labels and process Shopify orders centrally.
The biggest downside is their order caps. Their free plan limits you to 10 orders per month, which most eCommerce stores will exceed in their first month (or even the first day). The $8 plan gets you 20 per month, $30 gets you 100, and the unlimited orders plan runs at $100 per month.
ShipRobot is an excellent app if you have low order volume or need multi-channel shipping and order data aggregation. On the other hand, if you have only a single storefront like Shopify but sell more than 20-30 items per month, you might not benefit from this app too much.
This app was made by a Shopify store user rather than an app developer, so you know it's based on solving real problems that actual stores have, not some theoretical problems that introduce other issues. It's also a global company, so it handles international shipping natively.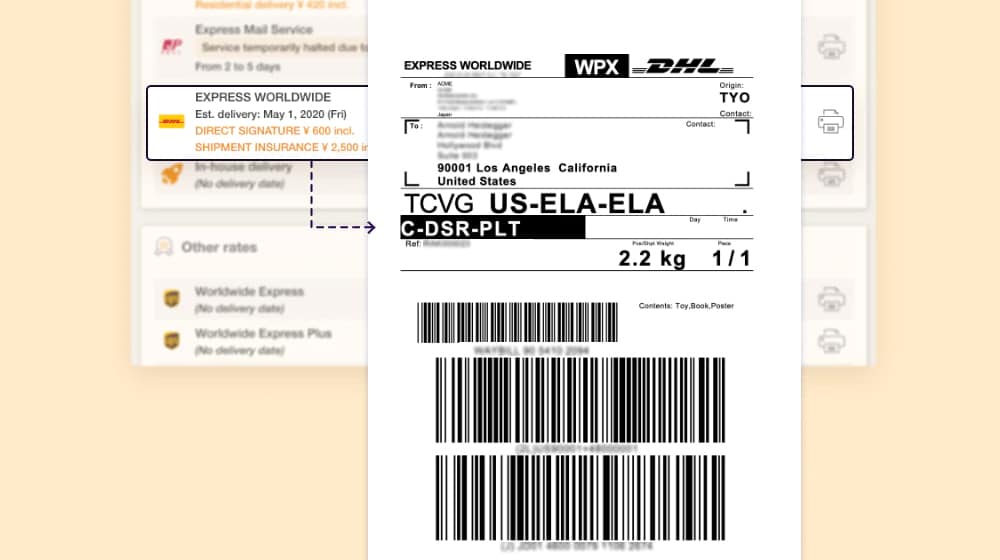 The app allows you to create labels in bulk, sync orders from multiple stores, and let you go entirely paperless if you want. You can also track orders automatically, including tracking numbers when the label is generated. Overall, it's a pretty robust app.
Pricing is either per parcel or a monthly fee. The cheapest monthly plan is $9 per month for 50 packages, or you can pay 25 cents per parcel. The monthly plan is generally a better value per parcel, assuming your order volume is relatively consistent, so give it a look.
ShippyPro is another app that works with Shopify to streamline all of your information from orders into a single "generate label" button.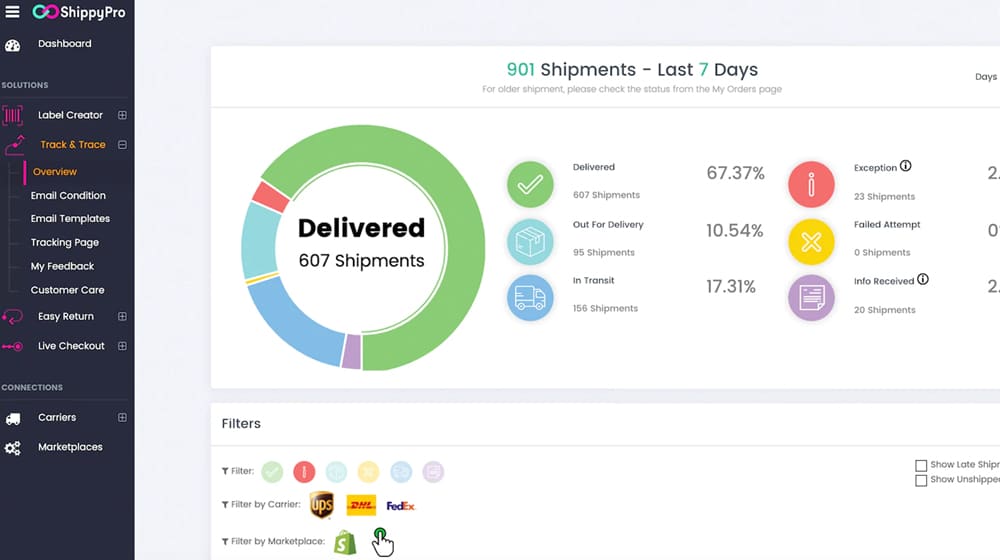 Since most of the apps on this list do that, what sets this one apart?
It allows for rate comparison between carriers to pick the cheapest shipping option.
It allows for bulk label generating and printing to speed up volume orders.
It enables you to send tracking emails for each milestone, from order received to shipped - this helps engage customers and keep them in your orbit.
It handles automating your returns process if someone needs to return a defective or incorrect order.
On top of the above, it's a global app designed by an Italian and supports seven different languages for the app itself and user support.
Pricing-wise, they have a forever-free trial version for up to 30 orders per month, after which it starts at about $30. Even as volume skyrockets, pricing stays pretty reasonable, too.
Automizely and AfterShip make this app, so you know it will be pretty solid. In addition to the usual automation that all of these label creation apps offer, they have a few bonus features. For example, they have a special deal with USPS and can offer a discounted shipping method beyond what Shopify offers for other carriers.
They're also one of the largest international shipping apps. They work with over 60 different international carriers, from the big American carriers to smaller regional carriers.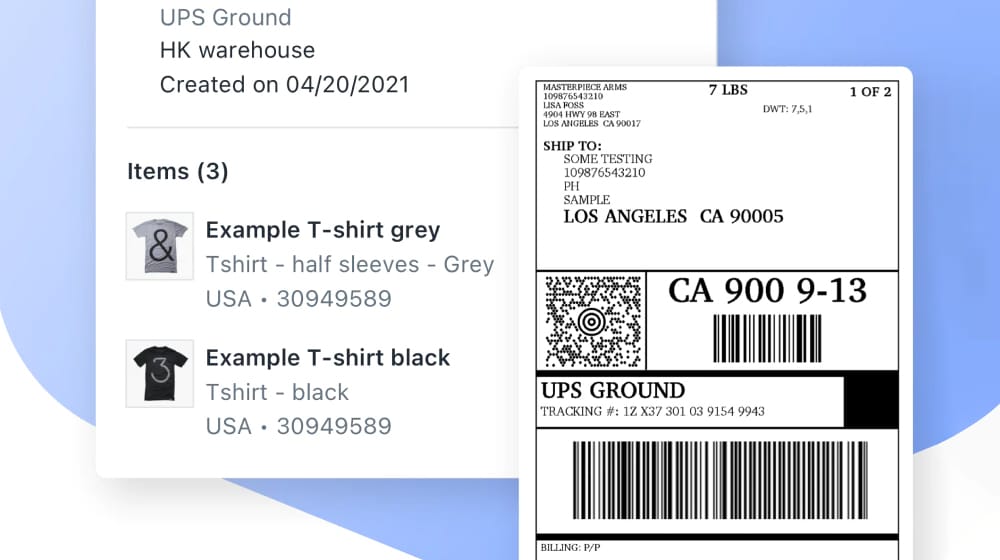 Since Automizely is involved, it has some of the most robust automation options out of any apps on this list. You can get very close to the ideal of fully automated shipping, but just not quite. There will always be that one last minor roadblock where some kind of manual interaction is necessary. There seems to be no way around it.
Best of all, it's completely free to install. The only kicker is, you have to pay for the shipping costs, which is pretty par for the course anyway. That's why you charge for shipping, after all.
Geographically Regional Apps
There are a handful of apps specific to certain international carriers.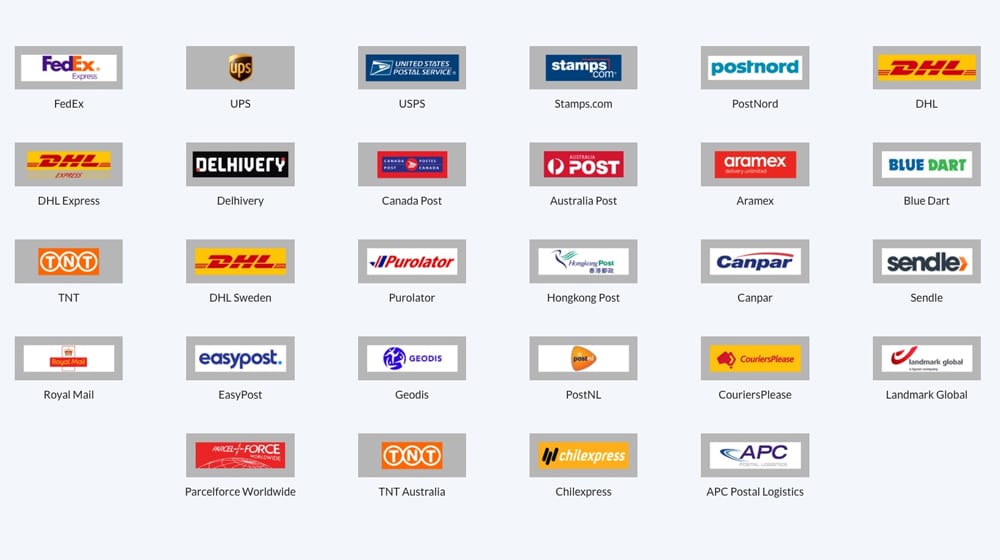 They aren't generally beneficial to everyone, but they can be a life-saver if you're based in one of the countries where they're relevant.
ShipCloud Connector is an app that works primarily with ShipCloud, a German shipping processor.
Easy Label Japan Post is an app for Japanese postal carrier services, as you might be able to guess.
bpost is an app to link up with Belgian post or any regional location using bpost as a carrier.
There are many others as well, so if you're not on one of the major international carriers like UPS, FedEx, or DHL Express, you can search for your local carrier and see what comes up.
Can You Fully Automate the Entire Process?
So, here's a question. Can you automate everything? I'm talking about when a user makes an order, and their information is received, formatted, added to a label, and label printing, so it's ready for you to slap on a package without even clicking a button. Is that possible?
As far as I can tell, the answer is no, at least not without either completely custom development or a lot of hacky workarounds. You might technically be able to do it via Zapier if you use the right zaps and the right middleman services, but then you have multiple points of failure for something to go wrong along the way.
Almost every shipping processor doesn't want automation of that level to work. The best you're likely to get is dropshipping, where you offload the fulfillment process to the person who ships out a product. But that's an entirely different kind of storefront and commerce, so it's not quite as applicable.
This guide is based on my research and experience managing dozens of Shopify marketplaces, but every Shopify merchant has unique shipping, automation, and order fulfillment processes. Since I run a content marketing agency, I don't need to ship blog posts - that means I might be missing some solution that some of our more advanced eCommerce stores are taking advantage of.
So, if you know of another, better automation system for generating shipping labels, by all means, please let us know. I'd love to get a conversation started in the comments and hear about all of the clever solutions Shopify users are coming up with to streamline this process!