Clearscope vs MarketMuse: Which is Better? [Updated]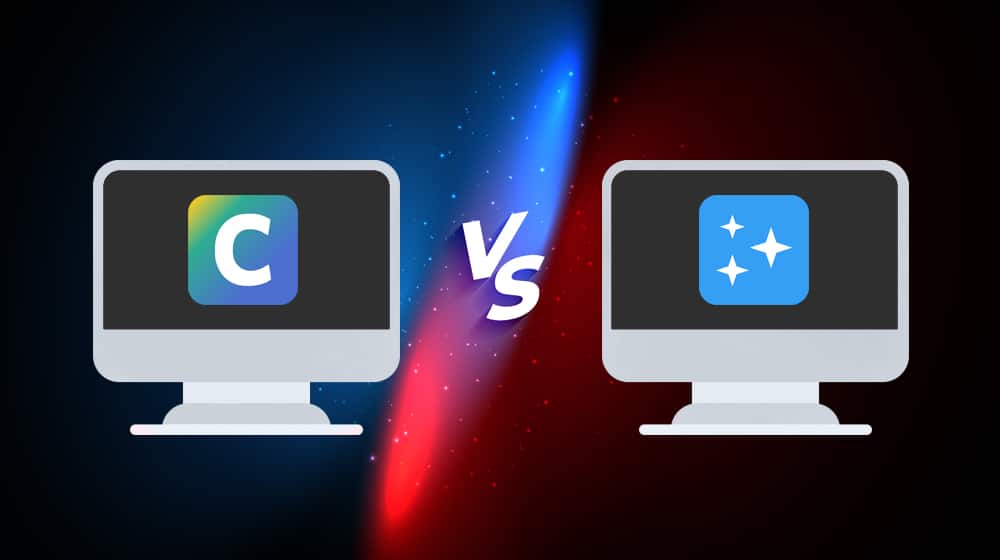 SEO is an immensely complicated industry. Google, which controls virtually all of it, has spent decades building up an algorithm composed of hundreds of different weighted factors, analyzed and categorized, to rank and organize web pages in search results. We marketers don't have nearly the power or the resources at our command to try to keep up with all of this. Even the biggest companies need to make significant investments in their marketing departments just to keep up with those aspects of SEO they have to care about.
For those of us in the 99%, we have to rely on what tools, knowledge, and intuition we build up over years. I fully admit that I'm not perfect; I have my blind spots, I have things I know I should be doing but don't, and I know there's a lot I don't know. This is why I try to use powerful tools whenever I can.
Two such tools are Clearscope and MarketMuse. They are both competitors in one particular niche: AI-powered content optimization tools.
What is Content Optimization?
First, before digging into the specifics of either tool, let's talk about what they do in general. What is content optimization?
Content optimization is everything to do with content marketing that doesn't involve writing content or the marketing of your content.
If that sounds weird, bear with me.
Neither of these tools creates content for you. Every few years there's a news story that circulates about how AI is ready to take over writing for humans, but it's never quite there. AI can only spin what it sees, it can't add unique thought or develop unique content. Maybe one day we'll reach that point, but I believe we're quite a ways away from it truly being worthwhile.
Neither of these tools handles marketing for you. They don't go out and fish for backlinks, they don't perform outreach, they don't post on social media.
So if they don't do content and they don't do marketing, how do they help with your content marketing?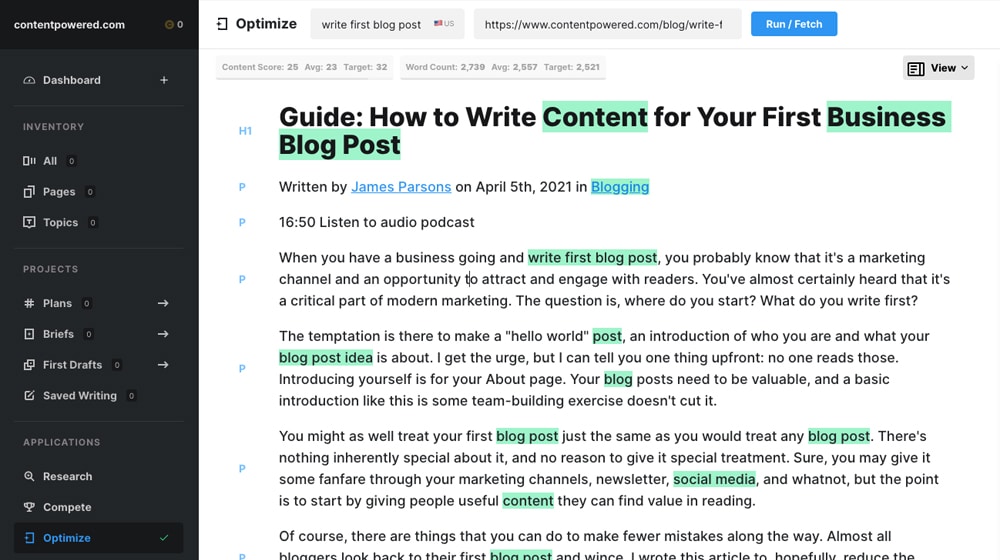 What these tools do is give you insight and information into what you're writing and, more importantly, what you want to write.
They help predict how successful a piece of content might be, based on a range of factors and comparisons to existing content in that niche and topic.
They help frame content. They can help you optimize your headings and titles for length, punchiness, and action words. They can analyze the specific keywords you use and recommend others.
They help analyze what you've written. They don't just give you suggestions, they give you reports on what you're already doing. How does your current content stack up, and where is it weak?
They help give you ideas. By analyzing content already produced on a given topic, they can give you ideas for related topics and terms you might not have thought of, but which slot into your writing right away.
They help compare you to the people that you'll be competing with. They'll assign a score to each of the competing posts and tell you what you can add or change to improve your score and reasonably compete with them.
It's all more sophisticated than that. That's just the basic idea of what they do. They don't produce content for you, they just help you make your content better. So, let's look at what each platform does, specifically.
What is Clearscope?
Clearscope is found here. Their product is, at its core, a very powerful keyword research tool. To use it, you plug in a keyword you're writing about. It will then generate a report about that keyword. This report includes keywords that are related to the primary keyword, content that is ranking for that keyword, and competitors you'll have to face down.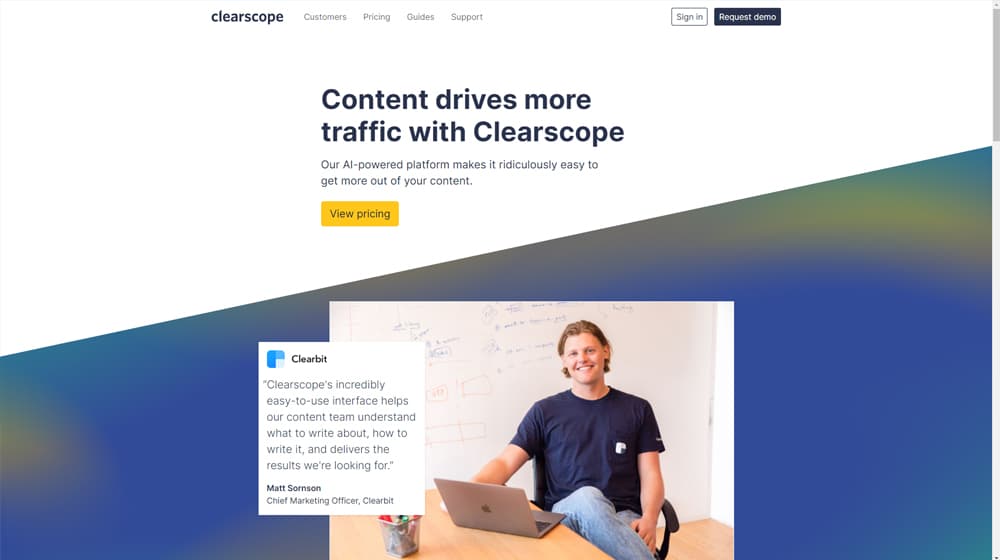 The platform also grades the content you've written. It flags keywords you use and rates them and the density you use them. It judges your readability level, your word count for the topic, and your formatting.
If all of this sounds like stuff you can do on your own, you're not wrong. There are dozens of tools you can use to replicate the features of Clearscope. Their advantage is two-fold. First, they put it all in one place and one platform, so you don't have to manage rounds of different tools. Second, they're powered by IBM Watson, IBM's AI platform, and use it to good effect.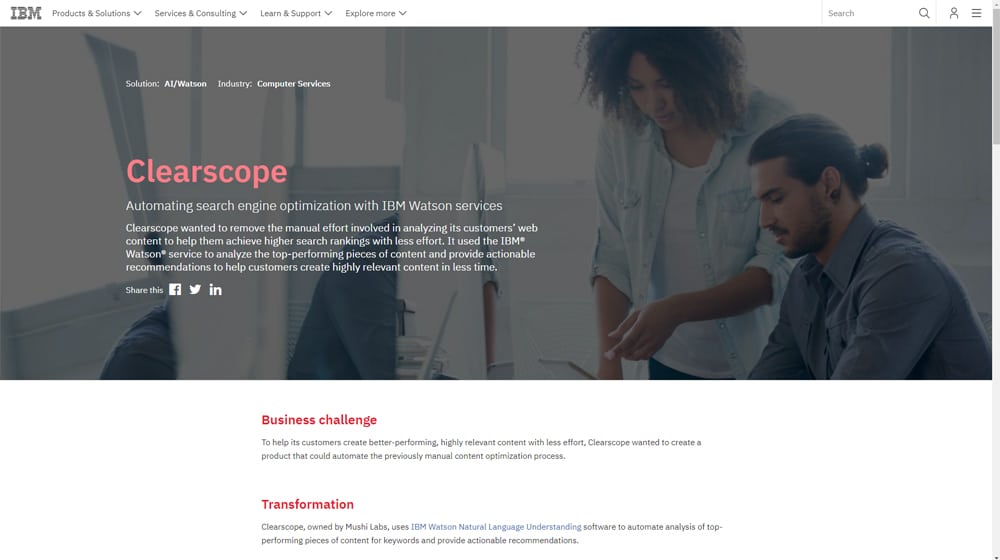 To be clear, Clearscope doesn't do everything for you. It doesn't produce content, it just helps you streamline, optimize, and tailor your content to fit in gaps in coverage and compete better against the existing field of content.
What is MarketMuse?
MarketMuse can be found here. They, too, are a content optimization platform, but they kick it into overdrive.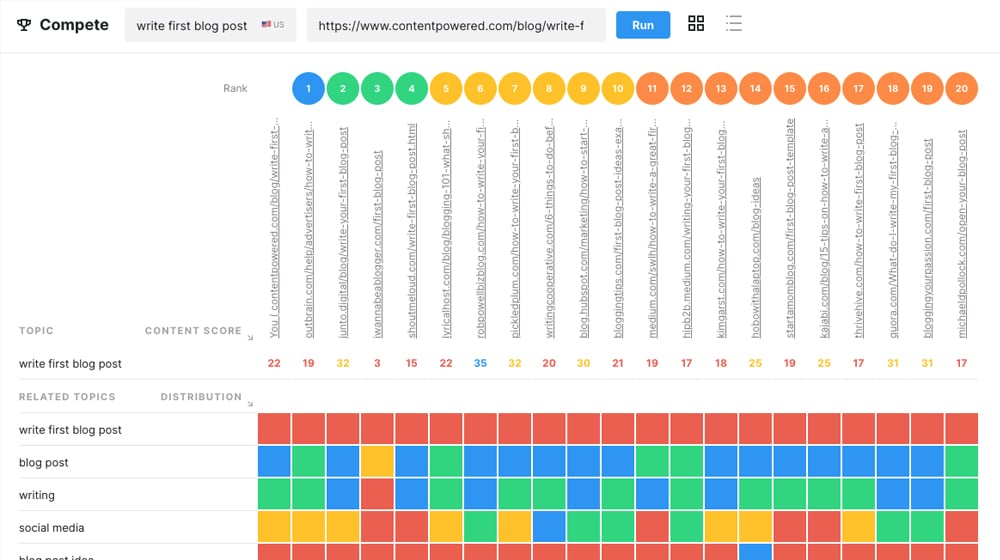 They have a handful of features above and beyond what Clearscope can do, such as:
Content inventory scanning. To evaluate your content, they scan everything you've published. This way they can give you suggestions of where your content fits in, not just with the competition, but with the content on your blog. This helps you avoid duplicating coverage.
Content briefs. Their AI analyzes the topic you're trying to cover, and develops a brief pitch for a subject, topic, or post you could write. It's a way to find gaps in coverage, either your own or industry-wide, which may be relevant enough to deserve an article.
First drafts. Their machine learning algorithms can synthesize a first, rough draft of a post on a given subject, once it has scanned the content that already exists. I have strong opinions about this feature, but I'll save those for later.
MarketMuse has many of the same features as Clearscope in terms of editing; it analyzes your draft, audits and suggests keywords, grades reading level, and so on.
Finally, the platform can also do some ROI tracking, topic tracking, and performance monitoring, giving you data on how well your content performs.
Comparison: Pricing
Clearscope has three packages. All packages include basic features, such as free onboarding and training resources, priority support, unlimited exporting and sharing, and the ability to change between plans as needed at any time.
Here's the pricing breakdown for Clearscope:
The cheapest Clearscope plan is $170 per month. This comes with 20 report credits, 1 user, integration with Google Docs and WordPress, and support for English, German, Spanish, French, and Italian. It's unclear whether this means their content audits work in those languages, or if it just means their platform has been translated.
Their professional plan is $350 per month. This increases the number of report credits to 50+, gives you more user seats, and gives you access to the keyword research tool.
Finally, their enterprise platform gives you as many credits and users as you need. It also gives you the option to target a specific TLD instead of "all of the internet" for your research, so you can specify regional target markets. Pricing for this scales depending on your needs.
Meanwhile, MarketMuse has four plans and a 7-day free trial.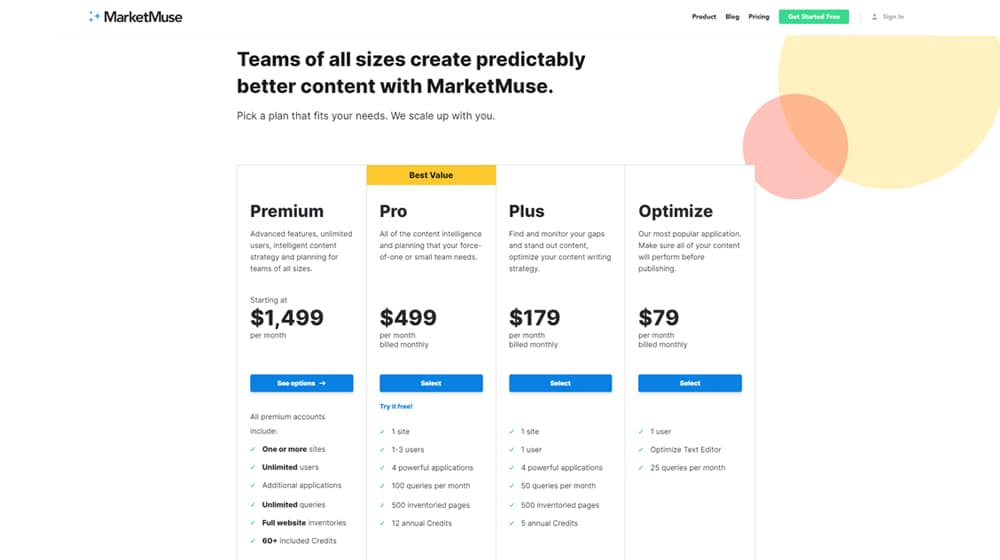 Is your blog earning you business? If not,
let's fix that.
We create blog content that converts - not just for ourselves, but for our clients, too.
We pick blog topics like hedge funds pick stocks. Then, we create articles that are 10x better to earn the top spot.
Content marketing has two ingredients - content and marketing. We've earned our black belts in both.
If you run an internet-based business and are looking to scale, schedule a call to speak with our founder:
Here's the pricing breakdown for MarketMuse:
Their cheapest plan is $79 per month. This gives you one user, up to 25 keyword queries per month, and access to their optimization engine for the text editor.
For $179 per month, you get that, plus one site, access to "four powerful applications", up to 50 queries per month, a scan and inventory of up to 500 of your web pages, and five annual credits.
For $499 per month, you get up to 3 users, 100 queries per month, and 12 credits. This is the version that has the free trial.
Finally, for $1,499 per month – yes, it's a steep jump – you get unlimited users, more sites, additional applications, unlimited queries, full website inventories for larger sites, and 60+ credits.
This leaves me with two questions: what are the applications, and what are the credits?
Credits are what you use to purchase content briefs, first drafts, content plans, and competitive analysis reports. In short, without credits, you don't get access to any of the AI-driven stuff.
Applications, I assume, are those tools you use to get that stuff. The tool that generates briefs, the tool that generates first drafts, the tool that generates keyword reports, that's what I assume they are. It's unclear.
Comparison: Features
Clearscope is a very useful tool for what it does, which is to analyze keywords, content online, and content you feed it. These tools are all very effective, and they have a well-known and powerful supercomputer that is powering them.
MarketMuse does all of that, and so much more. The ability to generate briefs or even first drafts of content (which I have some issues with) is very powerful, but the limit in credits is very steep. Additionally, there's no indication of which AI system MarketMuse uses, so it's difficult to draw a mechanical comparison to IBM Watson.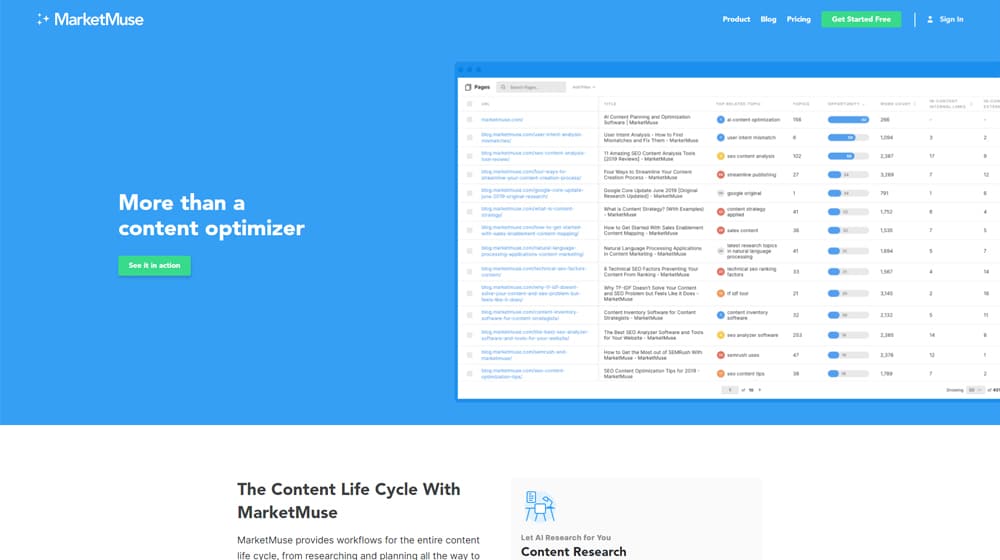 Essentially, Clearscope and MarketMuse can only really be compared at the lowest level of MarketMuse's software, which only includes content auditing and none of the generation tools. Otherwise, the two systems are incomparable.
A Word About MarketMuse First Drafts
Before I wrap up, I just have to take a minute to talk about my issues with the MarketMuse first drafts feature. I mentioned way up at the top that neither of these platforms creates content for you, and yet here is MarketMuse, offering to create first drafts for you.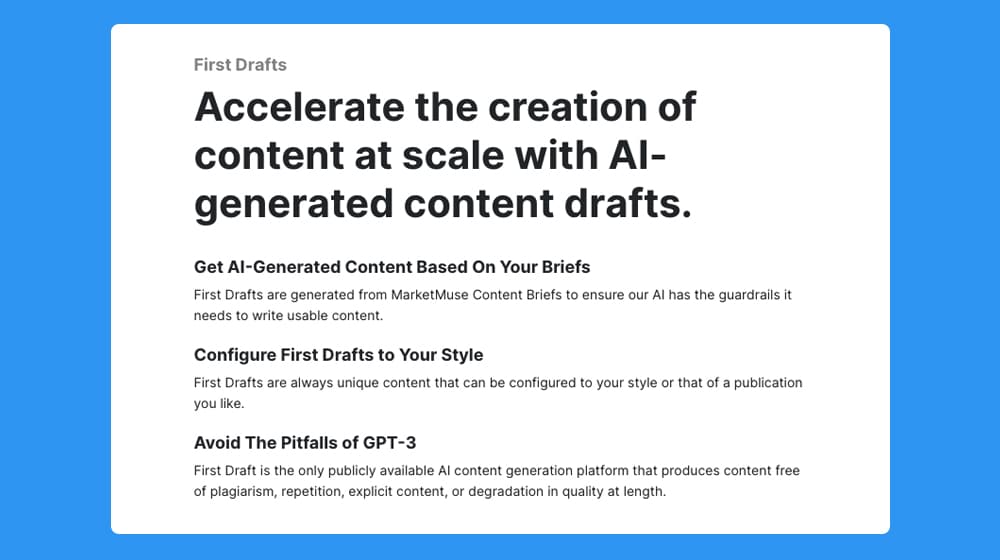 What gives?
Here's the thing: MarketMuse has to be fueled by existing content. It uses layers of machine learning and AI to obfuscate what it's doing, but it's essentially a glorified article spinner. Oh, it might synthesize bits from a variety of different sources, but there's one thing it can't do: produce original information.
If you think about all of the best articles on any subject online, you'll come up with a few specific kinds of work.
Content that uses original research, case studies, or data sets.
Content that synthesizes information from various sources into unique thoughts and conclusions.
Content that aggregates various valuable resources in one place.
Of these, only the third one is something MarketMuse might be able to do, and I put that "might" under a lot of strain.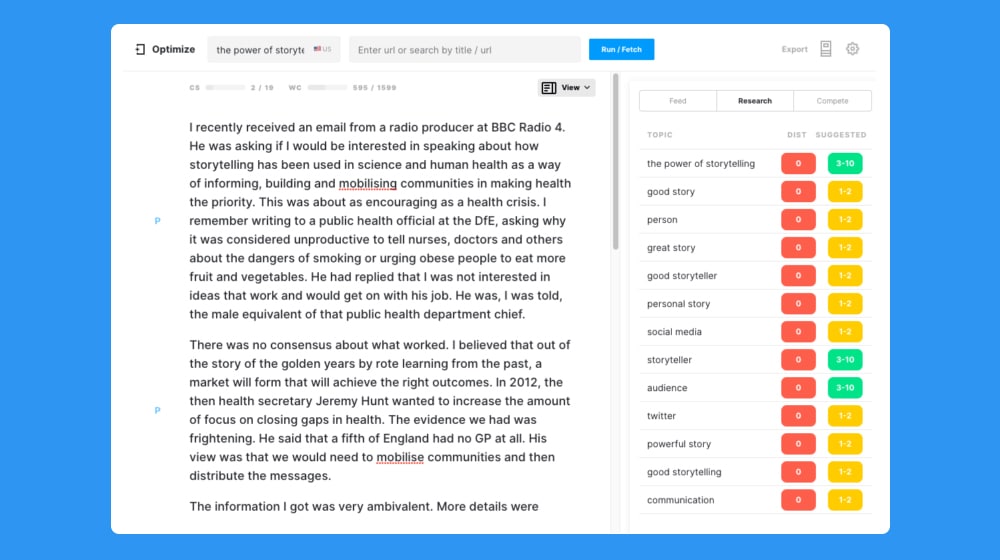 No AI system that exists today can create original research, case studies, or data sets, and no machine learning system will provide original thoughts.
Sure, systems can try to do that. Some are even gamified, like AI Dungeon. The difficulty lies in one factor: truth.
An AI system can produce a completely new case study out of thin air, but that case study won't be real. It can produce a data set, but that data set is artificial and meaningless. No matter how sophisticated the system, there is no way for an AI to create original content as a replacement for human thought - not if you want it to reflect reality, anyway.
So, if you want to write a rundown on the features of credit cards, or a list of the most important parts of SEO, or a history of how bicycles work, by all means, use an AI to aggregate and synthesize that information. If you want to create a fictionalized business to use as a hypothetical example, sure, an AI can do that.
If you want real innovation, an AI can't help you. Not yet, and probably not for many more years to come.
Which is the Better Platform?
It's difficult to say which is the better platform because it depends entirely on what your use case is.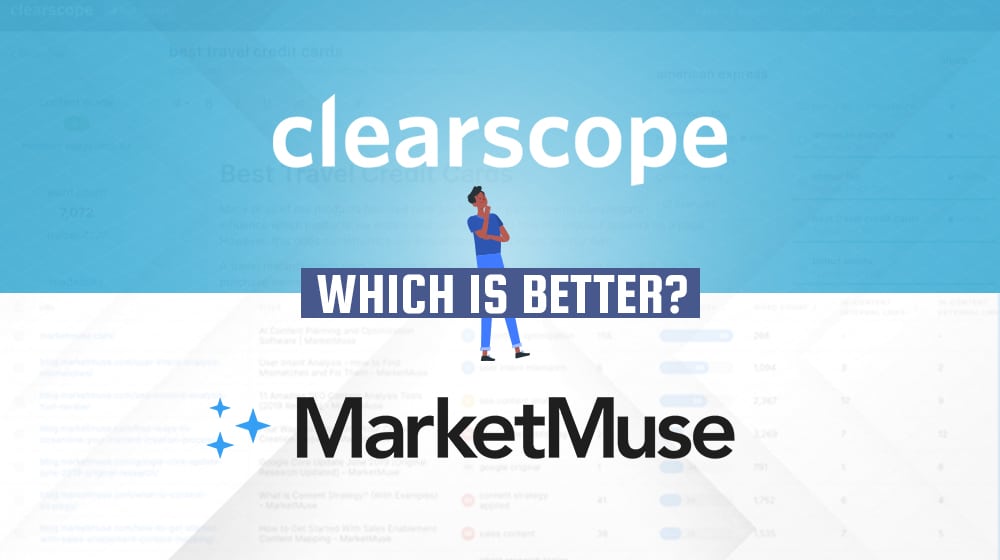 If you want topic analysis, content editing, and competitive analysis, both platforms offer these features. Clearscope is the more powerful of the two, and is both more robust and more flexible. It is, unfortunately, the more expensive of the two at the low-level plans.
If you want AI-generated briefs, AI-generated content, link suggestions, or any of the more advanced features? Your only option is MarketMuse. Clearscope doesn't offer those features. Unfortunately, with MarketMuse, you're going to be paying for them.
So, the three main considerations you have to keep in mind when choosing a platform will determine which one you get.
Is your budget a primary concern? MarketMuse offers the cheapest intro plan, but Clearscope has the lowest ceiling.
Do you want AI-generated content and planning? MarketMuse is your only choice, but their credit system is a huge restriction.
Do you want numerous pieces of content per month or every week? Clearscope is probably your best choice. MarketMuse makes you pay a ton to have any reasonable content flow.
Despite my misgivings on AI-generated content, MarketMuse is a decent place to get a lot of your basic legwork done for you, if you can afford it.