The 6 Best Content Distribution Platforms That Actually Work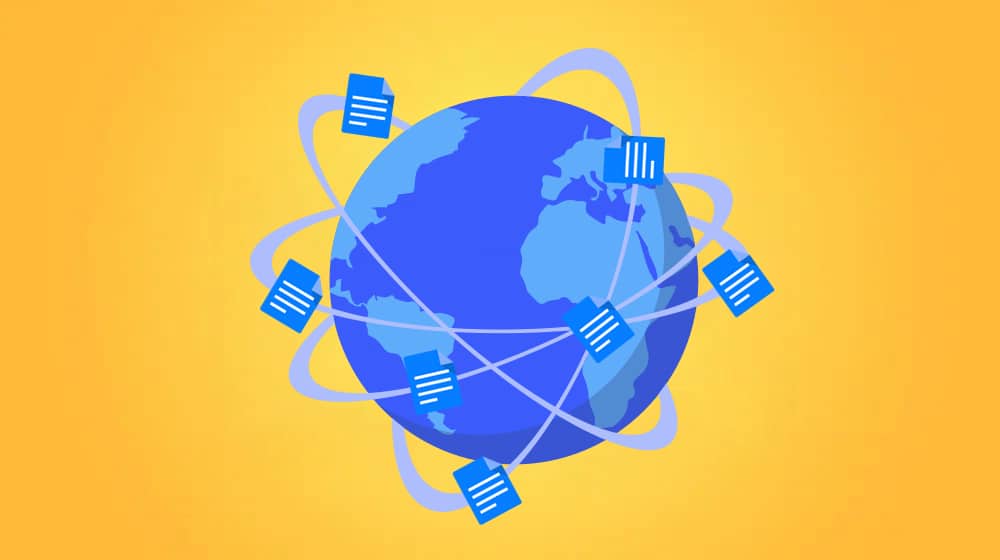 By this point, you've read the phrase "if you build it, they will come" from content marketers somewhere. You've probably also read an explanation of why it's not the case on the modern internet and why you need dedicated promotion for your content to pick up traction and bring in visitors.
I can tell you two things:
Passive content marketing works. Visitors will come if you build it and hang in there long enough and consistently enough. It's slow, often, with very little feedback to keep you going, and it takes a long time to get rolling, but it will happen.
Content promotion is an easy way to kick-start your content marketing dramatically. Even a relatively minor investment can show incredible returns (which is why ad platforms like to give you $50 in credit just for signing up.)
There are a few different ways you can distribute and promote your content.
You can run paid advertising. Pay-per-click ads pointing at content can be helpful for brand building, but they're often paying a bunch of money for views that aren't necessarily likely to lead to anything. PPC is best left for landing pages and sales-focused remarketing, in my opinion.
You can post to social media. This content distribution strategy is just an easy, low bar to clear. Post your new content to a Facebook page, post to Twitter, post to your other social network accounts like Pinterest and Instagram, you know the deal. It's organic, so it's cheap, but it's also not super effective unless your content is highly compelling.
You can post to niche groups and communities. Facebook Groups, LinkedIn Groups, niche subreddits, channels on Quora, and even Discord and Slack channels can be effective ways to share your in-depth content. However, you can't just swoop in and post your content for most of these. It's super obviously just promotion and will get you banned. Instead, you need to participate as a member of those communities and only link your content when it's highly relevant; even that can get you slapped if a mod is particularly annoyed that day.
What's the solution? Content distribution platforms.
What Are Content Distribution Platforms and How Do They Work?
Content Distribution Platforms are technically a vast category of websites, generally encompassing pretty much everything that can be posted on by people who don't own the site.
Facebook, Twitter, and other social networks are content distribution channels. Quora is a content distribution platform, and ad networks are content distribution platforms. See what I mean? Anything short of a personal blog that rejects guest posts can be considered a content distribution platform.
That's not a helpful definition, so let's narrow it down:
A content distribution platform is a website dedicated specifically to promoting user-submitted content to a new audience.
It's not your typical paid advertising as display ads, but it can encompass native advertising, which you'll see later on. It's also not social media since the content is the focus, not the socialization and comment feeds.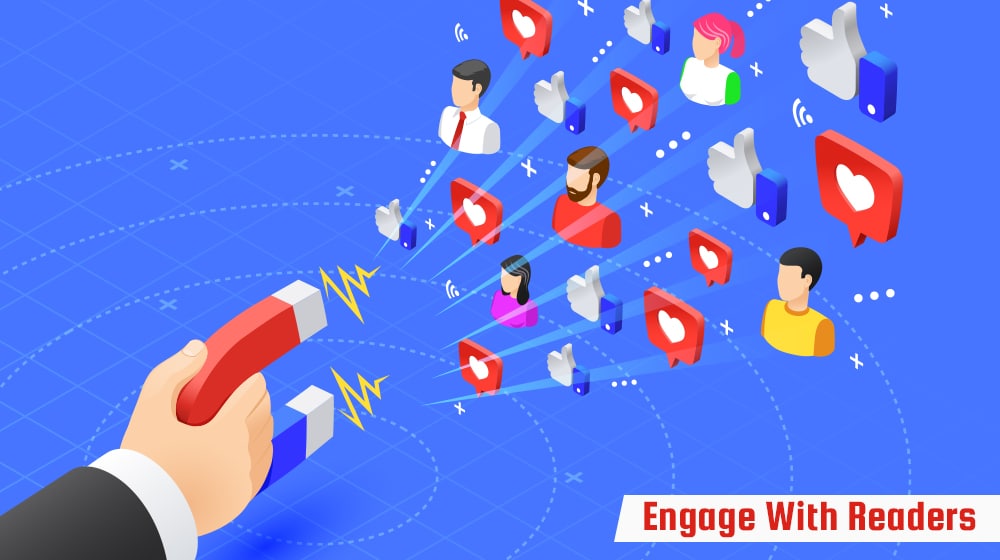 A content distribution platform is a platform that assists primarily with distributing your best content without trying to do things to get in the way, like limiting you to tiny display ads, pushing a social network, or otherwise interrupting the flow of traffic to your content.
I've identified seven content distribution platforms I would consider top-tier and a few I wouldn't. Read on to learn more!
You may have heard of link exchanges if you're familiar with black and gray hat SEO techniques. Quuu is not a link exchange but is vaguely similar. It's like a content discovery feed, similar to how StumbleUpon used to function, but it's also paid promotion. It's almost, in a way, unique.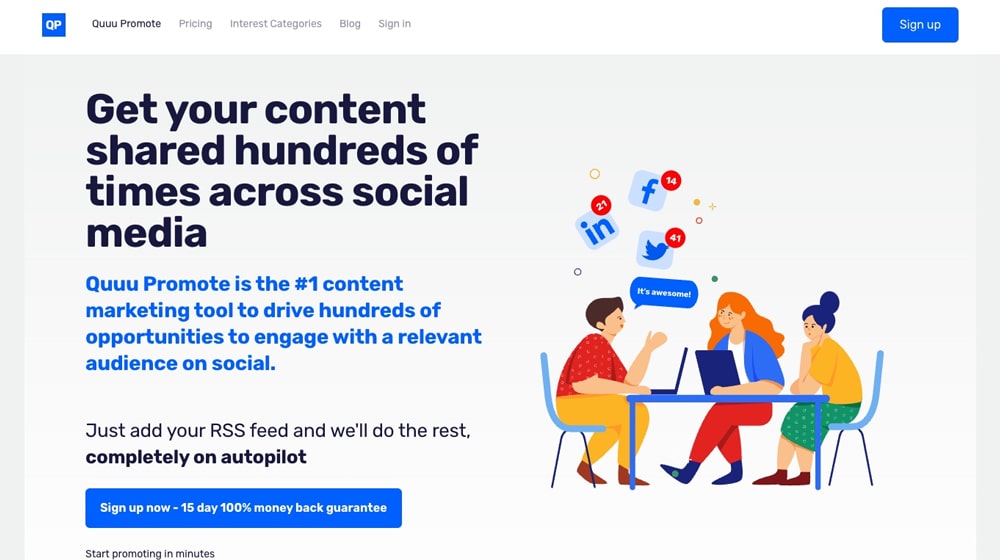 Here's how it works. You sign up and add your RSS feed to their list. Their moderators review the content to ensure it fits within their guidelines (since they won't promote just anything and will disallow spam, adult content, and things they don't want on their platform). Once approved, it gets fed to many accounts in the Quuu network. Those accounts – real people and brands – can then share your web pages by creating new social media posts. A shared piece of content looks something like this, for example.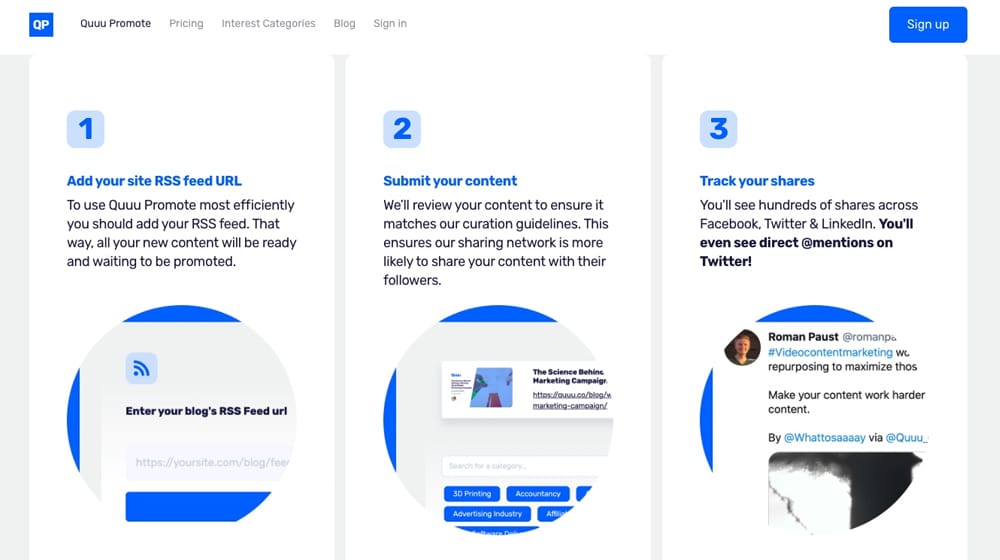 It's not cheap, of course. This service is paid promotion, and the initial plans cost $50 or $75 per month, depending on whether you want to set it up manually or automatically.
As you can see from the example tweet I linked, your content isn't likely to get picked up by influencers and go viral from Quuu. You get a lot of first-degree shares and exposure, but most of the accounts sharing Quuu content aren't huge names and don't have large, engaged audiences. But there's always that chance, and any exposure is better than nothing, right?
#2: Outbrain/Taboola
Outbrain and Taboola are like the Uber and Lyft of native advertising. They're two of the largest competing native ad networks. I guarantee you've seen them around unless you've been using an ad blocker religiously since 1995 and never browsed the mobile internet.
Most blogs these days have boxes of "related posts" floating around. I do, down at the bottom. Sometimes they're over on a sidebar, occasionally interstitial; you know how it goes. They show up all over the place. Why is this important?
Outbrain and Taboola allow you to create and run ads almost like those related post boxes, except they have a little sponsored content icon and a "via Outbrain" or "via Taboola" on them.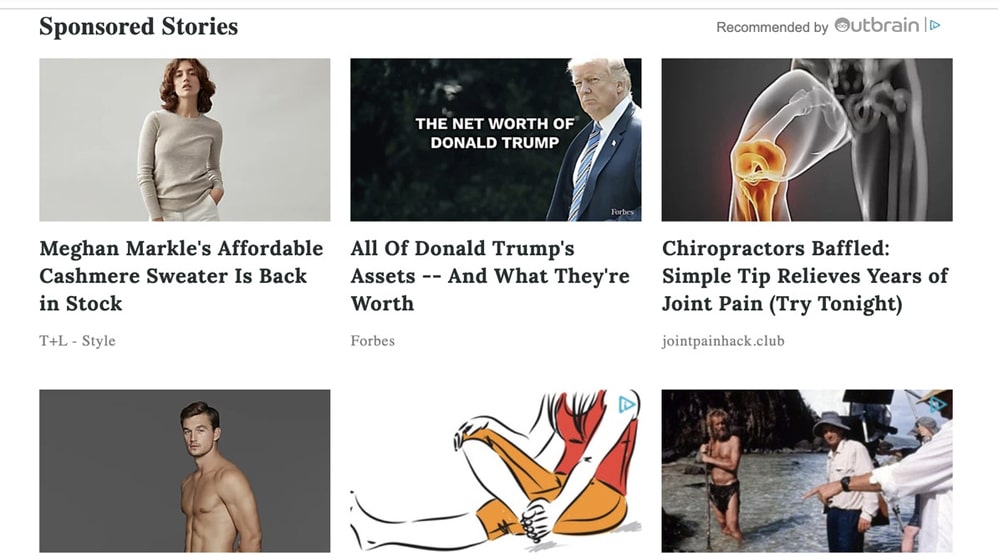 These kinds of ads work best when your content is related to the content the user is reading, but placement largely rests in the hands of the network. Outbrain and Taboola both have high standards, high costs, and sophisticated algorithms to help with this, which is why they're the best native ad platforms.
Note: These can be pretty effective ad campaigns, but their pricing is steep, so be prepared to pay what they're worth. Last I checked, you also had to have a pretty significantly-visited site to be a publisher, so at least you know your placement will be on popular sites.
#3: Reddit/Imgur
Reddit isn't just any social media platform. I said social media wasn't content distribution, but I lied a bit. Don't worry about it; it happens sometimes, and it's okay.
Reddit and Imgur are like two peas in a pod. As we all know, Reddit is a content-focused social media site that responds to things like Digg. It has expanded over the years until it consumed the entire internet, so much so that new internets need to be invented to get away from Reddit.
Imgur, meanwhile, was created as an image host similar to something like Tinypic, Photobucket, or WaffleImages, and has lasted somewhat longer than those others without resorting to blocking hotlinking or monetizing archives.
These days, Imgur plays host to most of the media posted on Reddit (which in turn is primarily screenshots of Tweets, Facebook posts that are rewritten, and Tumblr posts that were inspired by Tweets; you get the idea.)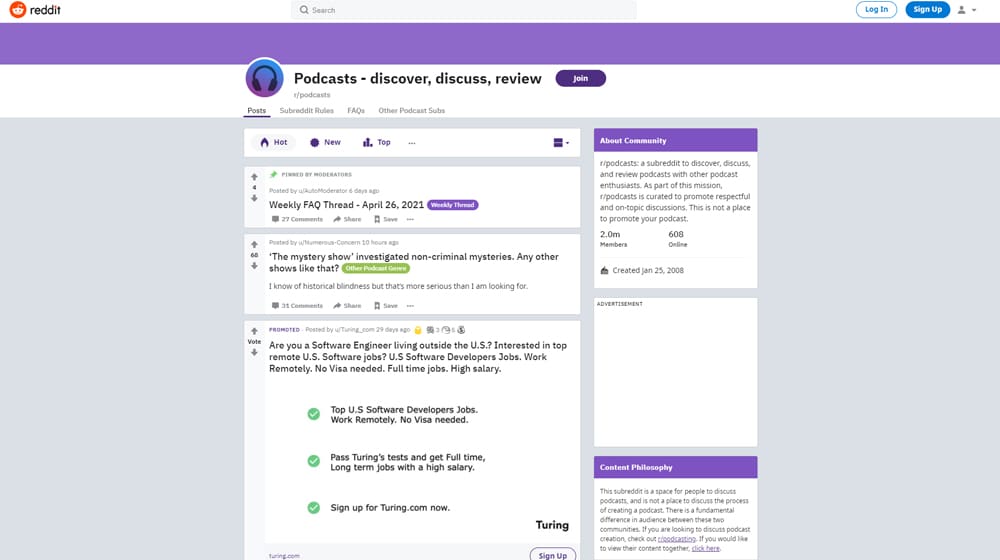 You can use both in both organic and paid ways. I recommend organic. You need to find niche subreddits on Reddit that meet your subject criteria and post your relevant content there. It's hit or miss, to be honest. Sometimes it will be a hit, and sometimes it will be immediately called out as an ad and deleted.
Of course, you can do the same with Imgur with an image or video-focused post rather than pure text. Or, you can use their paid advertising programs. Heck, post it on Imgur and then link the Imgur post on Reddit, and you're golden. It's a bit more complicated than that, but honestly, not by a lot.
Note: Reddit is pretty hostile towards overly-promotional content. Reddit can be harsh, and if you're trying to promote a half-baked overly-promotional blog post or infographic, it will get downvoted into oblivion.
It can go viral if it's a high-quality resource that is published at the right time to the right target audience and demographic. When I hit the front page a few years ago, my server crashed from Reddit traffic, and 500 people per second were trying to read my article. It's possible to have this kind of success, but it won't work for every piece, and you need to find the right audience and subreddit. Your post has to have real value and interest from the community, or it'll never work.
Storychief calls itself "the modern way to publish content," which seems a little self-aggrandizing, but hey, that's digital marketing for you. It's a big, all-in-one platform that does a little of everything, from content creation and collaborative creation to marketing, social media management, and analytics. They even have one of those AI-driven SEO optimization engines like Clearscope on tap.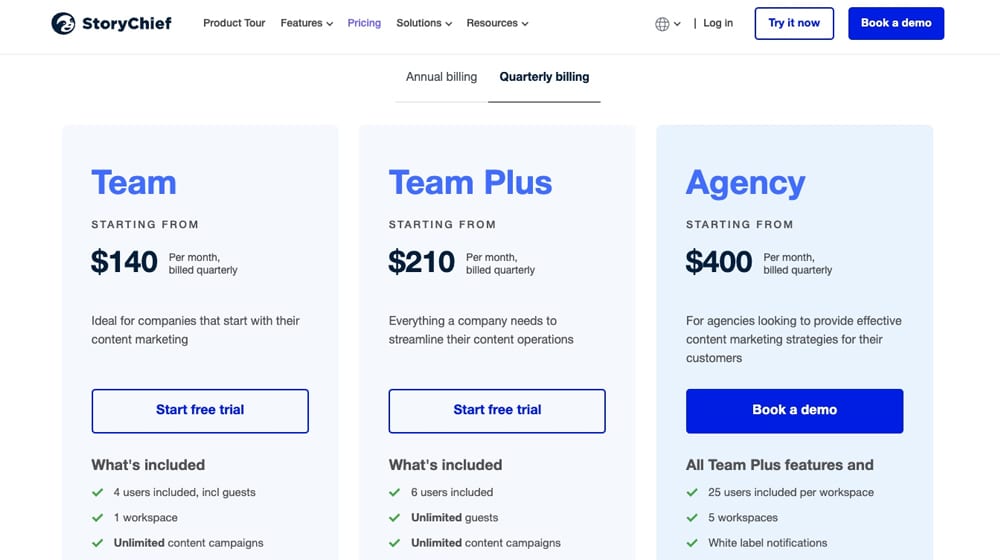 Is your blog earning you business? If not,
let's fix that.
We create blog content that converts - not just for ourselves, but for our clients, too.
We pick blog topics like hedge funds pick stocks. Then, we create articles that are 10x better to earn the top spot.
Content marketing has two ingredients - content and marketing. We've earned our black belts in both.
If you run an internet-based business and are looking to scale, schedule a call to speak with our founder:
Storychief isn't a content distribution platform; it's more like an effective content promotion tool. You create your content and promote it on all the various channels you already have set up, whether it's social media, curation destinations like LinkedIn or Medium, etc. It helps cut out the time you spend manually promoting your content on all those platforms, which is very helpful.
MeetEdgar (Edgar to its friends) is a content calendar on steroids. I've written before about how valuable a content calendar is, so it should be no surprise that I'm recommending a massively beneficial calendar that also auto-posts for you, eh?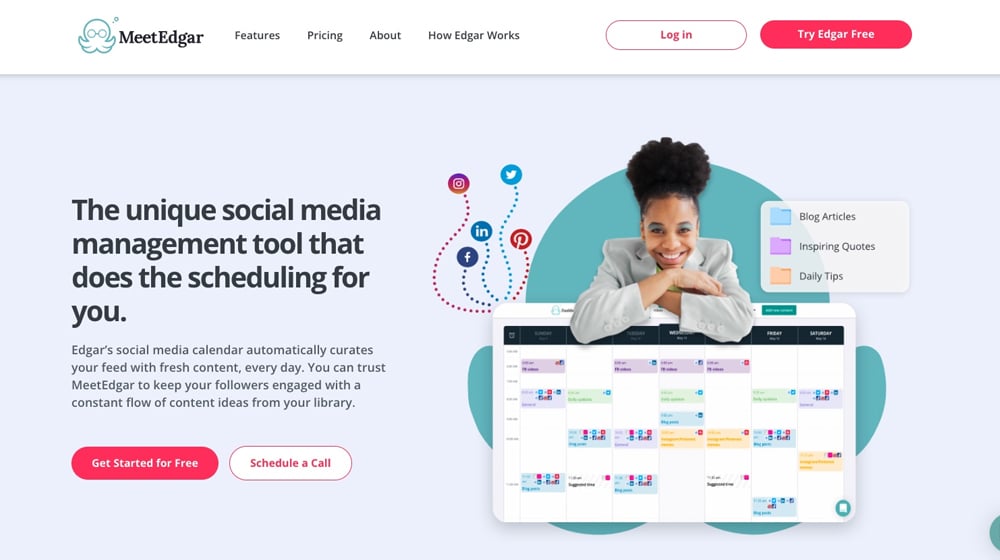 Edgar gives you a calendar interface and allows you to automatically publish and schedule posts for promotion and promote them on all your social media channels. It also has simple, easy ways to curate content, auto-republish content for multiple rounds of sharing, and even track some analytics about how your content performs each time around. I think it's pretty great!
Medium.com was initially meant to be like TwitLonger, a way for Twitter people to post long-form content with deep integrations with Twitter at the time. Both sites have moved away from that model, though; they're entirely separate entities now.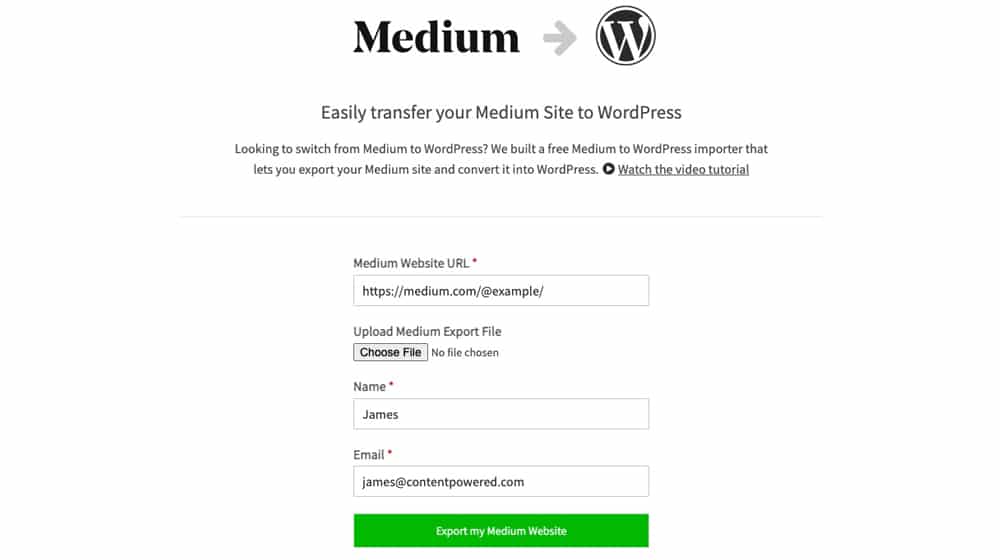 Medium today is just a publishing platform, so why is it here? Two reasons.
First, bloggers can safely republish older content on Medium to drive links and organic traffic to your leading site and better use your older content.
Second, it has a pretty massive audience of its own that can browse and see your content when you post it there.
I wrote about how you should use Medium for a business (and it's not using it as a business blog) here, so give that a look.
Twitter Ads are surprisingly effective for promoting individual blog posts. Even a $10-20 budget can go a long way with improving impressions, clicks, and visibility on the Twitter platform.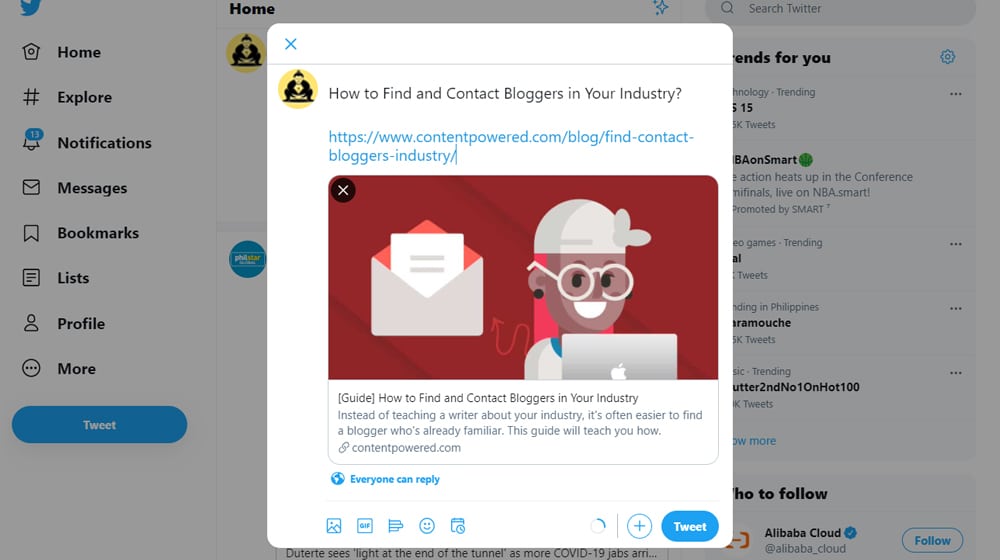 While it may seem counterintuitive to run ads for every blog post, boosting tweets on Twitter is actually quite a bit cheaper than most of the other options on this list, and you can tap into a massive audience all at once. It's worth trying on your most important articles, such as linkbait posts or pillar content.
Dishonorable Mentions
Note: Just because a distribution platform is on the bad list doesn't mean it's terrible, just that it's bad for content distribution.
#1: Triberr
Triberr was one of the original "build a community and collaboratively shared content" platforms.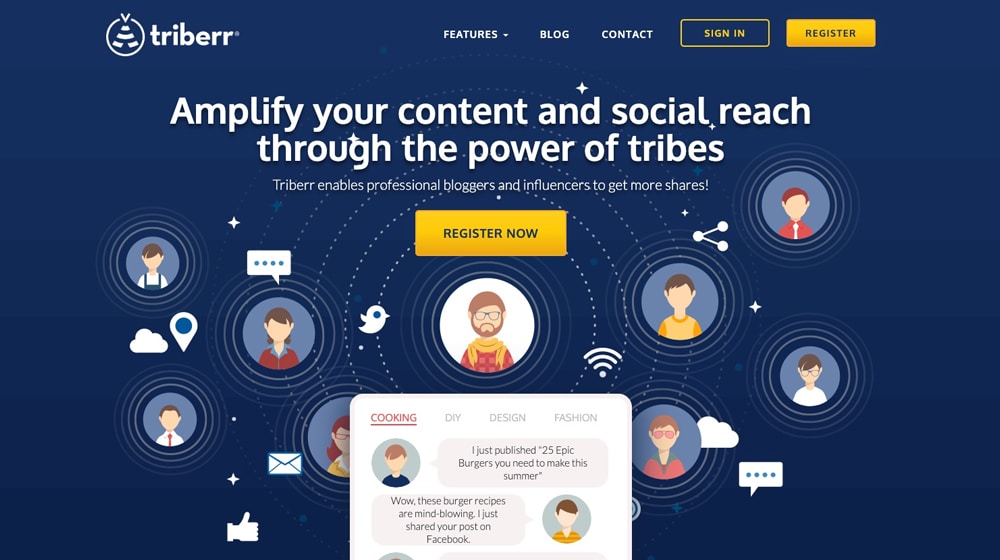 They've been around the block a few times, rebranded and re-engineered themselves, and are pretty different now than they used to be.
That said, unfortunately, they don't seem that useful. Everyone I've talked to who has also tried to use the site says it's full of spam and people posting their content and hoping oth
ers will pick it up and share it, but no one uses it to find and share great content, so it's just howling into the void.
There's plenty enough of that to go around just on Twitter, so I don't see Triberr being worthwhile.
#2: HARO
HARO is an excellent site for link building, citation building, brand awareness, and hooking up with journalists (professionally). I've written before about how to use it effectively and had some reasonable success myself. So why is it in the dishonorable mentions pile?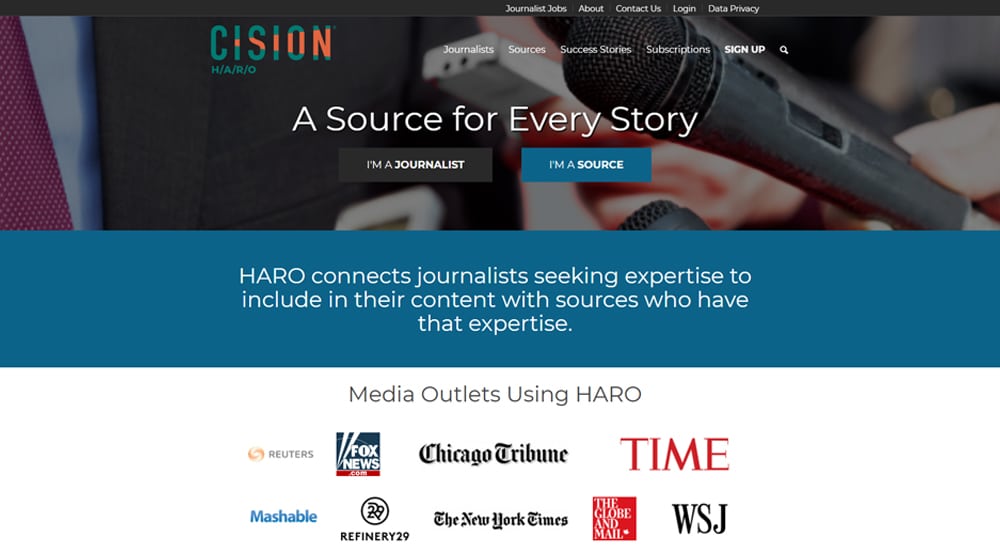 It's because it's not a content distribution platform. If you go into it and try to share links to your content, you won't get anywhere. It's all about original quotes and citations, not whole article shares.
It's great for link building but trash for effective content promotion; this makes sense since it's not a distribution platform, so why do all other marketers have it on your lists? 
It's okay; I'll write a better list.
#3: Press Releases
Press releases are also something we see in a lot of these content distribution lists, but they aren't effective at all for promoting content.
Press releases are about sharing important news at your company. Sure, company news is technically a type of content, but the truth is that most of your company news that you think the world will love will not go viral like you had hoped it would. If Apple announces the next iPhone as a press release, it will get picked up and receive worldwide coverage within minutes, but that news is attractive to people worldwide.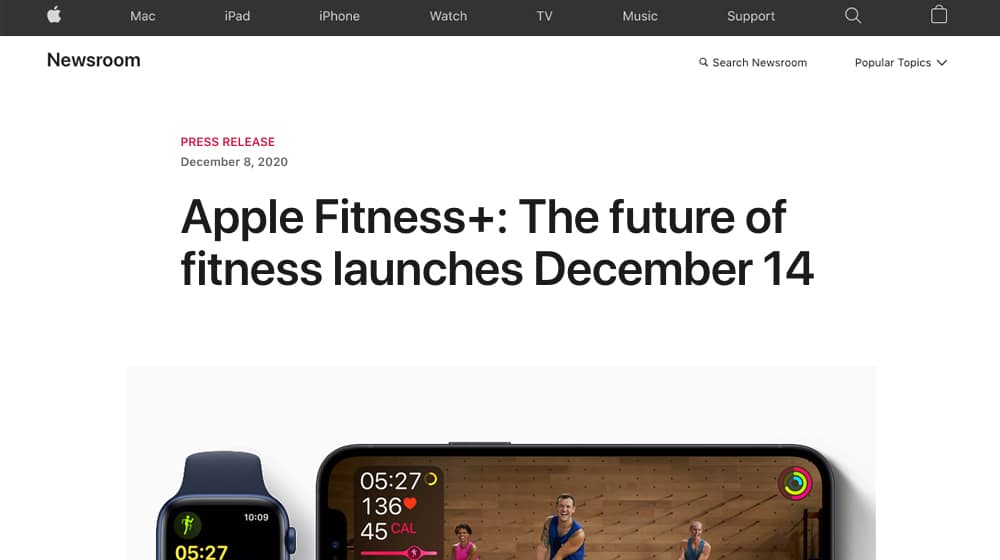 If your news isn't something groundbreaking or earth-shattering that you couldn't tell to 100 random people without piquing their interest, it likely won't do well in a press release.
#4: Zest.is
Note:
 Since Zest's acquisition by WalkMe in 2021, their Chrome extension is
no longer working
, and opening up a new tab shows you the time and date without any recommended content. Many reviews also mention that the plugin doesn't work anymore, and an official blog post says
it was sunsetted in January 2022
. WalkMe is working on a new platform called WalkMe WorkStation that will work similarly and serve the same purpose, but it's not available to the public yet.
Zest billed itself as "the Information Enablement Tool," which isn't catchy, but at least it's unique. Their primary offering, which seemed to be a document indexing and sorting tool, isn't why we're here, anyway. What we're here for is their Marketing Community and Discovery program.
This service worked much like StumbleUpon used to work and how Google Discover works today. You could post content to their Marketing Community manually through their site. There used to be a WordPress plugin to do it automatically, but it doesn't seem to exist anymore.
Anyway, the core of the distribution platform was this: Zest New Tab. Zest New Tab was a plugin for Chrome that makes it so that when you open a new Chrome tab, instead of a simple homepage like Google or a start screen, you get a page of recommended content that they added to the Zest network.
Anyway, that is my top list of content distribution platforms. Do you have a favorite you wish I would cover? I can't guarantee I'll recommend it – plenty of people think my comments are a content distribution platform – but I'll at least take a look. Feel free to let me know all about it in the comments.