25 Websites and Job Boards for Hiring a Company Blogger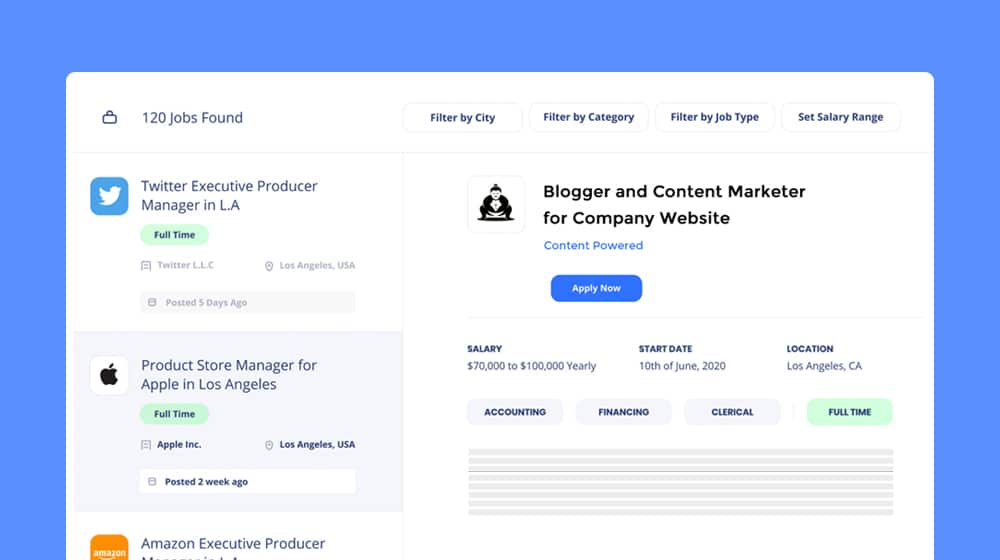 I've spent a while convincing businesses that you need a blog to survive business on the modern internet. Now that you're convinced, you're probably starting to look at how you can get a blog up and running, keep it updated, and start building up those benefits.
Maybe you've tried to do it yourself, and you're working on building a content strategy. Maybe you've realized it's something best left to a professional, and you want to hire a blog manager. Maybe you're willing to do most of the legwork yourself, but you want to hire a writer or blogger to do the hardest part – the writing – for you.
That's what this post is all about. If you're looking for a writer for your company blog, you can hire someone as an employee or you can contract with a freelancer, or even multiple of both.
Sure, you could hire a blogging agency to do everything for you, but that's just too much for some people. Sometimes it's too expensive, and sometimes you just want to maintain more total creative control. Either way, a good compromise is to hire a blogger or two while doing the management and strategizing yourself.
So let's dig in! Here are 25 assorted places you may be able to find a writer or blogger for your company blog.
Your Own Website
First up are places under your control. These are the most direct way to advertise to your audience. If you find someone through these channels, you're starting in a good place; they probably already have knowledge and interest of both your brand and your niche. The only downside is that you're only pulling from your audience, which means potential reach for your job posting is small.
Your Domain – Advertising on your own website is usually a good idea for any sort of job opening you have. Many sites have a "work for us" link in the footer, and when a position comes along that you need filled quickly, you can add a button to your navigation and put a banner across the screen. Using your own domain means you have complete control of the process, as well.
Other Domains You Control – In some cases, you might have a handful of different domains or businesses that are somewhat linked with each other. I have several websites, which I keep generally separate, but I can solicit applications on one and get that person to work for another, since they're really just working for me. This is especially effective if you have several websites with different audiences.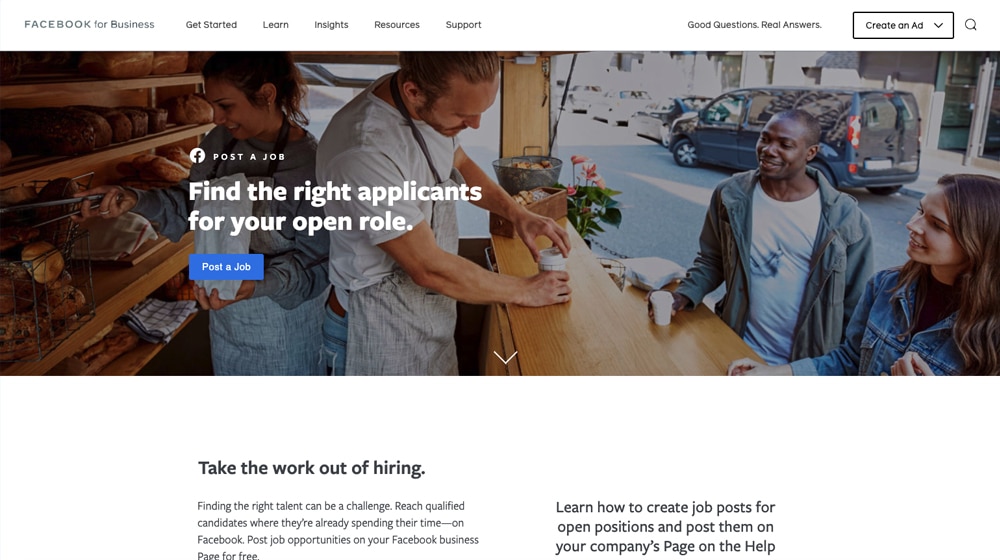 Facebook – You can use your Facebook business page for two purposes here. You can make posts that link to your on-site job openings and advertising letting users know that you're hiring. You can also post a job to the Facebook Job Board using your business account. Interested applicants can apply directly through Facebook, and Facebook will even ease the process by auto-submitting some information from their profile so they don't need to fill it out. It's a robust system that works pretty well, though you do need an active Facebook account for it to work.
Content Mills
Content mills are a place to get content for cheap from a wide range of freelancers. You aren't paying much, but you're also getting what you pay for. If you find a good freelancer, most of these sites have ways to work with them more directly through private orders, but you're never actually able to hire the writers; content mills have anti-poaching protection.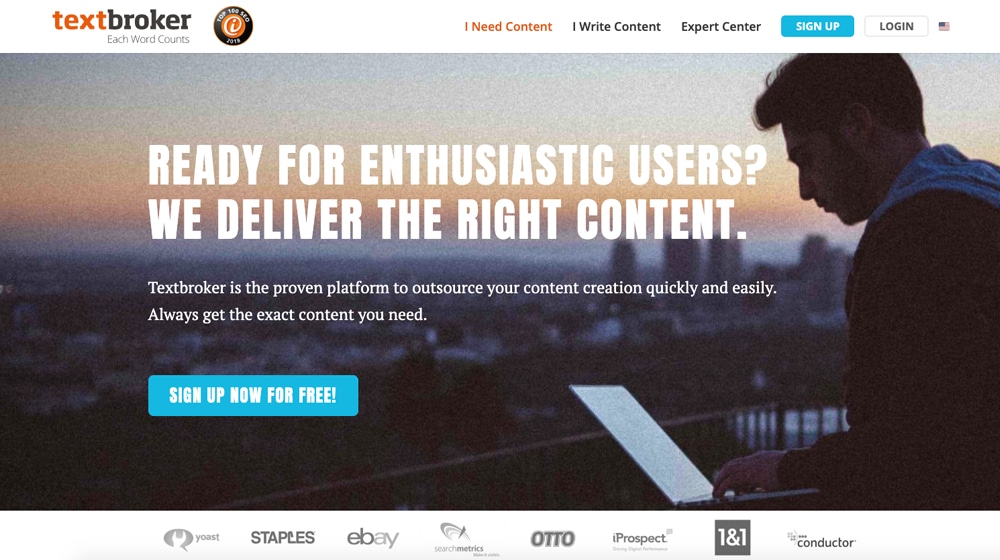 Textbroker – Textbroker is one of the largest content mills still operational. You can post individual writing assignments to an open pool, you can set up a team and accumulate specific, talented writers to pick orders from a smaller private pool, or you can send assignments to specific writers directly. There are some very talented writers on the site, but I recommend avoiding open orders; the general pool is usually the dregs and you won't get much good from it.
Writer Access – Writer Access is a higher-tier content mill that has a similar system of open pool orders, casting calls to hire specific people, or direct submissions to individuals. The talent pool is generally better than something like Textbroker, but you do need to buy a membership, not just pay for individual assignments. It's a great value if you use it enough, but if your volume is low, it might be a bit expensive for what you're getting.
Constant Content – Constant Content is a content marketplace.  You can browse content that is already written and available for sale to buy immediately. You can send messages and direct orders to individual writers if you like what they produce, and you can set up casting calls to get submissions for assignments. It's even more costly, but the quality level is pretty high, so it's a good place to look if you just want to buy content and don't necessarily need to hire individual writers.
Verblio – Formerly known as BlogMutt, this company works with you to develop a blogging strategy and fill it with content. You submit orders for content with as much or as little detail as you want, and writers submit their pieces. You pick the piece or pieces you want to buy and buy them, while the rest go on to be available for other companies working in similar niches. Pricing is on the high end of content mill prices, though still much less than you'd be paying for a talented in-house employee.
Zerys – Zerys is one of the older content mills still operational. You can post assignments and get submissions for them, or you can hire their managed content services. I do hesitate slightly to recommend this company, simply because I haven't used them in a long time, so I don't know how robust or varied their writer pool is or what the quality levels of their current content are. If you've used them in the last year or so, though, please leave a comment below!
General Job Boards
General job boards are a great place to find bloggers, particularly for remote jobs, because you're able to reach a huge audience with them. You might not always find the best bloggers, but you should be able to find competent people you can train to work within your needs.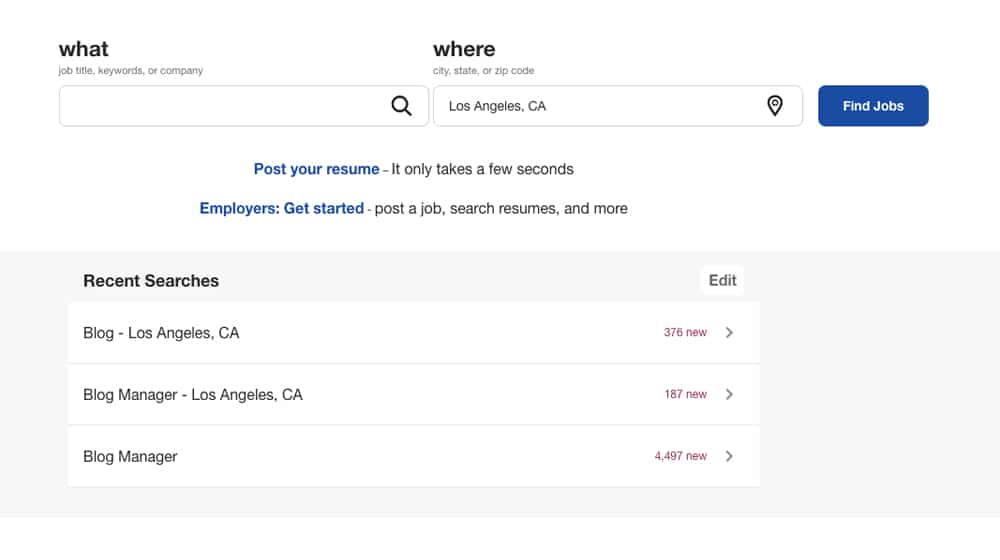 Craigslist – Craigslist is the world's largest website for classified ads, and they have an entire section for writing and editing jobs. My recommendation is to post on multiple craigslist boards; one for your local region and one each in the major metropolitan areas, like New York or San Diego. Many freelancers only check the major metro areas, so if you just post to your local area you'd never find them. On the other hand, if you want someone you can meet in person, posting in the local region can be the best option.
Monster – Monster is one of the largest general job boards, so they have a ton of people using them to search for jobs. It costs money to post a job, and you can pay more for more exposure and prominent positions. The only downside I know of offhand is that a huge part of their audience is young people fresh out of education, so they don't always have the experience you want out of a professional blogger. Still, you never know who will apply, and it's a pretty reasonable fee to post a job for a month or two.
Is your blog earning you business? If not,
let's fix that.
We create blog content that converts - not just for ourselves, but for our clients, too.
We pick blog topics like hedge funds pick stocks. Then, we create articles that are 10x better to earn the top spot.
Content marketing has two ingredients - content and marketing. We've earned our black belts in both.
If you run an internet-based business and are looking to scale, schedule a call to speak with our founder:
Indeed – Indeed is another of the major, worldwide job boards and job search portals. Like Monster, it has a wide range of possible people looking for jobs. Unlike Monster, it has a slightly older and more professional demographic slate, at least in my experience. Once again, though, the advantage is in the volume, not in the quality of applications. You might have to do some digging through the applications you get to find the gems hidden in the dross.
LinkedIn – LinkedIn has a job search portal, where you can post jobs directly from your company page. You can also pay to promote them so they show up among the top of the search results for specific types of search. The bonus of using LinkedIn is that you can check the connections, skills, and endorsements of your applicants right from the portal, rather than needing to do the legwork yourself. If you find applicants that have a high degree of connection with your industry, you already know they're going to be good at what they do.
Career Builder – This is another one of the major jobs portals. Anything I've said about Monster or Indeed can apply here as well. You can pay a fee to post a single job for a month, or you can buy a monthly plan that comes with a few additional perks, like access to their uploaded resume database. There's not a ton that makes Career Builder stand out from the competition; I just mention it because you want to cover all of your bases when you're looking for applicants.
Glassdoor – Most people think of Glassdoor as the company review site, like Yelp for employees. While that's true, they also have a jobs portal. It can be a great site to get new professional-level applicants. My one caution is to look at your Glassdoor profile first; if your company has bad reviews, you'll want to address those before you put up a job posting. People are going to look into your company when they apply, and a negative profile will drive away the best applicants.
Freelancer Hubs
Freelancer hubs are sites that allow you to contract freelancers of a variety of different forms, including writing. They're similar to content mills, except generally higher quality and with more control and ability to work directly with specific people. The downside is, again, you're still going through the hub rather than hiring someone directly.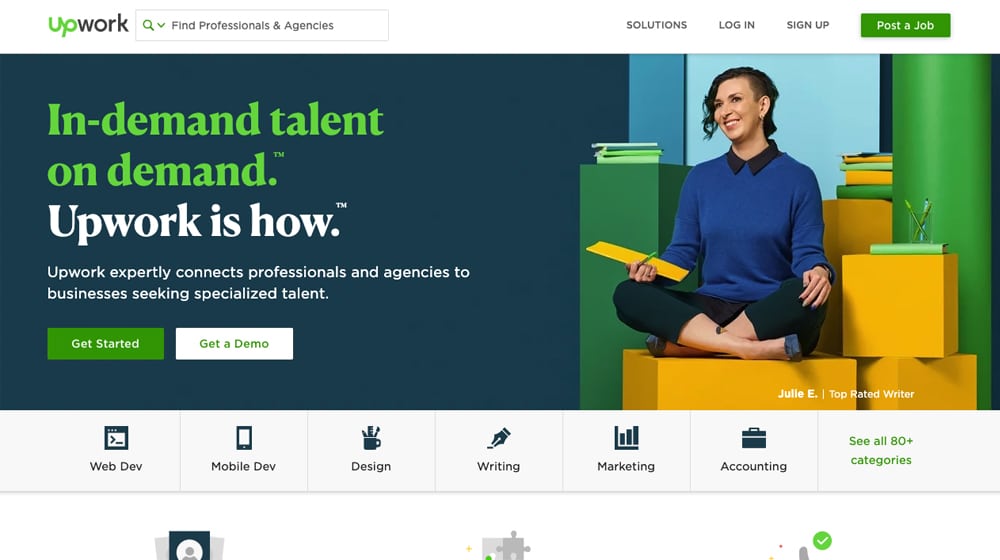 Upwork – This is the platform that came about as a merger between two previous freelancer hubs, oDesk and Elance. They have a huge pool of freelancers to pick through. You can post a job, or you can browse freelancers and send a pitch directly to one you think looks good. As a freelance portal, you're likely going to end up paying the portal some commission on the contracts they facilitate, but it can be cheaper than some of the higher end plans for job boards.
Freelancer – Freelancer is another of the oldest freelance portals on the web. It has a huge pool of available freelancers to pick through or who can apply for your posted projects. You can choose if you want to pay your freelancer by the project or by the hour, set a budget so they know what to expect, and you can choose if you want to pay for someone to recommend specific freelancers who are a good fit or not. The project posting system is very quick and easy to get running.
Toptal – Toptal is a freelance portal with a twist. Unlike other portals, where any freelancer is free to register and bid on work, Toptal is exclusively for the top 3% (or so they say) of freelance talent. They explicitly have very high standards for the people they allow in their network, and that goes for both freelancers and clients. You're more likely to find a general blog manager or marketing manager here than you are a writer, though.
Guru – Guru is another freelancer portal, aiming to showcase people with top-level skills but without the huge barrier to entry of a site like Toptal. They have over 300,000 freelancers with writing (and translating) as part of their listed skill set, so there are plenty of people to choose from.
Fiverr – Normally I wouldn't recommend Fiverr for pretty much anything, but they've legitimately gotten better over the last couple years. You're not going to find writing for $5 anymore; everyone puts a price like $5 for 250 words, with upsells for more words to match your total project length. There are some surprisingly good writers working for basically peanuts through this portal, so it can be worth checking out.
Specialized Job Boards
Specialized job boards are like standard job boards, except centered around a specific industry. In this case, the industry is writing or marketing and media. You're more likely to find high quality professionals on these boards, but they will have correspondingly high prices to hire.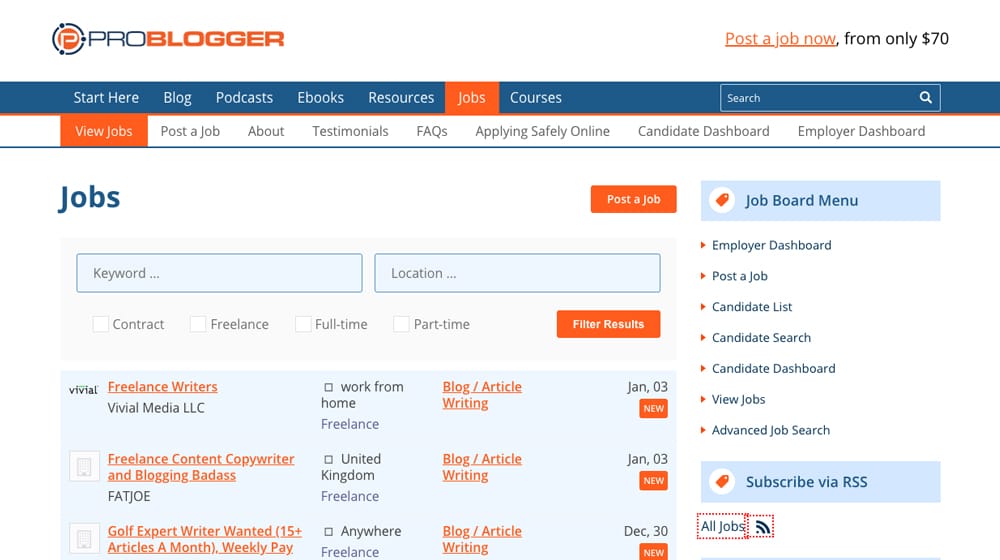 Dribbble – Dribbble (with three Bs) is primarily a job portal for creative types. While most of the job postings – and most of the applicants – are looking for graphic designers, there are also opportunities for marketing managers, creative directors, and bloggers. It might be worth a try, though I'd probably go with some of the other specialized job boards before I tried this one, myself.
Problogger – Problogger is a site that focuses entirely on blogging, and their job portal is a bit of a tertiary spin-off of that theme. You can post a job on their job board and know that 100% of the people looking at it are writers of some flavor, so you know the people applying at least have some level of skill at what they're doing. The only hard part is getting your listing to stand out and get those tasty applications.
Media Bistro – Media Bistro is similar to Problogger in that it's dedicated to a niche, but the niche is broader and encompasses all of media online. While mostly you're going to find writers, editors, and marketers, you can also find a range of other media-adjacent jobs as well. It's an excellent option for filling out a handful of positions all at once, or for finding that one special freelance writer who will kick your content to the next level.
Blogging Pro – Problogger, Blogging Pro, what's the difference? Well, this one is a lot less active, for one. It's still easy to post a new job and you're still going to get a lot of applications in the writing niche, though. All it really takes is one, after all, so does it matter where you find them so long as you DO find them?
Ladders – Ladders isn't the usual kind of job board I would recommend. Like Toptal, it's aimed specifically at the highest tier of freelancers out there. As such, it's recommended that you only use the site if you have a high budget you're willing to spend. Of course, if you're looking for a suitably long-term contract, the value can be worthwhile to use as an enticing hook for a top-tier writer. Small businesses will find it hard to stretch their budget far enough, though.
Freelance Writing Jobs – This is a relatively small freelancer-focused job board. They don't get a ton of new job postings every day, but it does mean that a lot of freelancers use it as their "secret weapon" to find a gig that other people won't find. Plus, it's only $30 to post a job for a month, unlike many other job portals where the cost for a month of visibility is ten times that. Worth a shot, if nothing else.
So there you have it; 25 different ways to find a blogger for your business blog.
Where have you looked before, and where have you found success? Let me know in the comments!