Is ProBlogger a Good Place to Hire a Writer For Your Blog?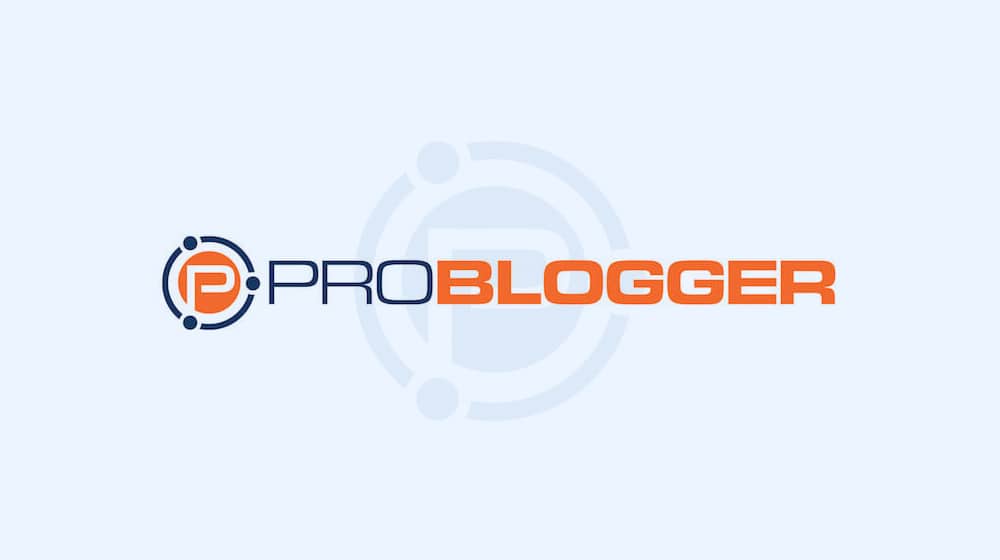 By now, everyone knows that you need to have a blog to succeed with an online business. Running a blog is hard work, though, and it can take hours every week that you could otherwise be spending on things like making sales calls, handling customer support, or sleeping.
The general solution to this is to hire writers to handle blogging for you. I've written extensively about this, from general tips on hiring writers to an overview of content mills and even a list of places you can hire writers.
Today, I'm going to dig into one such site that thousands of blog owners use to hire writers. You've probably heard me mention it, or heard it mentioned on other sites before; it's ProBlogger.
What Is ProBlogger?
Back in the far-off year of 2002, a guy named Darren Rowse read a blog post by someone half the world away, and he was inspired. He saw how this blogger used his blog to amplify his voice and build a community, and he was inspired. He started a blog of his own.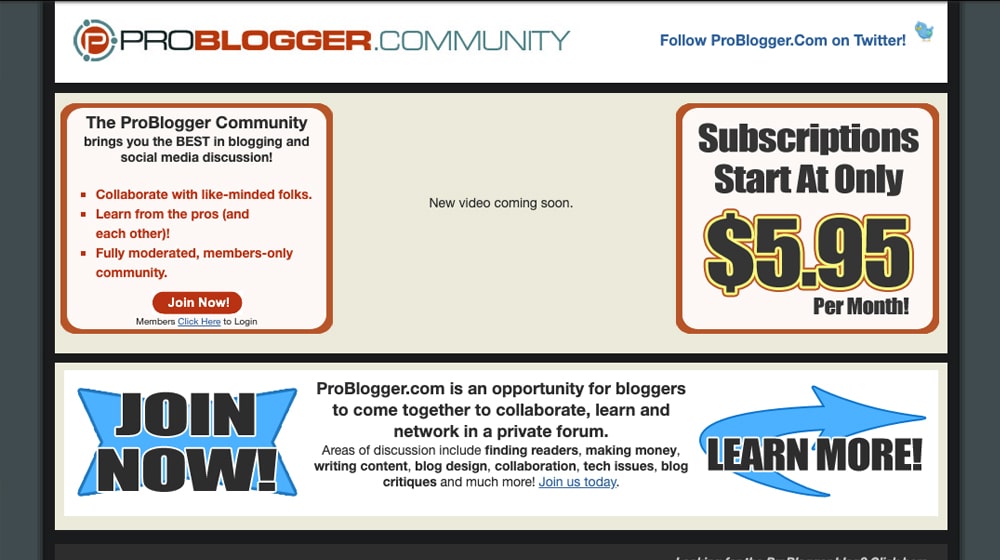 He started a personal blog and grew it to thousands of monthly readers. This might not seem like much, but it's encouraging to someone who just launched a website. Darren then started opening niche blogs on specific topics, monetizing them, and earning some money. This grew from a few dollars a week to a part-time job, and by 2004, it became a full-time income.
It was around this time that Darren decided to help others achieve the same dream. He started ProBlogger as a site dedicated to the art and science of blogging, blog marketing, and making a living from blogging.
Over the last 15+ years, ProBlogger has grown and expanded into a major resource in the industry. What started out as an advice blog now has a podcast, a series of ebooks dedicated to the craft, a fully published physical book on blogging, and a massive community of bloggers, writers, and enthusiasts looking to get into the field.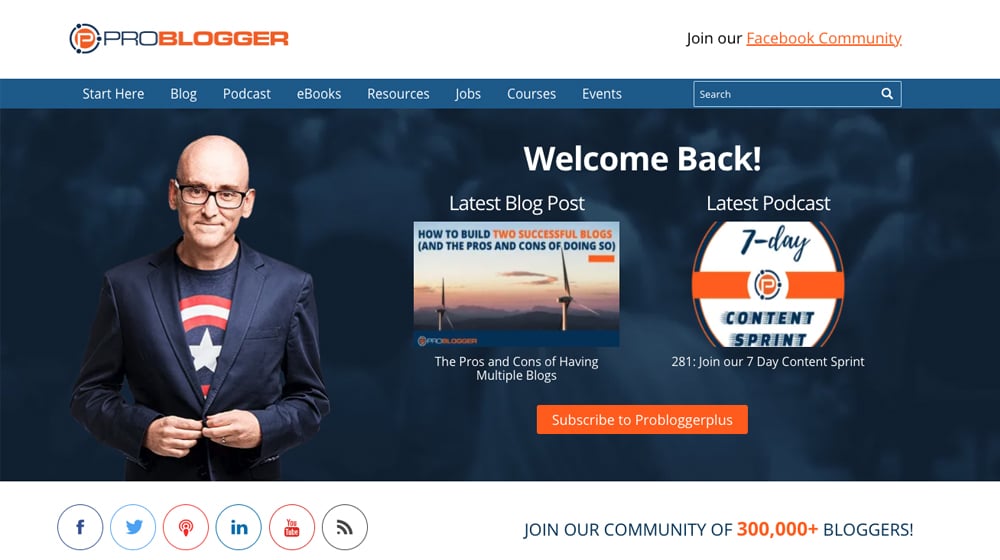 Today, ProBlogger has eight major categories on the site. These categories help visitors accomplish different goals. These sections are:
Starting a blog, with advice on, you guessed it, starting a new blog.
Creating content, with advice on writing, topic ideation, finding blog images, and more.
Finding readers, with advice on everything from marketing to social media to SEO.
Building a community, with advice on growing your following and engaging with them as people.
Making money, with advice on how to monetize your blog and turn it into a career.
Being productive, with advice on one of the biggest struggles we bloggers face, time management, as well as bad habits, productivity tips, and efficient use of resources.
Understanding technology, with advice on how to use blogging tools and platforms like WordPress, picking a blog host, and analytics.
Getting work, which is the core of what I'm writing about today.
This final section is very interesting. It's not a blog category or a resource full of tips and tricks. Rather, it's something simple: a job board.
The ProBlogger Job Board
Found here, the ProBlogger job board is exactly what it sounds like. It's a place where bloggers and site owners can go to post jobs, and where writers – from aspiring to experienced – can apply to those jobs. If you need a writer for your blog, either for one-off content or for an ongoing relationship, you can go here to pick up a writer. If you're a writer looking for paying work, you can visit the job board and apply.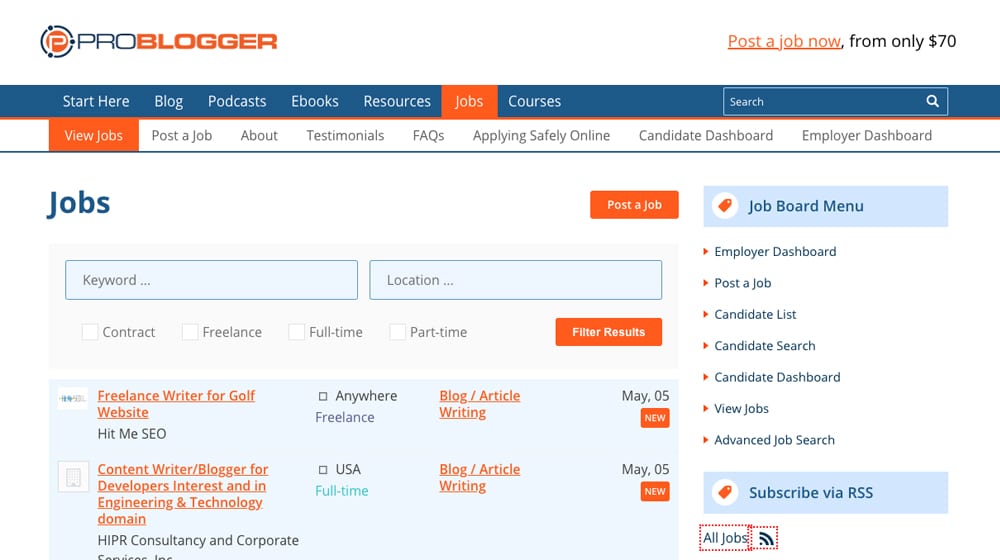 In order to post a job to the ProBlogger job board, you need to register an account as an employer. This account requires a username, password, email, company name, and country of operation. You can also add in a logo, website URL, company bio, and slogan if you want. These help your job postings look more legitimate, so prospective writers can look you up and determine if you're someone they want to work for.
Believe it or not, not all ghostwriters are simply after the money. Many have lines they won't cross, or topics they won't write about. For something like a business-focused blog, it won't matter, but for some topics like Bitcoin, or finances, or health topics, many writers will be hesitant to take jobs when they don't know the kinds of content they'd be writing. Some will, of course, either because they're experienced or because they don't care enough to maintain scruples on content their name isn't attached to.
When you post a job on ProBlogger, you get access to the thousands of blog writers who monitor the site looking for work. More than that, though, you also get exposure on the ProBlogger Twitter feed, which tweets job listings and is retweeted to broaden exposure. There are also a lot of other job boards that use the ProBlogger RSS feed to syndicate job listings, so you get even more audience exposure there.
ProBlogger Pricing
If you clicked through to the job board when I linked it above, you might notice that there are only a couple of pages of job listings, and they don't go back very far; only a couple of weeks. There are two reasons for that.
First and foremost, ProBlogger is a big and rather trusted name in blog writing. The volume of writers looking for work outweighs the volume of businesses posting work, so every job post gets plenty of applicants and the employer is usually spoiled for choice. You have your pick of the applicants and can work with them in a variety of ways, from one-off posts to ongoing relationships.
The other reason is that ProBlogger's board is not free to use for an employer. If you want to post a job listing, you need to pay for it. For this, you have two options, each with their own sub-options.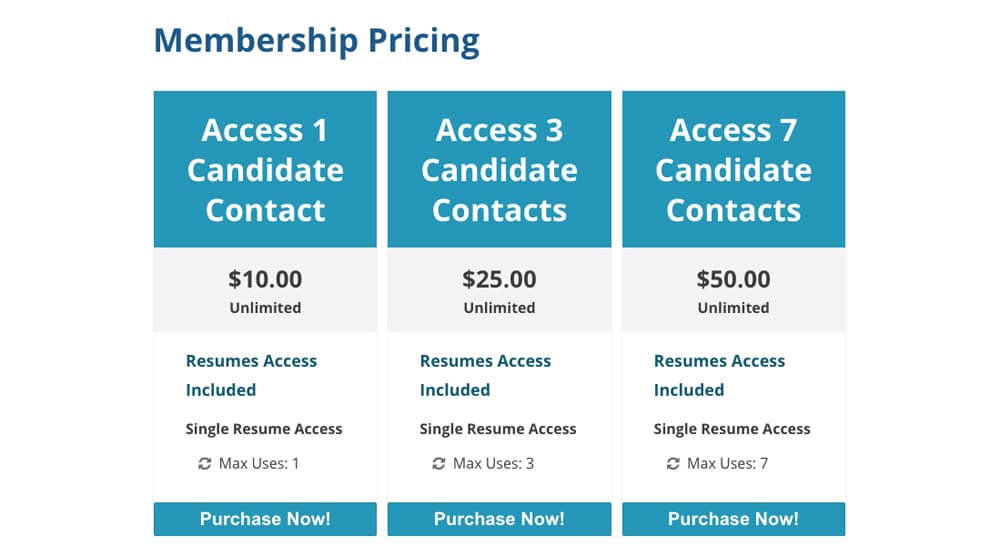 You can pay for access to individual candidates, or you can pay for a one-off job posting. This is generally what you'd want to choose if you want to trial the site, or if you only have a single piece of content that you need written. You can pay:
$70 for a standard listing. Standard listings are live for 15 days and are sorted by the date, beneath the featured listings but in no preferential order beyond that.
$140 for a featured listing. Featured listings are subtly highlighted in blue and are listed above the standard listings, and are guaranteed to be on the first page of job listings. Beyond that, they're sorted by the date the same way, with the oldest featured listing being listed just above the newest standard listing.
If you want to list more than one job, either simultaneously or sequentially, you can also pay for a membership package. Membership packages give you the ability to list more than one job posting at a time, as well as the ability to manage your applications and to edit your listings once you've posted them. The pricing for these is:
$300 for 5 standard listings. This is a discount of $10 per listing and is otherwise the same as standard listings.
$500 for 10 standard listings. This is a discount of $20 per listing and is otherwise the same as standard listings.
$360 for 3 featured listings. This is a discount of $20 per listing and is otherwise the same as featured listings.
That's it! They're pretty simple terms, and there's not a lot of additional upsells or anything tacked on. If you want one listing, go with a single listing purchase. If you want multiple, go with a package. If you want preferential visibility, pay for a featured listing, otherwise, you can simply choose a standard listing.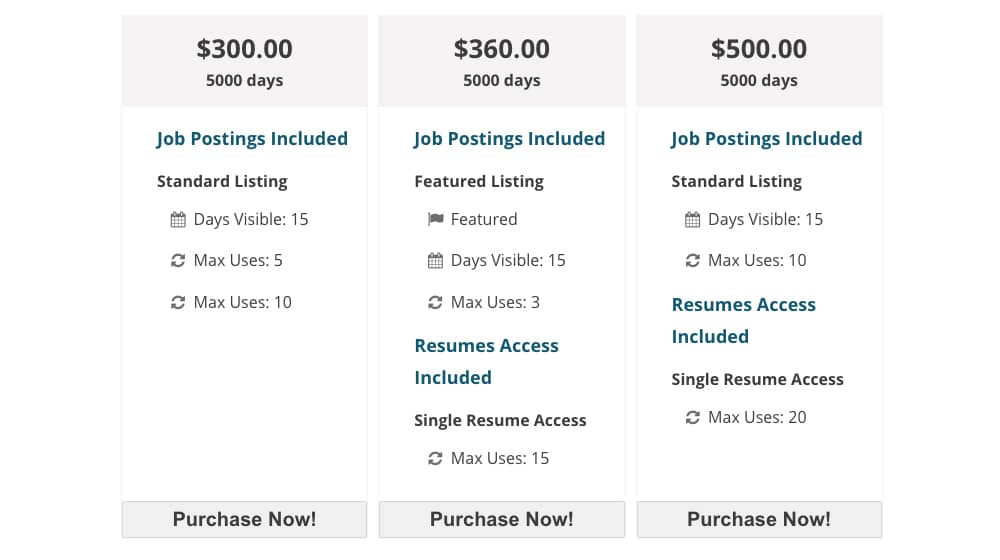 Is your blog earning you business? If not,
let's fix that.
We create blog content that converts - not just for ourselves, but for our clients, too.
We pick blog topics like hedge funds pick stocks. Then, we create articles that are 10x better to earn the top spot.
Content marketing has two ingredients - content and marketing. We've earned our black belts in both.
If you run an internet-based business and are looking to scale, schedule a call to speak with our founder:
Personally, I don't feel like a featured listing is that worthwhile at the moment. Jobs don't tend to last very long on the board even if you ignore the 15-day lifespan of a listing. Being featured guarantees you'll be on the front page, but there's often only a couple of pages, so it doesn't take writers long to tab through them and explore every listing regardless.
It's probably more worthwhile during "high tide" for writing when there are more people looking for writers than there are writers looking for work. It's not exactly a seasonal swell, but it's something to keep an eye out for if you're interested in posting a job listing.
Interestingly, ProBlogger seems to have increased its rates at some point recently. This post claims that you can list a job for $50 for 30 days, which is less than the cost of half that duration according to their current pricing. I don't know if the price change is recent or the article is old with a recently edited date, but I pulled my pricing information direct from ProBlogger.
Is ProBlogger a Good Source for Writers?
So if you're a company looking to fill a few spots in your editorial calendar with writing you don't want to create yourself, is ProBlogger a good place to look?
I would tentatively say yes. There are a few potential drawbacks, though.
First, there's no paywall or account for writers. ProBlogger is not a content mill. They don't handle contracts or content delivery guarantees or anything else for you. You have to have your own application process set up, either on your own site or through something like Google Sheets, and you need to comb through all the applications yourself, contact and communicate with writers yourself, judge samples, scan for plagiarism, and all the rest yourself. All ProBlogger does is allow you to post a job listing.
This means that when you post a job, you'll likely have hundreds of applicants on the first day. You don't need to wait out the full 15 days of the job posting before hiring someone; you can hire someone immediately and mark the job as full if you like.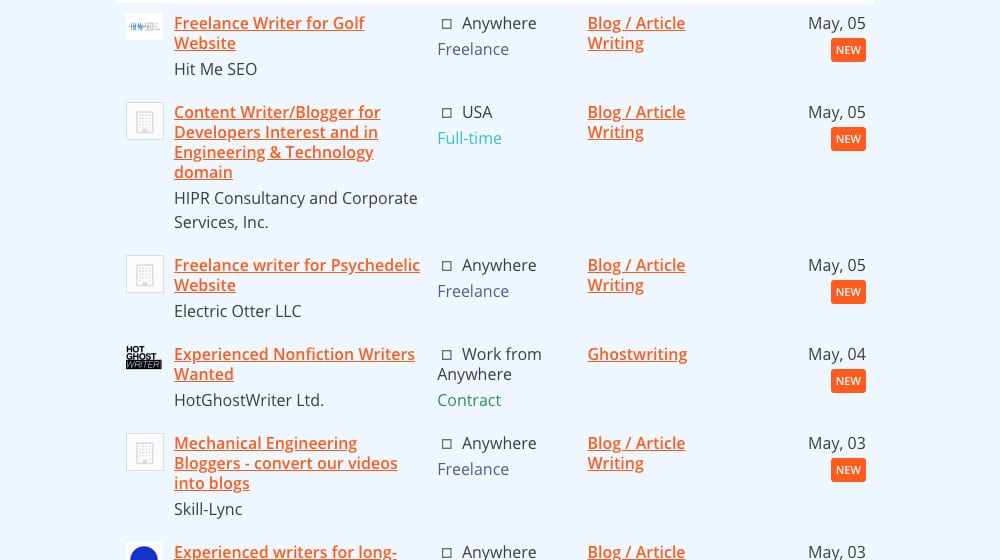 The second issue I see with the platform is pay rates. Most of the jobs that I see posted have relatively low pay rates, though I can't tell you whether this is because the only jobs that last on the platform are low-paying or because most jobs are low paying. I've seen everything from $6 per post to $13 per 1,000 words, and so on. For reference, the 4-star level on Textbroker, one of the lower-mid-range content mills, pays $14 per 1,000 words.
The low pay has two effects. First, it means that employers feel they can pay low rates to writers in general. This is true, of course, but you often get what you pay for. I firmly believe that paying writers a higher living wage is important for both earning loyalty and for maintaining a high level of quality.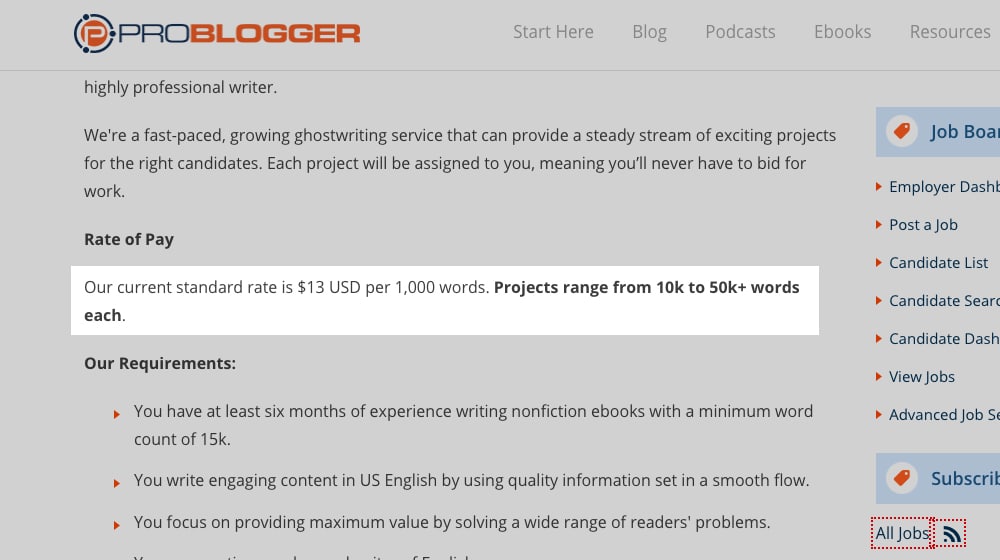 Second, it means that most of the writers who follow the job board are used to working for low rates. The great writers who charge more for their services aren't going to be lurking or applying to jobs on the board, because the pay rates are so low it's not generally worth their time.
Keep in mind that in order to post a job, you need to post information about your company, which means that writers can look you up. I saw one job posting while writing this article from a ghostwriting company offering lengthy books of 50K+ words. Their job listing says they pay $13 per 1,000 words, while their website charges their clients $30 per 1,000 words. Some writers will be turned off at getting that low of a cut.
I will say one thing for ProBlogger; the writer competition means that the worst writers tend to be driven away simply because they're never picked for jobs. There's a bell curve in effect where the best writers don't want to apply because of the low rates, but the worst ones don't want to apply because they are never hired. You're going to find a solid mid-range group of writers applying for your jobs, and you have the pick of the litter.
Tips for Hiring Writers on ProBlogger
The first and best tip I can offer is to offer competitive rates. By offering more than the other job listings seem to, you can attract the best attention from the best writers. One thing to note here is that ProBlogger does look over job listings before posting them, and will weed out those with extremely low pay rates, so you need to at least have a minimum pay level to be approved.
That said, you'll likely be flooded with applications, so you'll want some way to weed them out. You can do this in part by asking for specific kinds of qualifications. Requiring the writers to submit samples on specific topics is one way.
Another option is to require that the writer include a specific line of text in a subject line or form feed. There are a lot of writers who basically use a template to auto-fill applications, to save themselves time while applying for jobs. They have no attention to detail. By requiring them to include a specific line, you can easily weed out those who don't and ignore their applications.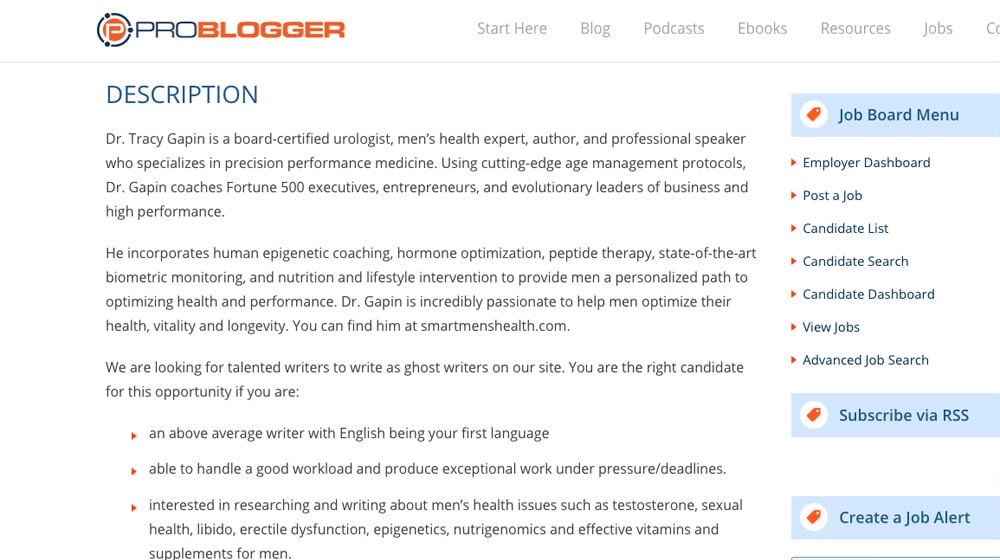 You can also ask questions or post requirements that only a writer experienced in your niche would know or be able to answer. For example, you could say "don't bother reading further if you don't own a DSLR" if you want photography buffs. Not everyone will respect this, but some will self-filter.
Don't be afraid to let your job posting linger, despite the initial flood of applications. Many of the best writers on the platform have plenty of work, and they don't check every day. If you accept one or several of the first batch of writers and mark the job as closed, you miss out on some of the latecomers that might blow the first group out of the water.
In your posting itself, you should make it clear what kind of writing you're looking for, whether it's 1,500-word posts, 2,500-word posts, website copy, landing page copy, technical writing, lengthy ebooks, or whatever else.
Finally, don't feel like you're obligated to respond to every application you reject. Open a dialogue with the writers you like, and possibly save the information for writers you think might be good but don't make the first wave, but all of the canned applications and low-quality pitches can be discarded without a response.
Do you have experience using ProBlogger to find writers? If so, tell me about it below, I'm curious what your experience was like.