Are There Any Afterpay Alternatives for Shopify Store Owners?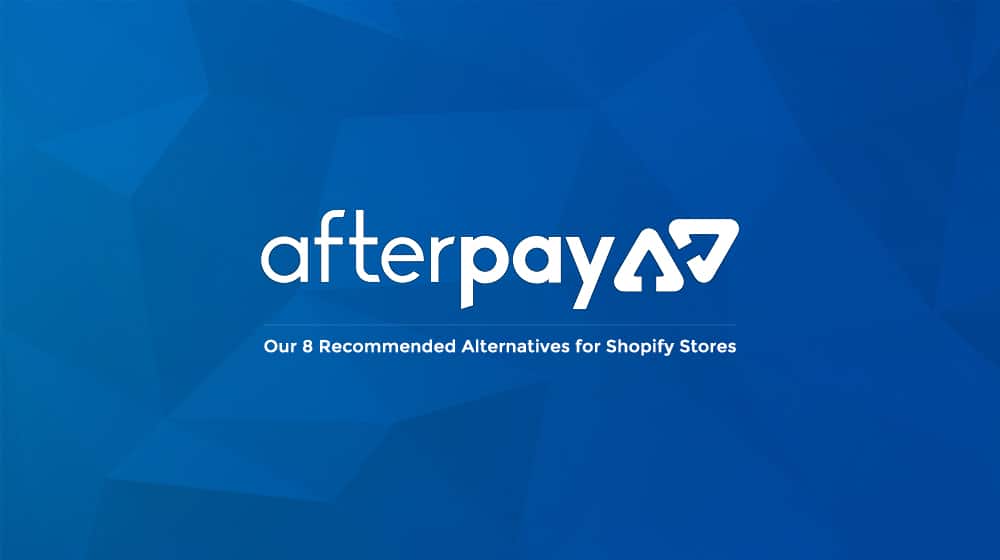 Have you ever wanted to buy something, but checked your budget and decided you couldn't afford it? You'd have to save up for it over the course of a few months and hope nothing else ate away at your discretionary spending budget.
You want to buy it now, though, and you're worried that if you wait, it won't be available. So what can you do? You could put it on a credit card, but the interest on those payments can be killer, and besides, you want to save that for emergencies. You're just out of luck.
This is the problem that Afterpay has solved. Afterpay is a service that retailers can use on their Shopify stores. It gives any shopper the option to sign up for an installment plan for any product the store owner has set it up for. The customer can sign up and – if they're approved – get the product on an installment plan of four months of 25% of the original payment price. Zero interest, zero fees unless the payments are late, and no delays on shipping make it a great little plugin.
What if you don't want to use Afterpay, though? As a store owner, you like the idea of an installment plan system, but you want something with a little more flexibility or more features, or maybe you just don't like Afterpay themselves. For whatever reason, you want to find an alternative. Are there any?
Luckily, yes, there are quite a few alternatives, with different plans, features, and restrictions. In no particular order, here's a list.
QuadPay is usually a customer-focused payment app. Customers can sign up for the app's service, register their financial data, and get approval to use their payment plan system. Then, when the customer decides to buy something, they pay 1/4th of the purchase price upfront. QuadPay pays the merchant the full value, and collects from the customer over the following three months, getting the rest of the payment to restore their own coffers.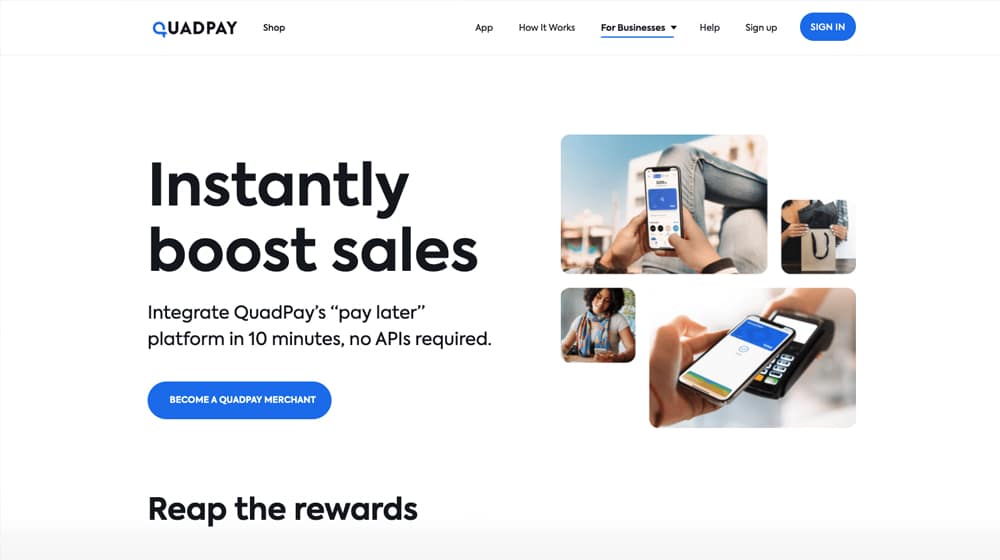 Customers can also browse through the QuadPay app on their phones and search through stores that have signed up for their service. This puts you in a relatively small, exclusive group of stores those users can browse through, which can be a competitive advantage.
As a business owner, you can use QuadPay on your storefront. It's a simple integration since they have a Shopify plugin linked in their documentation for setting it up on a Shopify store. Though QuadPay says when you sign up that you become a "QuadPay Exclusive Merchant", it doesn't mean you can only accept payments through QuadPay; customers can still pay via Google, PayPal, Amazon, or simply with a credit card as normal.
Like credit card processing, QuadPay does charge a fee when they process a payment. Their fee structure changes frequently and their documentation on this isn't publicly available, but I imagine it's similar to other platforms providing the same service.
One of the primary benefits of QuadPay is that they work both online and in a brick and mortar store. When you sign up, you can request a kit to use in-store as part of your point of sale system, complete with signage and everything you need to get it up and running. Overall, it's a pretty good alternative.
ViaBill is another buy now, pay later system with a decent degree of flexibility in their system. It's available in the USA, as well as Denmark and Spain. Like Afterpay and QuadPay, a customer can sign up to use the system when they check out. If they're approved, ViaBill pays you the full amount for a product purchased, and you ship it out as normal. ViaBill then handles collecting payments from the customer until the product is paid off. Like Afterpay, ViaBill splits the purchase price into four, charging 25% upfront and 25% each month for three months.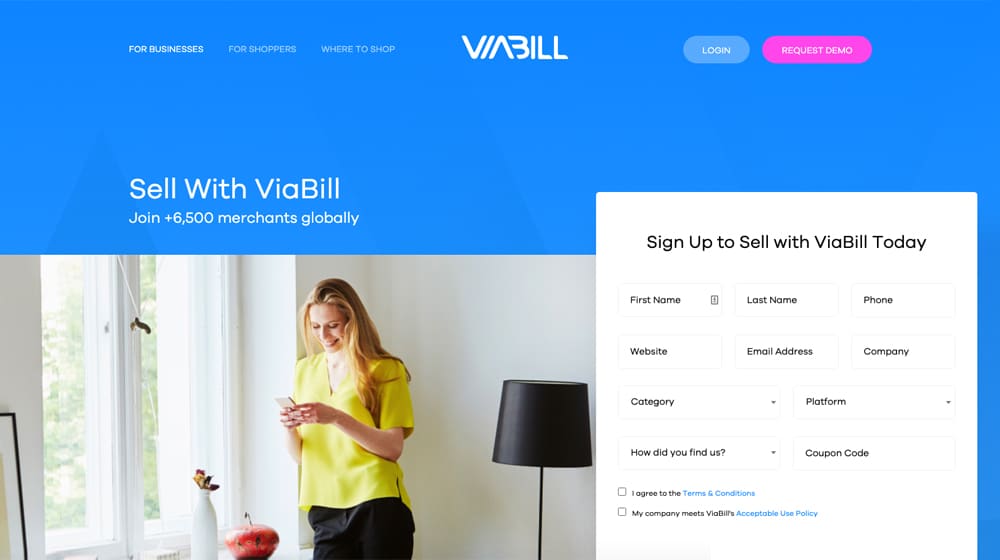 It's worth mentioning that ViaBill does charge the merchant a processing fee to use their service. It's a pretty standard fee, of 2.9% plus 30 cents for the purchase.
One nice thing about ViaBill is that they don't just leave you to figure out the installation on your own. You can; they will provide you the necessary information to set it up if you want the setup done in-house. On the other hand, you can have their team manage it for you. You just give them the necessary information to access your storefront in order to add their code, and they'll have it set up within a day or two.
There's not a ton that makes ViaBill unique compared to something like Afterpay or QuadPay, but it's a solid alternative if you want to look into it.
Splitit is an interesting alternative to Afterpay because it runs off the back of existing credit cards. Customers who choose to use Splitit pay with their existing credit cards, which means they don't need to go through an application process when checking out, which can be a huge roadblock for using one of these services. Splitit claims this results in a 78% higher conversion rate, though your mileage may vary. Splitit also doesn't charge interest, unlike just using a credit card on its own.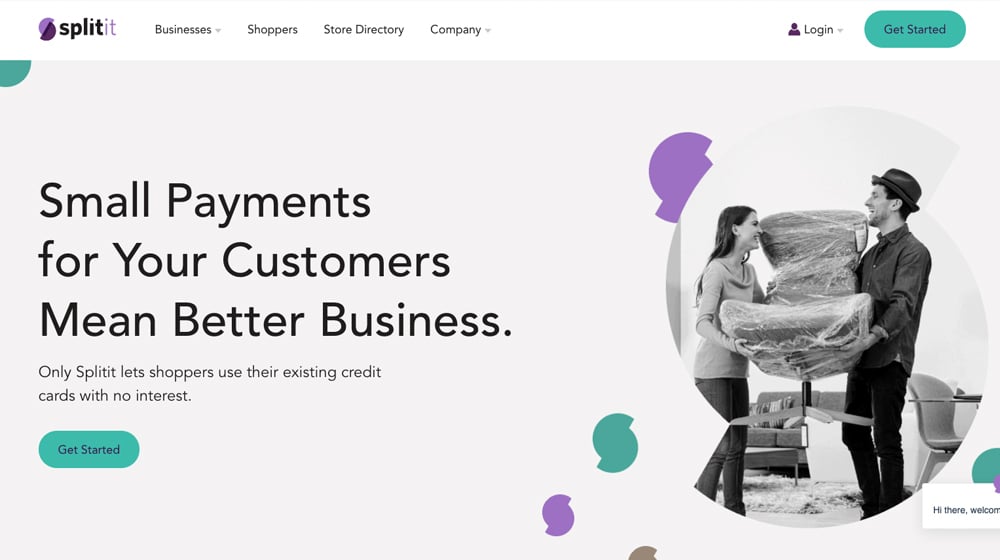 Like other systems, Splitit does not charge the customer an additional fee. Pricing for the merchant is flexible, with two different plans you can opt for. One of them is the "Standard" plan and charges you 1.5% plus $1.50 per transaction. On this plan, you get paid as the customer pays, so unlike other Afterpay systems, you don't get the full amount upfront.
If you want the full amount upfront, you can opt for the Funded plan, which has higher fees: 3% plus $1 per transaction. For that plan, you have to have been in business for at least a year, be registered in the US, UK, Canada, or Australia, and you need to process half a million dollars in annual sales.
Probably the biggest benefit of Splitit, though, is that the customer can choose how they want to split up the payments, up to a certain minimum threshold. I'm not entirely sure how flexible it is, but they use examples of three payments all the way up to 24 monthly payments, so there are quite a few options.
Affirm is probably the largest Afterpay alternative on the market. It has some of the broadest customer recognition, and they work with businesses of all sizes. Like other systems, customers add items to a cart, choose how they want to split up payments – three, six, twelve months, and so on up to 36 months – and apply. Yes, customers do need to go through an application process, but it's an almost instaneous process (just like most other systems).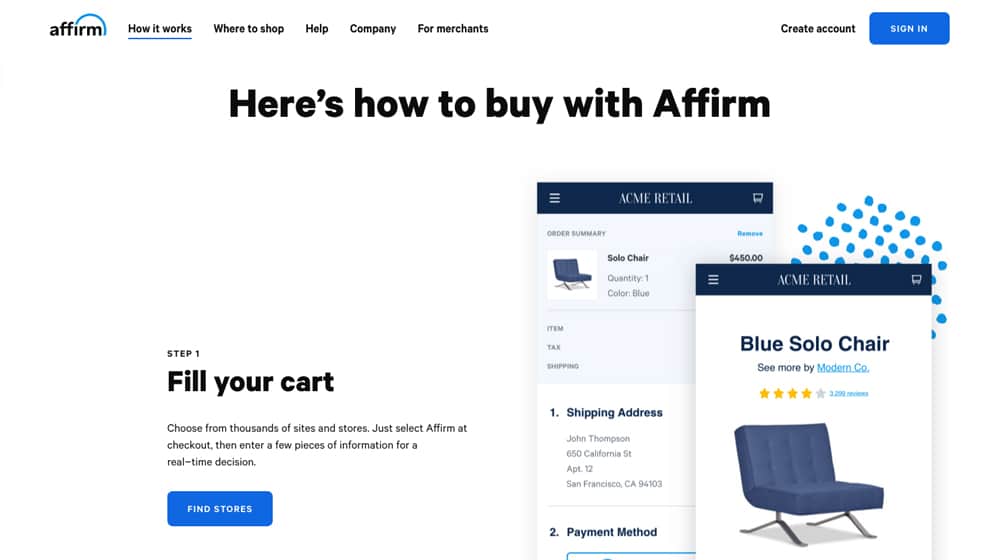 Affirm pays the full value upfront, minus their fee. Unfortunately, I can't tell you what their fee is, because it's variable. They perform an analysis of your business, your industry, your risk profile, and your industry's repayment data to determine how much to charge you. I believe they have special deals for businesses that do more than five million dollars in sales annually, as well.
Is your blog earning you business? If not,
let's fix that.
We create blog content that converts - not just for ourselves, but for our clients, too.
We pick blog topics like hedge funds pick stocks. Then, we create articles that are 10x better to earn the top spot.
Content marketing has two ingredients - content and marketing. We've earned our black belts in both.
If you run an internet-based business and are looking to scale, schedule a call to speak with our founder:
As always, their system integrates nicely with Shopify via a plugin, and you get a listing on their website's list of merchants, which can be beneficial. You also get the ability to run 0% APR promotions on your buy now, pay later sales, which can entice some customers to buy when they wouldn't otherwise. Pretty neat, huh?
Klarna is most similar to QuadPay, in that they're focused more on the customer app than on the merchant integration. Customers who use the app can shop through it and brose your products directly. Of course, it's not exclusive, and you can integrate it with your website just the same as the other systems.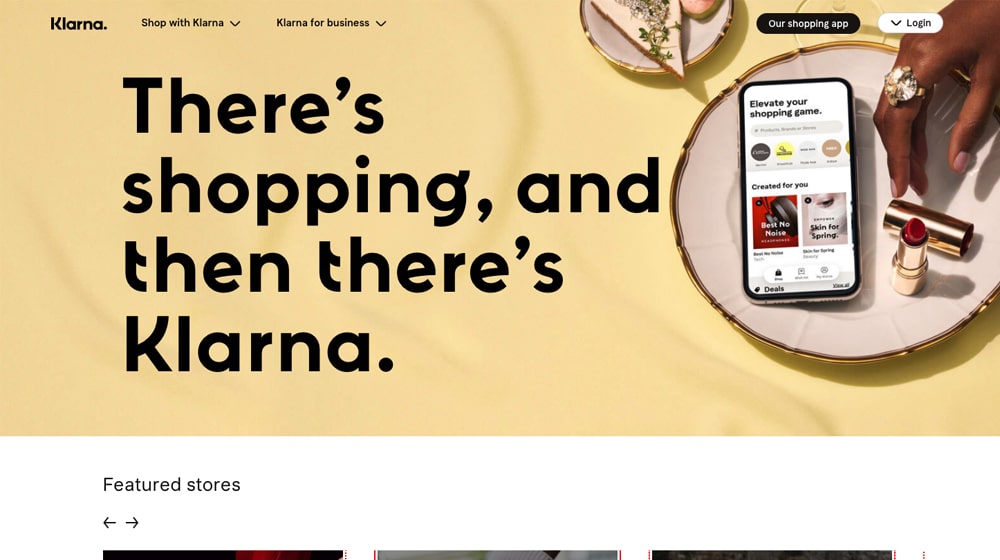 Klarna does offer a couple of more unique styles of pay later systems. The first is the standard installment plan, where the customer pays one portion of the payment immediately and then three other portions of 25% each, while the retailer is paid the full amount upfront. That's typical.
The system also offers a "pay in 30 days" system, where the customers can try out your product for 30 days before paying. They do have to actually return any products they don't want if they don't want to pay for them, at least. This can be good but might bring a spike in returns with it, so be prepared.
The third system is flexible financing, splitting payments up to as much as 36 months. The customer chooses how divided they want it to be, though they can't split up small purchases below a certain monthly payment.
Like QuadPay, Klarna also has the in-store option that gives you the stuff you need to use it in-store, along with marketing material to let customers know it's available.
As for fees, pricing varies based on the customer's country of origin. Since most of my readers are US-based, pricing for the US is:
30 cents plus a variable fee of up to 6% for the 4 installments plan.
30 cents plus a variable fee of up to 3.3% for the financing option.
30 cents plus a variable fee of up to 6% for the pay in 30 days option.
30 cents plus a variable fee of up to 3.3% for the full checkout solution.
30 cents plus a variable fee of up to 3.3% for the in-store option.
All in all, it's pretty simple and reasonable. It's one of the better, more flexible Afterpay alternatives, and can be well worth looking into.
Sezzle bills itself as the highest-rated buy now, pay later solution, as ranked by shoppers. I'm not sure what survey they used or where they got their data, but sure, let's go with it. What do they have that stands up to the competition I've already listed?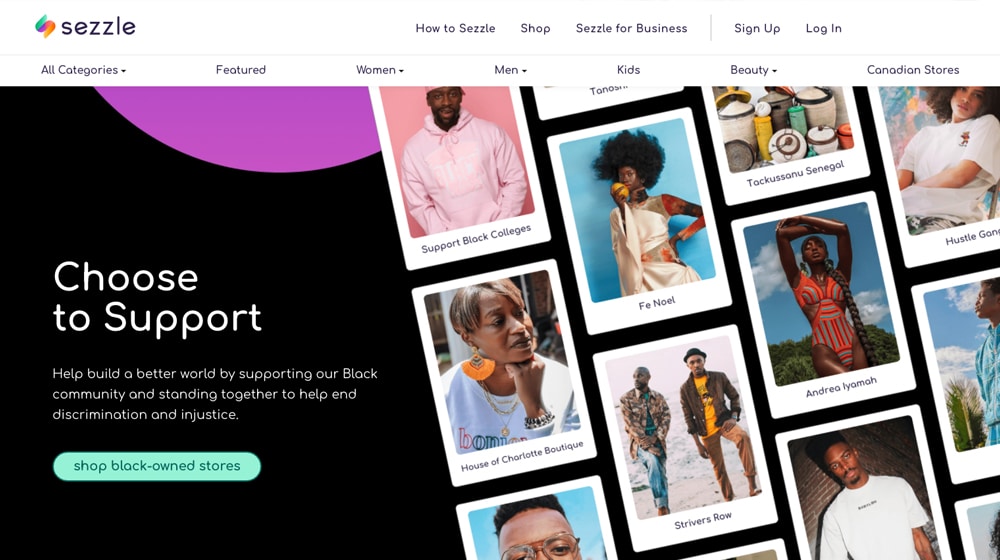 First of all, rather than a flexible division or a monthly payment plan, they split payments up into four and have the customer pay every two weeks, with the initial payment of course. They work with Shopify, but they do not have an in-store option. They can work just about anywhere in the world, so long as the customer has a traditional credit or debit card to pay with.
Much like Klarna, the rates you're charged for Sezzle will vary depending on your business's location, size, and industry. You'll have to contact their sales team for an appraisal, I can't give you example rates this time.
Overall, Sezzle doesn't do anything unique compared to the alternatives, they just do it well. They're among the largest Afterpay alternatives out there, so they definitely work. If you want more flexibility, go with one of the others. If bi-weekly payments are fine for your customers, Sezzle should work perfectly.
Oxipay is similar to many of the above apps, in that it has a customer-focused portal with the option to sign up as a merchant, for similar benefits: promotion on their website, access through their system, and so on.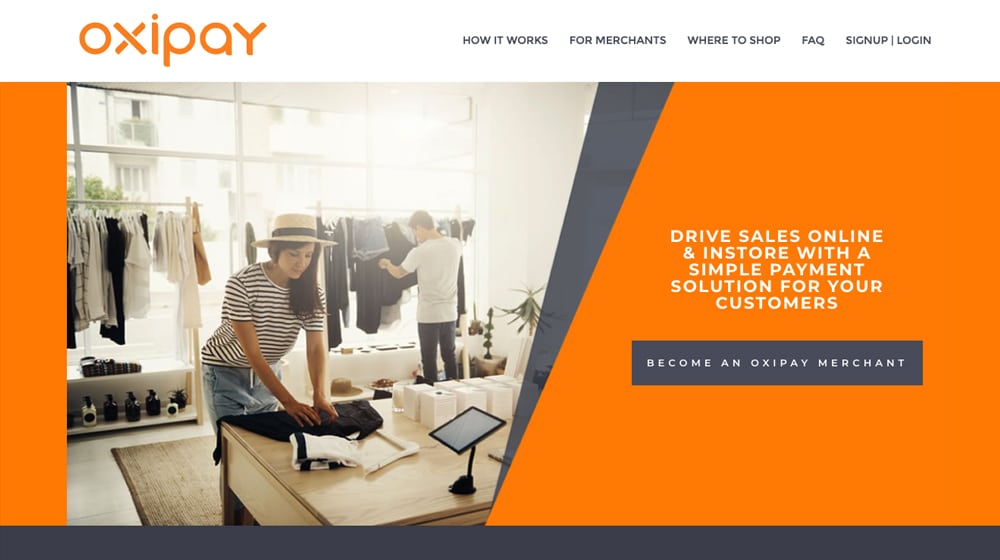 Unlike other Afterpay-style platforms, Oxipay isn't a monthly payment plan. Rather, it splits the payment into one of two options, of the customer's choice. One is four payments, one every two weeks. The other is eight payments, once a week. This can offer more flexibility to some users, but might not work for others, so make sure you determine if your user base would prefer monthly or weekly payments overall.
Another unique aspect of Oxipay is that they're based out of New Zealand, rather than your average American or European-based companies. This is a bit of a drawback because they only service to New Zealand stores itself. Customers have to sign up for the service, which requires a New Zealand mobile number and NZ-issued credit or debit card, plus an NZ shipping address. It's kind of restrictive, honestly, which is the reason it's so far down on this list.
PayPal isn't technically the same kind of Afterpay system, but I thought I'd list it since it's an option you can use. When you use PayPal as a payment method, customers have the option for larger purchases to sign up for PayPal Credit when they check out.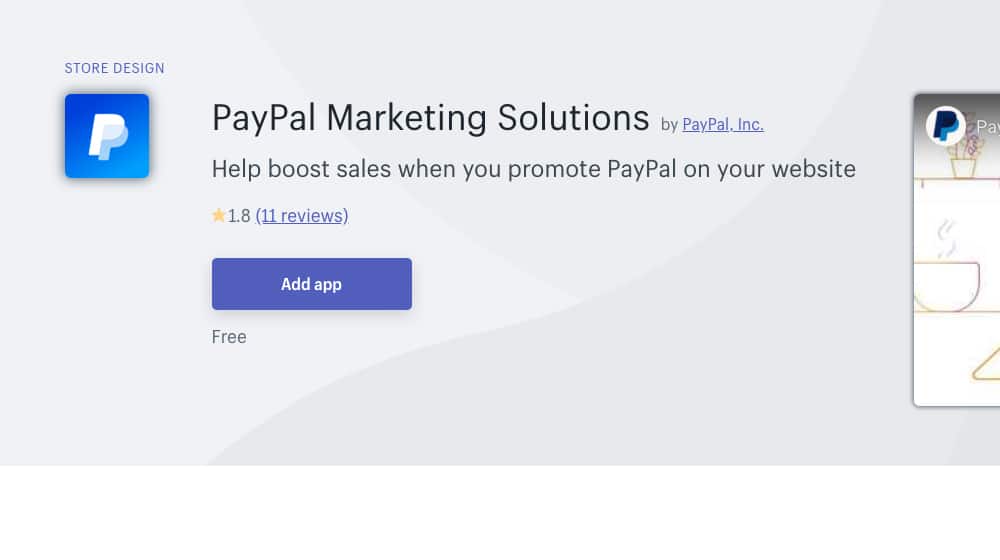 Unlike other Afterpay-style systems, PayPal Credit is really just a credit card system, backed by PayPal rather than a bank. It has all of the usual roadblocks a credit card has, including the more detailed credit check to get approval, and there's some general distrust of PayPal as a company so not everyone likes this idea. Still, it's an option, if you want to use PayPal as a payment processor.
Their official plugin has some poor ratings on the Shopify App store, so you may want to do some research into that before you install it. Despite how recognizable PayPal's brand name is, they are not very friendly to businesses, and their app could break your website or throw errors. If you can get it working and your business requires PayPal, you could always try out the plugin (it's free), but ideally, credit card processing paired with one of the above financing solutions is going to be much more reliable and stable.
So there you have it; a bunch of different Afterpay alternatives, all of which are available on Shopify. There should be something for just about everyone here, but feel free to let me know in the comments if I've missed your favorite!