The 30 Best Call to Action Plugins for WordPress Blogs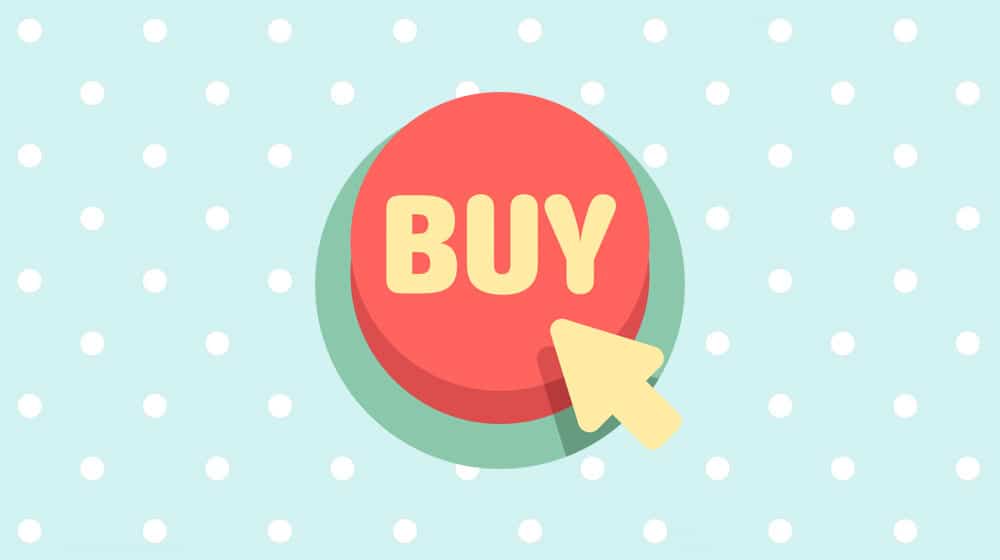 On a WordPress blog, a call to action can take many forms. If you've read modern marketing blogs before, you've probably seen half a dozen or more different kinds of CTAs, though you might not even notice half of them any more.
And that, right there, is the problem.
Much like how ad banners saturated the web and led to widespread banner blindness, modern calls to action are reaching that saturation point. As such, you need to have multiple kinds of CTA, with multiple formats, so you have multiple chances of reaching your users. Different users react to different kinds of CTAs in different ways, so providing the best options simultaneously is most likely to have a beneficial effect.
Now, that's not to say that using every CTA method at once is a good idea. If you've ever visited a blog where you had to close a scroll-down shutter, a timed pop-over, a slide-in side box and a live chat box all before you can even read the content, you know what I mean. Don't be one of Those People. My personal recommendation is to leverage no more than 3-4 complimentary CTA formats at any given time.
Below, I've broken up the CTA plugins I recommend into several categories, based on the kind of CTA. For example, if you want an exit-intent pop-over lightbox, I have a couple of those to recommend. Check it out.
Exit Intent Pop-Overs
First up are the exit intent pop-overs.  You've definitely seen them. They hide and lie dormant while you visit and browse a site, but the moment you decide to leave, they pounce.
They work by detecting mouse movement and window focus. When your cursor leaves your browser winder – typically in the direction of the X in the corner to close the window or tab – they trigger. Some trigger based on other factors, though, like scrolling far enough down a page or waiting long enough on the page. Exit intent, the first kind, tend to work best. Others are disruptive in a bad way; they get in the way of reading your content. Exit intent assumes the reader is already done and ready to leave, and interrupts them with a "hey, before you go, why not click this link?" call to action.
Thrive Leads has given a lot of thought to the problems with exit intent, and has created an intelligent engine for their software. It's still basically just exit intent, but with some targeting options and a few little advanced features you can read about yourself.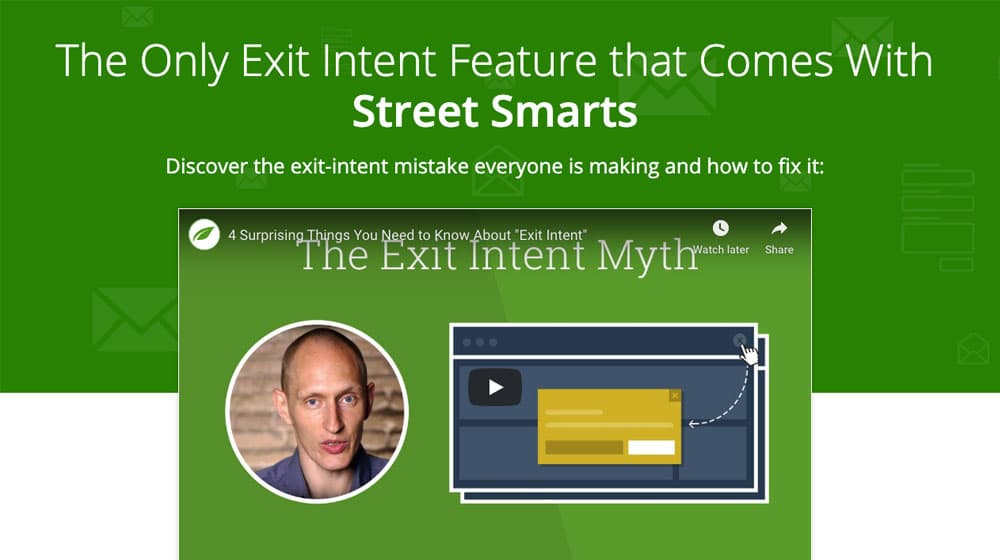 I like Thrive, but there's one problem: you have to buy a license, and it's a license for the entire Thrive plugin pack. If all you want is this one plugin, well, you're still gonna have to pay the $67 for a license.
This is one of the most robust exit intent plugins that is still just limited to exit intent pop-overs.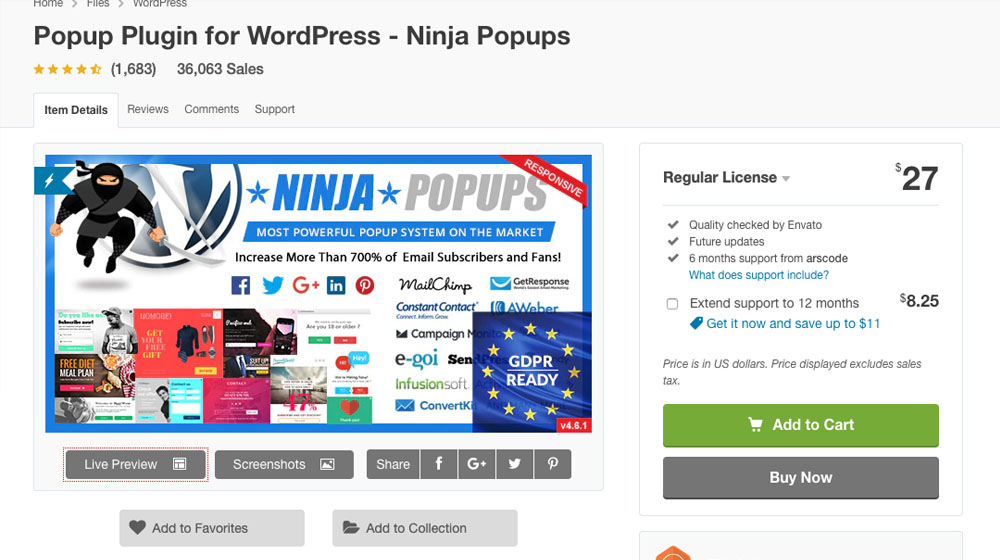 It runs on a custom script that changes from time to time to avoid pop-up blockers, and it has a ton of configuration options. These include dozens of different layouts and formats, as well as graphics and alignments. The whole thing is $26 from CodeCanyon, but it's well worth the money. Many pop-up services have a monthly subscription, whereas this is a one-time payment.
The first free plugin on this list, this one doesn't actually have a huge install base, which I attribute almost entirely to the fact that there are better paid options out there.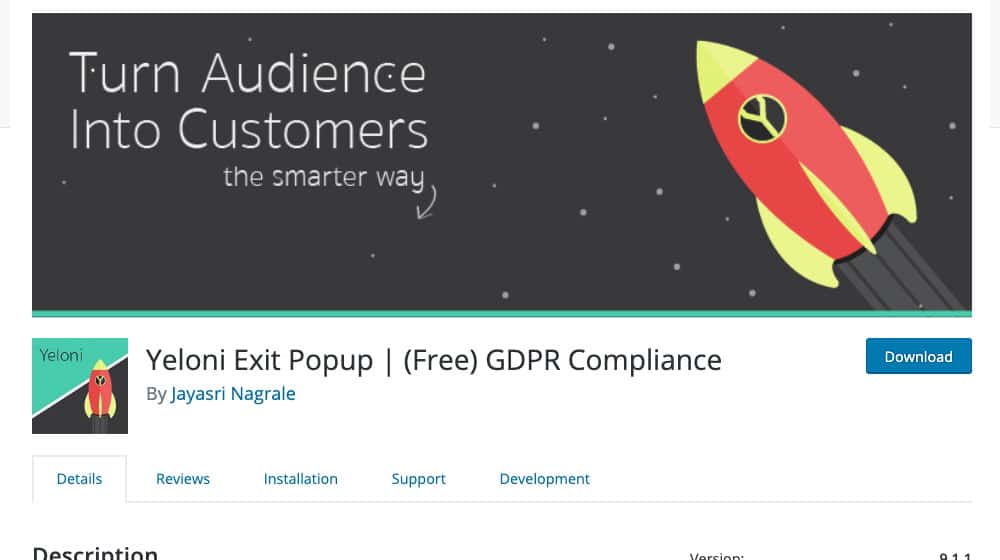 It has several different triggers, the option to use an opt-in or an action button, plenty of customization options, different kinds of exit intent actions, and more. Plus it's one of the few that's GDPR compliant out of the box.
This is another free WordPress plugin that handles exit intent pop-overs without bogging itself down with other features or a price tag.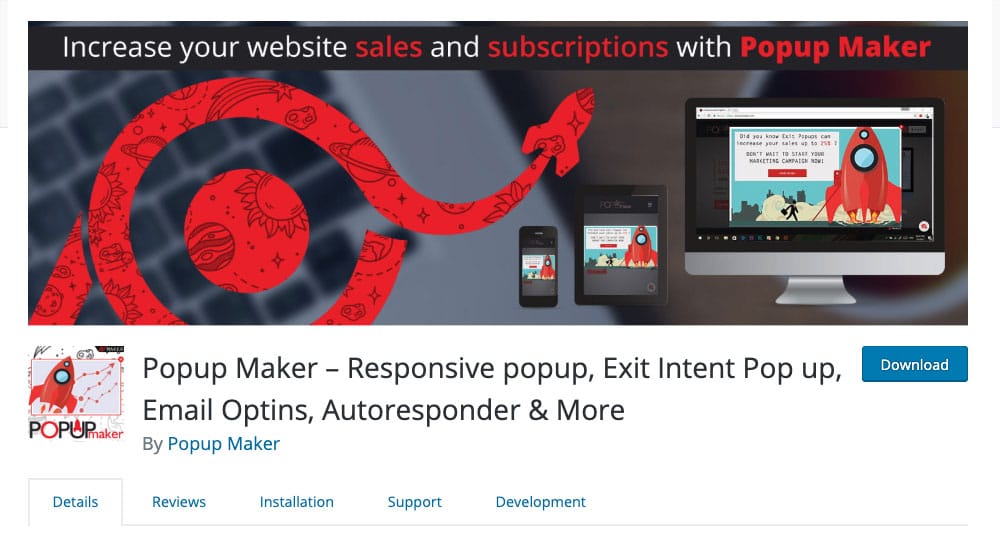 One of the best features of this particular plugin is that it allows you to create a pop-up with custom HTML content and formatting, rather than limiting you to specific layouts they've already configured for you
Before you skip, no, I didn't include the same plugin twice. There are actually two Popup Maker plugins by two different companies calling themselves Popup Maker.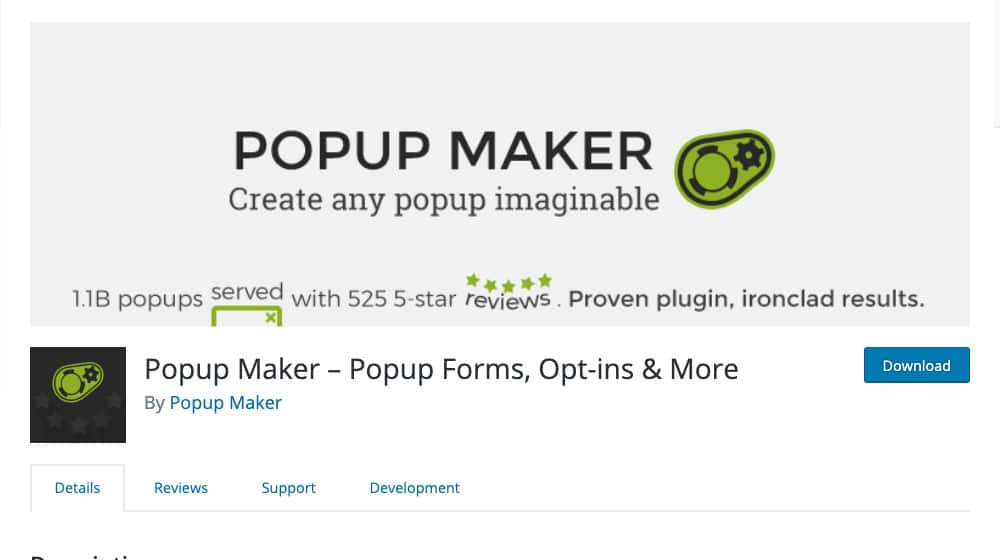 This one is the much higher used and reviewed of the two, and it's a much more flexible plugin while still remaining true to the goal of limiting itself to just exit intent pop-overs.
Interstitial CTAs
Interstitials come in a few varieties. Some of them work only if you have paginated content, which has started to fall out of favor with the modern internet due to the proliferation of mobile device usage and the dropoff in individual pageview exploitation. Some of them simply use WordPress's ability to insert shortcodes to run a CTA widget in between paragraphs. Either way, here are some you can try.
While this plugin isn't dedicated entirely to calls to action, it's a great plugin with shortcodes to insert dozens of different page elements with a single small shortcode rather than the full code and configuration normally necessary.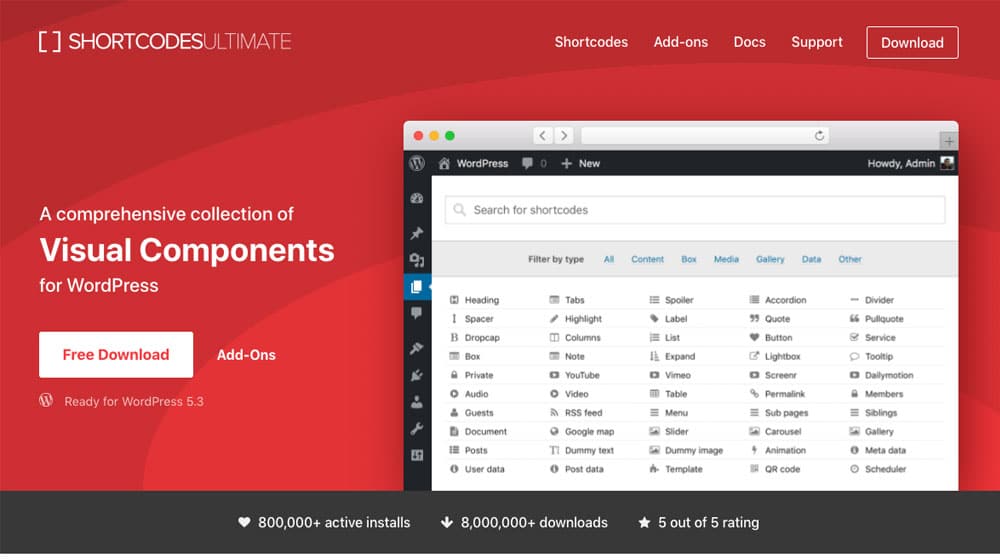 Some of them can be great for calls to action, including accordion content, lightboxes, and carousels. It's up to you to format the content inside it though.
Some sites use interstitials to display ads or a call to action in between arriving on the site and being able to read the content at all. Forbes did this for a long time. They might still, I don't know, I blocked it from appearing for me.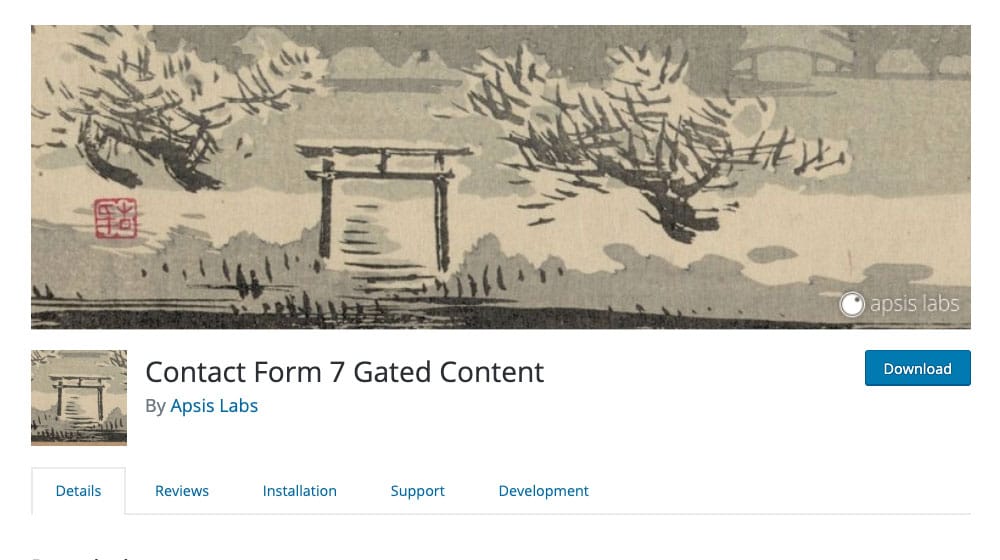 In any case, this plugin is specifically designed to work with Contact Form 7, so if you don't use that app, you won't be able to use this. What it does is allows you to put up a gate that asks users to give you their opt-in before they can read.
This is another free lead capture CTA plugin.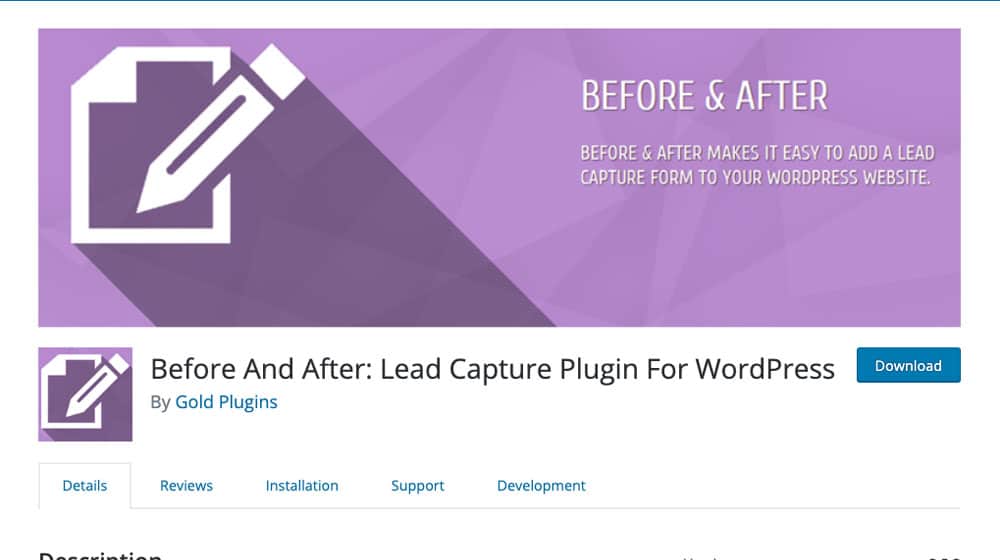 It's similar to the gated content plugin above, but you have a variety of different gates you can configure, and can set up different gates for different pages. I like it because of the options it gives you, but you definitely need to be careful not to use too many of them at once lest your users just shrug and find a different site to browse instead.
This plugin is appropriately named; it allows you to add some basic in-content calls to action.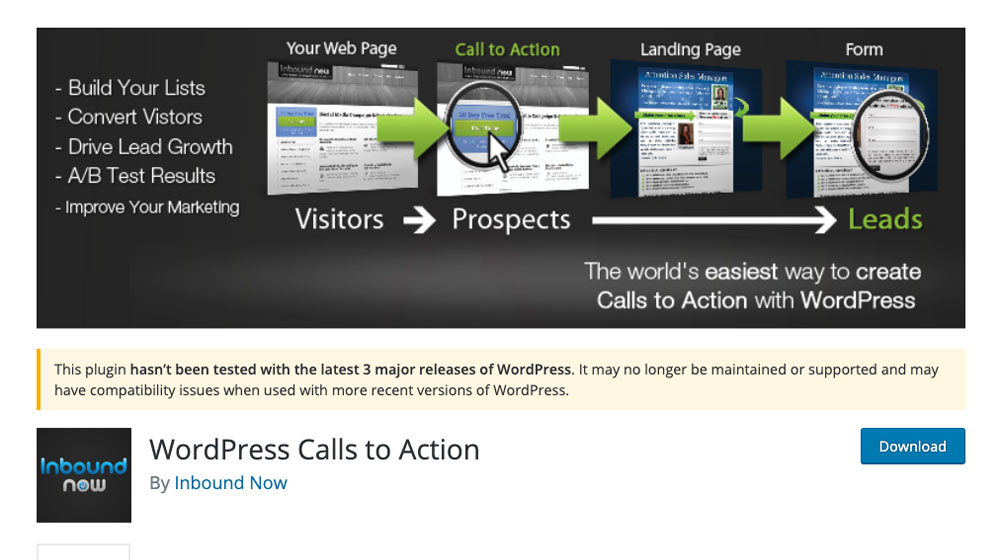 It's not super robust, and it's not well maintained, but at the same time, it's free and it's simple. There's a big warning that it hasn't been tested with the three most recent versions of WordPress, so exercise caution if you choose to use it. The longer it goes without an update, the more likely it will be to become a liability.
This is a new plugin that interfaces with the Gutenberg editor for WordPress.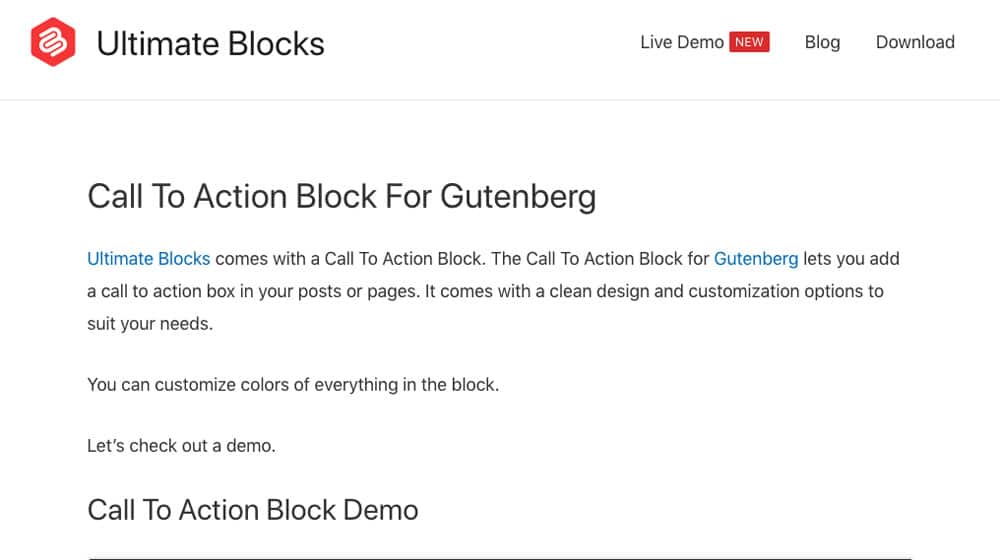 Among the many custom block types it uses, one of them is a great interstitial in-content call to action block. It's one of my favorite new plugins, so check it out!
The idea of putting a banner across the top of your site is nothing new, but usually it was reserved for banner ads, and it didn't stretch the entire width of the site. Now, new CTA banners have appeared. The originator and namesake for these banners is Hello Bar, which I'll talk about as one of the recommended options, but there are several imitators that work equally well these days.
As mentioned, Hello Bar is the progenitor of this style of call to action bar.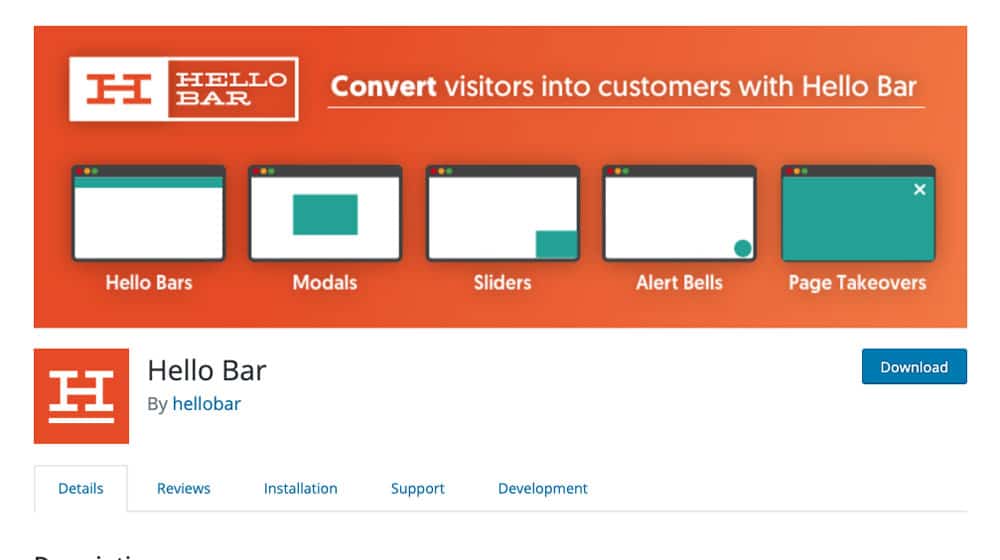 They've expanded to a few different formats, though I believe you have to pay to access all but the basic top bar banner. I'm not certain, they've changed it a couple of times, so give it a look yourself. Hello Bar is a great top-level banner that can show a variety of different calls to action, and works quite well with time-sensitive offers and opt-ins alike.
This is another free plugin option for a top-bar banner for your site.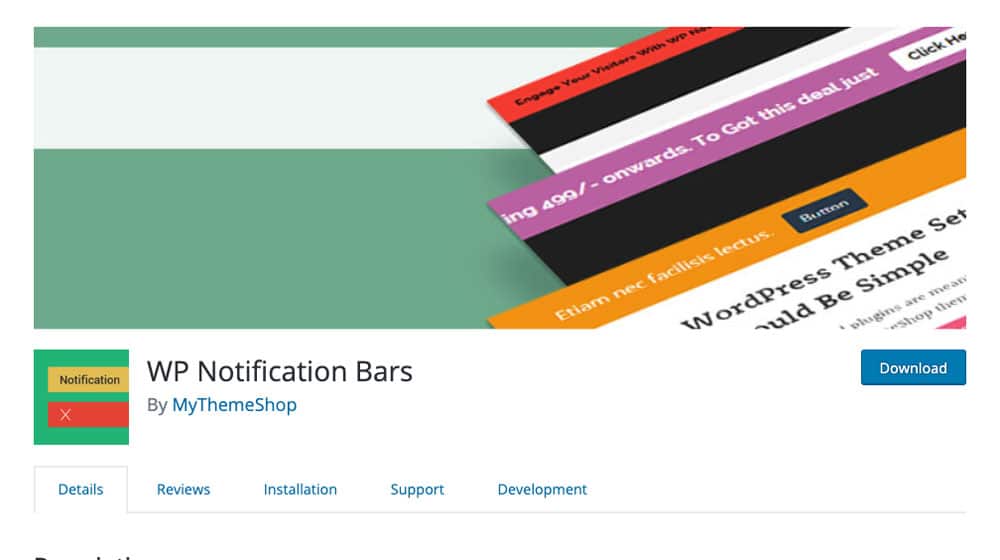 It has a handful of different themes and call to action options to configure, but it's still generally simple; pick a color, pick some copy, pick a button, and you're off to the races. This is probably the biggest advantage to this kind of call to action bar; it's simple and easy to get running.
This is one of the more powerful options for a top bar, with mobile compatibility, a variety of customizable calls to action, and the option to choose between smart display, static visibility, and a sticky scrolls-with-the-user option.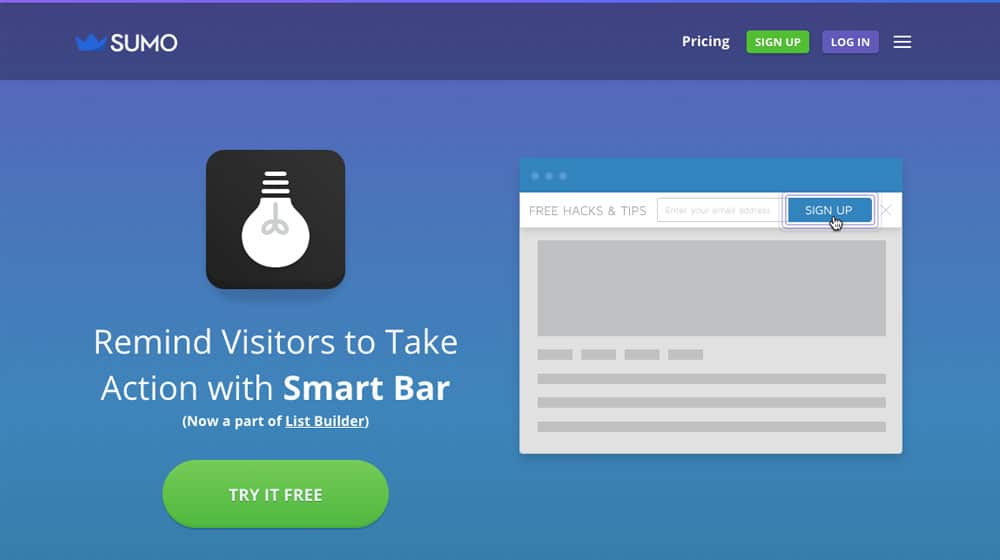 The best benefit, though, is simply that it has split testing. You can show different messages and different offers to different segments of your audience, and test which ones work best. For those pro marketers out there, it's an invaluable benefit.
14. Foobar
This one is a paid plugin, and it'll run you $20 for a license.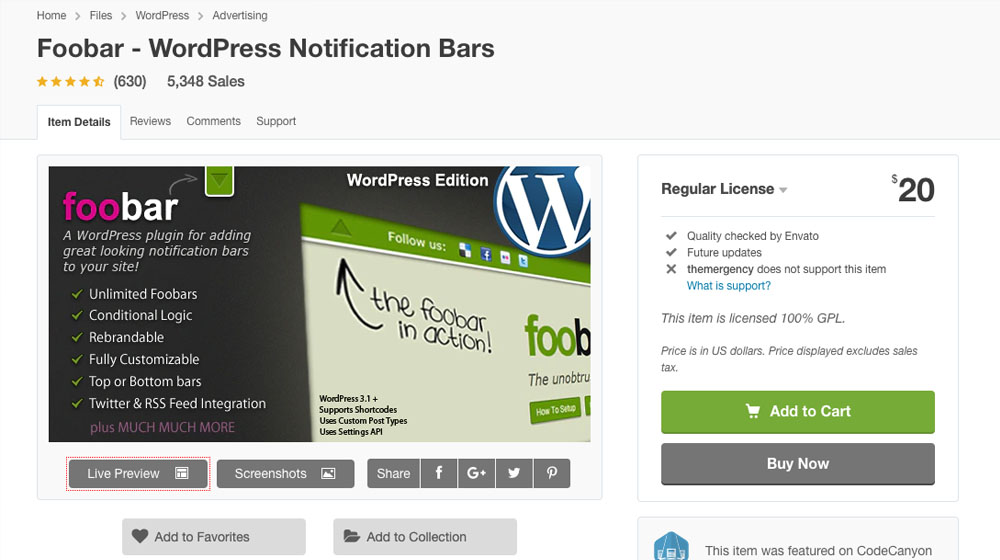 With that license, you can create unlimited bars, use conditional logic for their display modes, brand it with your own logo, customize every aspect of the bar, and even integrate both Twitter and RSS feeds.
Is your blog earning you business? If not,
let's fix that.
We create blog content that converts - not just for ourselves, but for our clients, too.
We pick blog topics like hedge funds pick stocks. Then, we create articles that are 10x better to earn the top spot.
Content marketing has two ingredients - content and marketing. We've earned our black belts in both.
If you run an internet-based business and are looking to scale, schedule a call to speak with our founder:
Another paid plugin, there's not much to say about this that hasn't been said about others up above.
It has basically the same array of features, but with some extras like a countdown timer. It'll run you $30 for a license.
Live Chat Plugins
Live chat plugins are an interesting innovation. They tend to mimic an instant messenger like Facebook Messenger, and they make it look like a customer service rep sees you browsing and asks you if you need help, much like an associate in a retail store. However, 99% of the time there's no one on the other end, at least not initially. If you send a message, you connect with someone… or something. In many cases, you need to have employees on the other end to monitor it, but sometimes a bot handles the initial communications and only refers the user to a real person if the bot can't answer their questions.
A free plugin, this version of chat simply connects to a live customer service agent, rather than mimicking one with a bot.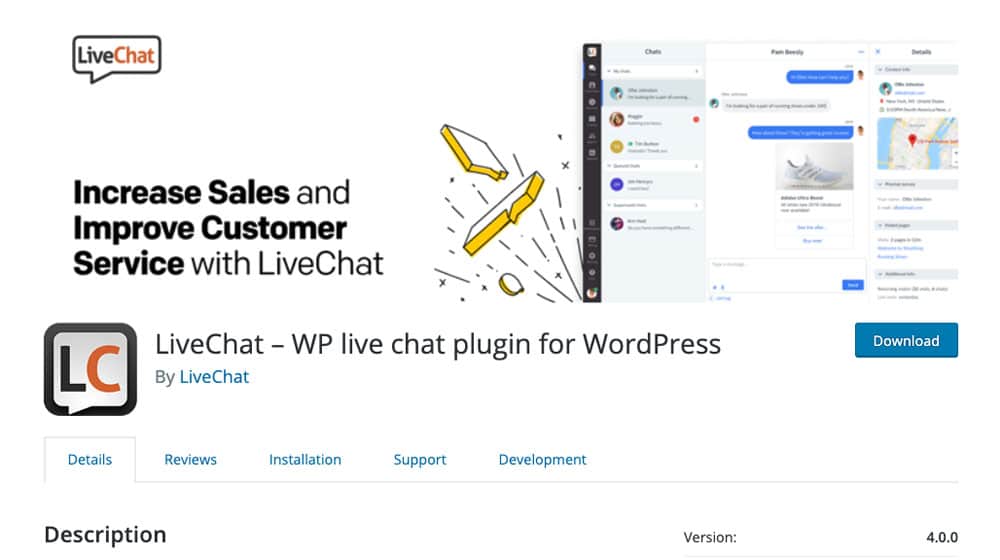 It's customizable and allows you to review transcripts later, if that's a concern.
Chat is part of the overall SendInBlue system, which is a robust contact management platform with plenty of lead generation features as well.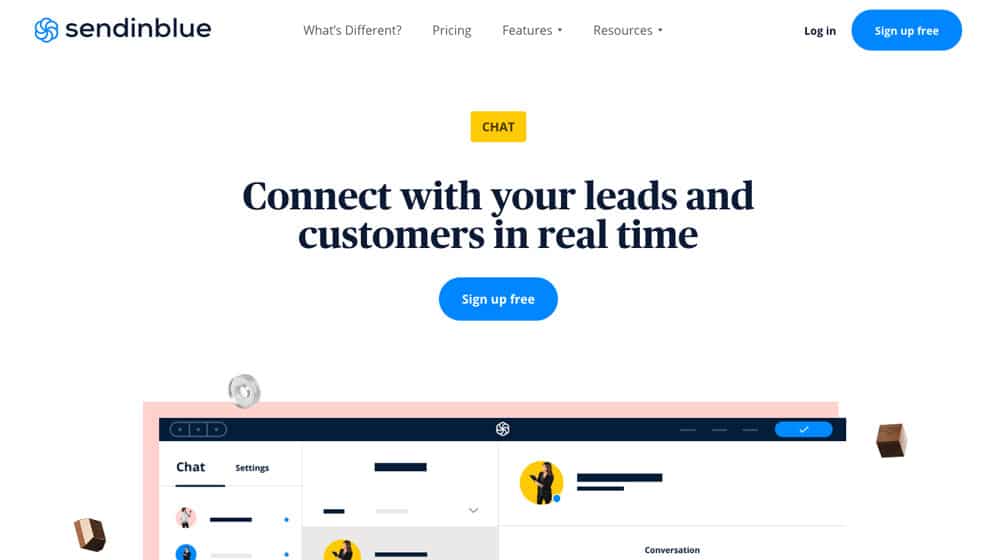 It's great, but it might be a bit more than you want to use for just a simple chat system.
Probably one of the most widely used live chat plugins, this one is very nice about allowing you to tuck it away until the right time to expand it for a user's attention.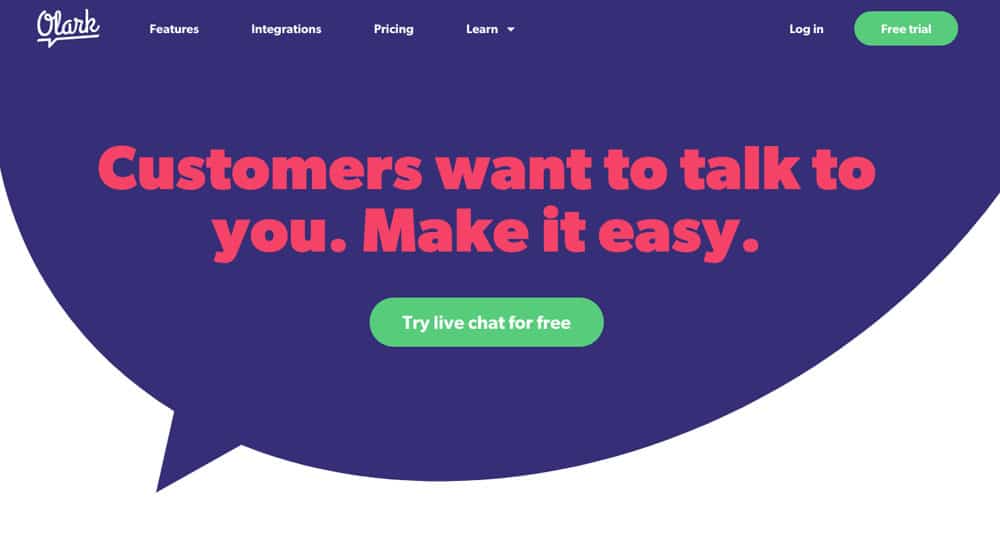 It also costs you $17 per agent per month, so it's not the cheapest option.
ZenDesk is one of the most common support management platforms, and it does its job pretty well, but I'm of two minds about it.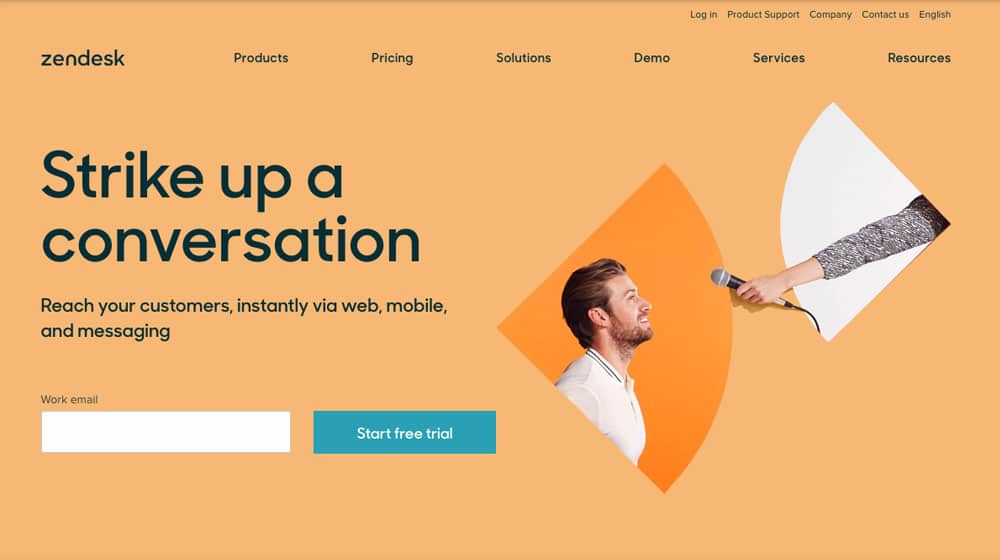 This chat is great if your CTA is largely about support, but if it's focused on sales or email opt-ins, you can go with a better option elsewhere.
This is the only bot chat on this list, but it's a pretty good one.
It's easy to get up and running, but for a fully robust bot you're going to have to spend some time teaching it what you want it to be able to talk about.
Sidebar boxes are some of the least intrusive calls to action for most users, because they hang out in the gutter and don't overlap your content. Of course, whether or not this remains true depends on the width of the user's device viewport and the configuration of your plugin and your website. They might be present from the moment the user shows up, or they might trigger based on time or on scroll. You can configure the animation they use when they appear, as well as the call to action they include. Here are some options.
This simple and easy slide-in box generator is powerful and highly configurable.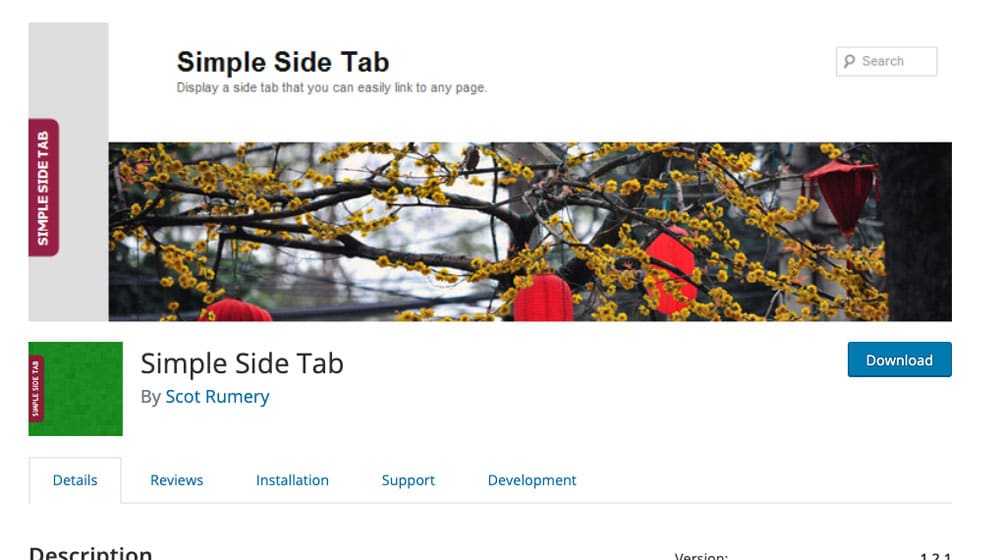 You can run it out of the box or you can customize it to suit your site, and either way it's easy to use. I'm surprised it doesn't have more users, honestly.
Have you ever been on a site where a little box pops up and tells you that someone else has recently bought an item from the site you're on?
That's what this plugin does. You can configure how long it keeps recent sales and if it has advanced targeting like geolocation, too.
One of the most powerful free box-based CTA plugins out there, this one gives you slide-in boxes with custom calls to action.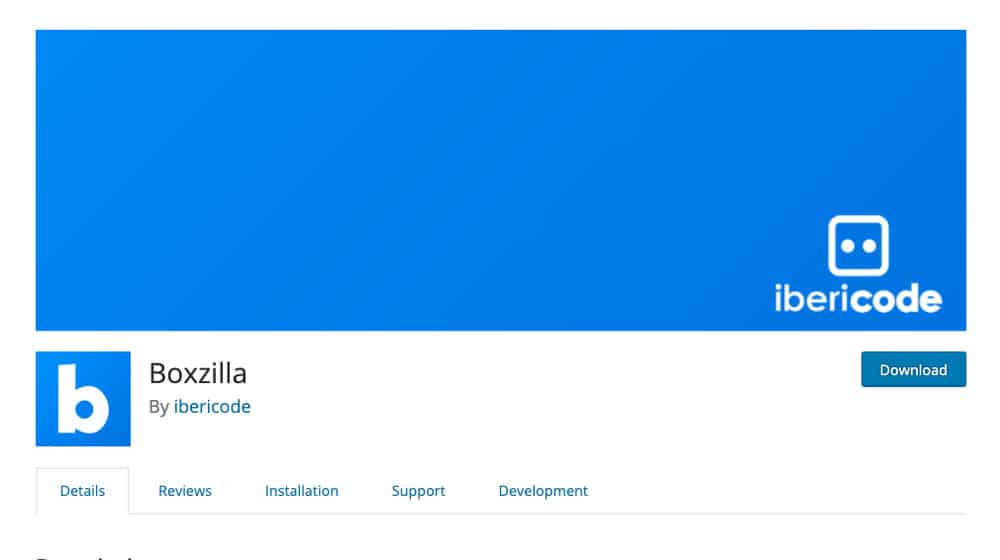 You can set triggers like scroll distance, time on page, and triggering on link click.
Have you ever seen a blog where the top bar slides down to cover the post, and slides up when you collapse it?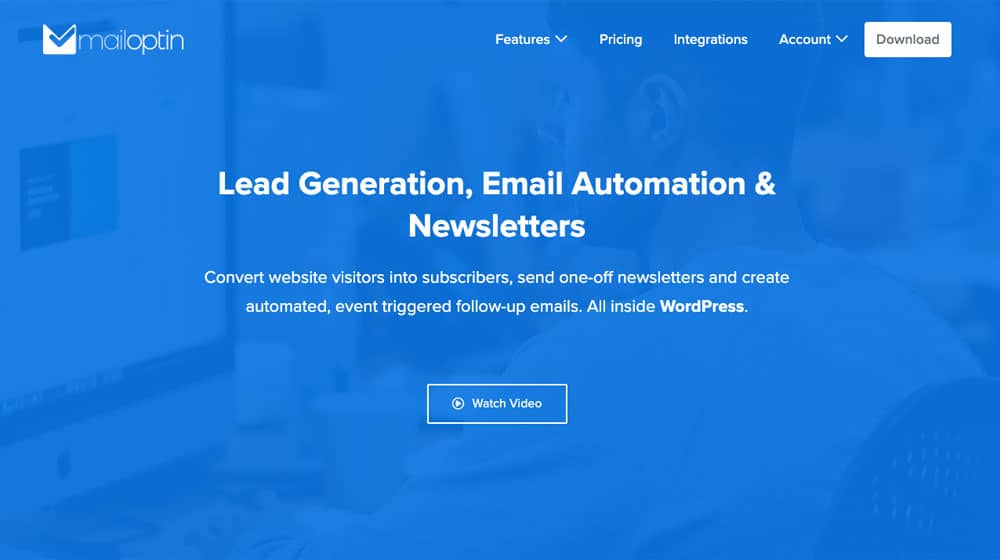 This does something similar, except from the side. It slides over a shutter with opt-in form fields to fill out, and can be set to trigger based on clicks or other behaviors.
Another offering from CodeCanyon, this sidebar engine has a ton of templates and options, including social shares, opt-ins, and more.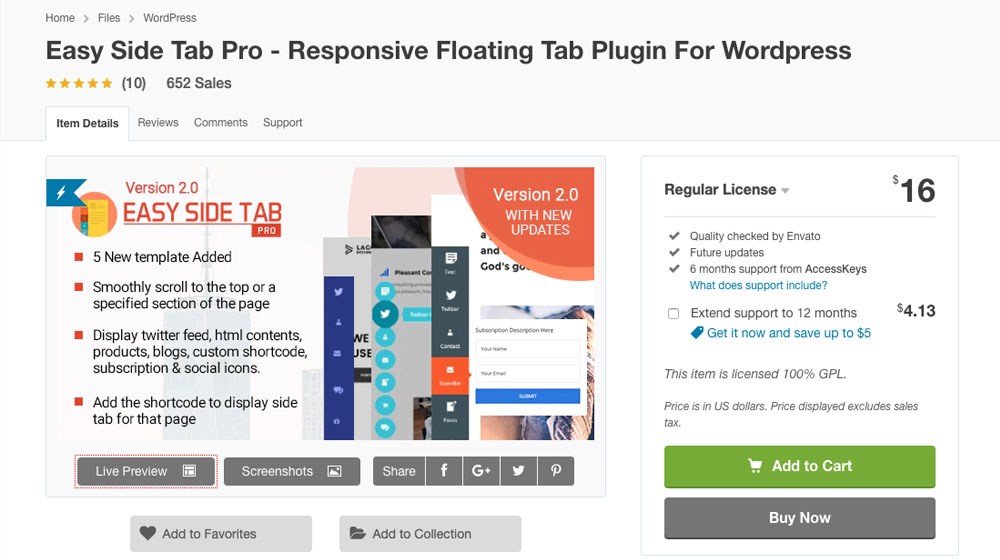 The whole thing is only $16, so it's pretty cheap all around.
Do-It-All CTA Plugins
This last category might be the most valuable to you, which is precisely why I saved it for last. These plugins are combinations of many of the above. They cover at least two of these other styles of CTA, if not all of them, and you can choose which ones you want to use and how many you want implemented at any given time. Give them a look.
Optin Monster is one of the best companies around for, well, getting opt-ins for your offers and newsletters.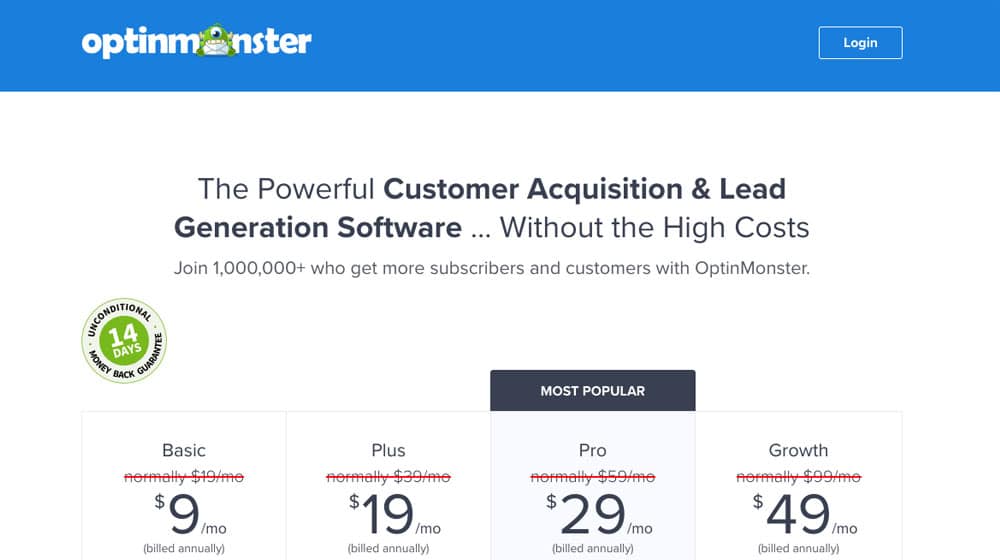 They have some very good software, including exit intent and pop-in engines. They even use it on that page, so you can see how it works! In order to get the exit intent feature, you need at least the Pro version, which will run you $30 per month as long as you want to use it.
This does-it-all plugin does social share buttons, email opt-ins, pop-ups, and custom forms.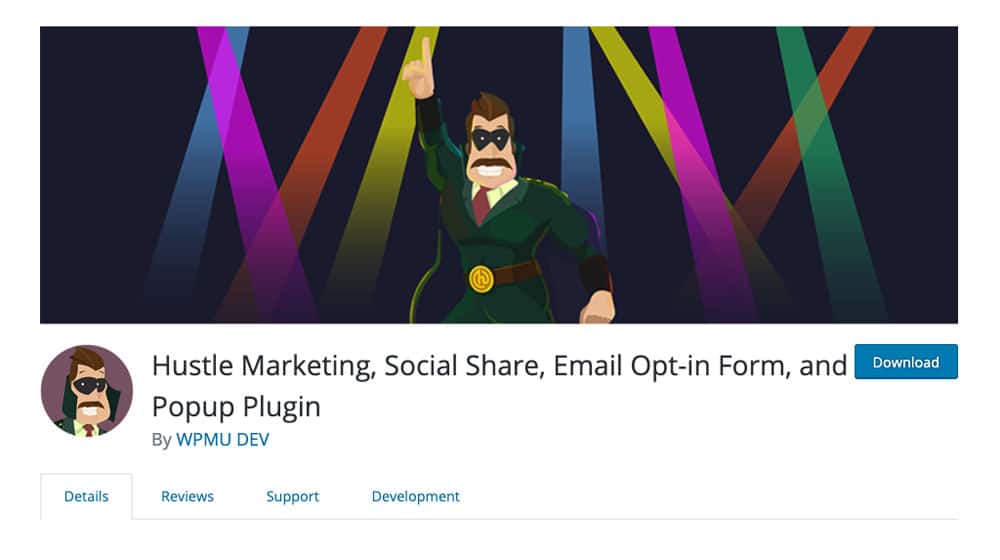 It links in with a ton of email and contact management services, and it's broadly customizable to suit the needs of your site. It's surprisingly advanced for a free plugin, actually.
Bloom has a bunch of possible formats for call to action boxes, and they're all very well designed, adblock safe, and compelling.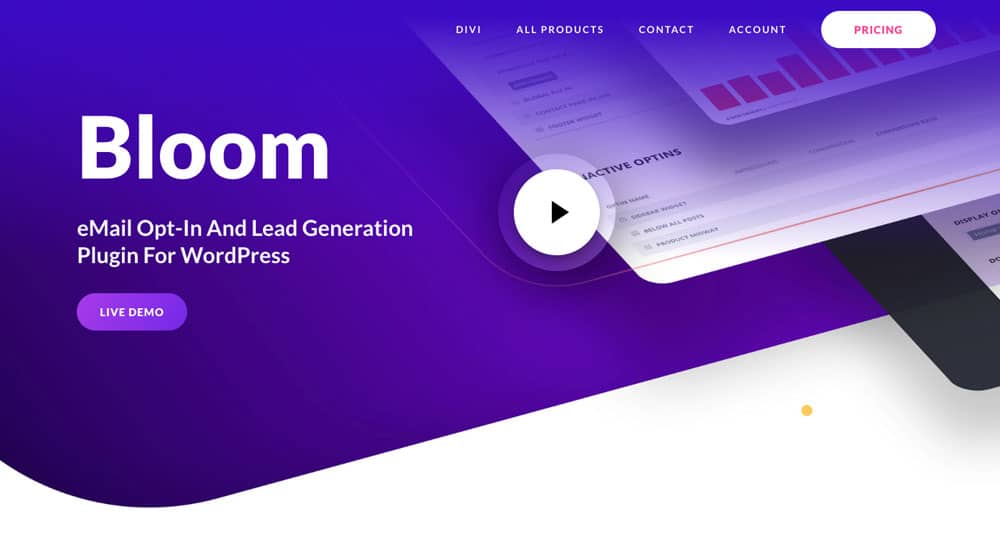 The only reason I hesitate to fully recommend it is that, much like Thrive, you have to buy a package for all of the Divi/Extra/Bloom/Monarch tools all at once, and that's $90 per year.
This is another offering from Thrive – the only company to get two spots on this list – but it's well worth the space.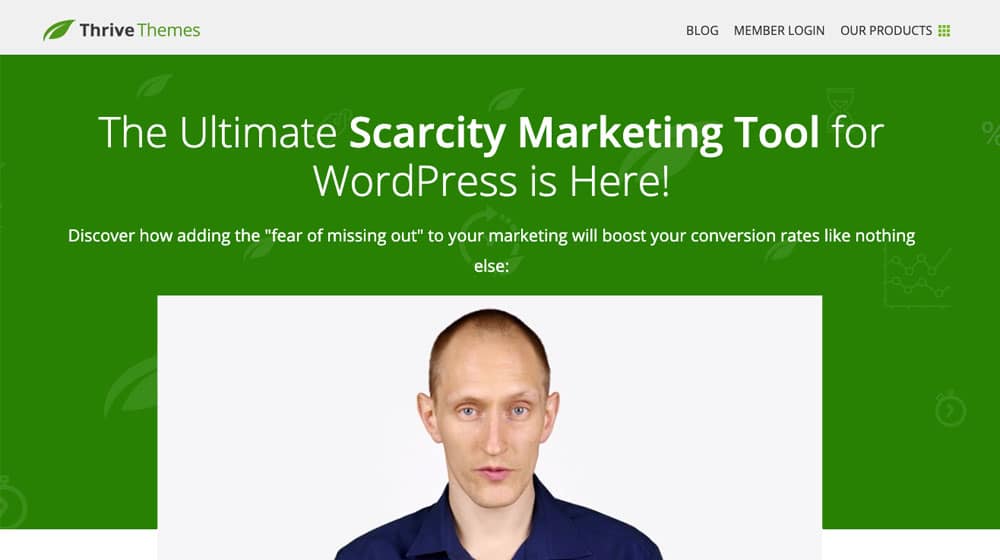 This plugin uses several different kinds of calls to action, but they do it with one common theme: FOMO. Countdown timers and limited quantities encourage users to act now, or forever miss the great deal you're offering.
This final entry on the list has everything from exit intent pops to top bars to shutters to sidebar slide-ins to chat systems, and it's all rolled into one excellent package.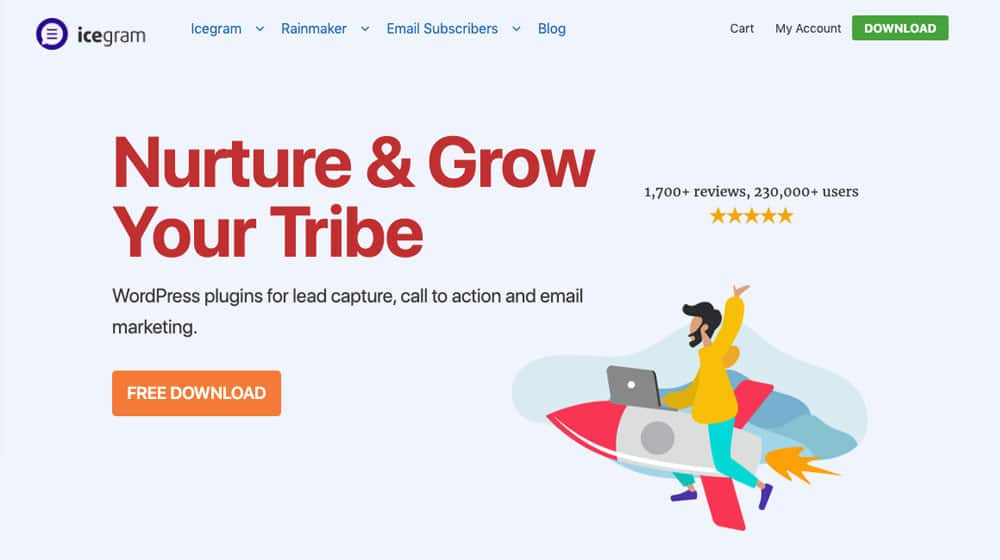 It's easy to set up, quick to configure, and has deep options for split testing, retargeting, analyzing your audience, and more. Plus, they have a free option with more features than some paid plugins I've listed above. Definitely give these guys a try.