20 Tools to Help You Create Easy Landing Pages
Landing pages are one of the most important tools you have available to you as a marketer. They're highly focused task pages, designed to convince a user to convert into a customer. They're highly focused and extremely effective… when you create them properly.
Hubspot research indicates that the average landing page has somewhere between a 5% and a 15% conversion rate. Bad landing pages are worse, but high-performing landing pages can reach as high as 30%! Imagine; 30% of the people clicking your Google ads give you their email address for further marketing. That's an incredible opportunity.
Creating landing pages can be a tedious job, and optimizing them requires monitoring and changing according to data. Unfortunately, many marketers just don't think they have what it takes to do it.
The good news is, it's nowhere near as difficult as it sounds. Using the right tools can streamline the job, giving you excellent and focused landing pages suitable for any conversion, from email opt-ins to product sales.
Luckily, you are spoiled for choice. I've identified twenty different tools you can use to generate beautiful, focused, compelling landing pages in a fraction of the time it would take to develop them from scratch. They all have their pros and cons, so I've included some analysis as well. Let's dig in!
Leadpages leads the way as one of many landing page generators that uses a simple drag-and-drop editor to let you create graphical, beautiful landing pages, in a matter of moments. The page generator requires no coding knowledge, and it gives you a wide range of features including split testing, monitored conversion rate, and integrations with a variety of other tools. In addition to page creation, they also offer pop-ups, alert bars, and a ton of other useful features.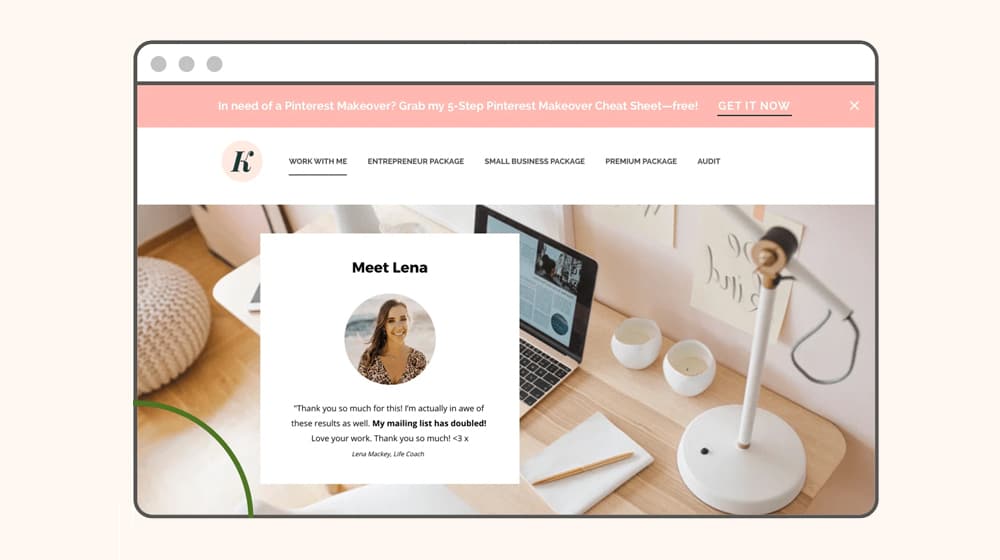 Pricing begins at $25 per month for a single site with basic features. Advanced plans are $50 and $200 per month, respectively, and come with more sites and a larger array of useful features.
Unbounce is another drag-and-drop landing page generator, which you'll find is true of almost every tool on this list. They have a form builder, analytics built into the page, split testing, and a library of template pages you can use to start with. You also get the generally-standard features of an alert bar and pop-ups of varying sophistication.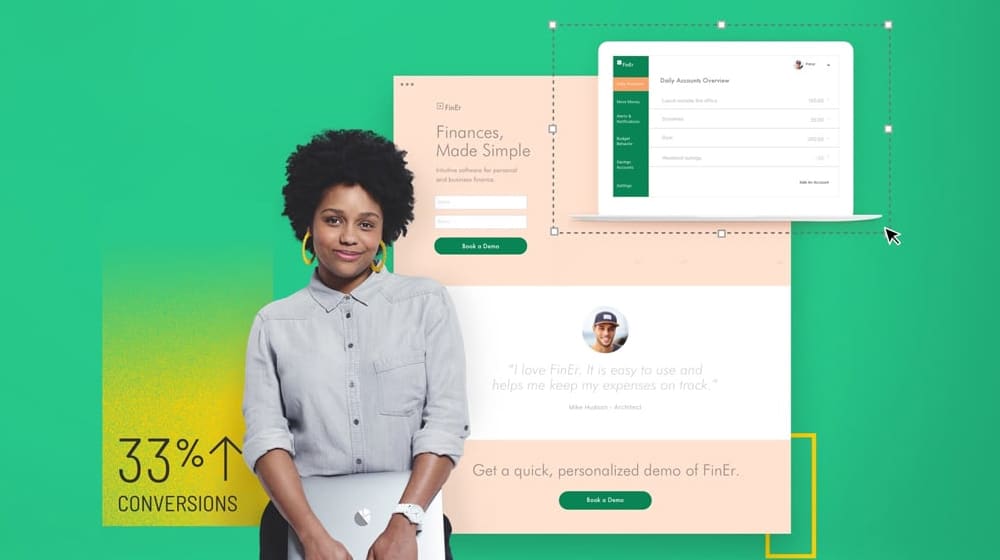 Unbounce's plans are limited primarily by the number of visitors and conversions they process each month. The base plan is $80 per month for up to 500 conversions and up to 20,000 visitors. Higher tier plans at $120, $200, and $300 per month raise those numbers accordingly.
If you asked 100 marketers what the best landing page builder on the market was, a sizable percentage of them would say Instapage. They're one of the better-known names in landing page tools, and with good reason. They have no conversion limits, for one thing. My favorite feature, though, is Instablocks. You essentially generate block-type assets you can add to multiple landing pages, both as an ease-of-use feature so you don't have to re-create the same chunk of content over and over, and so that you can edit one block to edit all of your landing pages at once. It's extremely handy.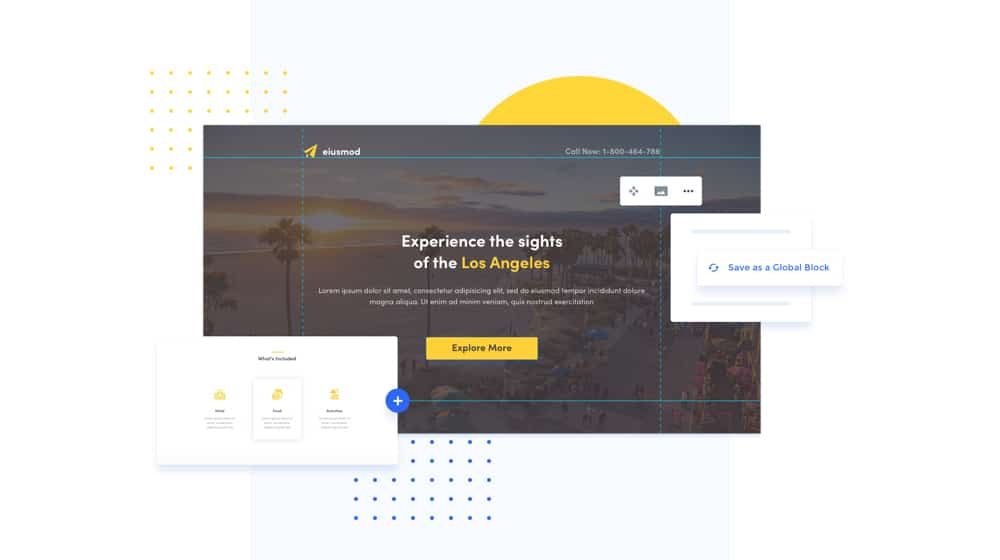 Instapage costs $150 per month for a standard business plan. This loses out on a bunch of advanced features like collaboration tools, AMP pages, guaranteed uptime via SLA, and page migration, which is all available in their enterprise plan instead. You'll need to contact them for pricing there.
Landigni is a lesser-known landing page generator, but it's no less powerful than its larger cousins. However, it does offer one feature that you don't see in many other tools; a miniature CRM called the lead manager, which harvests information about your leads when you generate them and lets you manage those leads from within their platform. No integrations with other systems necessary! They also have a library of stock images, icons, templates, and even fonts you can use in your designs.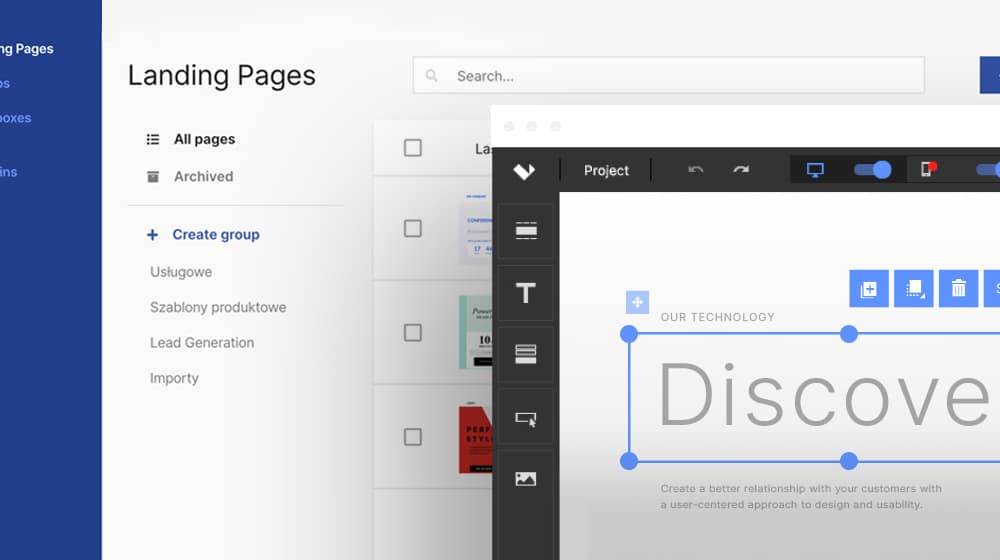 Pricing starts at $29 per month, making it one of the cheaper options on the list, and even their highest-tier plan is only $80 per month. A pretty good deal, I'd say.
SendinBlue is first and foremost an email management company. They handle your contacts lists and manage your newsletters, and they're very powerful at doing so. One of their advanced features is a landing page builder, which is why they're on this list at all. It's not the core feature of their platform, so it's not the most robust tool out there, but it integrates well with the rest of their system.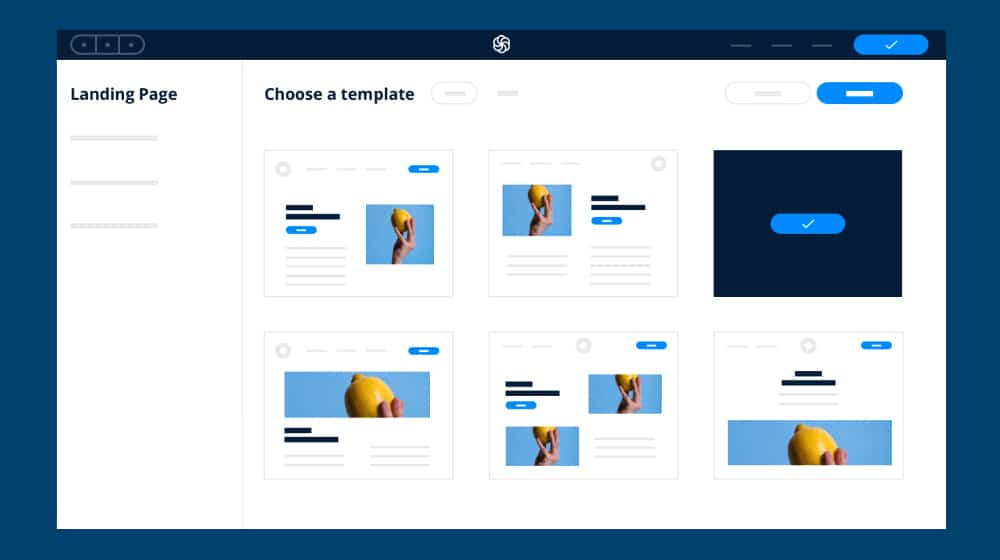 Pricing starts at free, but unfortunately, you need to pay at least $65 per month to access the landing page builder. Lower-tier plans are almost exclusively focused on email management. Even that only gets you five unique landing pages, though you can pay more for groups of five more, up to 20, before needing to upgrade to the enterprise plan.
Wishpond has one of the better landing page builders on the market, with a host of templates and assets available for you to use, and unlimited landing pages in all their pricing plans. They also offer a variety of marketing features, including drip campaigns, pop-ups, and social media contests.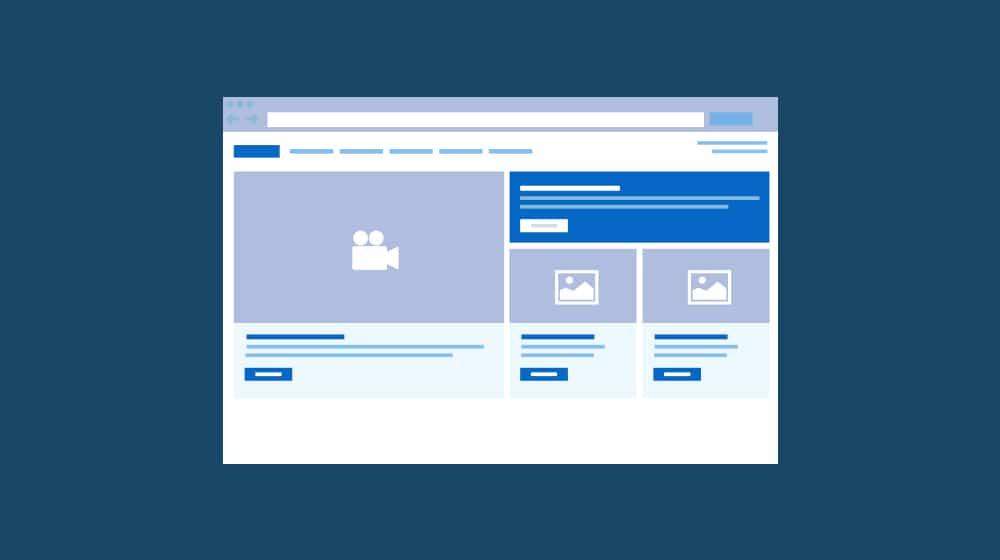 Pricing begins at $75 per month for unlimited pages and basic features, but it's limited to 1,000 monthly leads. The $150 per month plan gives you split testing and 2,500 leads, plus the ability to use custom JavaScript if you want. Beyond that, you can scale up the number of leads as high as you want, priced accordingly.
GetResponse, like SendinBlue, is primarily an email marketing company with additional features like a landing page generator tacked on to the overall service. They also offer features like email autoresponders, automation templates, lead and sales funnels, ads, webinars, and even a dedicated IP address if you want the enterprise plan.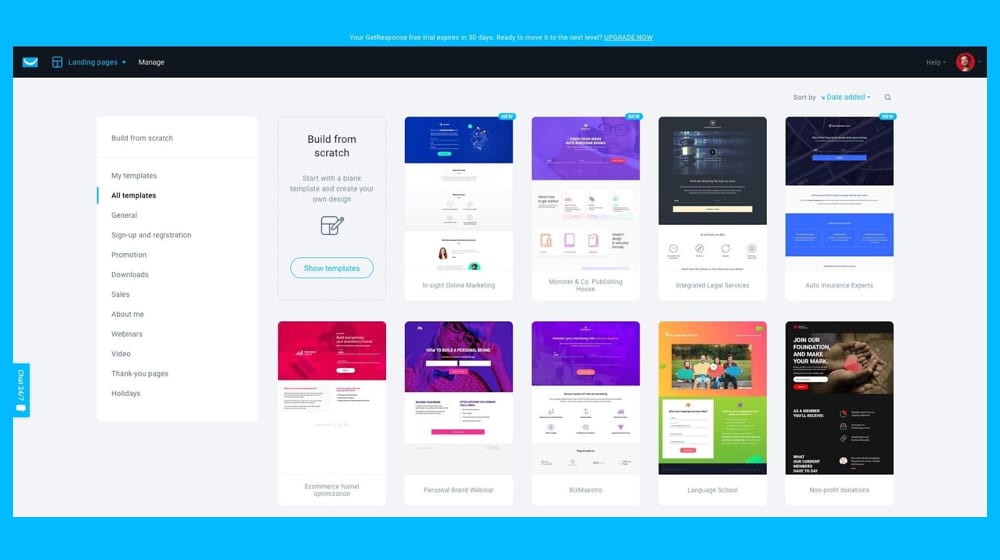 Pricing is cheap, starting at $15 per month for unlimited landing pages and most of the basic features you would want from a product of this nature. Higher tier plans exist at $50 and $100 per month, and custom pricing for their full-service suite.
LaunchRock is a narrow, specific kind of landing page builder designed for building hype. It's not meant for general use landing pages, but rather the kind of landing pages you build for products you haven't yet launched. Gather emails and information for pre-orders and even gauging interest in an idea you haven't fully developed. It's an extremely narrow but extremely simple landing page builder, so it works very well for what it does.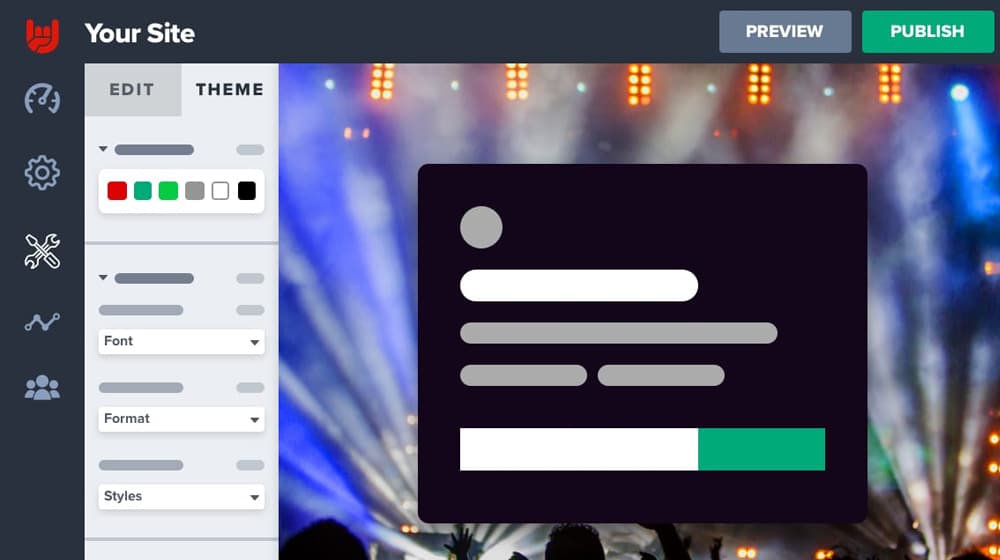 Pricing starts low, with a free version that has their logo on it. You can also pay for a premium plan at $29 per month paid monthly, $20 per month paid annually, or $350 for lifetime access.
Thrive Themes is a top-tier WordPress theme provider, with high-quality design and fully-featured themes useful for a wide range of blog styles. They also provide a bunch of narrow-use tools to go along with their WordPress themes. One such tool is Architect, which is their general-use page builder. They have templates, pre-built elements, and fully-editable drag-and-drop production. Additionally, you can add analytics and testing with Thrive Optimize.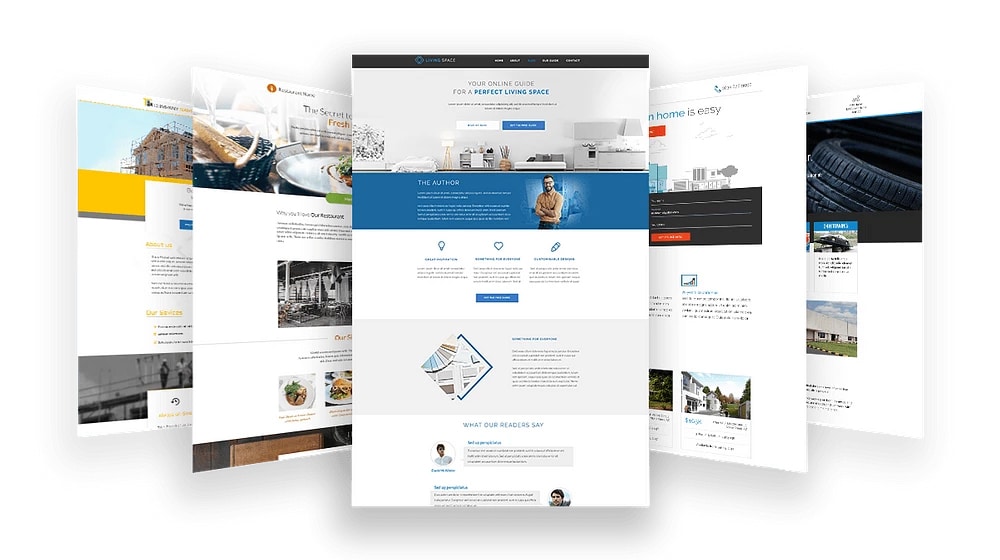 Thrive is a membership service where paying for a plan gets you access to all of their tools and plugins, their theme builder, and more. It's also quite cheap, at $20 per month. What more could you ask for?
Is your blog earning you business? If not,
let's fix that.
We create blog content that converts - not just for ourselves, but for our clients, too.
We pick blog topics like hedge funds pick stocks. Then, we create articles that are 10x better to earn the top spot.
Content marketing has two ingredients - content and marketing. We've earned our black belts in both.
If you run an internet-based business and are looking to scale, schedule a call to speak with our founder:
OptimizePress calls itself a "revolutionary" page builder, with over 50 templates, integrations with automation engines like Zapier, a funnel builder, and a whole lot more besides. While I'm not so sure that their page builder is revolutionary, it's certainly very powerful and very flexible. They also pushed a huge update at the end of 2019, so if you've tried them before and didn't like them, try them again. They've improved a lot since then.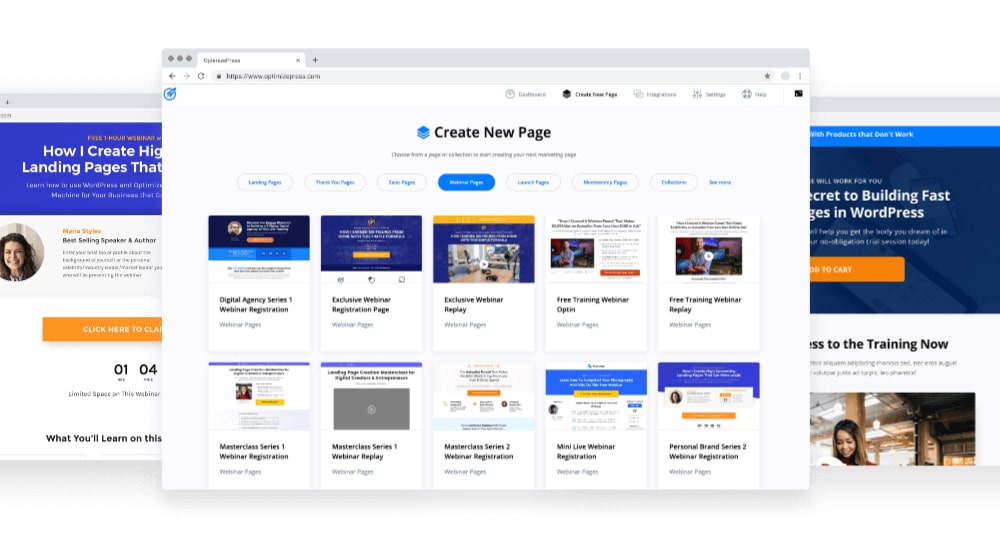 Pricing starts at $100 per year, with additional plans at $150 and $200 per year. These higher tier plans get additional features, like scarcity, checkout systems, a form generator, and split testing.
Where other entries on this list are page builders that have funnel features added on top, ClickFunnels twists the formula. Their tool is based on generating sales and conversion funnels, and then building pages to support them. Otherwise, it's more or less the same kind of functionality you're getting from other tools, with one exception: their community. They host weekly hackathons and give you access to an exclusive forum for additional help, support, and networking.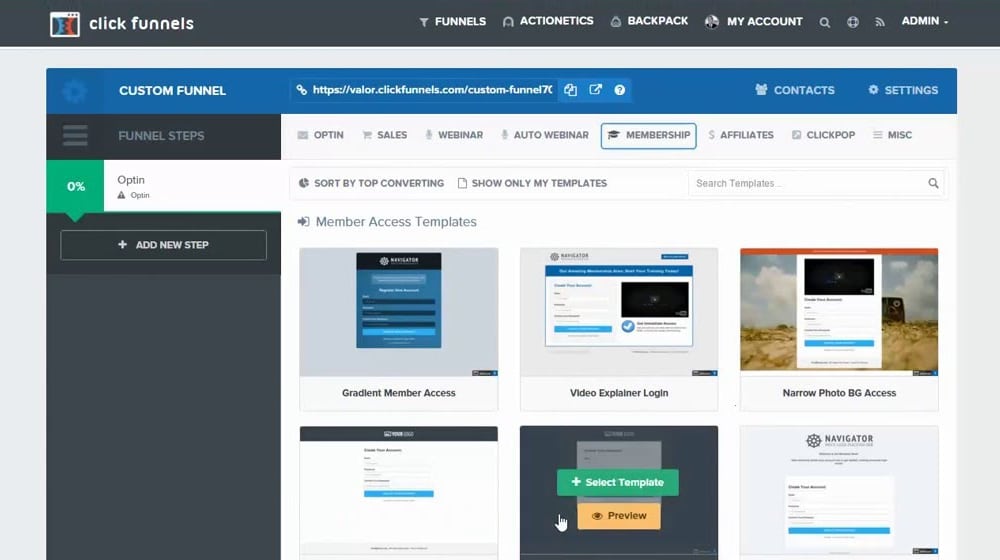 Pricing starts at $100 per month for 20 funnels and 100 pages. For $300 per month, you get both unlimited funnels and pages. They also have a ridiculous $2,500 per month plan that they don't even mention what all it includes. I haven't gone for it, but if one of you has, feel free to let me know!
OptinMonster is probably the premier form builder available for the web today. They're very well known and very powerful, with a flexible engine and a page builder that works just as well as most of the others on this list. They have a ton of advanced features, ranging from page-level targeting to an inactivity sensor to geolocation targeting and more. Seriously, the list would take up half this page.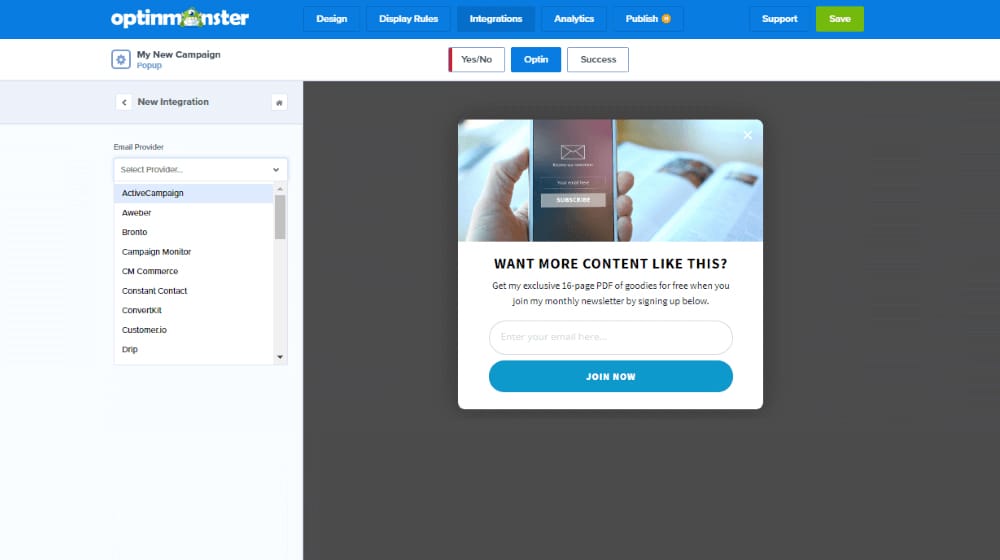 Pricing starts cheap, too, at only $10 per month for the basic plan. Additional plans run you $20, $30, or $50 per month as well. Pretty cool that you can get their highest tier plan for the same price as some of these other tools' introductory plan.
Beaver Builder isn't one I had heard of before making this list, but it's becoming one of my new favorites. It's a pretty simple mid-range landing page builder with a library of unique templates, and an accompanying WordPress theme that can be used separately or in addition to the landing pages.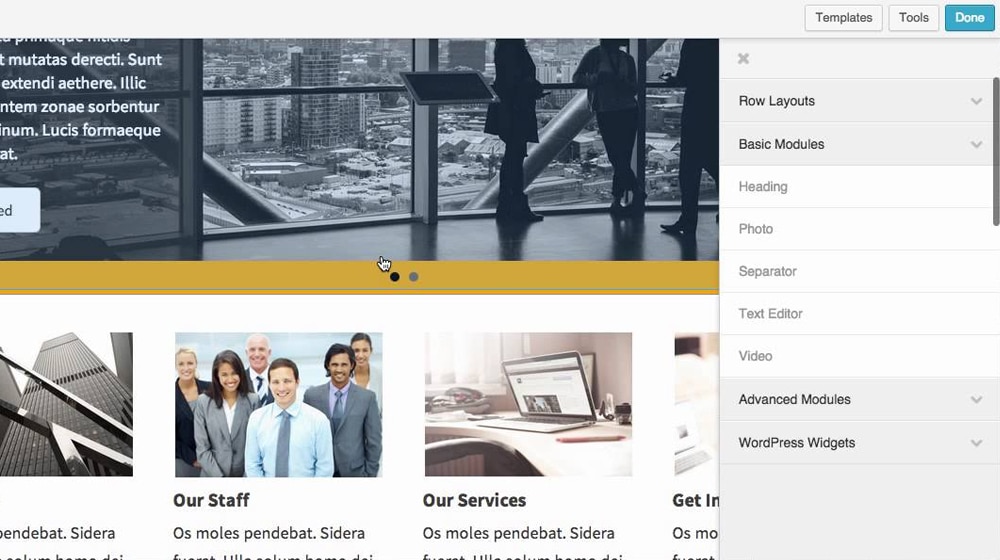 Pricing for the builder starts at $100 for access to the tool and a year of support and updates. More features plus the theme come in at $200, and for $400 you can get an agency version that you can resell as a white-label service.
A relative newcomer to the party, Systeme allows you to build sales funnels, manage email marketing, and sell products all from their platform. They integrate with PayPal and Stripe and have a pretty decent page builder to build around. You can also do things like run an affiliate program, host webinars, set up drop shipping, and automate large portions of your site from within their system.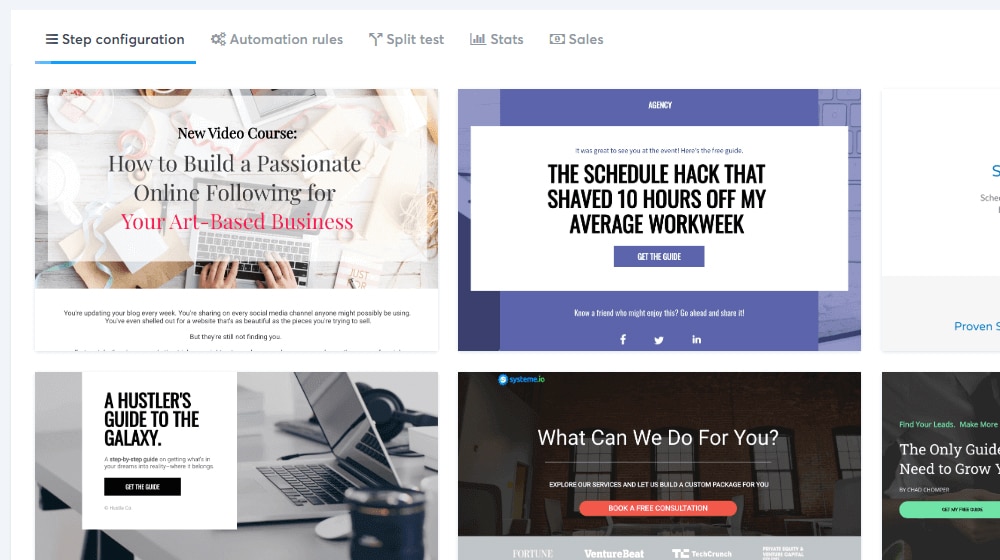 Pricing starts at $30 per month for up to 5,000 contacts and unlimited access to most of their tools. $50 gets you webinars, coupons, and split testing, and they'll give you a coaching session for $100 per month. Plus a higher contact limit, of course.
The ucraft platform is a whole site builder, similar to something like Wix, but they also offer a blogging platform, a logo designer, and online store functionality in addition to a landing page builder tool. While this tool is more aimed at people building a site without their own hosting, you can design pages and export them just as easily. You can even design up to 15 pages on their free version.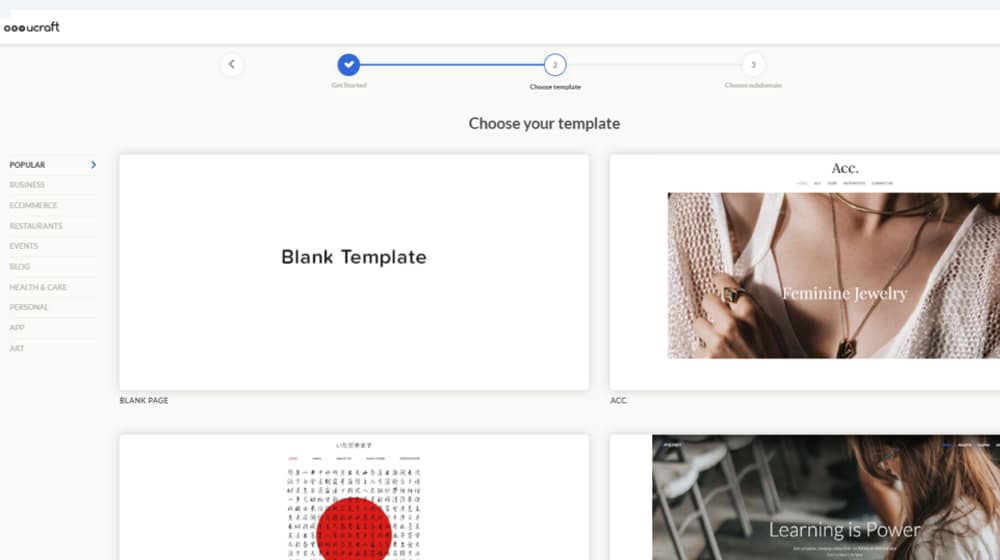 Pricing above the free version starts at $10 per month, with higher-tier plans at $21 and $69 per month as well. Nice.
Finally, I'm going to wrap up here with five tools that are extremely valuable, if not downright essential, to running a good landing page. Creating them is one thing, and testing them is built-in with a lot of the landing page builders. Optimizing them? That requires data, and data requires analytics. Here are five tools you can install on your landing pages or your website to help you improve your conversion rates.
Common wisdom indicates that if your landing page doesn't capture your visitors' attention within five seconds, you've lost them. Very few people stick around longer than that and fail to convert.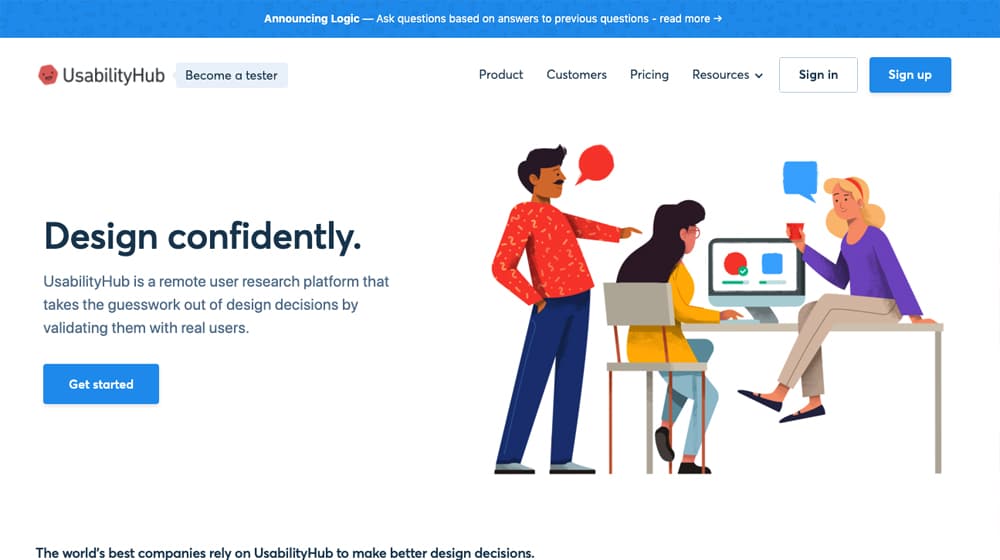 This tool allows you to create a test version of your page and submit it to their staff of actual human testers, who will browse that page for five seconds – yes, only five seconds – and write up a quick report on their first impressions. It's a simple service, but it's a lot more valuable than you might think. Give it a try; I bet you'll like it.
A lot of the page builders offer analytics of some form as a mid- or high-level feature. None of them, as far as I could tell, offer a heatmap. A heatmap can be extremely useful to see what elements of a landing page the user is interacting with, or trying and failing to interact with. It's extremely good information to have when optimizing your design.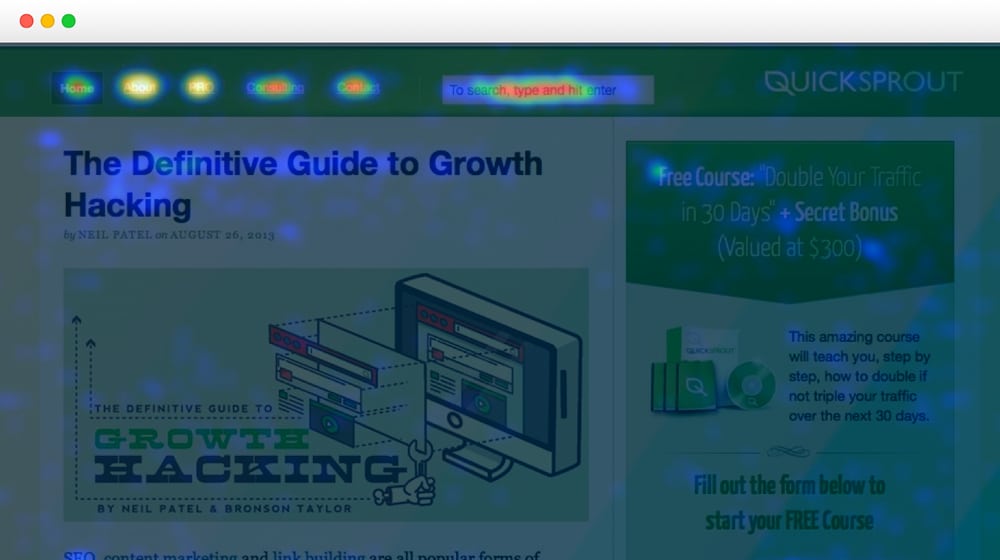 Crazy Egg isn't the only heatmap product out there, but it's one of the better ones I've seen. It's quite granular with its information, and it's well designed and easy to implement.
You've no doubt seen an alert bar before, probably a dozen times already today. Those ribbons at the top of your page, advertising a quick call to action? Hello Bar was the pioneer - or at least, they put it on the map.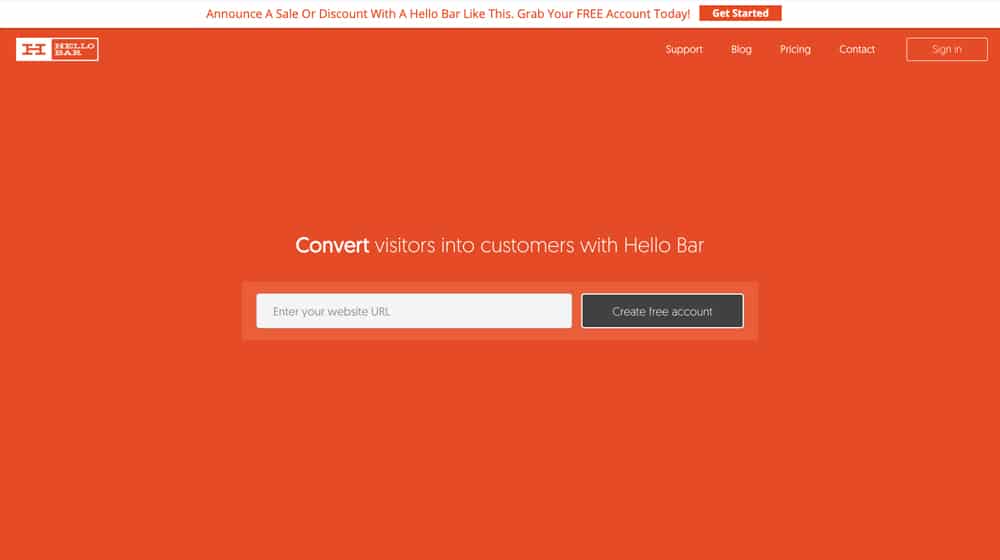 They still offer some of the better (and more variable) options for alert bars, though you can get simple CTA bars from a dozen different companies by now. We're actually using it on this site right now - you may have mentioned a window slide in on your screen.
User testing and feedback are both important for many phases of the typical marketing plan, from landing page to product packaging.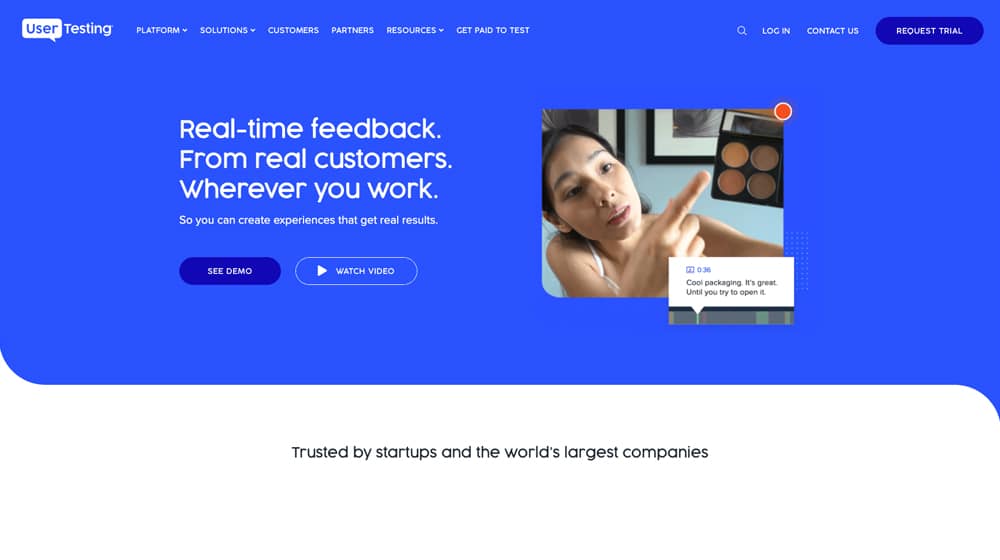 UserTesting, the business, is a portal you can use to access a large pool of users who, as you might expect, test what you give them. They record audio or video of their thoughts as they scroll through your landing page, commenting on what stands out, what falls flat, and the questions they have. Think of it as an on-demand focus group and QA contractor all in one.
Optimizing landing pages is a lifelong task, and you need data to be able to make decisions based on the tests you run. How do your landing pages perform? What are your users doing? How long are they spending on the page, and how well is your page converting? All of this data and more is available through Google Analytics. It's free, it's powerful, and it's indispensable.