Zeno vs Shogun: Which is The Better Shopify Page Builder?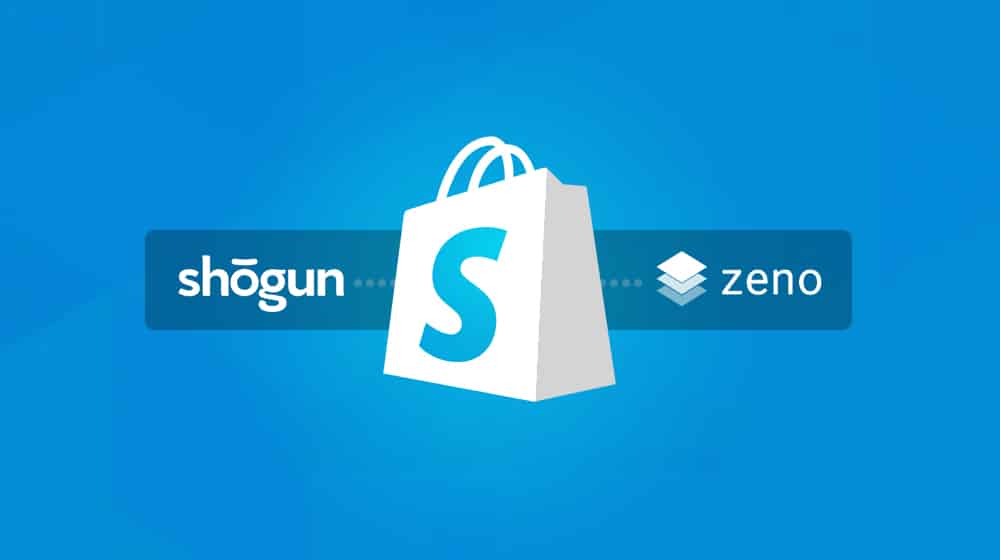 Shopify is a powerful eCommerce platform. Many people building a web presence find themselves deciding between Shopify and WordPress. My inclination is WordPress, but for many, it comes down to whether they're using a store-first or a blog-first ideology. It's perfectly reasonable to want to focus on your store and use Shopify to do it.
One of the most significant drawbacks to Shopify is that it's almost entirely focused on the actual store. It's a robust framework for product or service pages, checkout processes, and everything you need to run a store. Unfortunately, some features, like the Shopify blog, feel tacked on and limited.
The landing page -> lead -> conversion pipeline is vital to modern online business. A website needs dedicated pages that can convince users to, at the very least, fill out a form for future follow-ups. Unfortunately, Shopify's default page builder is very limited. It only has a few templates, and they don't have many of the advanced features you may want to use for your pages.
Luckily, you aren't limited to just what Shopify gives you. There are quite a few different site builders and landing page builders for Shopify on the market. There are even ways to improve the default Shopify blog.
While I could spend time reviewing all of them (and I might, eventually, especially if you ask for it in the comments), I'm going to focus on two of the best Shopify page builders today: Zeno and Shogun.
What is Zeno?
Website: https://zenobuilder.com/
Shopify App: https://apps.shopify.com/zeno-page-builder
Rating and Reviews: 4.9/5 with 149 reviews.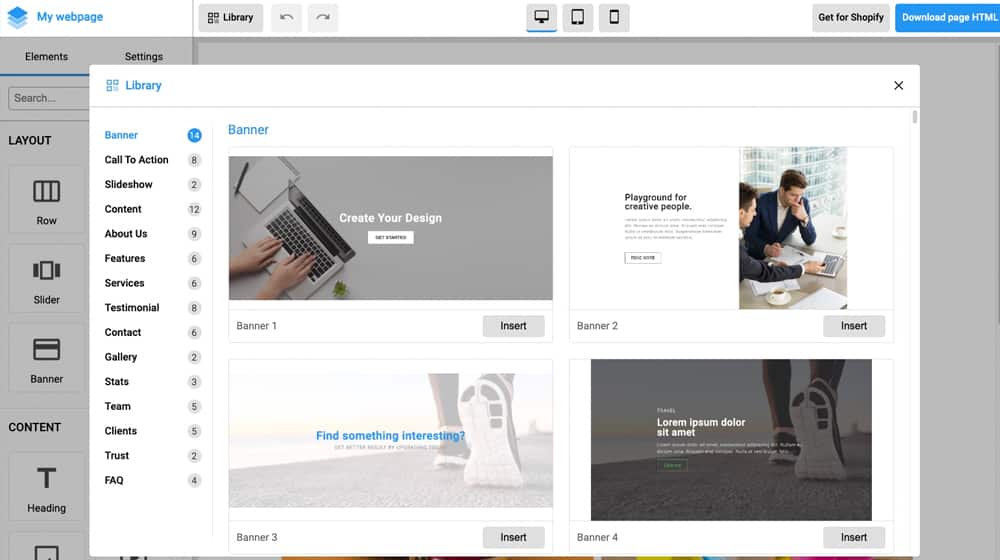 Zeno is a page builder designed for both Shopify and BigCommerce. It's a drag-and-drop page editor with a relatively robust library of elements and a few bonus extensions to add additional features.
It's specifically designed for people who want pages up and running with a bare minimum of understanding of what goes on under the hood. In other words, it's aimed primarily at beginners and intermediate users. That said, it can easily be used by even the most advanced Shopify users.
Zeno is a relative newcomer to the Shopify page builder market and has positioned itself as an excellent entry-level option. It's cheap (and offers a free trial), so while it has only been available for a relatively short time, it's quickly building up a dedicated fan base.
What Does Zeno Offer?
Zeno is a full-featured page builder for Shopify that prioritizes ease of use.
It's designed to be simple to use, and while it has many features and elements you can include in your pages, it does its best not to overwhelm you with options or force you into tricky detailed configurations.
All modern page builders offer certain features if they want to compete. For example, design responsiveness (mobile compatibility) and SEO-friendly design are a bare minimum. Any page builder that doesn't have these wouldn't even be in contention, and indeed, Zeno is among the best in these categories.
Zeno has over 100 element blocks you can drag and drop into a page as you build it out and then customize with content and design details like colors, images, and more. These elements can be as simple as CTA boxes or as robust as complete embeds for Google Maps widgets, Instagram posts, and the like. You can quickly build pages that are robust and easy to use.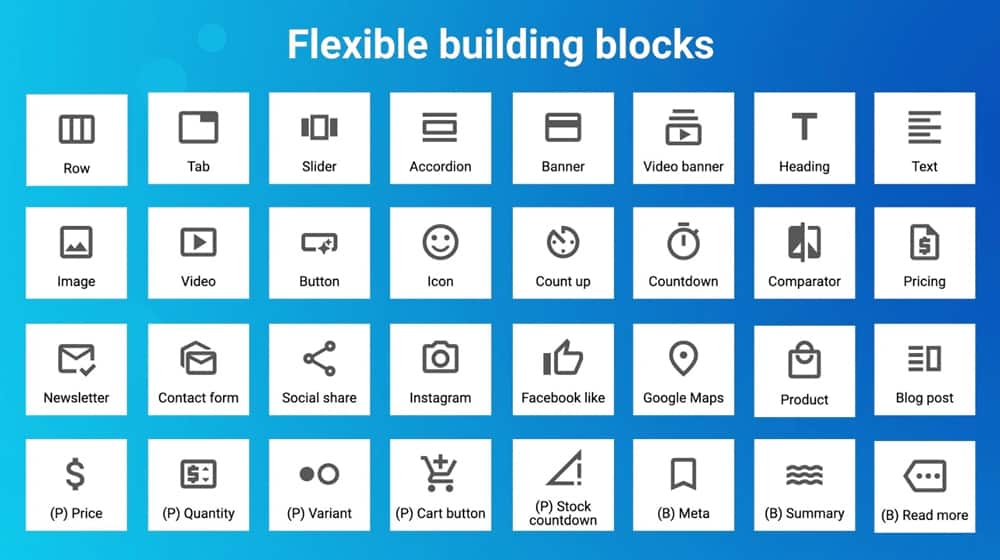 The Zeno page builder also offers a few add-ons to give you additional functionality if you want it. These add-ins include:
A built-in currency converter for stores that operate internationally.
An announcement bar to help you showcase important information.
Facebook Messenger integration to provide a live chat or chatbot function.
Lazy loading functionality to optimize elements and speed up the initial page load times. This is a big plus.
Zeno's library of page templates is quite robust. You can build nearly any page, including blog pages, product pages, product collection pages, cart pages, 404 pages, Shopify landing pages, and more. You can start with pre-made sections, but it's all customizable.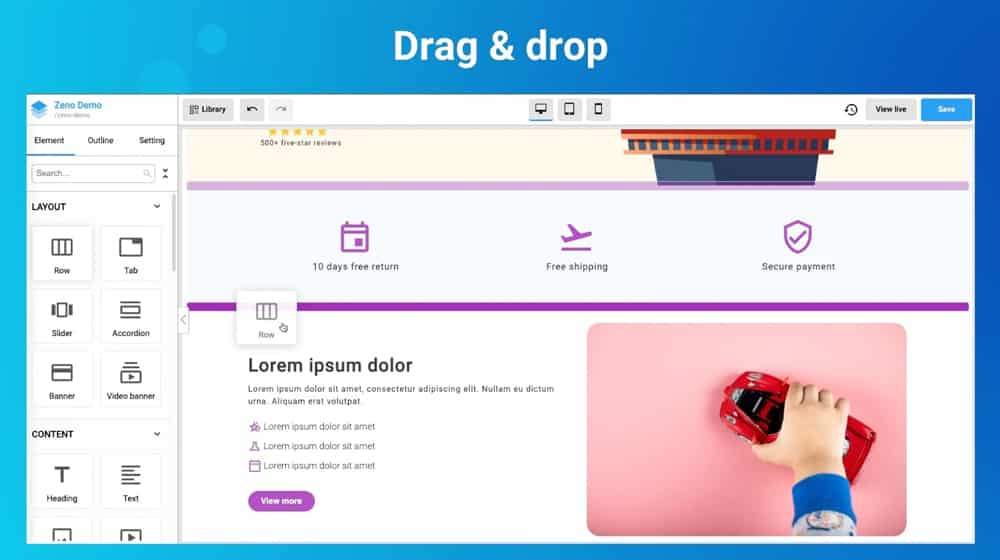 For technical or advanced users, Zeno allows you to use custom CSS and custom HTML code to theme, animate, or tweak any element. You can use Zeno as a starting point and build it out into anything you could want.
What is Shogun?
Website: https://getshogun.com/
Shopify App: https://apps.shopify.com/shogun
Rating and Reviews: 4.8/5 with 2,889 reviews.
In contrast to Zeno, Shogun is one of the older page builder apps still in operation today. If nothing else, this is evidenced in the orders-of-magnitude higher number of reviews for Shogun on the Shopify app store than Zeno.
Shogun is a powerful page builder like Zeno, but it differs in a few ways. It's generally marketed towards intermediate to advanced users but is acceptable for beginners. It can even work for agencies or businesses that want more than just a plain page builder. In addition to Shopify, Shogun is available for BigCommerce and the Salesforce Commerce Cloud.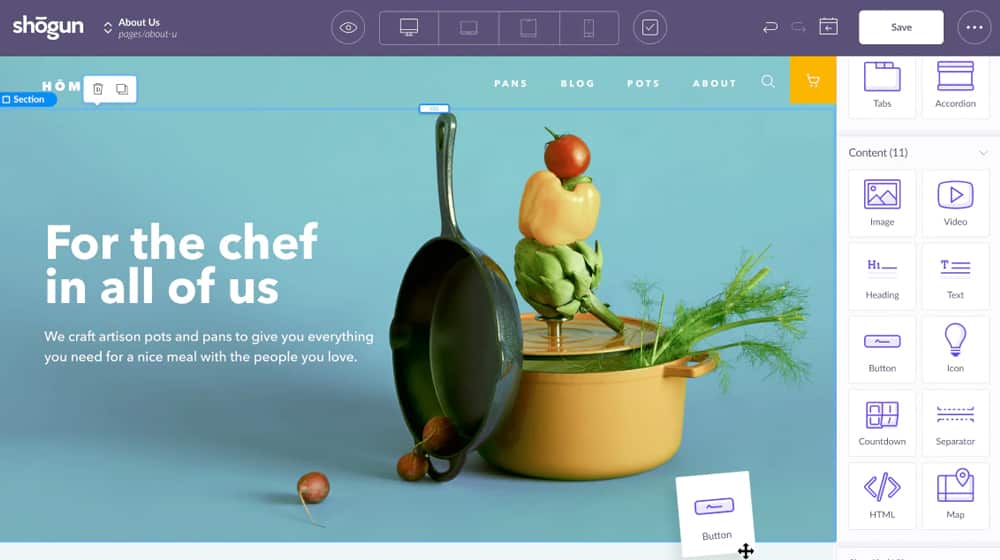 Shogun also offers "Shogun Frontend," which fully replaces everything Shopify offers on the front end. If you use it, you use Shopify as your back-end dashboard and infrastructure, but Shogun handles everything from your product pages to your checkout page. Using just the page builder is built on Shopify's pages; the Frontend system fully replaces it.
Since the Frontend platform isn't a page builder so much as an entire site builder, I'm not going to focus on it. Just know that if you want something much more advanced, Shogun offers it.
Is your blog earning you business? If not,
let's fix that.
We create blog content that converts - not just for ourselves, but for our clients, too.
We pick blog topics like hedge funds pick stocks. Then, we create articles that are 10x better to earn the top spot.
Content marketing has two ingredients - content and marketing. We've earned our black belts in both.
If you run an internet-based business and are looking to scale, schedule a call to speak with our founder:
What Does Shogun Offer?
At first glance, Shogun might seem less robust than Zeno. However, this is primarily because Shogun's elements are more like categories of elements, whereas Zeno's are more delineated. Zeno has a library of over 100 page elements; Shogun's is only 33.
Again, every page builder will offer some core features. Shogun is no different. They provide responsive designs for all their pages and elements, their code is as optimized as possible for drag-and-drop elements, and they give you the usual suite of SEO controls like metadata manipulation.
Shogun is also designed for, or at least more available to, larger agencies and enterprises. They have higher-tier plans (more on this in the pricing section) that offer advanced features like audit logs and user permissions when you have multiple teams working on your pages. As mentioned above, the Frontend is a more enterprise-scaled offering as well.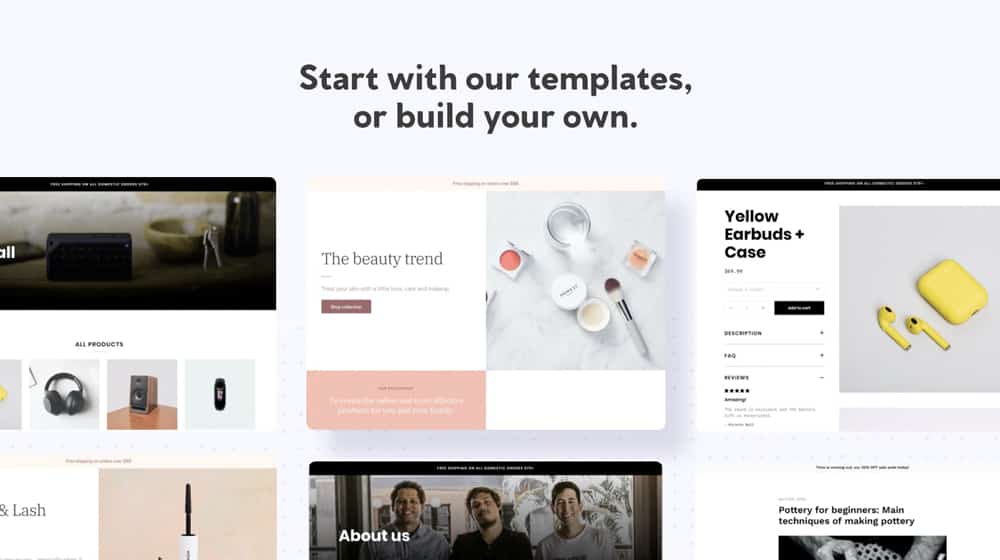 A few features Shogun offers that Zeno does not include:
Version history for pages so you can revert changes if you don't like how they work.
A built-in analytics suite. It's not as good as Google Analytics, but it's built-in.
Content scheduling without needing to use another third-party app to handle it.
Split testing divides your audience and tests different designs for your pages to improve conversion rates.
Support for completely custom page elements if you want to import an element from elsewhere.
Some of these features are only available for higher-tier plans, so keep that in mind if budget is a primary concern.
Zeno vs. Shogun: Pricing and Features
Now let's make a more direct comparison between the two.
1. Zeno offers three pricing plans.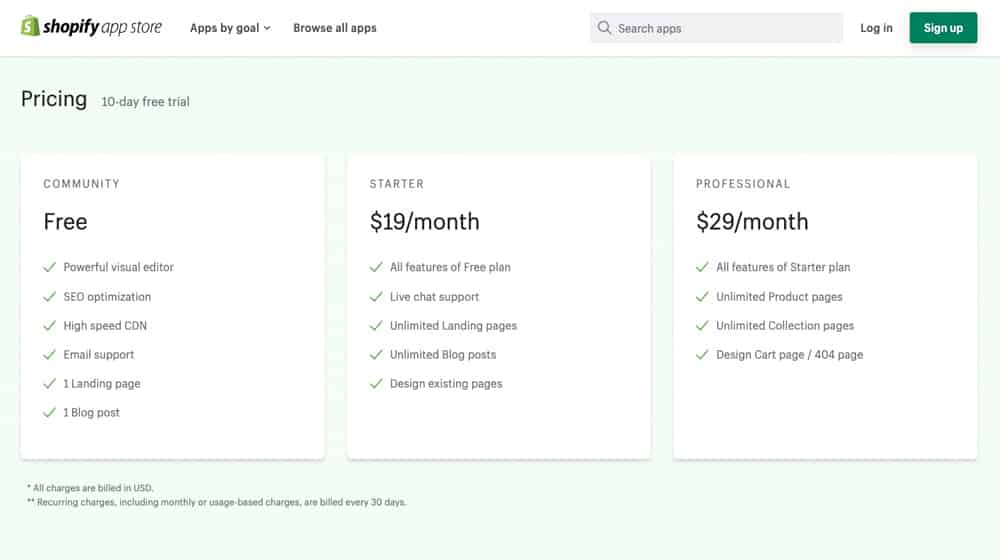 The Zeno free plan. Zeno's free plan is free forever, it's not just a trial, but it's also somewhat limited. You can only create one landing page and one blog post, and you don't have access to product or collection pages. It exists so that you can try it out, but it's too restricted to use effectively.
The Zeno Starter plan, which costs $19 per month. If you want to use Shopify for most of your online store management, but you want a page builder for landing pages and a blog, Zeno's Starter plan is a great option. The only change from the free plan is that you can create unlimited pages and as many blog posts as you'd like.
The Zeno Professional plan, which costs $29 per month. The primary upgrade with this plan is getting unlimited product and collection pages. Otherwise, everything else is the same. All plans have access to all of Zeno's features and elements, but it's restricted in how many pages you can make with them.
2. Shogun offers four pricing plans. None of them are free, but they have a ten-day free trial.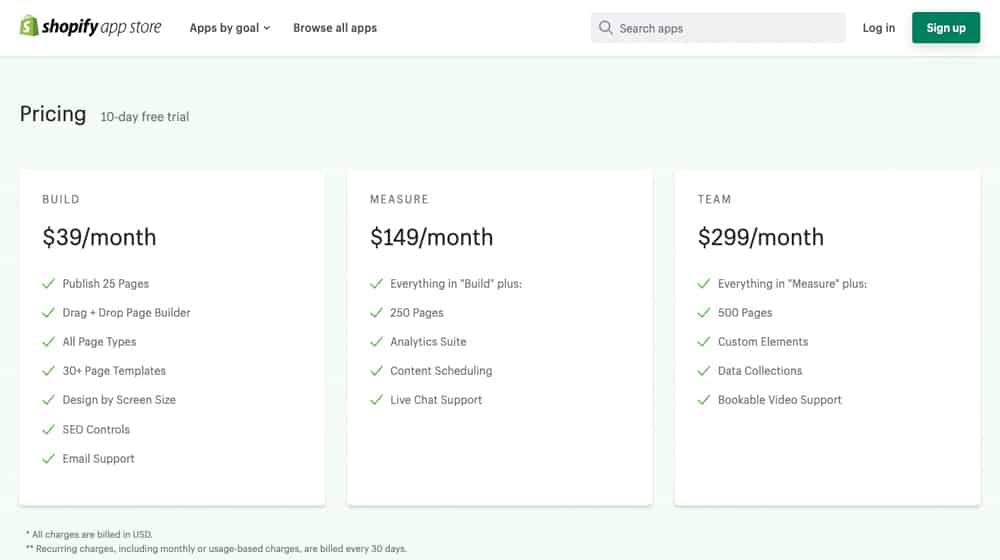 Shogun Build is $39 per month. It includes two user accounts, the page builder and all templates, the complete element library, SEO controls, the option to design your page at each screen size threshold for responsive design, version history, no limit on snippets per page, and customer support over email.
Shogun Measure is $149 per month. It offers four user accounts and everything Build offers. In addition, you get the analytics suite, content scheduling, and access to live chat support. Shogun's support is top-notch, and they take all issues very seriously. Live chat is a nice thing to have and beats waiting for an email response.
Shogun Team is $299 per month. It gives you six user accounts and all the features of Measure, and it adds in the ability to collect data and use custom elements.
Shogun Advanced is their scaling enterprise plan. It offers everything Team offers, plus the option to get video support, manage user permissions, use an audit log and they give you a dedicated support team. Pricing and the number of user accounts scale depending on your needs, and you need to reach out and contact them directly for pricing information.
Shogun Frontend, by the way, starts at $2,000 per month and scales up based on pageviews. It's much more advanced, but it's not even a page builder anymore, so I'm not discussing it in detail here. You can read more about it on their product page here.
Another thing that may be worth mentioning is that Zeno and Shogun have affiliate programs. Zeno partners get a 35% commission and recurring and lifetime for the customers they refer. Shogun doesn't publish its terms; they just ask for an application, and they'll get back to you if interested. I'm not a member of either, so I don't have insider information for you here. My article might be one of the only unbiased blog posts on the subject without any affiliate links.
Update Sept 2022: Zeno silently removed their affiliate program, and they no longer offer a commission on customers you refer. Shogun still has an affiliate program available. It's unclear from their website if Zeno's affiliate program is under construction or if they intend to bring it back, so we recommend emailing them if you are interested.
Finally, Shogun has a partnership program for agencies who want to use Shogun's page builder or Frontend as part of their service. Zeno doesn't have a comparable offering.
Which Page Builder is Best for Your Shopify Store?
Reading all of the above, you might think that Shogun is better. The truth is a little more variable.
Your budget is the most important, of course. Shogun has no free plan, and their cheapest plan is more expensive than Zeno's most expensive plan. So, Zeno is the better option if you're on a very tight budget, if your business is brand new, or if you aren't sure you'll be able to make money immediately.
Shogun, by contrast, is a much more expensive platform. It's aimed at three primary groups:
Agencies who want to offer Shogun as their service
Enterprises willing to pay for advanced features and custom access
Established businesses that can afford a pricier platform.
Shogun's advanced features can be worthwhile. Their A/B testing is useful, for example, as is the ability to use custom elements instead of tweaking existing elements like Zeno offers.
Zeno also has a few quirks in their landing page language that put me off personally. Here are a couple of direct quotes from their homepage:
"We think about every details of the app design to make it look intuitive and easy to get started."

"Adding CSS, editing element code break any idea boundary. Enjoy the freedom of page designing."
Should I judge someone by improper English? Probably not. But, it always puts me off if a product's homepage has grammatical errors. It comes across as more machine-translated than anything, which usually makes me worry about the quality of support and typos throughout the software, among other things.
That said, Zeno is still a top-notch program; 99% of their reviews are five stars, after all. If you want a page builder and you're trying to choose between Zeno and Shogun, Zeno is the better option for low budgets, while Shogun is best for large businesses and enterprises.
At least, that's my opinion; what's yours? Feel free to leave your thoughts in the comments!