8 Ways to Use HubSpot and WordPress Together (Updated)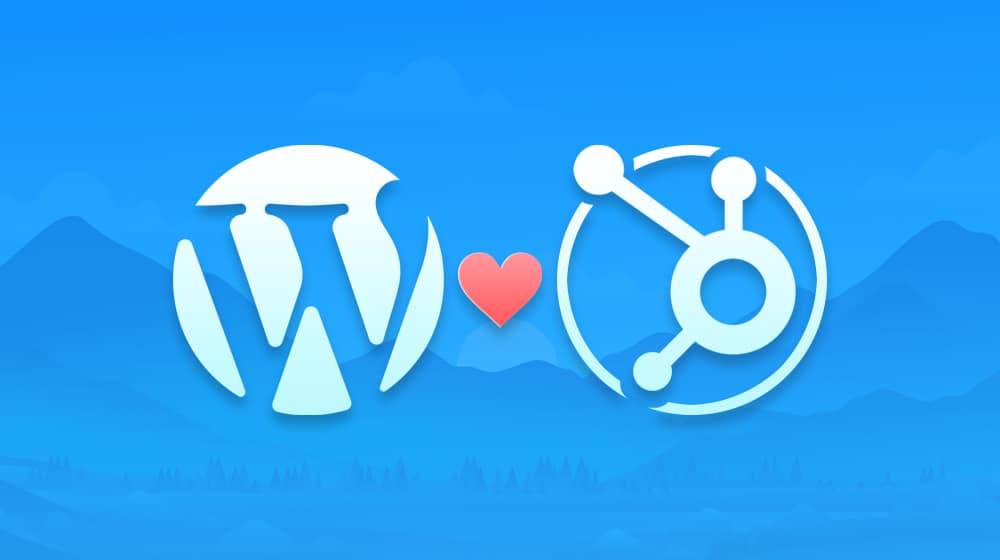 WordPress, as we all know, is one of the most popular CMS platforms available. It's not perfect by any means, but it has immense flexibility and customization that puts other platforms to shame.
Similarly, HubSpot is an industry leader. In marketing automation, sales and service, in operations, they do a lot, and their various services offer a ton of world-class features and functionality to any site willing to pay the fee.
How can you use these platforms/tools/CRMs together? There are quite a few different options, so let's explore them.
First, let's talk about ways to integrate the two. There are a couple of different ways you can use both WordPress and HubSpot.
The first is to use WordPress for your site management and use HubSpot's official WordPress plugin (which I talk about in the post) to gain access to their free features. This method is the cheapest option and gives you the most WordPress-based flexibility. You're just adding some of HubSpot's features to your WordPress site.
The second option is to use HubSpot to build and manage some of your site for you. You can use it to generate landing pages, for example, and create/manage your CTAs and forms. It's also a more complex way of managing a site because different web pages are organized in various dashboards. This option requires at least a starter plan from HubSpot and locks you more into their ecosystem.
The third option is to primarily use HubSpot for just about everything. You can entirely migrate from WordPress to HubSpot if you want, and some recommend it. I prefer using WordPress as my core, but it's always an option if you want to change or adjust your plan. Moving pages and content from one to the other is relatively easy.
Now, let's dig into those specific ways to get the two platforms working together.
#1: Use HubSpot Analytics
First up, there's analytics. There's always analytics.
Most of us use Google Analytics as a matter of course. It's free, widely used, and generally accurate enough for the usual purposes, and there are plenty of ways to install and manage it on WordPress.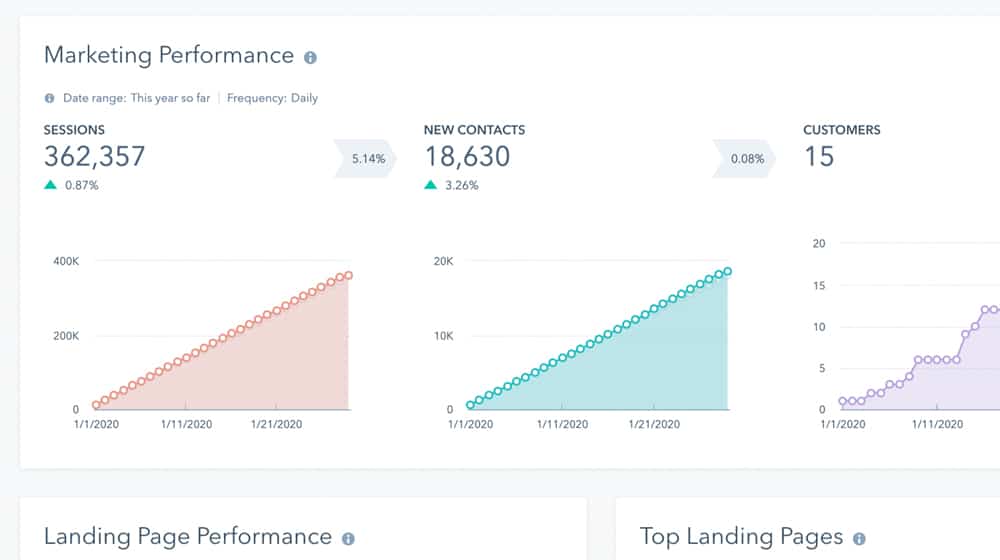 HubSpot offers analytics as well. It works the same way as Google Analytics, even; if you install some tracking code on your pages, and HubSpot harvests data and presents it to you in their dashboard.
There are two ways to install this code on your WordPress site.
The first is to use the official free HubSpot plugin, which has the code embedded already. You can find that plugin here. Just install it the same way you would any other plugin, and you're more or less good to go. This setup is the method HubSpot prefers because if they need to push updates, it all updates at once rather than you having to refresh the code yourself.
The other way is a manual install. HubSpot shows you the process for manually installing the tracking code on this page. It's pretty straightforward; the only quirk is that they recommend putting it in your footer rather than your header, like most tracking codes tend to go.
What can you get out of HubSpot's analytics? Mostly, it's some pretty good visitor statistics. They don't track unique visitors (since there are too many ways the metric can be unreliable), but they have a handful of handy CTA tracking and other useful features. They also de-dupe form submissions and offer a few other excellent benefits.
#2: Use HubSpot to Manage Calls to Action
Calls to action are a hugely important part of marketing. I've written about them extensively because they're just that important. HubSpot has some fancy code to help track and manage your calls to action in one centralized location. It also ties into the analytics above so that you can see your posts' CTR and other metrics of each individual call to action.
For this feature, you need to have one of their paid plans (it's not a free HubSpot tool), but it's very useful to have.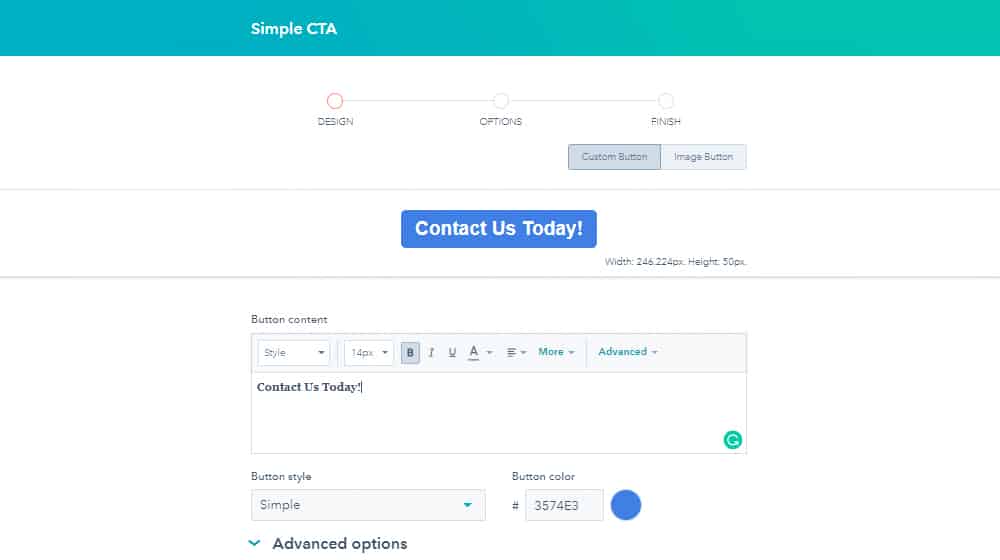 The most significant benefit of using HubSpot to create and manage your CTAs is letting you manage them from one central dashboard. If you would like to use the same CTA on different parts of your site, normally, you would need to go in and edit it everywhere you've posted it if you wanted to change something like the copy or the color of the button. You can use some fancy saved blocks in WordPress to streamline some of that, but it's still hard to manage it all from one page.
HubSpot not only allows you to manage designs, copy, and links from one page, but they also tag each call to action with unique tracking information that ties back into #1 above. You have CTA success percentages and other data to use to optimize your messaging along the way.
#3: Use HubSpot to Manage Forms
Forms are the primary way lead generation happens on the web. You present content you think your audience will like, and before they leave, show them a form asking them to opt into a mailing list or a sales call list to learn more about whatever it is you offer. Success rates for these forms vary, of course, and the features, protection, and benefits of whatever system you use can be very different.
HubSpot offers form creation and management through their free plugin and on all tiers of their service since it's such a core feature of online business. It's easy to create a form through their dashboard, and they have a whole host of templates you can use if you're not sure how to start one yourself.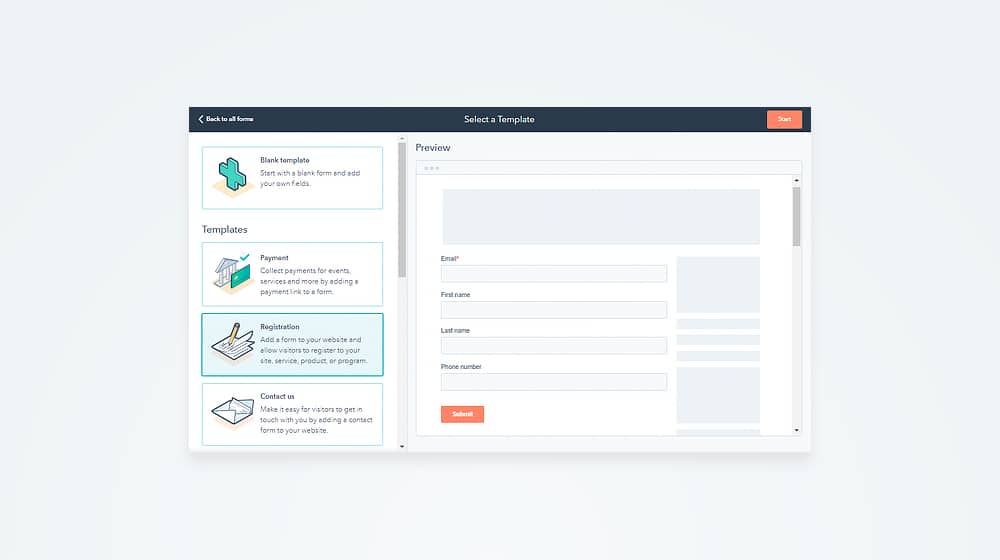 HubSpot also offers a few nice security and optimization features for forms. As mentioned above, they'll automatically de-dupe form submissions so people can't flood you with leads using the same information (which, obviously, won't be valid past the first.) The drag-and-drop editor is also very nice to use.
#4: Improve Pages with the Page Performance Analysis Tool
Another cool tool HubSpot offers for free is the page performance tool. This tool is part of the analytics, so technically, this could be part of #1, but it's useful enough to call it out specifically.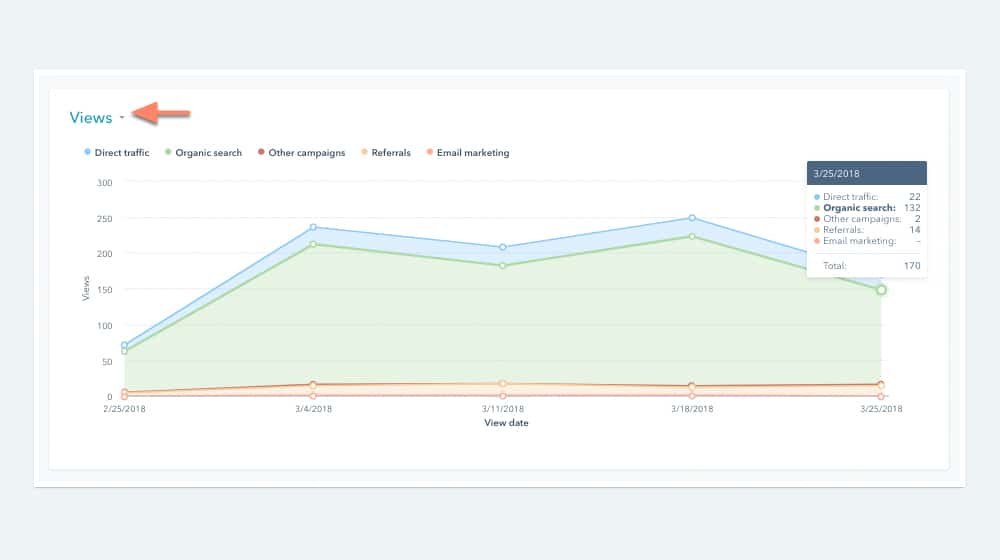 The page performance tool will show you the following:
Page views.
Form submissions on the page.
New contacts generated by the page.
New customers who found you through the page.
The bounce rate for the page.
Time spent on page (for multi-page sessions.)
Entrances and exits per page.
Some of this might need a bit more definition. Entrances are the number of people whose sessions on your site started on that page. Exits are the exit rate, the percentage of the sessions that reach that page and end there. Time spent on the page is also measured for the sessions that have more than one hit; if a user lands on your page and never clicks anywhere else, they aren't recorded since there's no second metric to measure between. Google Analytics has this same issue, by the way.
Is your blog earning you business? If not,
let's fix that.
We create blog content that converts - not just for ourselves, but for our clients, too.
We pick blog topics like hedge funds pick stocks. Then, we create articles that are 10x better to earn the top spot.
Content marketing has two ingredients - content and marketing. We've earned our black belts in both.
If you run an internet-based business and are looking to scale, schedule a call to speak with our founder:
You can use this data in conjunction with Google Analytics and other data (like optimization and SEO suggestions from Yoast) to improve your general page flow and user metrics. On its own, it can give you a great idea of where sessions start and end on your site and which pages generate the most new-user visits.
#5: Engage Customers with Email and Chat
There are a series of hurdles you have to overcome to convert new visitors into customers.
The first is getting them to your site in the first place, which requires SEO, paid advertising, social media, and other marketing.
The second is getting them to read and care about your calls to action, forms, or other lead-generation tools.
The third is getting them to engage with you. When they sign up for your mailing list, you want your newsletter to be engaging. You want them to open your emails for the content, offers, and other information inside. Making that newsletter can sometimes be a time-consuming process, but HubSpot's email list management allows you to create those campaigns with ease.
Alternatively, or more realistically, "additionally," you can use live chat embedded on your site. I'm a big proponent of live chat when you can support it. Live chat enables you to engage with customers, answer their questions, and convince them to take action all from right there on your page.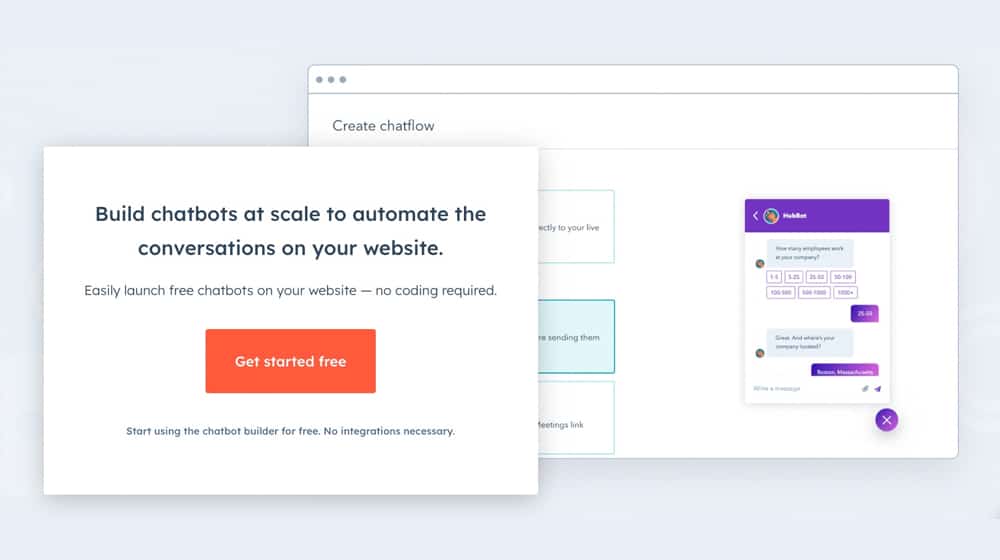 HubSpot's chatbot system allows you to link up to customers in real-time using your own communications dashboard, and it also gives you the ability to configure some basic chatbots to handle initial filtering and question answering, sort of like a phone tree. It's not the world's most advanced chatbot system – it doesn't even use ML or AI to handle interpreting and generating responses – but it's still very robust. You can even integrate the chatbot with other systems too.
Keeping your users engaged and warmed up for further communication is essential, and HubSpot excels in doing exactly that.
#6: Integrate HubSpot with Other Apps
Linking together HubSpot and WordPress is fine, but what about other integrations? WordPress obviously has about a million of them, but HubSpot is no slouch, either. The HubSpot marketplace is packed full of apps you can use on one or both platforms, including:
Sales apps like Wingman, Coefficient, Leadjet, and Oneflow.
Automation apps like Hightouch, Workato, Rasa.io, and Demio.
CRM apps like DepositFix, Qwilr, Paycove, and Xero.
Marketing apps like Lucky Orange, Unbounce, Hootsuite, and Hotjar.
Workflow apps like TextingHouse, WP Fusion, Postalytics, and JustCalls.
Many more.
On top of all of that, they have integration with Zapier, which means you can do pretty much any custom workflows, processes, automation, and anything else you can dream up.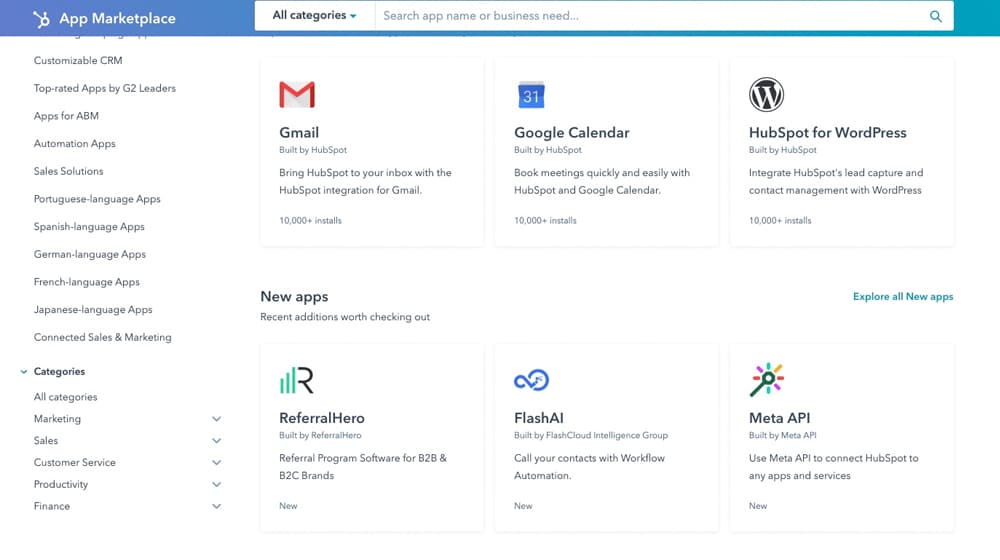 While many of these apps are paid, HubSpot also has a whole roster of free apps and app integrations. These include simple services like Google Calendar and Gmail, ad networks like Facebook Ads, and productivity apps like Zoom and Slack. You can even use things like Stripe for payment processing, Canva for design, and Asana to manage projects.
Truthfully, one of the biggest benefits of using WordPress is the wide range of integrations, customizations, and plugins that can do pretty much anything you could possibly want with your website. HubSpot doesn't have quite as robust a library of apps, but they're adding more as time goes on, and many of the features you would want an app to do on WordPress are built into HubSpot from the outset. You just might need to pay for an account where WordPress is free to get started.
#7: Learn from Their Fantastic Blog
HubSpot has, no joke, one of the best marketing and business blogs on the web. In fact, they have essentially five blogs; one for marketing, one for sales, one for service, one for website management, and one for news.
Throughout these blogs, you can find everything from new developments and tech news to deep dive guides into specific, narrow processes you might want to implement to lists of various products and options to solve a problem you may have. Most of them aren't even self-promotional, though, of course, HubSpot's CTAs are all over.
Truthfully, HubSpot is one of my inspirations. I've modeled some of my content planning after their robust coverage of various topics in various styles; I'm just nowhere near their volume or back catalog of resources.
There really is something for everyone somewhere on their blogs. I often go digging just to see what interesting topics I can find which can either inspire my own content or can lead me to improve my own business.
Sure, it's not really something only WordPress site owners can do. HubSpot's blogs are available to everyone for free; there's nothing stopping you from reading them if you don't have an account. There's something for everyone, so why not go digging and see what you find?
#8: Common Ninja's Image Hotspot Plugin (Honorable Mention)
Common Ninja is a third-party creator of website plugins, one of which is a plugin that converts images into interactive graphics.
Image Hotspot converts photos on your website into interactive images. You can have it display text on hover as a tooltip or link sections in the image to other parts of your website. When you hover over one of the hotspot icons, it will trigger the tooltip overlay or the link you specify.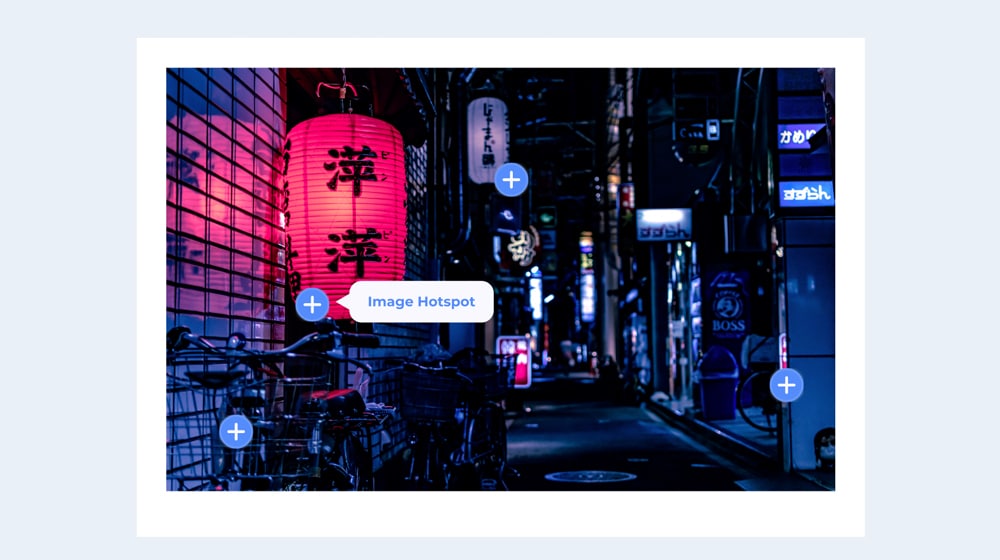 The Hotspot widget is easy to embed and doesn't require any coding knowledge. You place the HTML code on your website, then choose your image hotspots in your subscriber dashboard. Pricing plans start at the free plan but are limited to 300 impressions, which you'll probably exceed in the first couple of days. The paid plans are $3.99/mo, $5.99/mo, and $11.99/mo, respectively.
Note: I gave this an honorable mention because the plugin is designed for HubSpot, not for WordPress. However, since you can embed it with a single line of code, it may also work with a WordPress site or a site that uses HubSpot and WordPress together. It's worth giving it a try.
If not, there are several hotspot and image map plugins available for WordPress that you can try that accomplish the same functionality:
Now, I turn to you. What is your favorite way to use HubSpot and WordPress together? Please let me know in the comments section below!