5 Alternatives to CallRail for Google Ads Phone Tracking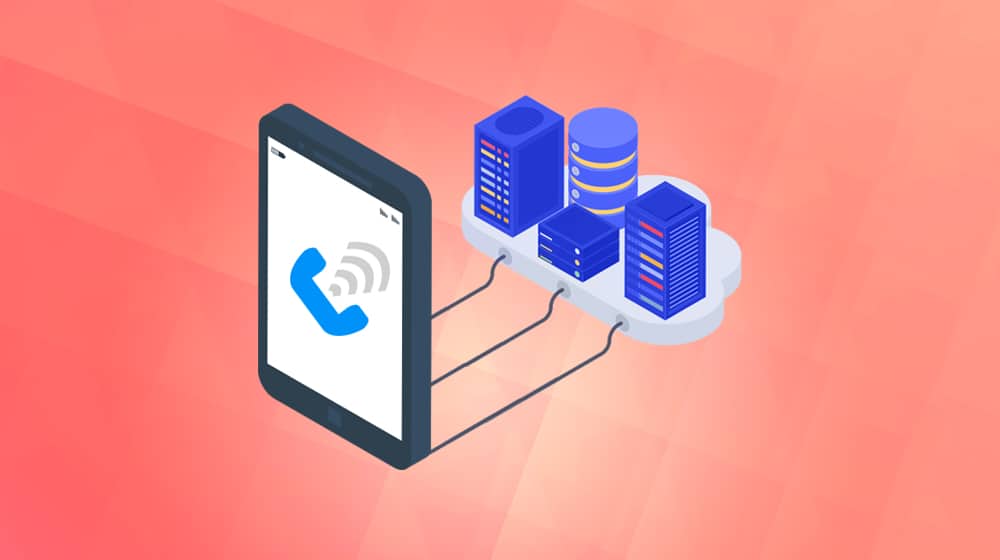 Google Ads have a lot more flexibility than many people recognize. In addition to the typical display ad style that leads people to your website, they can also, among other things, allow people to call a phone number directly from the ad. Users can dial the number they see, click on it to launch a call from their VoIP client or tap it on mobile to call directly.
The cool part here is that you don't need to use your own phone number in the ads. Instead, you can use a Google phone number. This phone number works like a website redirect; the call goes to the Google number and is seamlessly connected to your business number. From your business end, it's a call like any other. From Google's end, they can track data about the call, including call duration, caller information, and more.
The most important feature here, though, is call tracking. You can use call tracking through Google, or through a third party service. That's what CallRail does.
All About CallRail
As the title of this post indicates, I'm going to be talking primarily about alternatives to using CallRail today. However, as with any "alternatives to" article, in order to know what the valid alternatives are, you need to know what CallRail is and does. If you're already familiar with CallRail, go ahead and skip this section, if you haven't already.
CallRail can be found here. The company provides a service, and that service is tracking and analytics. Like the thousands of other analytics companies out there, they have a bunch of different integrations with different kinds of data tracking. They can track forms on your website, and calls from different platforms. They combine that data into conversion analytics, marketing optimization, and general tracking.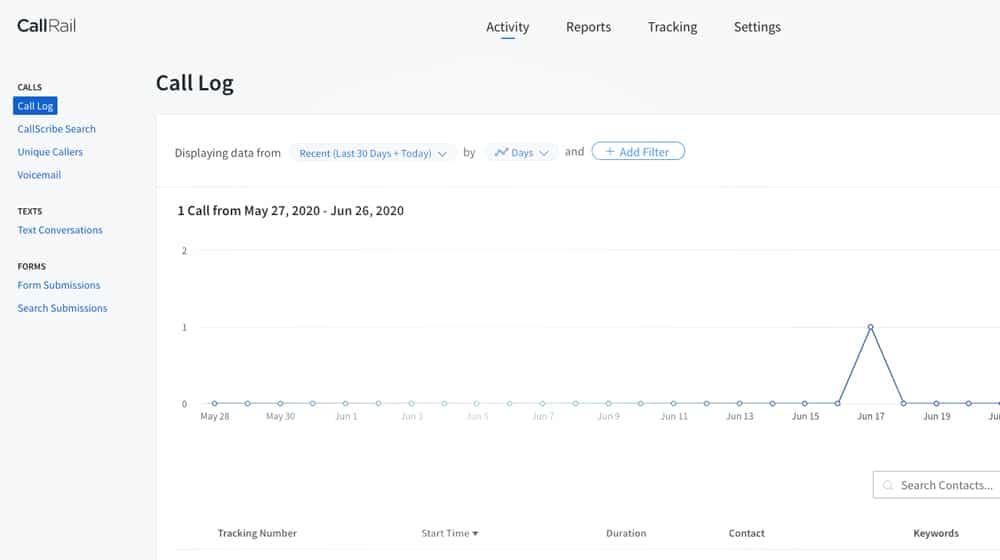 When you sign up, you are essentially given some tracking code for your website and a series of different phone numbers. These phone numbers can be used in different locations, though they all redirect to your business line. So you may have one phone number for website visitors, one for your Google Ads campaigns, one for your Facebook page, one for Facebook Ads, one for your Twitter bio, and so on.
When a user calls using one of these numbers, information is tracked about the call. The number used determines the source of the call. Information about the user is tracked, like their point of origin and caller ID data, which is then correlated with other information about the same user.
CallRail also records the call and provides an AI-driven transcript of both ends of the call, so you can read it, which is much faster than listening to it. You can use this to review interactions, sales calls, and overall interactions.
Call tracking in general is quite clever with all of the little ways it can be implemented and the little considerations, like search engine NAP consistency. Still, at its core, it's call tracking and data harvesting.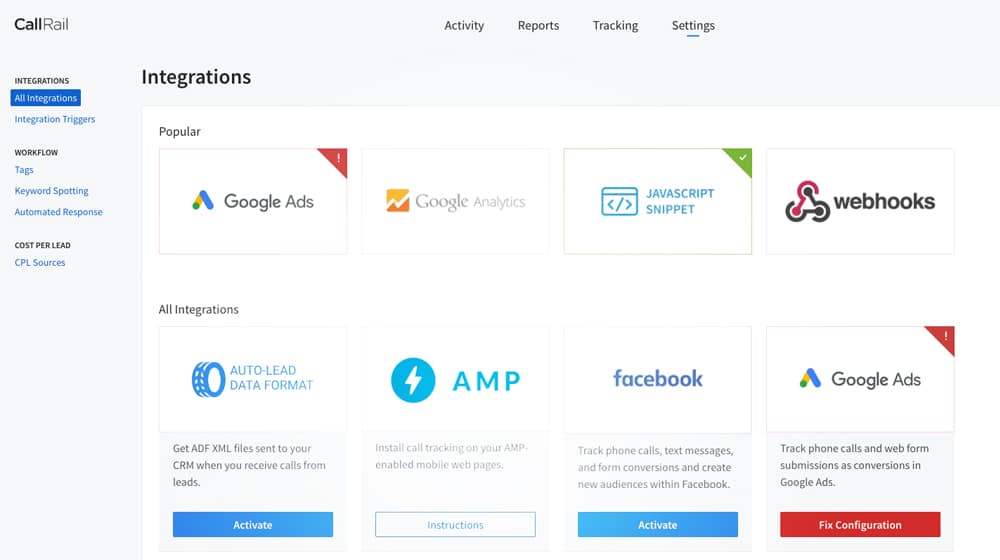 Now for pricing, since for a lot of you, price comparisons are how you make the choice between similar services. With CallRail, you have:
Basic call tracking at $45 per month.
Call tracking and conversion analytics for $95 per month.
Call tracking and form tracking for $95 per month.
Call tracking, form tracking, and conversion analytics for $145 per month.
All of these also have an additional allotment of usage minutes for call tracking, after which there's an additional usage charge. The starting cap is 500 local minutes, 100 text messages, and a cap on transcription minutes. Minutes after that are 5 cents each, or 8 cents each for tollfree calls. You can see the full breakdown on the CallRail pricing page.
So, that's what CallRail does. If CallRail isn't for you, thankfully, there are a handful of capable alternatives.
Here are five options:
CallRoot is perhaps the most comparable service for CallRail on this list.
Their features include:
Dynamic number insertion. This is the script you add to your website that shows a unique phone number to each visitor for highly accurate tracking while leaving your real business number in the code so search indexation doesn't get confused with incorrect numbers.
Phone call recording. Record the audio from the phone calls so you can review it later, attached to data about the call, its outcome, and the people involved.
Local numbers. Visitors will see a number using a local area code to them, for a more local feel so it doesn't seem like calling a blind 800 number.
Tollfree numbers. Those same 800 numbers are still useful in some cases, so you can use them as well.
SMS integration. After a call ends, a text can be sent to confirm or follow up. There's also SMS automation.
Call whispering. When your agents pick up the phone, an automated voice will give them a quick rundown of information about the caller, to better customize the call.
They have a big pile of integrations, including big names like Salesforce, Intercom, and Zapier, as well as the usual suspects of Google Analytics and Ads, Facebook Ads, and so on.
Pricing is comparable to CallRail, if slightly higher. They have two plans: standard and premium. Standard has 500 local minutes and costs $49 per month, while premium adjusts to your needs as a business. Overall, it's the option most comparable to CallRail; it has some additional integrations and some unique features, but it lacks the AI-driven transcription that CallRail offers.
WhatConverts is an analytics platform aimed at the deep analysis of what your marketing channels are doing and how you can improve them. Since conversion optimization is one of the most important parts of running a business online, this can prove to be extremely helpful. Like CallRail, they track phone calls and web forms, but they also track eCommerce and live chat systems that you may be using.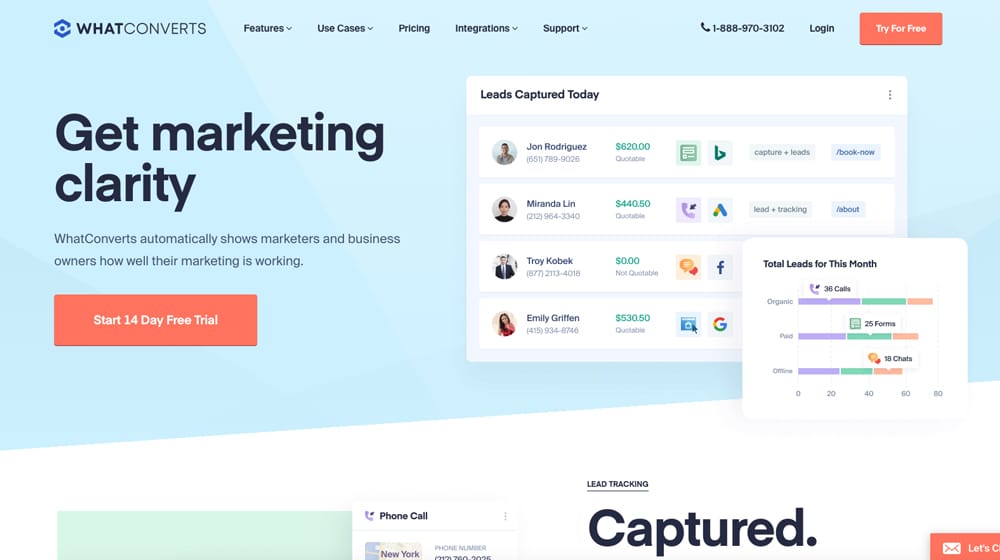 CallRail focuses mostly on tracking data, primarily with calls, and giving you the data you need to make decisions. WhatConverts, by contrast, focuses on offering you ways to actually make use of the data they track. Figure out which marketing channels are performing well and which are under-performing, figure out why, and take action to solve problems and enhance conversion rates.
Is your blog earning you business? If not,
let's fix that.
We create blog content that converts - not just for ourselves, but for our clients, too.
We pick blog topics like hedge funds pick stocks. Then, we create articles that are 10x better to earn the top spot.
Content marketing has two ingredients - content and marketing. We've earned our black belts in both.
If you run an internet-based business and are looking to scale, schedule a call to speak with our founder:
The basic Plus plan for WhatConverts has tracking capabilities for calls, forms, and chat plugins, with dynamic number insertion, call recording, and keyword-based reporting. They also integrate with both Bing and Google Ads and analytics, if you want to export their data. Other integrations include Facebook, Squarespace, ZoHo, Salesforce, and Intercom, among hundreds of others. It's $30 per month.
For $50 per month, you get all of the above, plus a custom report builder, scheduled reports, call flows, API access, and HIPAA compliance. Then, if you want unlimited accounts, account access for clients, and discounted usage rates, it costs $200 per month for an agency plan.
CTM is another platform on the same level as CallRail and CallRoot. They have the usual array of call tracking, call automation routing and management, call analytics, and cross-platform communication analytics that you would expect from any of these platforms. They also allow you to create vanity phone numbers for use in specific marketing campaigns, and shortcodes to receive text messages. You know, the "send a text to 61616 to do X" style messages.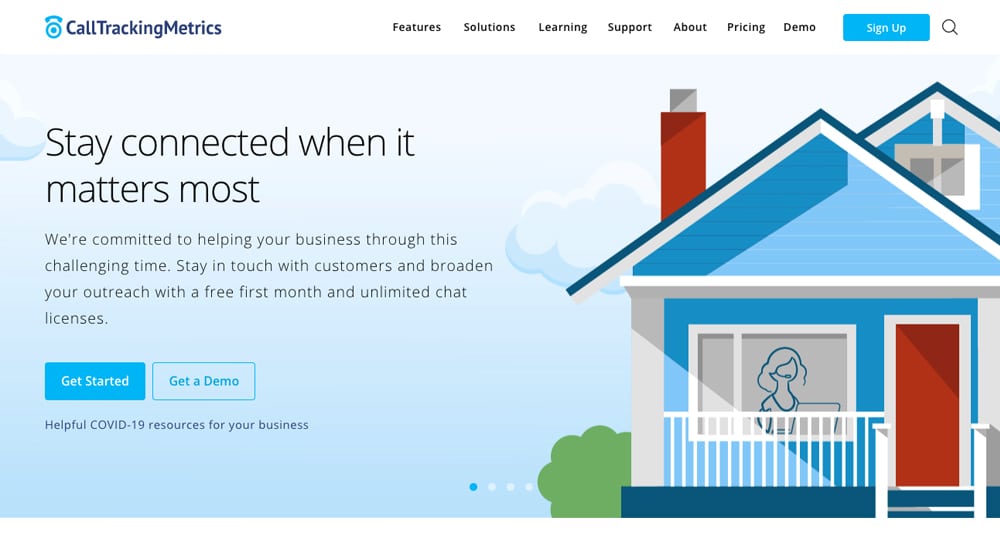 Like WhatConverts and CallRail, CTM also handles web forums, but they have a special automation system they call FormReactor. This is a form building tool that lets you develop forms that are 100% integrated with their analytics and deploy them to your landing pages in no time.
As you might expect from mentioning text messages above, CTM also does both SMS and live chat, both providing the service and analyzing the data.
The power of CTM, in my opinion, is that they handle just about everything all in one platform. You can get a better live chat plugin, or a better call tracking platform, or better analytics, but to use them all at once would require a good bit of work migrating your platform and getting comfortable with their new system. With CTM, it's all there and ready for you.
Pricing-wise, CTM is also comparable to the others. The basic business plan is $39 per month plus usage and handles your basic call tracking, Google Ads integration, call recording, and support. If you want advanced integrations, like with HubSpot or Facebook, or if you want HIPAA support and so on, you need more expensive plans.
CallFire is one of the smaller platforms on this list, so it may be suitable for smaller businesses that don't have need of all of the advanced, AI-driven features or deep data dives from the other options.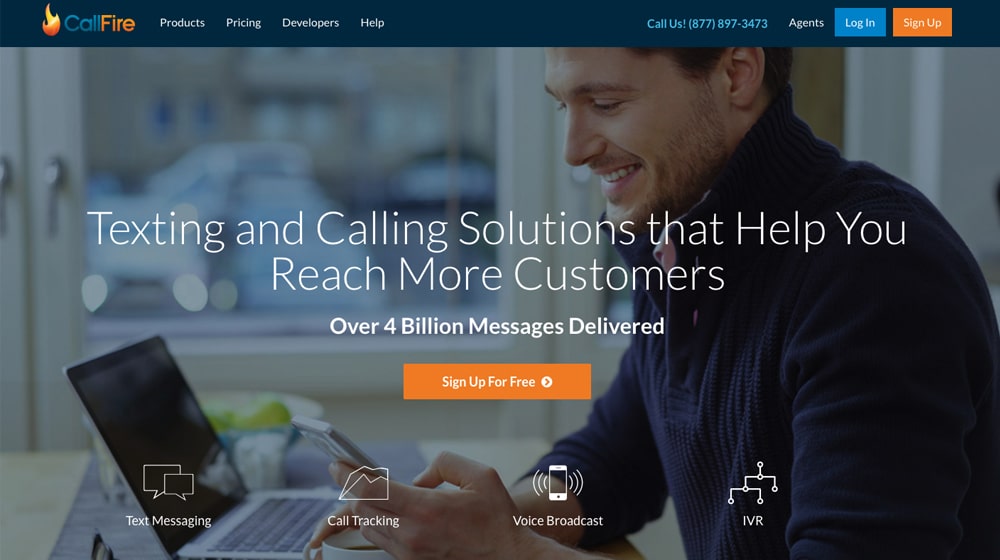 They offer four products:
Call tracking. This is your usual call tracking, with both toll-free and local numbers, SMS-enabled tracking, analytics, and notifications. Call recording is included as well.
Voice broadcast. This is a system where you can record a message and send it out as a mass message to people on a list, whether it's a small list of employees or a large list of customers.
Text messaging. SMS communication tracking is provided in partnership with EZ Texting, and you can use just the SMS features or both SMS and calling.
IVR. You know those robots where you call a business and navigate a phone tree to get to the result you want? CallFire allows you to set up one of those.
The downside here compared to some of the other plans is that they don't do a bunch of extra stuff like web forms or live chat systems. They only track calls and, in some cases, texting, and that's about it. Pricing is correspondingly lower. For low usage, you can pay as you go for 6 cents per minute or text. For a monthly package, they start at $100 per month, but that gets you 2,500 minutes or texts, which is 5x more than what you get from CallRail at half the price.
Clixtell has a more esoteric range of offerings.
First, they have a call tracking system. It's pretty standard compared to the rest of the programs on this list. It has basic call tracking, conversion analytics, call reports, a live dashboard, call recording, and dynamic number insertion, all of which are fairly standard features. They integrate with Google Ads and Analytics, Zapier, and WordPress, but not much more.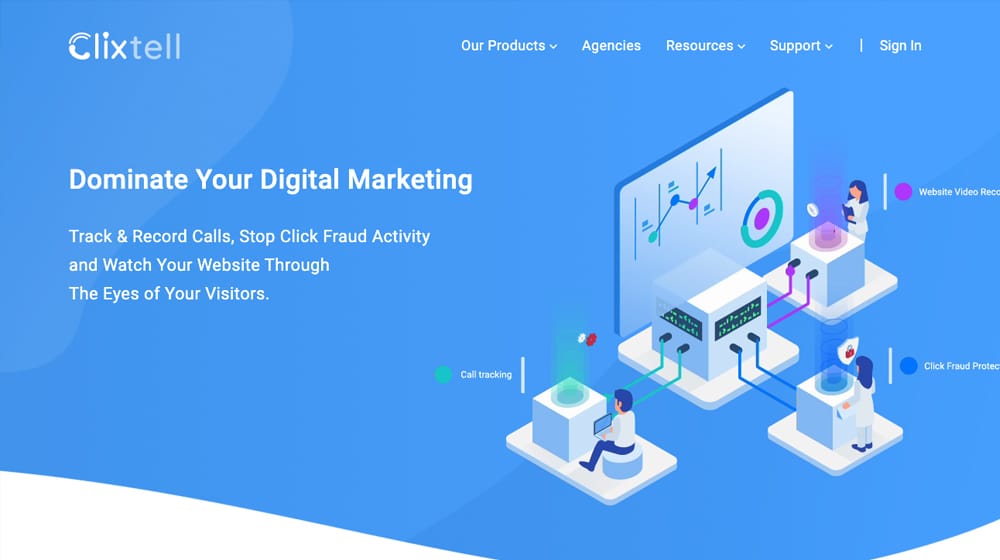 Second, they have click fraud detection. This is a service not many organizations offer because it's very complex to set up. They use complex tracking to determine if bots, click farms, or even your competitors are clicking your ads just to screw with you. It works for both Google and Bing Ads, and works around the clock.
Third, they offer a "website video recorder." Basically, this records everything that your website visitors do, from the moment they open the page to the moment their session ends. This includes everything from clicks to mouse movement to scrolling and more. This helps you identify design issues, spot bots that are masquerading as real people, and generally get an idea of how normal people use your site.
Pricing for call tracking is low, but the plans are limited. $10 per month gets you access to their call tracking service, but nothing else. For dynamic number insertion, you need the $30 per month plan, and you can get all three of their products for $80 per month.
Bonus Option: Google's Native Tracking
You don't actually need a third party platform set up to do call tracking through Google Ads. Google allows you to do call tracking directly within Google Analytics. You can harvest quite a bit of data and correlate that data to other Google platform data you've accumulated, which is pretty solid.
There are, unfortunately, a few downsides to doing it this way. For one thing, it only tracks calls made through Google Ads or the Google numbers you set up. You also have to be in an eligible country and have the call extension set up for your Google account. They also don't do a lot of the more advanced features, like transcripts or call recording.
Still, if all you need is to track calls made through Google Ads, you don't need to pay for any other services, just use what Google provides you.