List of 25 Writing Tools for Bloggers (Mac, PC, and Online)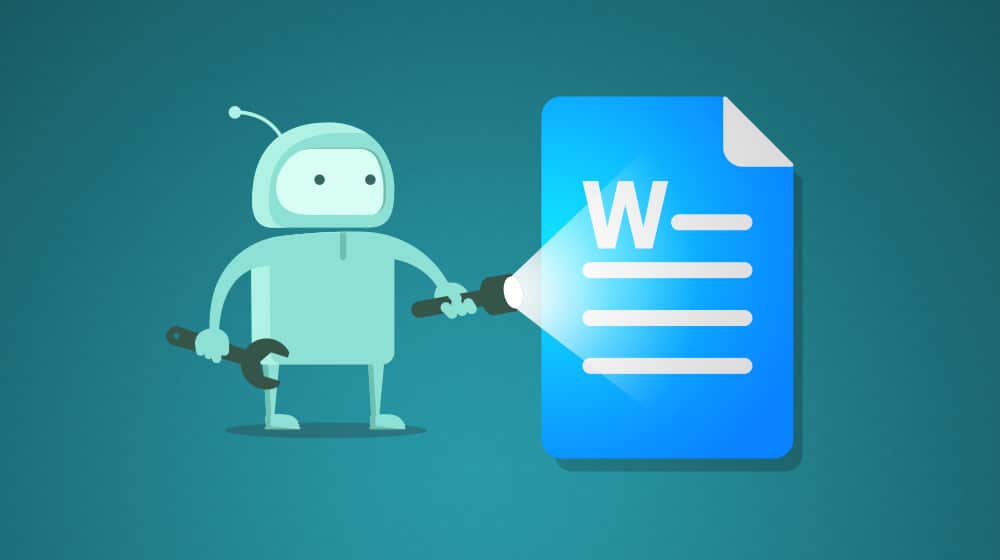 I've written several different blog posts in the past about tools to help with blogging as a whole. These often include a few tools to assist with producing blog posts, like Grammarly, but most of the tools tend to focus on promotion.
Today, I wanted to rectify that and provide a list of useful tools for the actual creation of blog posts. For ease of use, I've divided it into a handful of sections for various parts of the content production process.
Research
First up, a list of tools that assist you with what I find to be the hardest part of content creation: ideation. Coming up with ideas to write is surprisingly difficult, especially once you've been at it a while and all of the low-hanging fruit has been plucked and written already.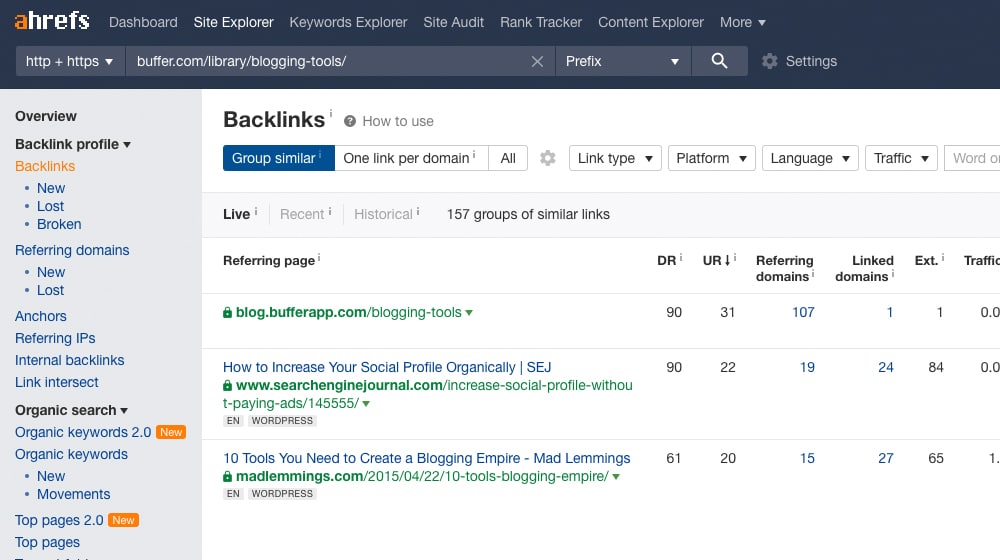 1. Ahrefs – You might recognize this set of five tools from another post I wrote, about stealing your competitor's keyword ideas. That's because they're excellent both for competitive intelligence and for doing your research. Ahrefs is fantastic for looking into the topics and keywords that are doing well on other sites, which is data you can replicate.
2. Ubersuggest – A free tool provided by Neil Patel, Ubersuggest is a powerful app that can give you a wealth of data about a specific domain or about an overall topic based on a keyword you give it. You can get backlink data, keyword recommendations, and content ideas all from one little free app.
3. Moz – Moz has a wealth of tools at your disposal, but the one I've linked to here is their keyword explorer. Both it and the link explorer are facets of the same overall platform, which can bring a ton of useful information. It's a bit complex to use, but once you figure out what you're doing with it, it can be a great source of topic ideas.
4. SEMRush – Another platform with a great reputation and a lot of use is SEMRush. It helps with SEO, content marketing, social media, competitive research, and much more. It's a powerhouse of a tool, and as such, has a pretty steep learning curve to get your money's worth out of it. Once you do, though, you'll wonder how you lived without it.
2. Alexa – Powered by Amazon, Alexa has a huge index and a ton of data available to use to generate information for you. It's not the cheapest tool in the world, but it's very good at what it does. The keyword matrix in particular is a useful tool when comparing competitors, as I mentioned in that post I linked. Alexa has since retired, and it will be missed. We wrote a blog post about Alexa.com shutting down here.
Outlining and Notes
Next up, the outlining process. I know some writers who bundle this in with topic ideation; they come up with a topic idea and brainstorm an outline they can come back to later. I know other writers who lump this in with writing, taking a topic, and spinning it out into an outline they flesh out in the same sitting. However you decide to outline your article, here are some tools and apps you can use to help.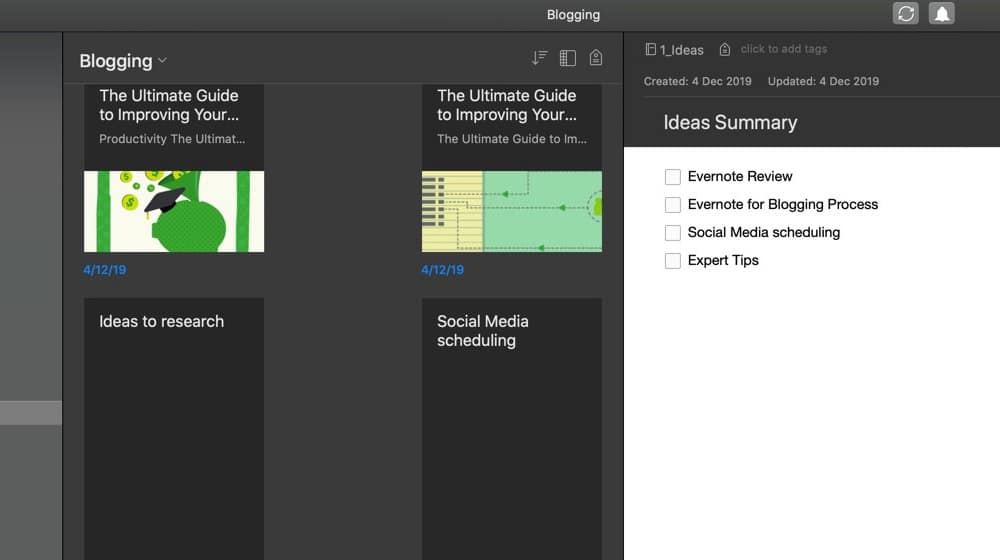 1. Evernote – Evernote is probably one of the best note-taking and general information accumulation apps available. It's cloud-based but has apps for Windows, Mac, iOS, and Android, so you can sync your data between all of the devices you use. It's a great way to accumulate thoughts and ideas throughout the day and use them as a reference pile later. Plus, you can scan documents with a phone, clip sections of websites, and integrate their software with a whole host of other apps.
2. Pocket – Pocket is a data hoarding and storage app that comes integrated with Firefox. It has browser plugins for basically everything and has apps for Android, iOS, and even Blackberry, among others. In other words, you can use it pretty much everywhere. It allows you to save links, webpages, snippets, and data for reference later. Come across a blog post you want to reference? Put it in the pocket.
3. Drafts – Drafts is a Mac ecosystem app with both Mac and iOS versions available. It's similar to Evernote in many ways. It has a text editor to help you create drafts of blog posts on the fly, and storage to save everything from links to snippets that inspire you. You can also use it alongside Siri to capture things without needing to fiddle with your phone or device.
4. Trello – Trello is a Kanban board on the cloud. It works with a web interface or via mobile device apps. In case you don't know what it is, a Kanban board is an organizational board that allows you to create a visual display of tasks and task progress. You can use it from an overhead level to track the process of running your blog, or at a personal level to track individual tasks within blog posts, like your proofreading, source-finding, and final editing.
5. Todoist – Another organizational tool, Todoist is a to-do list platform. It lets you add and schedule tasks with as much or as little granularity as you want, and set up recurring and scheduled tasks for the near or far future. You can categorize and prioritize tasks so you can know where to focus your energy. It's also great for keeping track of sub-tasks in blogging, like following up with freelancers or creating your images.
Writing Tools
The actual process of writing requires some kind of tool, you can't just use Notepad and assume you're going to produce something worthwhile. Though, I do know a few people who write directly in the WordPress editor. I think they're crazy, but honestly, whatever works for you works for you. These will help you find your preferred path.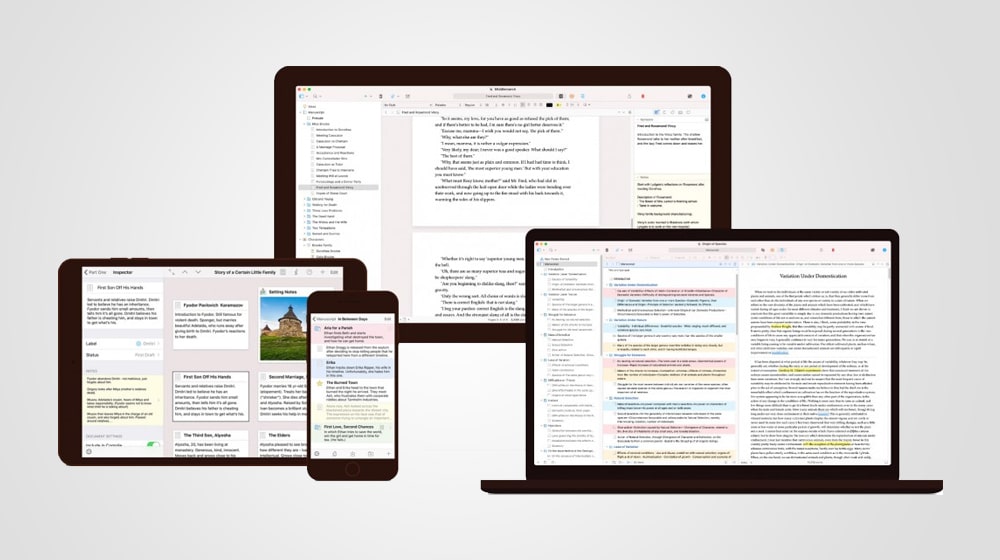 1. Scrivener – Scrivener is a go-to writing platform for a lot of professional writers because it allows for a lot of organizational features integrated directly into writing. It's better for long-form content than for your average blog post, but I've heard of people using it for blogs as well. Among other things, it's great for taking notes and keeping track of disparate bits of your overall outline all in one place.
2. Bear – Bear is a writing app for iOS and Mac. It's something like a cross between Scrivener and Evernote, with a dash of Microsoft Word thrown in. It's relatively simple, but has a few powerful features, and is best used for shorter notes, posts, and reference documents where you want to add a lot of dynamic annotations.
Is your blog earning you business? If not,
let's fix that.
We create blog content that converts - not just for ourselves, but for our clients, too.
We pick blog topics like hedge funds pick stocks. Then, we create articles that are 10x better to earn the top spot.
Content marketing has two ingredients - content and marketing. We've earned our black belts in both.
If you run an internet-based business and are looking to scale, schedule a call to speak with our founder:
3. Paragraphs – The absolute bane of every blogger is distractions. Paragraphs is a Mac app that does one thing and one thing only: basic word processing. It's more powerful than your usual notes app, but not by a lot. The main feature it boasts is a full-screen, distraction-free writing environment. All those other details? Go back and fill them in later; now is the time to get the words down on paper.
4. Q10 – Q10, named after the scrabble tile, is a lightweight word processor for Windows environments. It's very small and self-contained; no installation necessary. The goal is to have a word processor you can carry with you and use in any Windows environment without needing to adapt to a new platform if you're not working on hardware that you own. Also, it's 100% free. It has a few productivity features as well, like a timer you can use for Pomodoros if that's a method you use for productivity.
5. Dragon – Formerly known as Dragon NaturallySpeaking, Dragon is now a full suite of speech recognition apps. After all, for web writing, what's one of the best tips we all give you? Write in a conversational tone. What's more conversational than talking to a computer? Sophisticated AI allows for the recognition of a wide range of voice patterns and accents, along with jargon and industry-specific terms, with a relative minimum of training. Using it changes your whole workflow, but it's a powerhouse when it works.
Proofreading and Grammar Checking
No matter how good of a writer you think you are, you can make mistakes. You aren't always given the convenience of that squiggly red line. Using more sophisticated tools to help review and proof your content is an important part of guaranteeing you're producing the best content possible.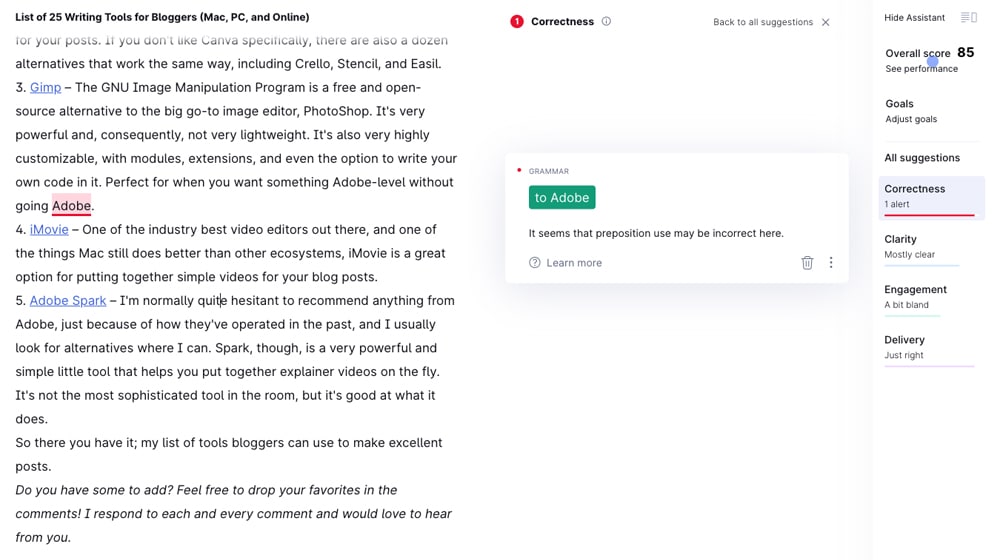 1. Grammarly – Grammarly is the go-to standard for "better than just the built-in software" grammar checking. It has a lot of advanced features, like style checks and reading level overviews. I have a few gripes with it – it has some suggestions that are often wrong, and it doesn't like industry terms – but it's still better than just using the basic spelling and grammar checks built into something like Word or Google Docs.
2. Hemingway – Hemingway is an online, web-based text editor that does grammar and style checks on the fly while you write. If you don't want to write in the app, you can paste in your content later and have it check it over. Its primary use is simplifying and reducing the complexity of the language you use, and as such it will have a little trouble with some advanced content, but overall it's pretty good at helping you adjust your writing style to be more accessible.
3. WhiteSmoke – There are a lot of different apps out there that claim to be grammar checkers, but all they actually do is run your content through Grammarly and then give you a button to go try Grammarly out. One of the few that is both not a front for Grammarly and is comparable in sophistication is WhiteSmoke. It's also quite cheap, well-designed, and very useful as both a Windows program and browser plugin.
4. StyleWriter – This program is a full word processor with a heavy emphasis on style editing. It's very good for simplifying writing and removing jargon, has a sophisticated engine to detect correctly spelled but poorly chosen words, and it has a huge interface for statistics about your writing you can use to benchmark your progress.
5. Fiverr – Okay, so Fiverr isn't really a tool, but it IS a service you can use. No automated tool can provide the same level of insight, on both a technical level and on an overview level, as an actual fluent human being. Fiverr allows you to hire those fluent humans for a shockingly low price to get your content copyedited. You're not going to be getting professional-tier copyediting here, but it's the next best thing and it's often better than automatic tools. The only downside is simply having to pay for each individual project.
Media Production
Blogging is about more than just writing. I'm primarily going to focus on image creation tools here, but if you want to create podcasts, videos, or other multimedia, you might find a few tools here you can use as well. I use Photoshop to create images for my blog posts, but if you're looking to hit the ground a bit quicker and to utilize some free tools, these will be of help to you.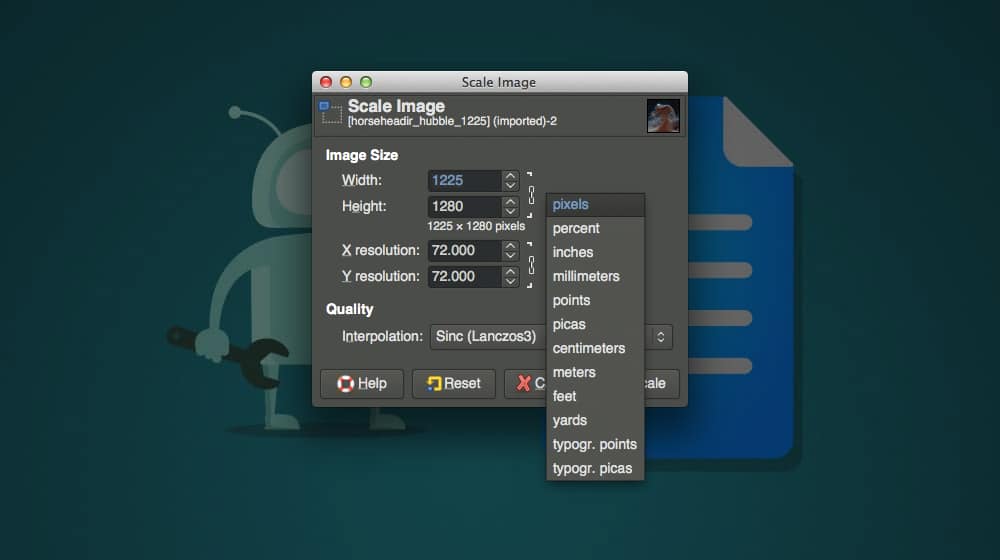 1. Meme Generator – How do you do, fellow kids? Knowing how to speak the language of your audience is an important part of connecting with them, and memes are part and parcel of the parlance, so to speak. They're tricky to use properly, and it's obvious if you make them yourself, so why not use a tool that comes with a database of templates ready to go? This meme generator is the one all the kids are using, and while you aren't going to be making truly original content with it, you can have some fun in your posts.
2. Canva – I'm sure by now you know all about Canva. It's an online graphics editor that uses templates, assets, and customization options to allow you to create anything from banners to flyers to brochures to images. Their stock photo library is huge and their asset library is larger, so it's really an easy tool to use to make whatever kind of image you want for your posts. If you don't like Canva specifically, there are also a dozen alternatives that work the same way, including Crello, Stencil, and Easil.
3. Gimp – The GNU Image Manipulation Program is a free and open-source alternative to the big go-to image editor, PhotoShop. It's very powerful and, consequently, not very lightweight. It's also very highly customizable, with modules, extensions, and even the option to write your own code in it. Perfect for when you want something Adobe-level without going to Adobe.
4. iMovie – One of the industry best video editors out there, and one of the things Mac still does better than other ecosystems, iMovie is a great option for putting together simple videos for your blog posts.
5. Adobe Spark – I'm normally a bit hesitant to recommend anything from Adobe, just because of how they've operated in the past, and I usually look for alternatives where I can. Spark, though, is a very powerful and simple little tool that helps you put together explainer videos on the fly. It's not the most sophisticated tool in the room, but it's good at what it does.
So there you have it; my list of tools bloggers can use to make excellent posts.
Do you have some to add? Feel free to drop your favorites in the comments! I respond to each and every comment and would love to hear from you.